By Laurette Ryan |
Art by Paul Briggs
Storytelling connects people. It relates us to our world and helps us understand our lives. The saying goes that a picture is worth a thousand words—but in the art of animation, it might take thousands of images to paint the story an artist wants to communicate. Paul Briggs is one such storyteller.
As a director at Walt Disney Animation Studios, Briggs has credited work on fifteen animated feature films and five short films, including Big Hero 6, Frozen, Winnie the Pooh, Tangled, The Princess and the Frog, Bolt, Fraidy Cat, and Gnomeo and Juliet, to name a few. He was the cohead of story on the film Big Hero 6 (2014), and its depth of emotion and storytelling along with its stunning artwork shows just how powerful and rich an art form animation can be.
"Big Hero 6, while it's a very fun, action-packed superhero film, deals with some very heavy themes of loss and grieving," Briggs says. "I remember I took my family to a screening at the studio and after the screening, while walking to our car, my six-year-old turned to me and said 'Tadashi . . . died?' I paused because I knew he was thinking about the death he had just witnessed in the film. So, I said, 'Yes, Tadashi died,' and he turned and said, 'But Tadashi was alive in Baymax.' I told him, 'That's right, Baymax kept Tadashi's spirit alive in him.' And then my son said, 'And Tadashi was alive in Hiro (Tadashi's brother) and his friends too.'"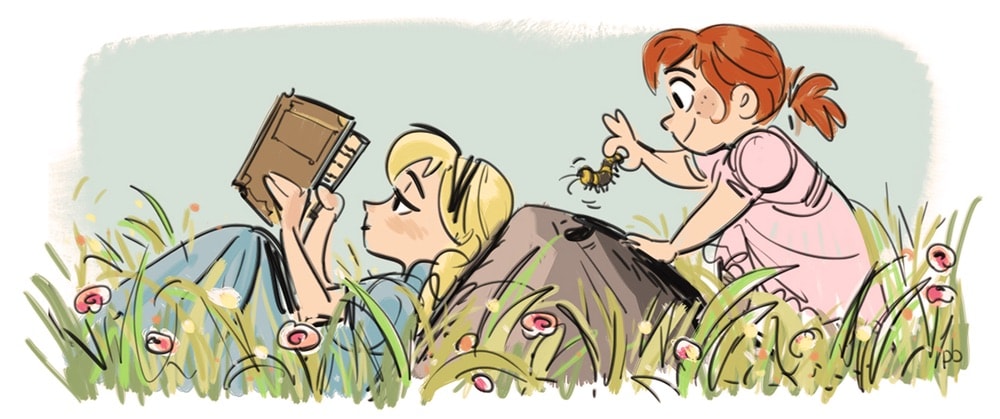 Briggs goes on to explain, "For him to grasp this concept that just because someone's dead, it doesn't mean they stop living on through us was extremely meaningful for me. I had lost my mother a year before, and in my personal journey of accepting grief and loss into my life, I realized that I had to keep her beautiful spirit and energy alive in me and my children."
Briggs grew up in Texas but moved around a lot in the late 1980s. He lived in many places, from Boca Raton, Florida, to Lake Arrowhead, California. He attended art school at the Kansas City Art Institute in Missouri and in his junior year was accepted into an internship at Walt Disney Feature Animation Studios in Florida. After that, he was hired on to help animate the film Mulan. Although Briggs has been in the animation industry for twenty-two years, he says he feels like he is still learning new things every day.
Our career paths can give us unique insights and epiphanies about life in general. When asked if he had gained any particular insights through his career, Briggs replies, "I tell stories every day, and I approach it by studying life. Nobody has all the answers, and we need to empathize with that. We're all just trying to figure it out every day. The important thing is to live it meaningfully and fill it with love, humor, and compassion."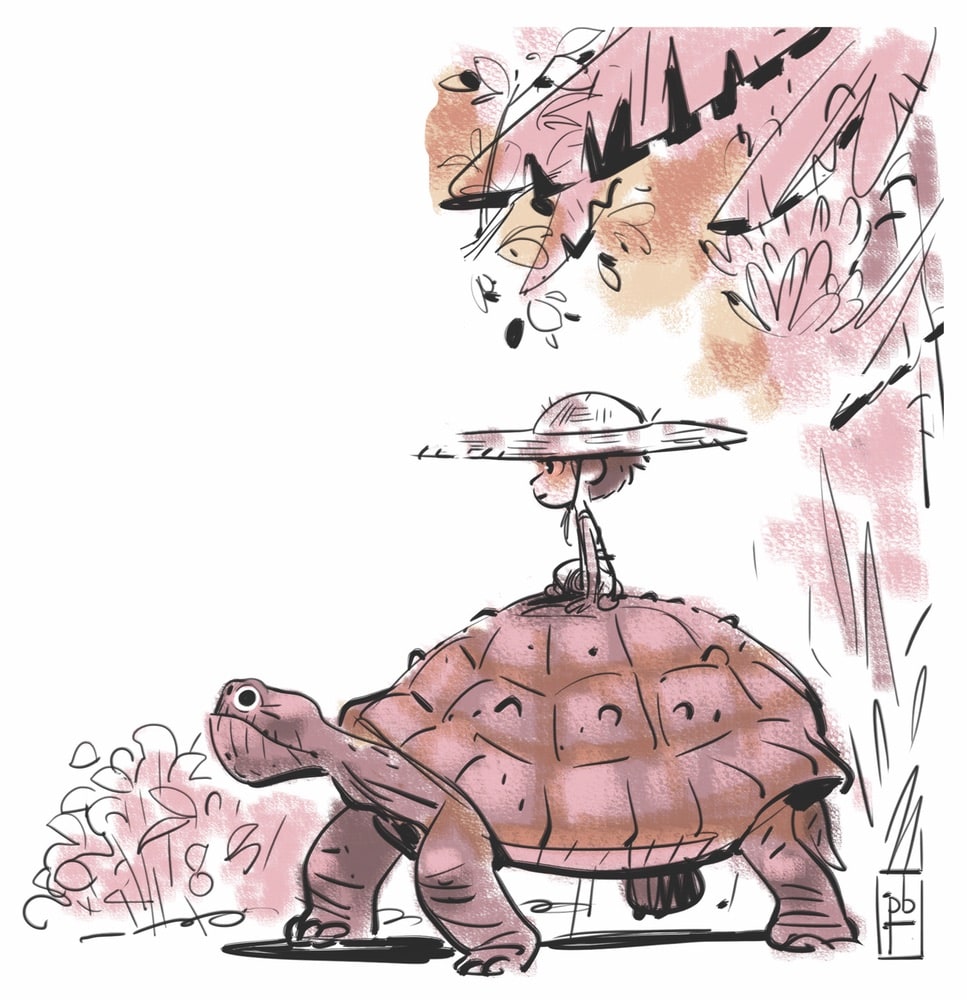 Briggs is influenced by many art forms, including those of past and present artists doing sculpture, painting, ceramics, dance, and performance. In the field of animation, two giants stand out to him: Marc Davis and Vance Gerry.
"Marc Davis was one of Disney's 'Nine Old Men,' the famed core animators of Disney animated films, and was revered for his knowledge and understanding of visual aesthetics," Briggs explains. "Davis could draw anything; he was a master at drawing animals, and his design work and animation on Sleeping Beauty and One Hundred and One Dalmatians are genius. Not only did he do animation, but he also helped design many of the beloved Disneyland attractions and features such as Pirates of the Caribbean, the Haunted Mansion, and my favorite, the Enchanted Tiki Room!
"Vance Gerry was a story man on many classic animated films. His style was deceptively simple, but when you actually break it down, it's deeply rich and meaningful. It's all about characters in moments. I love his work so much, but I also never heard anyone speak ill of him. He was highly respected at the studio, and that's something I strive for."
Nobody has all the answers, and we need to empathize with that. We're all just trying to figure it out every day. The important thing is to live it meaningfully and fill it with love, humor, and compassion.
Briggs continues with some valuable advice for would-be professional animators: "Don't expect anything to be handed to you. You have to put in the hours studying and learning the fundamentals of strong storytelling before you can experiment and break the rules. If you're telling stories with your drawings, then practice strong character storytelling moments in your drawings every day. Drawing is a muscle, and the more you exercise that muscle, the stronger it will get.
"Draw character—for example, don't just draw an old lady sitting there, show me a drawing of an old lady walking out of her living complex and headed down to a protest to let the world know she still cares about what's happening in it and is still willing to fight for it!
"Show a character about to make or just after making a choice. Characters are all about choices. I always recommend that young artists sit with senior citizens and listen. Listen to the choices they've made in their lives and the reasons why. Those choices are what make great stories."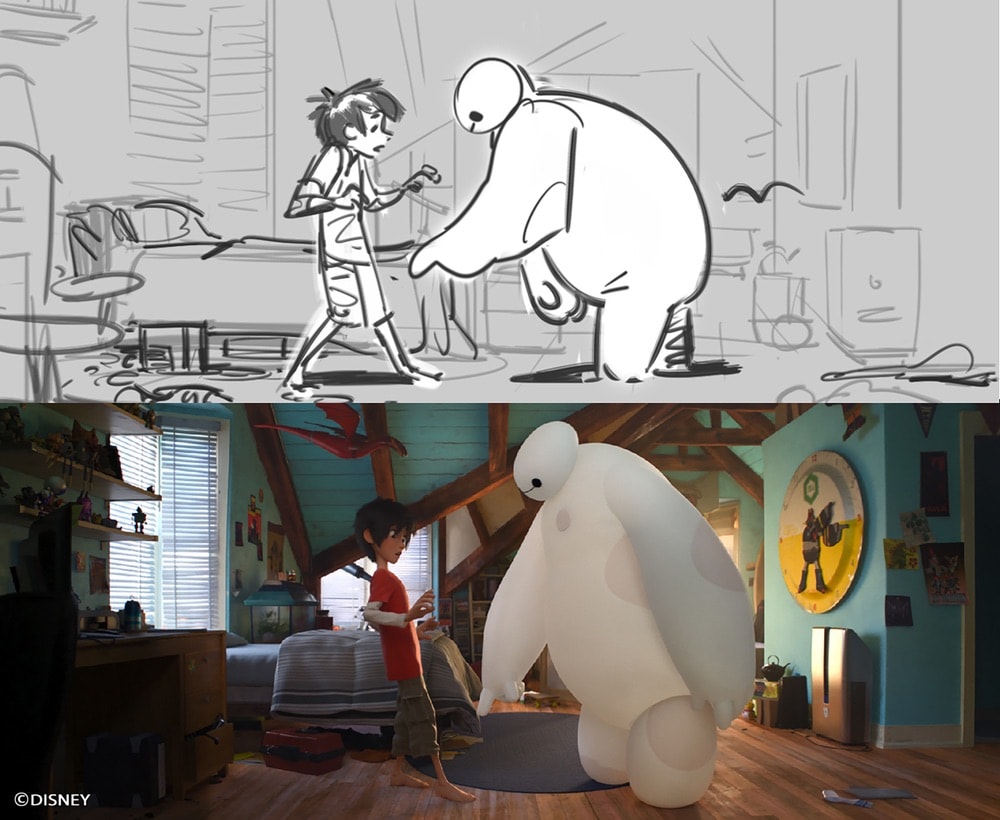 As young children, we may all remember the first films, cartoons, and funny and scary movies we saw. Those images and memories become etched in our subconscious minds. Briggs recalls some of the first movies he remembers seeing as a child and the impact those stories still have on him today.
"Well, I'm not going to lie, I think the films that emotionally tore me apart when I was young had the biggest impact on me!" he admits. "I remember the film that made me want to be a filmmaker. I was really young when I saw E.T. in the theater, and I remember laughing so hard and then just bawling my eyes out. It was so emotional, not only because I empathized with Elliot because I was going through a lot of similar things that he was, but also because E.T. was so real to me. I was so emotionally invested in him, and when he passed away in the film, I just couldn't handle it. I remember lying in my bed that night and thinking how powerful movies and storytelling are.
"I also remember watching Dumbo when I was young and loving it. The moment when Dumbo is separated from his mother really stayed with me. There's a song called 'Baby Mine' written by Ned Washington that's just beautiful, but the visuals are all these animal families together contrasted with Dumbo sharing a final embrace with his mother before they're separated. It's handled so delicately, but it's such a heavy emotional moment—it's one of my favorite moments in animation."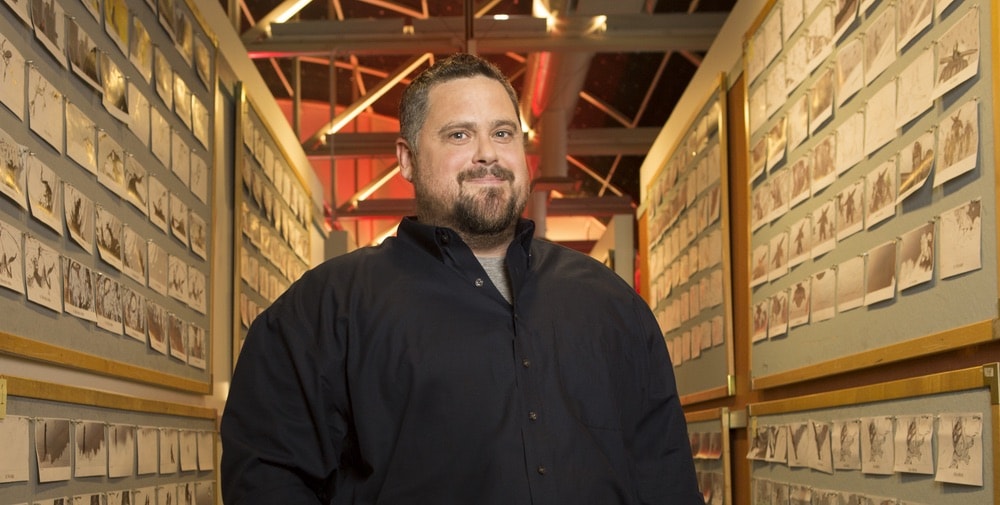 Briggs says he was constantly drawing and creating art as a child, but he does credit a specific book with influencing him to pursue animation as a career.
"When I was ten years old, I was in a bookstore and came across The Illusion of Life by Disney animators Ollie Johnston and Frank Thomas," he says. "It was like I had found a secret, special book by wizards that they had written all of their spells in. I was floored by the drawings and the material in it. It was really expensive, and there was no way we could afford it, but my mother must have understood the look in my eyes because she bought it for me. I credit my mother for feeding my passion to become an artist and that book for introducing me to the path of becoming an animator."
The animation industry is vast, but it does seem that the Disney company has been integral in bringing the art form to a level that people of all ages and all around the world can enjoy.
"Disney Animation is an amazing studio that creates films for everybody, but especially ones that families can enjoy together," Briggs concludes. "That doesn't mean we don't shy away from deeply emotionally engaging stories. Like I said before, Dumbo deals with parent-child separation—even in the classics there were heavy themes. I think we tell stories in a way that are full of humor and entertainment but have a deep heart to them."
— V —
---
Laurette Ryan is a professional in the health and wellness industry and has been a national fitness presenter for over thirty years. She is the author of four books on fitness, self-improvement, and life coaching. She is also the mother of four amazing children.
ARTICLE CATEGORIES