Story & Photos By Kim Duke-Layden
My husband John and I recently enjoyed a whirlwind getaway savoring the sights, sounds and flavors of this diverse area of southern central Texas. Since our trip was limited to only three days and nights, our appetites were whetted for more and we vowed to return soon. Below are some of the most memorable moments of our inaugural trip.
After a long, draining workweek, I felt as worn out and exhausted as Cinderella did before she met her fairy godmother. I was ready to be swept up in a fairy tale of travel with magnificent sights, sounds and tastes. However, it was nearly 1 a.m. when we arrived in New Braunfels, nestled in the lush Texas Hill Country thirty-five miles south of Austin. Like cat burglars, John and I tiptoed down the long, antique-furnished hallway of the Prince Solms Inn, built in 1898. Though weary, my pulse quickened as we approached the dimly lit parlor of Texas' oldest continuously operating bed-and- breakfast. Would we be greeted by the resident ghost, the jilted bride-to-be who spent the past century searching for her elusive groom? Thankfully, what awaited us was even better – an irresistible plate of freshly baked cookies! Mmmmmmmm.
We climbed the creaky staircase to our charming Victorian room. The sumptuous bed was made for a wonderful night's sleep. Delicious gourmet breakfasts served in the inn's elegant dining room were another highlight of our stay.
Feeling rejuvenated, we began our hill country adventure with an action-packed day at Schlitterbahn Waterpark. It was also the reason we chose to stay in New Braunfels versus other hill towns. For the past decade, Schlitterbahn has been voted "World's Best Waterpark." We couldn't wait to reveal our inner child!
While we enjoyed the park's many attractions, the highlight was an unforgettable ride on the Master Blaster – the ultimate uphill water coaster! Sitting in a two-man raft, like a rubber rocket we blasted up and down six death-defying hills before plunging into the pool below. Afterwards, all I could say was, "Wow! Sure, it was an amazing water ride, but was it the BEST in the world?" You betcha!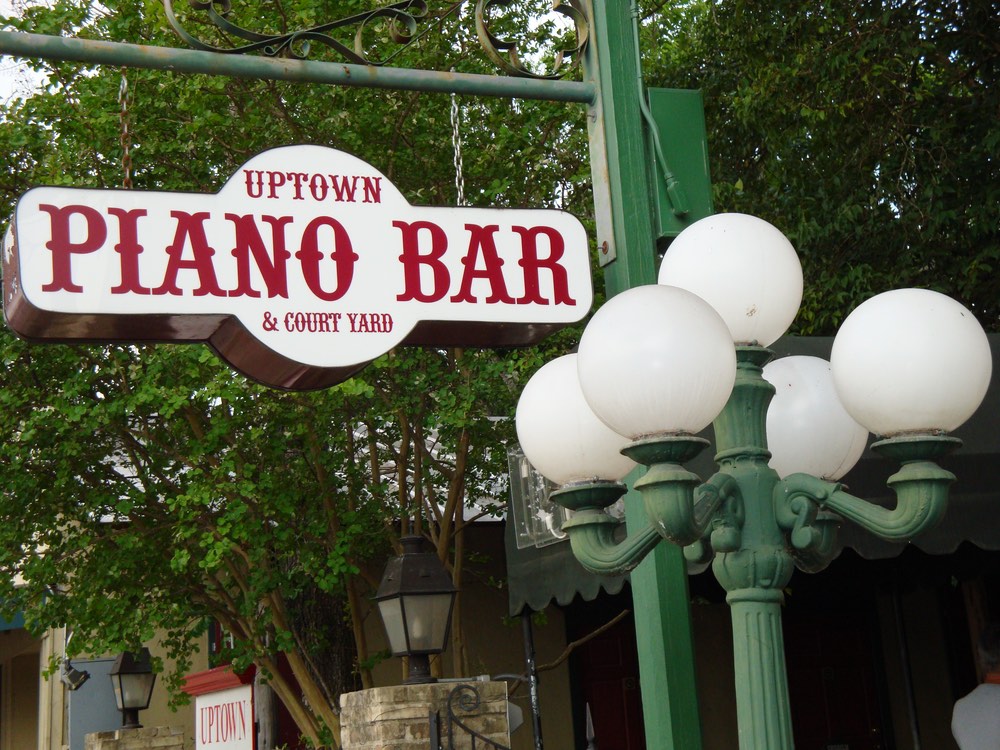 Back in our room, we dressed for a night on the town. Since the evening air was so pleasant, we walked the few blocks to downtown. As we strolled past the quaint town square, the clock tower bells chimed, making me feel like I was in a European village. Rightly so, because New Braunfels has strong European roots. Founded in 1845 by Prince Carl of Solms-Braunfels, it began as the first German settlement in Texas and is part of what is now known as the German Belt. New Braunfels' heritage is reflected in its architecture, cuisine and culture.
Tucked within the Faust Hotel, which first opened in 1929, is the Faust Brewing Company, a microbrewery with a classy, pub-like feel. Seated at the long granite bar, we drank the featured brew, Walter's Brown Ale. With a hint of chocolate, it tasted delicious – and filling. Not wanting to spoil my appetite, I only had one.
Recent on New Braunfels' culinary scene, Liberty Bistro has quickly achieved star status among locals and visitors. Within a few blocks of the Faust Hotel, this upscale eatery is located in the cellar of the former courthouse. I really liked its edgy vibe and the striking black and white photos of past American presidents. Torn between the braised short ribs and the Dijon mustard and herb-encrusted rack of Colorado lamb, we took our server's advice and ordered the lamb. Exquisitely prepared and bursting with flavor, it was the best lamb we had ever eaten! Washing it down with a hearty Tuscan red, we were in hog, rather – lamb heaven!
Returning to the inn, we ventured down to the cellar for a nightcap at the Uptown Piano Bar, the area's most popular nightspot. The bar's unique atmosphere was intoxicating in itself: Victorian furnishings with erotic paintings! What a picture-perfect ending to a most delightful day!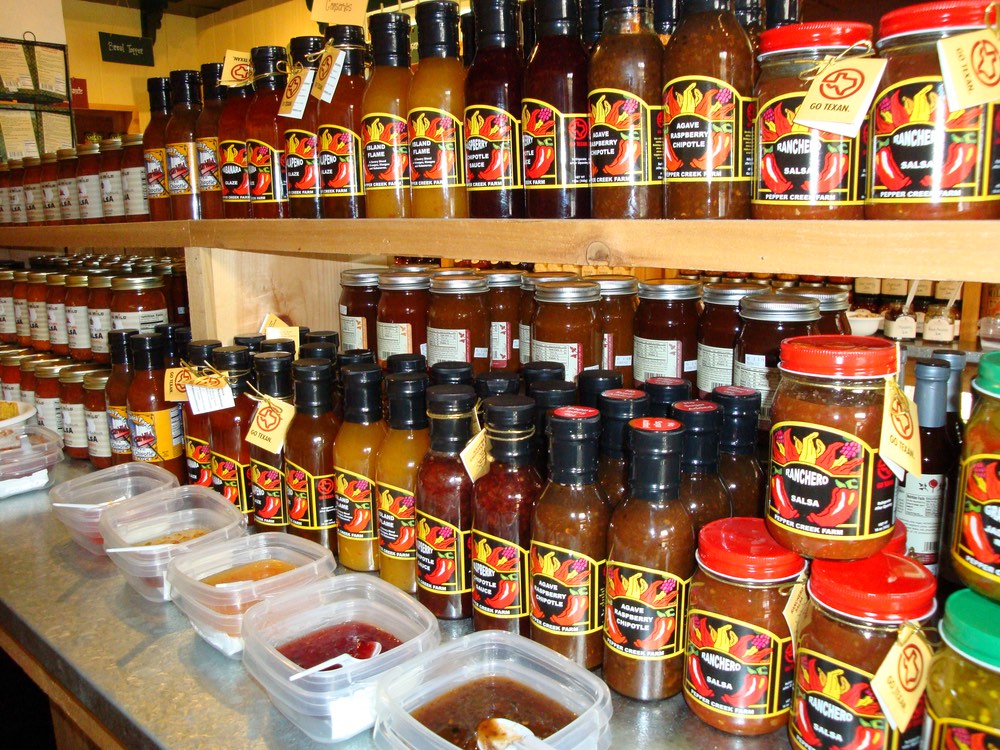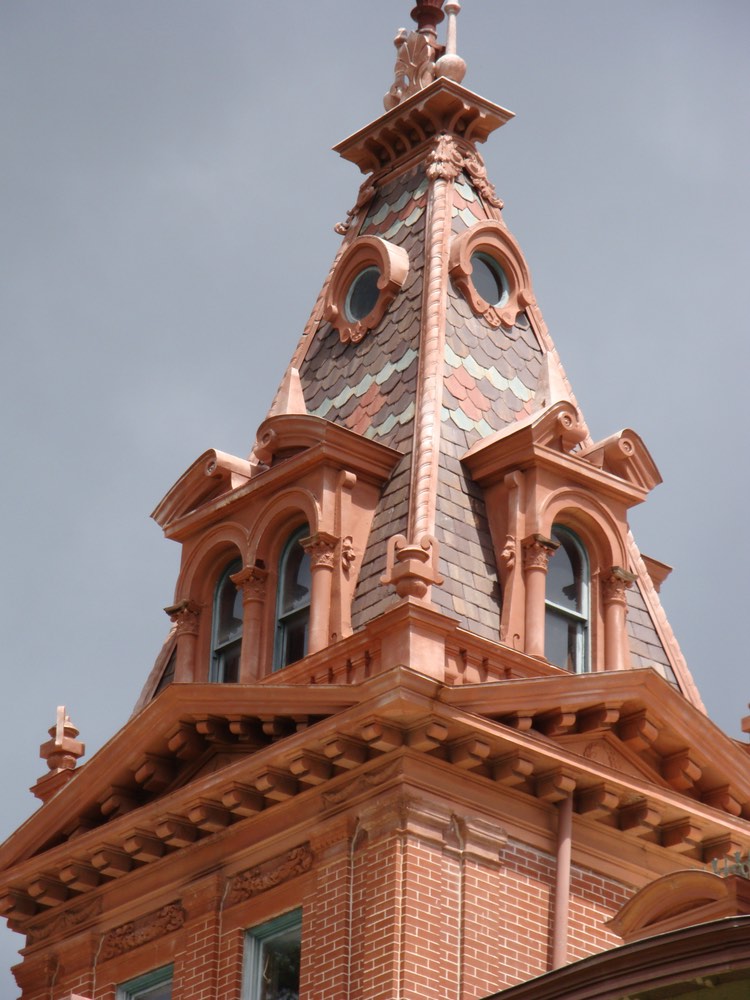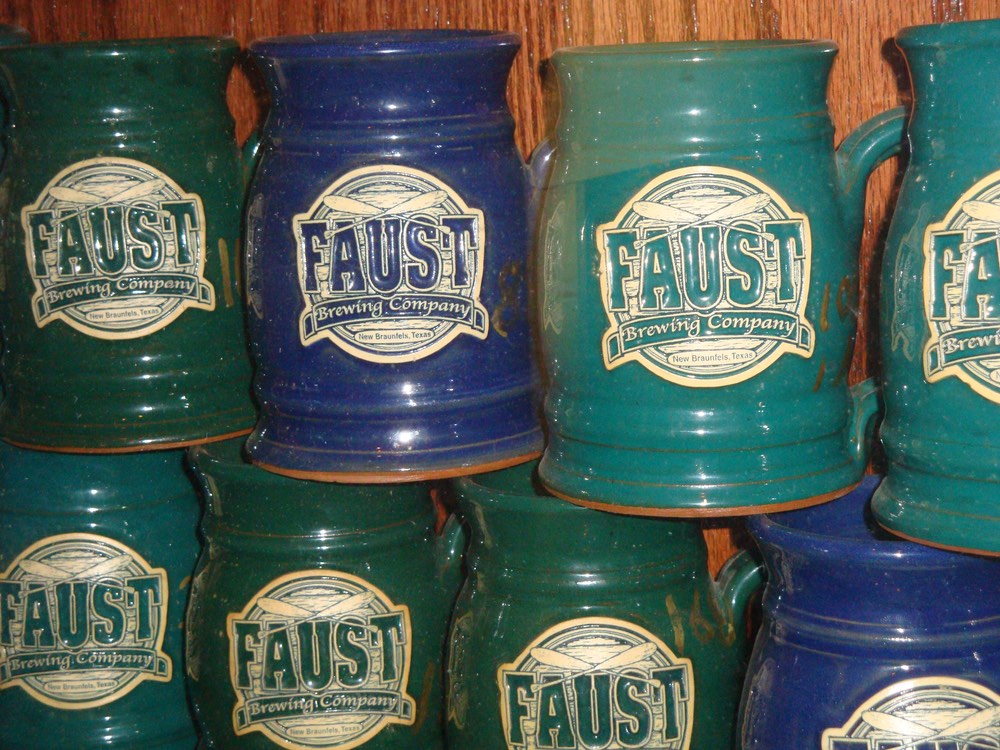 Returning to the inn, we ventured down to the cellar for a nightcap at the Uptown Piano Bar, the area's most popular nightspot. The bar's unique atmosphere was intoxicating...
The next morning we traveled four miles northwest of New Braunfels to Greune (pronounced "green"). Situated on the Guadalupe River and settled in the 1840s by German immigrants, the former ghost town was resurrected in the 1970s and features historic, rustic structures converted into antique shops, art galleries, boutiques, eateries and B&Bs. Almost every store offered tasty samples. I shamelessly grazed on jalapeño peanut butter, Texan wines, spicy pickles and peppers, candied pecans, and an endless array of salsas and BBQ sauces. I left no stone unturned.
My favorite place was Greune Hall, Texas' oldest country and western dance hall, built circa 1880. Resembling a cavernous screened porch, the hall has long wooden tables and benches that held a wide cross-section of listeners. Lone Star and Shiner Bock were the beers of choice. Typically, I'm not a fan of this music genre, but the soulful rockabilly sounds captivated me with cellos, mandolins, harmonicas and a trio of guitars. For more than a century, countless music legends have performed at this Texas institution. Commemorating our visit, I bought a souvenir CD.
Reluctantly we "moseyed" on to the atmospheric Gristmill River Restaurant, formerly an 1870s cotton gin overlooking the Guadalupe. On a shady terrace, I sipped sangria from a mason jar. Gazing at the river, I longed to float in its cool waters – but exciting Austin beckoned!
With Austin's abundance of exciting sights, sounds and culture, the most daunting aspect of traveling there was deciding on where to go and what to see! Desiring to experience the real Austin, we sought out the favorite Austinite haunts and watering holes.
The Austin Folk House, located near downtown Austin and the University of Texas campus, made for a comfortable stay. Folk art was hung in the dining room where lavish breakfast buffets were served. With all the added extras: complimentary fresh baked afternoon treats, assorted cold beverages and parking, it was a great value!
For the best sunsets in Austin, those "in the know" travel northwest of the city into the rolling hills surrounding Lake Travis. There, perched high on a ridge is the mammoth Oasis Restaurant and Bar. Our balcony seats afforded us breathtaking lake views. Below, countless decks and brightly colored umbrellas cascaded down the hillside. Margaritas flowed freely as the band revved up the crowd!
As I gazed across the azure waters and cradling hills, the stunning scenery transported me back to Santorini's caldera sunsets which, up until then, were the most spectacular I had ever seen. The sun melted below the horizon followed by the clinking of glasses and cheers. I wasn't in Greece, but the sunset was every bit as memorable!
Austin is known for its endless dining choices and superb cuisine. Since we craved Mexican comida, we ate dinner at the original Chuy's (Spanish for "buddy") located in Zilker Park. Since the city's unofficial motto is "Keep Austin Weird," Chuy's is quintessentially Austin and packed with boisterous locals. The quirky "Elvis Meets Vintage Hawaii" motif and hubcap-covered ceiling are a far cry from the typical, Mexican cantina décor.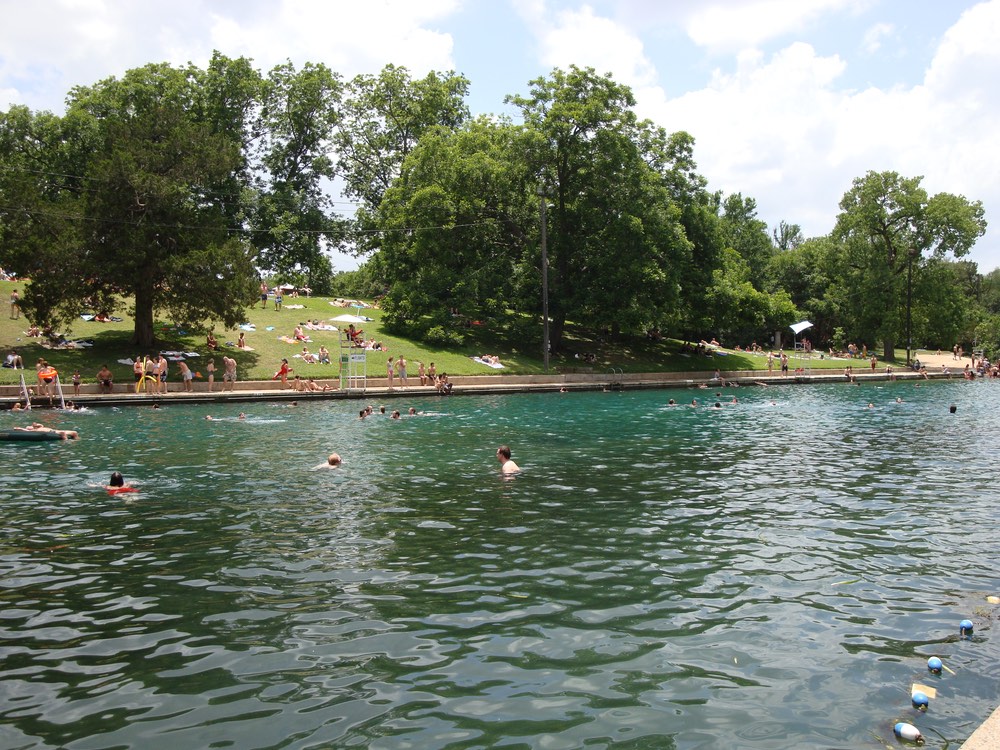 Our delightful hippie waitress, Happy (her full name was Happy Spring Day); recommended slow-roasted beef tacos topped with Hatch green chile sauce and charro beans served whole with spices and tomatoes. Delicious! With entrées priced under $10, no wonder the locals love this place!
In search of nightlife, we bypassed all the touristy clubs on Sixth Street –even though some were recommended by reputable travel guides – and escaped to Austin's historic, grand dame hotel, The Driskill. Its piano bar, centered in the opulent upstairs lobby, was the perfect spot for great music and people-watching. Perched atop tall stools encircling the piano, we had the best seats in the house for an intimate concert – plus, a show with an ever-changing cast of bar patrons and hotel guests.
Hopping aboard a pedicab – Austin's version of a rickshaw – we capped off the evening with an impromptu ride around downtown. I didn't want the night to end!
After breakfast the next day, we walked the sprawling University of Texas at Austin campus. Soaring higher than the state capitol building was the clock tower. My favorite campus find was the 1894 Victorian home of George Littlefield, a turn-of-the-century cattle baron, banker and university benefactor. I loved its whimsical architectural characteristics – the asymmetrical turrets feature colorful shingles and windows of varying shapes and sizes, plus the porch's Roman columns and lacey iron work.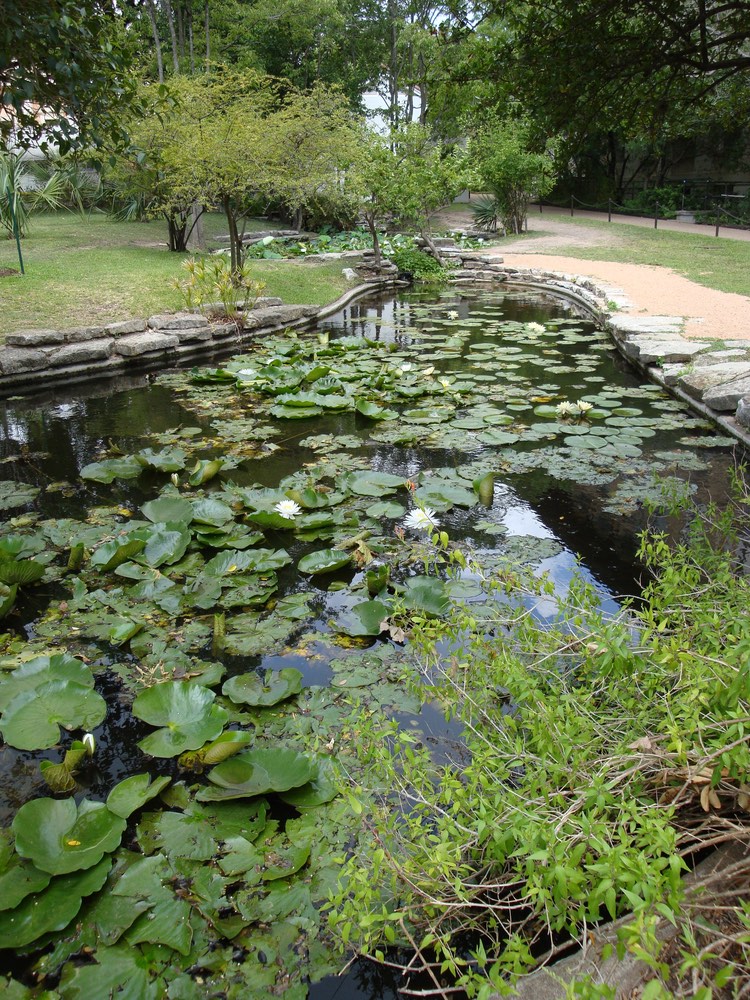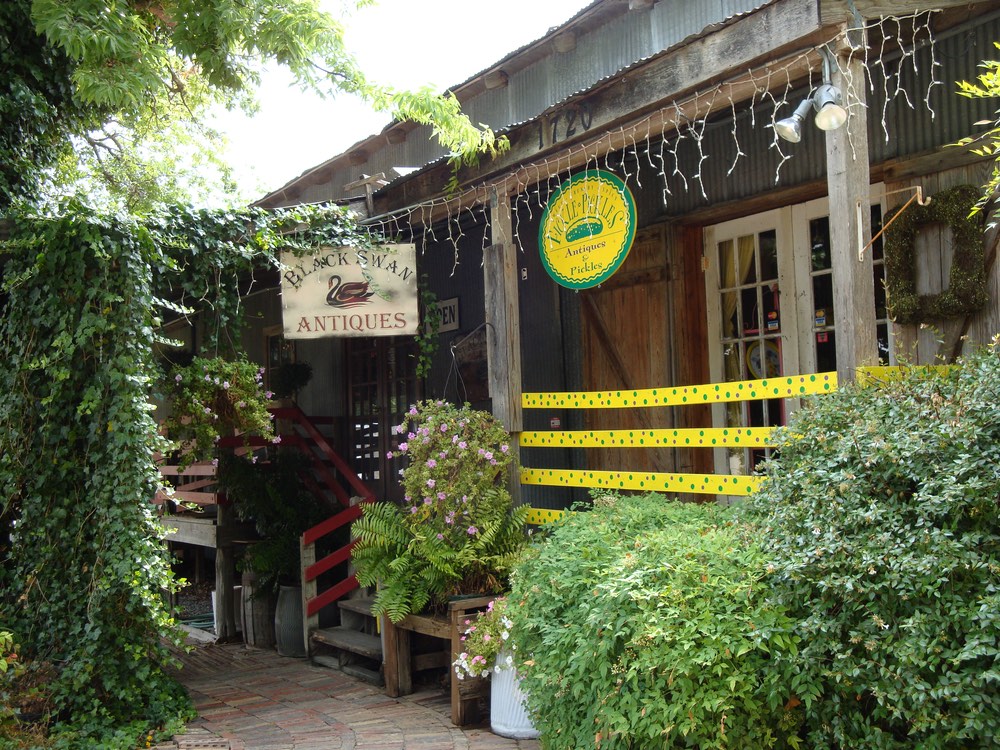 As the mercury rose to 100 degrees, we decided to "do as the Austinites do" and took a swim in Barton Springs in Zilker Park. Operated by the state, the three-acre, spring-fed pool averages a brisk, year-round temperature of sixty-eight degrees. Under the intense Texas sun, the water felt refreshing. The pool had two surprising features – its slippery, rocky bottom and its topless-friendly policy! Equally unexpected, in a city as large as Austin, we recognized the sunbathers next to us from the night before. It was a small Austinite world!
At Lake Austin's Hula Hut, I ate the best fish tacos I'd ever eaten! Marinated and grilled sushi-grade tuna was served open-faced on homemade corn tortillas and topped with avocadoes and a jalapeño lime sauce. Under the same ownership as Chuy's, the décor is just as quirky and the locals seem to like the food just as much!
Some other things that Austin is known for are the three big B's: Bats, Barbecue and Bands! But with travel, sometimes even the best-laid plans go awry, resulting in the dreaded fourth "B" – a Bust! That's what happened to us on our last night in Austin. We waited for over two hours but the 1.5 million bats never took flight. By then, most of the BBQ restaurants had closed, so we had to settle for the only joint still serving. And, because it was Sunday night, many of the nightclubs were dead. Bummer!
John's brilliant idea, however, saved the day! We took an enchanting horse and carriage tour through the city's historic and downtown districts. As we clip-clopped along, our driver entertained us with factoids about Austin's historic past and present, while sprinkling in healthy doses of local legend and gossip. To our delight, when we passed by the state capitol, we saw the infamous bats circling the illuminated dome. And, while riding through the Austinites' favorite nightclub districts ("SoCo" – South Congress Street and the blocks between Third and Fourth Streets), live bands serenaded us with a mixture of rock, salsa and country.
Looking up towards the heavens, I felt the travel gods smiling down on me. Like Cinderella, I had my happy ending!
— V —
ARTICLE CATEGORIES