Music for Kids and the
Grown-Ups
Who Love Them
By Sallie W. Boyles  |  Photography by Dawn Chapman Whitty
In the past, a songwriter could earn a comfortable living behind the scenes. Low-cost streaming and downloading have since reduced royalty payments, so now, more than ever, endurance in the industry demands great talent, originality, and effort. Ken Johnson and Andi Zack-Johnson, who are respected, award-winning songwriters with deep ties to Nashville, exemplify what it takes to make it in the industry by succeeding in projects they never imagined pursuing a decade ago.
The public may best recognize Ken and Andi as regular cast members of CMT's I Love Kellie Pickler (2015–2017), a reality show produced by Ryan Seacrest. Exposing their naturally engaging personalities and friendship with Pickler and her husband, award-winning songwriter Kyle Jacobs, Ken and Andi are entertaining when they're just being themselves. But when they step onstage to perform their original music, they often pose as their alter-ego characters, Huck and Lilly.
It all began with a chance meeting. As the story goes, the two were enjoying the beachside deck of Bud & Alley's restaurant in Seaside, Florida, when Andi, a native of British Columbia, spotted a fiddler crab. "It scared me," Andi confesses. "I'm from Canada!" The male crab's major claw is significantly larger than the other, giving him a Frankensteinish appearance. Ken, born and raised in Alabama, assured her that the crustacean would keep his distance, but he couldn't explain the name fiddler. "I don't know," he told Andi. "He don't play a fiddle!"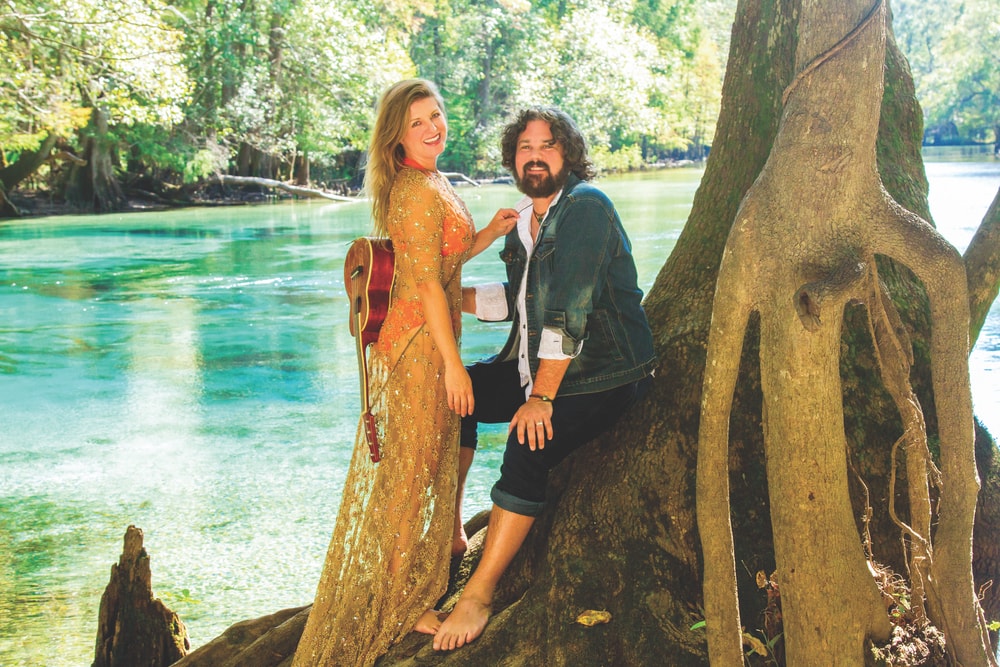 From those words, Ken and Andi wrote "The Fiddler Crab (He Don't Play the Fiddle)," a breakout song on their first children's album, There's a Tree Growing in My Room, released in 2015. They also gave life to Phil the Fiddler Crab, a puppet ambassador for Huck and Lilly—the stage roles for Ken and Andi, as well as their children's music brand. Huck pays tribute to Huck Finn, a literary favorite of Ken's, and Lilly to Andi's favorite flower.
"We wanted to put ourselves out there as two best friends who play music, have adventures together, and help others," Ken says. Accordingly, they are highly approachable and interactive with fans. Kids also love meeting Phil and Slo-Mo-Joe, a stuffed turtle who also has a song.
"We wanted to put ourselves out there as two best friends who play music, have adventures together, and help others," Ken says.
The personable characters also spread goodwill to Ken and Andi's music industry pals. Phil (Ken) has interviewed numerous country music celebrities: Lee Brice and his brother Lewis, Kellie Pickler and Kyle Jacobs, Maggie Rose, Ashley Campbell, Craig Wayne Boyd, and Carolyn Hobby. The gregarious crab has also sat down with Andi and Ken (the latter thanks to Andi's adept video editing). While lighthearted and kid-friendly, the puppets' video spotlights amuse adults, who are also Huck and Lilly's fans.
"Music for kids and the grownups who love them," is a fitting tagline for Huck and Lilly's catchy songs that target toddlers to seven-year-olds but hook multiple generations. During performances, the duo will inevitably spy older children mouthing the lyrics. Somehow their teens—eighteen-year-old Marlee, now a college freshman, and fourteen-year-old Max, a freshman in high school—know every song!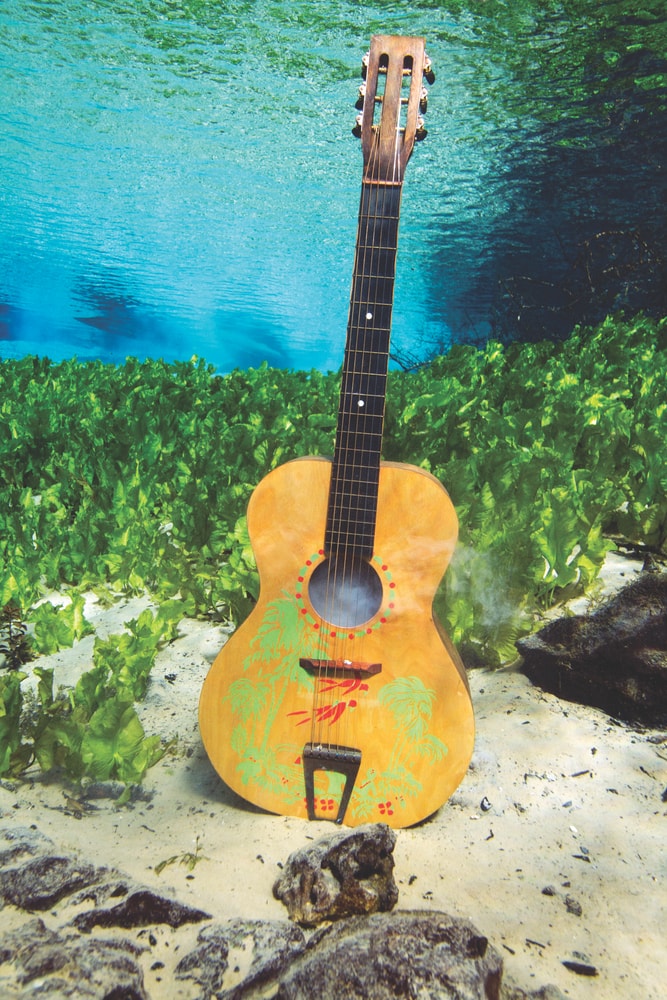 If not singing along, audiences are moving to the special harmony made with Ken's deep voice and guitar and Andi's high pitch and ukulele. Andi says she picked up the ukulele because it complements her tone, deeming it "her instrument." She says, "I started playing five years ago. You can't write a sad song on the ukulele!" (When Ken challenged her to do that, Andi began to sing, "I lost my ukulele . . .")
Earlier this year, Huck and Lilly released their second album, Sunshine.
Considering the brand's evolution, Ken admits, "The first album was organic and kind of slow-going with our writing songs and not knowing we were going to do an album." Progressing, they wanted to do something that hadn't already been done. For one thing, instead of sticking to a single genre, they let each song dictate if it would be country, blues, hip-hop, disco, or rock. A refreshing mix of dance music and ballads also kept the set list interesting. "If we were producing an album in Nashville," Ken notes, "the publisher would ask, 'What are you doing?' and the label would say, 'You don't know who you are!'" That's why they've produced their two albums in-house.
After writing their first song collection, Ken and Andi went to their friend Skidd Mills, an industry veteran with multiple Grammy and Dove Awards. "We felt he had been the missing link as far as the sound goes," says Ken, "and we had great chemistry together." Also, Ken points out, "We are not at the mercy of a studio." Skidd has one in his home, so they could work late into the night and set their own deadlines. They all believed that the first album was complete when the idea for "I Sat on a Porcupine" arose. "We wrote and recorded it in one day," Ken reveals, reiterating that songwriting is all about inspiration. "Some songs, we'll work on for a while and come back to them."
Huck and Lilly exist to entertain children and inspire young ones to use their imaginations, insisting that not every song has to teach a lesson. Huck and Lilly have produced three singles from There's a Tree Growing in My Room and four from Sunshine that have earned airtime on Sirius XM's Kid Place Live, channel 78.
Followers may struggle to envision Ken and Andi outside Huck and Lilly, but their résumés prove their chops outside of the children's genre. Ken's includes cowriting plenty of hits: "Still a Little Chicken Left on that Bone," released by Craig Morgan; "Beer on the Table," cowritten with Andi and recorded by Josh Thompson; "You Dream I'll Drive," "Summer and 16," and "White Van," the three of which hit number one with Josh Grider; and "Every Time I Fall in Love," recorded by Harry Connick, Jr., The Farm, Lisa Lambe of Celtic Woman, Clare Bowen from the show Nashville, and Kree Harrison from American Idol. (Moments after meeting Ken for the first time, Connick spontaneously invited him from the audience to perform "Every Time I Fall in Love" in a duet during a live episode of HARRY, his syndicated daytime show.) Ken also cowrote the theme song for the 2018 motion picture American Dresser with ZZ Top's Billy Gibbons and Tim Montana.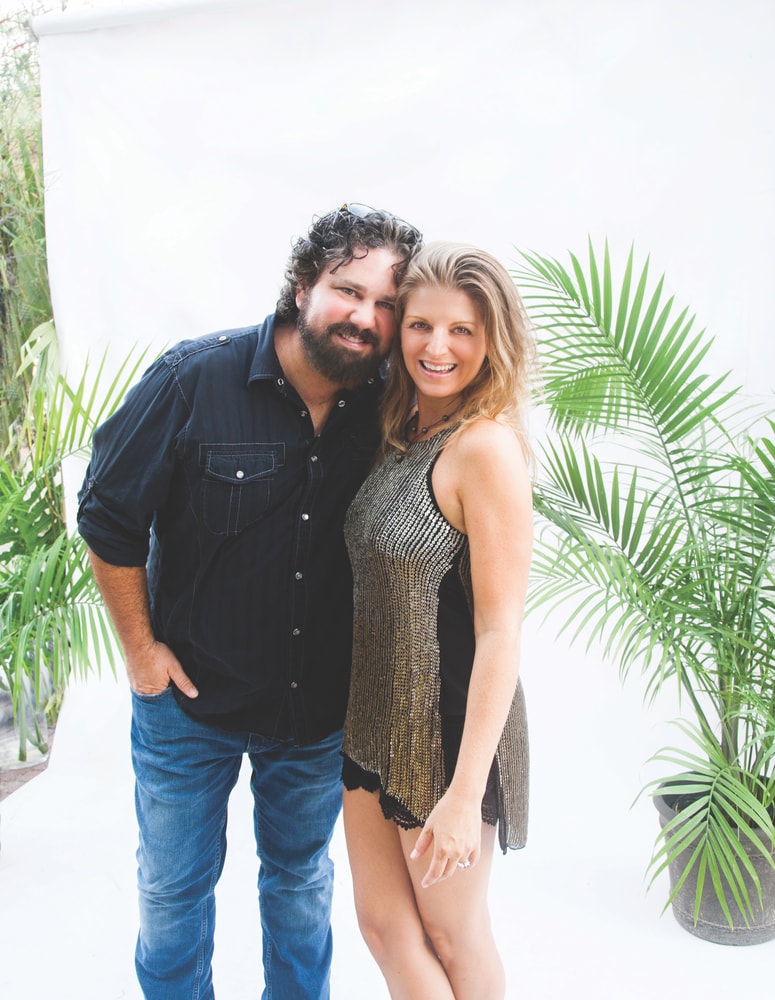 Andi's song "Heart Shaped Locket" appears on Brothers Osborne's Grammy-winning Pawn Shop album. Josh Thompson, Danielle Peck, Etta Britt, and Drew Gregory are among many other artists who have recorded her music. Andi additionally released her CD, Love Party, which features eleven songs written for the ukulele.
"We have a great network of friends in the music business who are like family to us," says Ken. "It's a community that rises up to help one another."
Emulating that ethos, Ken and Andi launched Hit Songwriter House Concerts to inspire collaboration among songwriters and expose them to audiences, mostly along Florida's Emerald Coast. "We write together and do private concerts," Ken says. Usually, the concerts take place in private homes, although they book small public venues occasionally. Such intimate settings allow talents like Charlie and Dana Black, who have at least twenty number-one hits between them, to play their songs and share the stories behind their lyrics. With performances booked nearly every week, Ken informs, "We don't have to advertise."
Whether as Ken and Andi or Huck and Lilly, the songwriters are having the time of their lives and feeling grateful. "Andi and I aren't the kind who would waste time worrying about why something didn't work or wasn't fair," says Ken. Andi agrees. "You can sit around and complain about the industry," she muses, "or you can find opportunities that reflect the way things are."
Their words hint of more to come.
— V —
---
To learn about live shows, watch interviews, sample or download music, purchase signed albums and other products, or join the fan club, readers should visit HuckandLilly.com or go to Facebook.com/HuckandLillyOfficial. Albums and songs are also available through iTunes. Find out about their songwriter concerts at HitSongwriterHouseConcerts.com.
Sallie W. Boyles works as a freelance journalist, ghostwriter, copywriter, and editor through Write Lady Inc., her Atlanta-based company. With an MBA in marketing, she marvels at the power of words, particularly in business and politics, but loves nothing more than relaying extraordinary personal stories that are believable only because they are true.
ARTICLE CATEGORIES