Faith, Family, Ducks—and Fashion
By Sallie W. Boyles | Photography by Morgan Cooper
To spot a male Robertson of the Duck Dynasty/Duck Commander variety, one should first look for an out-of-control beard and camouflage-printed attire. Despite a wild streak, especially during duck hunting season, the specimen would also show that he places faith and family above all else. The female version, or Robertson wife, can be equally disarming. Naturally beautiful with fabulous hair, flawless makeup, and classy attire, she does not flinch when her faithful husband brings home whatever wild animal he has just caught in the woods or water for dinner.
Many adjectives—smart, hilarious, wealthy, redneck, resourceful, devoutly Christian—describe the Duck Family Robertson clan, but the real-life characters are not so easy to pigeonhole. Although the Robertsons' motto of "Faith. Family. Ducks—in that order" articulates a deeply shared sense of purpose, no two personalities on the family tree are identical. Besides working, playing, and praying together, various family members have branched off to pursue their own missions. In that spirit, Missy Robertson has stepped out to launch a clothing line: Missy Robertson by Southern Fashion House.
On the surface, some might consider her an unlikely candidate for the fashion industry. With angelic features and a model figure, Missy, who could conceivably flaunt the hottest looks, dresses conservatively. She also admits to favoring the fresh, feminine designs found in the juniors department. But that's precisely the point of this endeavor. The mother of three desires modest outfits, not old-fashioned ones, yet she recognizes that teen clothes are not cut to flatter a more mature woman.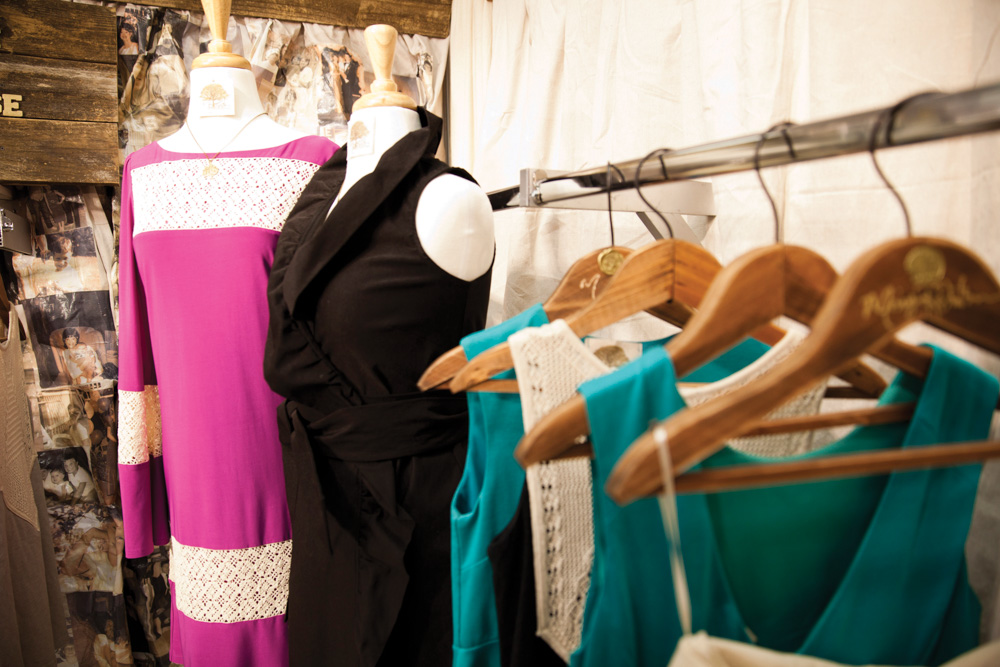 "We all want to look younger the older we get," says Missy, now in her early forties, "but when we want to start looking like our teenaged sons' girlfriends, that's not good." Missy and her husband, Jase, high school sweethearts who married when she was only nineteen, are the parents of two teenaged sons, Reed and Cole, and a ten-year-old daughter, Mia.
When shopping in women's boutiques, Missy is similarly discouraged; she feels the clothes are often too revealing. Feeling neglected by the fashion world, Missy has struggled to find age-appropriate, classy clothes that allow her to look and feel beautiful and feminine. "I was not a really big shopper," Missy explains. "I was a frustrated shopper."
She learned about the Judith March clothing line—a feminine, bohemian-inspired label created by Stephanie Carter of Southern Fashion House—through the K-Sera Boutique in her hometown of West Monroe, Louisiana. Elements of Judith March strongly appealed to Missy, but she still had wants, such as longer hemlines. When Missy expressed the thought of developing her own brand, the women at K-Sera encouraged her to meet Stephanie.
The mother of three desires modest outfits, not old-fashioned ones, yet she recognizes that teen clothes are not cut to flatter a more mature woman.
"They called me on a Saturday to say that Missy was interested," recalls Stephanie, who is also the founder of Deja Vu, a contemporary clothing collection with four retail stores of the same name in Florida and Alabama. Judith March sells in 850 boutiques across North America, and Stephanie's other popular line, Jacque + Janis, offers a free-spirited take on bohemian and chic. All the while, Southern Fashion House, like Stephanie Carter, has remained uniquely Southern. Rather than flocking to New York or L.A. like most in the industry, her headquarters remain in Santa Rosa Beach, Florida, with design facilities, sample showrooms, and an eight-thousand-square-foot warehouse all right next to the corporate offices.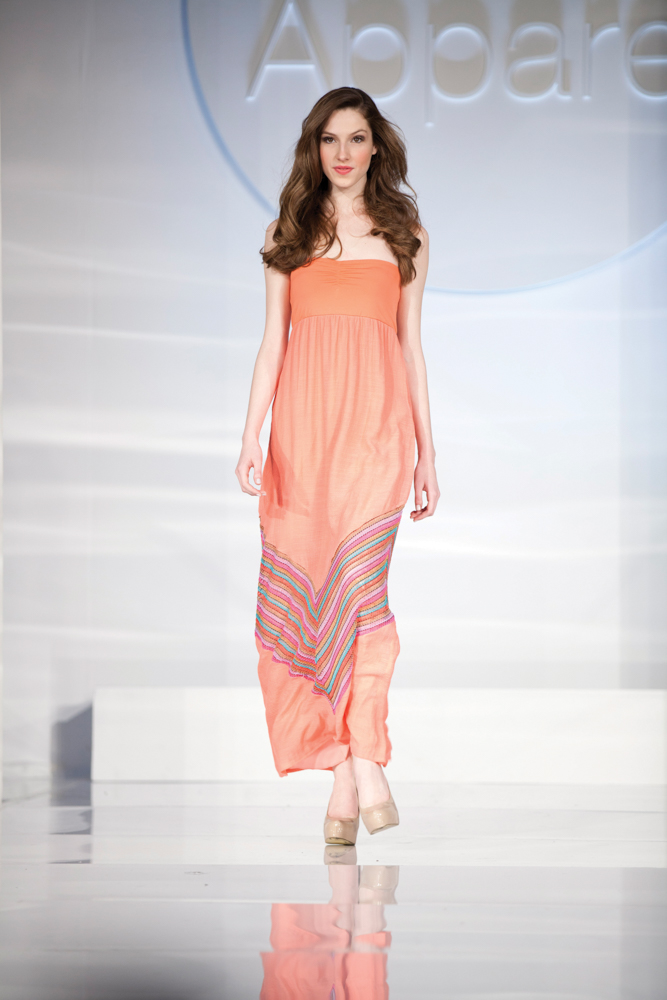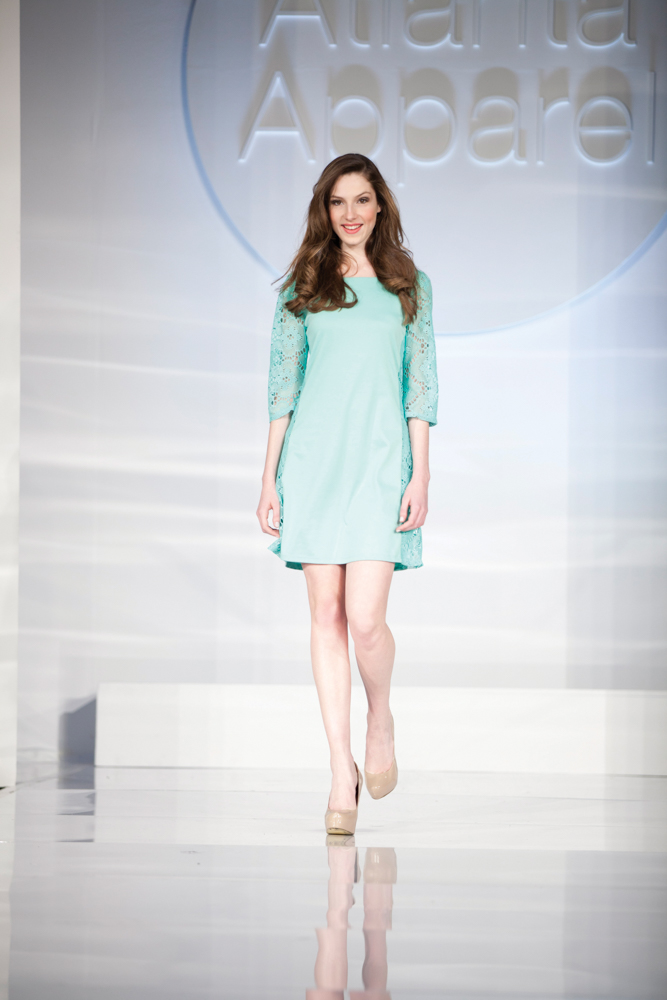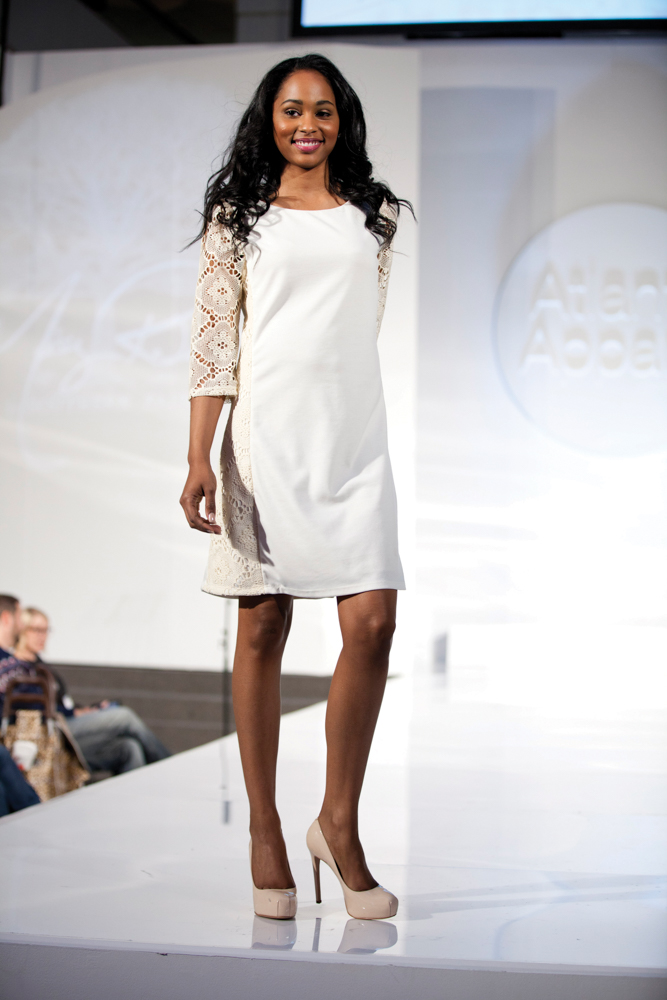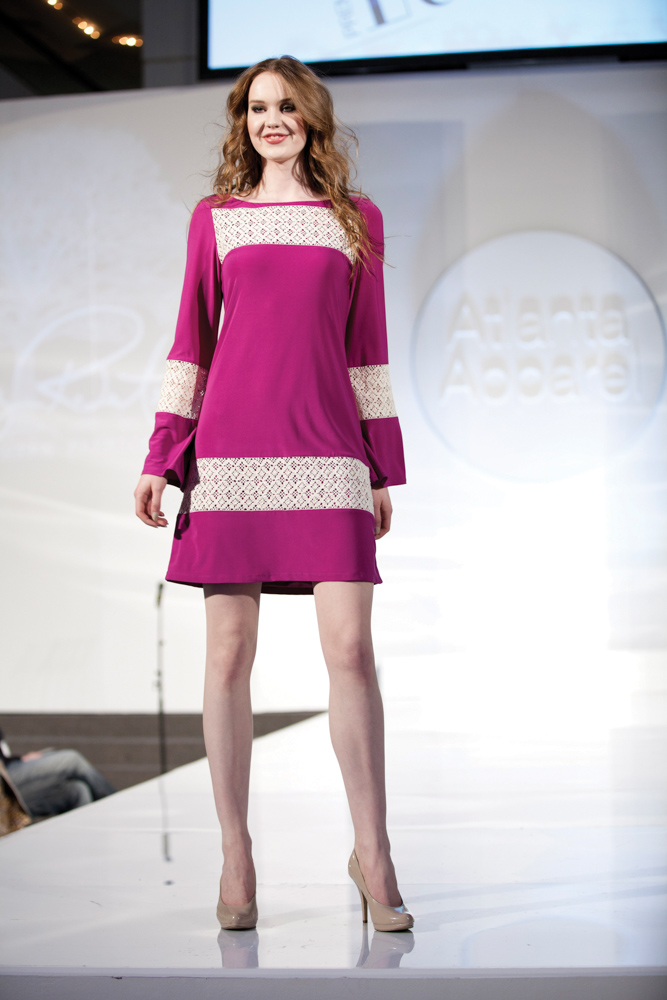 "Stephanie's collections remain true to her own tastes and personality," confirms Christy Carlisle Smith, Southern Fashion House CEO. Having previously worked with Kay Unger in New York, Christy adds, "Stephanie should be commended for starting and maintaining such a successful design business where we are. I can only imagine that she feels much more inspired and relaxed in Northwest Florida than she would designing in New York or Los Angeles. She isn't tainted daily by the need to be on top of trends."
Apart from being an industry insider with the retail know-how, fashion sense, and resources to launch a clothing collection, Stephanie is a self-made Southern (Alabama-bred) woman who instinctively gets Missy and her vision. From spending countless days in her Deja Vu stores, where she continually heard women commenting in the dressing rooms, Stephanie knew that Missy was not the only style-conscious female seeking modest options. She further admits that many boutique owners began asking her to lengthen the hemlines from the time she first introduced Judith March. Nevertheless, Stephanie confesses, "I kept saying, 'I'll get to that when I can.'" At last, Missy and her name became recognizable from A&E's Duck Dynasty and this newfound celebrity status prompted her to act.
"I asked if she could meet on Monday," says Stephanie of the introductory phone call, "but Missy was filming Duck Dynasty, so we flew into Monroe on Friday." Thanks to her "dream team" of designers and seamstresses, in just five days, Stephanie had thirty original Southern Fashion House creations to show Missy.
"We did everything but glue those samples together—well, we might have used a little glue on them," Stephanie laughs, conveying her pure passion and joy for the work. "She loved 98 percent of what we presented." Missy also had some critiques. "I've told her," Stephanie continues, "'you can't hurt my feelings, Missy.'"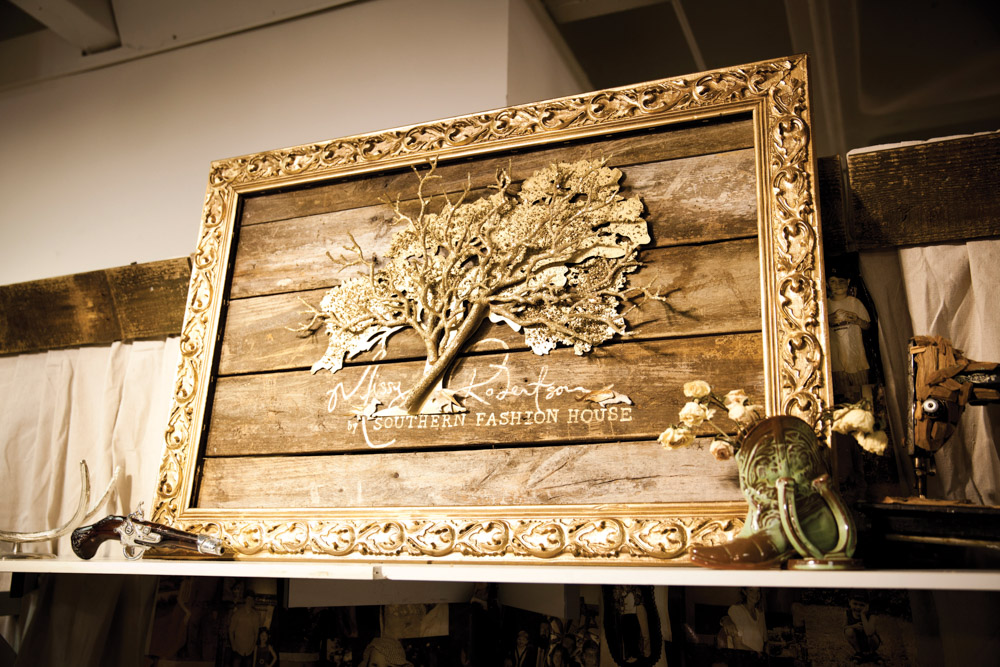 "I told them, 'Oh my goodness, y'all nailed me!'" says Missy of the collection. "I was so surprised because I am very picky." Even so, she adds, "When I said I wanted the hemlines longer and the fit not so tight to reveal every nook and cranny, and Stephanie said, 'I'm hearing that,' I wondered, Why isn't anyone doing that? That's when I said I'd step up and take the risk."
"I immediately knew I could do this with her," remarks Stephanie. "We are both hardworking mothers, and Missy understands what women really want. I can relate when she tells me she wants to look cute and cool, but her skirt shouldn't be hiked up when she's sitting on the bleachers at her kids' games. Missy puts me in real-life mode." In addition to sharing similar values, Stephanie reveals, "She's fun, and it had to be fun. If the work is not enjoyable, I'm not my best."
About three months after the first meeting, Southern Fashion House presented a full line of samples to Missy, who inspires and approves the concepts but relies on the experts for the rest. "I don't have any skill or patience for sewing," Missy confesses, but she readily expresses her preferences. As a result, most would agree that the designer's interpretations are decidedly Missy Robertson.
Featuring fifty-five pieces, Missy Robertson's Spring Collection introduces dresses and skirts with slightly longer hemlines, mix-and-match tops with varying sleeve lengths, gauzy embroidered pants, and light cover-ups. Retail prices range from $54 to $120.
The water oak tree, the brand's signature symbol featured in the Missy Robertson by Southern Fashion House label, was chosen for its significance as a food source for a variety of wildlife in the South. The Robertsons, who hunt and fish to feed their family, value the tree and the animals as God-given gifts.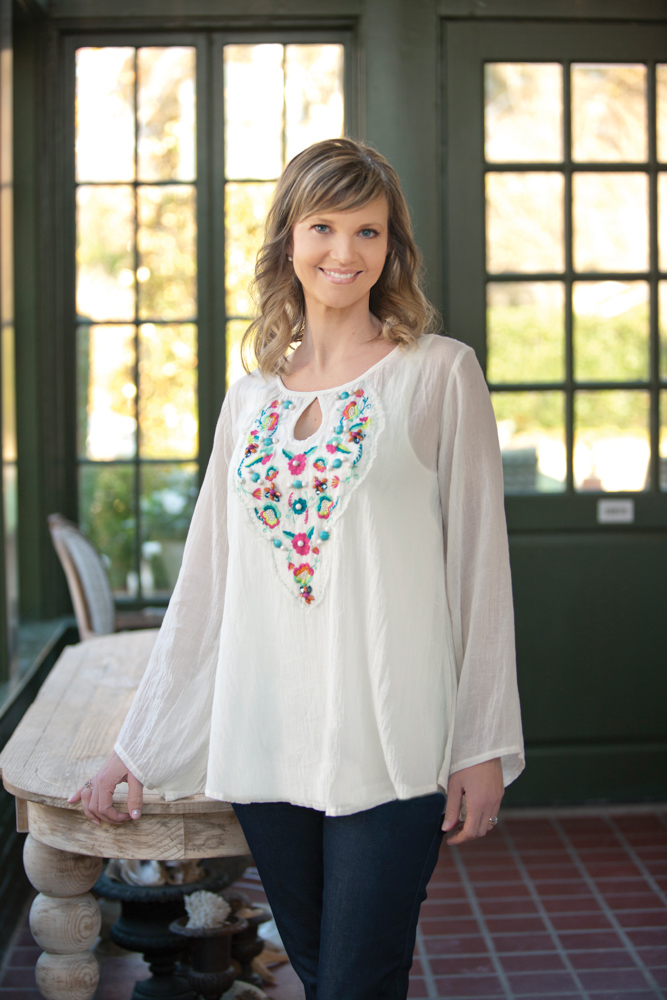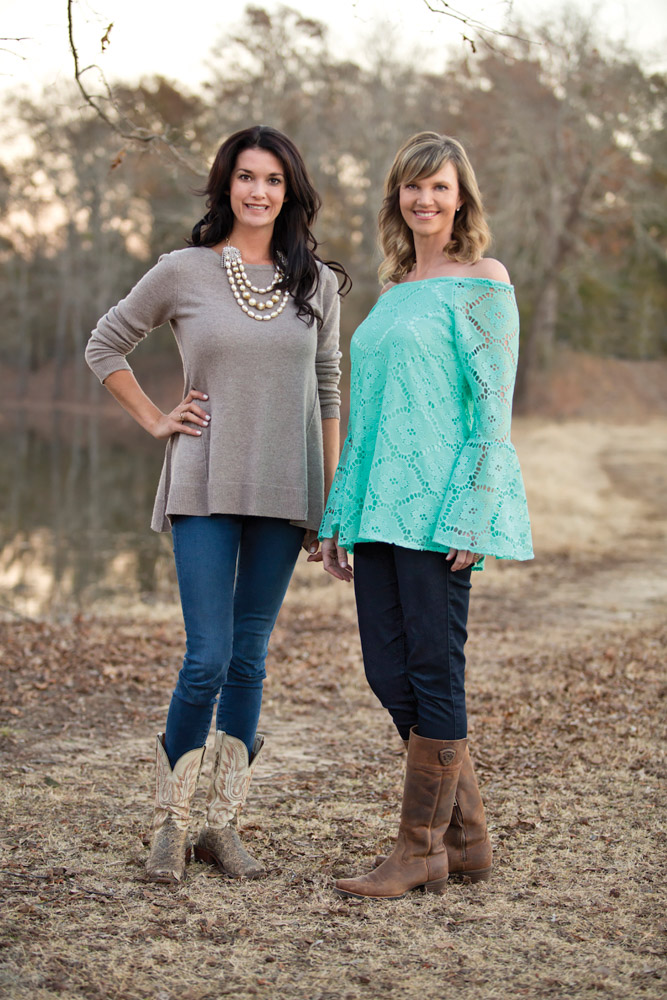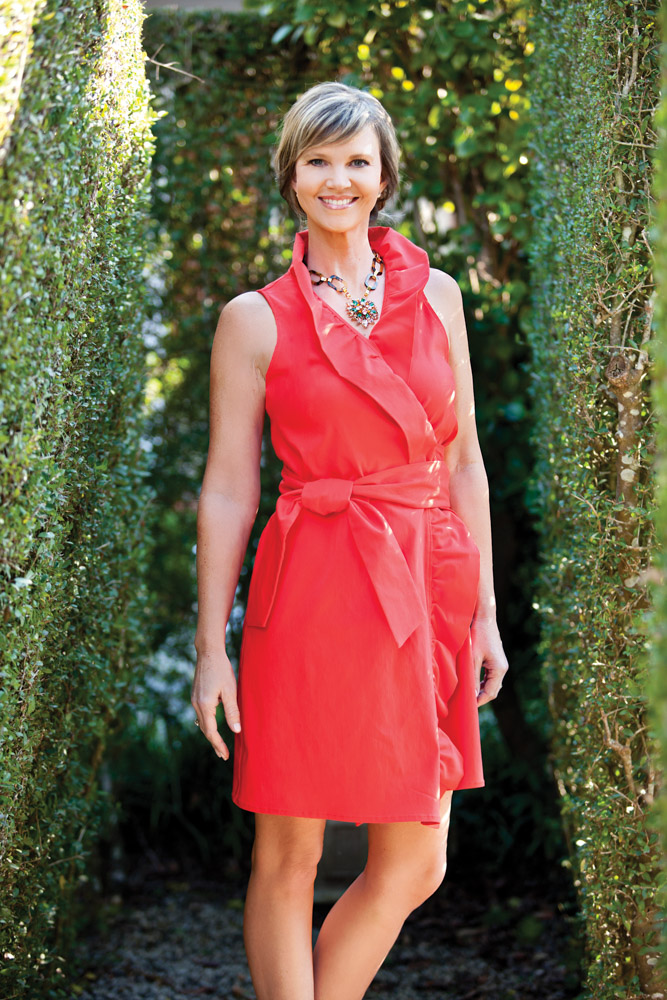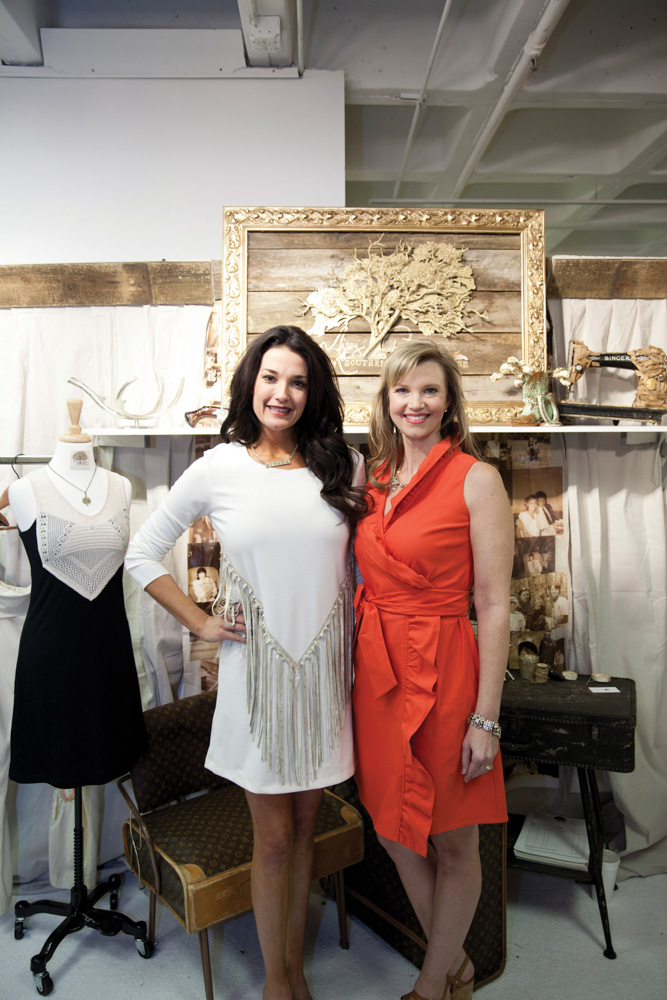 An abundance of jade, teal, turquoise, coral, and neutral tones in the launch pay tribute to Missy's favorite colors, while crocheted fabrics and embroidered details deliver the youthful, feminine qualities she loves. "One of my favorites is a long-sleeved, crocheted top with a vibrant cross appliqué in the back," says Missy, pleased with the religious symbolism. If pressed to name a signature piece, both Missy and Stephanie point to a red sleeveless dress with a sophisticated yet flirty ruffle. "I like light fabrics to keep cool," says Missy, "and I want my personality to come through."
Other hallmarks are clean lines that fall softly on the body in easy-care fabrics, from gauzy cotton to lightweight knits. Comfortable but sophisticated, the styles allow a woman (with sizes ranging from extra small to extra large) to show off just enough of her figure to feel confident about her appearance from all angles. "Before I go out," Missy says, "the most important thing for me is to check myself from front to back in the full-length mirror to ensure that I'm modest."
In Missy's line, you'll find that go-to dress or outfit that always gets compliments. The colors and designs are timeless.

I don't know much about the fashion business, but regardless of what our show does, it won't last forever. Duck Dynasty will help the line, but I want women to look at the collection and say, 'Finally.' She believes in her label's longevity "because it's for real women."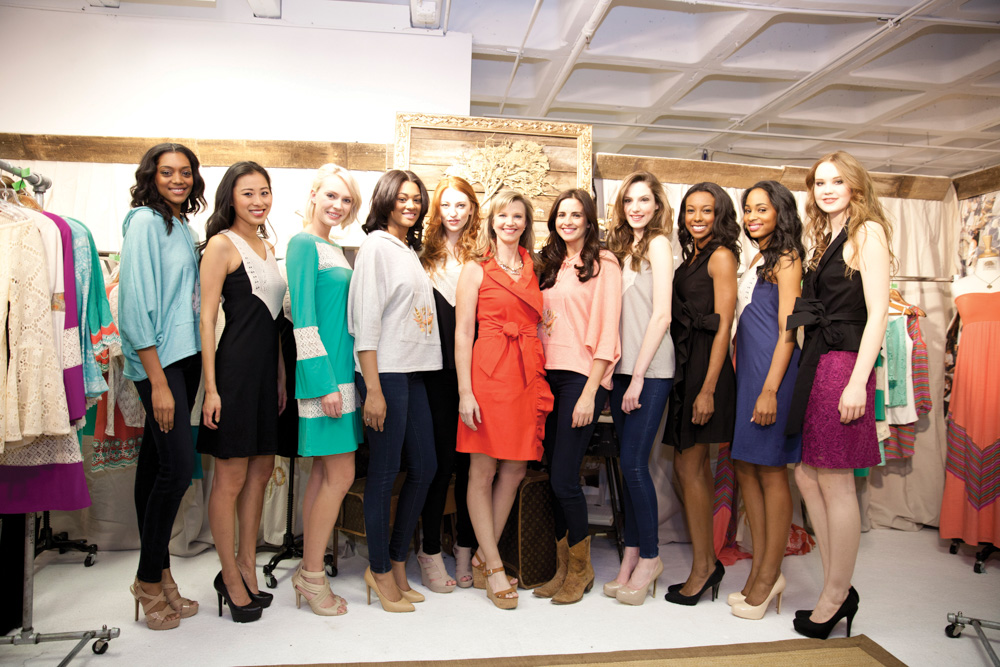 Her instincts seem to be on target. The Shop Missy Robertson Facebook page received over 365,000 likes in just over three days after launching, and women of all ages are showing interest. Retailers are also rushing to the front of the line with their orders.
Without question, Missy's willingness to go out on a limb and the fruits of her collaboration with Southern Fashion House please her husband, Jase. "He is very proud," Missy divulges. "When we finished making the video [for the fashion line] and I played it for him, he said, 'Now, that's what I'm talking about!'"
— V —
---
For more details on the clothes about which many are talking, interested shoppers and retailers should visit www.southernfashionhouse.com.
ARTICLE CATEGORIES