Recipes with Good Taste
It wouldn't be a Culinary Issue without some mouthwatering dishes for our readers to try at home! We've partnered with some of the American South's best chefs to bring you an inspired salad, two delectable entrées, and refreshing libations. Now we're cooking!
Barbecued Head-On Shrimp
By Chef David Bishop, Bud & Alley's Waterfront RestaurantSeaside, Florida
On the Southern coast along the Gulf of Mexico, shrimp is pretty much king. This barbecued take on it will add spice to any meal.Serves one.
Ingredients
1 tablespoon all-purpose seasoning, such as Everglades seasoning 1 tablespoon cayenne pepper 1 tablespoon celery salt 1 tablespoon vegetable oil 1/4 cup sliced andouille sausage 6 large shrimp, peeled, head and tail left on 2 cloves garlic, sliced 1 sprig fresh rosemary 1 cup white wine 3 ounces unsalted butter, cut into small pieces Grilled bread* for serving
Preparation
Barbecue seasoning
Mix the all-purpose seasoning, cayenne pepper, and celery salt in an airtight container.
Shrimp
Heat a large skillet over medium-high heat. Add the vegetable oil, sausage, and shrimp. Cook for one minute, and then turn the shrimp over and continue cooking. Add the garlic and rosemary sprig and cook for another minute. Pour in the wine to deglaze, and then add the butter and a half teaspoon of the barbecue seasoning. Reduce the heat to medium and swirl the pan to incorporate the butter. Taste and add a half teaspoon more of the seasoning, if needed. (Reserve the remaining seasoning in an airtight container for another use.)
Transfer the shrimp and sausage to a serving bowl and garnish with a slice of grilled Tuscan-style bread. *Bud & Alley's proudly serves naturally leavened artisanal sourdough bread from Black Bear Bread Co.
---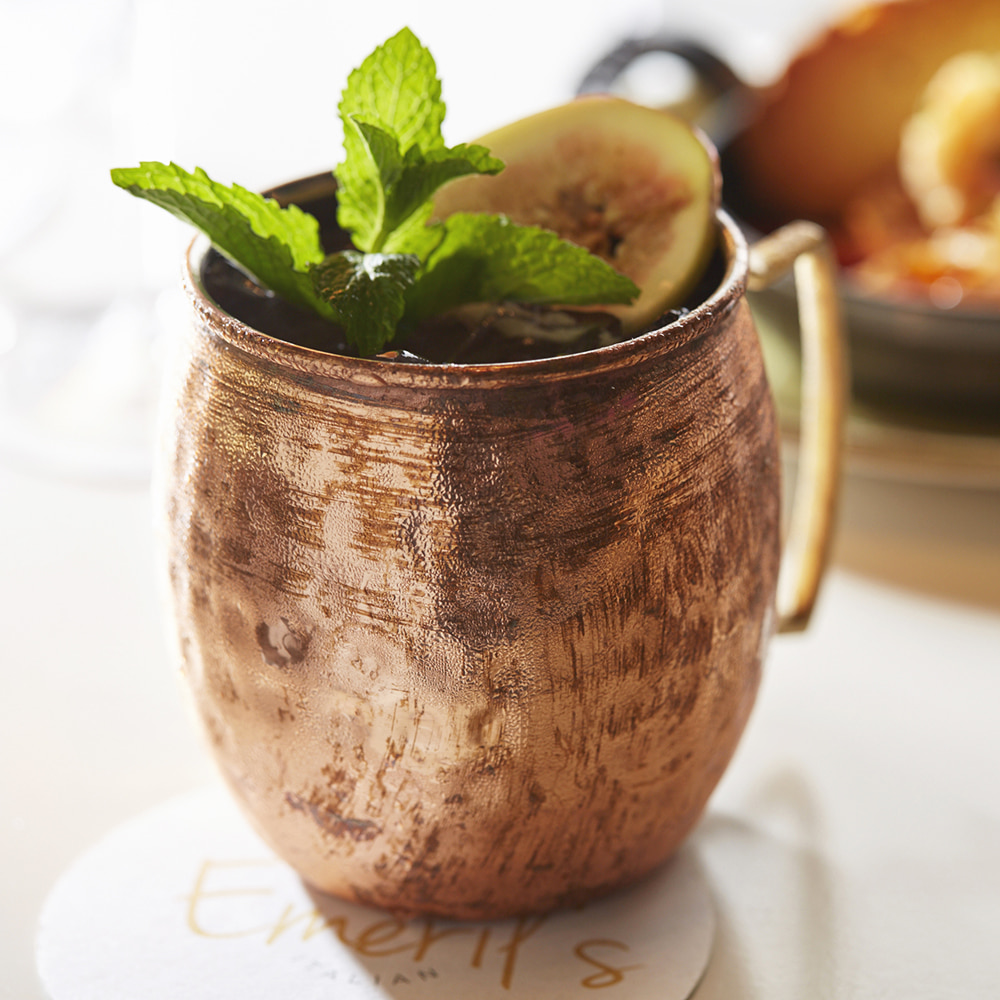 Mediterranean Mule
By Emeril's Coastal ItalianMiramar Beach, Florida
Emeril's Coastal Italian combines the rich and diverse tradition of Italian cuisine with the bountiful variety of local fresh ingredients, and its cocktail menu is no exception.Serves one.
Ingredients
2 ounces Figenza Mediterranean Fig Flavored Vodka (or any fig vodka) 1 ounce simple syrup 1/2 ounce each lemon and lime juice 2 raspberries 4–5 mint leaves Fever Tree Ginger Beer Fig slice for garnish (optional)
Preparation
Muddle the raspberries, mint, and simple syrup in a shaker, and then add fig vodka, juices, and ice. Shake and pour (don't strain) into a copper mug. Top with more ice and ginger beer. Garnish with mint top and a fig slice (if in season).
---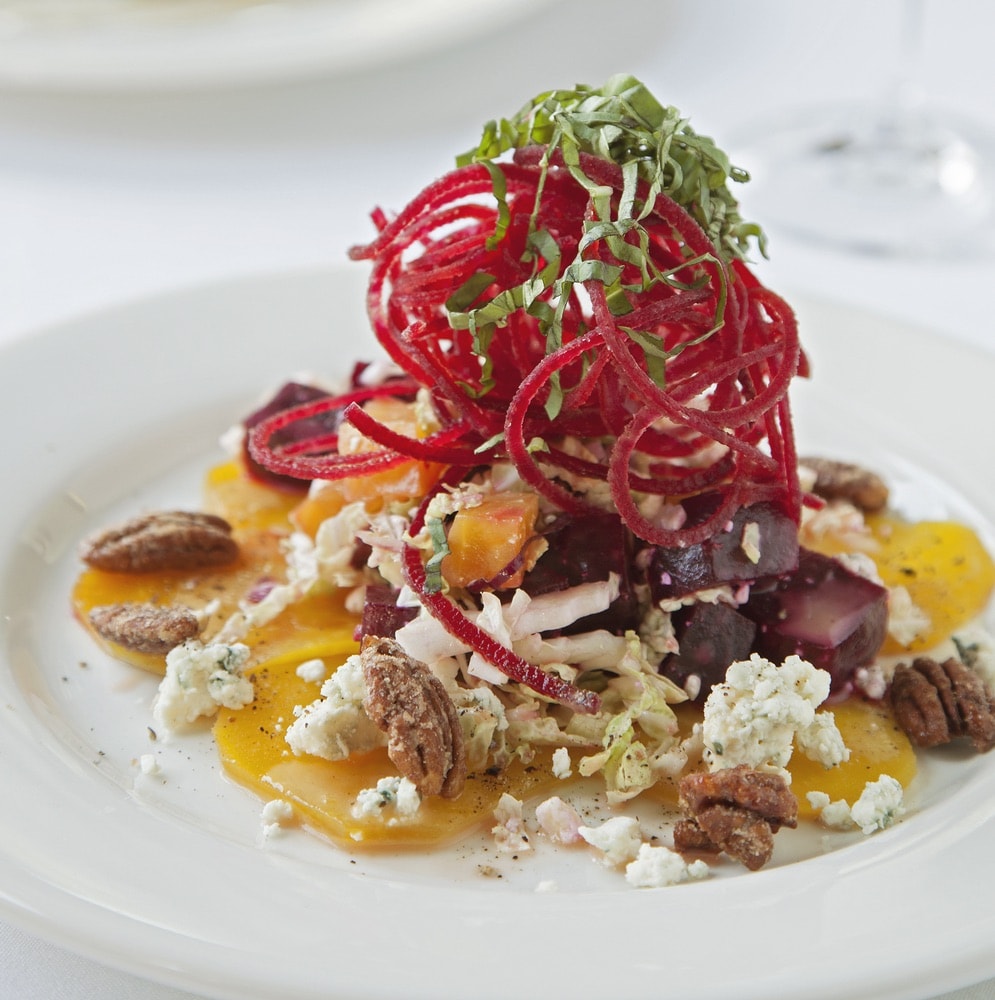 Roasted Beet Salad with Orange Vinaigrette
By Café Thirty-ASanta Rosa Beach, Florida
Leave the traditional salad ingredients behind and get the party started with this delicious and colorful starter. Serves eight.
Ingredients
2 1/2 cups pecans 3/4 cup bourbon or rum 1/2 cup sugar 1/4 cup brown sugar 3 ounces honey 8 whole fresh beets 3 sprigs fresh rosemary 2–3 ounces fresh ginger 1 cup red wine vinegar 3 1/2 cups water 1 1/2 cups sugar 4 ounces blood orange puree 1 ounce lemon juice 1 1/2 cups Dijon mustard 2 cups olive oil 1 head napa cabbage, julienned 1 head radicchio, julienned Crumbled blue cheese to taste Salt and pepper to taste
Preparation
Candied pecans
Place bourbon (or rum), 1/2 cup sugar, 1/4 cup brown sugar, and 1 ounce of honey into a saucepan. Burn off alcohol and dissolve sugars until clear. Toss 2 cups of pecans in liquid. Spread pecans onto a sheet pan and roast in the oven at 350 degrees for 10 to 15 minutes.
Beets
Place beets, rosemary, ginger, red wine vinegar, 2 cups of water, and 1 1/2 cups sugar in a roasting pan. Cover and place in 350-degree oven for 1 1/2 to 2 hours. Drain beets, set aside to cool, and then peel.
Blood orange vinaigrette
Place blood orange puree, 1 1/2 cups of water, lemon juice, Dijon mustard, and 2 ounces honey in a blender. Add salt and pepper to taste and puree. Slowly add 2 cups olive oil until well blended.
Slaw
Toss napa cabbage, radicchio, crumbled blue cheese, and 1/2 cup pecans together with enough blood orange vinaigrette to lightly dress the greens.
Assemble the salad by placing a mound of slaw on each plate. Top with sliced beets and garnish with a little more crumbled blue cheese, pecans, and blood orange vinaigrette.
---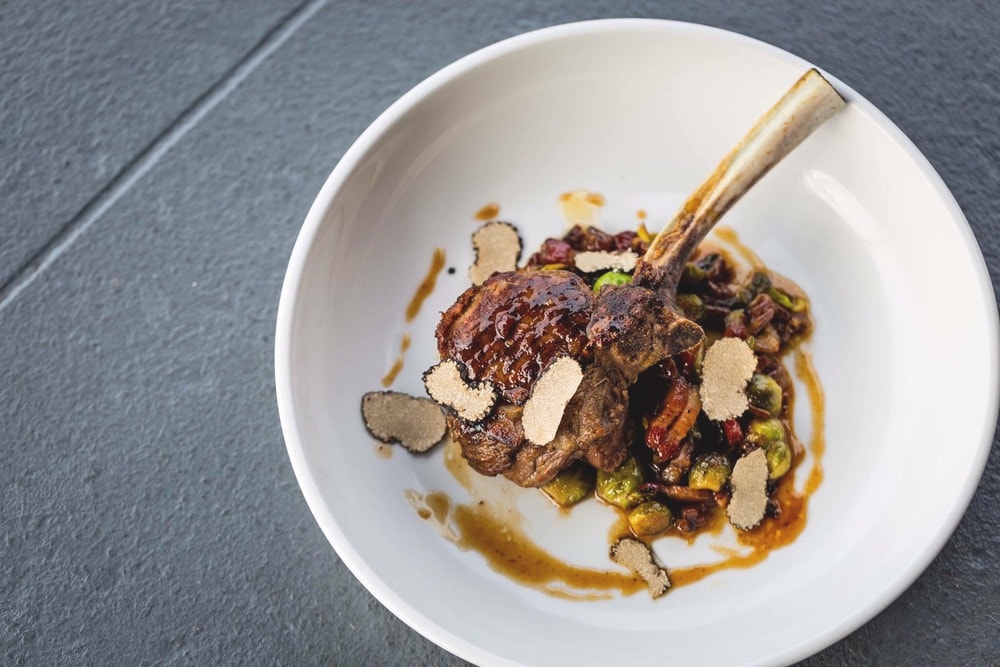 Grilled Milk-Fed Veal Chop with Roasted Brussels Sprouts and Pancetta
By Chef Derek Langford, FireflyPanama City Beach, Florida
The traditional chop concept gets a twist with this tender and succulent veal chop recipe.Serves two.
Ingredients
4 double-cut milk-fed veal chops 2 pounds brussels sprouts, bottom ends trimmed and cut in half Pecan halves 1 lemon, juiced 1 teaspoon olive oil 1/4 pound pancetta, cut into lardons Salt and pepper Winter or summer truffles Veal demi-glace or au jus 2 cups red wine 2 tablespoons butter 1 tablespoon red wine vinegar
Preparation
Veal
Season the veal chops with salt and pepper the night before to impart more flavor to the meat. On the day you cook them, fire up the grill to medium-high heat. Grill chops for about four minutes on each side for medium rare.
Brussels sprouts
In a sauté pan over medium heat, add your olive oil. Let the oil get hot but not to the smoking point. Add the pancetta and render it until crispy. Remove the pancetta from the pan and drain half the fat out of the pan. Add the brussels sprouts and pecans to the pan and place in a 350-degree oven to cook until tender. Finish with lemon juice and add the pancetta back to the pan. Toss with salt and pepper to taste.
Veal demi-glace
Use fresh veal stock if you can; if not, use your favorite veal demi base. Add the red wine and reduce by half, and finish it with a touch of red wine vinegar and butter.
To plate, place an even amount of brussels sprouts on each plate and place two veal chops on top. Brush the demi sauce on each veal chop. With a mandolin, shave the truffles thinly over the veal and serve.
— V —
ARTICLE CATEGORIES