Pickos Ski School Brings World-Class
Athletes to Northwest Florida
By Kyle Petit | Photography by Tiare Miranda
Our beloved corridor of Scenic Highway 30-A in Santa Rosa Beach, Florida, is known far and wide for its lovely white sand, warm Gulf water, amazing artists, nice dogs, and strange people. Those of us who live here are blessed to make our homes amid the quaint beauty of the small beach villages that line our bit of the coast. Tourists flock here each season hoping to enjoy the same things that make up our daily lives. We see them sitting with sunburned feet outside the ice cream parlor and smugly reassure ourselves that they won't ever know as much about our home as we do.
But do we really know everything about the place we live in? I have lived here for the entirety of my adult life and find myself discovering new gems all the time! One of the hidden jewels of the 30-A corridor is the very reason I call myself a resident. Just four blocks north of the beach, off a road named Sugar Drive, a very unique neighborhood has eluded even some of the most in-the-know residents. At the end of Slalom Way on a cul-de-sac known as Jump Street sits the Cory Pickos World Ski Center.
In 1992, world-renowned water-skier Cory Pickos and his beautiful wife, Rose, lived in South Florida and ran a ski school on park land until their lease ran out. Needing to relocate and also expecting their first child, Cory and Rose began to search for a man-made lake to host their operation. As luck would have it, an ambitious developer was working on a project in Santa Rosa Beach at the same time. The goal was to dig three man-made lakes specifically designed to be excellent for waterskiing. Luckier still, the developer was also a competitive water-skier, and like most skiers, a huge fan of Pickos. He needed a professional to bring his dream of a ski school nestled in the heart of a water-ski lifestyle community to fruition. Just like that, the Pickos World Ski Center was born—just in time for little Adam Pickos to be born as well!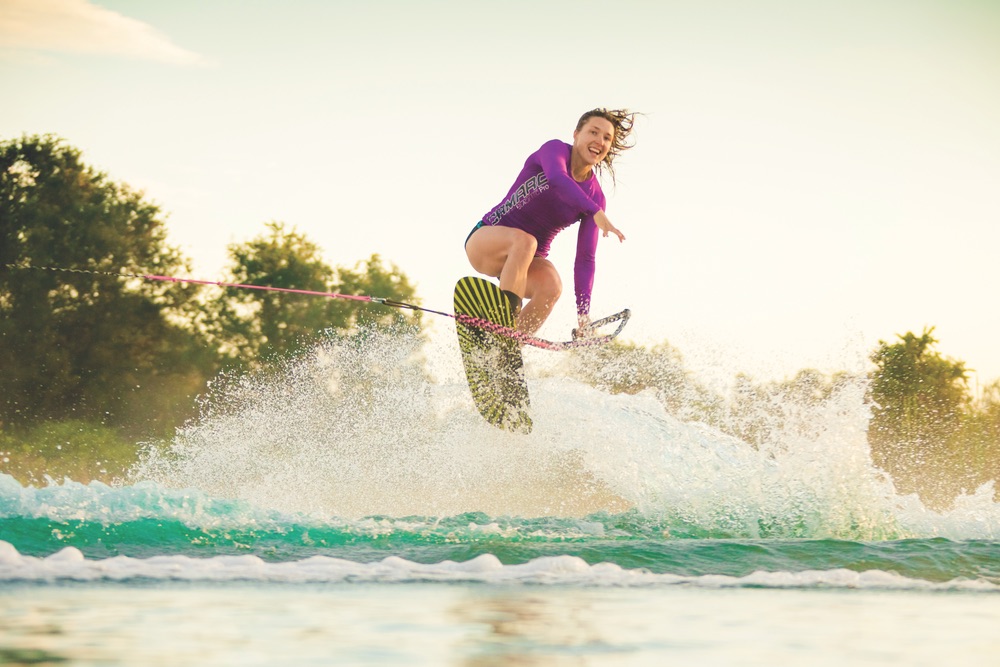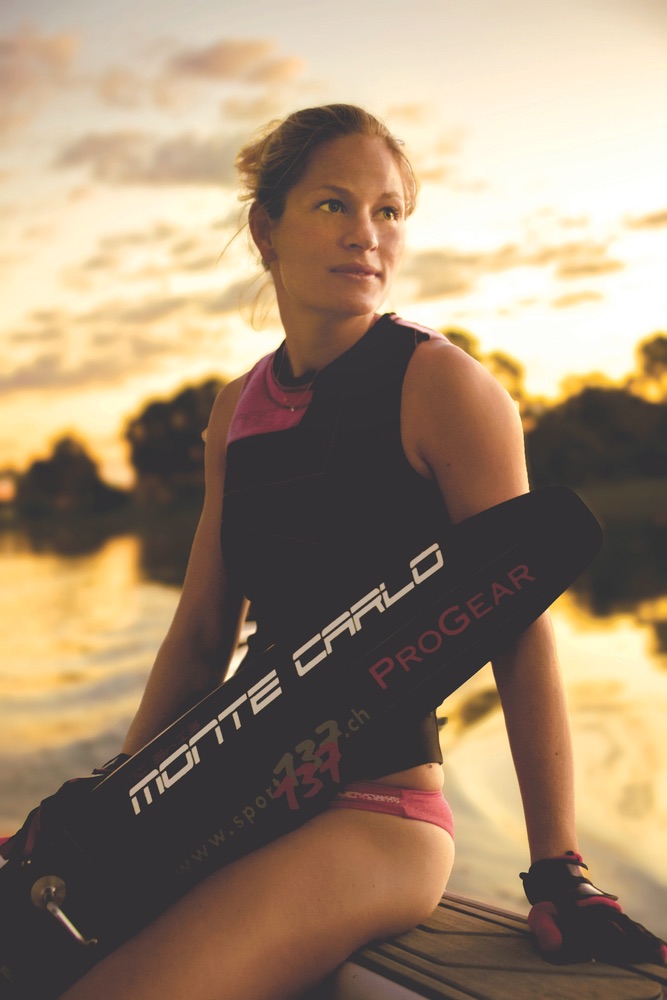 As the years have gone by, the World Ski Center has gained a reputation for being the best water-ski training center in the world, and the Pickos family grew to include a sweet daughter named Alexis. Athletes come to this sunny haven from all corners of the earth. Santa Rosa Beach has been privileged to host world-class water-skiers from countries such as Japan, the Czech Republic, England, Denmark, Norway, Finland, Belgium, Greece, France, Spain, Italy, Belarus, Mexico, Colombia, Brazil, Chile, Argentina, the United Arab Emirates, New Zealand, Australia, South Africa, and more—I could go on forever!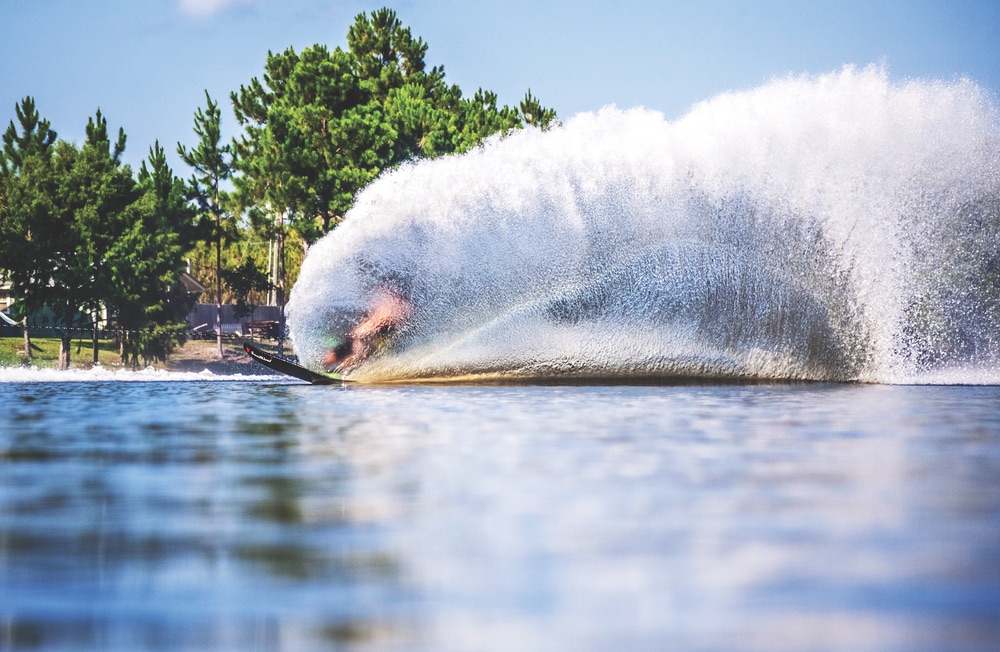 Talented individuals come to the school seeking wisdom and training from Sensei Cory and his amazing family. His "only the strong survive" philosophy can be found painted on walls in Mexico in homage to the Water Ski Hall of Fame inductee. The master himself holds twenty-four world records, two world titles, ten Masters wins, and ten U.S. Open wins in men's waterskiing. Cory and his son, Adam, also achieved a milestone in their sport in 2009 when they became the first father-and-son duo to represent their country in the same discipline at the same time in the world championship competition. Yet another first occurred when Adam won the world title last year in Mexico, making them the only father and son to hold world titles in the same event.
Not all of the athletes who train on these beautiful lakes—which boast the most sanctioned world waterskiing records of any on earth—come from abroad. In fact, plenty hail from the United States. One such athlete came to live with Cory and Rose at the tender age of fourteen. Hailing from the great state of Georgia, a young Regina Jaquess met the Pickos family and saw a tremendous opportunity to learn. Years of nurturing, dedication, and training resulted in Regina's becoming a champion among champions. Some Santa Rosa Beach locals may not realize that the sweet, petite lady that runs the Emerald Coast Compounding Pharmacy is actually a massive force of nature! Regina thrived at the World Ski Center and went on to become perhaps the most prolific female athlete that the sport has ever seen. She's not just a brilliant pharmacist, folks—she's also the reigning world-record holder in both slalom and overall categories as well as the reigning world tournament champion in both categories. Her slalom record of 3.25 buoys at forty-one feet off the rope is a feat that seems absolutely impossible until you actually witness it yourself.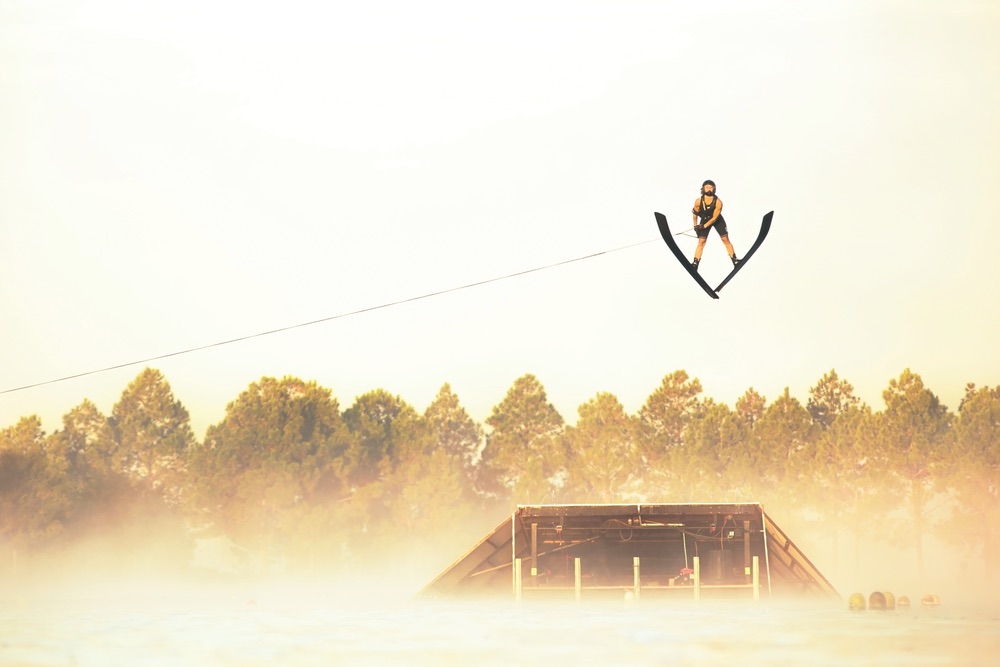 Visitors can witness any and all of the feats accomplished at the World Ski Center on any given day. The boats run from sunup to sundown nearly all year long, and spectators are always welcome to come and watch for free! Many tournaments are held at the lakes throughout the year, and these present great opportunities for afternoons of entertainment watching us crazy skiers slalom, trick, and jump our way to glory. Yes, I said us crazy skiers. As I mentioned, the World Ski Center is the very reason I call myself a local today. As the captain of the University of Kansas waterskiing team, I found myself traveling to these lovely beaches every spring break to train with the greats. In my last year of university, I blew off all internship opportunities to pursue a higher aspiration as an employee of the World Ski Center. As the center's cook, I was afforded ample water time, room and board, and expenses. It was an absolute dream come true for me. During that stay, I met the man whom I would later marry, and thus I never really left the Emerald Coast again.
I still compete, and I try to be the best student possible on the water. (Sensei thinks I talk too much, but what does he know?) Life in our neighborhood is never boring, and the people at the ski school have become my extended family. They gave me a place to turn when times got tough and continue to support, nurture, and guide me and my children. They even guided me to earn a spot representing the USA in the 2014 World Over 35 Waterski Championships!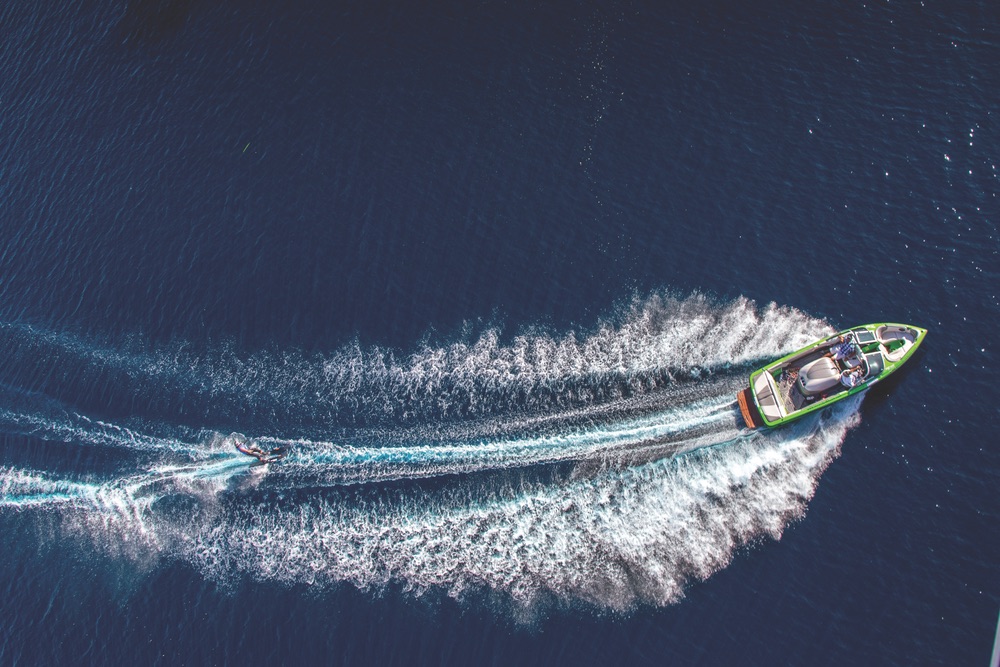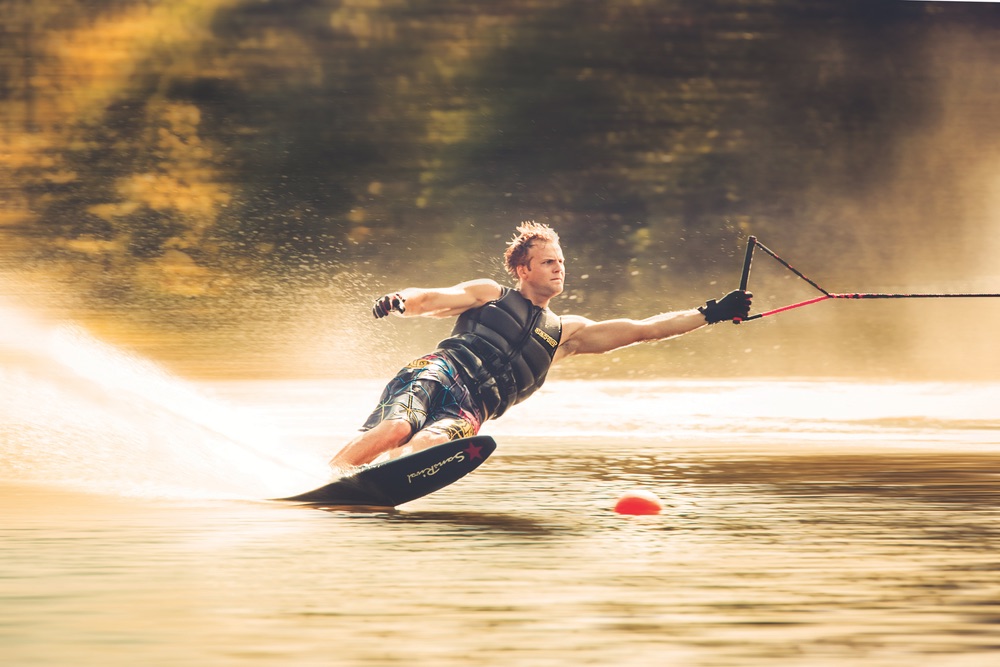 You don't need to be a champion or have competitive goals to learn a thing or two at the World Ski Center. They teach people of all ages and abilities. It's a great way to spend a few days on the water getting pointers from the pros. Imagine taking a day off from the beach, relaxing in a boat or by the lake instead. The ski school accepts call-in appointments, or you can book by e-mail through its website at www.SkiCory.com.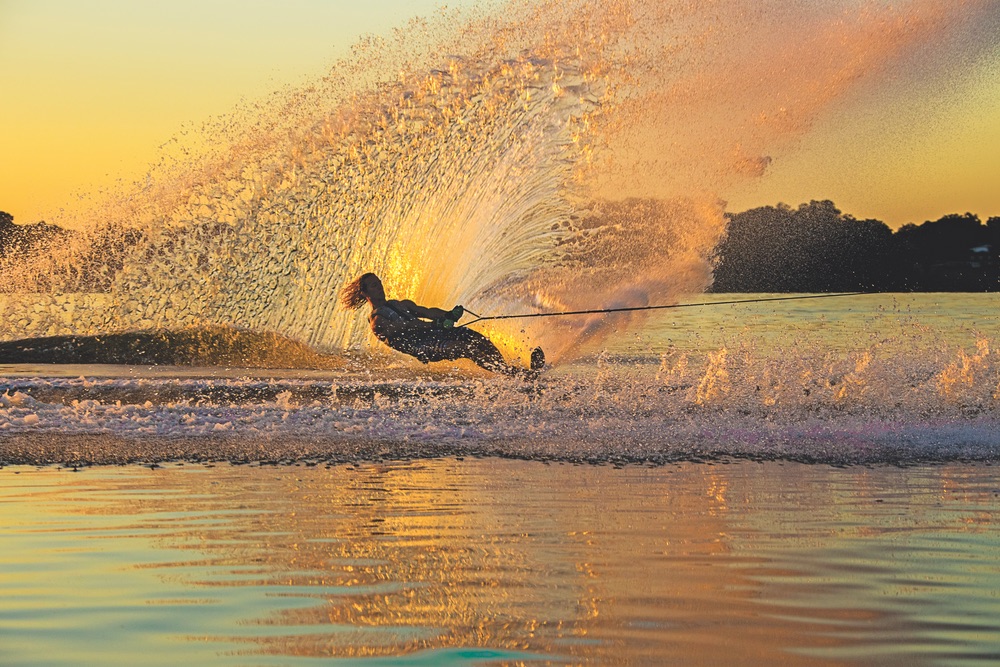 Don't worry about having the right equipment. The Ski Shack pro shop has everything you'll need, and the Ski Center has plenty of equipment for you to borrow while you learn the ropes. I highly recommend checking out this most unique enterprise if you find yourself on or near 30-A. Whether you're a local or a visitor to our beautiful neck of the woods, a trip down Slalom Way will always prove to be interesting and exciting! The Pickos family and the World Ski Center team are impeccable hosts and patient teachers, and I consider myself lucky to be a part of their world.
— V —
---
ARTICLE CATEGORIES