A Culinary Tour of Madrid
By Anthea Gerrie | Photography courtesy of Real Madrid
It's one of the great treasure houses of Europe, but Picasso and the Prado notwithstanding, Madrid is also a wonderful city to eat in. From the moment they stand in line for their midmorning "second breakfast" (a plate of nutty ibérico ham or a rich hot chocolate with churros for dipping), Madrileños are busy planning what to eat for lunch, where to meet friends for post-siesta tapas, and at which street stall to end the night with their favorite fishy snack—squid sandwich, anyone?
"This is a city with an unlimited appetite for food, wine, and socializing," says Olaf Clayton, publisher of Madrid's English-language newspaper, The Madrid Metropolitan. Meanwhile, actress Helen Mirren raves about her favorite fried egg ritual in the city—gathering with friends for huevos rotos. Etiquette determines who gets to break the yolks over huge platters of ham and potatoes, and then everyone dives in!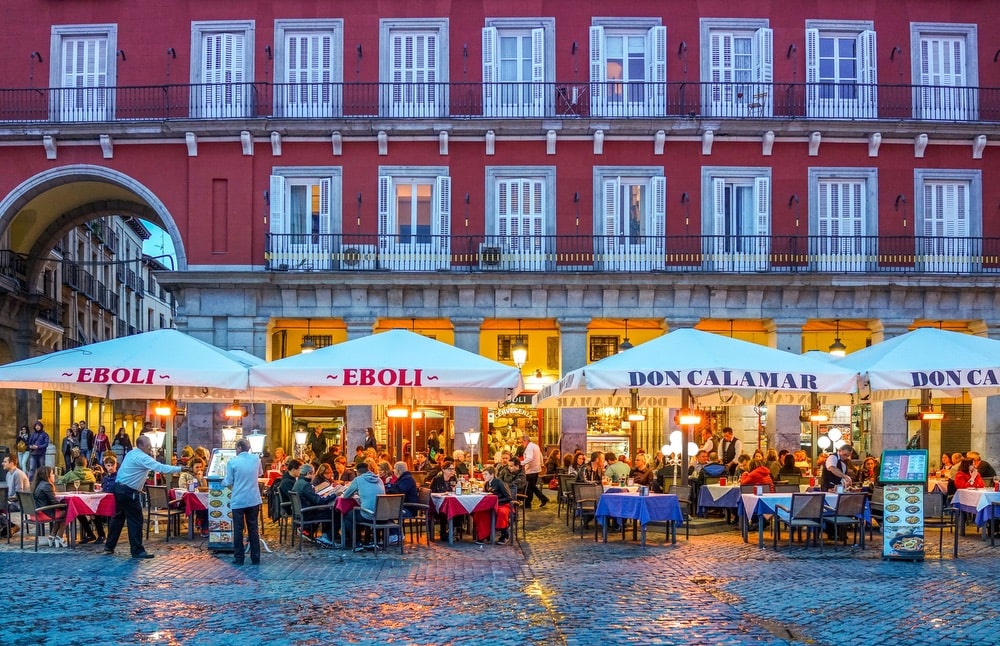 Madrid has everything from simple but sustaining sharing plates like the aforementioned to avant-garde cuisine that rivals the gastronomic offerings of Spain's second city Barcelona—try chef Quique Dacosta's Michelin-starred tasting menu at the Ritz for sheer ingenuity—but it takes stamina to sample the best. Clayton explains how he was forced to adapt his body clock to a new rhythm when he arrived in the city from London twenty years ago. "The idea of a second breakfast, a three-hour lunch, supper on the move in one tapas bar after another, and meeting friends at midnight for pre-clubbing drinks was hard to get my head around," he admits. "With Thursday the big night out, my office supply of extra strength Alka-Seltzer made me very popular with colleagues on a Friday morning!"
It's one of the great treasure houses of Europe, but Picasso and the Prado notwithstanding, Madrid is also a wonderful city to eat in.
Madrileños still meet for dinner at eleven o'clock, but the pandemic has opened the city's culinary delights up for visitors in a way unimaginable five years ago. "Now little bars that used to be crammed have outdoor terraces where you can sit at a table," Clayton points out, "and to be more profitable, the owners have upped their game when it comes to the food they serve." Since the 9:00 p.m. curfew of the COVID era saw eateries forced to open earlier, it's now easier to get served at, say, 8:00 p.m., even if the locals are still at home changing out of work clothes and refreshing their mascara.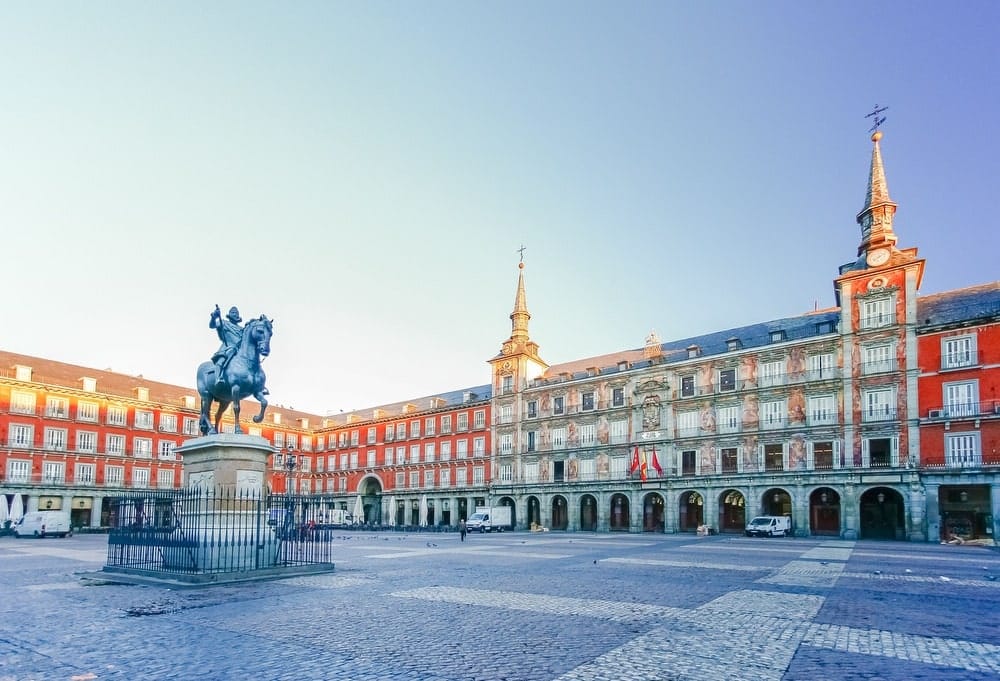 First things first, and that means breaking the overnight fast with strong coffee before getting out to enjoy the spectacle of huge open spaces, like the magnificent Plaza Mayor, built in 1619, which can be appreciated to the max when they're relatively deserted. Cafés open early to dispense a caffeine hit, with or without pastries, to workers who sign in at 9:00 a.m.
Many of these same workers are back in the café again with colleagues for the midmorning second breakfast, which is the first team-building exercise of the day. A little plate of freshly sliced ham goes down well, perhaps with a slice of grilled bread made pungent with grated tomato and garlic. Meanwhile, for the sweet-toothed, it's got to be chocolate and churros (think stick-shaped beignets that—unlike their counterparts in New Orleans' French Market—are left mercifully unsweetened as they're lifted fresh from their deep bath of oil).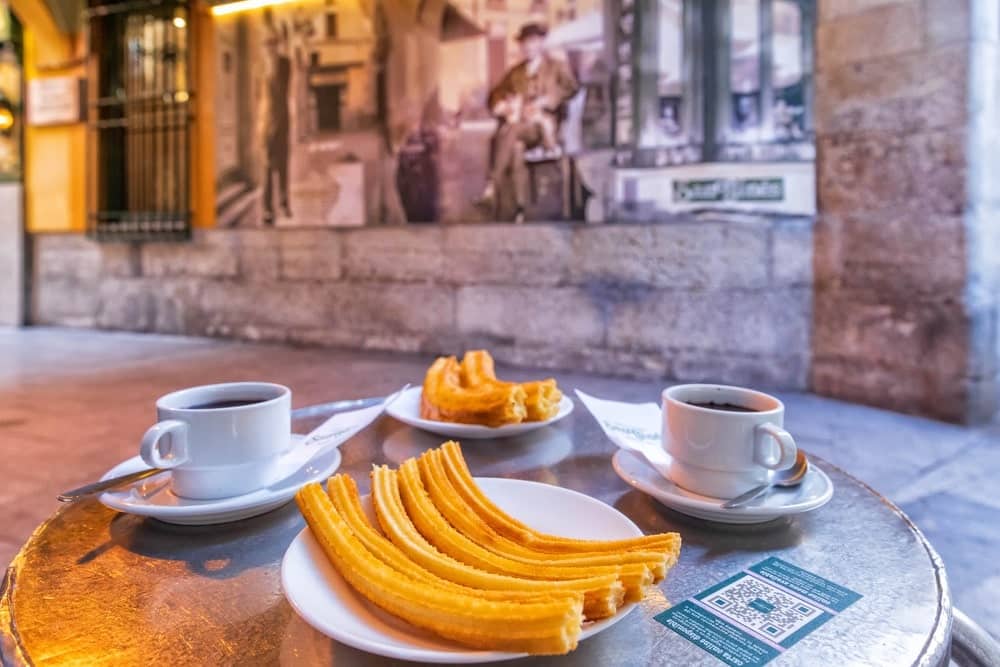 Visitors queue from morning till night at the Chocolatería San Ginés, perched between the Plaza Mayor and the Calle Arenal near the white wedding cake-like royal palace. It's picturesque and dates back to 1894, but many locals prefer their chocolate in less famous institutions. Don't be surprised to be asked, "One cup or two?" when ordering for a couple. One is the answer, as the chocolate is too thick to be drinkable, and you'll never get to the bottom dipping even a dozen churros.
How you can eat lunch after a second breakfast is answered by the fact that Madrileños don't even attempt it till between two and four o'clock. And what they eat is determined by whether or not they go home. A culture of sharing the day's main meal with workmates is fostered by lunch vouchers handed out by employers to exchange at local restaurants. But dishes like cocido, the beloved local stew of chicken, chorizo, pork belly, and chickpeas, require such long cooking times they are rarely seen outside the home. We at least got to sample the incredibly rich broth in the unlikely setting of the Mandarin Oriental Ritz—one of the world's three original belle epoque Ritz palace hotels—whose Palm Court restaurant produced a taster cup at lunch. This was at 2:00 p.m. when they had just finished slicing endless plates of jamón ibérico—the finest ham from a special breed of acorn-eating pigs—for the second breakfasts even high society types go out for, here served in grand style on white tablecloths alongside bread in silver baskets. Penélope Cruz is a big fan of this high-end jamón. It's seen everywhere in town but is best bought from a specialist like those at Las Viandas de Julián, where they slice it fresh—look for a black or red label over the hoof indicating the best quality—and it can be vacuum-packed for visitors at the Mercado de la Paz in the swanky Salamanca neighborhood. We also bought wonderful Spanish cheeses at the tienda de quesos beside the market entrance—smoky, breast-shaped San Simón da Costa and nutty Mahón.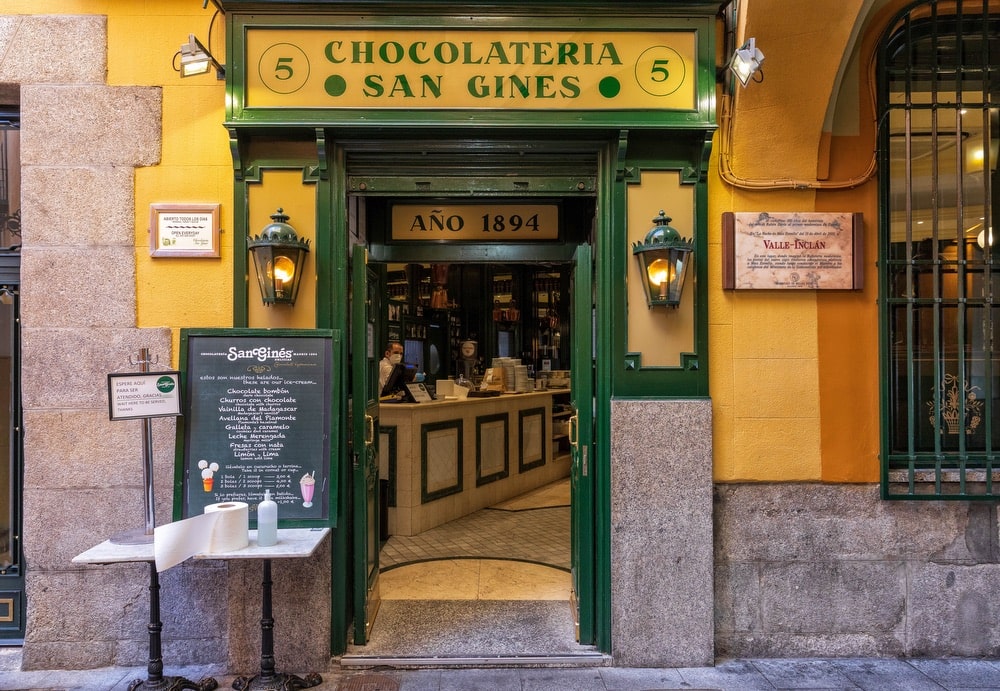 As beloved for an entree as jamón is for starters, cochinillo is suckling pig roasted in the ancient wood-fired ovens of many of the city's historic restaurants. We enjoyed ours, succulent on the inside and super-crispy crackling on the outside, at Botín, which at three years short of its three-hundredth anniversary, is the oldest restaurant in the world, let alone Madrid. Given the vaulted wine cellar makes a particularly picturesque dining room, it's no surprise that it's sought after by everyone from visiting celebrities to discerning tour groups to locals looking for the quintessential place to dine with their out-of-town cousins. Reservations are essential, which is good news for early birds—it's one of the few restaurants in town where you can eat as early as 8:00 p.m. and still have company.
Don't be surprised to be asked, "One cup or two?" when ordering for a couple. One is the answer, as the chocolate is too thick to be drinkable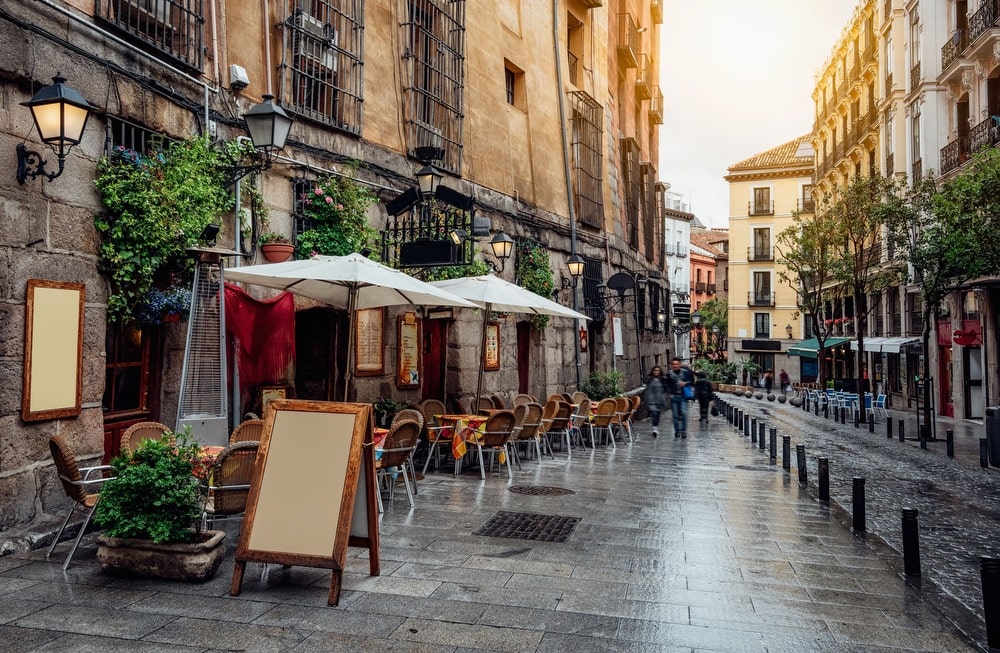 Wandering up from Botín to the Plaza Mayor—a thrill by night, when crowds congregate to wander across its vast expanse—we were stopped in our tracks by the Mercado San Miguel, one of the world's most enticing food halls. Here, and in the narrow streets leading down and away from the plaza, of which Cava Baja is the most unmissable, locals come in the evenings to tapiar—the verb for taking tapas at one place after another. Unlike the three-course sit-down lunch with family or colleagues, this makes the last meal of the day a moveable feast to enjoy with a group of friends. Someone will argue for a first stop where they have just discovered the best croquetas—delicious freshly fried croquettes—while the next votes to continue the party at a bar known for the most melt-in-your-mouth tortillas. This large potato omelet served in slices also reflects the changing taste of Madrileños in recent years; once served bone-dry, they are now more often left slightly runny. The Casa Dani food counter in the Mercado de la Paz is a great place to sample new-style tortillas, but you'll need a table rather than a counter to dig into those huevos rotos—"broken" eggs—Mirren enjoys; it's an honor to be invited to break the yolks over the potatoes!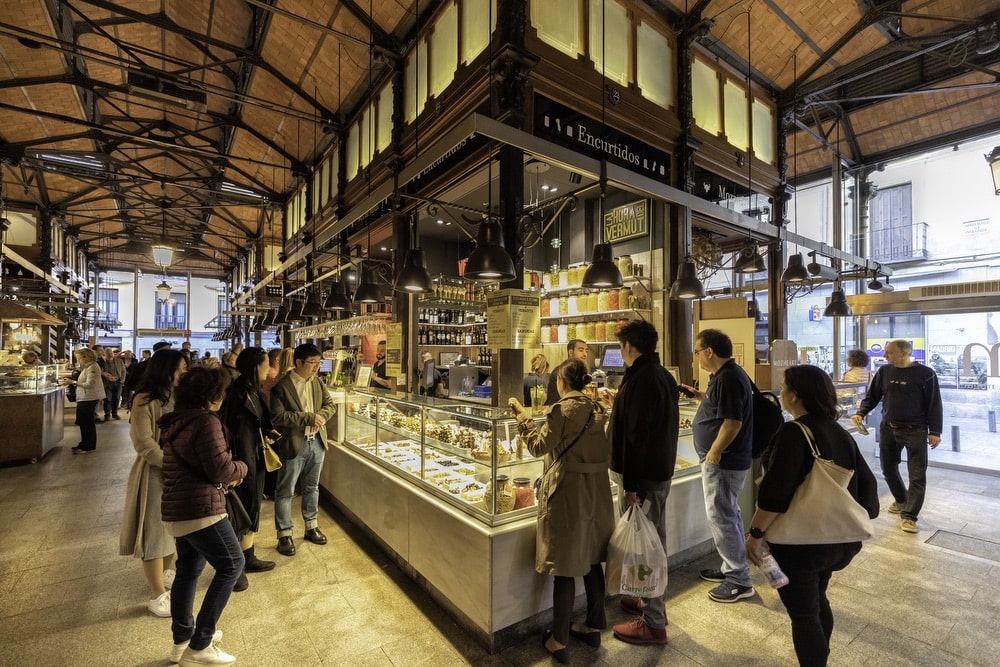 No matter where food is eaten, Madrileños' beverage of choice is vermouth on tap. The herby aperitif, which gained ground in the days before the wines made immediately around the city came to be as good as they are today, is served in a hearty measure known as a caña, the term by which Spaniards also order a small beer. A great place to sample good local vintages and wines from all over Spain is Lavinia, above the city's most comprehensive wine shop, where guests can bring a bottle to their table with no corkage charges. Look for this establishment between the Chanel and Hermès stores, as Salamanca is home to all the international design boutiques. If shopping for or imbibing vermouth, Lustau is a quality label, but be prepared for more rustic choices served straight from the barrel in city center bars.
If Madrid's gourmet delights are not apparent to the casual visitor, blame the geography. The city is fairly compact, but there's not much foodie action in its central square, the half-moon-shaped Puerta del Sol, apart from La Mallorquina bakery, where Madrileños queue for pastries at the weekend, or even around the Plaza Mayor, though this is where bocadillo de calamares—that infamous squid sandwich—was dreamed up at El Brillante. To find truly local hangouts, exit the plaza with Mercado San Miguel on your right and head downhill into La Latina, one of the most vibrant neighborhoods. It's one to visit on Sunday, especially, when everyone descends on the El Rastro flea market and follows up with aperitivos served with free snacks.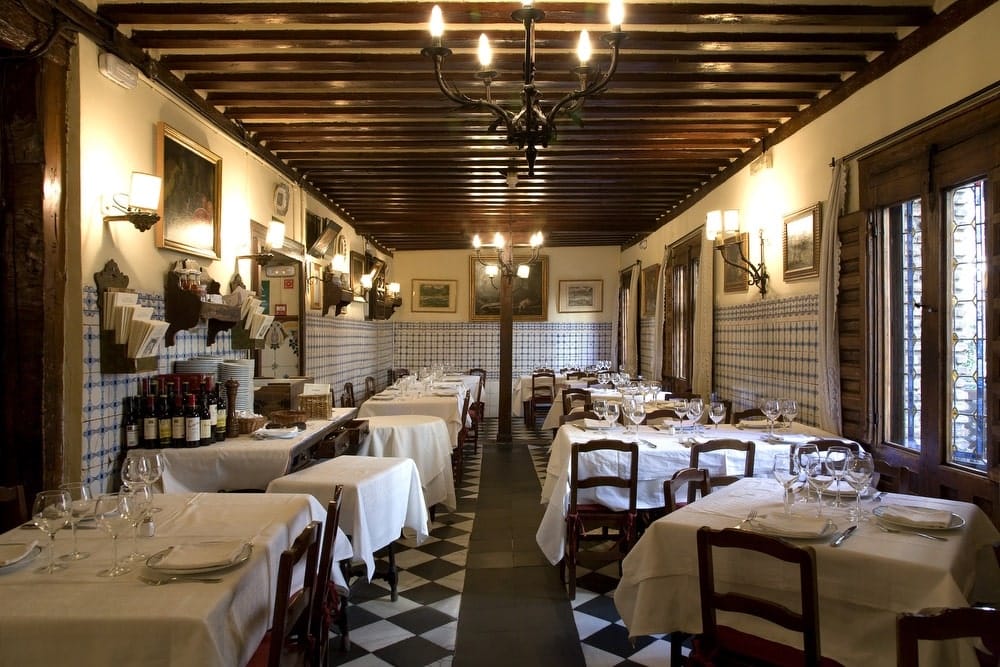 But note the action has also moved outside the city center to residential areas like Chamberí, which now rival La Latina for nightlife. "You could spend a whole evening going up and down Calle Ponzano and not even manage to put your head into every bar," says Clayton, who considers this street his own local foodie stomping ground.
You could spend a whole evening going up and down Calle Ponzano and not even manage to put your head into every bar
You could follow his example and bring a supply of Alka-Seltzer to Madrid, but this city even has its own cure for the morning after the night before. Head to Lhardy, an exquisite fin de siècle bar-meets-grocery store near the Puerta del Sol, and ask for a portion of hot consommé dispensed from the ancient samovar in the window. It's Madrid's answer to the "Jewish penicillin" the rest of the world calls chicken soup!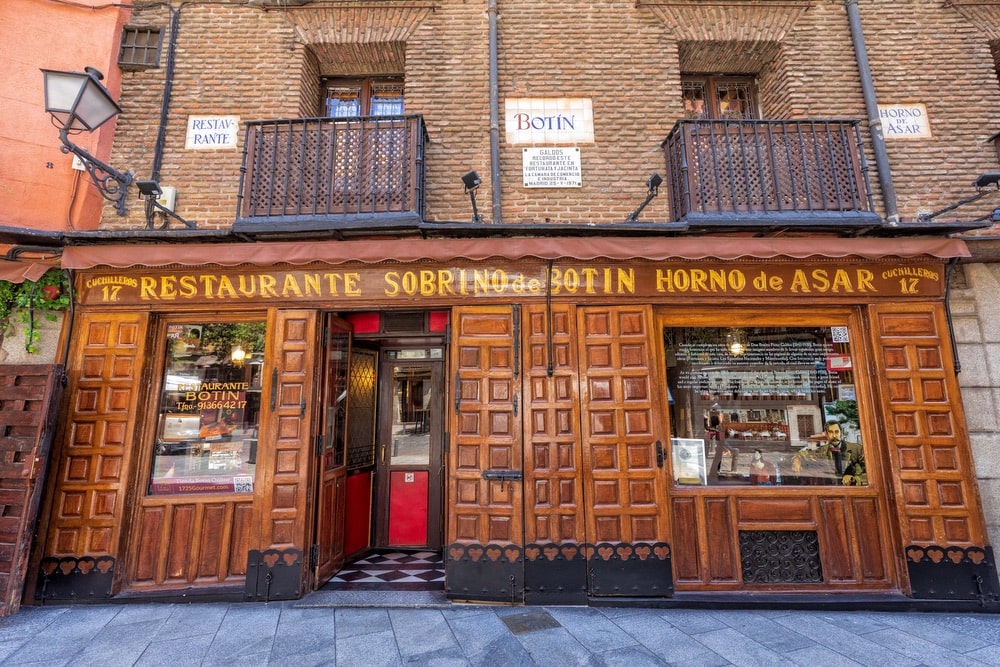 ---
Anthea Gerrie is based in the UK but travels the world in search of stories. Her special interests are architecture and design, culture, food, and drink, as well as the best places to visit in the world's great playgrounds. She is a regular contributor to the Daily Mail, the Independent, and Blueprint.
---
Culinary Tips for Madrid Culture Seekers
The Thyssen Museum, with its fabulous collection of American paintings, has a rated restaurant, while the world-famous Prado, home to Hieronymus Bosch's Garden of Earthly Delights, has its own attractive café terrace. The nearby Vinoteca Moratín is recommended for more intimate post-Prado dining with a great wine selection. An ideal preprandial outing for all art lovers is viewing Picasso's famous, huge anti-war canvas Guernica at Madrid's third great art museum, the Reina Sofía; entry is free between 7:00 and 9:00 p.m. For fabulous art nouveau decor, don't miss the restaurant of the classy Círculo de Bellas Artes, where a big Stanley Kubrick retrospective is showing through May 8, 2022.
— V —
ARTICLE CATEGORIES