By Sarah Freeman
Pairing a luxurious cruise along the storied Nile with a cultural crusade to Egypt's history-steeped capital, and journey back in time to one of the world's greatest civilizations.
"These were the first lattice windows ever built," my guide Mohammed says, gesturing to the southern corner of a grand hypostyle hall where 134 columns soar skyward. "Every king left their mark here," he continues, standing a hand's span from four thousand years of history in the world's largest ancient religious complex. Dubbed the Vatican City of Ancient Egypt, Karnak Temple is one of the country's most venerated sites, located in the legendary city of Luxor.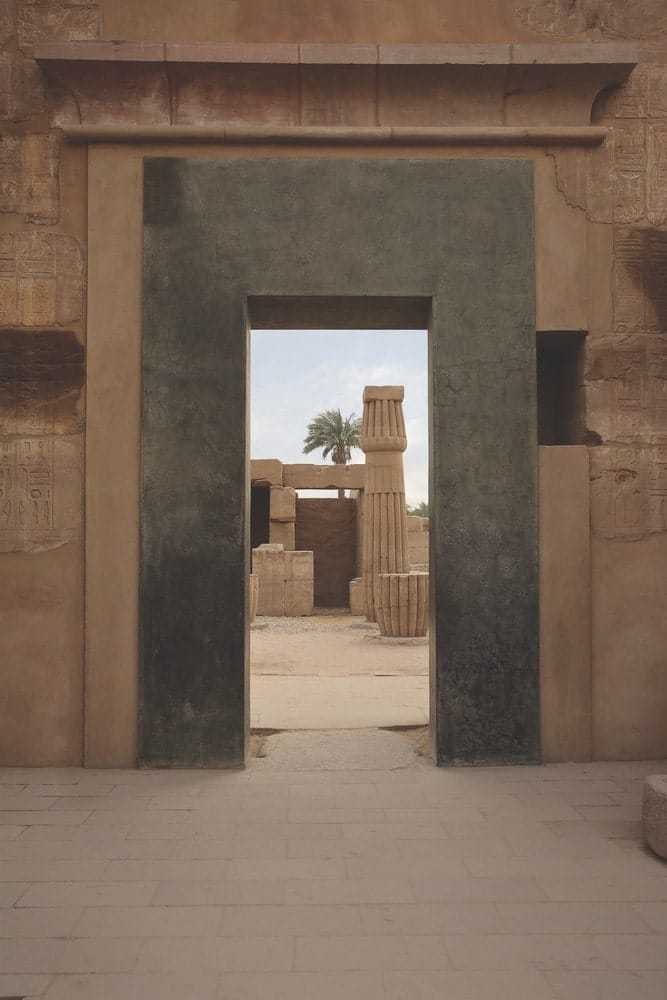 Karnak's avenue of sphinx-like statues once ran all the way to Luxor Temple, another must-see monument situated two miles south on the east bank of the Nile. Temples are sites of sacred mysteries in ancient Egypt that warrant a licensed Egyptologist like Mohammed Ezzat to decrypt their extraordinary reliefs. Still used as a place of worship today, Luxor Temple was added to by the likes of boy-king Tutankhamun and Alexander the Great throughout its 3,400-year existence, Mohammed explains.
This is just one of the innumerable cradle-of-civilization-grade sites that modern-day pilgrims can tick off on a 150-mile-long, four-night trip with Sanctuary Retreats. An exercise in time travel, the luxury cruise operator's trio of river yachts journey along the Nile's most storied stretch from Luxor to Aswan.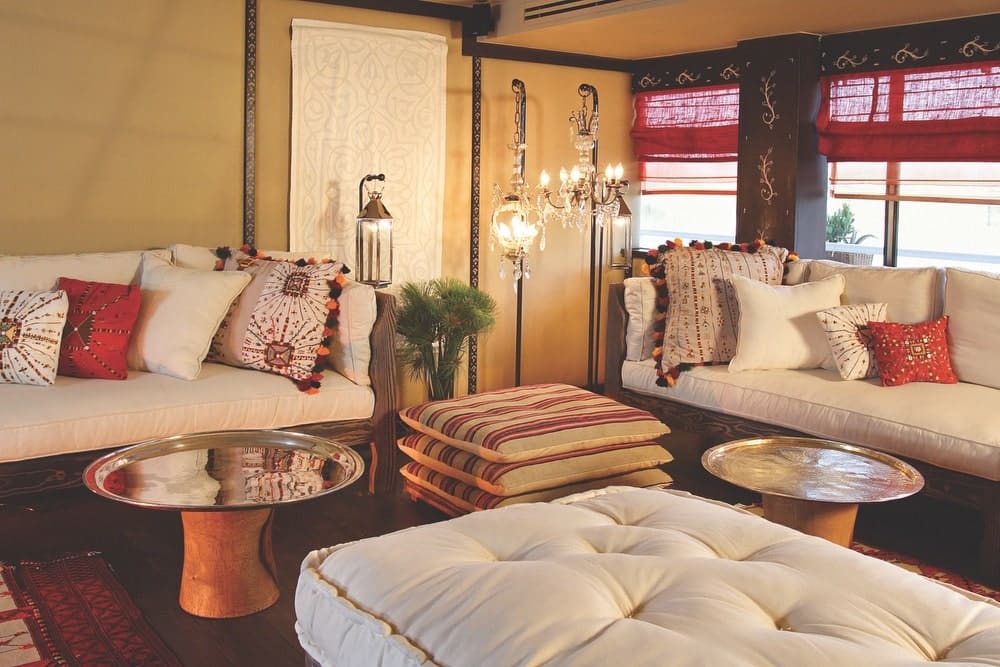 Brushing off layers of ancient dust, I return to my new floating home: Sanctuary Retreats' Sun Boat III. Welcomed with an iced hibiscus karkade tea (the pharaohs' drink of choice), I wend my way up a spiral staircase to the Sahara Lounge, modeled after an Egyptian royal hunting tent.
The elegant cruiser's teak-floored communal spaces span two decks, blending British colonial style with bedouin flourishes like embroidered ottomans and Persian rugs.
By contrast, it's the Roaring Twenties that serve as inspiration for the boat's fourteen cabins, spread across its Nile and Promenade decks. My presidential quarters (one of four suites at the vessel's bow) vaunts a grand four-poster bed designed with post-excursion siestas in mind!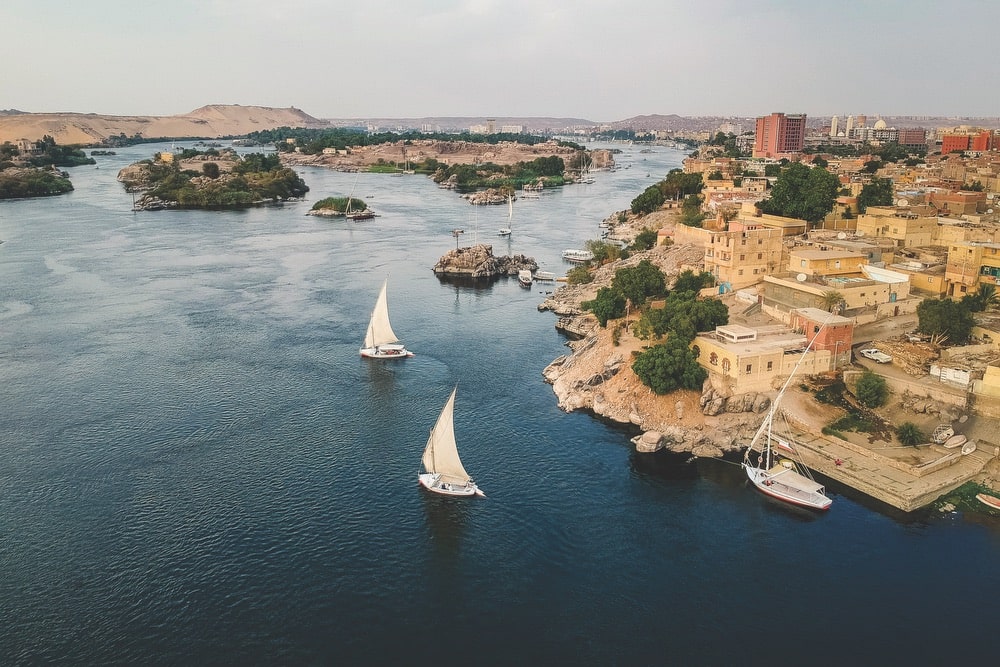 I discover another place to escape Egypt's searing sun in the friezed corridors of the limestone-cut tombs at the Valley of the Kings. Encircled by cliffs on the Nile's west bank, this dusty desert tract is where the bodies of New Kingdom pharaohs like Ramses VI were laid to rest. Stepping into the pillared hallway of his 340-foot-long tomb, I'm starstruck by its ceiling's astronomical scenes. "The colors are as arresting as when they were first painted thousands of years ago," Mohammed remarks.
Equally vibrant are the hieroglyphs gouged into the walls of the Temple of Khnum—a sunken Ptolemaic-Roman edifice visited on day two's antiquity-packed itinerary. Centuries of soot, caused by cooking from the Egyptian Christians who took refuge here, have preserved its interior's ochre red and sulfur yellow pigments.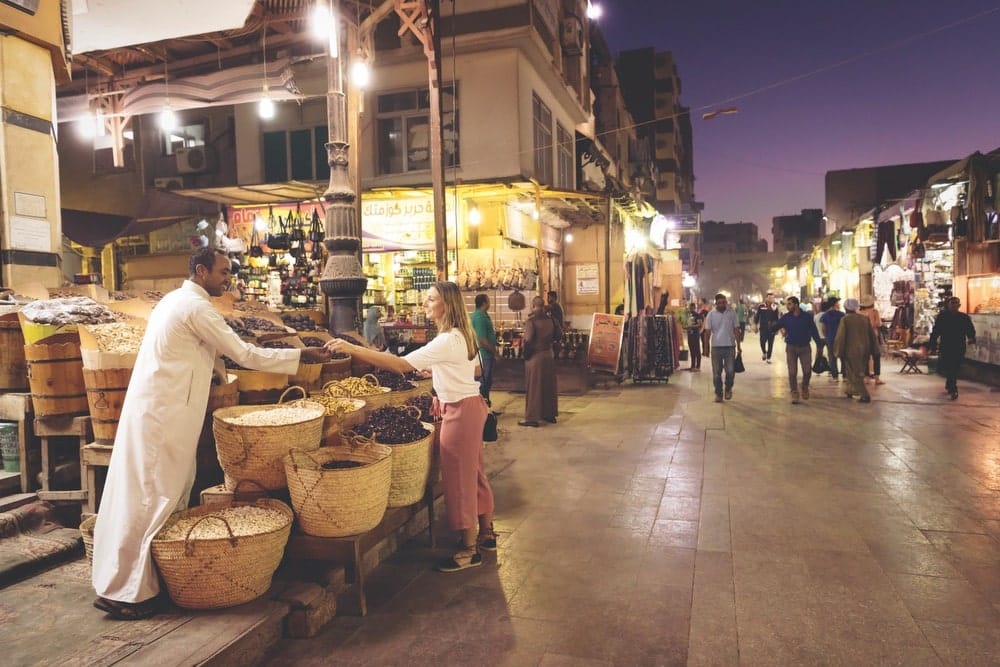 Speaking of cooking, Sun Boat III manages to rustle up feasts fit for a pharaoh twice daily, with lavish buffet lunches and themed dinners in its Nile Deck restaurant. I devour Middle Eastern salads made of okra and fried cauliflower, followed by grilled perch fished from Egypt's Lake Nasser. A bonus is watching scenery seemingly unchanged for millennia roll by as you tuck into seconds. Today, it's buffalo wallowing in the Nile's shallows and farmers in gallebayas (robed garments) tending to their sugar cane crops. Ancient Egyptians were bound, heart and soul, to the fabled river, which conveyed everything from camels to coffins on papyrus reed boats.
Another transport of yore beloved by Egypt's elite was the chariot. The following day, I get my own taste of these racing cars of the ancient world on a spirited horse-and-carriage ride to the Temple of Horus at Edfu. Swallowed up for centuries by drifting desert sands, the sandstone stunner was excavated to its former glory in 1860 by French Egyptologist Auguste Mariette.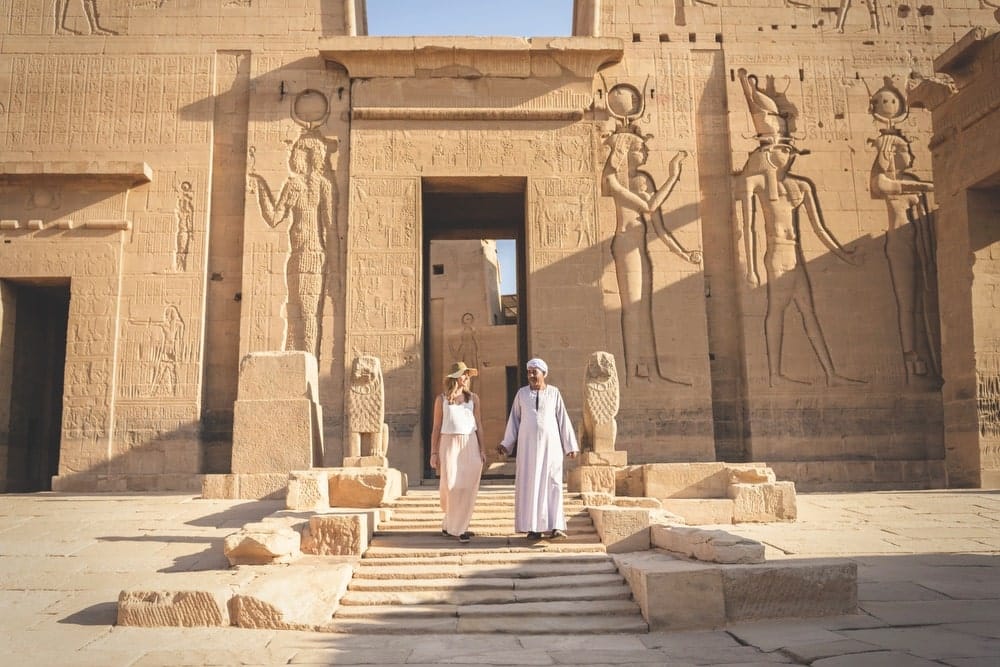 Yet another monument built during the Ptolemaic Kingdom (when temptress Cleopatra ruled) is Kom Ombo, which glows golden in the setting sun. Standing tall on a bend in the Nile where crocs once lazed, the perfectly symmetrical double temple claims the world's first depictions of surgical instruments. It also holds a collection of 2,500-year-old mummified crocodiles (housed in an on-site museum)—an animal both feared and worshipped by ancient Egyptians.
Thankfully, no fearsome reptiles lurk in Sun Boat III's upper deck pool when I indulge in a twilight dip! Instead, silhouetted date palms wave from the riverbank, signaling the approach to our last port of call: Egypt's southernmost city of Aswan.
The final day welcomes more watery explorations as we enjoy a breezy boat ride to the island temple of Philae.
It's impossible not to relish the absence of crowds as I move unhurriedly through the palm tree-strewn complex's courtyard and inner chambers. The seat of the Christian religion and ancient Egyptian faith, Philae was built in 280 BCE to honor the goddess Isis: mother, healer, and protector. According to local lore, it was Isis's single tear—wept for her ill-fated husband Osiris—that caused the Nile's annual life-giving flood.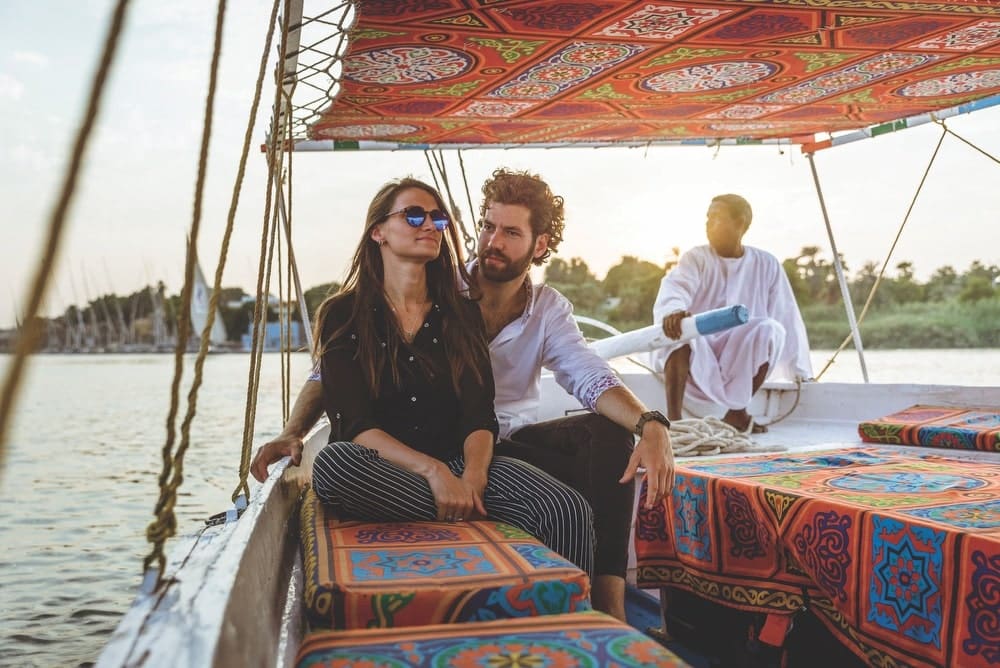 Five miles upstream is Elephantine Island (formerly a pharaonic-era trading town), where white single-sailed feluccas slip silently through the waters, as they have since time immemorial. A highlight is gliding past the Old Cataract hotel—the muse for Agatha Christie's famous murder mystery Death on the Nile.
Even enveloped by high-rises, the Nile still maintains an air of mystery. It's a conclusion I draw while gazing at another island, this time from my twenty-story balcony at the Four Seasons Hotel Cairo at Nile Plaza. The said isle is Zamalek: an upscale neighborhood in Cairo—the Arab world's largest city and the final chapter of my Egyptian odyssey. A bastion of calm in Egypt's restless capital, the Four Seasons Hotel Cairo at Nile Plaza is a whisper from Tahrir Square's Egyptian Museum. And the hotel has some impressive exhibits of its own. Scattered across the vast thirty-floored property is a two-hundred-piece art collection by celebrated painter Farouk Hosny, which begins in the opulent lobby. The lobby itself is a vision of polished brass and marble, holding the kind of riches a pharaoh would choose to accompany him into the afterlife!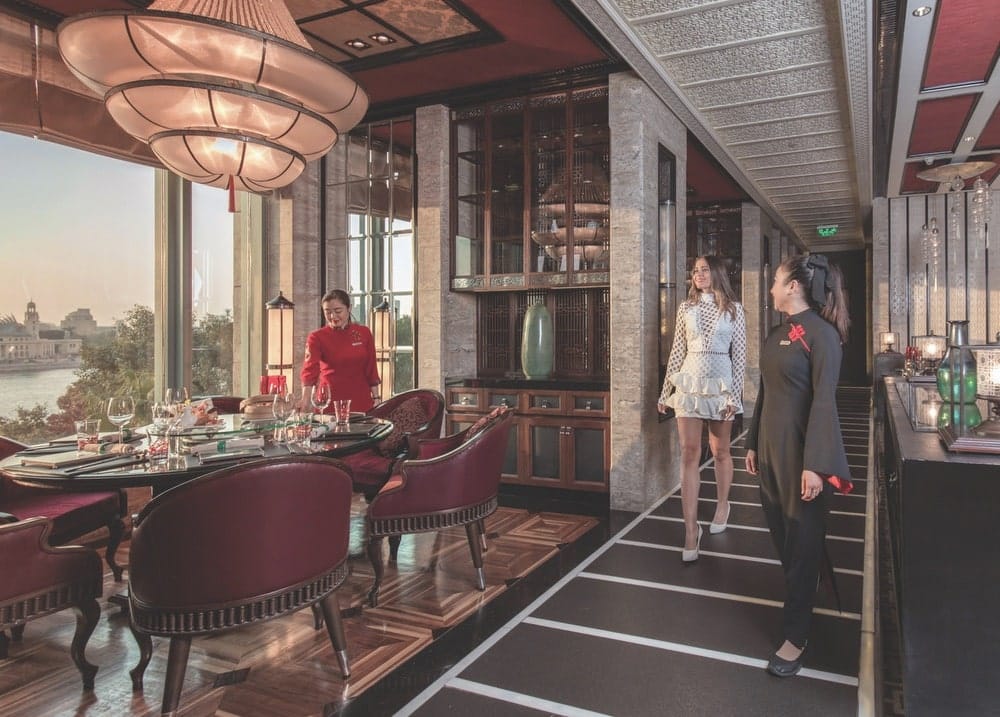 More understated is my floor-to-ceiling windowed executive suite (one of 365 rooms in the hotel), which channels a quiet intimacy for its nine-hundred-square-foot size. The pièce de résistance is its marble-clad bathroom furnished with a deep-soaking tub worthy of Cleopatra! There's more indulgent bathing to be had in the property's twin pool area, which feels more like a Mediterranean resort thanks to swaying palms and striped parasols.
The Med flavors continue into the evening over lobster spaghetti at Bullona, an achingly cool haunt on the hotel's second floor. Being the acclaimed Milanese restaurant's first venture outside of Italy, it has a lot to live up to. Satisfyingly, the sweet, succulent roasted king crab and tiered plates of teppanyaki certainly deliver.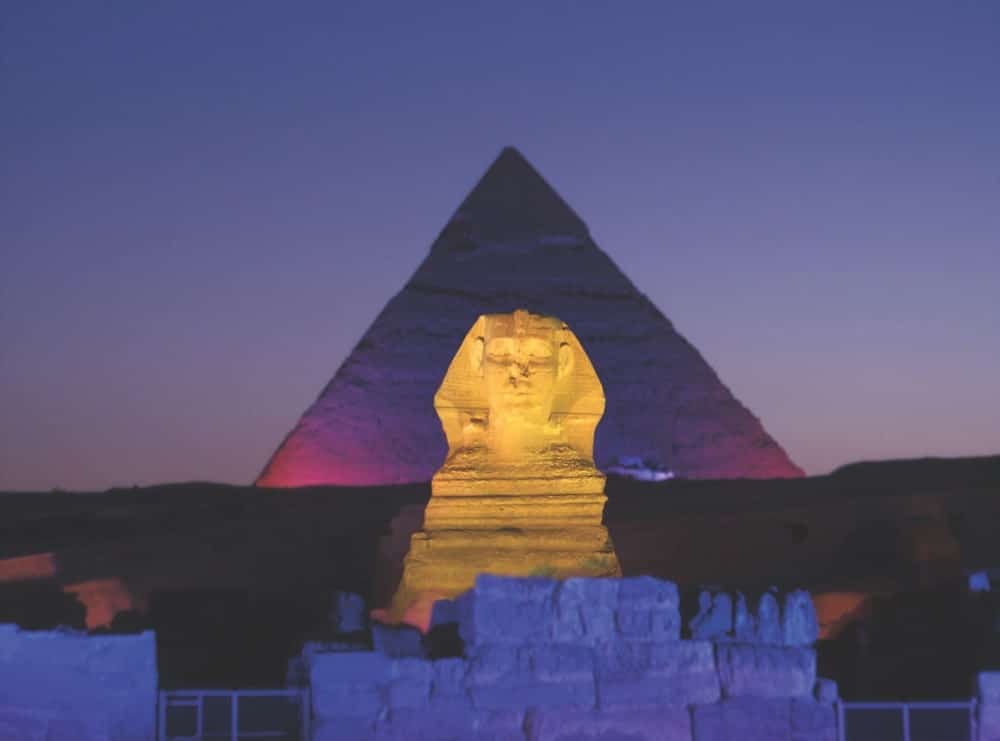 Still craving some cultural sustenance, I spend my final afternoon in Old Cairo poring over the National Museum of Egyptian Civilization's rich cache of treasures. The venue's star attraction is a tomb-like mummies hall, displaying twenty rulers from Egypt's golden age, carried here in a livestreamed procession from Tahrir Square in April.
This winter, an even shinier new temple to antiquities is slated to open its doors. Billed as the largest archaeological museum in the world, the much-delayed Grand Egyptian Museum (GEM) will sit in the shadow of the great Giza Pyramid Complex. As I make my way to the airport, I'm rendered speechless by the sight of the 4,500-year-old trio's haunting form hovering in the distance, hazy in a nimbus of ancient dust. Even from afar, the only "standing" wonder of the ancient world takes my breath away, just as magnificent to twenty-first-century travelers as it was for pilgrims several millennia ago.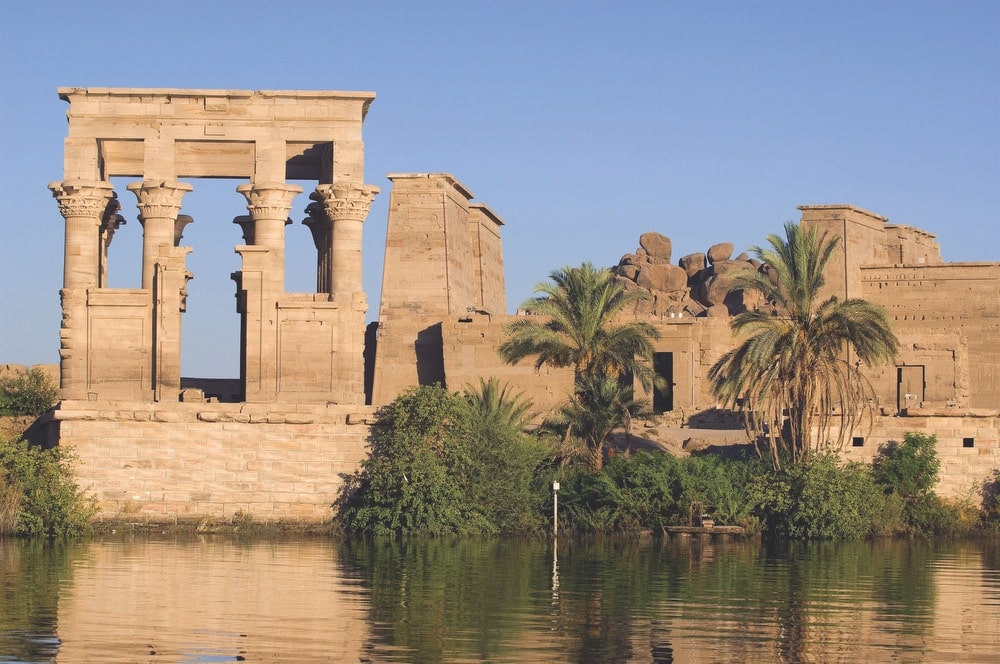 — V —
---
The Sanctuary Retreats Four-Night Nile Cruise departs from both Luxor and Aswan. Learn more or book a trip at SanctuaryRetreats.com. To book your stay at Four Seasons Hotel Cairo at Nile Plaza or explore other destinations, head to FourSeasons.com.
ARTICLE CATEGORIES