An Artist's Journey
By Sallie W. Boyles | 
Artwork by Sandra Soldo Ackovic
When artist Sandra Soldo Ackovic was young, she says, "I remember my teacher telling me I was brave because I was not afraid of the critique. I paint what comes out of me and give it to the world." Her intention is "to leave a nice, calm, positive feeling." Ironically, as Sandra attests, "The colors are screaming." Using bold hues to create tranquility is her "personal challenge" and her signature. Her journey, in turn, sheds light on Sandra's artistic viewpoint.
"I come from a country that doesn't exist anymore," she reveals, referring to Yugoslavia. "We came to America in 1995, during the civil war that started in Bosnia in 1992. I came with my husband, Olja, to connect with my aunt and her family. I am an only child, so I left my parents behind." Over a year-long period, she couldn't contact her parents. "It's peaceful now," she says. "The war ended officially in 1997, and everything was nice and calm by 1999."
Born in Belgrade, Sandra lived in Mostar, Bosnia-Herzegovina, which she describes as "a small city with a lot of charm," a place that engenders poets and artists. "My city is fifty miles from the Croatian border. We did our day trips to the Adriatic Sea." With the Mediterranean climate and azure skies embedded in her soul, Sandra says, "All my blues and greens come from my old town and homeland." From settling in Atlanta's northern suburbs, she shares, "What I picked from the South are the landscapes. I fell in love with nature." However, she states, "There's always more to it. I always try to paint the feeling behind the scenery—how I see it."
Sandra's originals cover the walls of her home, yet they represent a fraction of her full body of work. Countless paintings fill her basement studio, which has no windows. "A long time ago," she explains, "I read in a book by Austrian artist Friedrich Stowasser that artists should not have a studio with windows because they should not look outside; they should look inside themselves. We need daylight to paint, but my understanding is that we can easily get distracted by our environment. Artists should seek solitude when painting. My family knows that if I'm in the basement, no one comes down—unless the house is on fire!"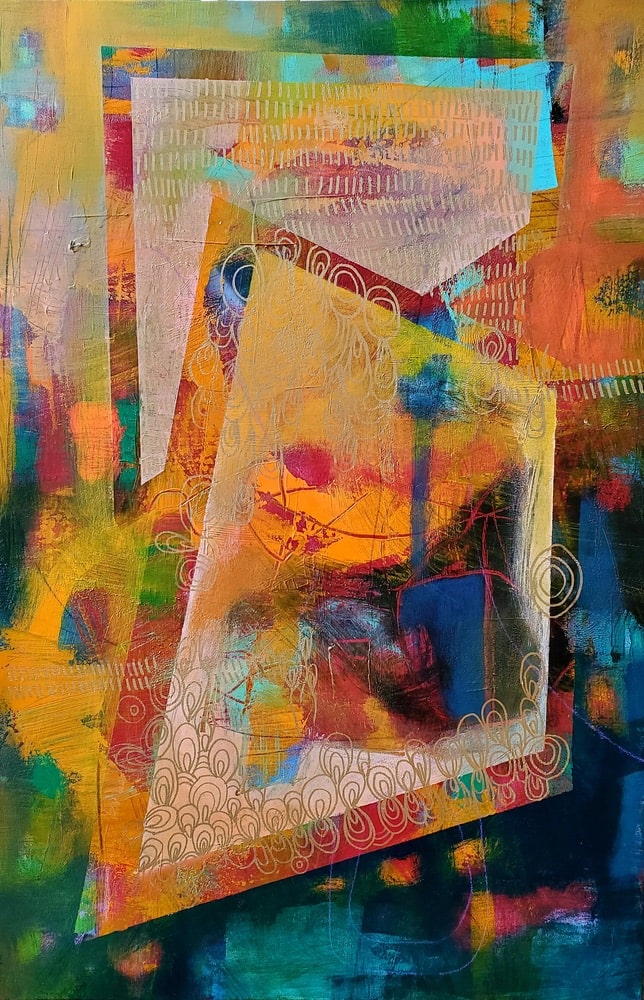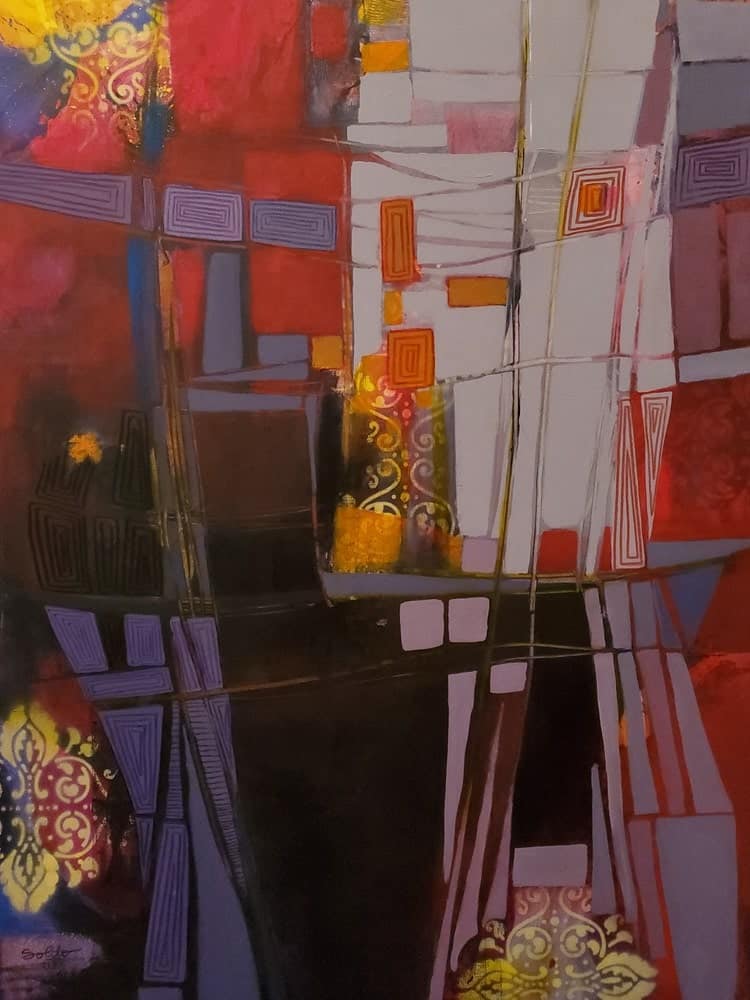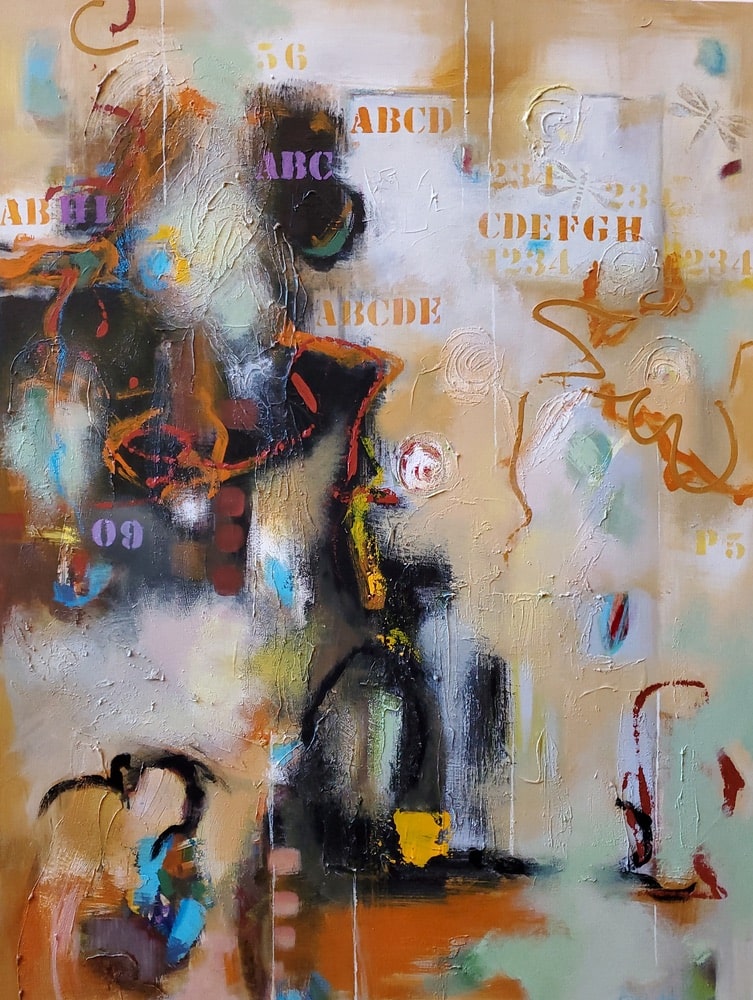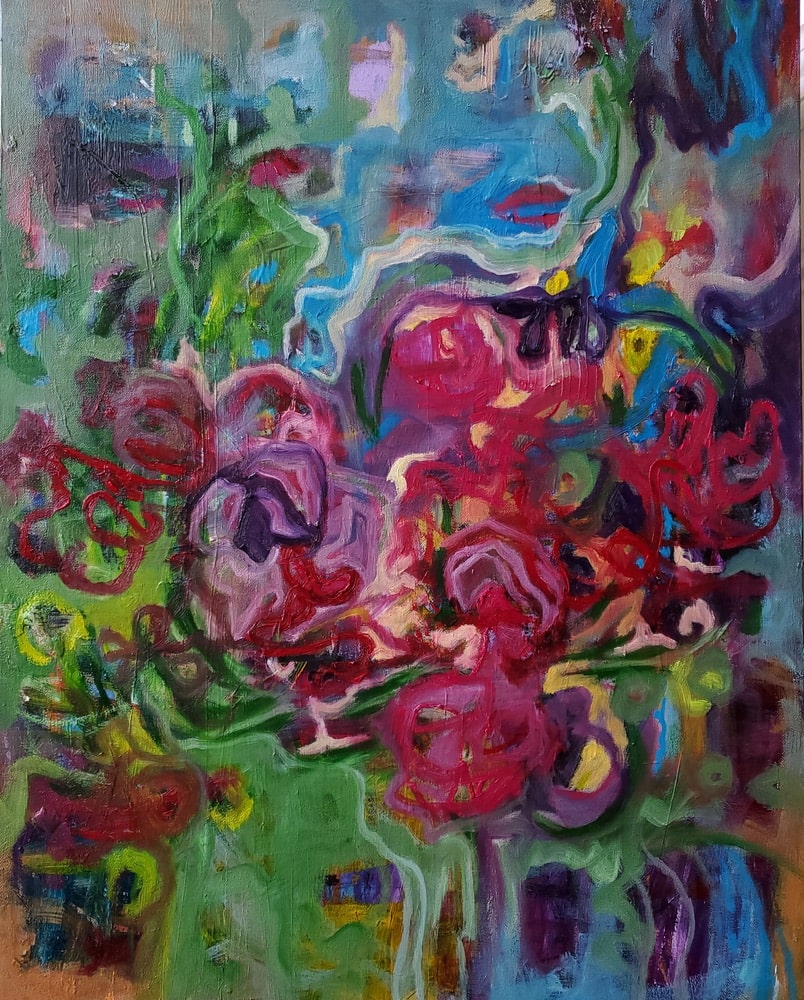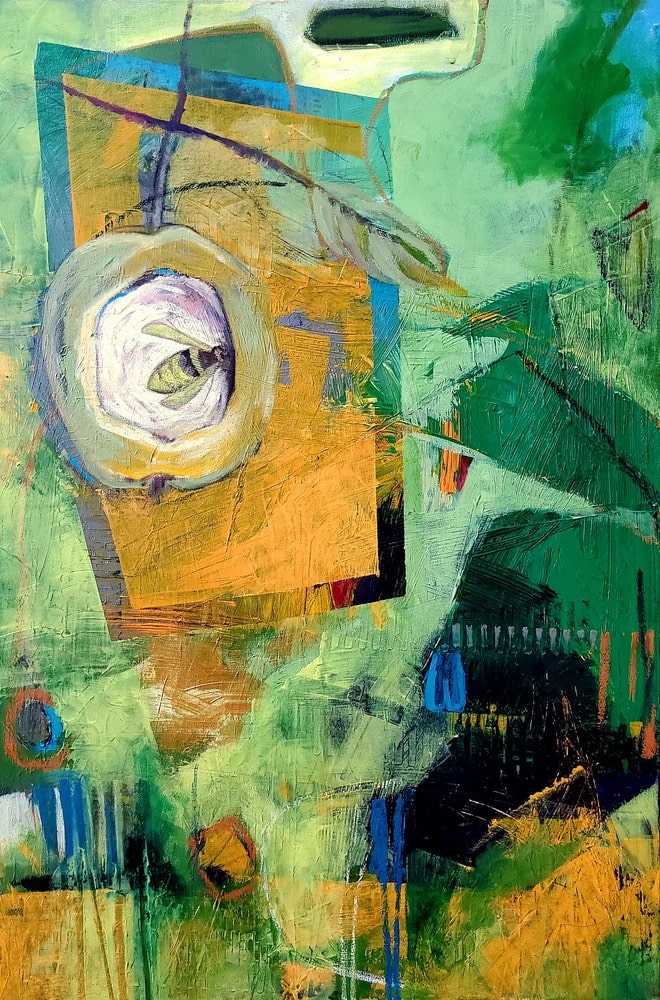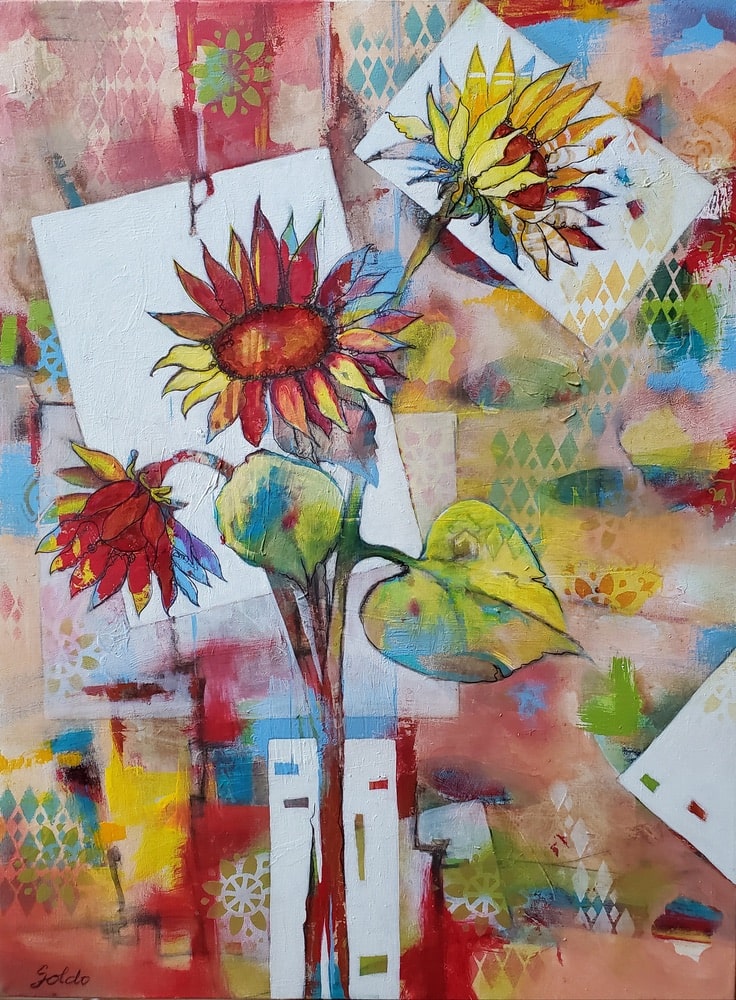 The prolific artist has work on display in the Phil Mechanic Studios in the River Arts District of Asheville, North Carolina. There she spends every other weekend painting and interacting with patrons and visitors. "My art has flourished in the past five years," says Sandra. "That's when I first started to paint what I wanted."
Attributing her artistic talent to her mother, who made crafts from textiles and mosaics from broken glass, and her steady hand to her father, an agricultural engineer, Sandra says, "I always planned to go to art school. I didn't paint, but as a little kid, I always drew and had coloring books. I was born with it, and it just has to come out of me in some way."
For a time, life's circumstances turned her need to create into a luxury. "When I came to America," Sandra says, "I had to learn the language, go to work." After working in daycare, she became a dental technician. Sandra and Olja's two boys, now young teens, were also born. "There was no time for art, but I'd always find twenty minutes a day to do something, often on paper."
"My art started as a hobby and a way to heal myself," she says. "Coming out of Bosnia, I was sad for my family. I was starting a new life. I became mildly depressed but was too poor to pay for a psychiatrist, so I went into my studio and painted until I healed myself." She also began painting commissions for an interior design group.
"Sometimes, I like it like that, and that's my abstract work, but that phase usually doesn't last long. If I see something in the canvas—a woman's figure, a dog, a horse—I'll go from there. It's very spontaneous."
A visit to a North Georgia farm owned by friends who had horses and goats reignited the spark. "I always admired horses from a distance because I lived in a city," Sandra says. "On those trips to the farm, I got to know their names and personalities, and I was drawn to their anatomy. I thought, let me see where this goes, and I absolutely loved it. I found a way to paint the image of an animal I loved and put my emotions in it. I like to call my art 'fables' because those animals start to talk to me."
Some of her pieces become so personal to Sandra that she cannot part with them, but she has so many others to share. "It's funny how paintings sometimes speak to us," she says, "and we are surprised. I am surprised, especially when I do a figurative work, by a message that radiates after it is finished. For a painting to be good," she insists, "it must have a soul. It has to talk to someone other than me."
The canvas and paint speak to Sandra each step of the way. "I never sit in front of a white canvas knowing exactly what I'm going to paint," she says. "I start a couple of canvases of different sizes at the same time, randomly adding unplanned layers and splashes of color." She paints the initial layers in oil with a spatula or roller. "After it's dry," Sandra describes, "with no intentions, I come back and look at that canvas and rotate it to find images. Sometimes, I like it like that, and that's my abstract work, but that phase usually doesn't last long. If I see something in the canvas—a woman's figure, a dog, a horse—I'll go from there. It's very spontaneous."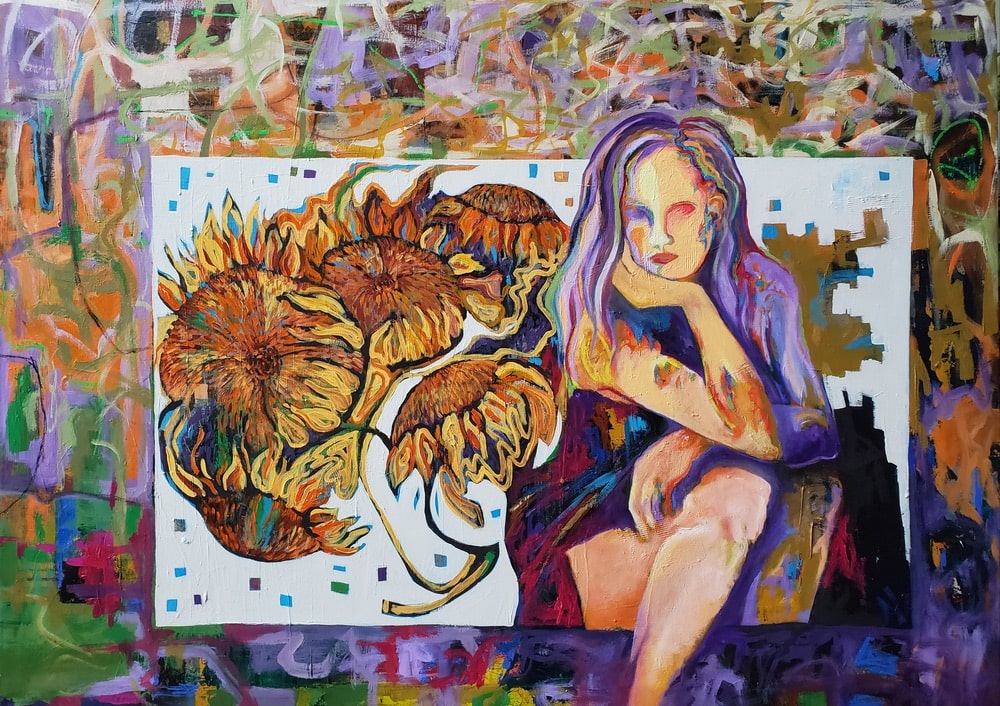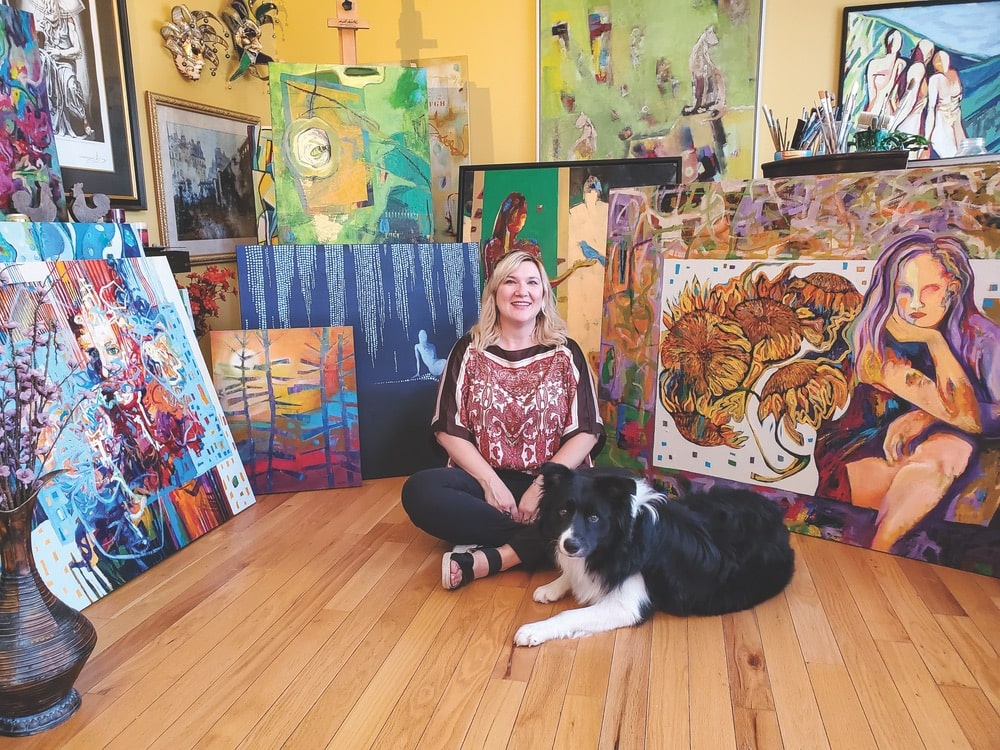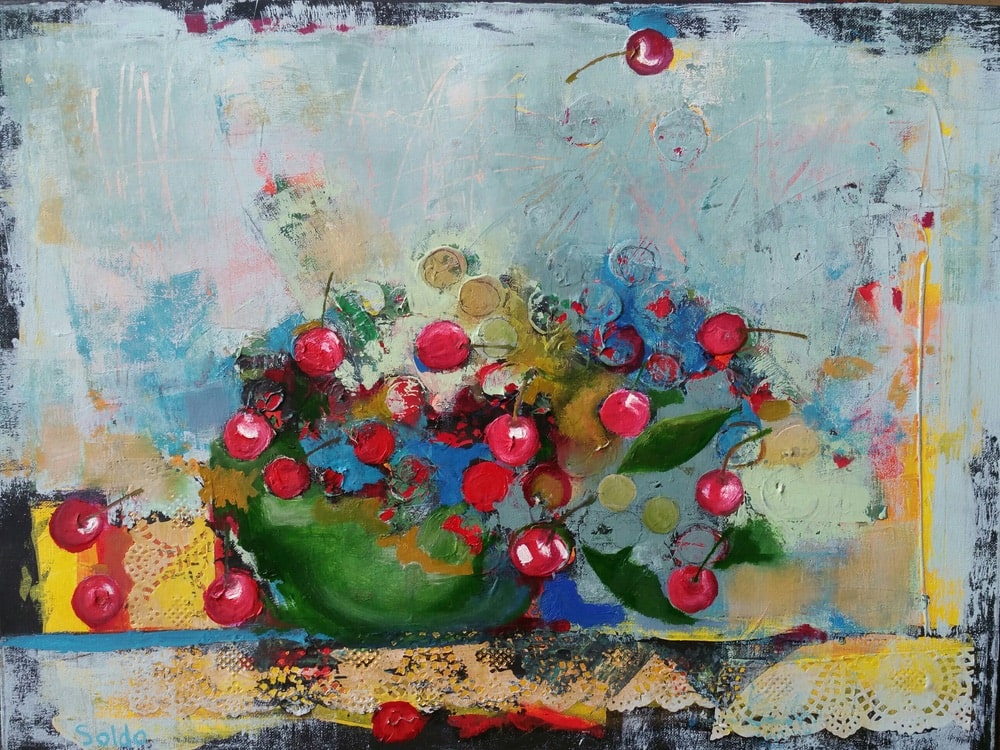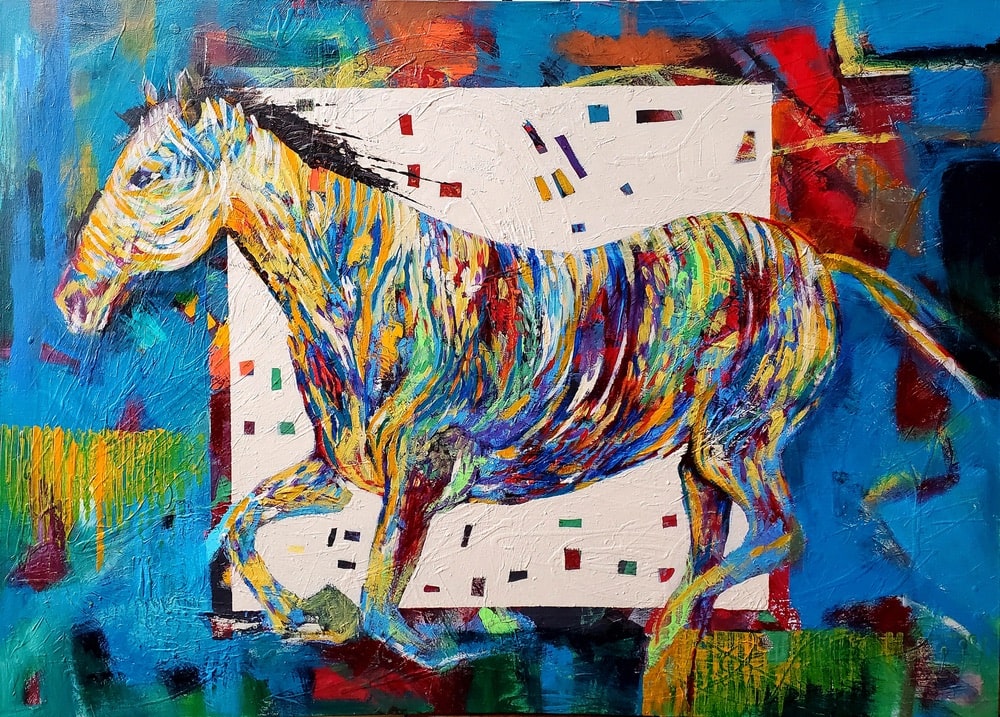 For her figurative work, Sandra searches through magazine clippings that she keeps in files. Regarding the size and composition, she says, "That's when the planning comes in. When I decide on the image I want to paint, I draw a sketch directly on the canvas. If I like where it's going, I start adding layers to the figure." At this stage, the medium is either fluid or heavy body acrylics because the drying time is much shorter than for oil. "After, I work in oil with brushes," Sandra says. "Very often, I just use my fingers."
Eager to test diverse methods, such as applying cold wax and oil, Sandra also likes Powertex, used "for sculpturing on canvas, which gives you a 3-D effect with plaster and textile applications." She has further created her marbling technique by swirling paint in a kiddie pool of water and then submerging the canvas.
"Inspiration comes in waves," Sandra says. "If I'm walking my dog and I'm inspired by the green in the trees, I'll snap a picture with my phone. When I look at the photo again in my studio, the emotion I felt comes back to me."
Considering her latest work—combinations of abstract and figurative offset by a rectangular block—Sandra says, "I'm a sucker for doing something different. Sometimes the galleries say that you need to have only one style and keep doing what works. To me, that's not challenging enough. So, I do like working in a series, in a collection. They are all slightly different but connected. What connects my work is color. I like pure, very bright colors—straight out from the tube!"
— V —
---
To view more of Sandra's paintings and inquire about her existing work or commissions, readers should visit her website at SandraSoldoAckovic.com. Individuals can also follower her on Instagram at @Soldo_Art or her page at Facebook.com/SoldoArtist. She further welcomes people to meet her and view her work in person at the Phil Mechanic Studios, 109 Roberts Street, Asheville, North Carolina.
Sallie W. Boyles works as a freelance journalist, ghostwriter, copywriter, and editor through Write Lady Inc., her Atlanta-based company. With an MBA in marketing, she marvels at the power of words, particularly in business and politics, but loves nothing more than relaying extraordinary personal stories that are believable only because they are true.
ARTICLE CATEGORIES