By Sallie W. Boyles | 
Photography courtesy of the National Monuments Foundation
We shape our buildings; thereafter they shape us. —Winston Churchill
From early civilization to modern times, countless ideologies and practicalities have given rise to the world's most impressive buildings and monuments. Subsequent generations have applied the same principles when choosing to demolish structures that were once integral to a way of life. Forever mindful of the legacy he'll leave through the architectural projects he designs and advances, Rodney Mims Cook Jr. encourages a greater understanding of architecture's historical significance and its impact on humanity before people decide what goes up and what comes down.
Answering his calling early in life, he remembers creating paper models of buildings from the time he was three. "I now make them in stone," Rodney jokes, revealing that the elaborate "urban centers" he assembled were "two to three times larger than I." For a child drawn to architecture, he grew up in an ideal environment. His first mentor was renowned architect Philip Trammel Shutze (1890–1982), who designed many of Atlanta, Georgia's buildings that appear on the National Register of Historic Places. Among them is the Swan House, now home to the Atlanta History Center. "Mr. Shutze had designed houses of various family members," Rodney explains, "so I got to be close with him." In fact, he adds, "My mother [who ran the History Center's Tullie Smith House restoration for years] would send me to the Swan House with a key to do my homework."
Acknowledging that such opportunities were extraordinary, Rodney says, "It was evident from an early age that I was in an unusual family because I would see Dad on the evening news." Accordingly, "cookouts on Sundays from spring into fall" with civic leaders like Mayor William Hartsfield, Martin Luther King Jr., and "Daddy King" (MLK's father) were just part of growing up, yet he knew his parents' friends weren't everyday people. "I was told by numbers of folks, including my father, how important their work was, sticking their heads above the crowd in ways that were honorable but dangerous," says Rodney.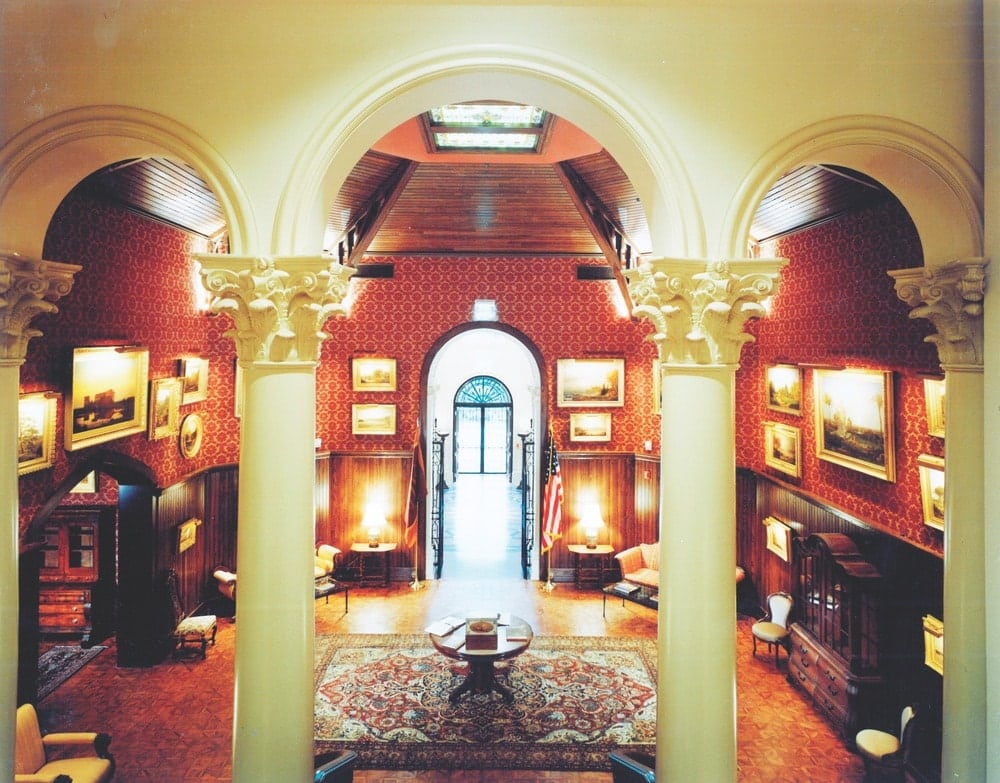 Like his courageous friends, Rodney Mims Cook Sr., who passed away in 2013, championed the civil rights movement. Serving Atlanta for over twenty years as an alderman and a member of the Georgia House of Representatives, he was one of the first Republicans elected to a public office in Georgia since the post–Civil War era. (The Democrats stood against civil rights.) Rodney mentions how his father took a stand alongside Mayor Hartsfield, Atlanta's longest-serving mayor, in speaking out against the Peyton Road Wall built to keep black citizens from moving into a traditionally white area. "Dad said, 'Americans do not wall themselves off from fellow Americans.' It was a tumultuous period, and Dad was key in keeping the peace."
Inevitably, Cook Sr.'s opposition would act upon their verbal threats. While Rodney's parents were away for the weekend, he and his two siblings were home with a babysitter when the KKK arrived in the dark of night to burn a cross on the lawn. Seeing the blaze and fearing their home would catch fire, Rodney says he was "faced with having to get my little sister down a rope ladder, three stories." He was only five. "It wasn't an epiphany," he asserts, "but it was certainly a milestone." The event traumatized Rodney. "I didn't speak for a year," he confides.
I was told by numbers of folks, including my father, how important their work was, sticking their heads above the crowd in ways that were honorable but dangerous.
At fifteen, Rodney found his voice could make a difference when he not only corralled a group of friends to join him in a protest against imploding the Fox Theatre, but he also spoke out when the media gave him a microphone.
Earmarked for demolition, the ornately adorned, Moorish-inspired landmark had made its debut in 1929 as a movie palace. "My mother," Rodney says, "was on a commission that oversaw historic buildings that were being torn down. She came home in a terror, saying, 'They are going to blow up the Fox, and you have to do something about it.'" When he responded, "Mom, I can't even drive," she reminded him that his older sister had a license. "So," he says, "we surrounded the building." Mayor Maynard Jackson took note and withdrew the demolition permit, paving the way for Rodney and his friends to spearhead the Save the Fox campaign, initiating a full-fledged restoration project. Today, the venerable theater is Atlanta's pride and joy.
Like his mother, Rodney valued traditional and classical architecture. Therefore, when choosing a college, he says, "Mr. Shutze advised that I should go to Washington and Lee University," where professors would encourage his passion. As Rodney explains, "Traditionalism was dead in America, so he thought if I went to some of the other schools that interested me, I'd be flunked."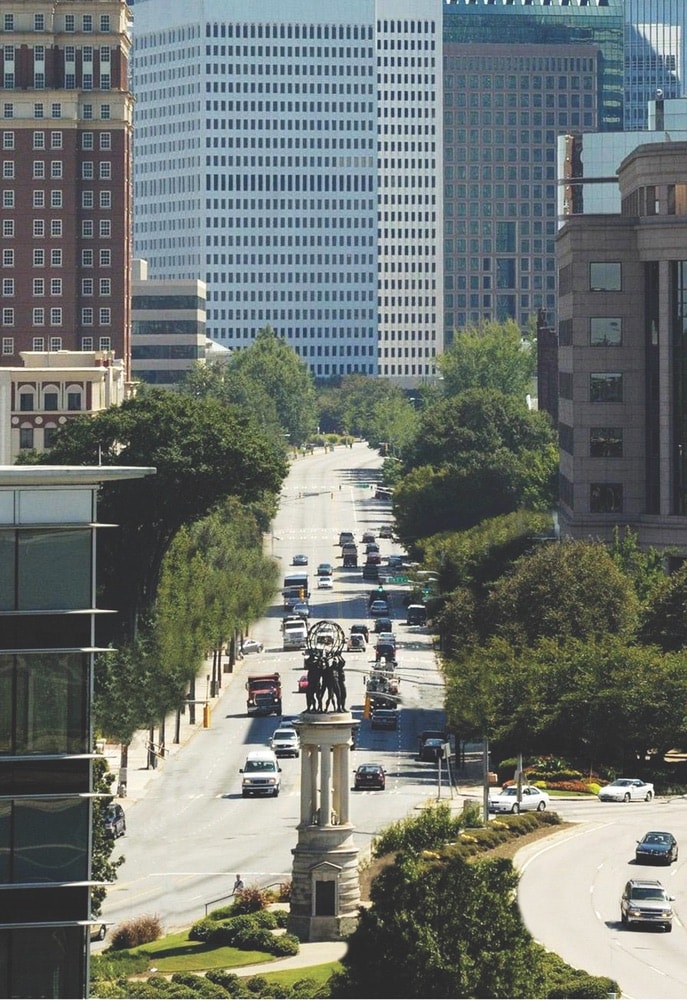 A student of architecture, history, and business, Rodney says, "I think modernism has helped to ruin American cities. We designed in the last century with the automobile in mind. It had nothing to do with the human being." To note, Rodney is a charter signer for the Congress for the New Urbanism, a movement that promotes green spaces and walkability throughout neighborhoods in which residents find all they need to thrive.
After launching his first design firm in 1982, Rodney admits that he was called out for merely "designing pretty houses for rich people." A professional challenge by his friend Robert A. M. Stern to consider community enrichment projects like museums and parks prompted him to "pivot to more civic-realm construction." Consequently, he established PolitesCook Architects, which got under way by designing the Newington-Cropsey Museum in New York, home to the largest American collection of Hudson River School paintings.
A personal friendship with the Prince of Wales has also influenced Rodney's undertakings. Referring to Prince Charles as "the general" in leading a "renaissance of traditionalism in architecture around the world," Rodney says, "he put words to the anxiety of those who hated modernism."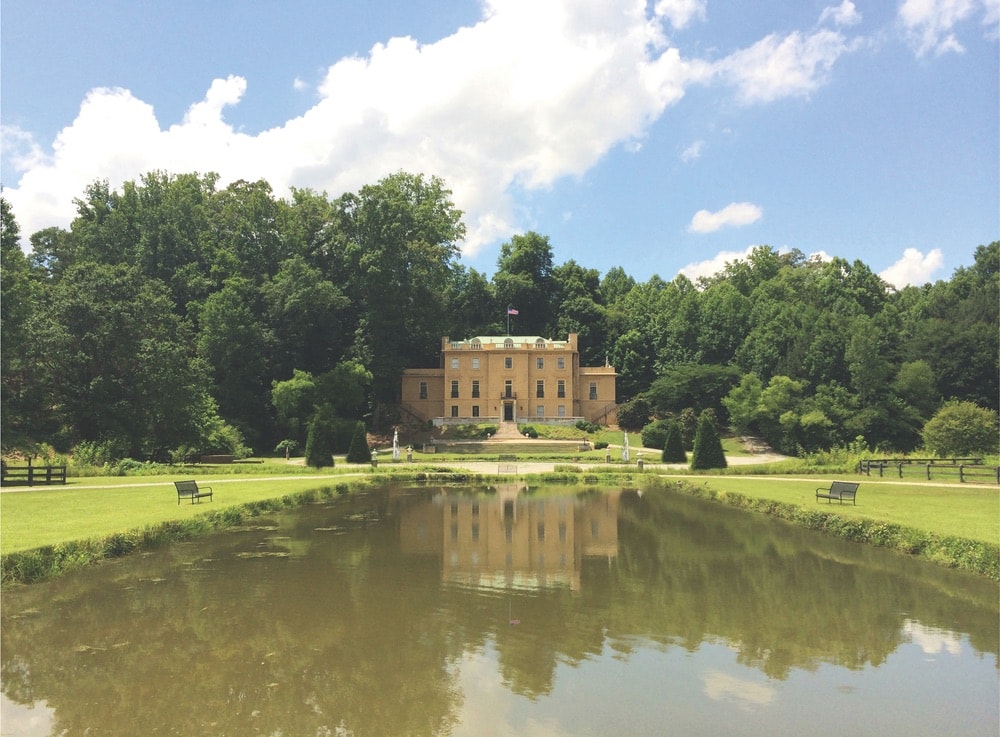 With Atlanta's hosting of the 1996 Olympic Games, the two agreed that a commemorative structure would have a positive, cultural impact in what was then an underutilized area in Midtown Atlanta. Rodney organized the design and construction of the Prince of Wales's Olympics Monument, also known as the World Athletes Monument, as a founding trustee of the Prince of Wales's Foundation for Architecture. Rodney recalls Prince Charles writing him, "As long as you live in Atlanta, please care for my monument."
In 2003, Rodney established the National Monuments Foundation to promote "the cause of classical and inspirational urban design," guided by the philosophy that "great and meaningful moments in history are majestically marked by the construction of permanent structures meant to inspire citizens of a city, region, or nation." The foundation then conceived of and built the Millennium Gate Museum.
Celebrating the second millennium, the Millennium Gate resembles a classical Roman triumphal arch. "We had initially intended it to be a Washington museum," Rodney says, adding that September 11 "destabilized everything." Instead, he brought the project home to grace the heart of Midtown Atlanta. The grand feature symbolizes a gateway to the South as well as a passage through which knowledge and friendship flow from the past to the present and into the future. Open to the public, the museum functions "to preserve and interpret Georgia history, art, culture, and philanthropic heritage as well as highlight Georgia's historical and aesthetic relevance to the United States and to the world."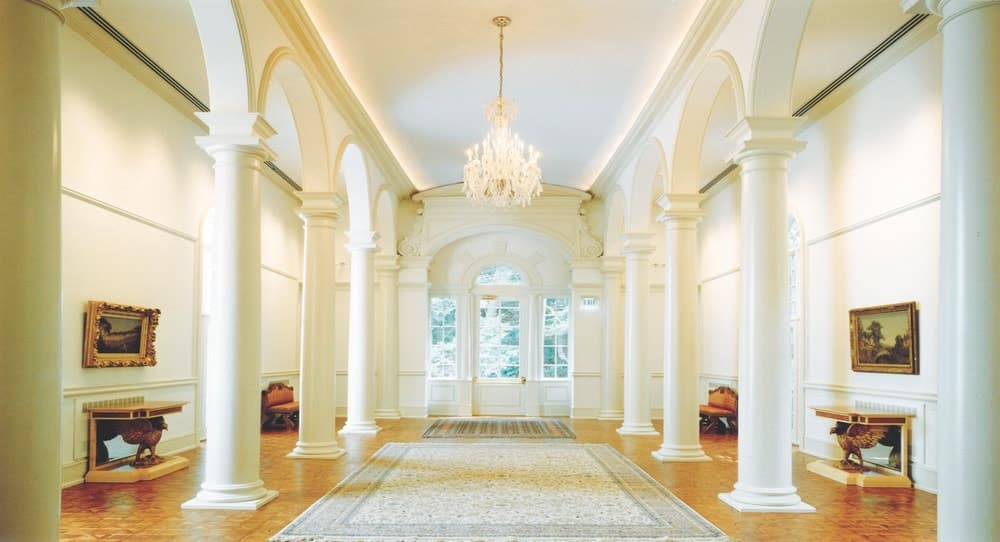 Rodney's own family's imprint on Georgia's history dates back to John Mims (1815–1856) and Livingston Mims (1833–1906). Beyond serving as Atlanta's sixth and thirty-seventh mayors, the Mims mayors generously donated land to the city for the original city hall (burned by Sherman and now the site of the Georgia State Capitol), and a public park—but not just any park.
Livingston Mims commissioned the Olmsted Brothers company (a landscape architectural firm owned by the sons of Frederick Law Olmsted, the designer of Central Park and the U.S. Capitol grounds) to accentuate the landscape with meadows, walking paths, statuary, and stately trees. The aptly named Mims Park also contained the first integrated playground in the city's history. Fittingly, the immediate neighborhood, known as Vine City, would later be home to Atlanta's renowned civil rights leaders and their families, such as the Kings.
In the 1950s, Mims Park land was used to build an elementary school, and over the years, the area declined, becoming one of the city's most impoverished neighborhoods. Rodney, through the National Monuments Foundation, reached an agreement with the City of Atlanta to establish a new park on sixteen acres as a tribute to his ancestor and to honor a deathbed wish of his father. Offered in a spirit of peace and friendship, the ambitious endeavor would revitalize the depressed section of Atlanta and spawn positive initiatives for generations to come.
Resurrecting Mims Park involved numerous entities, including the National Monuments Foundation, the City of Atlanta Department of Parks and Recreation, the City of Atlanta Department of Watershed Management, the Trust for Public Land, the City of Atlanta Mayor's Office, and the community, and required tens of millions of dollars in private and public funding. As stakeholders were getting the project off the ground, "outside activists" grabbed onto the morsel that Livingston Mims was a major in the Confederate Army, so they protested the name.
Winston Churchill is noted to have said that we will quite possibly be judged as much by the buildings we destroy as by those we erect.
Despite Livingston having built Atlanta's first integrated park, "History went out the window," says Rodney. "The community had already vetted the name and didn't want to change it." In the end, "multigenerational friendships" forged between his family and the local African American community triumphed. "They said, if we're changing the name, then we're changing it to someone in Rodney's family." The honor went to Rodney's father, and work on the Rodney Mims Cook Sr. Park, also known as the Atlanta Peace Park, began in 2017.
As the development continues, the project showcases "smart urban planning and building monuments about history," according to Rodney. While many narrow in on slavery and Native American injustices, Georgia's history, Rodney points out, is rooted in peace. "Tomochichi, [chief of the indigenous Yamacraw Indians], and James Oglethorpe, [founder of the original Georgia colony], became the closest of friends," he informs. "Tomochichi gave his land to Oglethorpe to build the city of Savannah. We don't tell this story often enough."
Consequently, the park's focal point, a 120-foot-tall peace column, is dedicated to Chief Tomochichi, while eighteen statues throughout the park honor Cook Sr. and other notable peacemakers, such as Martin Luther King Jr., Maynard H. Jackson, and Andrew Young. "Dr. King's house is facing the park," says Rodney. The grounds will also contain the library of civil rights leader C. T. Vivian.
Not surprisingly, the project has garnered international attention. "The Nobel Peace Laureates found we were building a peace park and have asked if they could have a permanent Western Hemisphere headquarters in our park," Rodney shares. "Prince Charles set it in motion with Mayor Kasim Reed, but they say we possess the narrative and believe we are ground zero for a global peace movement."
The park, of course, is there to be enjoyed by the local community and visitors. Along with elements of the Olmsted design—including a lake, making it beautiful and inviting—second-phase plans call for a state-of-the-art urban farm and greenhouses. "Our gesture will make this a gentrified community," Rodney says, "and the people accepted and assumed it. But, we will completely remake that community in the Atlanta Way, Mayor Reed having frozen the taxes of all the homeowners in the neighborhood. They can stay with no increased taxes and enjoy the fruits of their efforts and assistance to us, or they can hold on and sell their homes for millions of dollars."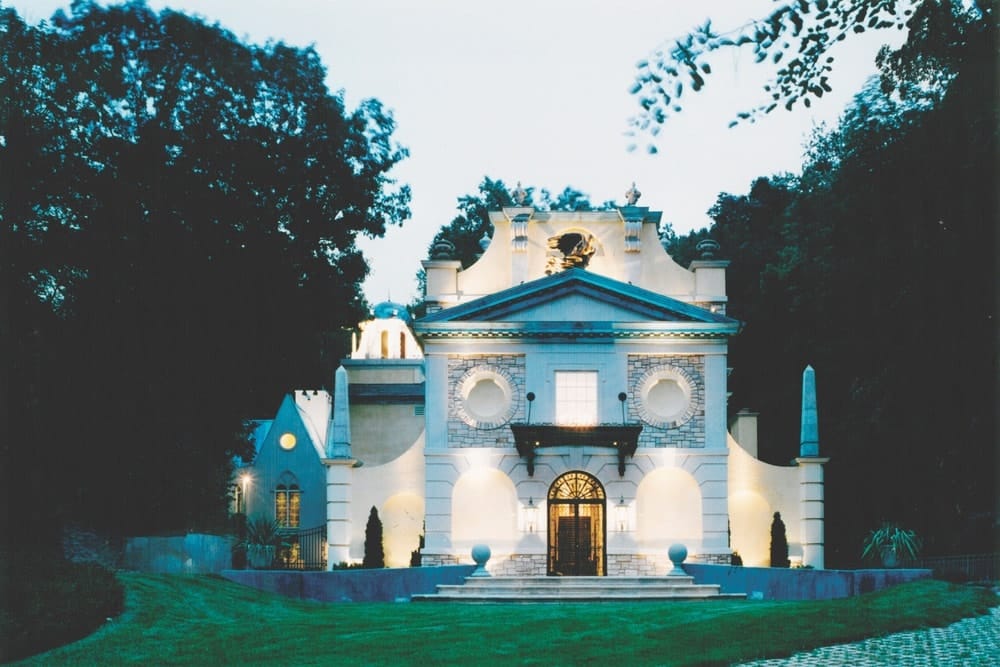 Those who observe Rodney's contributions to Atlanta might not realize the global impact of his efforts. In addition to exhibits shared through the National Monuments Foundation, for instance, he has launched a virtual reality business that gives museums the capability of granting public access to archives that are not on display.
"The vast collections that are on view represent only two percent of what they own," he says. "The majority of the world's treasures are in the basement. Our technology allows those collections to be brought out of the basement and onto the walls, virtually." Touch-screen and 3-D exploration, whether on a grand scale within a museum or on a personal device, enhance the user's engagement. In 2017, Rodney and his colleagues gave a presentation on the topic at the State Hermitage Museum in Saint Petersburg, Russia.
For another notable project under way that's closer to home, Rodney is at work on a memorial library and museum to Presidents John Adams and John Quincy Adams in Washington, D.C.
Although there's no shame in "designing pretty homes for rich people," Rodney Mims Cook Jr. was clearly destined to do more. Building monuments, however, can be daunting in a time when many are striving to abolish the past. While undeterred, Rodney cautions, "Winston Churchill is noted to have said that we will quite possibly be judged as much by the buildings we destroy as by those we erect."
— V —
---
For more information about Rodney Mims Cook Jr., readers can begin by visiting RodneyMimsCook.com, TheNMF.org, and TheGateMuseum.org.
Sallie W. Boyles works as a freelance journalist, ghostwriter, copywriter, and editor through Write Lady Inc., her Atlanta-based company. With an MBA in marketing, she marvels at the power of words, particularly in business and politics, but loves nothing more than relaying extraordinary personal stories that are believable only because they are true.
ARTICLE CATEGORIES