By Tori Phelps   |   Photography by Elizabeth Ervin
Inside her delightfully paint-splattered Charleston studio, Raven Roxanne sits beside an in-progress addition to her popular Bird series while discussing her first children's book, based on her equally popular Nest series. The theme is tough to miss.
She confesses that birds have always intrigued her, probably because of her name. And, yes, Raven is her given name, not an artsy gimmick. She got it from her parents, Roxie and Chris Wilson, whose iconic The Zoo Gallery has represented American artists on Florida's Emerald Coast for nearly forty years. Raven and her brother, Baxter, were practically raised in the gallery, where they were exposed to a diverse collection of works by day. By night, Raven watched her artist mom paint in the family's home studio.
When art is the family business, there are two choices: rebel and become something "practical," like an accountant, or grab a paintbrush and add your own color swatch to the family tree. Raven grabbed a brush.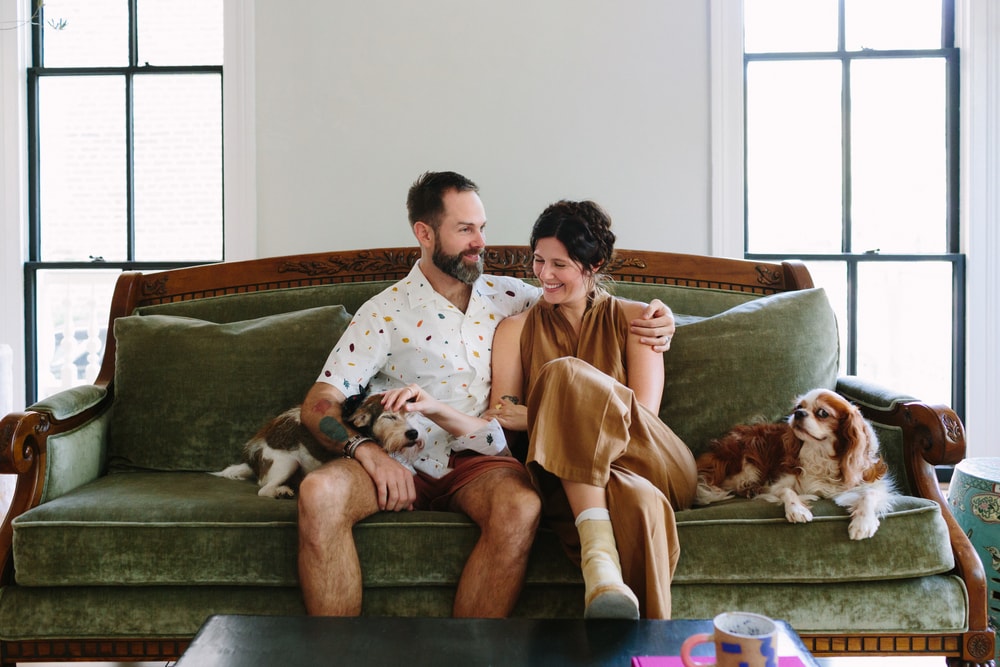 Despite their experience in the art world, or perhaps because of it, her parents didn't push their children to become artists. "There was no pressure at all," she says. "When it became apparent that I was really interested, they almost tried to talk me out of it because they know how hard it is."
But you can't talk a bird out of flying.
Raven earned a BFA from Auburn University and then went to work for high-concept apparel brand Free People in Atlanta. While she was able to combine her love of art and retail, the siren song of her paints was too strong to resist.
Soon after moving with now-husband Thomas McCutchen to his hometown of Charleston, South Carolina, she spent six months rediscovering who she was in the studio. Raven the Artist made a comeback, though she didn't catapult to fame and fortune overnight. Her first "show" was in a dentist's office. But interest in her work increased rapidly, and, just five years later, she's a hotly collected artist.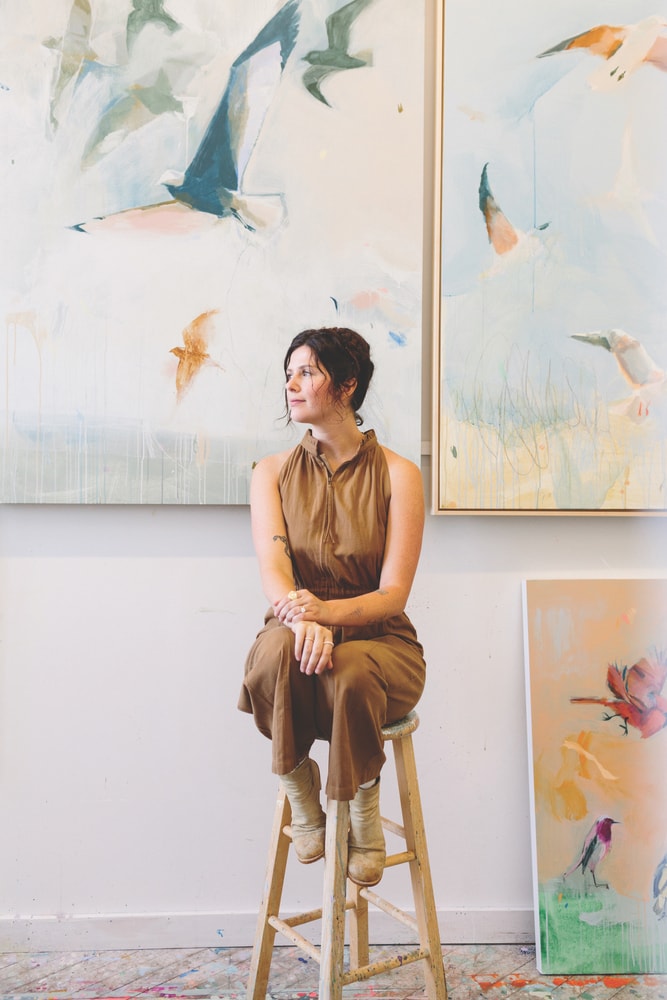 The roots of her abstract and impressionist paintings can be traced to her mother, who never wanted Raven to be "too trained." Good advice, Mom. As a result, Raven's art has remained a pure expression of herself and the energy in her life. "I'm kind of a reactionary painter," she smiles. "I make a mark and react to that mark."
Some of those marks evolve into birds and nests. Other marks become female-centric works that celebrate women as beautiful, powerful creatives. Seasons, too, influence what appears at the end of her brush; the Nest series is always a fall project, spring's aura of rebirth prompts her to begin a fresh series, and summer usually revolves around girls with flowers.
"I'm kind of a reactionary painter," she smiles. "I make a mark and react to that mark."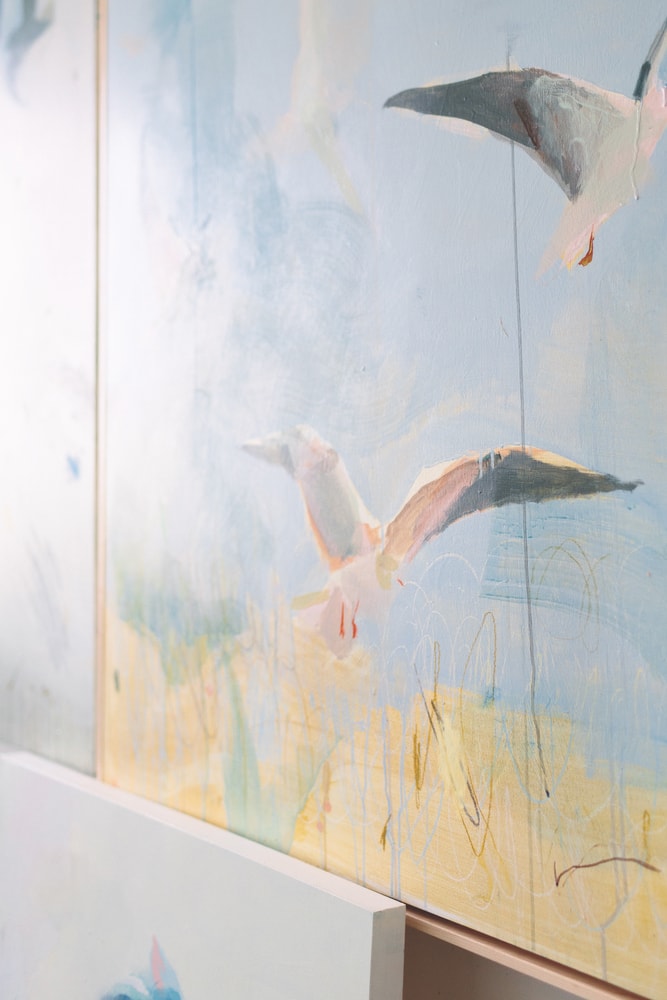 Her calendar has been busier than usual lately—filled not only with painting but with completing her first children's book, A Raven's Nest. The idea was sparked when collectors of her Nest paintings recounted that the artwork had inspired their children to experiment with their own "nest" pictures. "It kept happening," she says of the unexpected feedback. "It made me feel good that kids were drawn to this image I had created and got me thinking about making a kids' book."
The tale follows a raven's nest-making journey. And because "nest" is synonymous with "home," it was a given that it would be set at the beach, which is home for her. Weaving in themes about the messiness of love, the book describes the objects Raven puts into her nest and how the colors of those objects represent different feelings. As an artist, she relies on color as a vehicle for expression and believes it is a concept that kids can easily understand. The idea, she explains, is to present young readers with color and texture as tools to build a safe, comfortable world for themselves.
With A Raven's Nest, she's not just adding "author" to her resume; she's adding publishing mogul. The book will be one of the first three titles published by Lil Bit Lit, the company she cofounded with Molly Fienning and Jenny DiBenedetto. Upon discovering a shared desire to fill a distinct hole in the children's literature market, the trio set about launching a publishing company for art-forward books that encompassed an emotional learning aspect and were beautiful enough to put on your coffee table. The vision resonated with a lot of people. Their Kickstarter campaign raised an astounding $25,000, and Lil Bit Lit was born.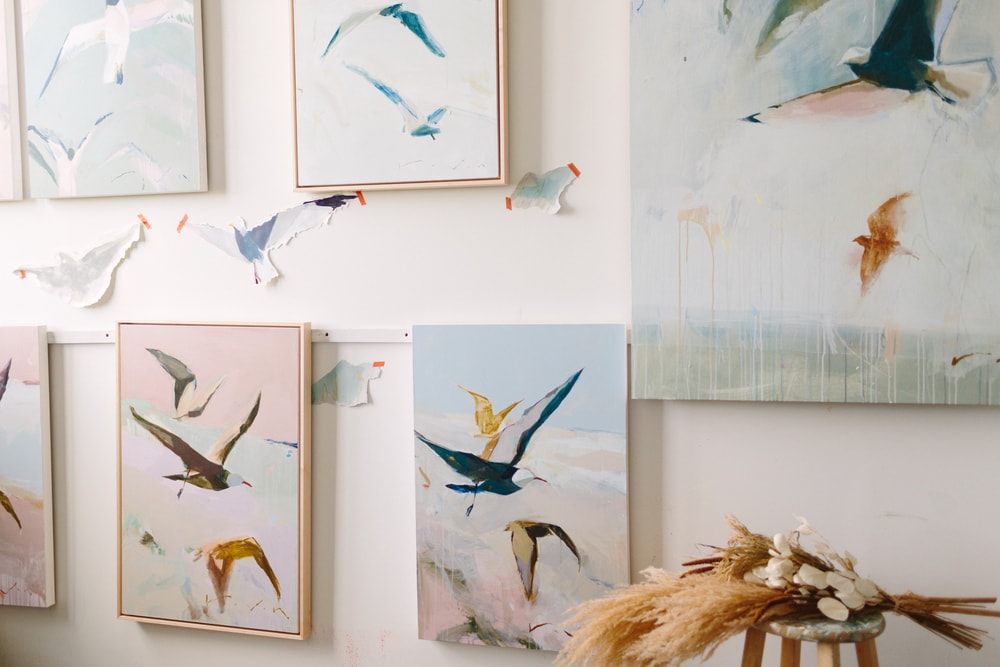 Raven is hoping that this debut book is the first of many for her. In the meantime, she has plenty to keep her busy—like her current painting project, a coastal birds series she's wanted to tackle for quite a while. Growing up in Destin, Florida, and now making her home in Charleston, Raven has spent most of her life near the sea, and the birds there are especially close to her heart.
Painting and writing aren't her only creative outlets. She also designs a line of lifestyle products including scarves, all-natural candles, and stationery that, unsurprisingly, all feature gorgeous patterns and luxe materials. Her connection to each item comes through as she describes the soul-soothing effect of a burning candle or the feel of a finely made notecard. But the scarves are, perhaps, most meaningful to her. Essentially a collection of wearable paintings, they are an homage to her mother, who wears beautiful scarves every day.
"I have an incredibly supportive community of artists around me. I attribute a lot of my success to them," she says. "Charleston supports the arts in a great way, and it has a buzz and romance about it that make it feel very alive."
With ventures spanning visual art, lifestyle accessories, and books, the down-to-earth artist has quietly carved out an impressive little empire over the last few years. Her talent, of course, is the driving force, but she's quick to point out that she doesn't do anything in a vacuum. "I have an incredibly supportive community of artists around me. I attribute a lot of my success to them," she says. "Charleston supports the arts in a great way, and it has a buzz and romance about it that make it feel very alive."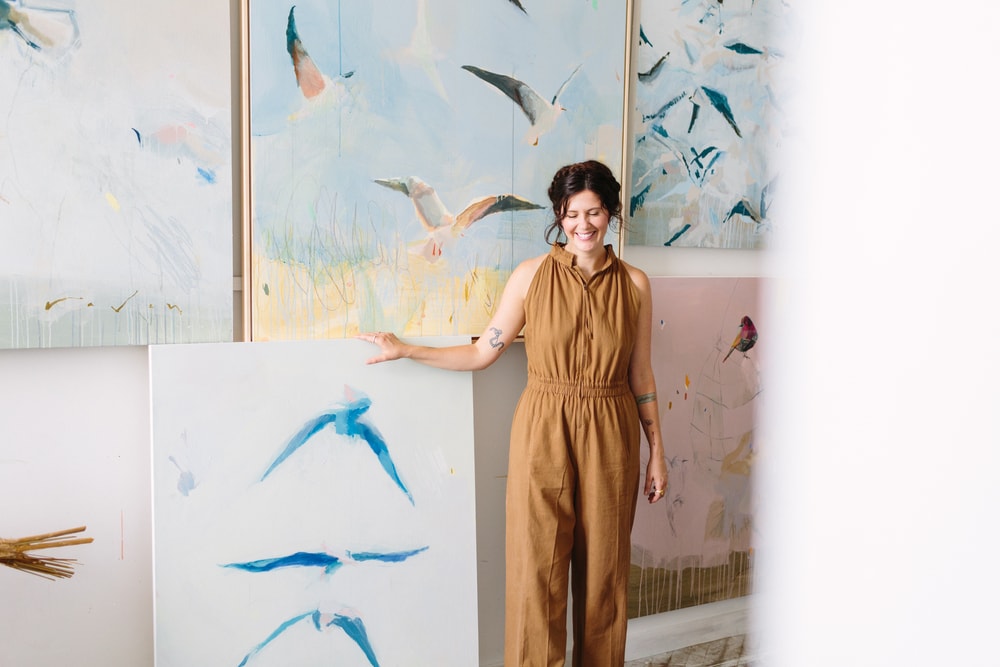 The people closest to Raven have played the most significant role in her success. Her husband not only encouraged her to become a full-time artist, but his company, Scoutside, provides the expertise for her website, which doubles as her primary sales channel. And then there are her mom and dad. Their passion for the arts and career-long dedication to supporting artists taught their daughter that the creative life was one worth pursuing. It seems to have had the same effect on her brother, who now helps run The Zoo Gallery and is a gifted artist himself.
Growing up in the business, Raven was well aware that the commercial side of the art world wasn't a cakewalk. But while she prepared for the worst, she has mostly experienced the best. "I knew that it was easy to be ripped off, easy to be copied, and easy for people not to appreciate my art as I might hope," she says. "But I've been extremely lucky in the way people have been so kind and supportive of my work."
— V —
---
A Raven's Nest will be available this fall at LilBitLit.com and The Zoo Gallery in Grayton Beach and Miramar Beach, Florida. Learn more about Raven Roxanne at RavenRoxanne.com.
Tori Phelps has been a writer and editor for nearly twenty years. A publishing industry veteran and longtime VIE collaborator, Phelps lives with three kids, two cats, and one husband in Charleston, South Carolina.
ARTICLE CATEGORIES