Discovering St. Augustine, the Ancient City
By Jordan Staggs
Five centuries ago this year, famed Spanish conquistador Juan Ponce de Léon landed on the shores of what he named La Florida. Legend says he found the long-sought Fountain of Youth after his arrival in the New World, and the people of St. Augustine insist it isn't merely a legend. This timeless city on Florida's northeast coast—the oldest continuously inhabited settlement established by Europeans within the United States—doesn't seem to be affected by the march of years. And with its 450th anniversary approaching in 2015, I found the pull of St. Augustine stronger than ever.
A Royal Welcome
As I navigated the historic downtown section of the city to find the Casa Monica Hotel, I couldn't peel my gaze from the buildings that lined the streets. The architecture of the city spans centuries. From the colonial charm of the oldest house in America to the Spanish, French, and American influences in its churches and museums, St. Augustine is a feast for the eyes. One jewel in its crown turned out to be my very own hotel.
After a couple of wrong turns and a trip down the narrowest backstreet I've ever driven, I pulled into Casa Monica's parking facility. Its location beneath the hotel encouraged the feeling that I'd just driven back through the centuries, as did the sconces and lanterns illuminating the tunneled parking structure. As a valet took my bags, I stepped onto the cobblestones and then ascended a flight of stone stairs I thought would lead to the lobby. Instead, I was surprised to find a private courtyard oasis with a chaise-ringed swimming pool, stone patio, and covered, arched lanai. Though tempted to linger, I knew my group was waiting for me. Now, if only I could find the lobby…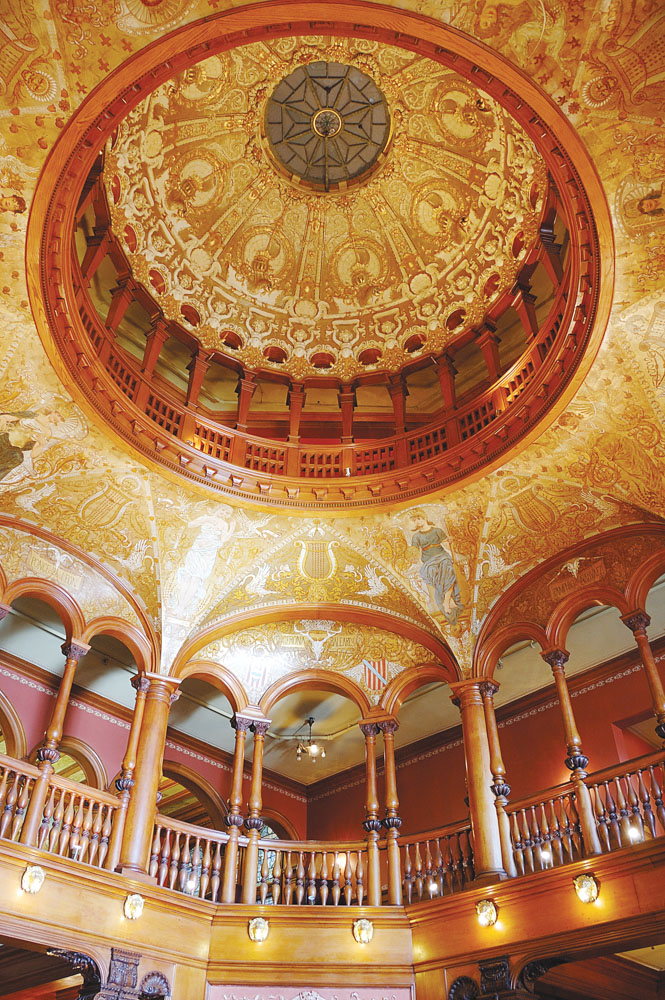 The valet directed me through heavy wooden doors into a different kind of sanctuary: a large, inviting room with carved wooden beams overhead and a charming tiered fountain of Italian tile. Ornate wooden chairs, deep leather sofas, more elaborate wall sconces, and hand-painted murals done in the traditional Moorish style completed the lobby's aesthetic.
Next, it was time to inspect my room. Each of Casa Monica's guestrooms and suites is individually decorated, though they all combine traditional elements like rich woods and velvet headboards with modern conveniences such as single-serve Verismo brewers. Upon opening the door, I immediately noticed two things: a charming view of the palm-fringed park and jazz tunes emanating from the Bose sound system on the nightstand. The details? Perfect.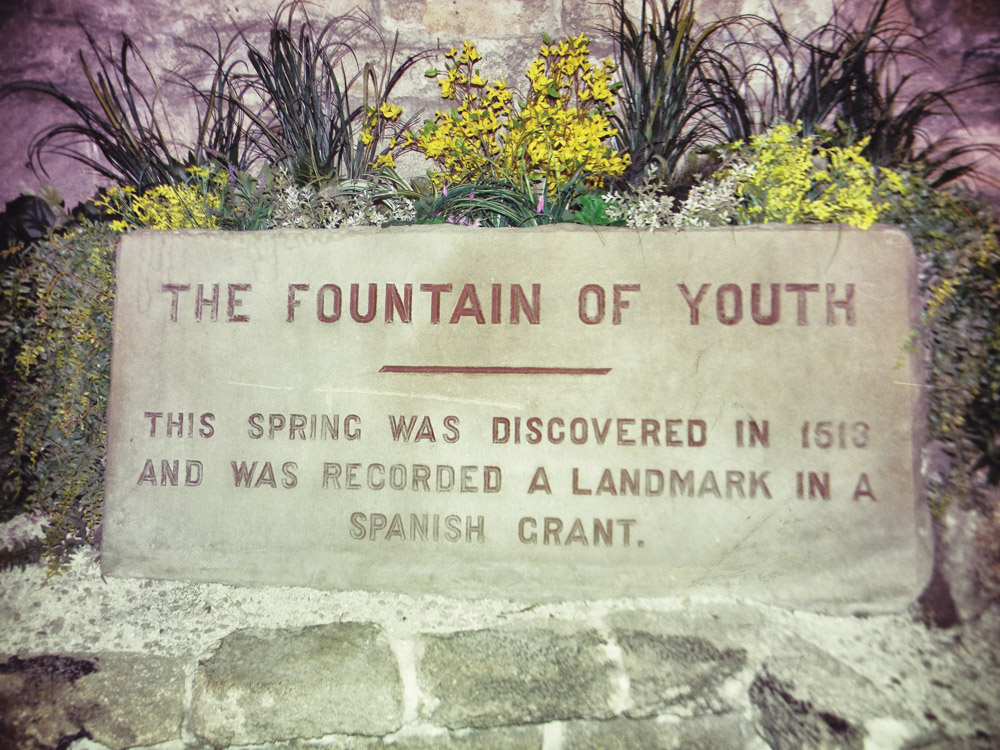 After meeting up with the rest of my entourage in Casa Monica's Grand Bohemian Art Gallery to peruse artwork and jewelry, we took the short walk to another gem in the shops adjacent to the hotel. The Ancient Olive is a boutique and tasting room featuring an extensive array of infused olive oils and balsamic vinegars. The friendly experts on staff showed us around, made flavor recommendations, and even introduced us to an olive oil cocktail. It was a little strange but very tasty, in case you were wondering.
On our way to a five-course meal in 95 Cordova restaurant's luxe Sultan's Room, we encountered millions of sparkling white holiday lights lining the trees, buildings, and nearly everything else outside. Nights of Lights, which runs annually from November through the end of January, is a beloved tradition that has earned St. Augustine a spot on National Geographic's list of the world's top ten places to see holiday lights. Our eyes sparkling in wonder, we heartily concurred with that appraisal.
Over a succulent dinner paired with delicious wines, we learned that Casa Monica's history includes incarnations as a courthouse, a civil rights landmark, and a warehouse. It was rescued in 1997 by Richard C. Kessler and restored to its former glory, becoming a member of the prestigious national luxury hotel group known as The Kessler Collection. Casa Monica is also St. Augustine's only AAA Four-Diamond hotel.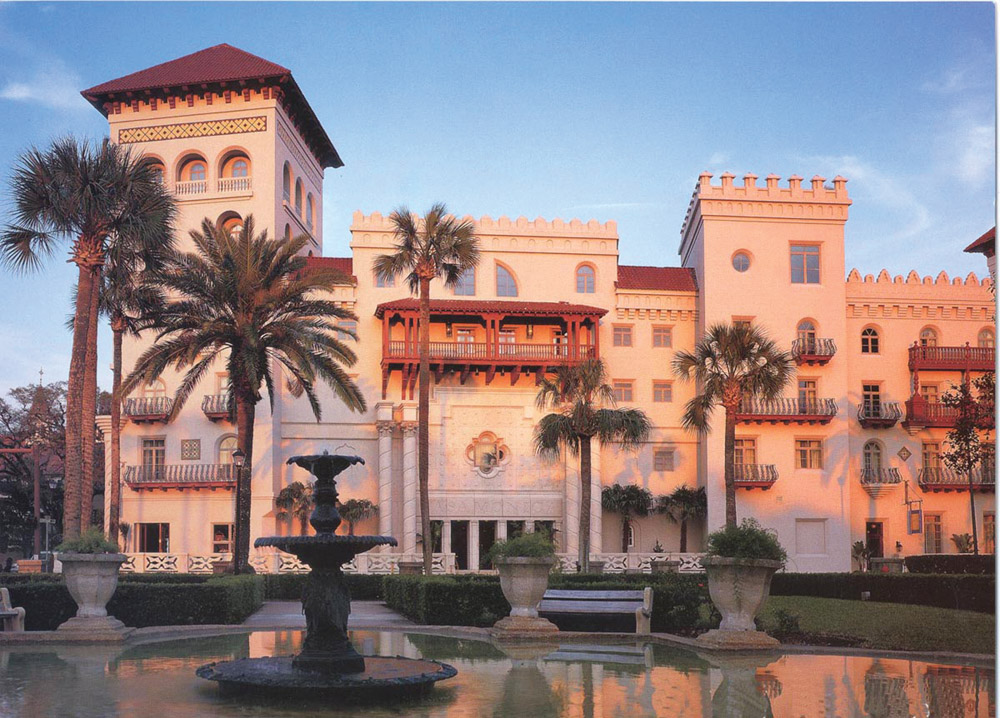 A Trip Back in Time
Not surprisingly, history was the recurring theme of the trip. We were in the Ancient City, after all, so why not journey back to where it all began? Our first stop the next morning: the Fountain of Youth Archaeological Park. Before Europeans descended on the New World, St. Augustine was inhabited by the Timucua Indians. Visitors to the Fountain of Youth can get a glimpse into what the natives' lives were like through re-created campsites and expert demonstrations of their hunting techniques. We even got a tour of the park from the founder of St. Augustine himself, Pedro Menéndez de Avilés, who looked pretty good for being half a millennium old. Obviously, that water is working for him. "Small sips every day," he recommended. You can sample the fountain's water for yourself and even grab a to-go bottle from the gift shop.
The next stop on our journey through history was Castillo de San Marcos. Originally constructed in 1672, it is the oldest masonry fort in the continental United States, although, like many grandes dames, it's had a face-lift or two over the years. Following a history lesson from a park ranger, we climbed to the top of the battlements to watch the weekly firing of the cannons into Matanzas Bay, performed by local reenactors in full period costume.
 It's part living museum, part time machine. With building and craft demonstrations, two authentic restaurants, and live entertainment, visitors can step right into the past.
Across the street from the Castillo is another St. Augustine must-see, the Pirate and Treasure Museum. A fan of pirates long before Johnny Depp donned the Jack Sparrow dreadlocks, I was practically giddy as we received treasure maps to guide us through this amazingly cool, interactive museum. Each room is a new place to explore, from the streets of the infamous pirate island of Tortuga to the decks of a buccaneer ship. We even journeyed into the dark cargo hold of the Queen Anne's Revenge to relive Blackbeard's final battle, a thrilling virtual reality sequence created by Walt Disney Imagineering.
After finding every secret stash of booty in each of the rooms and marveling over one of the world's largest collections of authentic pirate artifacts, I reluctantly followed my group outside to the construction site beside the museum. The three-story guard tower overlooking the privacy fence intrigued us enough to prompt a walk around what's sure to be St. Augustine's new star attraction, the Colonial Spanish Quarter. Just in time for the Viva Florida 500 celebration, the city will unveil a hands-on exploration of its growth throughout the centuries. It's part living museum, part time machine. With building and craft demonstrations, two authentic restaurants, and live entertainment, visitors can step right into the past.
I could recount many more sights, tastes, and tales of my sojourn in St. Augustine, but this is a place best experienced for yourself. No matter how often you come, each visit is an opportunity to create a new story in a city that defies time.
To start planning your trip or to learn more about the area, visit floridashistoriccoast.com.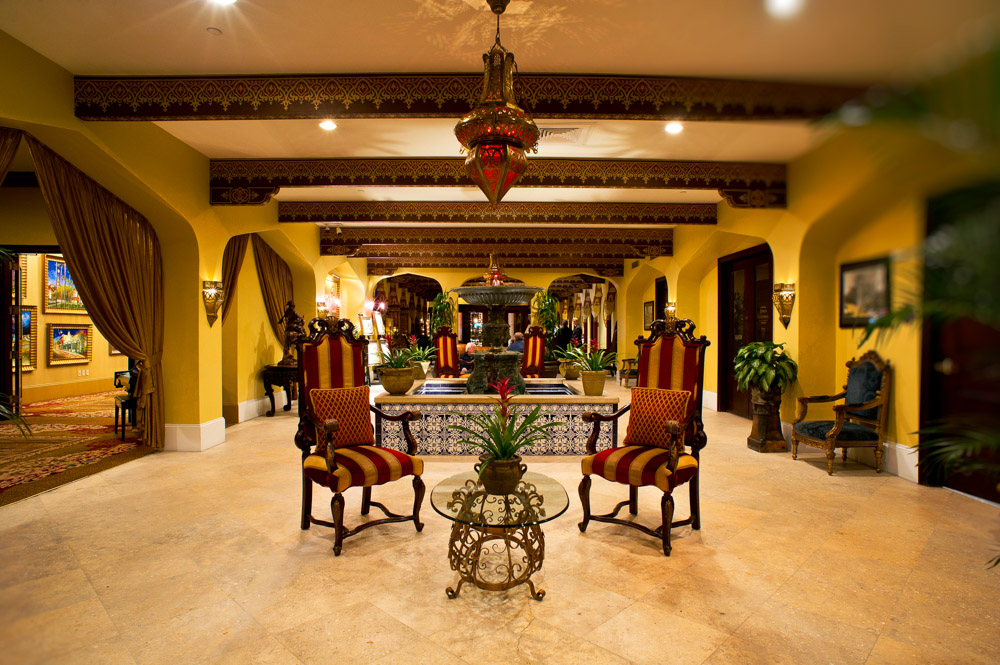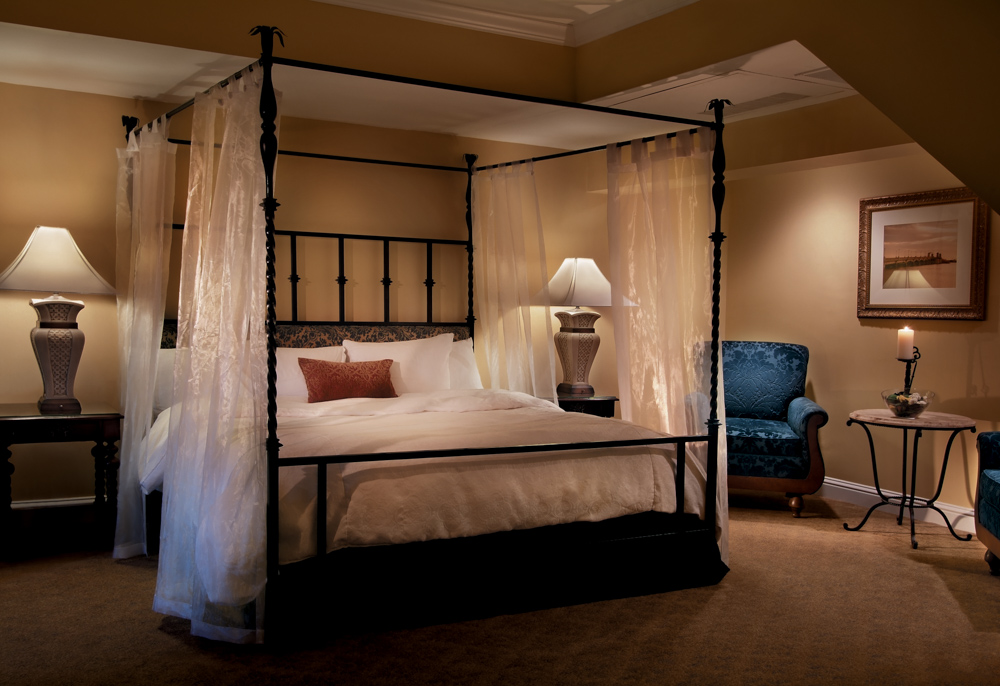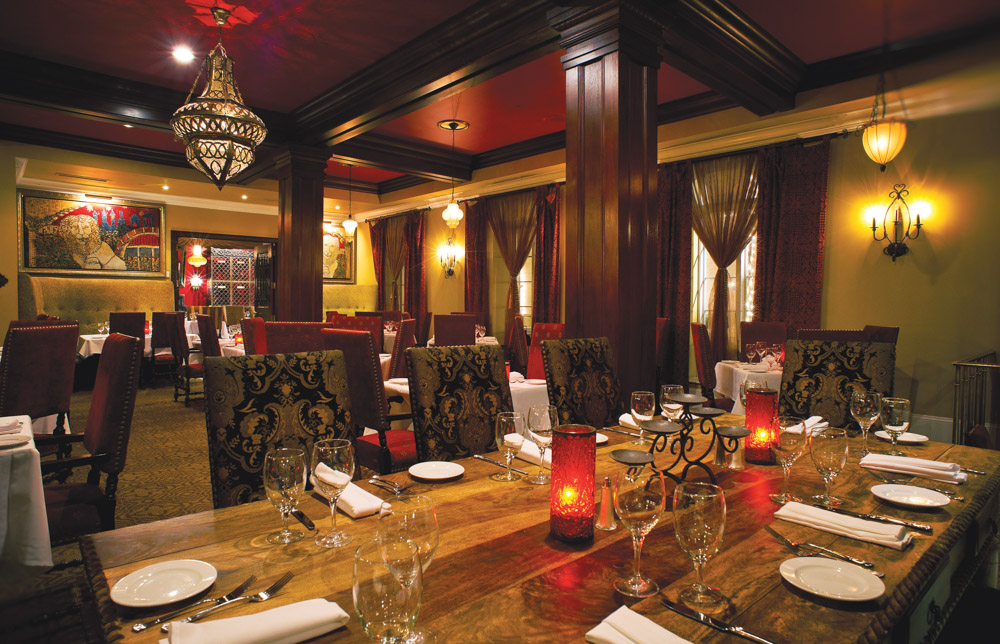 — V —
---
SHOPPING
Aviles Street, St. George Street, and King Street are all pedestrian friendly and jam-packed with shops, cafés, and art galleries.
The Ancient Olive Gourmet infused olive oils and balsamic vinegars can be found here in almost every flavor imaginable! Perfect for choosing unique gifts or spicing up your own cooking. www.theancientolive.com
The Grand Bohemian Gallery An elegant and unexpected mix of art and jewelry is available in the Grand Bohemian, the eclectic chain of acclaimed galleries that have become a staple of The Kessler Collection hotels. www.grandbohemiangallery.com
DINING
The Ancient City has an impressive array of cafés, restaurants, and pubs in the historic downtown area. Sample everything from traditional Spanish fare to mouthwatering burgers and brews.
95 Cordova Restaurant Casa Monica Hotel's premier dining experience, where a seasonally inspired new world and eclectic menu provides flavors that are sure to please. www.casamonica.com/dining
The Floridian Fresh regional Southern fare for "omnivores, herbivores, and locavores." Enjoy favorites such as cornbread panzanella and grit cakes while taking in the charming country kitchen atmosphere. www.thefloridianstaug.com
Columbia Restaurant This Spanish villa, known as Florida's oldest restaurant, is famous for its seafood, steaks, and traditional paella, as well as signature cocktails and sangrias. www.columbiarestaurant.com
San Sebastian Winery Guests can tour the building of this winery, one of Florida's finest, and enjoy wine tastings, a gift shop, and The Cellar Upstairs rooftop bar. It just doesn't get any better than live jazz and a glass of vino under the stars. www.sansebastianwinery.com
HISTORY
The Fountain of Youth Archaeological Park www.fountainofyouthflorida.com
Castillo de San Marcos www.nps.gov/casa
St. Augustine Pirate & Treasure Museum www.piratesoul.com
ARTICLE CATEGORIES