By Sallie W. Boyles
The bathhouses of ancient Greece, Rome, Turkey, and Japan reveal that rituals for cleansing and pampering the body have existed since the beginning of civilization and continue to inspire modern home spas, so hotly demanded over the past few decades. Considering all the components that create a personal sanctuary, from elaborate to minimalist, the most defining elements seem to be the soft touches—the soaps, lotions, oils, perfumes, candles, and textiles—chosen to indulge the senses and facilitate various therapies. All kinds of stores, therefore, have cropped up to satisfy our yearning for relaxation and rejuvenation, but many retailers have retreated to online-only positions or have failed during the economic downturn. Despite poor odds for survival, one of the original independent shops in Northwest Florida specializing in bath and body products, Pish Posh Patchouli's of Rosemary Beach, is celebrating twenty successful years of helping customers escape the daily routine.
Patchouli's (a name that pays homage to the flowering aromatic herb), has purposely become more sophisticated over time while retaining characteristics that distinguish the retailer as exceptional. "When my girlfriend first started the business in 1992, the store was a respite," says Lynn Dugas, who bought the original establishment in 2005. "We've continued to cultivate an atmosphere that feels like a sanctuary."
From the moment they step inside, customers unwind, leaving their worries outside. Taking advantage of a custom build-out when she acquired the space at Rosemary Beach, Lynn, who is an architect and interior designer, endeavored to create a spa-like environment. The wood, concrete, and exposed brick she has chosen emit an organic essence that harmonizes with the array of natural products. At the same time, crystal chandeliers and antique accent pieces add elegance and introduce an expectation of special treatment.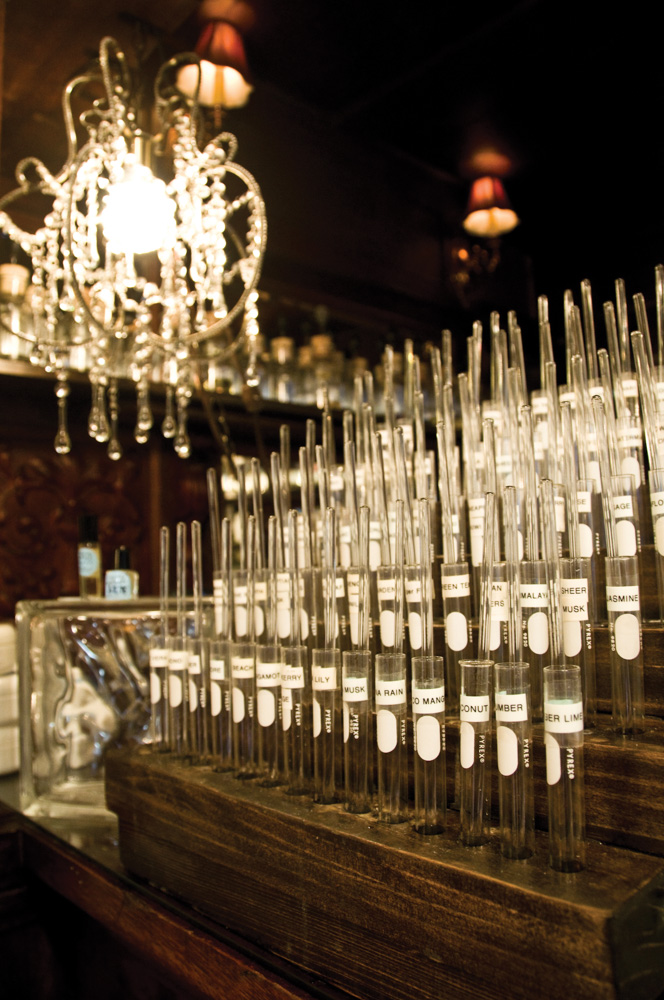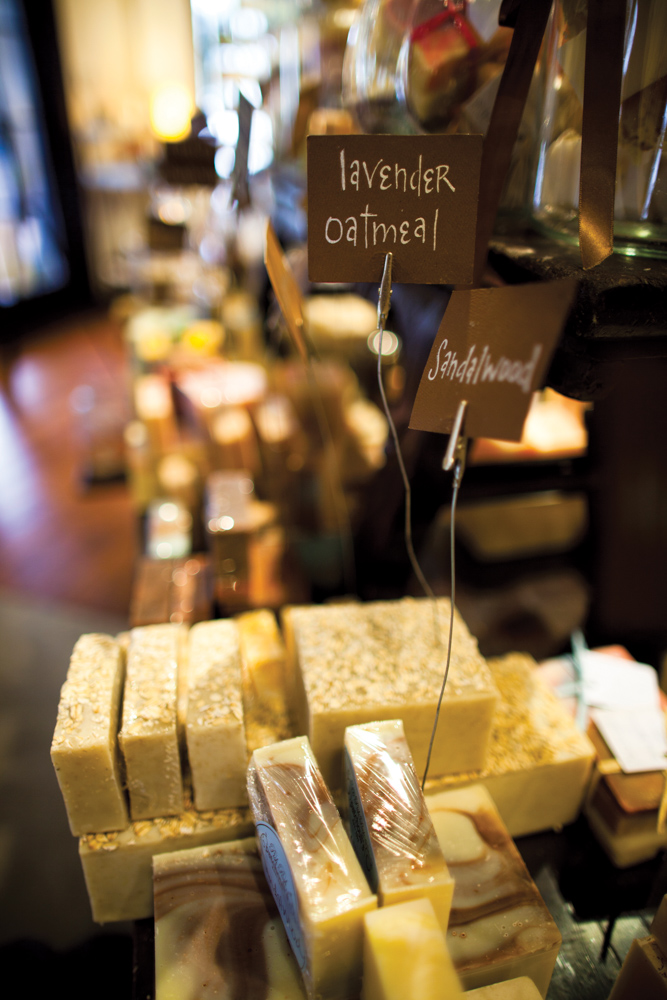 As much as they appreciate what they see, patrons tend to comment first on the soothing aromas that greet them. "It's a calming place," says longtime store manager Lesley Hoover. "Customers, typically the men, are always saying, 'You must be very relaxed working here.'"
"The olfactory sense is strong," says Lynn, "It distinctly reminds us of times and places, explaining why aromatherapy is so powerful." Accordingly, customers enjoy exploring Patchouli's extensive selection of scented products.
"One of my favorites is almond body oil offered in custom scents," Lesley says. "Customers who like to change their fragrances seasonally love the option of choosing coconut, for example, in summer and switching to spicy in winter."
Likewise, she reveals that vacationers often visit the store seeking a signature scent that they would not come across in their department stores or boutiques back home. "Both men and women want to find their new scent at the beach," she says. A seller of highly exclusive perfumes like Santa Maria Novella of Italy and Carner Barcelona of Switzerland, Patchouli's is prepared to please its most discriminating clientele.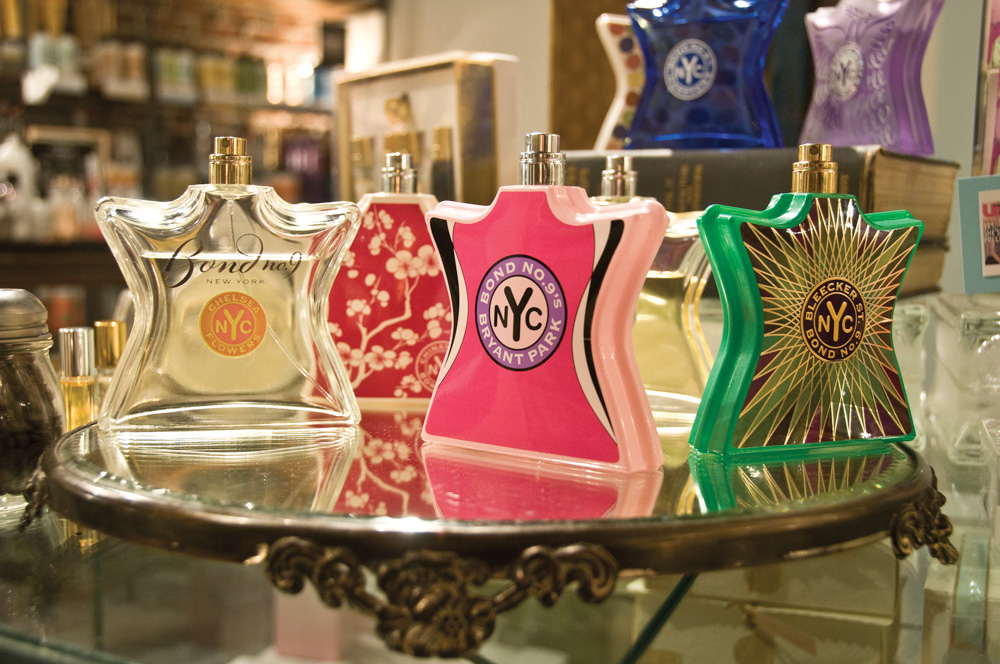 For those who'd like to take their vacation memories home, Lesley recommends LAFCO candles and diffusers in the store's best-selling home fragrance, Beach House. "It has a salty and—I know this sounds odd—a sandy scent that reminds me of driftwood and a little spice."
Patchouli's further features local vendors, such as The Soap Peddler, a line that includes shea butter soaps, lotions, bath fizzes, salts, and oils. "Everything is all natural and freshly made to order in small batches," says Lesley of the store's top-selling soaps. "The ingredients are so important," injects Lynn, who loves customizing products. "We make requests, and The Soap Peddler develops what we want with the best ingredients."
Both Lynn and Lesley, who seize opportunities to represent small independent firms, carry a number of indie brands. Besides promoting emerging lines in the store, the two provide strategic advice to their fledgling vendors. "We're here to help them get their businesses going," says Lynn. Branché, one of her personal favorites, makes silk pillowcases. Silk, while feeling soft and cool against the skin, naturally contains eighteen amino acids and a high copper content that restore hair elasticity and luster. "Sleeping on silk can also reduce fine facial lines," she says.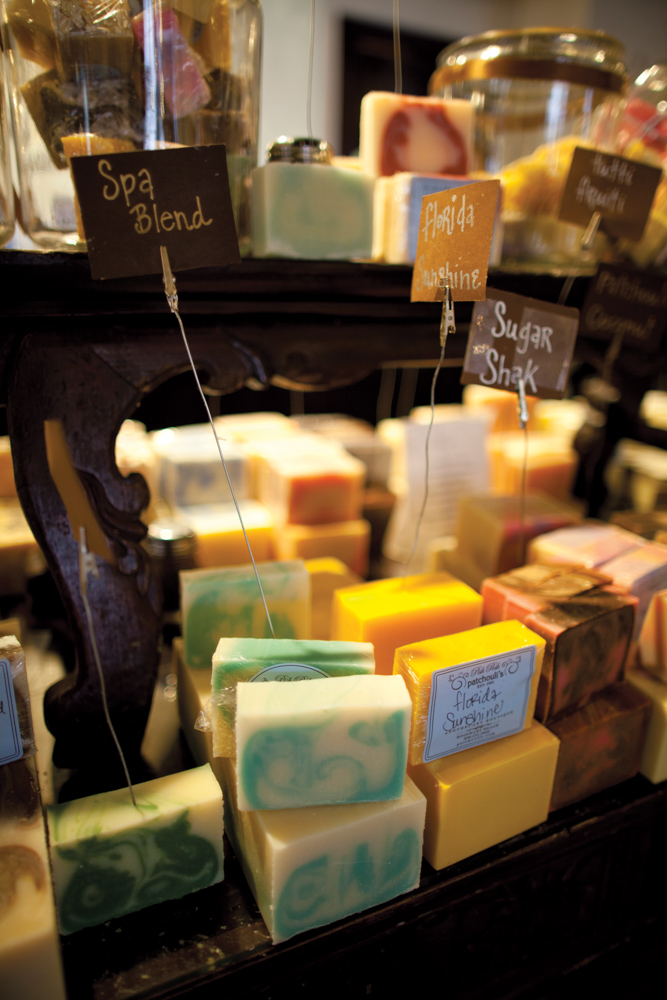 Patchouli's also features brands that appeal particularly to male customers. Kneipp medicinal bath products, for instance, remedy sinus, stress, and sleep concerns. Additionally, Patchouli's carries preferred men's lines, including Malin + Goetz, Jack Black, and eShave.
Sourcing a wide assortment of premium brands not available on every corner, much less in every town, requires travel that goes well beyond the trade shows. "I just returned from a show in New York," Lesley says, "and made a point of visiting a fabulous handful of stores there that are havens for me. I view them as a customer would, starting with the window displays, to see the unique products they have from different parts of the world. We're always on the hunt for new things. Lynn and I both travel, and Patchouli's is always on the brain." A self-proclaimed magazine and product "junkie," Lesley regularly tracks down the makers of intriguing items and requests samples. "I'm just a beauty girl," the seasoned buyer teases, "with a soft addiction to products."
"As a team, everyone who is part of the store brings something to the table," Lynn adds. And everyone includes customers. "Customers often tell us about the best new thing," she says, "and then we all want to look at it."
The system wouldn't work if Lynn and her staff didn't genuinely care for their customers, vendors, and one another. "I really love the personal relationships I've formed," says Lesley.
"We don't have much employee turnover," Lynn notes. Her key managers have been with her for an average of eight years, and teenagers who work part-time during their high school years often return to their jobs while home from college.
Meanwhile, just as its employees, customers, and suppliers have matured, so has the business. Consequently, Lynn is exploring opportunities to grow beyond Rosemary Beach. "No matter how much we grow," she concludes, "we will maintain our neighborhood feel by making relationships our priority."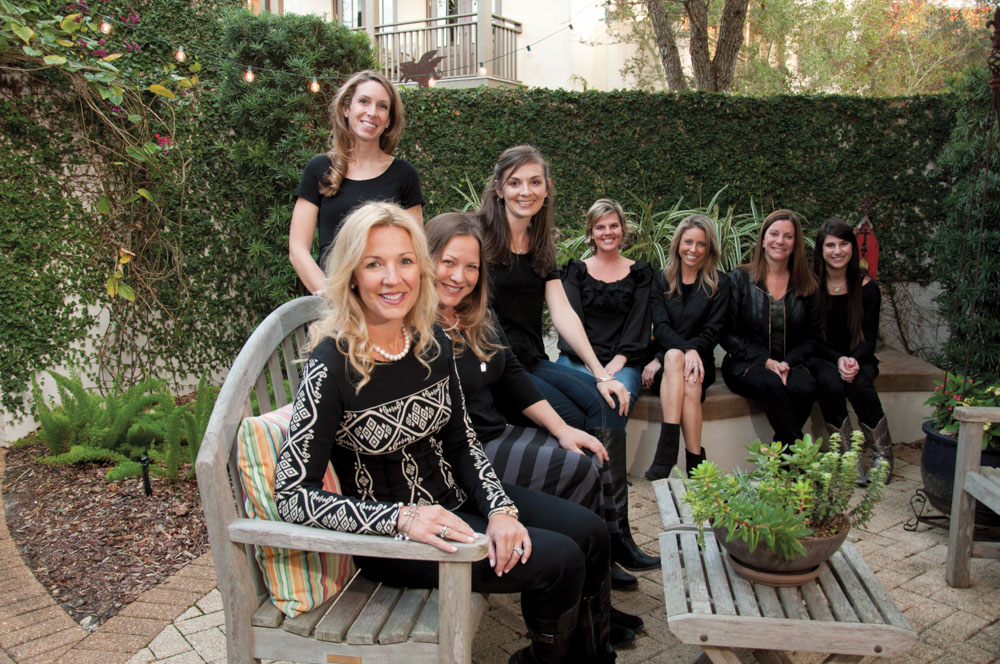 — V —
---
Store Hours Monday through Saturday: 10:00 a.m. to 6:00 p.m. Sunday: 12:00–5:00 p.m.
ARTICLE CATEGORIES