By Anne W. Schultz | Photography by Gilles Mingasson
Mention Panama and what springs to mind? For most, it's the Panama Canal. This Central American country has been linked to its canal since the acclaimed engineering marvel of the twentieth century opened to great fanfare in 1914. Now the canal is in the spotlight again with a $5 billion-plus expansion program that includes two new locks that are wide enough for megaships capable of transporting three times more cargo than the ships currently accommodated. Quite an impressive feat yet it pales in comparison to the grandeur of Panama's wild nature: an extravaganza of natural beauty and astonishing biodiversity steals the limelight from even the most dazzling of human accomplishments.
Overlooking the canal, another showstopper—the BioMuseo (Museum of Biodiversity)—opened just this past February. Designed by famed architect Frank Gehry, the BioMuseo enlightens visitors as to how Panama evolved into such a species-rich country. Museum exhibits tell the story of how, millions of years ago, tectonic plates collided and mountains thrust upward to form the narrow land corridor connecting North and South America, now known as the Republic of Panama. Vast numbers of plant and animal species have migrated over it to and from both continents. Many species settled here, resulting in the abundance of natural habitats and the biodiversity that exist today. Fully a quarter of Panama is protected as national parks and nature reserves.
As a country with more biodiversity per square meter than the Amazon, Panama lures travelers to an abundance of nature that deserves far greater attention than a casual glance from a passing cruise ship. Smaller in area than the state of South Carolina, Panama offers over 975 bird species—more than Canada and the United States combined. It boasts coastlines on two oceans rimmed by miles of powdery beaches, tropical rain forests, refreshing mountain highlands, islands ringed by coral reefs, and seven indigenous groups, including the Kuna Indians, who live in the San Blas Archipelago. Panama is a dream come true for ecotourism.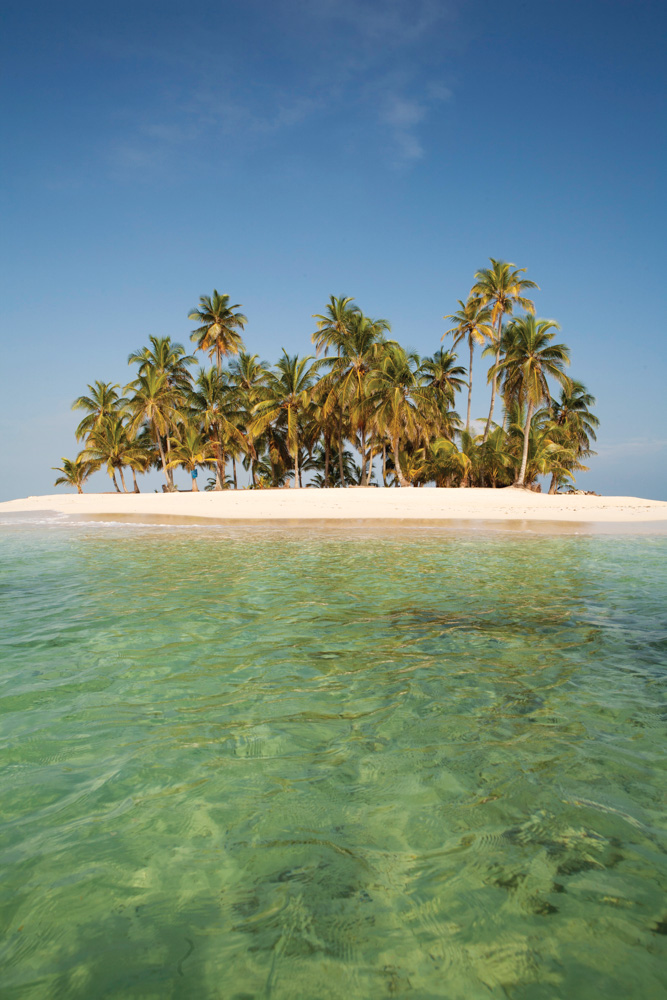 "By definition, ecotourism encompasses responsible travel to natural areas, which stimulates the protection of the environment and the improvement of the well-being of the people who inhabit these areas," explains Marco A. Gandásegui, executive vice president of Ancon Expeditions, the leading ecotourism company in Panama. Try Ancon Expedition's Camino Real Trek, selected in 2013 by National Geographic Traveler as one of "Fifty Tours of a Lifetime." "Travel should be about learning and sharing experiences with fellow travelers and hosts while also providing positive benefits to the areas being visited. The impact on the environment and local cultures should be minimal, and the economic results should be reflected directly in the local communities visited."
Ecotourism accommodations follow the same green principles to offer a more authentic travel experience. Why stay in a top-dollar "luxury" hotel chain or cookie-cutter resort where you're treated like a routine customer when you can stay for a reasonable price in a comfy bungalow where you're coddled like family? Individual owners often personalize their decor with special touches such as vases of fresh tropical flowers and offer perks including coffee and muffins that are delivered each morning. Why line up in rows on overly crowded beaches when you can lounge on a deserted island? Why swim in a chlorinated pool rather than a boundless crystalline sea as you're surrounded by Technicolor fish? Far better to be lulled to sleep by water rocking a sailboat than by watching television in a standard room or awakened each morning by a symphony of birds instead of the jarring ring of an alarm clock. Staying in places that harmonize with nature ensures that you'll commune with its vitality pulsating all around you in amazing varieties of shapes, sizes, and colors. Here are some of Panama's hot spots and places that help you immerse in its natural beauty.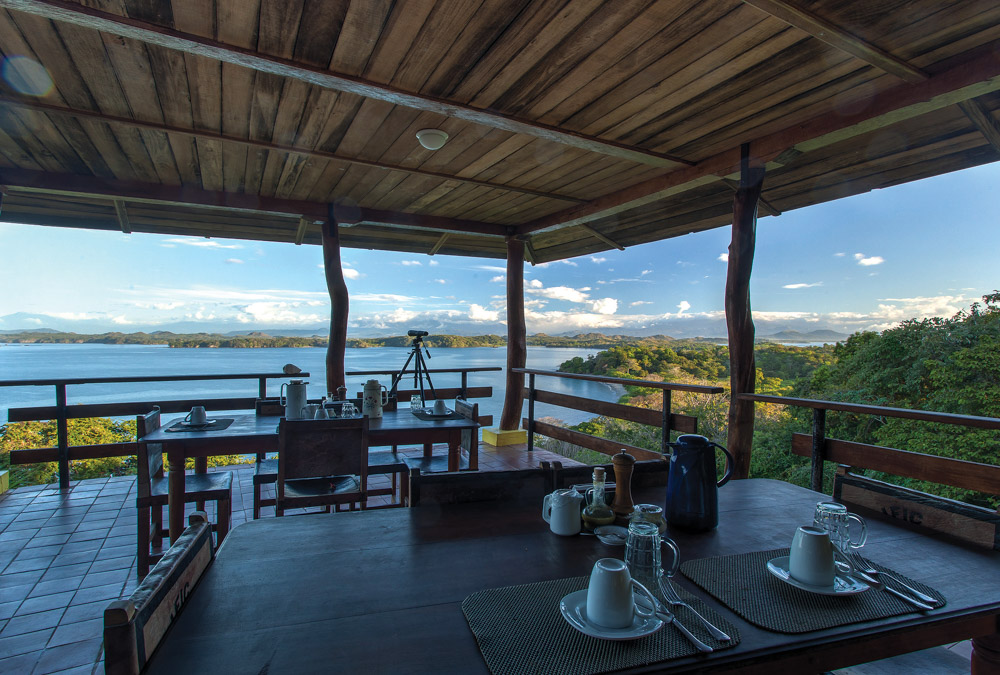 Isla Bastimentos off the Caribbean Coast
With engine droning, a water taxi slices through the tranquil green waters and mangrove islets of the Bahía Honda bay until it stops at a rustic wooden dock to offload passengers. The dock is the only clue that something special is hidden behind the thick jungle on the steep hillside above. A path appears and, like a machete, cuts neat and clean through the dense growth to lead guests uphill. They trudge past organic gardens and tangled greenery until they reach the lodge to be greeted by owners Margaret Ann and Henry Escudero. "Don't step on the leaf-cutter ants," their four-year-old son, Lucho, advises the new arrivals.
"We came here because we wanted to get back to the land, back to nature," says Escudero regarding Isla Bastimentos in the Bocas del Toro Archipelago. "Growing up in the States, I remember more wilderness and fewer cities, and now it's changed to more cities and less wilderness. We fell in love with Bocas, with having beaches and jungle in the same place along with the mix of cultures. It's rewarding to see the effects of wilderness on our guests. It rejuvenates them. Everybody is so connected to technology, while here they switch onto something more real as they experience our amazing environment and culture. We take pride in integrating with the indigenous Ngöbe people by supporting local schools and financing the education of fourteen students."
Four thatched-roof cottages, which are open on three sides, elevate guests into the forest canopy, where they can look out over dense tropical jungle stretching out to the bay. Spacious rooms with gleaming wide-planked locust floors, four-poster beds draped in clouds of mosquito netting, and vibrant flowers popping from vases make guests feel cocooned in a tropical paradise. The hosts provide nifty items such as a survival kit containing high-powered binoculars, a flashlight, and mosquito coils. They add exquisite details such as orchids growing in alabaster shells that are placed in outdoor showers with pebbled floors. Thermoses of hot coffee and muffins are delivered promptly at 7:00 a.m. each day.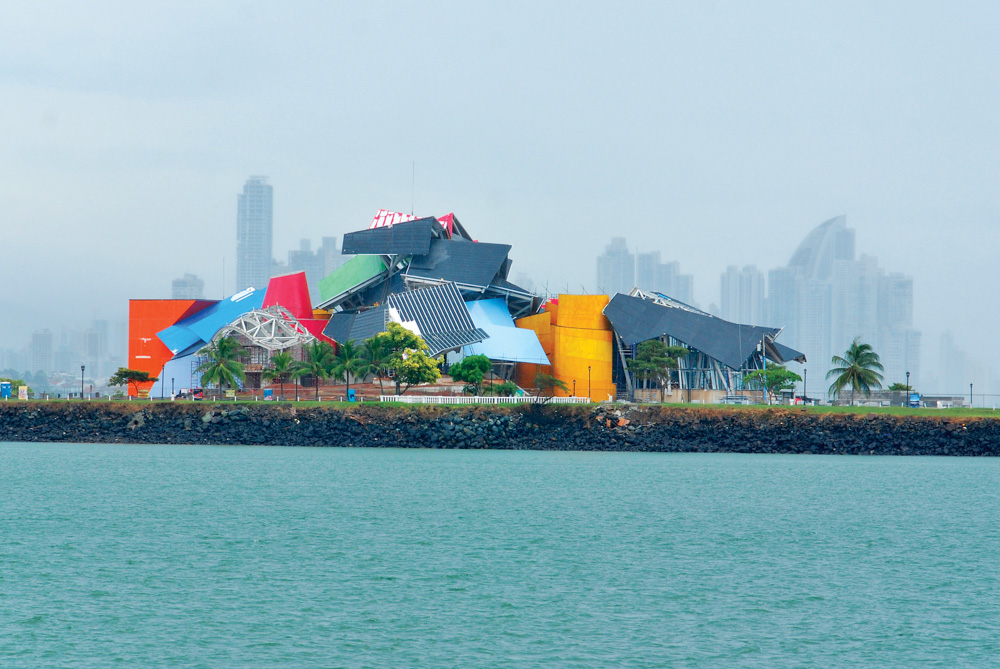 Freebies include a cacao farm tour, trips to Red Frog Beach, visits to Bahía Honda School, and the use of kayaks and cayucos (native dugout canoes). The lodge offers additional outings such as cruising Bahía Honda creek and hiking a bat cave, or a spectacular day of snorkeling off Cayos Zapatillas in Isla Bastimentos National Marine Park.
After all this outdoor activity, guests dive into luscious meals. Escudero clinks his spoon against a glass to announce house specialties such as banana leaf–wrapped black snapper with spicy cilantro and tomato chutney concocted from produce grown on property. It seems that communion with nature inspires more authentic conversations. The group is animated and enthusiastic, using gestures and expressions to share experiences in nature, a universal love that transcends language barriers.
The forest comes alive as dusk settles upon La Loma. The night is filled with sounds of capuchin monkeys crashing through treetops and parrots chattering, punctuated by strange whistles, grunts, and screeches. "The noise bothered me at first," says Brie, who moved to the island from San Diego with her partner, Jak, to assist the Escuderos. "Now it puts me to sleep and I dream about it." Nature has a way of getting under your skin and becoming a part of you, and La Loma certainly escalates the process.
Boquete and the Western Highlands
"I couldn't live in a place that wasn't green," explains Jane Walker, referring to her move from Canada to Boquete, a Panama town dominated by Volcán Barú, a dormant volcano. Lush gardens produced by the region's fertile volcanic soil lured Walker and her husband, Barry Robbins, away from twelve-hours-a-day IT jobs that left them no time for each other or for their shared passion: gardening.
"All things came together—freshness of the air, the coffee roasting, and feeling complete. It's so different from gardening in Canada. Here, you pick up a plant, stick it in the ground and it grows. It's a gardener's paradise. And a garden is like a friend you can always visit," shared Walker in the documentary Recreating Eden, now shown as a television series on Knowledge Network in Canada. Jane and Barry bought a neglected six-acre coffee farm and, in ten months, had it up and running as a working coffee plantation, along with their private home and three guest bungalows. It makes for a comforting retreat after exploring the surrounding trails and venturing out to places such as Volcán Barú and La Amistad International Park.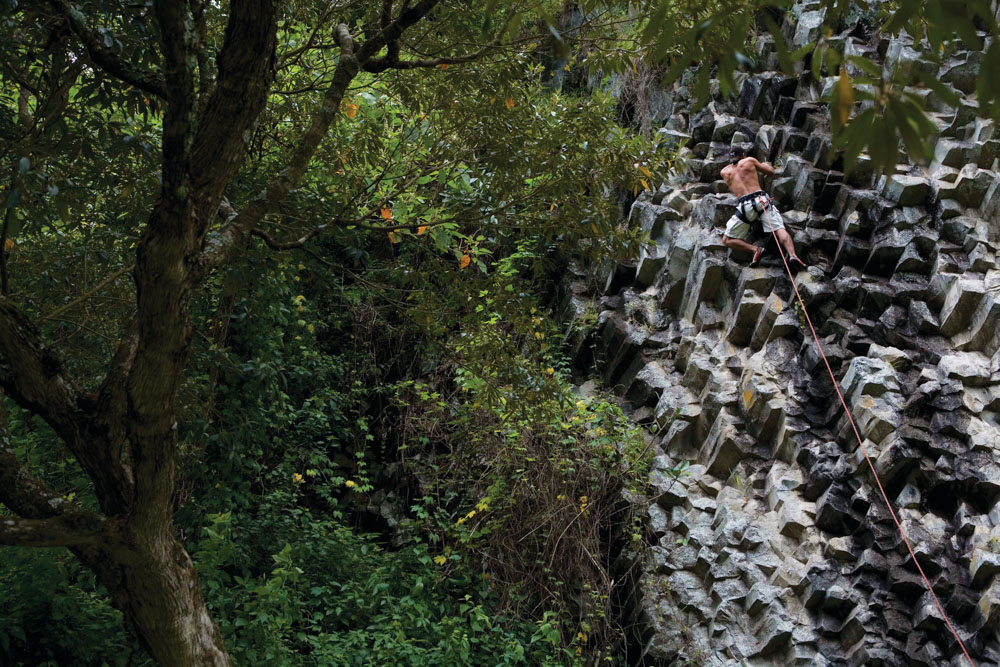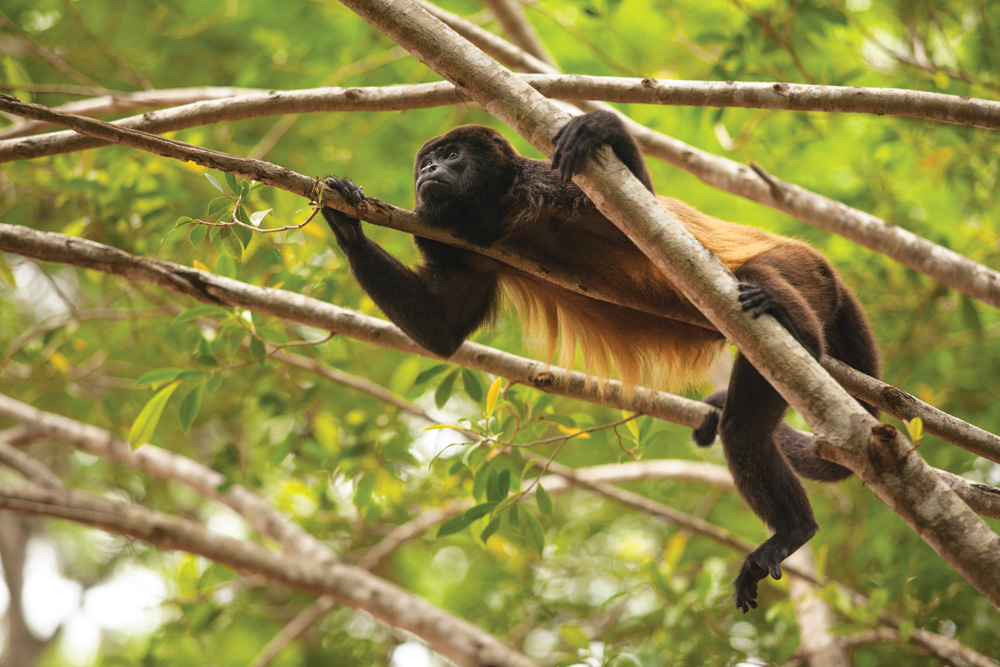 Each well-appointed bungalow features a living room with a kitchenette, a flat-screen TV, and a DVD player. The refrigerator is restocked daily with homemade scones and breads, local fruits, and coffee beans plucked from the farm. A balcony looks upon the mist-shrouded slopes of Volcán Barú and flower gardens that attract scores of birds. The couple provides intimate gourmet meals and tasty box lunches for outings. They also assist guests in planning outdoor activities and provide a thick packet filled with travel options, tips, and restaurant recommendations. They can also arrange excellent birding and hiking guides.
Local hikes include the Pipeline Trail that follows a rushing stream, or a longer, more rugged route such as the Quetzal Trail. Take a day-trip drive through beautiful scenery to the town of Cerro Punta, where you can access La Amistad International Park, a location special enough to be designated as a UNESCO World Heritage Site.
An impenetrable wall of tropical vegetation and towering, mostly virgin trees greet hikers, who feel like explorers entering uncharted territory in a remote, rugged landscape that is free of human interference. Five of the six Central American cat species live here, along with some of the most diverse plants and animals in Panama, their habitats ranging from lowland tropics to subalpine regions. Six hundred species of birds flourish in this secluded sanctuary, including rare ones such as the resplendent quetzal. Considered one of the world's most beautiful birds, it resembles royalty clad with jewel-like emerald and sapphire plumage, a ruby-colored breast, sweeping tail feathers, and a tufted head.
Closer to Boquete, Finca Lérida is another choice location for spotting rare birds from the easy trails that continue into La Amistad International Park. Spend the day hiking ridges above the charming coffee plantation inn, built in the Norwegian country style by Toleff Bache Mönniche, a Norwegian engineer who worked on the original Panama Canal. In 1929, the plantation exported the first local coffee beans to Europe, establishing Panama as a high-quality coffee producer worldwide. Birds are plentiful at the plantation inn, flitting around the lavish gardens and fruit trees planted on extensively landscaped grounds. From the restaurant porch, they can be observed pecking on bananas in feeders below. It's hard to leave this charming tropical paradise, but there is more of Panama to see on the Pacific side.
Chiriquí Gulf National Marine Park
"The land found me," admits Frank Melgar, a Boston transplant and the lucky owner of Pacific Bay Resort. He hit the jackpot when he bought 150 acres, sight unseen, in the marine park that protects two dozen islands and their surrounding waters. His gamble paid off, landing him in one of Panama's most bountiful regions with the most flourishing mangrove forests in Central America, the largest island in Panama, and one of the most expansive coral reefs in the Pacific.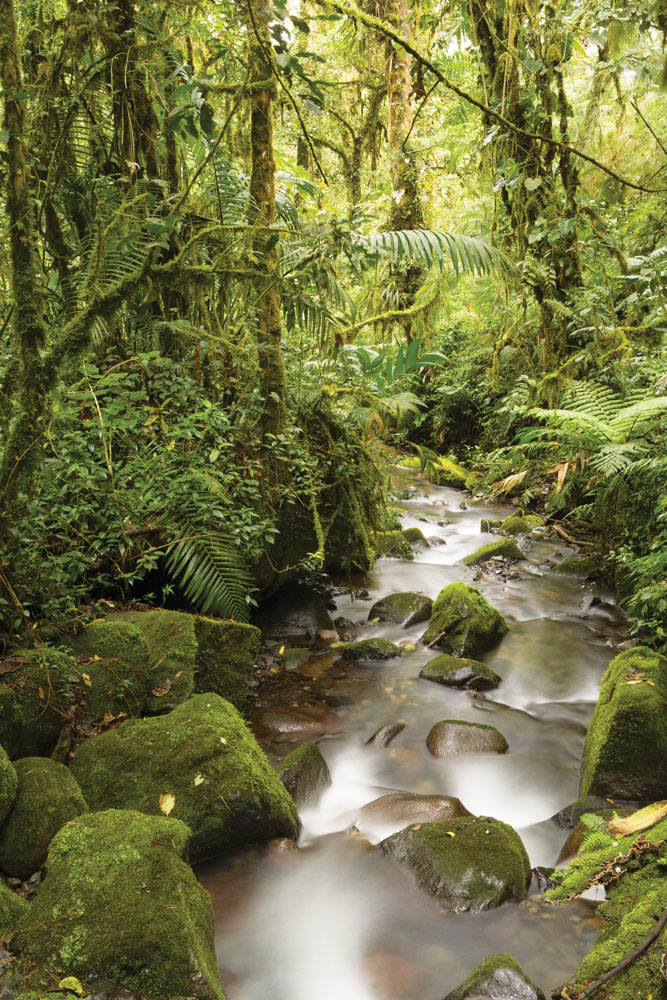 "I was in the restaurant business and wanted to get away from it all," Melgar explains. "I resisted my initial temptation to cut down the trees and add sixty units, install electricity, and put in roads that would have destroyed this paradise. I came to my senses and kept it inaccessible except by water taxi from Boca Chica." Building his resort in this sustainable way caused hunting on the land to cease, allowing wildlife to return. To benefit nearby communities, Melgar hires only locals and helps with their education. "Turns out, this place saved my life when I was overweight, stressed out, and drinking too much. Nature helped me reflect on what's important, and in its quiet peace, I discovered myself and a deeper understanding of God."
The extensive property perches on cliffs overlooking the blue Pacific with three beaches below. Hammocks swing on the front porches of the five guest cottages, which are spaced far apart beneath towering strangler fig and gumbo-limbo trees in a dry forest alive with the roars of howler monkeys and the chirping of birds. However tempting it may be to stay in this lush oasis, you don't want to miss amazing snorkeling and diving at Islas Secas, which is about an hour away by boat.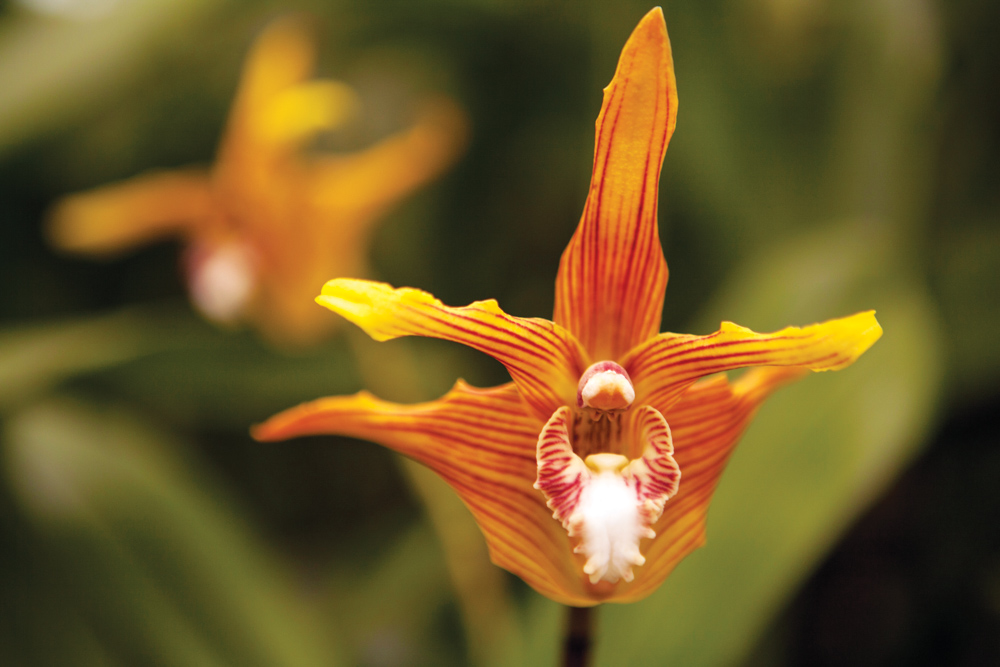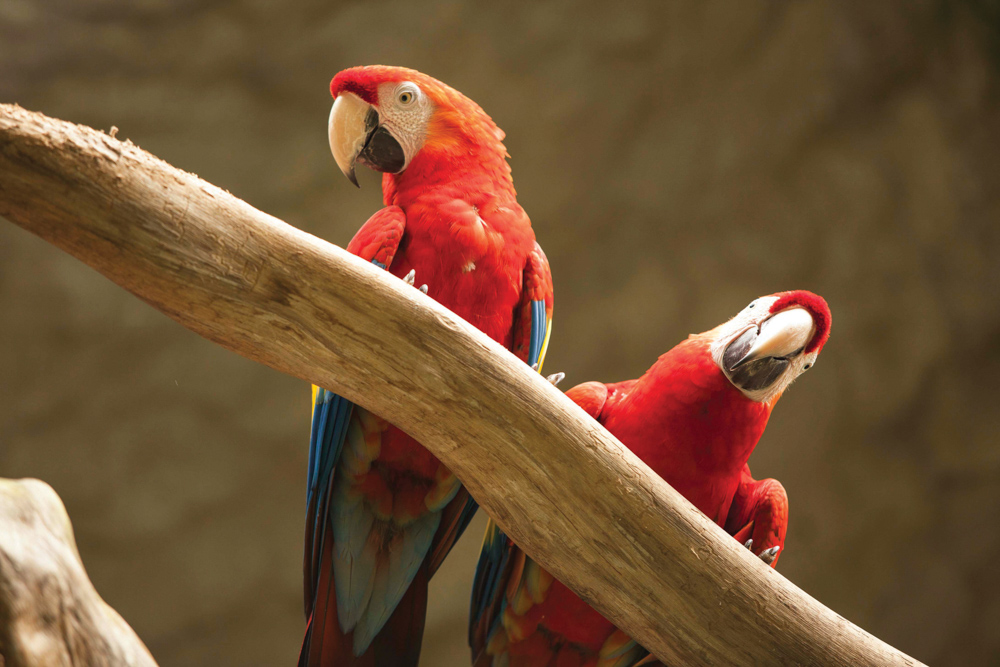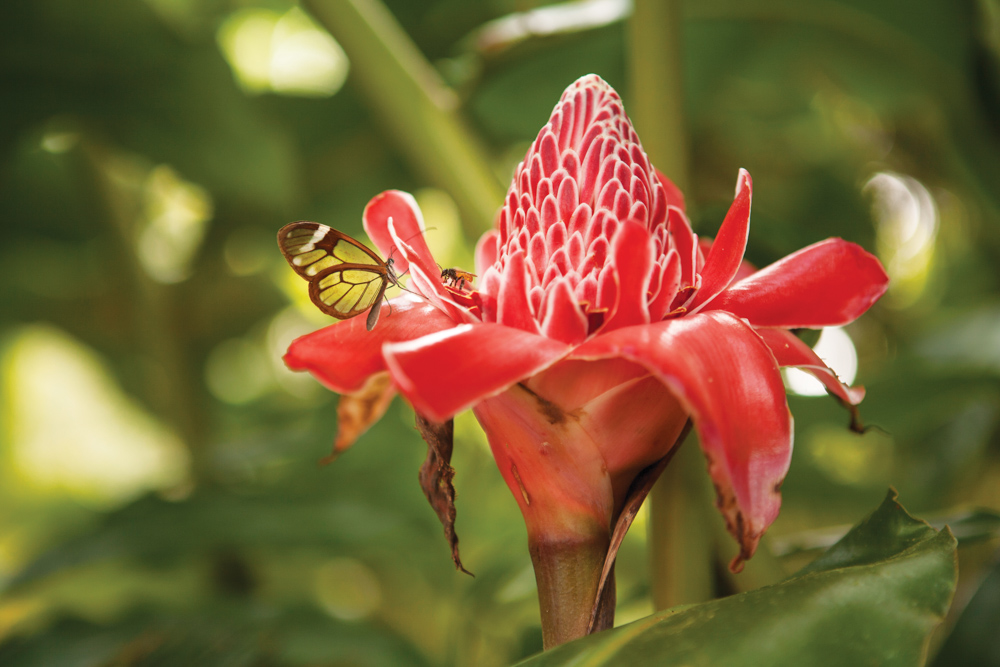 The most exclusive resort in Panama—with prices to match—recently opened on Islas Secas, but on Frank's boat trip you're able to snorkel or dive the same transparent waters and come across the same bonanza of fish for a fraction of the price. It's like being lowered into an aquarium while large schools of fish swirl about in rainbows of high-voltage colors that match Panama's tropical flowers and birds; intense yellows, fiery oranges, and neon greens glowing from tangs, butterflyfish, angelfish, and parrotfish flash like strobe lights against the cool backdrop of blue.
After a few days, guests will notice the effects of this spellbinding place. At breakfast, a San Francisco biologist proudly reports that his blood pressure has dropped. A couple from Holland tells how relaxed and happy they are taking time off from stressful jobs to play with their five-year-old daughter, leaping into the sea every morning like children themselves. An older American couple exclaims how snorkeling outings and kayak trips have revitalized them. Melgar himself shares this spiritual sanctuary—the land that found him—with others so they too may receive what he experienced. His gamble keeps paying endless dividends.
San Blas Islands by Sailboat
The flapping sail catches a breeze and is stretched taut into a great white wing, lifting the sailboat and its passengers off across the glassy turquoise waters of the Caribbean. There is no better way to fulfill an escape-to-an-island fantasy than by exploring the remote San Blas Islands in a sailboat. Nothing beats a sailboat for relaxing, for once chartered, it is transformed into a floating inn catering to your every whim. Sleep like a baby all night in a private cabin and wake to the aromas of brewing coffee and sizzling bacon. Linger over a second cup as your hosts do all the work to get ready for a day on the water.
The region offers a limitless playground of pristine water stretching as far as the eye can see, except for small islets rising upon the horizon. Most of the 375 islets are empty but for clusters of coconut palms fringed by white-sand beaches. Relax topside and admire nature's beauty, climb down the ship's ladder and splash right in, or paddle a kayak to your own private islet and while the day away! Snorkel right off the boat or hitch a dinghy to secret sites—either way, you will be rewarded with coral reefs containing more coral species than just about anywhere in the Caribbean, according to the Smithsonian Tropical Research Institution. The underwater coral gardens are as lush and diverse as the mainland's tropical jungles. Massive staghorn, fan, and leaf corals wave long arms in the currents, while hard species such as brain corals look like huge boulders anchored to the sandy sea floor. All of this attracts more fish than you can count and in more colors and designs than you can imagine.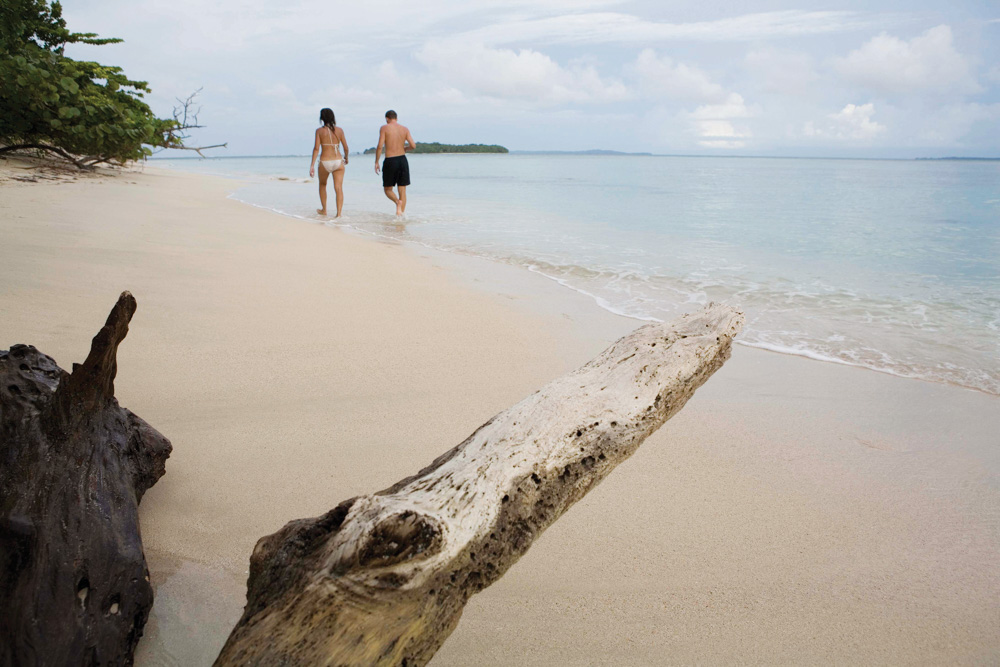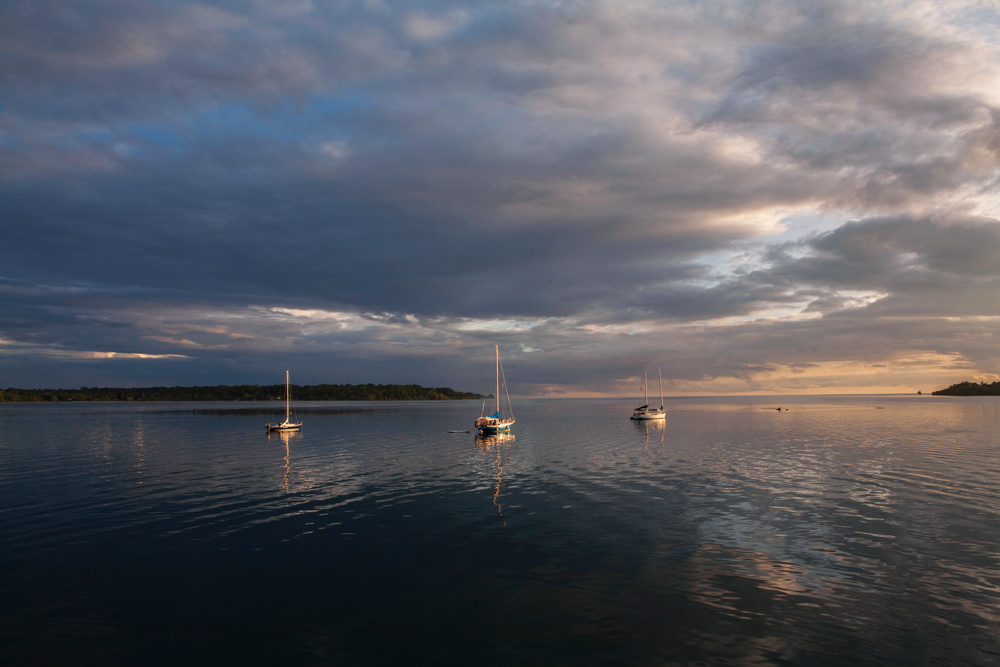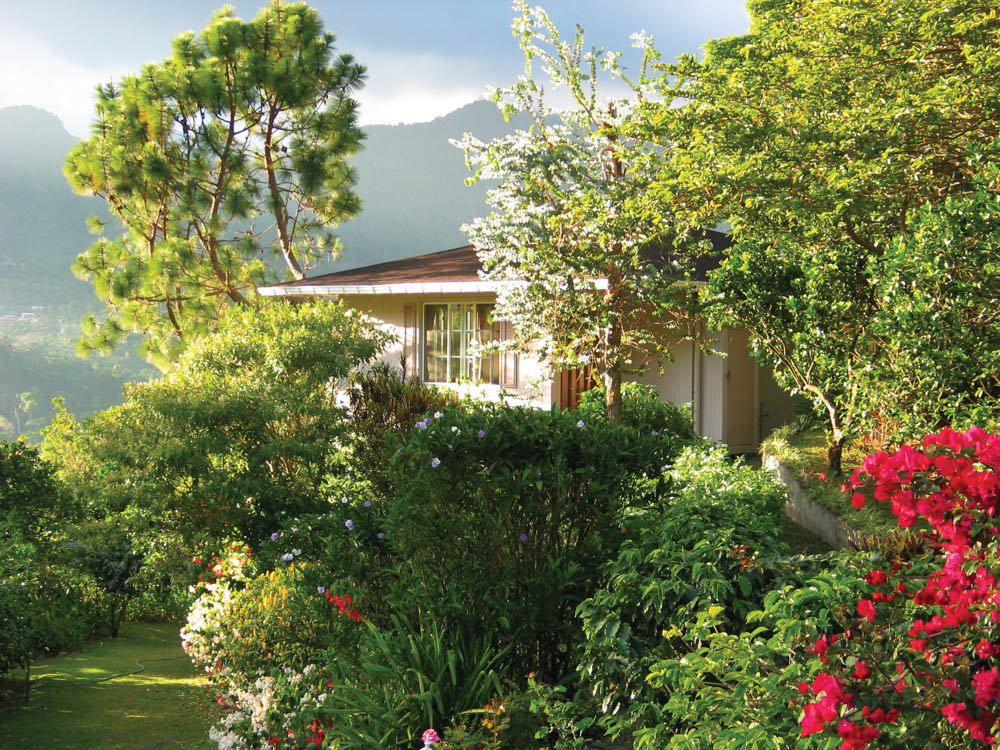 Jolting colors aren't limited only to tropical flora and fauna. The Kuna women also use them in geometric designs embroidered on molas, which are panels of layered cloth that are incorporated into their traditional clothing and prized as souvenirs of a culture preserving its ancient traditions. Standing about five feet tall, these women look striking with faces decorated by a black line tattooed down the forehead to the end of the nose, usually adorned by a gold ring. They add more geometric patterns down their calves, with strands of tiny beads wrapped from ankle to knee. Normally, you expect to encounter such untouched cultures in faraway destinations such as Borneo, but here they are only a short trip away by sailboat, which is a respectful way to enter the Kuna villages of thatched huts and dugout canoes.
The Kuna believe that people and nature are part of the same entity and that true happiness is experienced only in its presence. This notion bodes well for the preservation of the San Blas Islands. One hopes that this reverence for nature will extend to the rest of Panama as well. Its untrammeled beauty, crystalline waters, and easygoing Caribbean lifestyle have already attracted many visitors who have discovered that there is so much more to Panama than its canal.
— V —
---
You too can discover the beauty of Panama! Contact Ancon Expeditions of Panama at www.anconexpeditions.com for all travel planning and arrangements.
La Loma Jungle Lodge and Chocolate Farm Bahía Honda, Isla Bastimentos, Republic of Panama www.thejunglelodge.com 011 (507) 6619-5364
ARTICLE CATEGORIES