By Greg Cayea
If sleep takes up a third of our lives, cafés take up at least a sixth of mine. For years, I've spent many hours per day exploring cafés, always searching for that magical cup of coffee that'll better my life or inspire me to make some revolutionary decision. For many people, cafés provide a second home and a place of work. It's where we get a dose of local culture every morning, build our careers during the day, and socialize in the evening. As a writer, I've typed all over the world, but there's something about the selection of New York City coffee shops that is utterly captivating.
New York offers roughly nine hundred independent cafés to visit, and while it proved to be impossible to drink nine hundred cups of espresso (after cup number seven I was twitching), I did attempt to get to as many as I could. It didn't take me long to realize that there is one trait that most cafés in NYC do have in common, and that's serving great coffee. Of course, this is not true for every café, but there's certainly no shortage of quality around the five boroughs. So, when it comes to cafés in NYC, it's not about the taste of the cappuccino, but rather where you're drinking it. It's the atmosphere that varies widely. For that reason, rather than building a thorough Yelp-like review based on a myriad of categories, I thought it essential to focus on what is arguably the most important originality factor, and that is ambience and location. Who stands out in this jungle and where do I find them? That's the question I set out to answer.
I started out in the West Village of Manhattan and stumbled upon Ad Hoc Collective. Ad Hoc is like no café I've ever seen. It has a bit of a Mad Men vibe when you first walk in and brush past the fancy umbrella rack and the luxury socks, fashionable ties, and chic handbags for sale on the wall. It looks a bit like the interior of a well-furnished apartment that might belong in the pages of your favorite home-furnishings magazine. Feel free to sit at the marble kitchen counter, at one of the rustic desks, or in a vintage chair. Everything is styled. The best part is that it's all for sale. That couch you're sitting on? Just ask how much it costs! The classic socks, man-bags, ties, blankets, ceramic espresso cups, and even the guitar against that wall over there? Negotiate away! There is nothing to dislike about this café.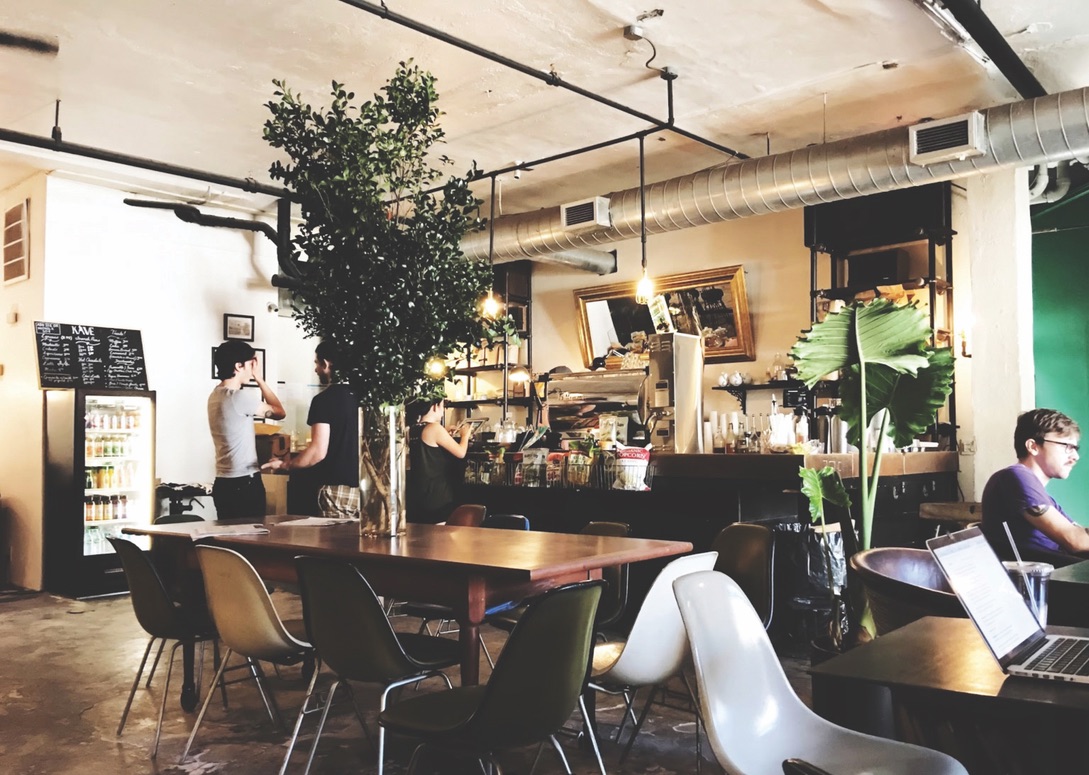 Then I took the subway about thirty minutes to the Bushwick section of Brooklyn, a neighborhood known for its underground accomplishments. I was about to give up, as I honestly couldn't find anything I liked. That's when I stopped into Kávé Espresso Bar just to grab a coffee before getting back on the train. Lo and behold, I found it. Kávé is hidden away in the industrial maze of large warehouses converted into chic retail storefronts and quasi-decent apartment complexes that make up Bushwick. The neighborhood used to be a bit rough around the edges, but it's now an artist haven, supporting the lives of expats from all over. Like many Bushwick businesses, this café is extremely hard to find, tucked behind a discreet green-painted door on the side of an old apartment building off a not-so-major street. To enter this nook, you'll have to keep an attentive eye so you don't walk past it. Inside you'll find a relaxing, spacious, and cozy hangout with a very homey feel. The friendly neighborhood vibe, full of MacBook Pros, trendy baristas, and colorful hairstyles, might catch you off guard given the stark contrast of the somewhat bland exterior. If there's one café that screams underground Brooklyn, it's Kávé.
I then hopped in my car and drove up and down Northern Boulevard looking for something unique on the outskirts of Queens. That's when I stopped in Bayside at a café that has become my all-time favorite: Bean Square. Now, it is a bit out-there, but it's also very Queens. There's always a plethora of young professionals wheeling and dealing in there, so it has that big-city shared-workspace feel to it. But most importantly, they're open late—until 11:00 p.m. on weekends and 10:30 p.m. on weekdays, which is surprisingly hard to find, even in this city. Bean Square is far enough from Manhattan that you'll have to take a bus from the last stop on the subway to get there but close enough that you won't be wondering where all the people are. It's still coated with a thick layer of NYC. There's plenty of seating—a rare commodity nowadays—so you always know you'll have a spot when you show up. The patio also has more than a few tables outside the front of the café so you can people watch, have a smoke break, and stretch your legs all at the same wooden table. But one of my favorite qualities about this joint is that the Wi-Fi passwords are always supercreative; they'll give you a pleasant chuckle before you get to work.
Back to the city I went, and I thought looking around the Midtown East section of Manhattan would be fruitless, but boy was I wrong. Ground Central has been my go-to spot since I discovered it. I had no idea anything like that existed in Manhattan, let alone in Midtown. It's one of the only places I know where you can experience real peace and quiet. They somehow, someway figured out how to make you feel like you're not even in the city. You'd think you were working in a basement library in upstate New York until you go outside and realize you are still on East Fifty-Second Street. But if you're not into the darkly lit cave of books with cozy chairs and plush couches and spare ottomans, there's also a large community table beside the coffee bar. The clientele is eclectic and very New York, with investment bankers giving financial counsel on one couch, Broadway actors discussing wardrobe on the other, and filmmakers, writers, and dating-app dates scattered throughout the remaining chairs. (So, you're bound to overhear some of the best conversations in the city.) There's no better secret in Midtown that I've come across.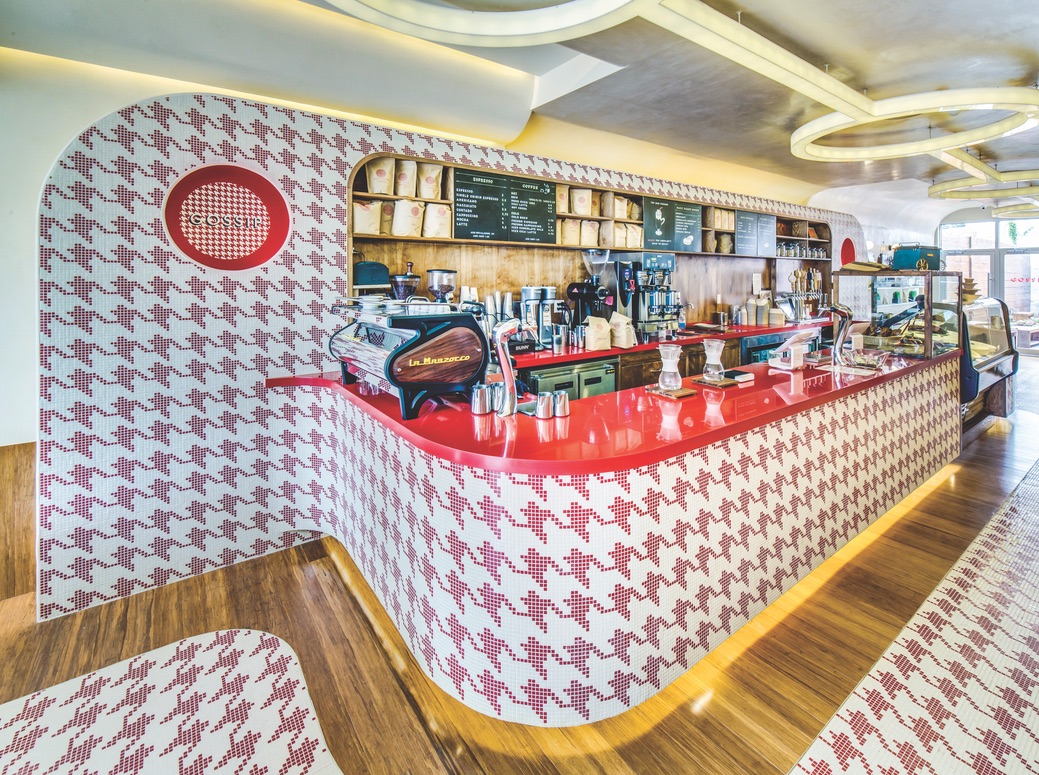 I didn't want to spend too much time looking around Manhattan since most working professionals live in Brooklyn or Queens, so, I headed out to the Astoria neighborhood of Queens and fell in love with Gossip Coffee before I even tasted the pastries. It felt majestic. Astoria is like the Williamsburg of Queens, with ethnic eateries, hookah lounges, and nightlife all over. Gossip Coffee is so tastefully designed that it's hard to even care about the coffee. The retro decor is mesmerizing. Plus, there's a ton of space to spread out and work on larger projects or invite more people to join your afternoon. They even have a sizeable bar-like backyard if you want to tan during the summer. Even though Astoria is right over the East River and only a couple express subway stops from Manhattan, it feels like you hopped in a van and drove fifty miles to find this place. It's a great escape from the nonstop energy of the city without having to go too far.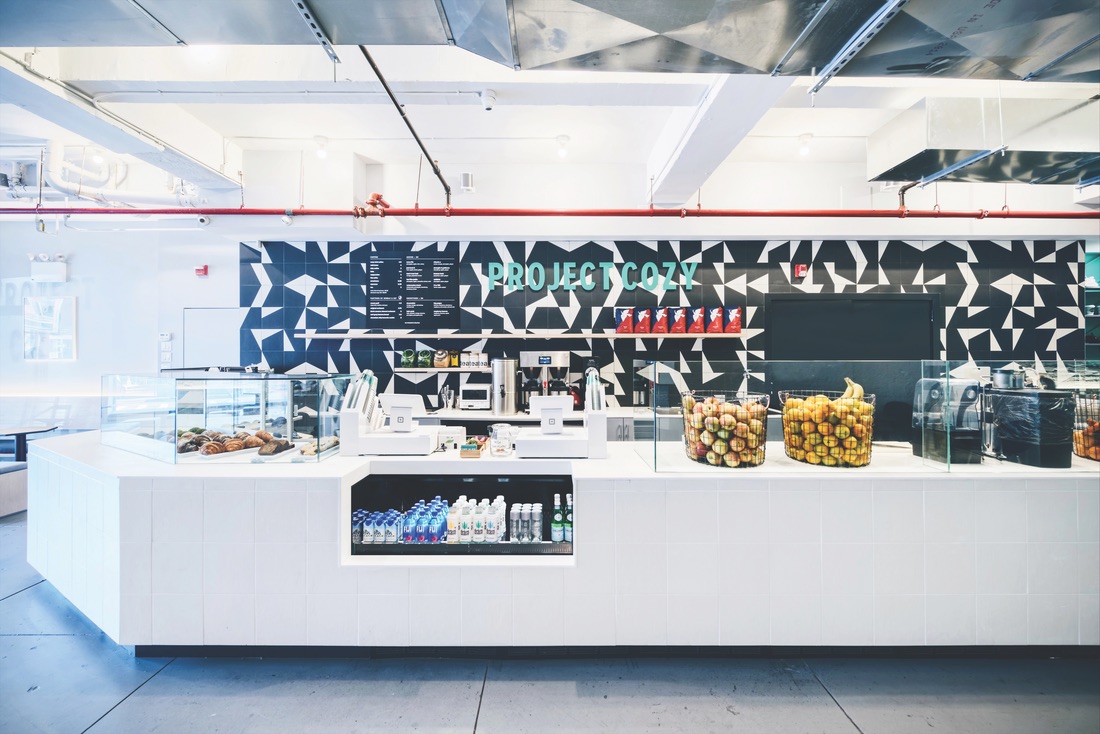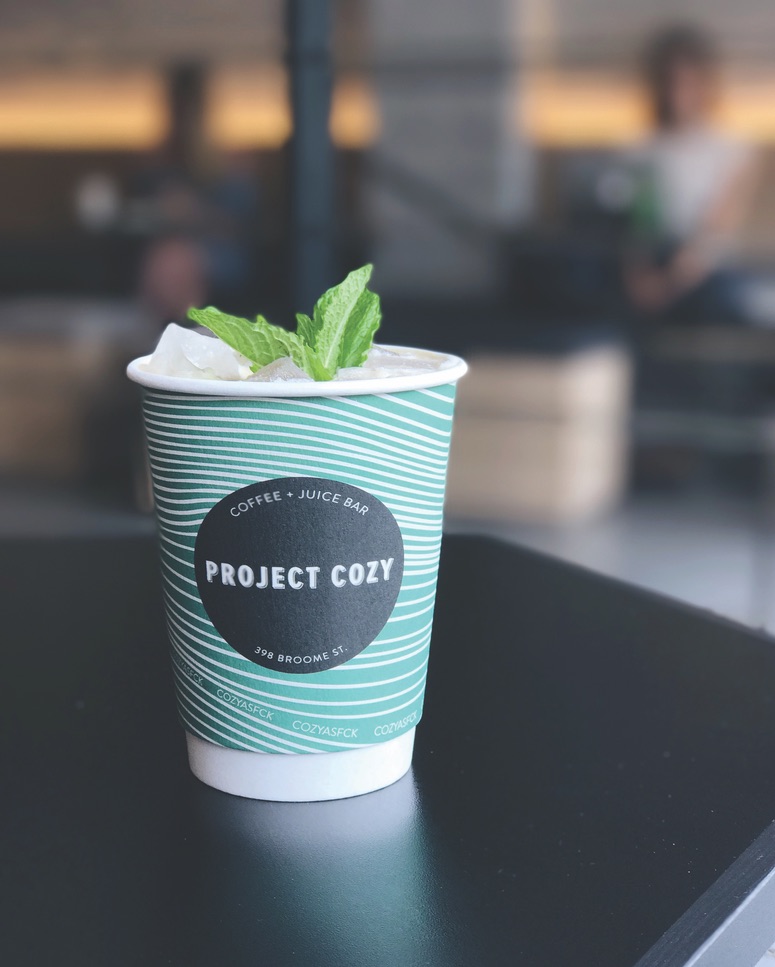 There are so many choices in the SoHo part of Manhattan that I almost didn't even go into Project Cozy, but I'm so glad that I did. It took me a little while to fall in love with it, given the chaos, but as soon as I gave it a moment, it quickly became my favorite café in town. It's very SoHo; the neighborhood is known for its upscale shopping and all the beautiful visitors the trendy boutiques attract, as is reflected in the café. They even have an Instagram selfie background: a teal-colored wall with the words "COZY AS FCK" highlighting the back booth in neon lighting. You're really in the thick of it all, which is one of the character traits I love most about New York: you never feel alone. Project Cozy is the type of joint where you buy a coffee so that you can hang out there and observe the fast-paced lifestyle of New Yorkers. It makes a great stop-off when you're window shopping with no intention of spending your life savings. Warning: you'll want to look your best when sipping there since you never know when the most attractive person in the world might walk in.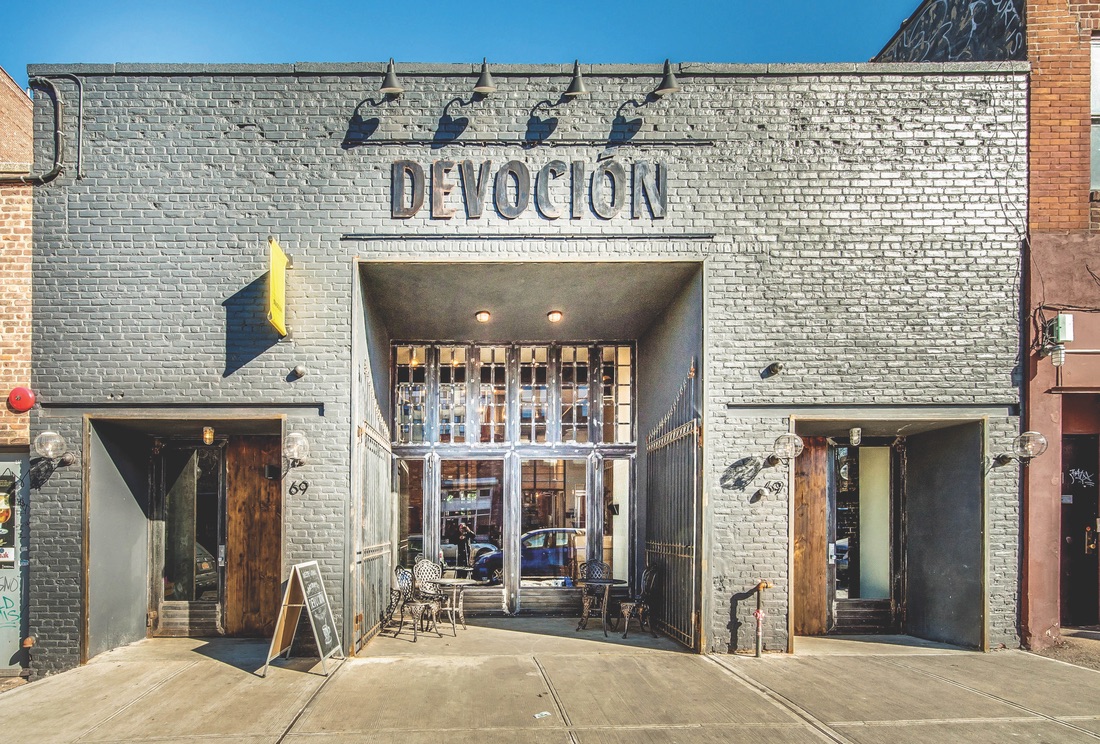 Even though I wanted to find some new places that nobody had heard of yet, I couldn't resist going to the heart of Williamsburg in Brooklyn. My destination: Devoción, a well-known spot by the Brooklyn waterfront. There's no denying that this place is incredible. If you're in town, this is one of the more interesting and unique cafés (and neighborhoods) of the city. Everything in Williamsburg is art. Even the dentist seems fun, given that the name "Dental Arts" is displayed outside the office. Devoción's black brick building looks like it could be a music venue—and a cool music venue at that. The first thing to notice is that the entrance and exit are separate to keep the flow of the café inside moving with synergy. Then, the interior is like feng shui heaven—vast space, high ceilings, and a plethora of small pub-style tables surrounding a VIP-like section of couches in the center. An enormous skylight nearly the size of the ceiling lights the room naturally, and the back wall is dressed head-to-toe with bushy green plants. The coffee bar is an impressive display of reclaimed wooden cabinetry. The entire café is an incredible piece of art. You might have to stand for a few minutes before a table opens up, but it's worth the wait to get the full experience.
There's nothing worse than gearing up to either meet someone at a café or heading out alone for a specific purpose only to realize you had the vibe all wrong when you show up. What in the world are you going to do when your five colleagues arrive if there's a ten-minute wait for a table for two? And you certainly don't want to meet your first date at a really quiet café where every person within a twenty-foot radius will hear every word of your first-date awkward conversation (or maybe you do). The point is, not all the cafés are multipurpose, but hopefully this selection will give you at least one café for any occasion of the week—and make you look good in the process. Jeez, where did you find this place? That's what this piece is all about. Ta-ta!
— V —
---
Greg Cayea is a Guinness World Record–holding traveler. He writes offensive short stories about his exploits, and then draws cartoons to illustrate them. Stay tuned at ScrambledGregs.com for his next adventure.
ARTICLE CATEGORIES