Style Mavens Take On Fashion Week
A Q&A with Fashion Stylists Lauren Spring and Caroline Evans Watts of The Fuss Boutique |  
Photography by Photography by Lauren Spring and Caroline Evans Watts
For anyone interested in fashion, New York's Mercedes-Benz Fashion Week promises exhilaration, fascination, and wonder. So it came as no surprise that local fashionistas with The Fuss Boutique in Santa Rosa Beach, Florida, jumped at the chance to attend the Spring 2013 shows. Owner Lauren Spring and manager Caroline Evans Watts had long dreamed of experiencing the acclaimed Mercedes-Benz Fashion Week, and their wish was granted last September when they were invited to be part of VIE's entourage.
As buyers for The Fuss Boutique, Lauren and Caroline sought to experience firsthand where many a fashion fairy tale begins. The two stylists took off for the Spring 2013 shows armed with their press passes—iPhones and notebooks in tow. With their own chic, rock star–inspired style, the charming and quirky duo was hard to miss—evidenced by the entourage of street-style photogs enthusiastically clicking away at them outside Lincoln Center.
Lauren and Caroline sat down with VIE for a firsthand account of the stylists' first Fashion Week experience.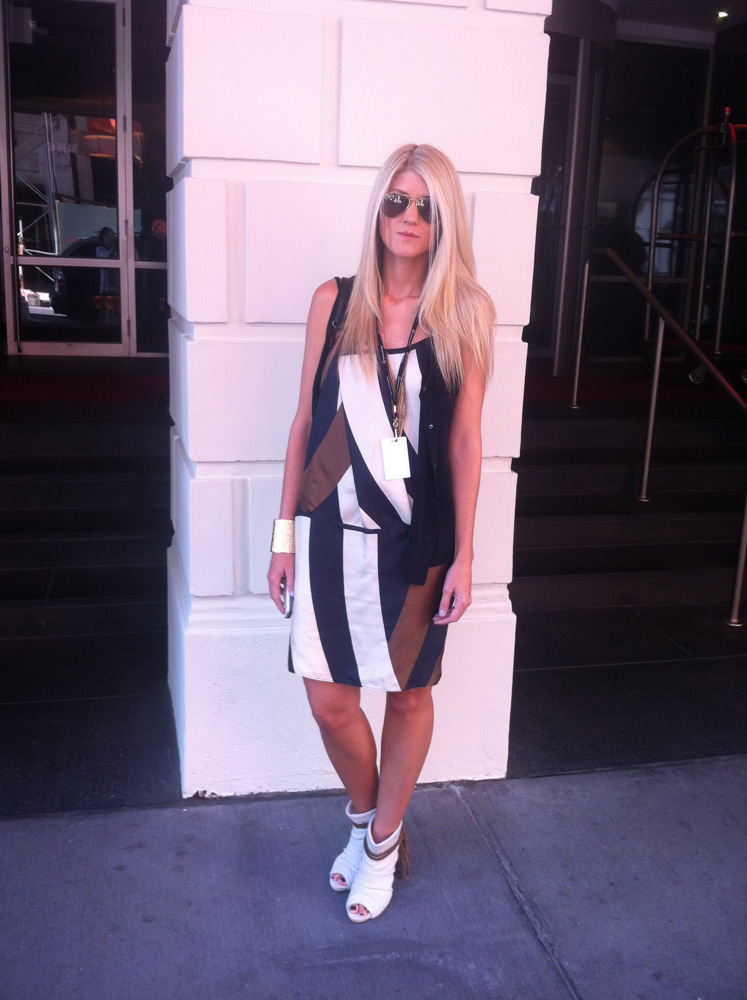 VIE: The first question is simple: Why do you love fashion so much?
Caroline: Fashion is an expression of our self-perception. Lauren and I were born dreamers, and we encourage one another and our clients to speak out through experimentation with fashion. We believe there is real joy that comes from fashioning a new perspective of yourself, which is what you do when you select what you are going to wear to accomplish a certain mood or attitude.
VIE: How does your opinion of fashion relate to your life as buyers, stylists, and owners of The Fuss Boutique?
Lauren: We believe shopping and styling should be about featuring a woman's true beauty and celebrating with her as she begins seeing herself in a new way. We follow our most fundamental goal in all of our work with The Fuss: to clothe our customers in joy, beauty, and truth. To do so, we strive to treat shopping at The Fuss as a gratifying experience and bring that "I feel fabulous" feeling to our clients. This is a treasured process for us, and it brings a total liberation for our clients from negative self-perception as they begin to see themselves in a new light. It's powerful, not indulgent. It's true and appropriate, not false and vain. Our stores are a real-life fashion show, and we strive to constantly maintain that feeling for anyone who walks in.
VIE: How did you come up with the name of your boutique—The Fuss?
Lauren: It came to me in a dream. I really didn't question it at all because I feel so led to do what I do. I opened our first location in Port St. Joe, Florida, in 2007, and then we opened our second location in WaterColor, Florida, in 2010. We also have our online store at thefussboutique.com. We've been incredibly blessed.
VIE: You mentioned before that you've both always dreamed of attending Fashion Week, which is what landed you your assignment with VIE in the first place. Why this particular dream?
Caroline: We've always wanted to attend Fashion Week because it is the most authentic way to ensure that we, as stylists, are bringing the best trends to our clients for the upcoming season. It's incredibly rewarding to go behind the scenes where new trends begin and then see them in The Fuss the next season—we've always aspired to see that process. A long time ago, we taped a collection of photos on the bottom shelf of our boutique's counter to remind us of who we are and where we want to go with our work. In this collage, we have a photo of the tents from Mercedes-Benz Fashion Week. I would often look at that picture and say, "One day, we will be in that very place. I'm not sure when that will be, but I am sure that it will happen." And that ended up being sooner than later!
VIE: As fashionistas, were you starstruck at all during Fashion Week?
Lauren: Oh, yes. Being seated behind Nicky Hilton, Olivia Palermo, Kenza Fourati, and Cory Kennedy at one runway show was a surreal experience because we are such fans of their style and their work. The paparazzi went crazy over them, and we saw stars as the cameras fired off in front of us over and over.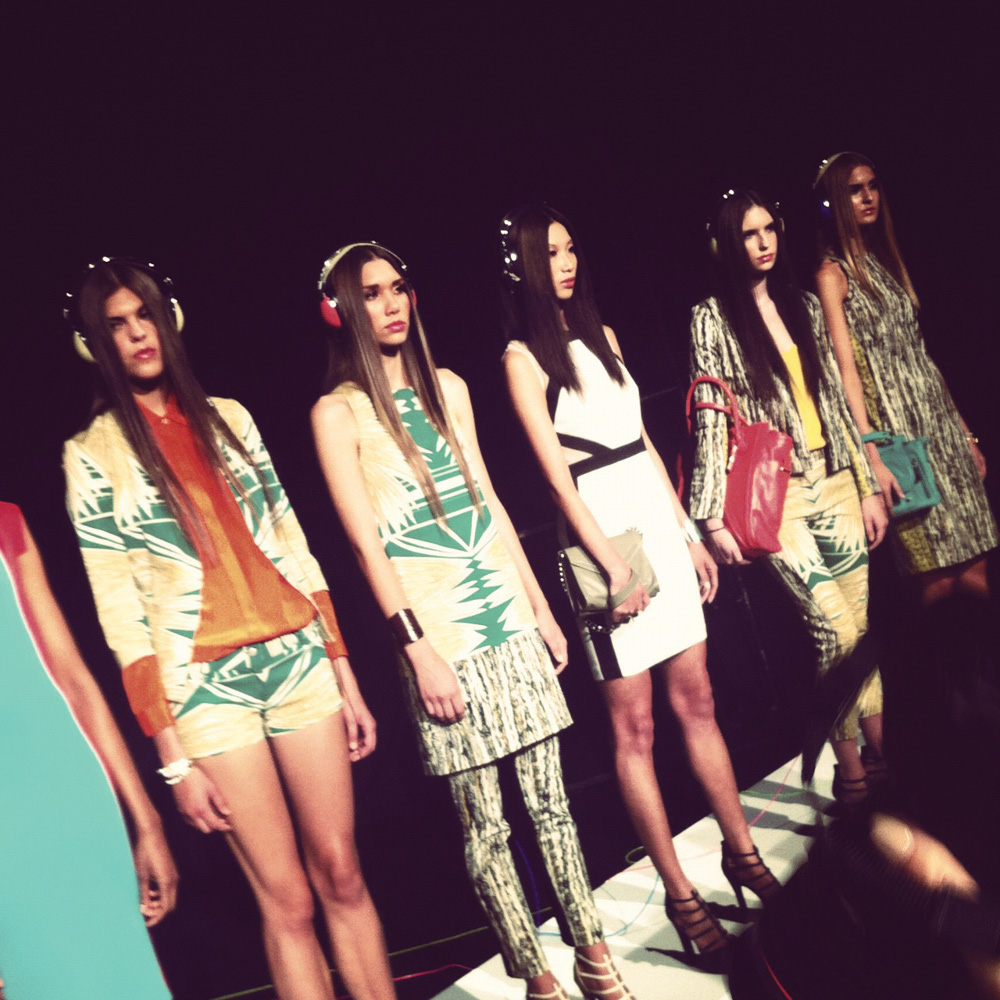 VIE: What was your first show experience like?
Caroline: Our first show was CZAR by Cesar Galindo and we were undoubtedly eager, as we arrived entirely too early. But that paid off—we were among fifteen people who were let in, I think accidentally, twenty minutes before general admission. We had barely taken our original third-row seats before being escorted by a runner to section B on the second row. For us, this was our first test in "playing it cool," which was difficult because the luxurious VIP gift bags lying on our seats were only afforded to the first and second rows—not where we were originally supposed to be. The show was incredible from this vantage point.
Lauren: When we left The Studio, where the CZAR show took place, we walked to the "Press Only" section of the main lobby to jot down a few notes and recharge our phones. We read to each other what we had written, giddy with excitement. But we had no time to waste before our next show, so we headed back inside and were immediately pulled aside and asked to do an interview. "Sure, that's cool," we replied. But in our heads, it was more like, "Are you kidding? YES!"
Caroline: Oh, did I mention that my gorgeous red lip stain was far from glamorous at this point in the day? It was only on half of my lips, and the other half had migrated to form a quarter-inch halo around my mouth. Perhaps the interviewer thought I was replicating the late McQueen's "King of Plenty" show to start a new trend.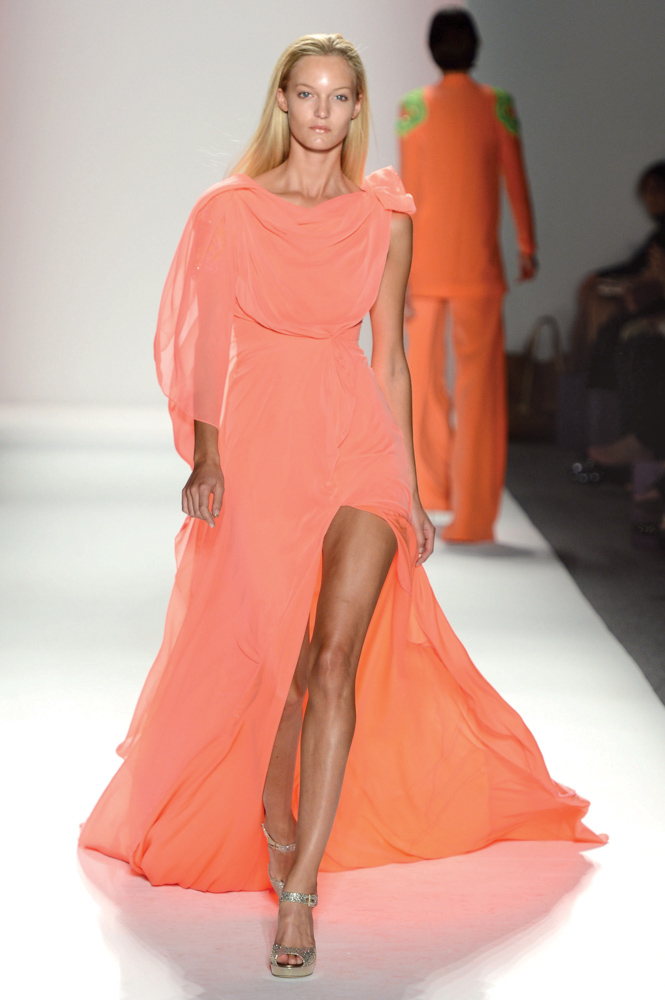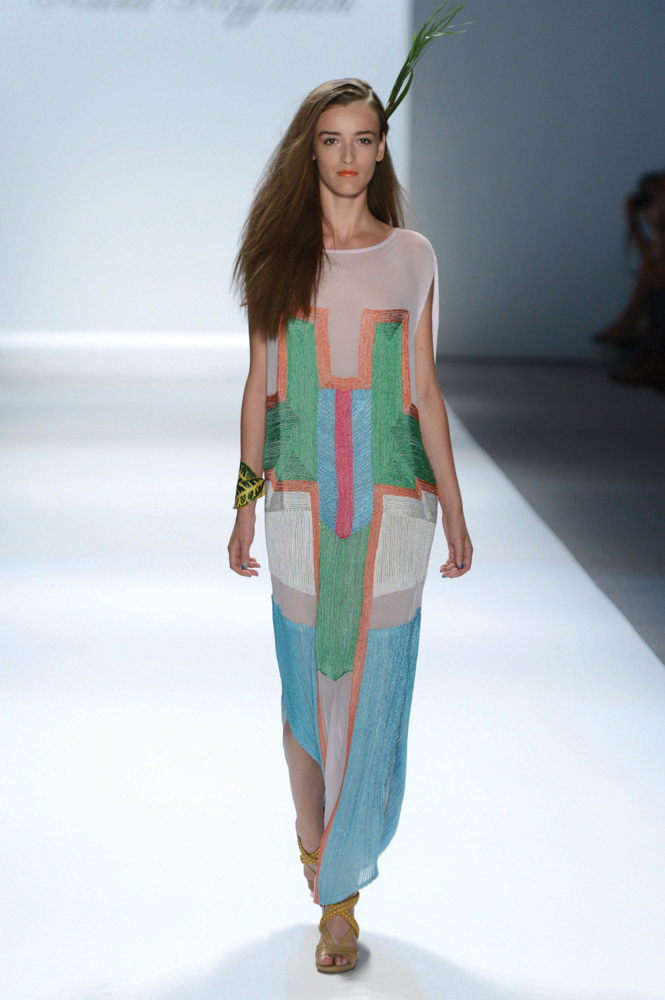 VIE: What were your favorite collections? And what trends will you watch to buy for Spring 2013?
Lauren: We had so many favorites, and all the collections were beautiful in different ways. For our purposes, Noon by Noor, Emerson Fry, Mara Hoffman, and Nina Skarra were our absolute favorites. We actually picked up Mara Hoffman's line for the boutique, and it arrived in February.
Caroline: Brocade is going to be huge for spring. Neon is still around in a big way, and the leather trend is going to carry into spring but in different colors and lighter textures.
VIE: How do you decide which of these new styles or trends you're going to feature at The Fuss each season?
Caroline: I believe that decision is 50 percent instinct and 50 percent relationally knowing your customer. What is her lifestyle? Is she a mother? Does she have a career? What are her interests? What's her personality like?
VIE: Did attending give you any new insights into the world of fashion?
Caroline: To visit that world, to walk into what we had dreamed about for so long, is hard to put into words. We've always loved keeping up with Fashion Week online and in our favorite magazines, but to actually experience it was such a validation that our life's work is exactly right. Everyone has gifts, and Lord knows we're not good at many things, but we are good at predicting what's about to happen in trends and how that relates to the everyday woman—and our work at Mercedes-Benz Fashion Week verified that.
VIE: What are your parting thoughts on this particular New York experience?
Lauren: We found a lot of truth in our mission as stylists and trendsetters at Fashion Week. That truth is simple: dreams are real, so adjust your view of reality to achieve them. Whatever that dream may be, it is silly to never reach for the things you deeply desire. So, despite being afraid, do it anyway. We believe style is what gives you the confidence to acknowledge this truth and go claim it. Style sets you apart—even if it seems like the most trivial of ideas—and can empower you. To be in the company of so many others at Fashion Week whose life work revolves around this idea was an incredible blessing.
Caroline: There is no other event in the world that can gather a more diverse, talented, and inspiring group of people than Mercedes-Benz Fashion Week. These people are linked by their great desire to champion individuality and creation. For us, to be a part of that elite group was beyond amazing, and we've never felt more honored. It was truly a dream come true, granted to us by VIE publisher, Lisa Burwell—our fairy godmother who fulfilled one of our deepest desires. And for that, we'll never be able to view her without a wand and wings.
— V —
---
The Fuss Boutique is an online boutique selling women's fashion clothing and accessories. They feature refreshingly chic, fashion-forward designer dresses, tops, shoes, denim, and seamless wear from popular boutique brands and some new exciting lines. If you're looking for the perfect dress, blouse, or skirt to complete a perfect outfit, they invite you to take a look around and find out what The Fuss is all about!
They have two locations in our COLA 2 COLA region:
Port St. Joe 110 Good Morning Street, Suite 102 Port St. Joe, Florida 32456 Phone: 850.227.7555 Fax: 850.227.7556 Hours: Mon.–Sat. 10–6 CST
Santa Rosa Beach – WaterColor 6 WaterColor Blvd., Suite 101A Santa Rosa Beach, Florida 32459 Phone: 850.231.2000 Fax: 850.231.9400 Hours: Sun.–Sat. 10–7 CST
You can shop their website at www.thefussboutique.com.
ARTICLE CATEGORIES