Niki Noblin and Jeff Sliger

November 29, 2019
Photography by Dawn Chapman Whitty
Our Love Story
Jeff and I met during Labor Day weekend of 2011. Jeff was in flight training in Enterprise, Alabama, and came down to Destin, Florida, for the weekend. I lived in Destin at the time and had a mutual friend who was in flight school with Jeff. The weather was terrible because of Tropical Storm Lee, so instead of them going to the beach, we all ended up hanging out all day and night on the harbor, and Jeff and I hit it off. We then dated for eight years! I know that seems like an awfully long time, but we dated through his time at flight school, two deployments, and four years of being stationed in Kansas. It was a long journey to get to the place where we could live in the same town and really be together.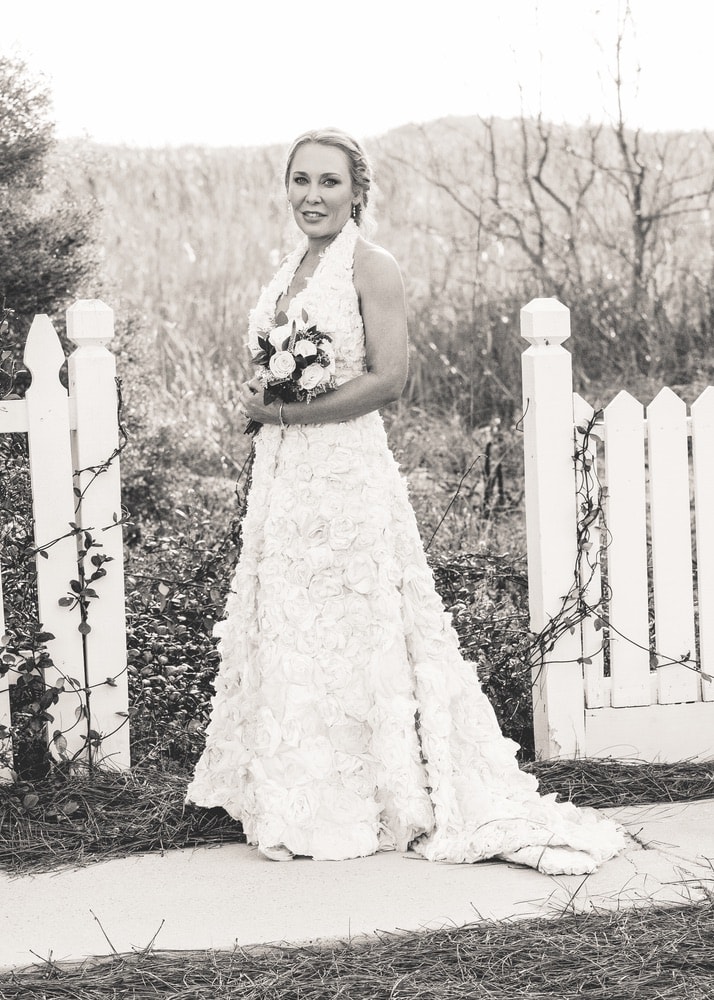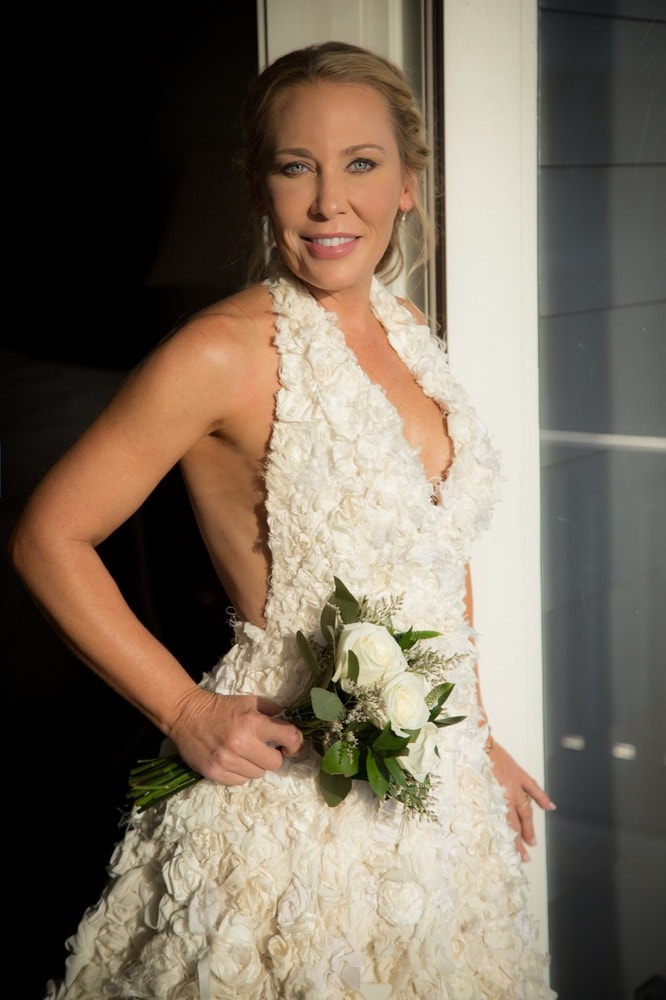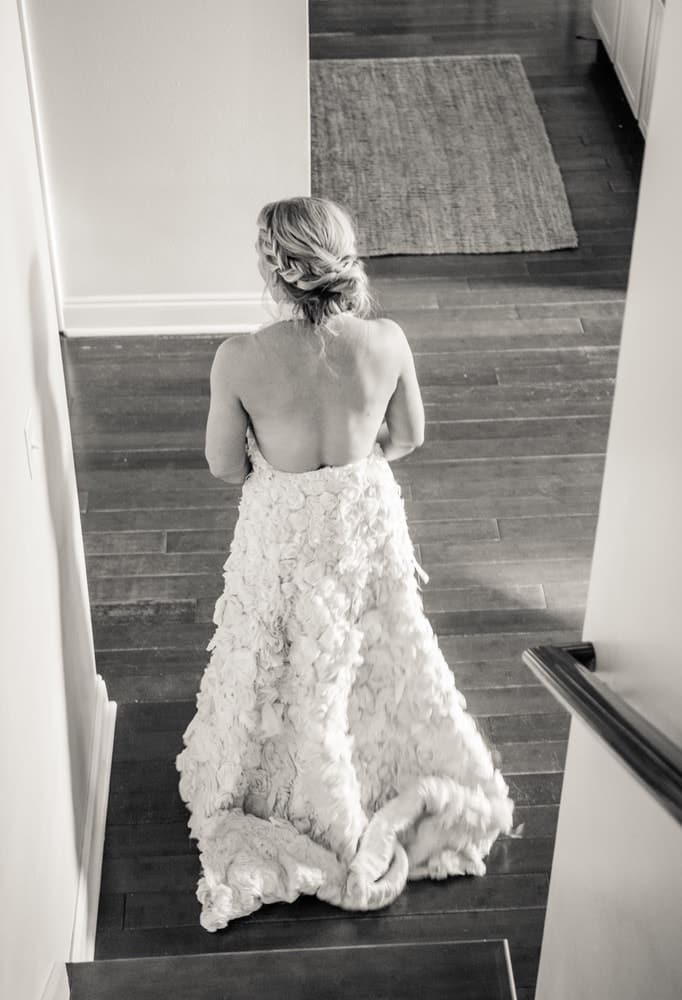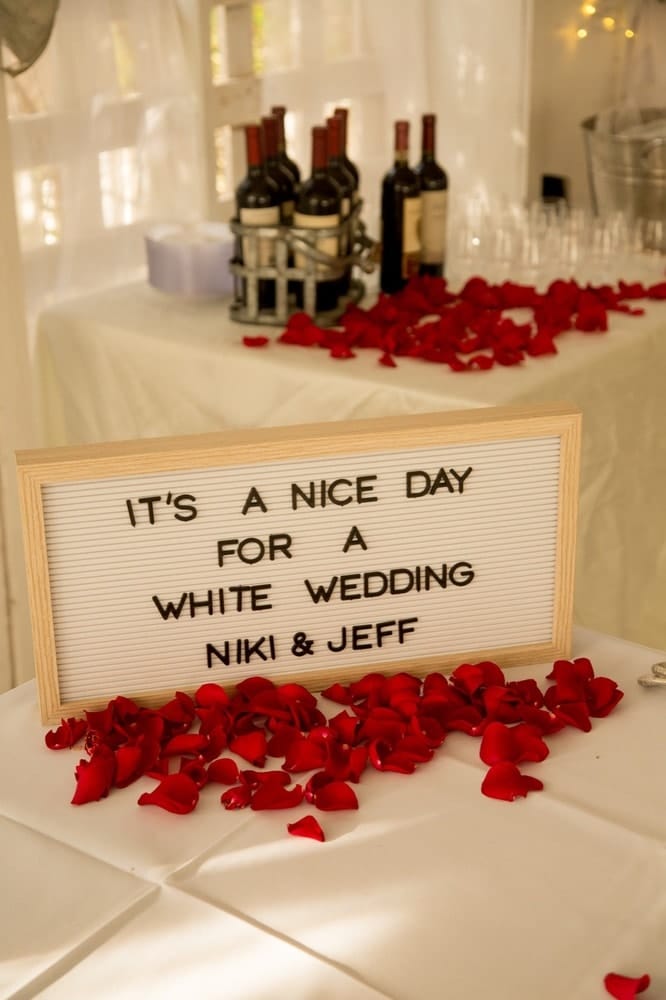 Gone to the Dogs
I'm on the board of Alaqua Animal Refuge in Freeport, Florida, and I love my dog, Chicken (she's my fourth rescue). That's one of the first things that attracted me to Jeff—his love of animals. We both adore our dogs and they are a huge part of our lives. Jeff has never been a full-time volunteer at Alaqua, but he was always more than willing to help out when he was in town. Fittingly, Jeff proposed to me at the Destin dog park surrounded by our four rescue dogs on Labor Day weekend—seven years after we first met. I was completely surprised! He asked with a gray rose-cut Just Jules diamond ring from The Jewel in Grand Boulevard. I'd loved that ring from afar for a very long time and now get to admire it every day.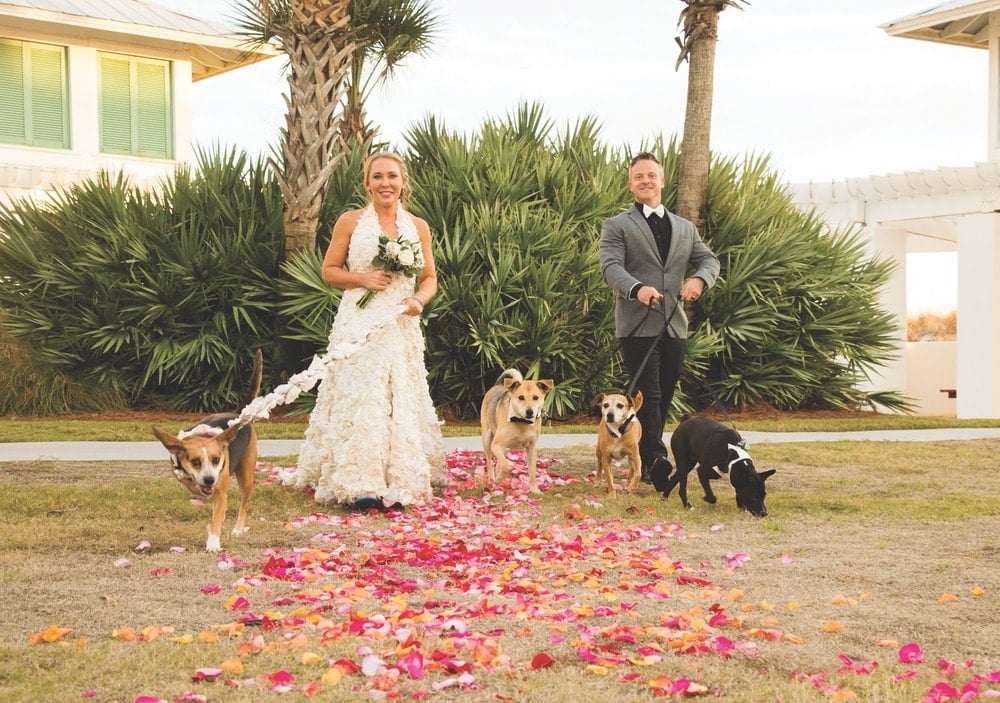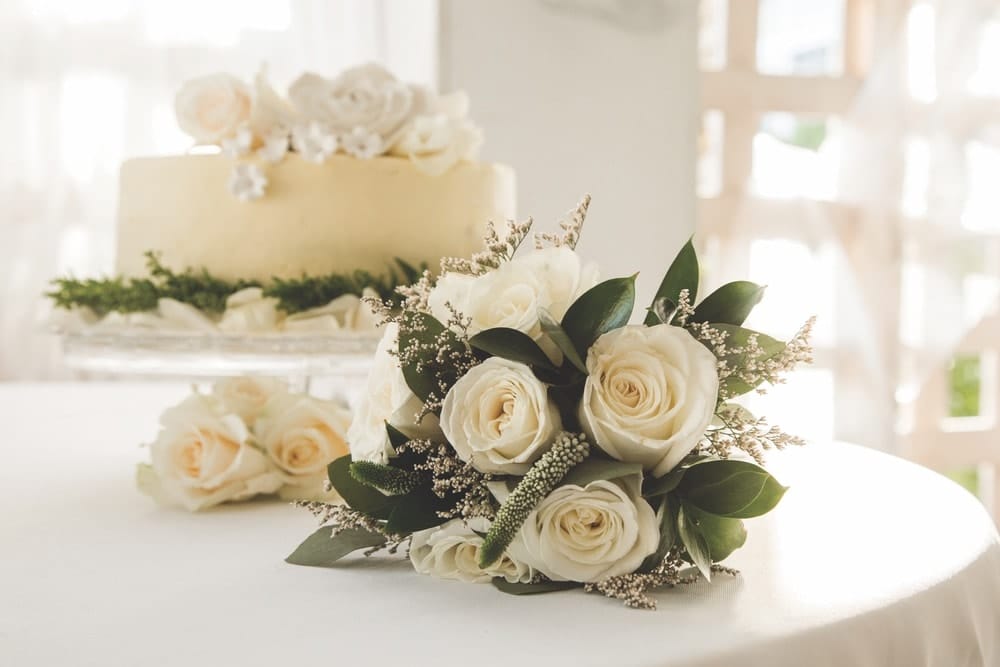 Our Venue – Beachside Pavilion in Destin Pointe
Jeff and I live on Holiday Isle in Destin. We talked about several places for the wedding but decided on Destin Pointe because of its location near our home and its natural beauty. The neighborhood has a coastal lake, beach, views of the East Pass and boats, and fantastic coastal architecture. I thought it would give us a lot of options for photos. Prior to my wedding, my photographer had never been to Destin Pointe and she couldn't believe how beautiful it is. I also liked the location for our family and out-of-town guests, which was almost everyone. My family lives in Tennessee, so they stayed in the beach house. Jeff's family is from Ohio, and they stayed with us.
We held our reception at the Sandcastle, a beach home in Destin Pointe at 3583 Rosalie Drive. The reception house was a gift from my friends Stan and Wassiya Hewitt. We actually stayed there all week for Thanksgiving. It's a beach house on pylons, so we had the reception underneath the house. The pylons are covered with white lattice, so we got a sense of privacy, and the area is surrounded by palms that create a nice backdrop of greenery. We decorated with numerous sisal rugs, twinkle lights, candles, tulle, and handmade flowers by Nicole Paloma to give it a bohemian vibe.
My dad and my Alaqua pup, Chicken, walked me down the aisle. Jeff's groomsmen were his three male dogs, and my nephews were the dog handlers.
Our Wedding Plans
The advantage of having a small-scale wedding is that it's a lot less stressful. The only real stress I experienced was finding a florist. Most florists were closed for Thanksgiving and Black Friday, so I was having a hard time finding anyone to do the flowers. In the end, Pavlic's Florist and Gifts in Destin opened on that Friday just for me. The gesture did not go unnoticed, and my flowers were simple but elegant. My friend Mary Chris Murry did the best job of helping plan and organize the wedding. She took my vision and pulled it all together. I found out that no matter how large or small the wedding, you really do need someone to help!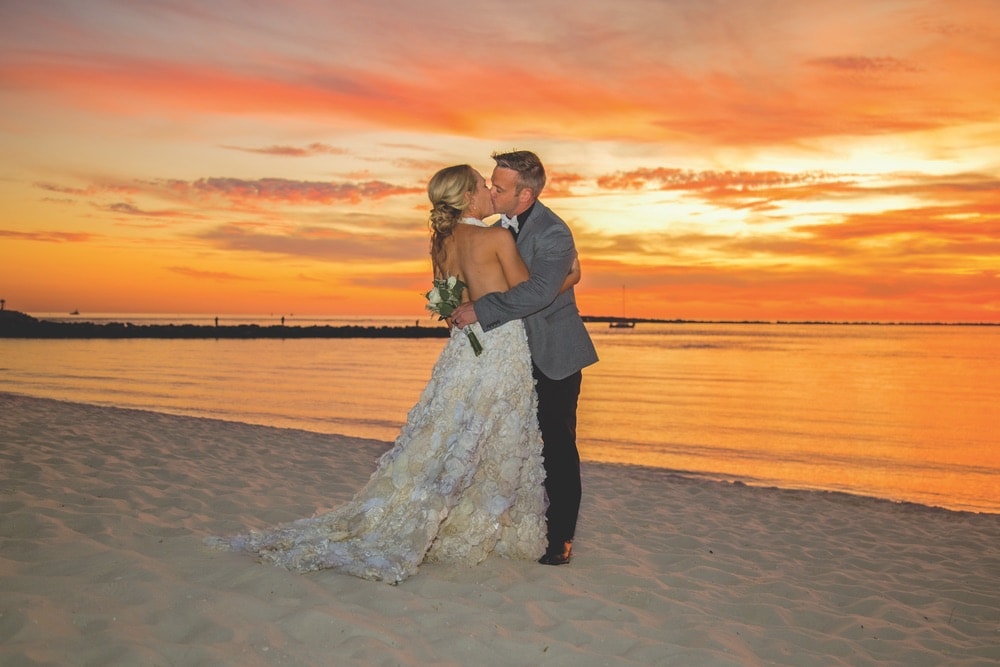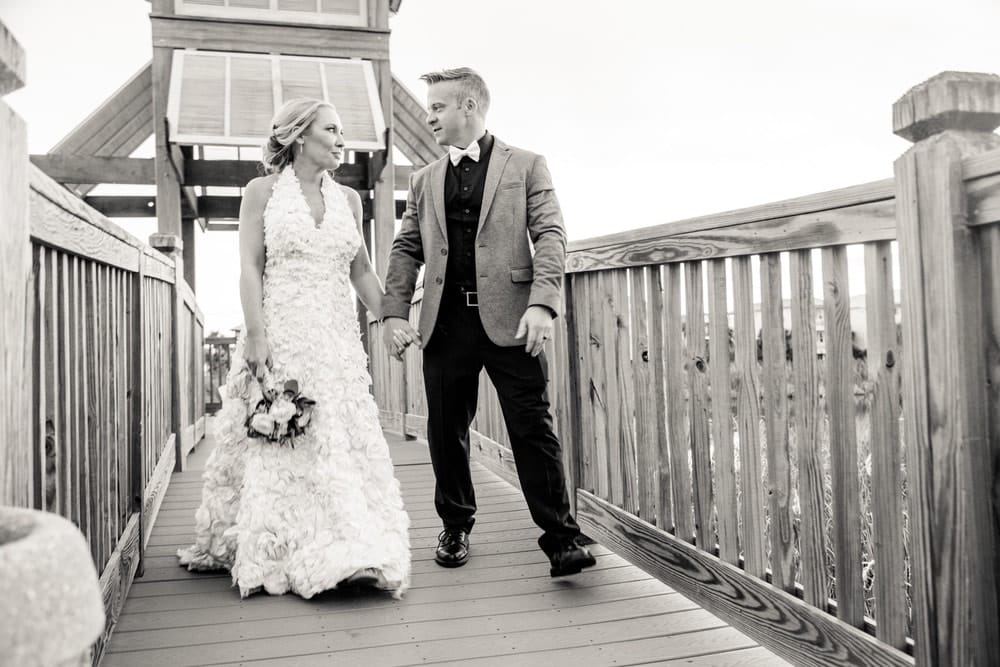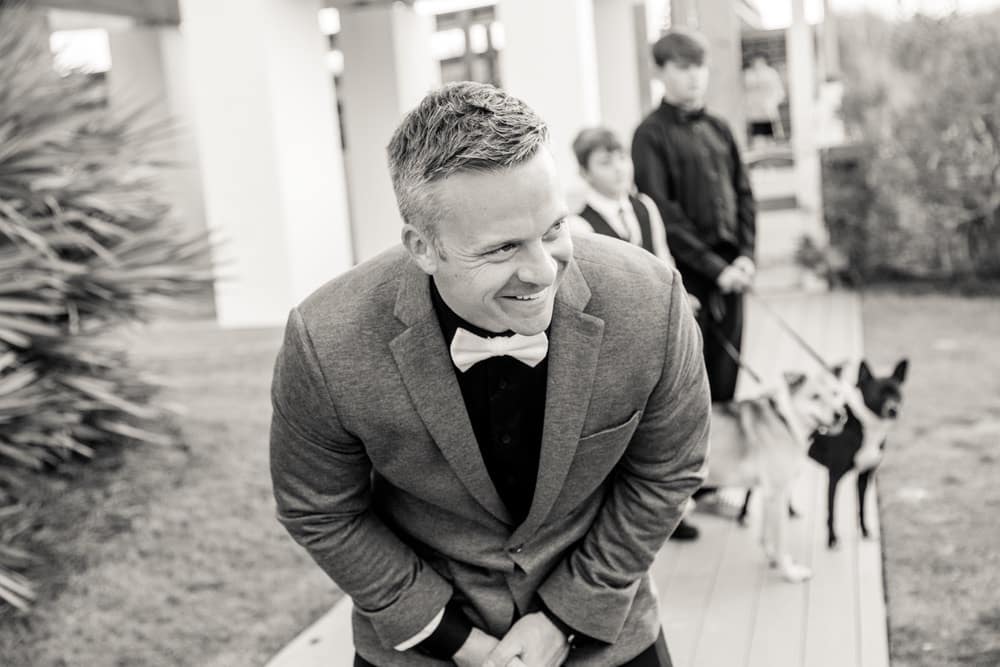 Our Wedding Day
We got married the day after Thanksgiving, so we invited everyone to have Thanksgiving lunch with us in the beach house. It is my favorite holiday because it's about family, friends, and just being grateful for what you have. We had a very small, intimate wedding; we each invited five of our nearest and dearest friends. (We ended up with thirty guests because our friends are all married with kids.) We went back and forth about a large wedding versus a small one. Jeff and I were both getting married for the first time, at thirty-nine and forty-three, respectively, and he wanted a larger celebration, but I wanted it to be more intimate. In the end, because Jeff was leaving for Afghanistan soon afterward, we decided to keep it small, and we are both happy with that choice. It was a blast because we all knew each other so well. We all stayed in the neighborhood, so it was like a weekend celebration. As the bride and groom, it was special for us to be able to spend time with everyone at our wedding—I think you lose that when you have a large event.
We had a white wedding on Black Friday. I asked all the guests to wear black, to give the feel of them being part of the wedding party. I liked the color contrast as well. Our menu was a low-country boil with crab legs, shrimp, corn, and potatoes—perfect for the beachside venue.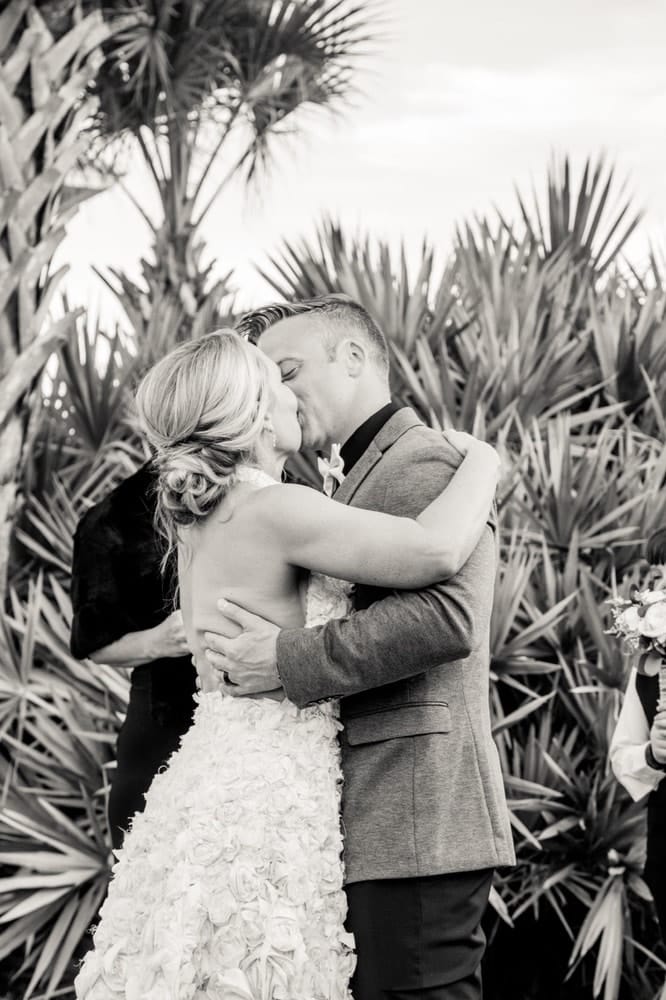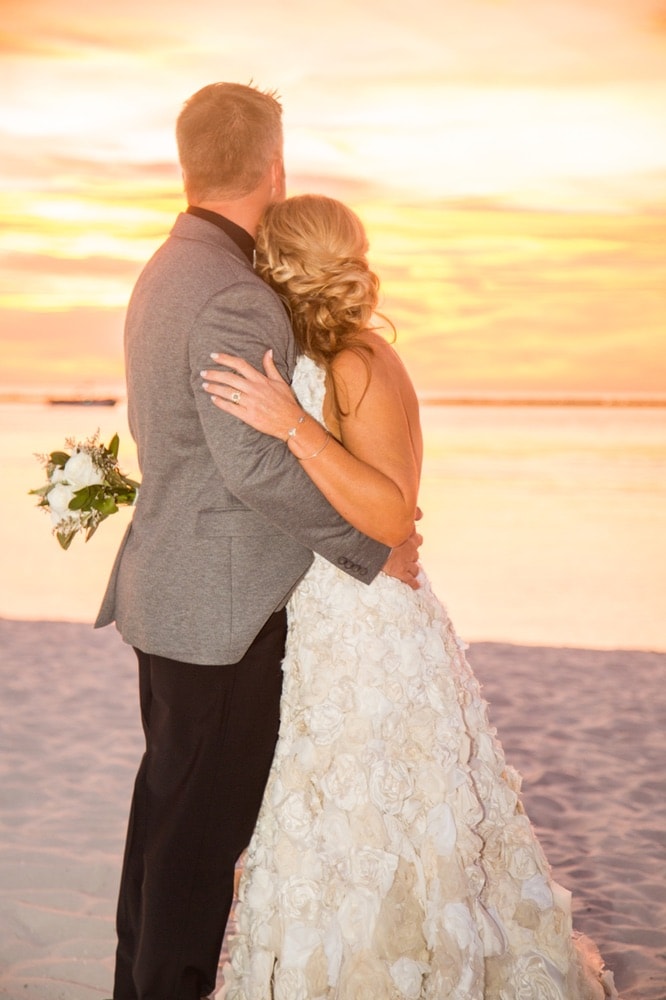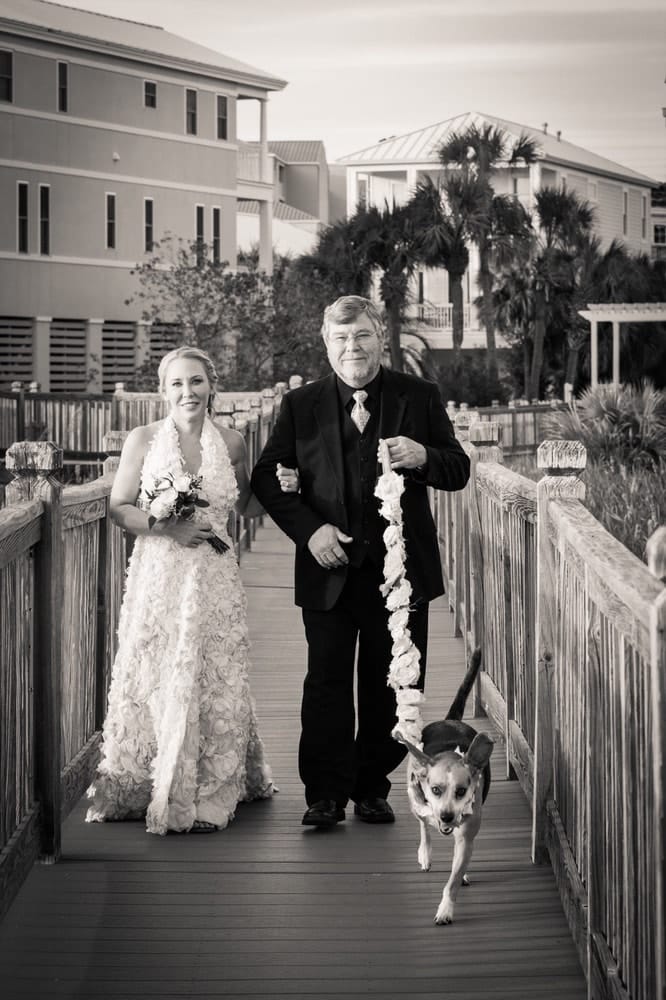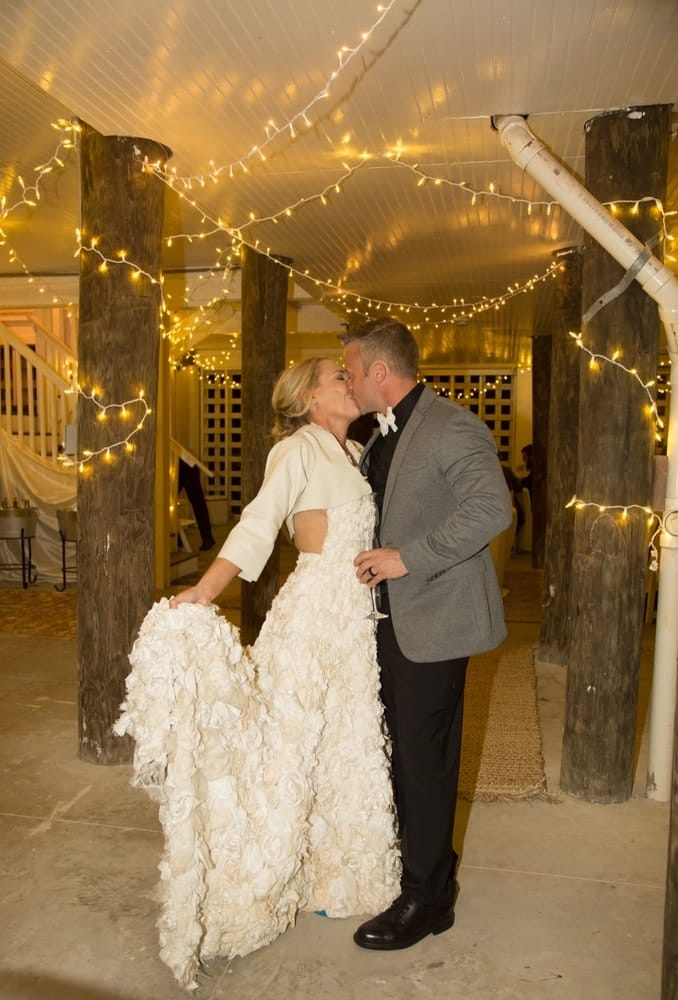 My favorite part was our furry attendants. My dad and my Alaqua pup, Chicken, walked me down the aisle. Jeff's groomsmen were his three male dogs, and my nephews were the dog handlers. Stephania Crisafulli was our officiant, and she wrote vows that mimicked our dogs—Chicken, Sam, Danger, and Cooper—and their expectations for their mom and dad's marriage: "Love makes messes. Love leaves you little surprises here and there. Love needs lots of cleaning up after. Sometimes you just want to get love fixed. Sometimes you want to roll up a piece of newspaper and swat love on the nose, not so much to cause pain, but just to let love know, Don't you ever do that again! But love makes you meet people wherever you go—people from all walks of life. If you throw things away, love will bring them back again and again and again. But most of all, love needs love, lots of it. And in return, love loves you and never stops."
Special Thanks
Every part of the wedding was important and personal. I had two must-haves for the day: a Nicole Paloma gown and Dawn Whitty as my photographer. Both were great. My dress, hand made by Nicole, was a floor-length halter dress covered in hundreds of handcrafted ecru blossoms in shades of white and cream. It's honestly the most unique wedding dress I've ever seen, and I'm glad I got married in a one-of-a-kind dress made by a local designer. Two of my fellow Alaqua volunteers, Marisa Taylor of Make Me Up and Natalie Ittu of Tease, did my hair and makeup. Our family and friends were all so wonderful and worked hard to make it a special day we will never forget!
— V —
ARTICLE CATEGORIES