April 5, 2018
Amy Kelly and Eric Rogers might have met along Northwest Florida's Gulf Coast in the beautiful fishing town of Destin, but when it came to their nuptials, they opted for a romantic Italian dream wedding instead of the usual ceremony on the beach. 
Our Love Story
As a fourth-generation native of Destin, Amy's deep roots along the Emerald Coast stemmed from Mattie Kelly, her great-grandmother and a Destin matriarch. Amy studied interior design at FSU and then obtained a master's degree from Accademia Italiana in Florence, Italy. Currently, Amy works in Grayton Beach and designs upscale homes along Scenic Highway 30-A.
Eric is from Long Island, New York, but moved to Destin in 2005. Eric studied culinary arts at Johnson & Wales University in Rhode Island. While Eric currently works in the construction industry and is truly a jack-of-all-trades, his passion lies in food, wine, and culture. His favorite thing to do is cook for family, friends, and even strangers, preparing meals with fresh ingredients straight from his garden—yes, he has a green thumb, too! Eric lives by the motto "Break bread with people and you will have friends for life," as he believes food has the power to bring people together.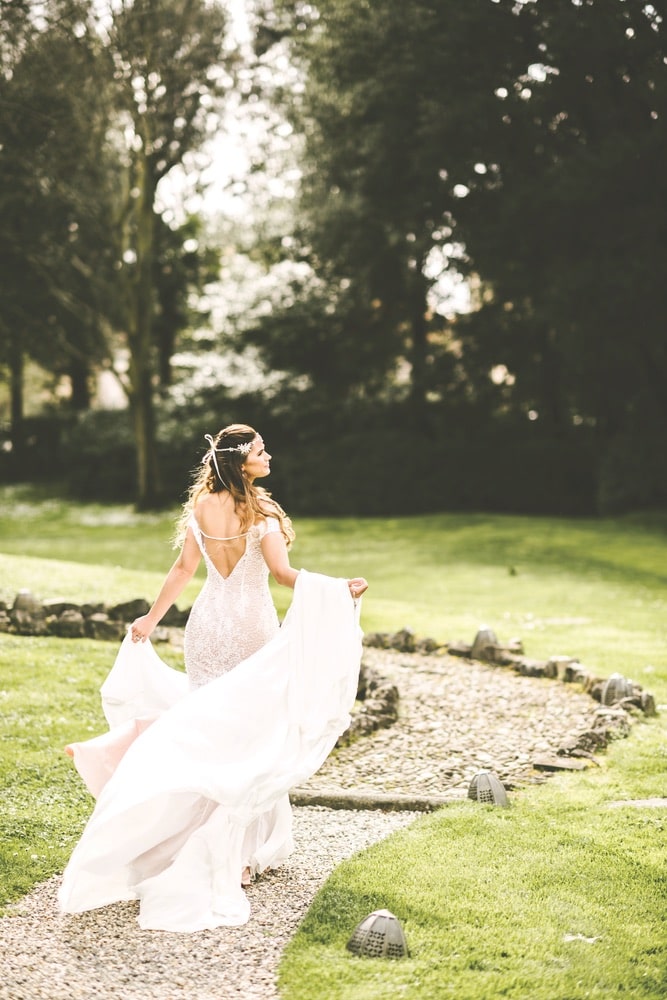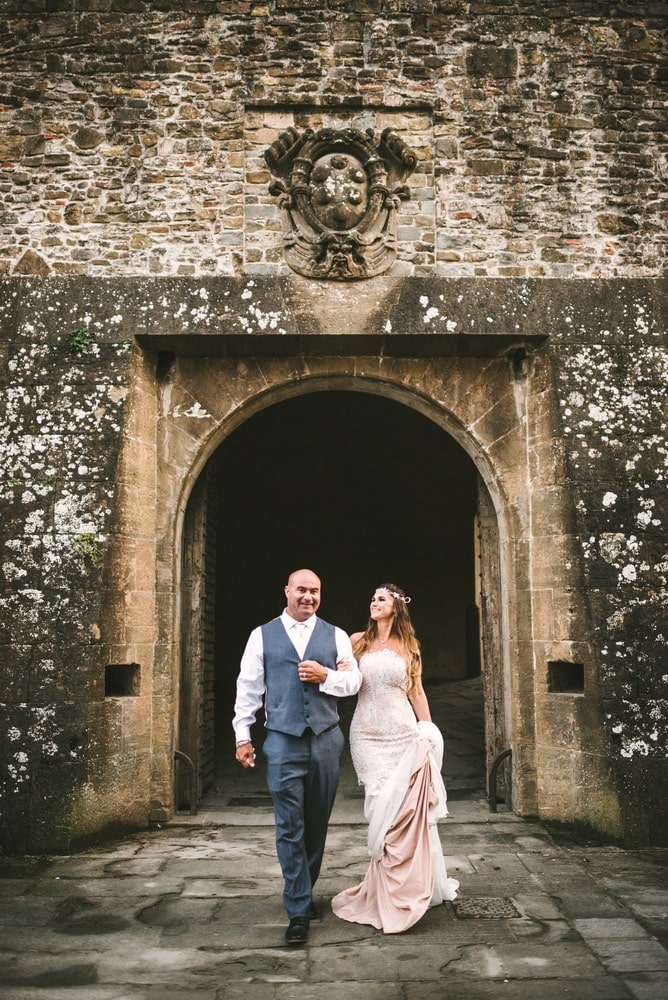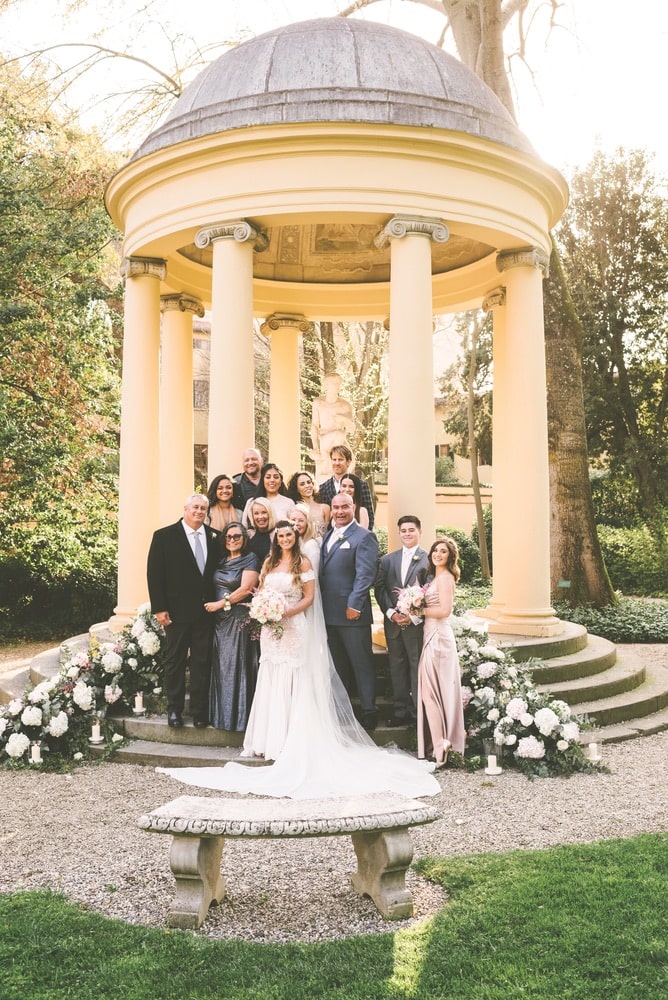 Amy says, "We met while we were both living at the Palms of Destin condominiums. After crossing paths several times, we started hanging out and enjoying each other's company. Eric courted me from the start through his amazing culinary skills, from preparing shrimp scampi on our first date to being at my door every morning to make breakfast. I often brag to friends and family that I haven't cooked a single meal since we met in 2013, and that's one thing I don't think will ever change!"
Eric says, "I proposed during the Thanksgiving holiday while we were visiting my family in New York. It was Amy's first time meeting my family, and they immediately welcomed her with open arms. I custom designed Amy's ring at the Jewelers Trade Shop in downtown Pensacola, Florida. I wanted something different, and my design incorporated blue sapphires in a unique way. I believe the union of diamonds and sapphires is regal and it also symbolizes romance, nobility, truth, sincerity, and faithfulness. Sapphires have decorated the robes of royalty and clergy members for centuries, and in ancient Greece and Rome, kings and queens were convinced that blue sapphires protected their owners from envy and harm. This really spoke to my "old" soul and love for history."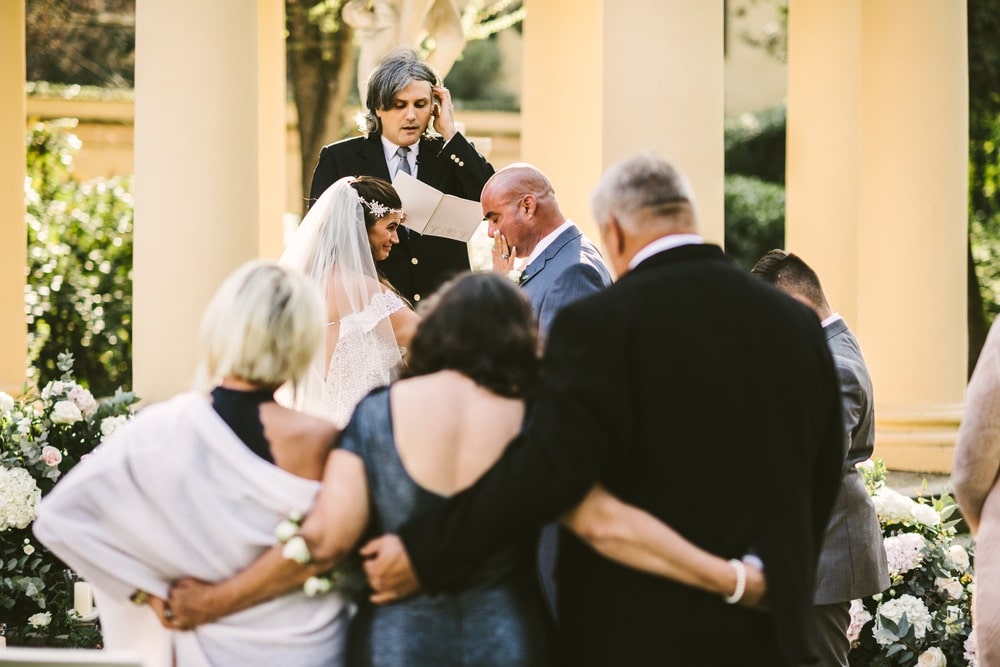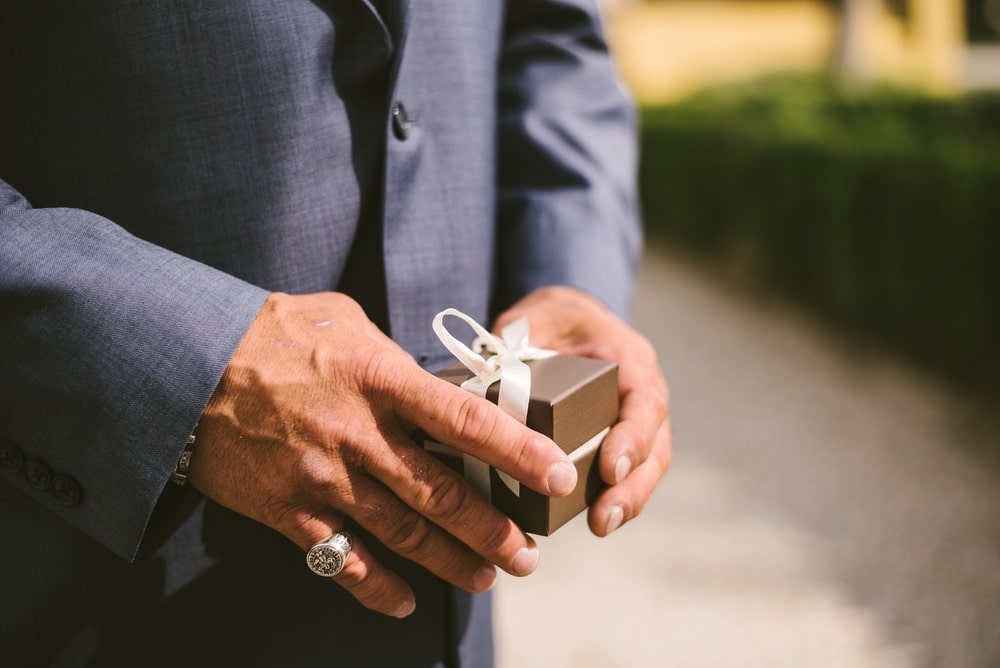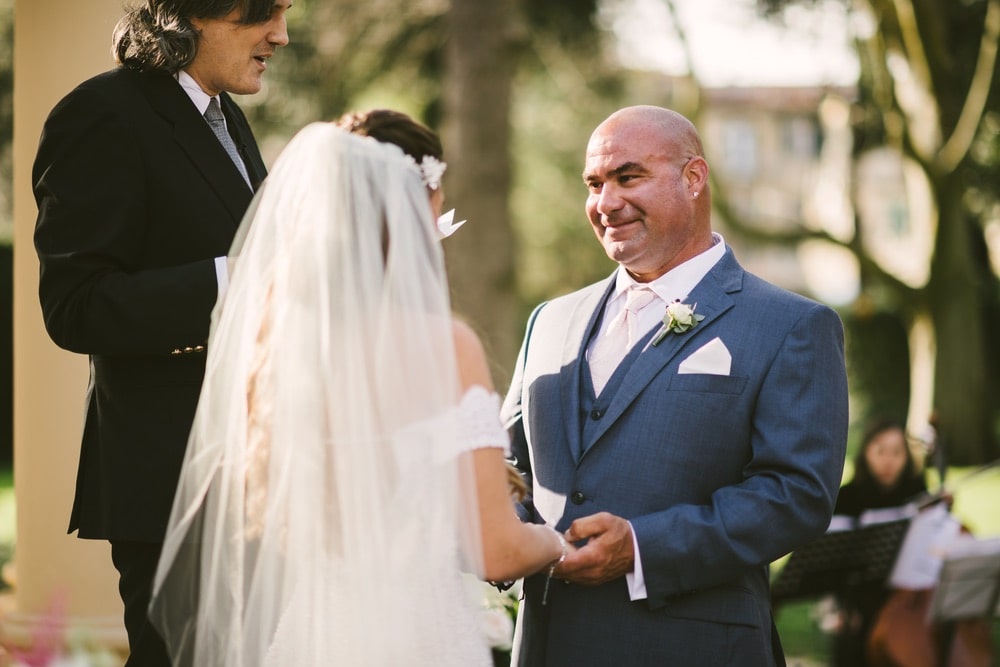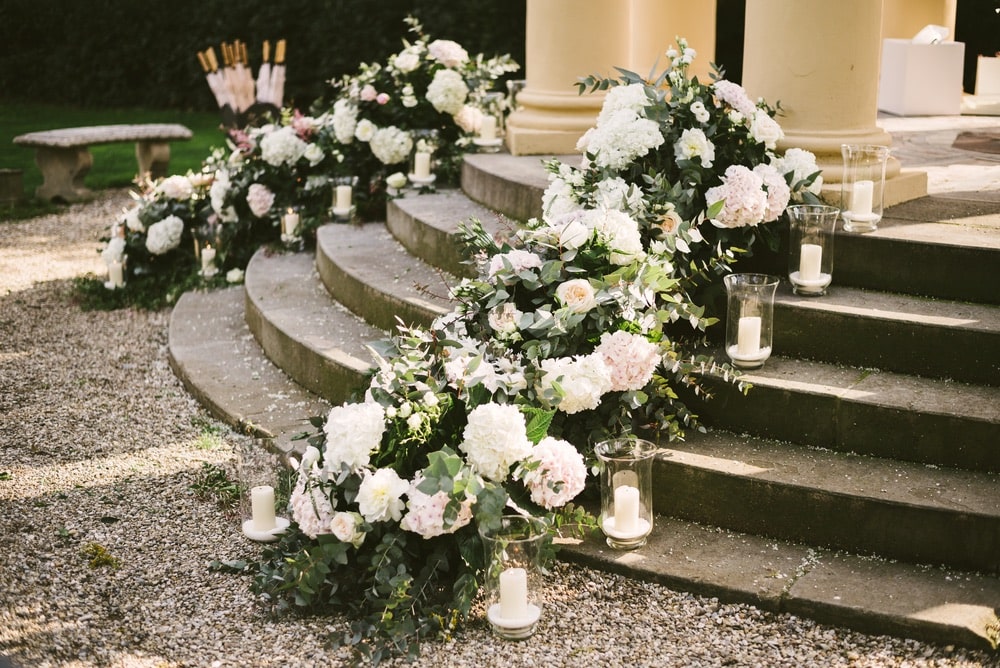 Our Venue – Four Seasons Hotel Firenze
Amy says, "Being a Destin native, I didn't want the typical sandy-feet beach wedding. I wanted it far from the beach; in fact, I envisioned enchanting gardens, historical architecture, and a romantic fairy-tale setting. Unfortunately, no venue along the Emerald Coast offered exactly what we both had in mind. When Eric and I discussed the venue, it was a push and pull between a local soiree with all our family and friends or a dreamy destination wedding. Neither one of us likes to be in the "spotlight," so the idea of sweeping each other away was the best gift we imagined a husband and wife could give each other. Planning our intimate dream wedding began.
"Ten years ago, I lived in Florence, Italy, while obtaining my master's degree in interior and product design. Ever since I stepped foot in that majestic city, I became eternally drawn to it. It holds a permanent place in my heart and soul. Eric grew up in New York around many Italian families and has always been inspired by Italian food and culture. With my familiarity of Florence—I consider it my second home—I figured it wouldn't be much of a challenge trying to plan a wedding from five thousand miles away.
"The only venue that had everything we wanted and needed for our big day was the Four Seasons Hotel Firenze, a fifteenth-century Renaissance villa with an ancient convent and the largest secular garden in the entire city, the Giardino della Gherardesca. As enchanting as the venue sounds, the service was also first-class with an inclusive in-house event and wedding planner who made the process as stress-free as possible. They helped with all the little details including the flowers, the photographer, the food, the music, and the transportation, and they were surprisingly flexible on all their requirements. When we finally arrived, we were treated like royalty and even received a room upgrade with all the bells and whistles and complimentary breakfast in bed the following morning."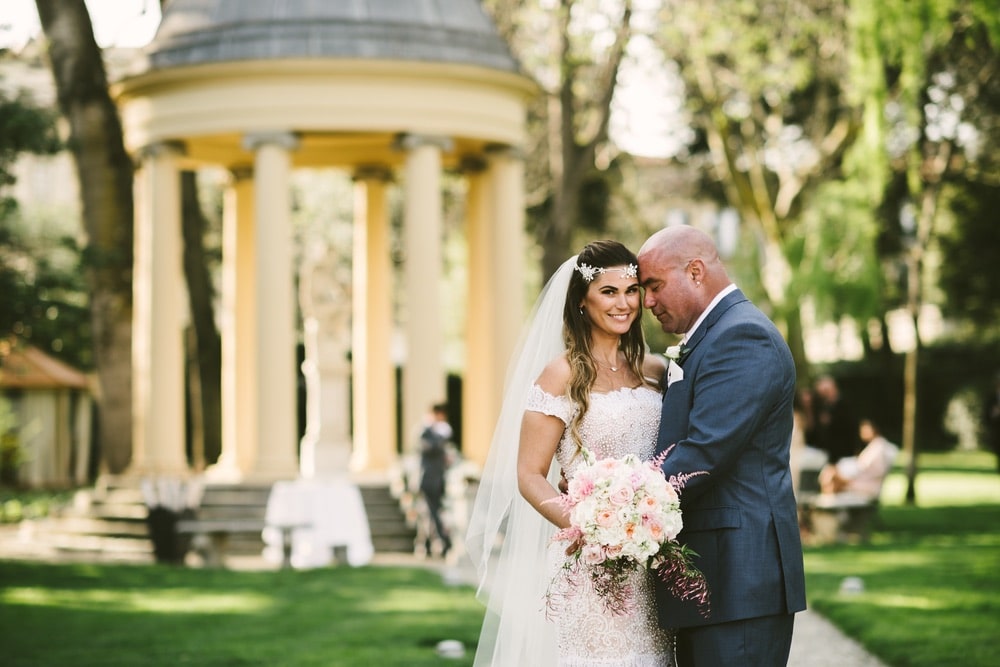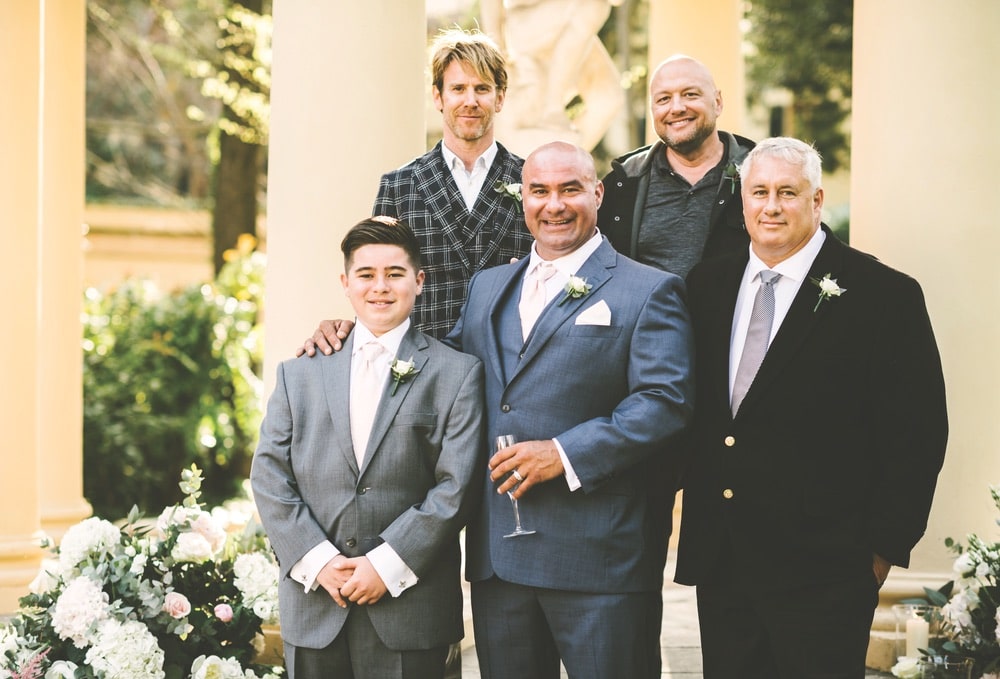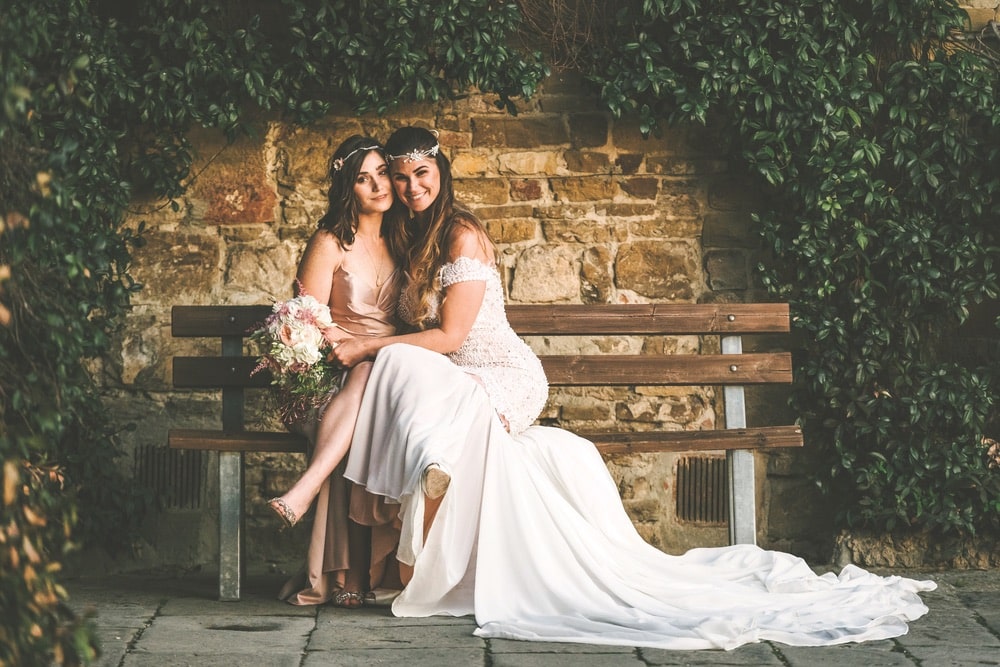 Our Wedding Day
The couple planned an intimate getaway with just thirteen of their closest family and friends for a magical destination wedding in the spring.
Amy recalls, "Eric's son, Nick, resides in South Carolina, and we planned our wedding around his spring break vacation. It was very important for Nick to stand by Eric's side as best man and be a part of our unity.
"As an interior designer, style is very important to me, down to every detail, but in this case, it was also relative, as our special moment was set against a beautiful Florentine backdrop, which was the most crucial detail we could have decided on. We wanted the feeling to be romantic, elegant, and timeless, and to us, that meant styling with natural elements without overdoing it. The overall color accent was soft pink. My dress was embellished with lace, pearls, and rhinestones with a nude pink undertone, and Eric was striking in deep blue.
"Eric's son, Nick, resides in South Carolina, and we planned our wedding around his spring break vacation. It was very important for Nick to stand by Eric's side as best man and be a part of our unity.
"During our stay in Italy for several days before the wedding, we toured multiple wineries and decided to incorporate this into our ceremony by performing a wine box ceremony. The unity ritual consisted of placing three bottles of wine in a wooden box that is to be kept sealed until our first, third, and fifth anniversaries. We cannot wait to open our wooden time capsule together, share a glass of wine, and reminisce on the declaration of our love.
"The wedding party comprised Nick as best man and my sister, Ivey, as the maid of honor. I couldn't have done it without my sister and my team—my bride tribe—by my side each step of the way. Our special day wouldn't have been complete without our family and friends who traveled far and wide to show their love and support on our big day—Mom (Barbara), Ed, Ivey, Nick, Juma, Kim, Maggie, Veronica, Jessica, Lissette, Jerry, and Eric S.
Our special day wouldn't have been complete without our family and friends who

traveled far and wide to show their love and support on our big day
"Our reception was also at the Four Seasons, and then we had dinner at La Loggia Restaurant at Piazzale Michelangelo. In keeping with the intimacy of the wedding, we held a small aperitif cocktail hour with appetizers, champagne, and a string duet playing music in the temple garden of the hotel for our guests. While they enjoyed one another and the gardens, Eric and I left the Four Seasons after the ceremony to take photographs around the city. Our photography session concluded at sunset at the famous Piazzale Michelangelo, which was a perfect place to have the guests relocate for dinner at La Loggia Restaurant, overlooking Florence with majestic views."
Our Honeymoon
Amy says, "Over the course of four weeks, we traveled throughout Italy and Greece with a total of ten days spent in Florence. After the wedding, we headed south and flew to Sicily, rented a car to drive the entire Sicilian perimeter, and stopped in the beautiful towns along the way. Next, we drove to the Amalfi Coast, visiting Positano and Sorrento. Our Italian tour ended in Rome where we took a flight to Santorini, Greece, stayed several days, and then ferried to Mykonos. Our magical honeymoon concluded in Athens.
"Upon returning to the States, we hosted a 'Happily Ever After Party' for all our family and friends who were unable to be in Florence with us on our special day. This party was held on July 21, 2018, at the Sky Room in Sandestin, Florida."
Special Thanks
Flowers: Vincenzo Dascanio – Milan, Italy
Venue and catering: Four Seasons Hotel Firenze
Photography: Gabriele Fani with Studio Bonon – Florence, Italy
Videography: Live Wild Studios by Alan LeBlanc – Nashville, Tennessee
— V —
ARTICLE CATEGORIES