A Beach-to-Backyard Wedding
Photography by Autumn Beury
A childhood friendship blossomed into romance when Caroline Engstrom and Kyle Miller began dating during their teen years in Minnesota. On May 15, 2021, their destiny finally came to fruition as the pair were married on the beautiful white-sand beach of Ed Walline Park in Santa Rosa Beach, Florida. Around 125 friends and family joined them to witness the union, and a celebration followed at the Engstrom family beach home nearby.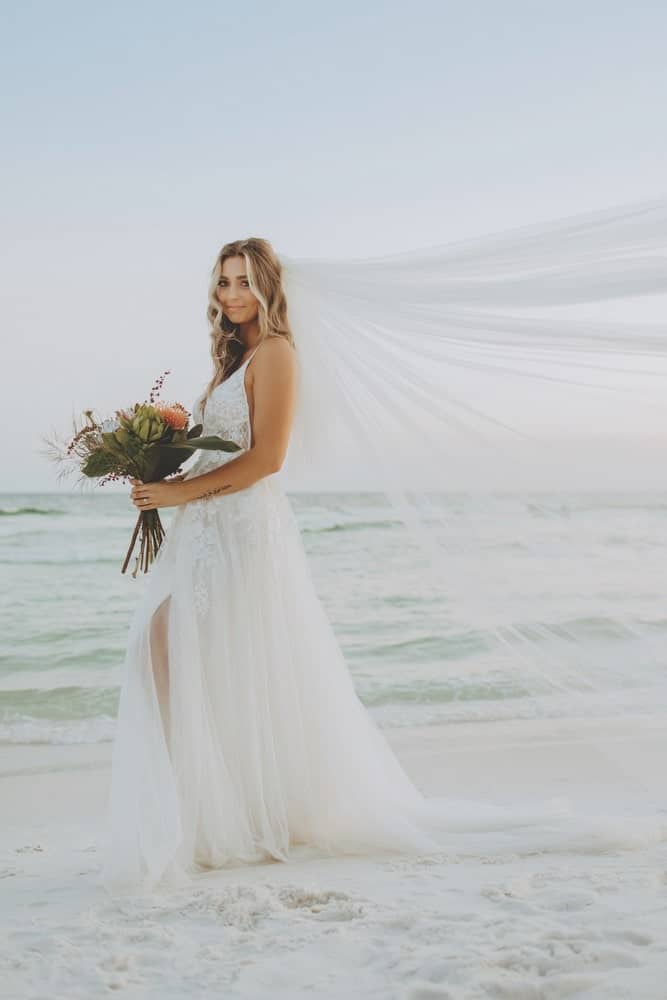 The bride shares her favorite memories from the big day as the Millers approach their six-month anniversary!
Our Love Story
Kyle and I grew up in Minnesota together. We first met in Sunday school when we were about three and four years old. Our parents had known each other long before we were even around. I told my mom at age four that I wanted to marry Kyle Miller, and twenty years later, I was walking down the aisle to him! We dated long-distance for three years when my family moved to Florida and he stayed to go to school. After graduation, Kyle came to visit and couldn't leave, so he skipped his flight home and never looked back.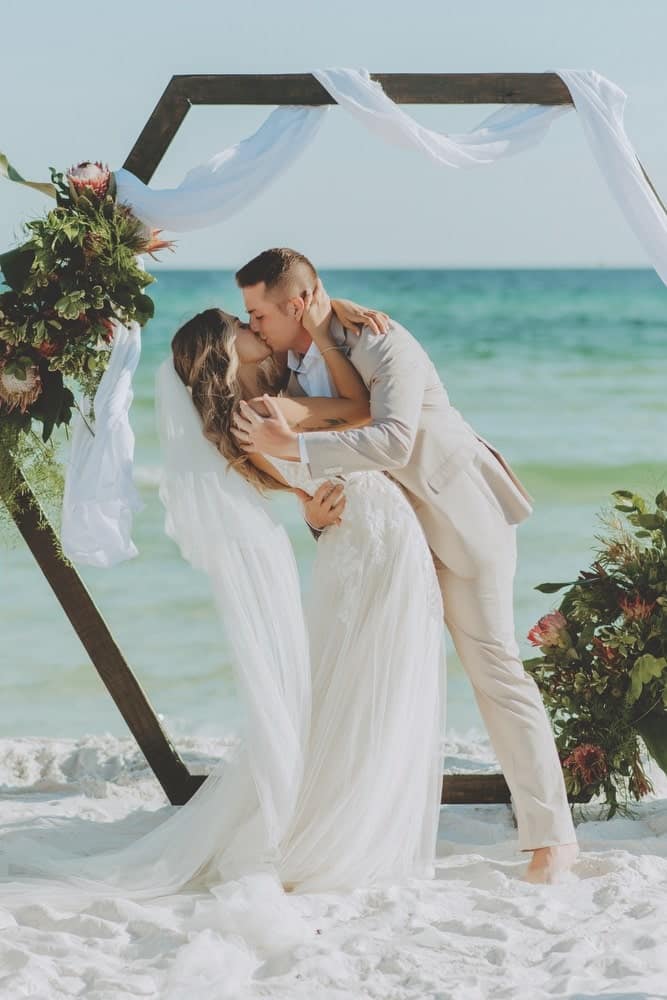 After five years of dating, Kyle proposed to me at sunset in front of our closest family and friends. He ordered a diamond to customize my ring, but it didn't make it in time, so he had to propose with a fake ring! It turned out the real ring was done the next day. Eleven months of planning later, we had our dream wedding in Florida.
Our Wedding Plans
Kyle wanted a larger wedding, and with some restrictions on venues, it was easiest to have it at the Engstrom household. I always wanted a small ceremony and reception with only immediate family, but with me being in my comfort zone at home, we compromised so he could invite everyone.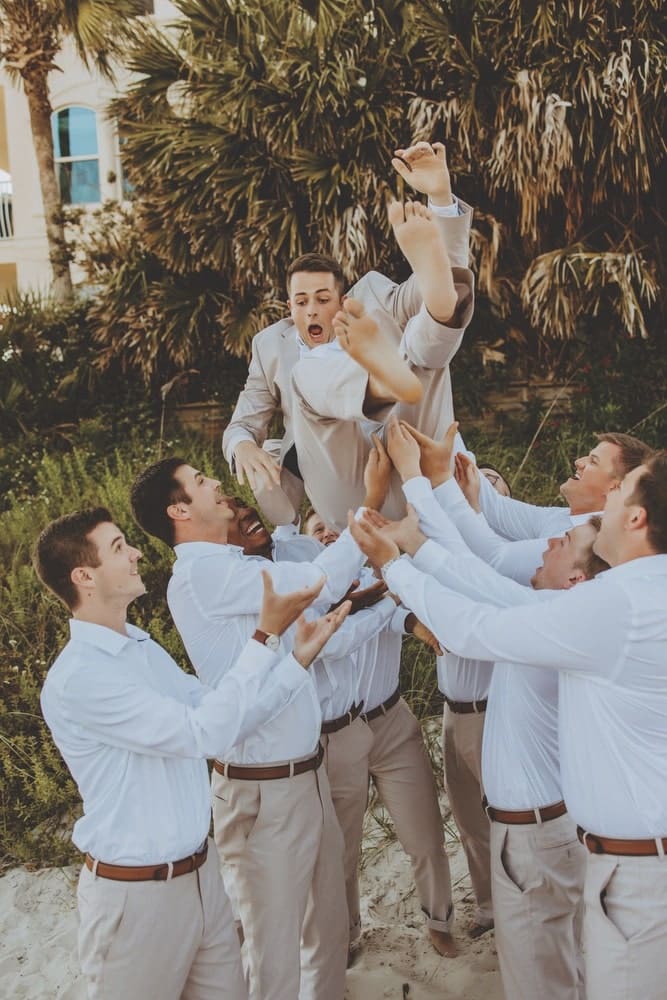 We really enjoyed wedding planning. We are both easygoing and didn't have strong preferences; I feel like that helped keep everyone happy and let them have a say.
Since I work as a hairstylist, I know my way around the wedding industry, and it was pretty easy to choose our vendors, who were all fantastic!
Our Wedding Day
I know traditionally, we wouldn't see each other that day before the ceremony, but we still did. I just remember Kyle being the sweetest he had ever been. I could see the excitement in his eyes. My family and I did most of the decorating and flowers ourselves, so it was an early morning for us, and we quickly got to work. Later, as hair and makeup started, I had never felt more loved. Everyone came to check on me and enjoy small moments together. Right before the ceremony, I saw Kyle was calling me on the phone. I answered, and he said, "Where am I supposed to meet you?" I couldn't stop laughing. Thankfully someone helped him to the altar!
Around sunset, we headed back to the beach for photos. That was one of my favorite times because it was just Kyle and me. We laughed and danced and ran down the beach.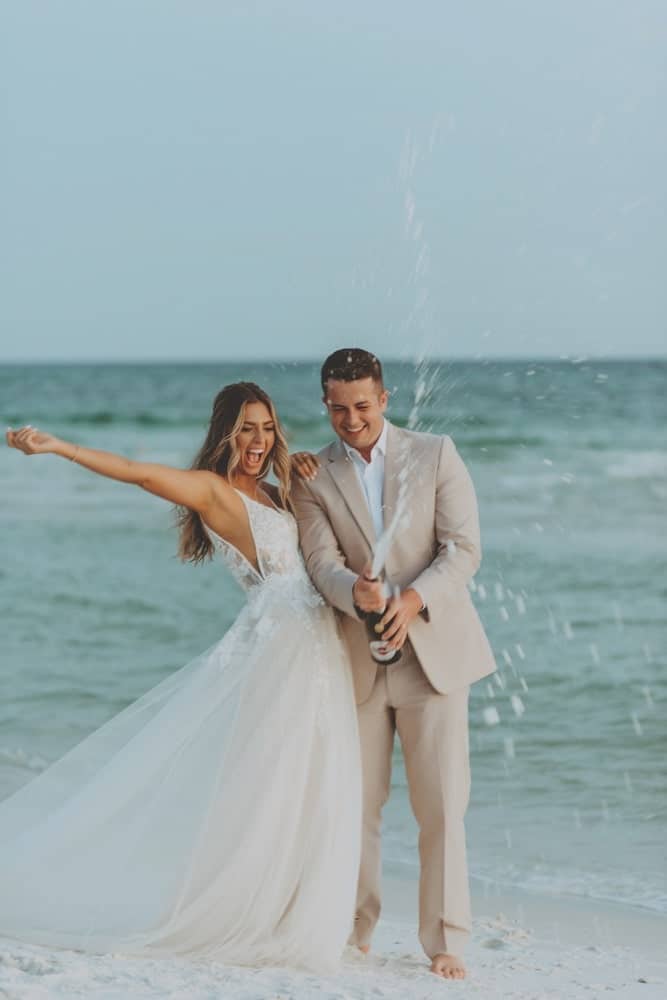 After the sunset photos, we made it back to the reception. It was a party, and that's all we ever wanted—loud music, lights, dancing, singing, laughing, and crying. Our most loved people surrounded us, helping us create the most amazing memories. After everyone started to clear, the sun was down and the moon was out, so we made our way back to the beach and ran into the water. I had always wanted water photos, and this was my shot! The boys took off their clothes (because, of course, they were worried about getting wet while I was still in a dress—a different one from my gown, thankfully), so the photos are speckled with different-colored boxers, but they were the best photos I've ever seen. We ended the night under the stars, which is one of my favorite places to be.
Our Honeymoon
We went to South Florida and escaped on an impromptu "honeymoon." Hopefully, we'll be able to travel internationally with less concern and no quarantines in the future!
Special Thanks
Photographer: Autumn Beury, @hellomisslovely
Videographer: Joel Lohsen, @lohsenmedia
Bridal gown: Essence of Australia, from Margaret Ellen Bridal at 30Avenue
Bride's reception dress: Tadashi Shoji
Bride's hair and makeup: Kaitlyn Brown, @hairbykaitlynbrown
Draping and decorations: Nicole Hemmerly, @mosshound_designs
Florals: Golden Hawk Protea
Catering: Max Hornsby
Charcuterie: Audra Martin, @letssaygraze
Cupcakes: Alli Rowell, Alli Cat Cupcakes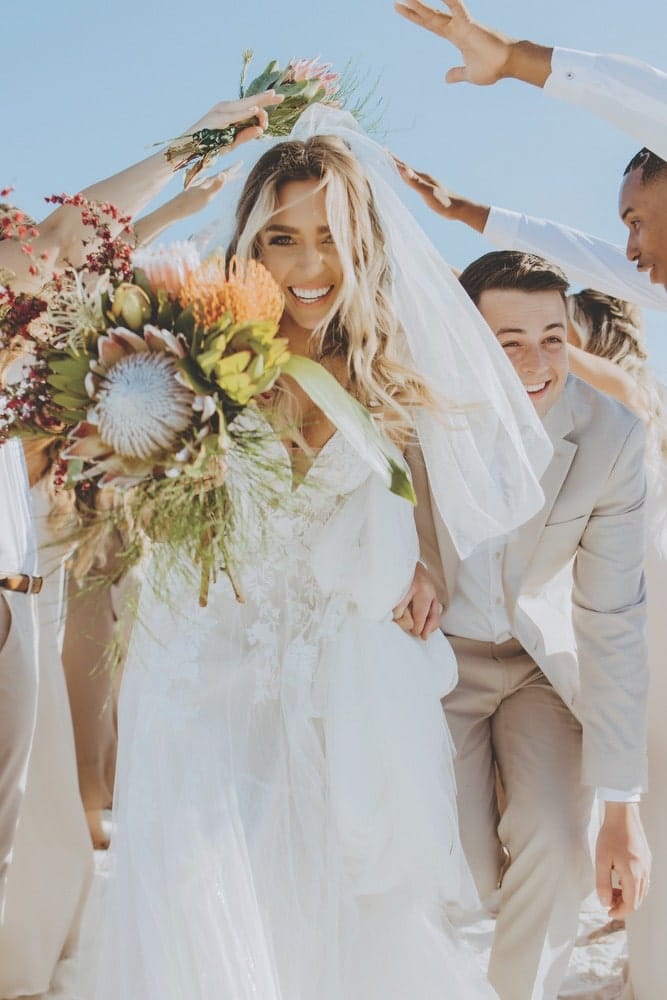 — V —
---
ARTICLE CATEGORIES