A Mother and Son's Legacy
By Lisa M. Burwell
Photography Courtesy of Al-Marah Farms / Liz Crawley of Assistant Trainer Camille Reed
The lonely dirt road, traversing rolling, grassy hills, seemed to go on for miles. The way was so devoid of landmarks and inhabitants that it didn't seem possible that an equine legend lay somewhere ahead. The evening before had been cool with a light dew, but the April sun over Clermont in Central Florida can make a day warm up quickly. Rounding a bend, Al-Marah Arabians suddenly appeared in all its glory with rolling fields of lush green paddocks embroidered with lengths of wood fencing. About thirty minutes due west of Orlando and situated in between Lake Nellie and Little Lake Nellie, this impressive eighty-acre horse farm is home to about sixty prize-winning Arabians with state-of-the-art stables, riding arenas, and amenities.
Al-Marah vice–president Kriss Titus offered a warm welcome. Kriss, whom I knew many years ago when she held the position of director of the South Walton Tourist Development Council in Santa Rosa Beach, Florida, was the motivation behind the story. The stables seemed to be abuzz with excitement. Al-Marah's herd had recently greeted new arrivals. Like a proud father might observe his children at play, Mark Miller stood at the fence to watch over a group of mares nurturing their foals in the wisdom of equine life. Mark, the owner of these magnificent Arabians, looked the quintessential horseman—a tall and sturdy gentleman sporting jeans, boots, and a Stetson—with a kind face and eyes to match. Besides having a personable side to him, Mark had many reasons to smile: thirteen in particular—the number of new Arabian foals. In the past two hundred years, this particular Arabian horse herd has been owned by only three families, with the Millers as the third and current family at the reins. We mingled with the herd while conducting our interview. It was such a peaceful experience and one that I did not want to end too quickly. Watching a mare run in the field with her foal is a breathtaking sight. It brought to mind a quote often ascribed to Winston Churchill: "The outside of a horse is good for the inside of a man."—a quote and sensibility that Mark was all too familiar with. After all, breeding and working with Arabians has consumed Mark's life from the time he was a boy.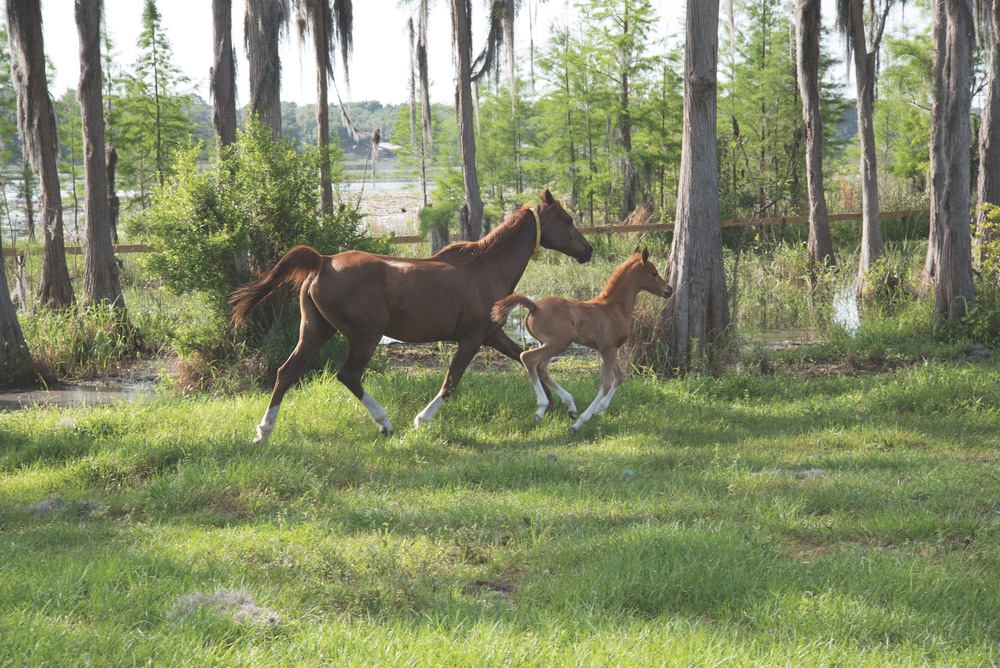 The Al-Marah Heritage
As with all great legacies, it helps to first know where and how the story all began. Ruth "Bazy" Tankersley, with her first husband Peter Miller, founded Al-Marah Arabian Horse Farm in Tucson, Arizona, in 1942. Bazy grew up in the Midwest, the heiress daughter of a conservative Republican father, who was a US senator and owner of daily newspapers, and a mother who was an Illinois congresswoman. While growing up, Bazy fell in love with riding horses on her family's ranches in New Mexico, Wyoming, and Colorado.
In her adult life, Bazy's notable publishing career—including a stint as publisher of the Washington Times-Herald for nearly two years—took her across the country from Illinois to Maryland and Washington, D.C., and then ultimately back to Arizona with the Al-Marah Horse Farm in tow and growing through the years. In the early '90s, Bazy moved a portion of Al-Marah to the Hat Ranch in northern Arizona, where she spent her summers for the next seventeen years and was frequently joined by prominent Arizonian politicians, conservative leaders, and academics.
Throughout her life, Bazy was a generous philanthropist who was concerned with many conservation matters, education, and much more. During the course of her career as a breeder of Arabian horses, which began in 1942, she bred 2,900 foals, a world record to this day. Upon Bazy's death at the age of ninety-one, she donated the $30 million Tucson horse farm to the University of Arizona. In homage to her lifelong legacy and dedication to the Arabian breed, the eight-thousand-square-foot Al-Marah Galleries of the Arabian Horse in Kentucky Horse Park was named in her honor; here, the Arabian breed is showcased from its desert beginnings through its emergence across Europe and America. The interactive exhibit traces—through art, film, and books—the importance of the Arabian and how it has changed the world.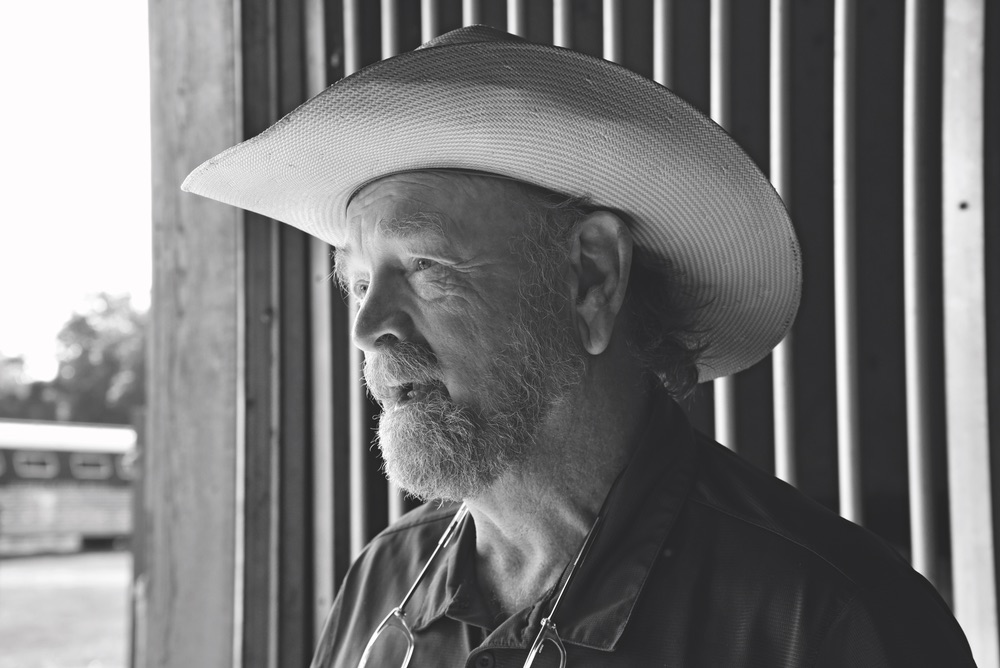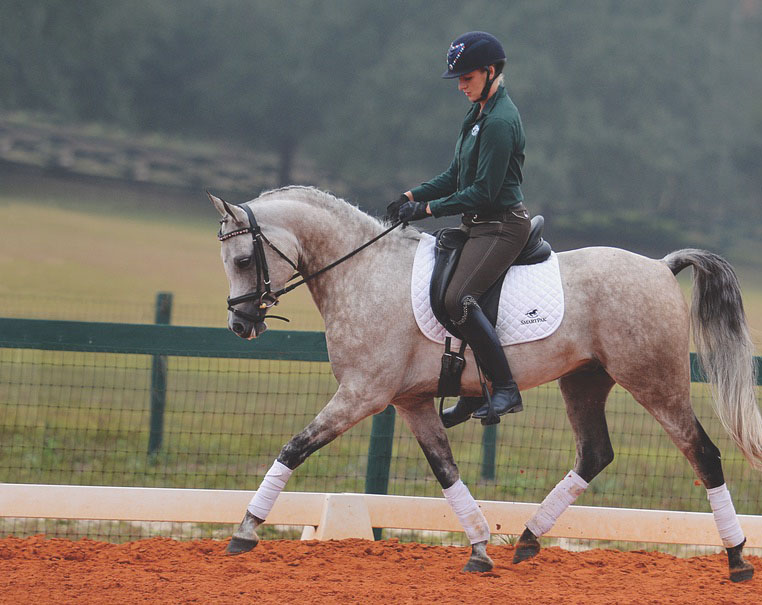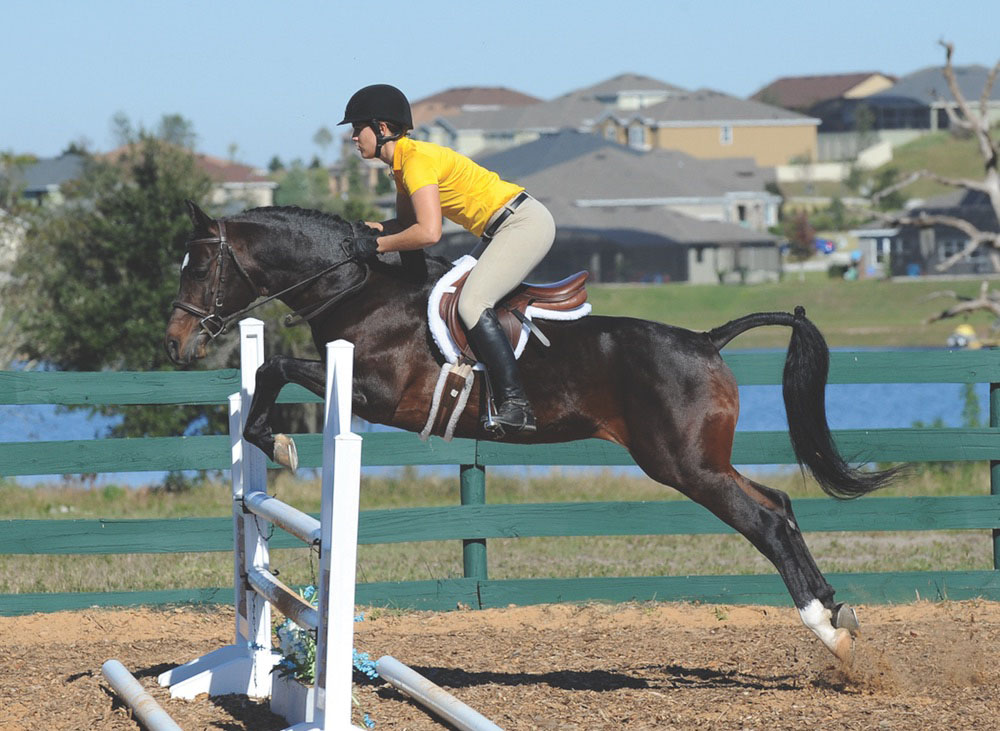 Now the caretaker of the Al-Marah brand, Mark's love for his horses beams from his face. While listening to Mark speak about his mother, Bazy, it was clear that the sorrow of her passing in 2013 was still there. His love, admiration, respect, and even a hint of amusement for her could be heard in his voice. Mark recounted stories about his mother's feisty nature with a twinkle in his eye.
A milestone for Bazy's Al-Marah Arabians came in 1956 when she added the horses from Crabbet Stud and Hanstead Stud to the herd. Pointing out the significance of these two blood lines, Mark said, "Our brand of horses are direct descendants of the first and greatest gathering of Bedouin horses from the Arabian Desert in 1815 by Abbas Pasha while he was Governor of Arabia." The landmark decision made Al-Marah the oldest privately owned band of Arabian horses in the world, with Mark being only the sixth person in its two-hundred-year history to have control of this herd. In addition to the impressive heritage, the new lineage was noticeably superior to the bloodlines that Bazy had previously bred. Within a few years, the quality of the herd began to improve, and within ten years, Al-Marah Arabians were dominating national competitions. It was also around this time that Bazy began to really talk to Mark about taking up the breeding torch. "We are the designers of the Arabian breed," Mark proudly proclaimed.
His legendary string of Arabians had literally taken center stage at the Arabian Nights Dinner Attraction in Kissimmee, Florida, where, alongside acrobats from around the world, they performed a magical fairy-tale story of a princess looking for her prince. Mark founded and orchestrated the crowd-pleasing dinner and theatrical equestrian show 365 days a year to over ten million guests during its quarter-century run. After realizing the hard facts of a changing economy, he closed the doors on New Year's Eve in 2013 to begin the next chapter of his life.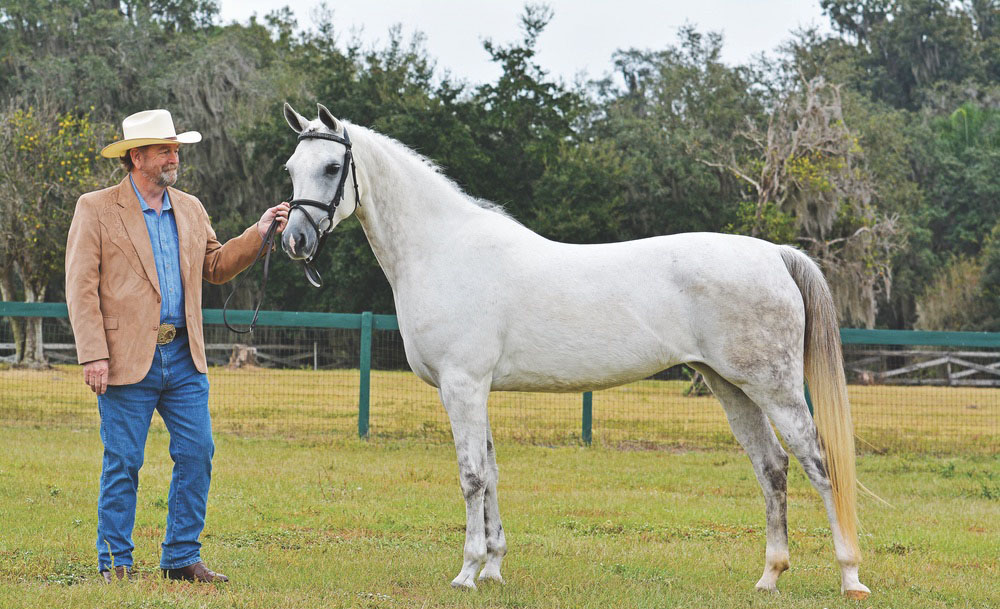 The New Legacy
During the span of our half-day visit, we were able to get up close and personal with several of members of the Al-Marah herd. Along an interior wall of the neatly kept stables was a conspicuously placed wall of fame containing thousands of ribbons and prizes. And, why not? With stall after stall of beautiful Arabians, there was no reason to be bashful about the Al-Marah accomplishments. While waiting for a couple of Arabians to be brought out of their stalls, we killed a little time with some watercooler talk.
As riding instructor Danielle Contarino prepped Kismet for us to ride in the ring, the interview continued with a little show-and-tell. Danielle expounded on some basics of horse care while brushing down the mare and then cleaning her hooves. Throughout the stable, the horses would greet Mark with a "kiss" as he walked toward them, and you could tell that this connection between horse and man went back many years. Demonstrating on Swift, an incredibly patient horse, Mark described the physical features that make the Arabian the special breed that it is. He explained how the flared nostrils and enlarged windpipes make them ideal for long-distance running. Also, for their size, they have an extremely powerful rear end. "It's like a Porsche, a rear-engine car, with all the power right here," said Mark, pointing to the backside of the horse.
As the brand ambassador of the Al-Marah legacy, Mark has an obvious passion and dedication for continuing his mother's good work. He said, "To ensure we are still breeding the warhorse of the desert, an Al-Marah horse must have the following three criteria to ensure the brand is protected: they must be athletes with endurance, agility, and hearts of warriors; they must be beautiful with great Arabian type and correct confirmation; and they must have wonderful dispositions."
Mark continued with stories of the international sport of endurance racing, and it boggles the mind that these horses can withstand all that is required of them, including going through tough terrain and usually a fifty- to one-hundred-mile race. "Arabians have the capacity to use more oxygen more efficiently than any other breed of horse, and they usually always win these competitions."
The Arabian is considered the most beautiful of all horses, and it is the oldest purebred in the world, with the first breeders being the Bedouin of Arabia. These desert tribesmen valued the horse above all else, and treated them like members of their own family, with foals and children being raised alongside one another. The word for "horse" in Arabic means to "walk with pride." Mark explained that Carl Reinhard Raswan (1893–1966) has been credited with keeping the peace between the Bedouin tribes, and during WWI he actually lived among the Bedouin. During the filming of The Son of the Sheik, Raswan served as Rudolph Valentino's stunt double, performing in sequences that required dangerous or fast riding. He is attributed for naming the farm Al-Marah, after the Arabic word for "oasis." Raswan was a connoisseur and scholar of Arabian bloodlines, authoring numerous books on the Asil Arabian horse and the Bedouin people who primarily raised them.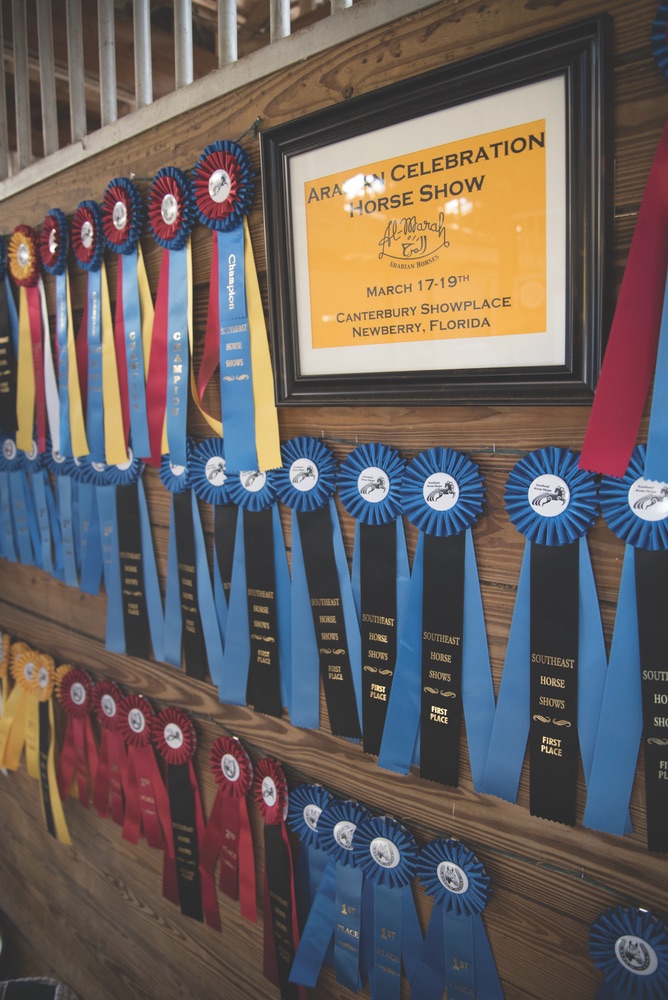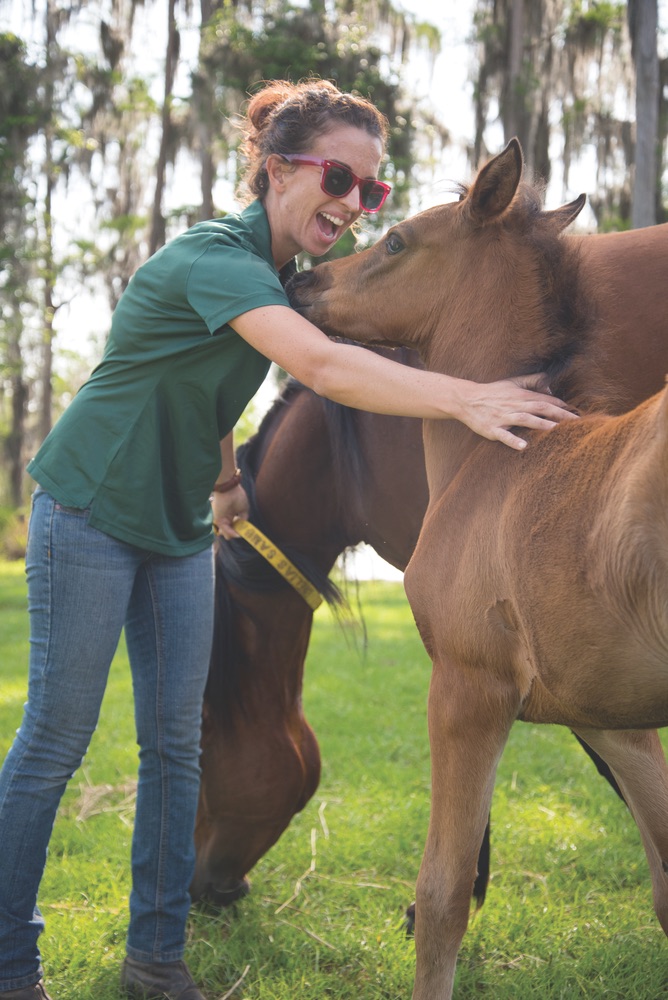 The Islamic prophet Mohammed considered the Arabian horses sacred as they were the cornerstone breed during his holy wars. The growth of the Muslim religion propagated the growth and prevalence of the Arabian horse in North Africa, Spain, and France. The breed is swift, tough, and agile, and these traits are only rivaled by their beauty. They are bred to withstand the harsh desert climate and to have stamina and courage, which is why they shine in long-distance riding. Interestingly, George Washington's horse Nelson was the first Arabian horse in the United States. Washington recognized the Arabian's strengths and crossbred his Arabian stallion with cavalry mounts to strengthen his military. Arabians also have a very strong bond with humans and seek return affection.
There is a lot going on at Al-Marah Arabians, including riding lessons that range from beginner to expert, producing foals, and training everything from a newborn foal to a Grand Prix dressage horse. Coaching and instruction at the National Champion level is also offered there. "The forty National Championships we've won in the last two years mean that we are number one in our industry," said Mark. A robust interactive horse program where one can go to interact with world-famous Al-Marah Champions and former stars of Arabian Nights is also offered; this includes getting up close and personal with the horses in the Paint the Pony program. We had the treat of spending time in the stables with a beautiful white Arabian gelding named Clemy. At first I wanted to forgo actually painting him, but I am glad Kriss prodded me to do so. It was an intimate way of approaching and spending time with this magnificent animal while he quietly let me touch and paint him.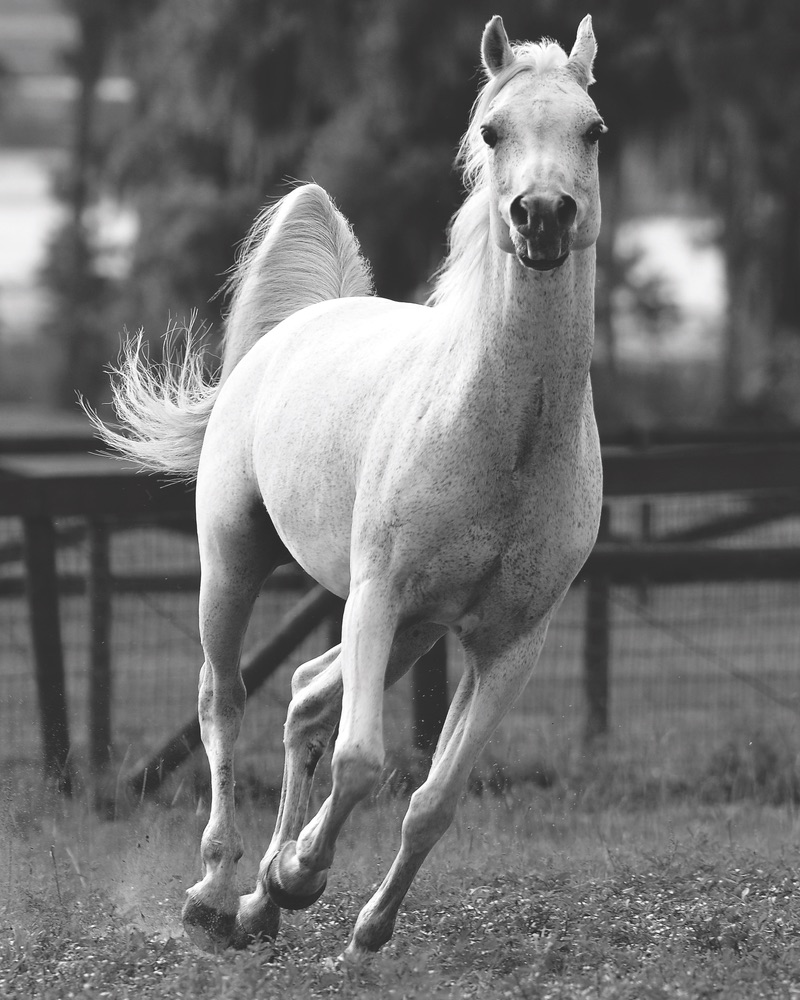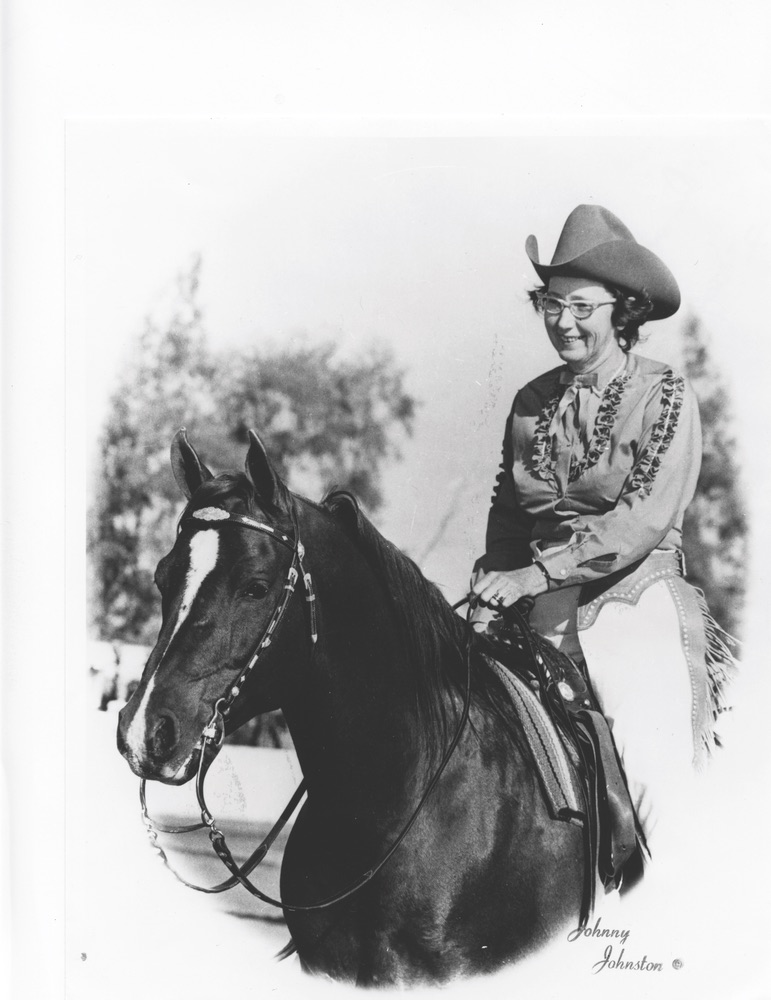 "You can create your own Al-Marah Arabian with our breeding program. Our horses have competed in every event to open shows that include Cutting and Reining, Dressage and Sport Horse Under Saddle, Endurance, Hunters and Jumpers, and Arabian Racing." Mark and his staff have a very aggressive competition schedule that includes dozens of shows each year. Selling and breeding horses is a cornerstone for Mark since he is one of the absolute best in the business and loves what he does.
So, I found my oasis one balmy day in April while spending time on an Arabian horse farm rich in history and legacy. I am glad to have had the opportunity to experience Al-Marah—the most awarded Arabian farm in existence!
— V —
---
ARTICLE CATEGORIES