By Anne Hunter  |  
Photography courtesy of Ladurée
On the day of the blizzard, I bundled up and walked through the snow to Central Park, where kids were sledding and building snowmen and their parents were enjoying an unexpected day off from work. This morning, the city was silent, and when I stopped to peer through a store window, I wondered if Louis Ernest Ladurée had ever imagined, in 1862, from his little bakery at 16 rue Royale, that more than a century later this small Parisian shop would awaken at one of the world's most luxurious addresses—864 Madison Avenue, New York City.
I first spotted Ladurée in the winter of 2010 when I was living on the Upper East Side, subletting an apartment on Seventy-First between Second and Third, for a four-month writing sabbatical from my Florida art galleries. It was the winter of the epic New York City Christmas blizzard and my first stint in Manhattan that was longer than a three-day weekend. Every day, I would walk or run up Seventy-First, past Lexington, Park, Madison, and Fifth to Central Park for a lap around Central Park Lake. On the way, at the corner of Seventy-First and Madison, I would inevitably stop to catch my breath at the window of Ladurée.
The surreal world behind the glass was a confectionary dreamscape, filled with the pastel colors of sweet macarons, stacked high and low, around and between the exquisite decorative gift boxes for which Ladurée is so well known. The spirit of the space spilled out onto the street like an aura to draw me in, but I could only stare and soak it up.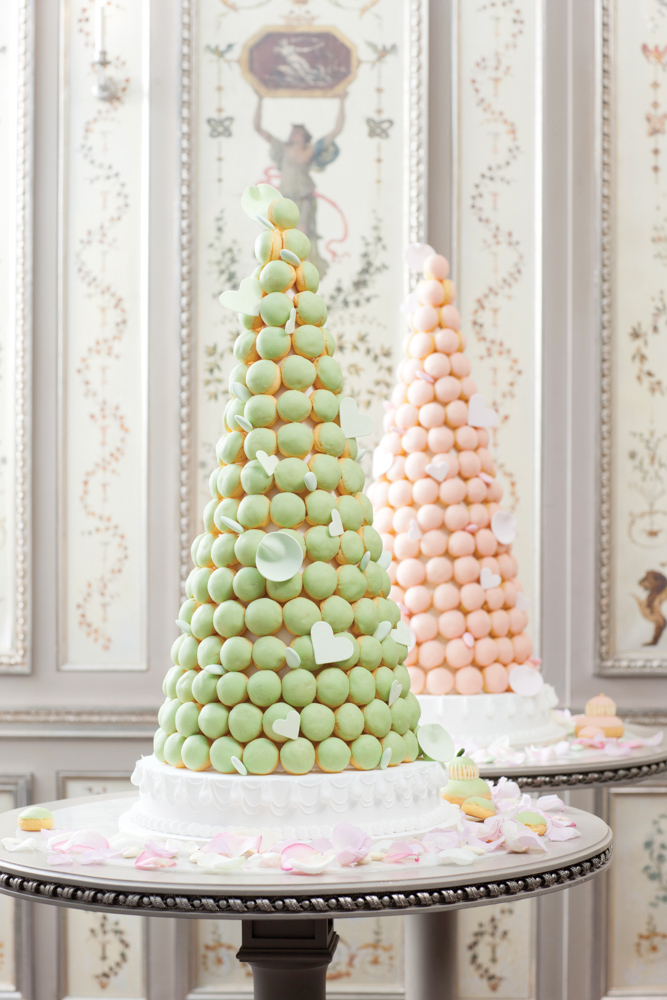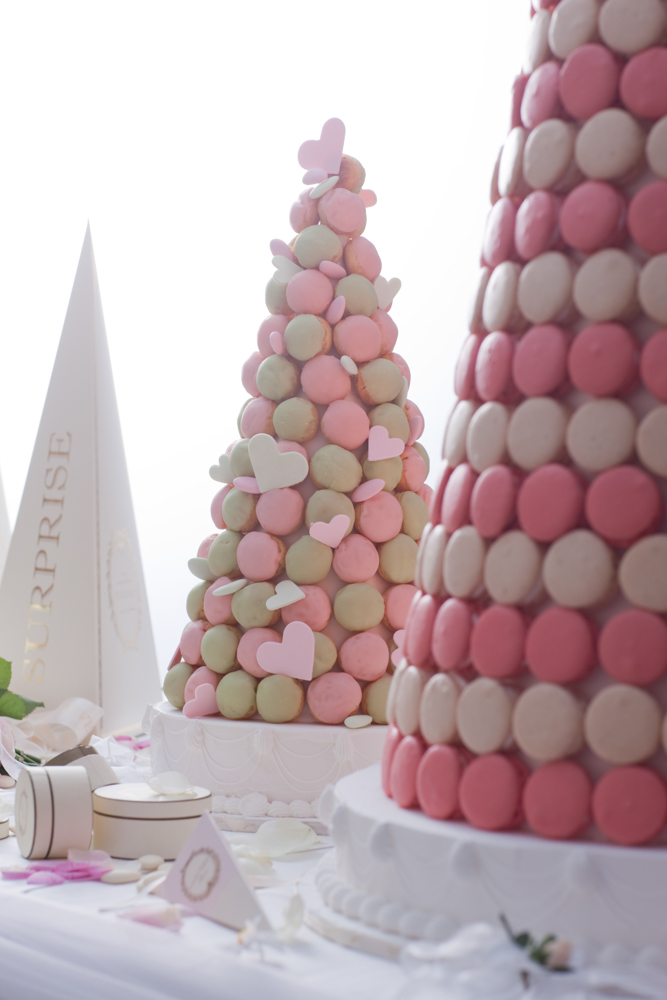 A favorite among the French, Ladurée macaron pyramids boast up to 440 macarons and are the perfect accoutrement for a desserts table.
After that winter, I returned to the beach, but New York City was in my soul. It would be a year before I would move back to the city full-time, and another year before I would finally venture through the doors of Ladurée. I was living in SoHo, working on my books and writing stories for VIE. This time, instead of walking up Seventy-First, I took the N train from Broadway and Prince. I didn't stop at the window, but stepped straight inside. I was on a mission. I had been guided by a friend to see the assortment of flavors for Ladurée's famous pièce montée—the tall, conical tower of multicolored macarons first invented by Ladurée for weddings and celebrations.
I felt the seduction of Ladurée as I maneuvered through a tribe of French-speaking women, toting shopping bags from the world's most coveted Madison Avenue designer boutiques, to find my place in line and overheard a rumor of a tea parlor opening in the fall. Soon I was greeted by the macaron angel behind the counter saying, "How may I help you?" I chose the limited edition Ladurée gift box and had it filled with an assortment of eight macarons to share with my friends back at VIE while I inquired about their cakes. A favorite among the French, Ladurée macaron pyramids boast up to 440 macarons and are the perfect accoutrement for a desserts table. A pyramid could even serve as the wedding cake itself. Either way, Ladurée will certainly add a "wow" factor to your wedding.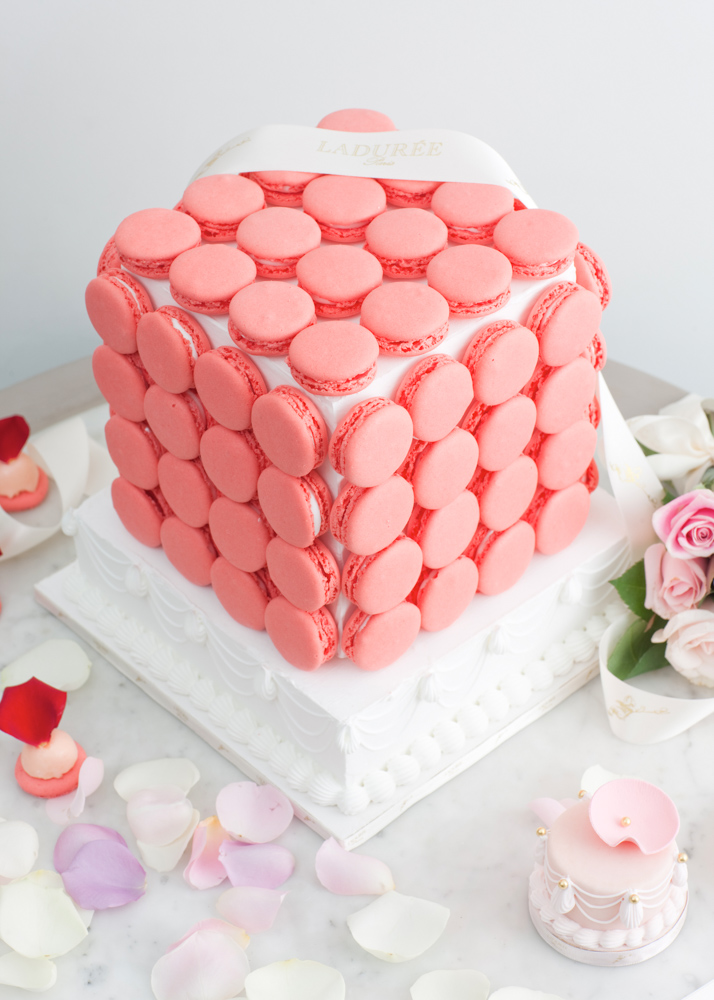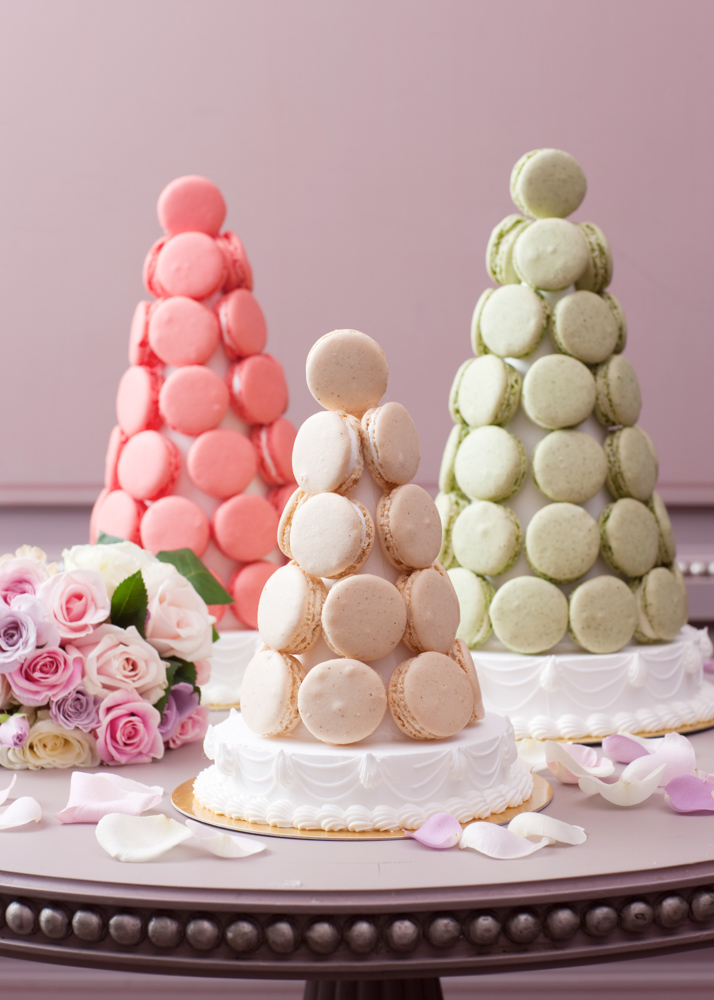 — V —
---
Louis Ernest Ladurée founded his bakery on the rue Royale in Paris in 1862, but his rise to fame came in 1930 when his second cousin, Pierre Desfontaines, dreamed up the idea of a double-decker pastry. The most famous creation of Ladurée, Pierre's small, round macaron cookies are crisp on the outside but smooth and soft in the middle, with a ganache or jam filling. Today, Ladurée has shops around the world, from Paris to Singapore. Their indispensable macarons come in a rich palette of colors, including pastel green (called Ladurée Green), tart violet, and lemon yellow.
864 Madison Ave. New York, NY 10021 Neighborhood: Upper East Side
ARTICLE CATEGORIES