The New Natural Beauty
By Jordan Staggs | 
Photography courtesy of Little Barn Apothecary
Upon hearing the term apothecary, one might conjure up visions of a dark and dusty medieval medicine shop, its shelves lined with vials of varying size and questionable remedies. It's probably run by a grizzled old shopkeeper who may or may not have a cauldron brewing nearby.
Forget all of that, because Joshua Morgan and Brad Scoggins are here to bring the apothecary into the twenty-first century.
Little Barn Apothecary (LBA) seeks to disrupt the modern wellness industry by creating an alternative to the big-name products most people use—products that are often chock-full of chemicals. Morgan and Scoggins launched the brand in Atlanta on January 1, 2015, following months of testing their curiosity and creating a line of all-natural health and wellness products. "We didn't set out to reinvent self-care," says Morgan. "We set out to make it more accessible for everyone and easy to understand; we were honestly doing whatever we wanted. We didn't have any intention of creating a national brand. We had a desire to create something enjoyable, to provide a chic alternative to the typical handmade natural products, and to create a conversation—and also prove that natural is effective and can replace chemical-laden mass-market products."
Transforming their kitchen and den into a production facility, Morgan and Scoggins began to experiment with essential oils, herbs, botanicals, and other natural ingredients to create a boutique line of wellness products for the face, body, and home. Their venture into the market was the online shop at LittleBarnApothecary.com. "I will never forget when Brad hit the button to make our website live," Morgan says. "The excitement was incredible. All our friends and family were anxious to see what we had been creating—two guys in their kitchen and some crazy idea to impact the beauty industry."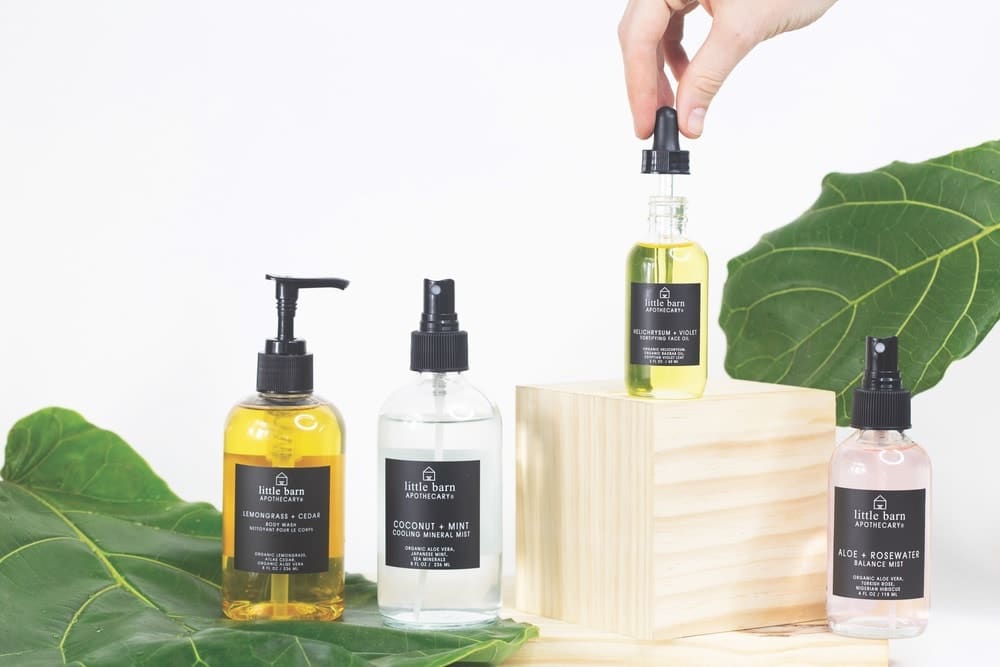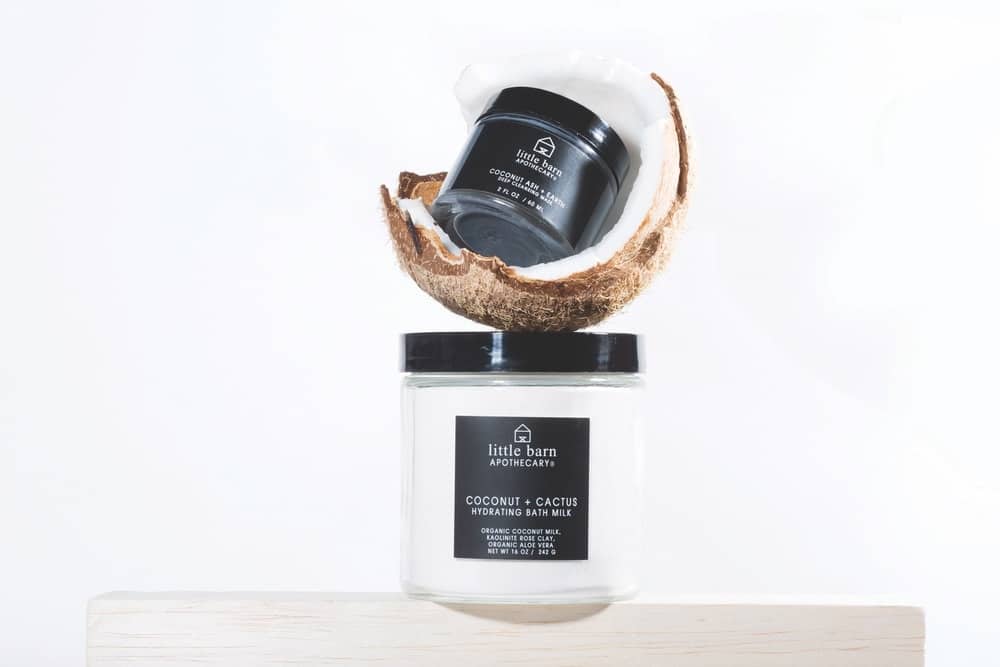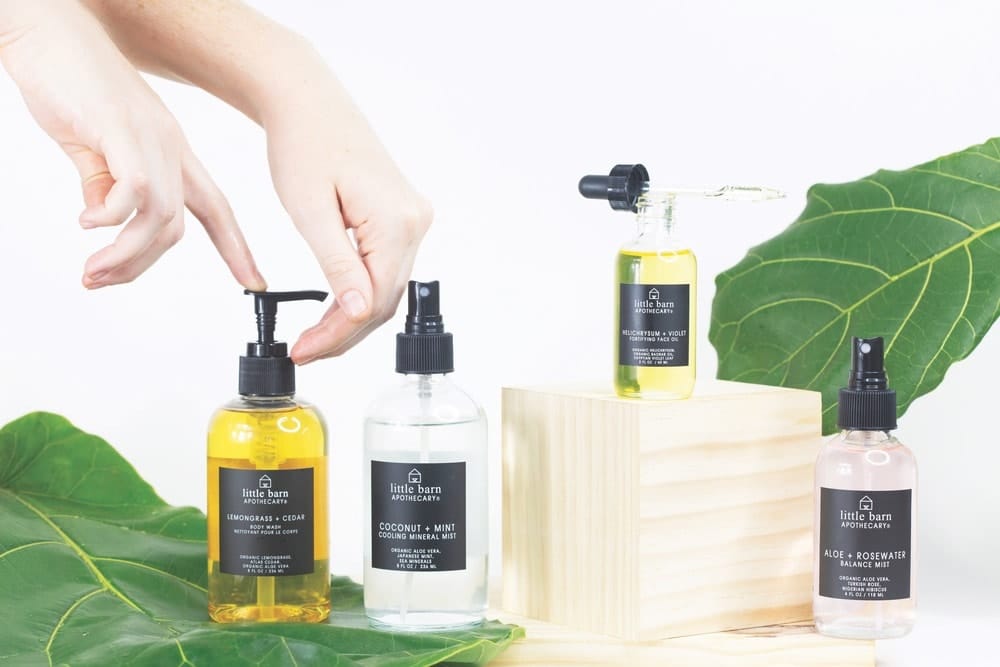 Seeing the website take off was thrilling, but they knew it would take more to grow LBA's brand footprint. Morgan and Scoggins also participated in local markets in Atlanta, pop-up shopping events, and even a few festivals. "We realized we had something special when we began selling out of products at the events we would attend," Morgan recalls. Stocking up for their loyal local shoppers became harder as the fan base grew.
"Production was the biggest challenge, especially in the beginning," Scoggins says. "We began by producing our products right in our home kitchen, and, as you can imagine, we ran out of space quickly. We didn't have the sales volume at the time to make much of a change, so we decided to utilize our third bedroom as a production lab." He later moved the den and dining room furniture to make way for more production space as well as packaging and shipping materials. "The transformation allowed us to continue for a few more months until we needed to receive palletized glassware for packaging. After a few semitrucks parked in the neighborhood and our neighbors became inquisitive, we decided we needed a warehouse and production facility. Fast-forward a bit and two relocations later, we are now in a much larger facility that houses our offices, manufacturing, shipping, and development under one roof. Our first production assistant is now our operations director, and we have a small team of production assistants."
"To be honest, it was a significant risk, and everyone told us retail was dying. We didn't listen."
What began as a niche brand created at home with hand mixers and mixing bowls expanded to commercial-sized vats and equipment, allowing LBA to grow and thrive. The line offers a wide range of products, including 100 percent vegan and cruelty-free face and eye serums, lotions, face and hair masks, exfoliants, body oils, cleansing mists, balms, shampoos, fragrances, candles, and more. Two fan-favorite products are the Charcoal + Aloe Face Cleanser and the Honeysuckle + Grapefruit Body Oil.
Thanks to their following from the web, events, and festivals, Morgan and Scoggins kept selling out of inventory and expanding production, and then began meeting with beauty editors and retailers around the US. Wholesale wasn't in their original business plan—which, Morgan jokes, they still don't have—but it's now a robust part of LBA, with products available at over 1,350 retailers and spas nationwide, including Dillard's and Ulta Beauty stores.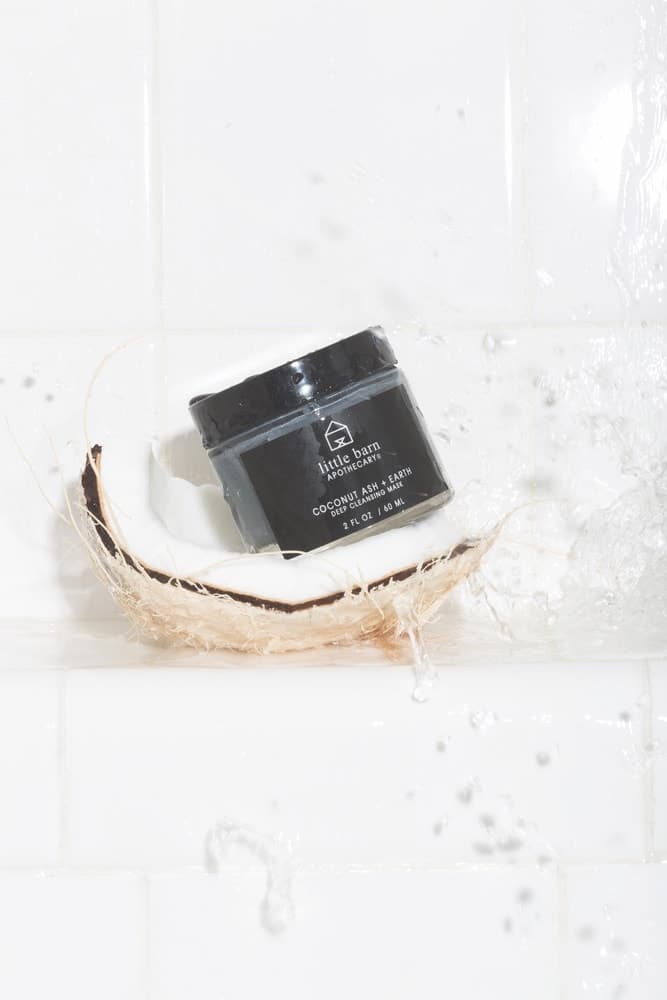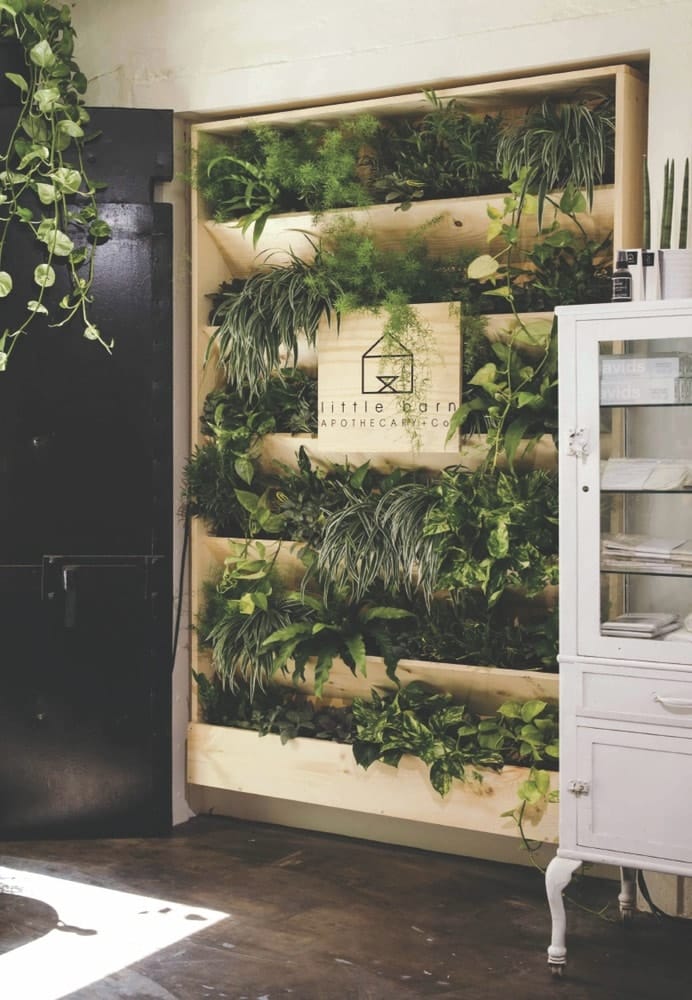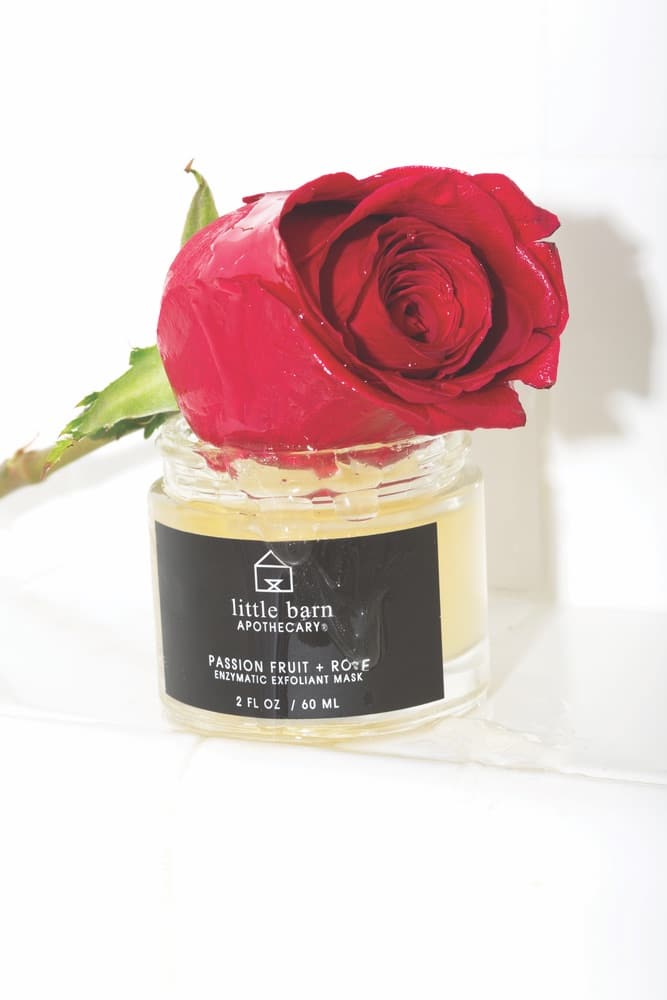 LBA's first brick-and-mortar store opened in a four-hundred-square-foot boutique space in Atlanta in August 2016. "To be honest, it was a significant risk, and everyone told us retail was dying," Morgan shares. "We didn't listen. We love to shop in small boutiques, especially niche specialties, and we saw a surge in this type of business across the country." In 2018, they opened a second location at the Shops at The Hub in Watersound, Florida, nestled among the beautiful beach communities along Scenic Highway 30-A. It was a natural fit (pun intended). "30-A is just a breath of fresh air, and we love the area. After visiting for a few vacations, we knew we had to find a way to introduce LBA. We searched for concepts similar to ours locally and kept coming up blank. We knew the community embraced wellness as a lifestyle and also appreciated unique finds—we even knew we would be a bit pioneering with some of our favorite products. But we could feel the energy of 30-A and how it embraced us as people and also seemed to embrace the brand. We are so happy to be here and look forward to a long and exciting experience."
A visit to one of LBA's stores is, of course, nothing like that dark apothecary concept of old. Shoppers can expect lots of natural light, simple decor, greenery, and, of course, delicious aromas from the many products available. "We didn't design a shop with four walls; we developed an experience," says Morgan. "We dreamed up a concept to personify the brand and create a lifestyle. Our expectation for each customer is that when they enter one of our shops, they have a sense of calm and a connection to their well-being."
"The industry of wellness has shifted dramatically in the past decade, and we are looking forward to its continued evolution."
This ethos goes along with the brand's entire mission to find a balance between the over-the-top high-end brands and the lackluster farmers' market offerings; LBA combines all-natural ingredients that work with a chic yet straightforward brand and packaging. They aim to educate as well as help customers revolutionize their wellness routines by taking it back to basics. "We believe in conversation and find it essential to meet our customers, share our story, and open the doors to showcase LBA visually. We are more than bottles on a shelf and more than a brick-and-mortar shop. Having both physical and online shopping is the only way to provide everything we want to convey with our brand."
Within LBA's two shop locations, visitors will also find a small curated selection of other wellness brands, apparel and accessories, and home goods handpicked by Morgan and Scoggins to create a well-rounded collection.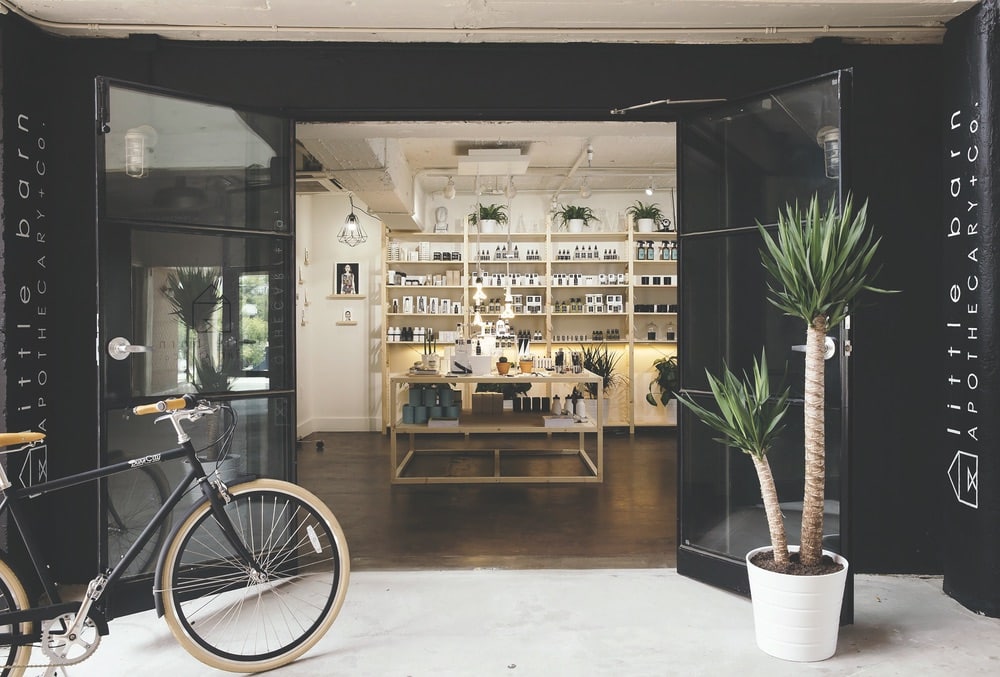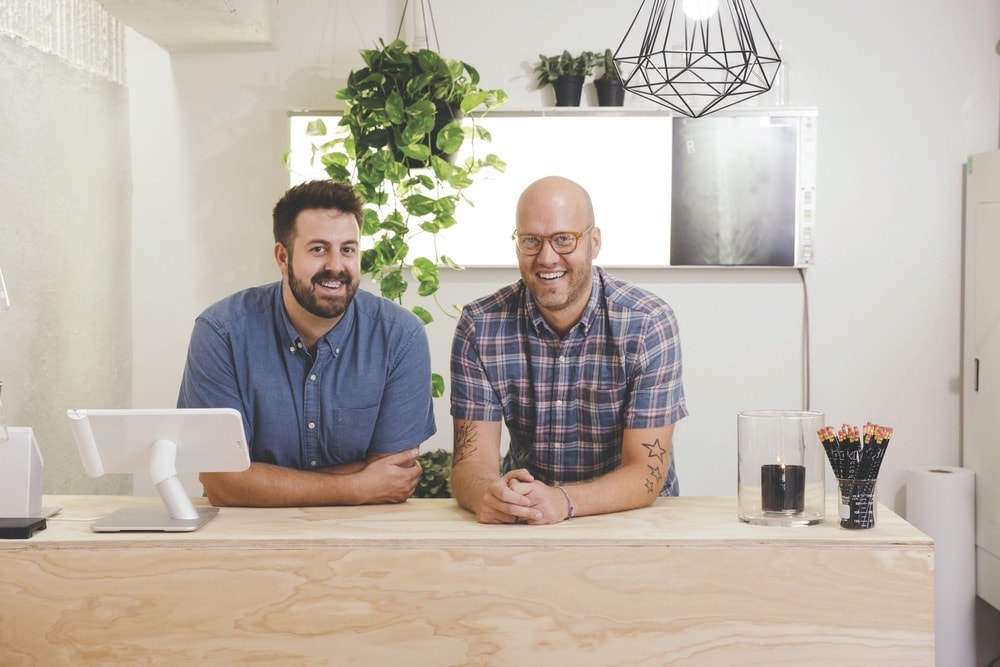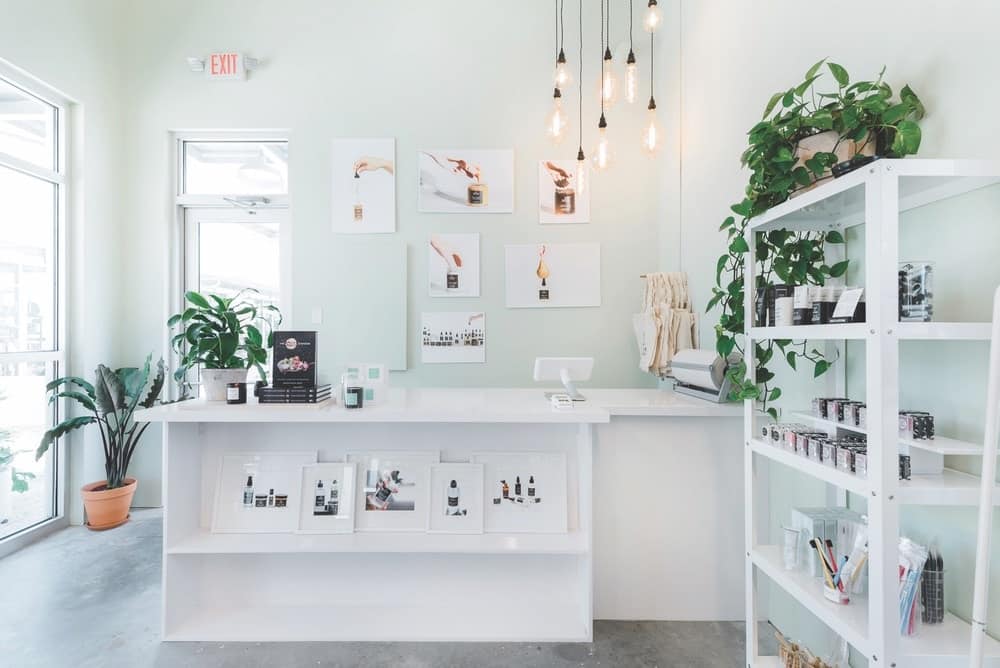 They hope to continue to expand and adapt as the beauty and wellness industry continues to change. Opening a new shop in Chicago is also in the plan for early 2020, along with relocating the Atlanta store to a larger location. "We are excited to see the adaptation of past techniques into the modern age," says Morgan. "The industry of wellness has shifted dramatically in the past decade, and we are looking forward to its continued evolution. Wellness should be an essential part of life, and LBA will continue to impact that by providing accessibility and education."
Whether their impact comes in the form of new products, interactive events, and educational sessions, or a further expansion of LBA as a complete lifestyle brand, fans will have to wait and see. But Little Barn Apothecary is committed to keeping its vision alive by helping consumers live well and feel incredible. As Morgan says, "You never know what we will dream up."
— V —
---
Visit LittleBarnApothecary.com to shop online, find retail locations, and learn more about the brand.
Stay Well with LBA Favorites
Lavender + Frankincense Original Oil
Co-owner Joshua Morgan's pick was the brand's first product: a soothing, hydrating treatment for bath, face, hair, or any area of the body that needs a little extra TLC!
Charcoal + Aloe Face Cleanser
This top-selling cleanser offers "complexion perfection" with organic aloe vera and an herbaceous blend of cajeput and basil essential oils. Co-owner Brad Scoggins loves that it doesn't excessively strip the skin like many charcoal-based products.
Honeysuckle + Grapefruit Body Oil
This luxurious daily moisturizer is crafted with organic skin-perfecting oils for intense moisture and a glistening, youthful glow. It's an indulgent journey through fields of white, sun-drenched blossoms, lightly kissed by delicate pink citrus.
ARTICLE CATEGORIES