Tips from a Celebrity Closet Designer for Ultimate Organization
Courtesy of Lisa Adams, L.A. Closet Design | Photography by Meghan Bob
We've all seen those aspirationally organized closets on home decorating shows and thought, "That's nice, but it could never be me." With perfect lighting, meticulously organized accessories, and a clear view of every item, these closets allow us to imagine a life where getting dressed is much easier. Enter Los Angeles-based closet designer Lisa Adams. She has turned this dream of effortless elegance and organizational bliss into reality for her fortunate clients through her company, L.A. Closet Design.
Drawing from her design background and a keen aesthetic eye, Adams optimizes space while attentively meeting her clients' needs. Her philosophy is simple: she is dedicated to cultivating peace and beauty within spaces that often lean toward chaos, emphasizing that closets don't have to be unruly. With high-profile names like the Kardashians, Reese Witherspoon, and many more on her client roster, her approach clearly resonates with those with an eye for fashion. Lucky for us, Adams has shared her top ten tips that anyone can implement to introduce more function and sophistication into their daily dressing routine. These versatile tips are helpful for closets of all sizes and contents. After all, since getting ready often feels like an Olympic feat, why not set ourselves up for success?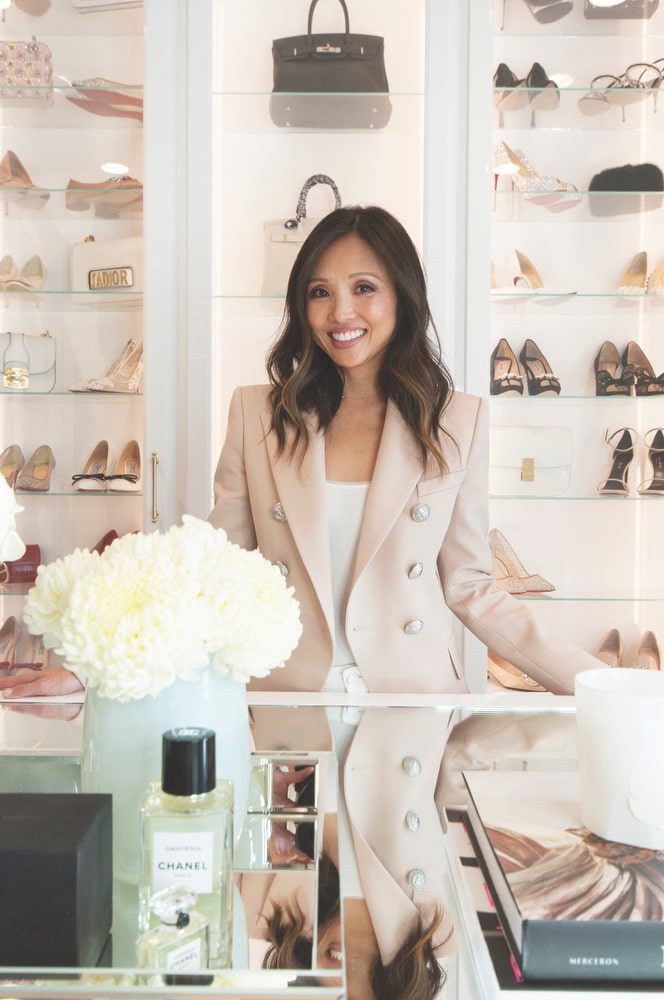 Purge regularly:
You want to ensure the items you bring into your dream dressing room are genuinely the pieces you love and will wear! If something doesn't fit or isn't being worn, take action. Tailor it, donate it, or consign it!
Invest in the right hangers:
Investing in hangers is an easy way to elevate your closet's look instantly. Not to mention, using proper hangers for sweaters, suits, and outerwear will extend the life of your clothes.
 Install valet rods everywhere you can:
The secret weapon for a functional closet is the valet rod. A valet rod is a pull-out rod or bar installed to provide temporary hanging space. They usually retract or push back into the side of the closet when not in use to save space. Every closet needs at least one; if you have room, the more, the merrier.
Customize your drawers:
Outfitting drawers with appropriate compartments makes your life so much easier. You can find smaller items like jewelry, wallets, clutches, and matching socks much faster. Partitioning deeper drawers for folded tees, sweaters, and sweats means never having to dig.
Her philosophy is simple: she is dedicated to cultivating peace and beauty within spaces that often lean toward chaos, emphasizing that closets don't have to be unruly.
Create a staging area:
Staging areas are great for keeping your closet organized! I like to design a dedicated spot for clients to hang new and incoming pieces or to stage their looks. This ensures items don't get lost in the closet, making getting dressed or packing for a trip much more accessible.
Have a system:
I like to organize clients' clothing by style and color, so finding the piece you're looking for is always easy! Whatever your system is, stick to it.
Good lighting is crucial:
I like incorporating lots of lighting in the closet, with functional in-cabinet and decorative fixtures. You want to be sure the lighting temperature is correct so you can distinguish the color of your clothes. Wherever possible, automated lighting is a great addition.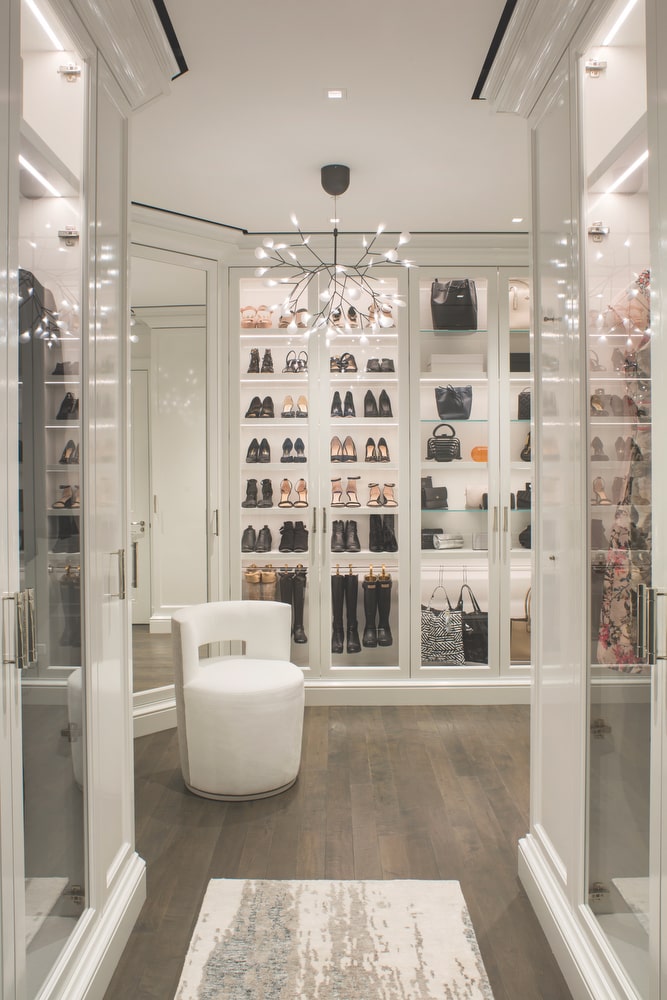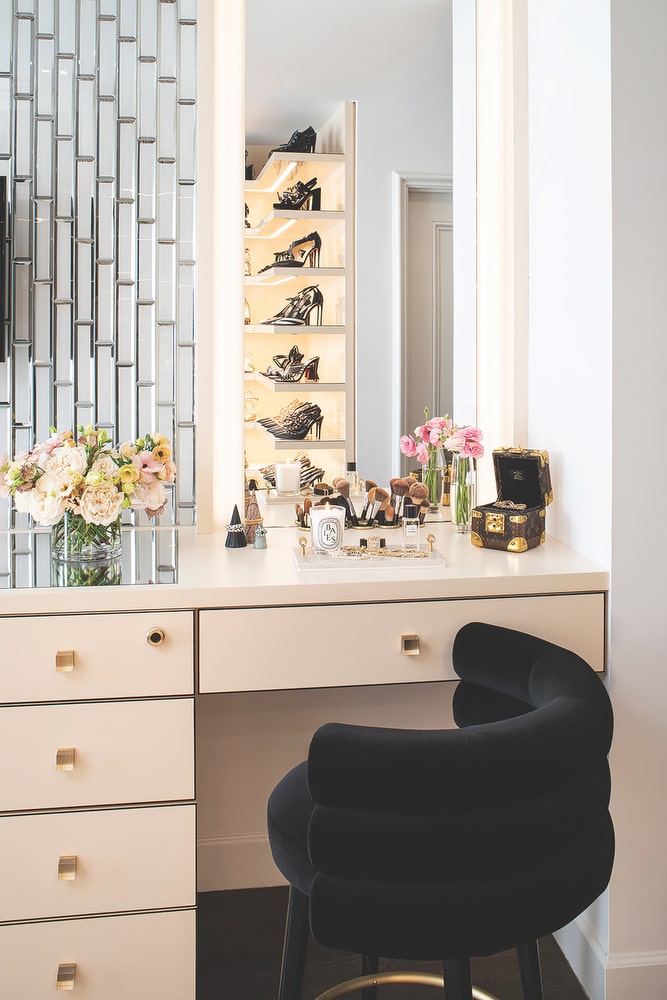 Accessibility is key:
If you can't see something in your closet, you won't wear it. Easy access to everything in the closet has to be a top priority. This means having shelves that pull out so you can access the items in the back, hanging rods that lower for easier reach, and sliding ladders to make the upper areas of your closet more usable.
Protect your investments:
Often, accessories are the most valuable pieces in our closets, and they end up overlooked! Care for your designer bags with properly sized purse pillows and appropriate shelf heights so nothing gets crushed or creased. Incorporate safes, watch winders, and suede jewelry inserts to secure all your valuables.
Make the closet a place you want to be:
This means incorporating creature comforts like beverage stations, vanities, TVs, and seating areas. The more you take pride in your closet and want to be in the space, the more incentive you'll have to keep it organized!
— V —
---
Visit LAClosetDesign.com to learn more or book a consultation with Lisa Adams or her teams in LA, NYC, Aspen, and Nashville.
ARTICLE CATEGORIES