Ancient Wonders and Modern Delights
By Carolyn O'Neil
Istanbul continues to lure world travelers to its magnificent metropolitan destination on the Bosporus Strait. Physically unaffected by the recent earthquake in the southern part of Turkey (also spelled Türkiye), hotels, restaurants, historic sites, shops, and museums in Istanbul are open for business and bustling. Istanbul is uniquely situated in Europe on one side of the strait and Asia on the other, so it's literally positioned where East meets West. Simply cross a bridge and enjoy two continents in one day.
There are many worlds to discover when visiting Istanbul, with multiple layers of history revealed through spectacular ancient architecture. Founded as Byzantium by the Greeks, it became Constantinople as the eastern capital of the Roman Empire and then was renamed Istanbul by the conquering Ottomans. Today, Istanbul is the largest city in Türkiye and the country's economic, cultural, and historic hub known for its many glittering mosques and palaces.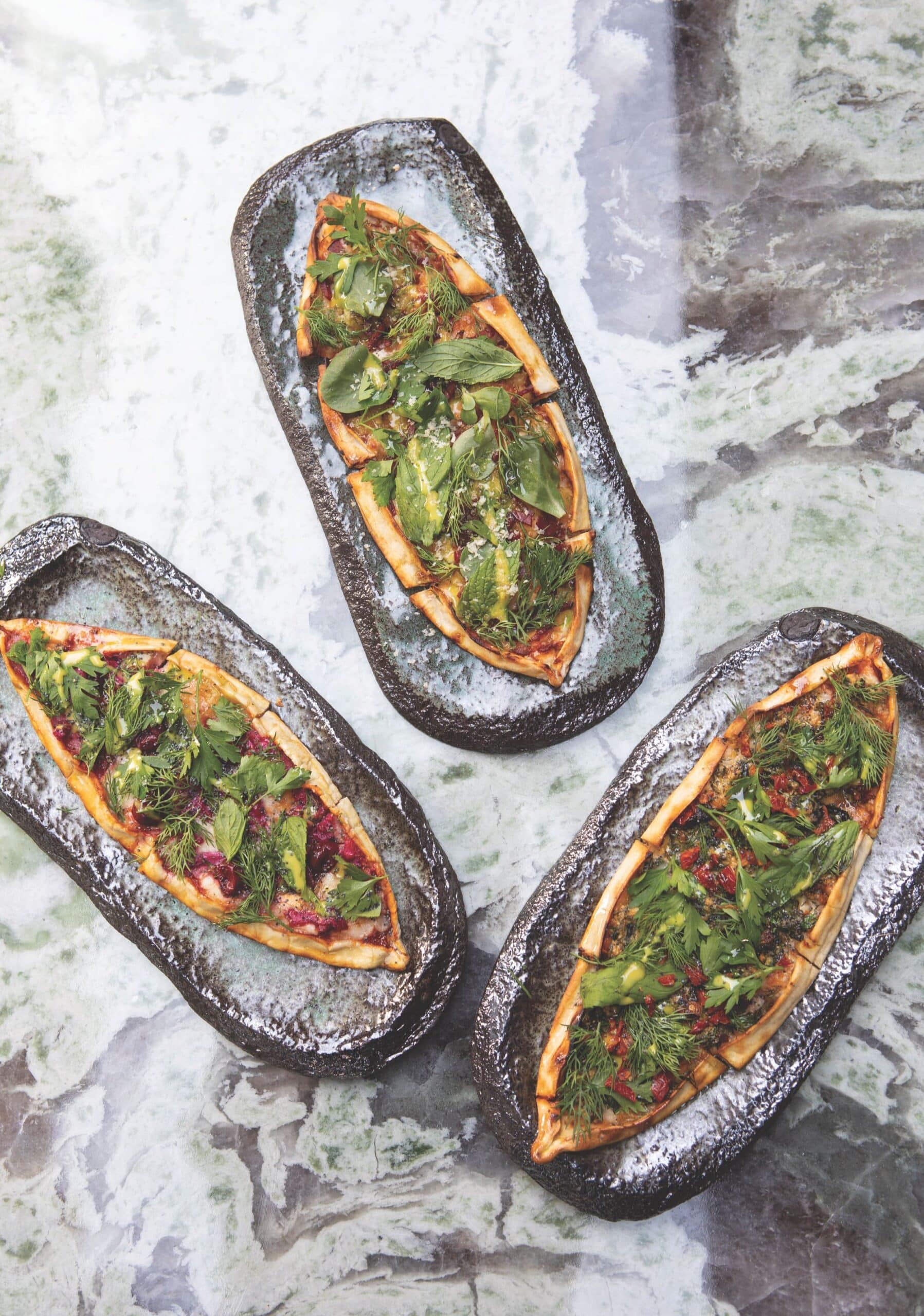 The Hagia Sophia, one of the oldest holy shrines in the world, was initially built as a cathedral and then converted into a mosque with the addition of towering minarets used to project the Muslim call to prayer. Arrive early to avoid long lines, and note that women are asked to wear a headscarf to respect tradition.
Nearby is another dramatic landmark, the Blue Mosque, so called because of the countless brilliant blue tiles inside the structure. You can see what it was like to live like a sultan at Topkapi Palace, a complex of magnificent courtyards and exquisite buildings, including the largest kitchens in the Ottoman Empire. For a 360-degree view of Istanbul and its waterways, climb to the observation deck of the Galata Tower. It was the city's loftiest building in the 1300s and still stands tall on the skyline today.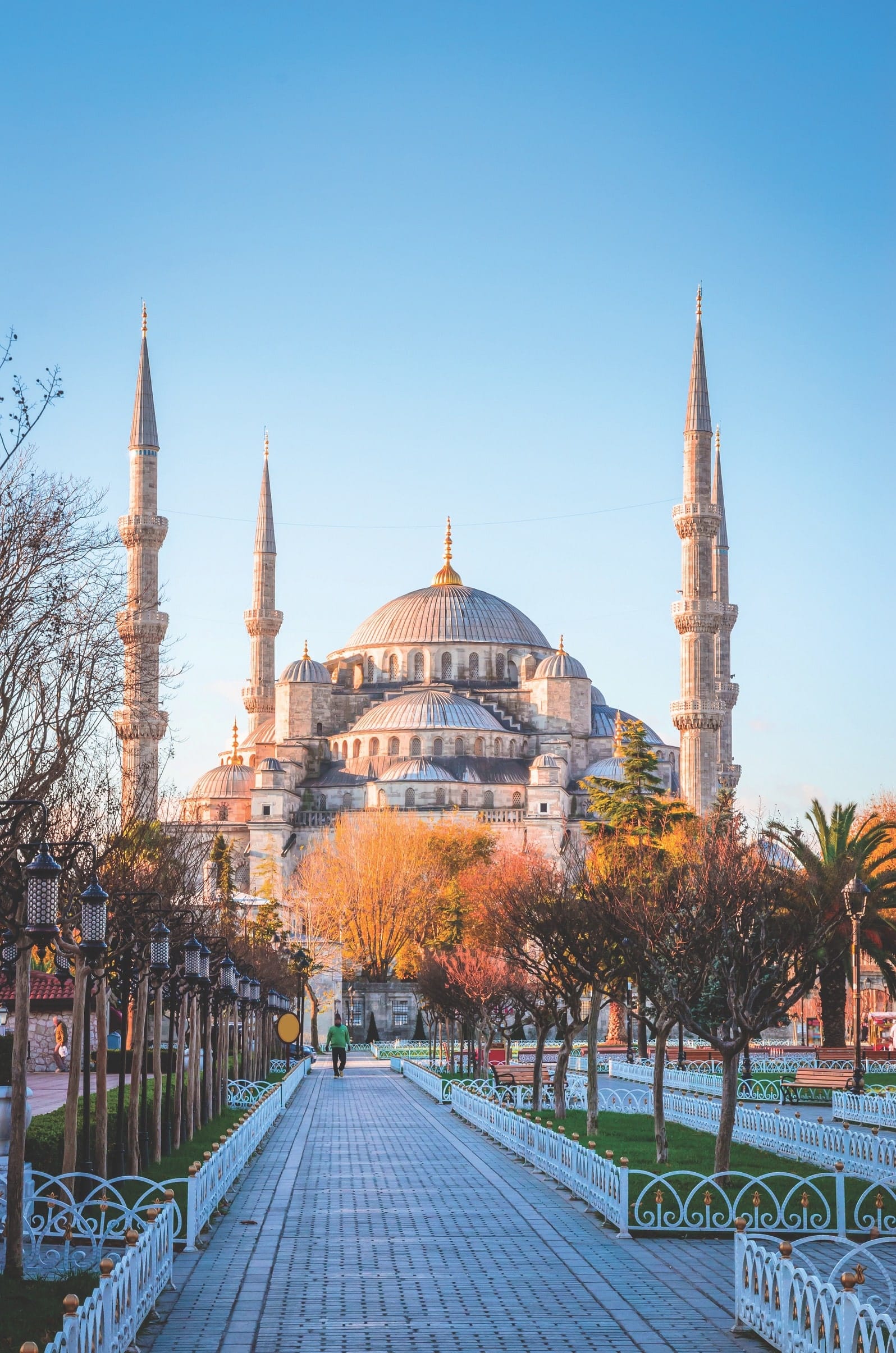 More recent history is revealed in the Pera area, now called Beyoğlu. Here you'll find bars, cafés, arts, music, and Istiklal Street—a vast shopping avenue with everything from Zara's latest fashions to Mandabatmaz Türk Kahvesi, one of the best places to sip meticulously brewed Turkish coffee.
You can sleep, or at least enjoy a cocktail, surrounded by history at the luxurious Pera Palace Hotel, which was built in this district in 1892 for hosting passengers of the Orient Express. Its exceptional period furnishings, decor, chandeliers, and artwork make you feel as if you are time traveling to the early 1900s with the characters of the hit Netflix show, Midnight at the Pera Palace. Not new to books or movies, the Pera Palace Hotel is where Agatha Christie is said to have written the novel Murder on the Orient Express.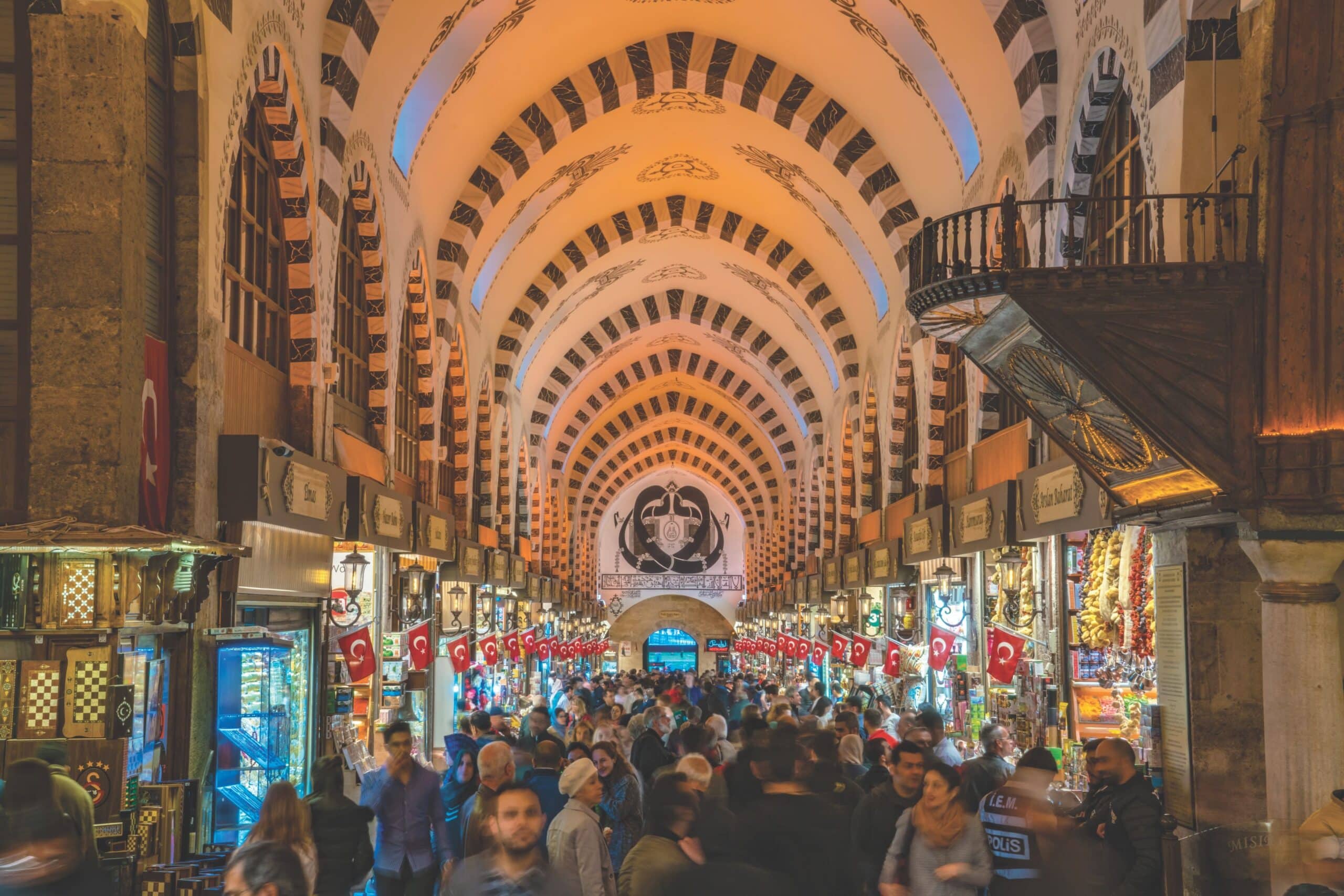 Modern Istanbul
Today, gleaming skyscrapers, luxury hotels, contemporary retail developments, and rooftop bars and restaurants add fresh energy to this historic city. Whether new construction or thoughtful renovation of older buildings, much of the architectural focus has stayed the same over the centuries: prioritizing expansive waterfront views.
The latest addition to the hotel scene is the Peninsula Istanbul, with a compound of glamorous buildings and gardens overlooking the Bosporus. The hotel is located within the Galataport, a lively waterfront development in the fashionable Karaköy district.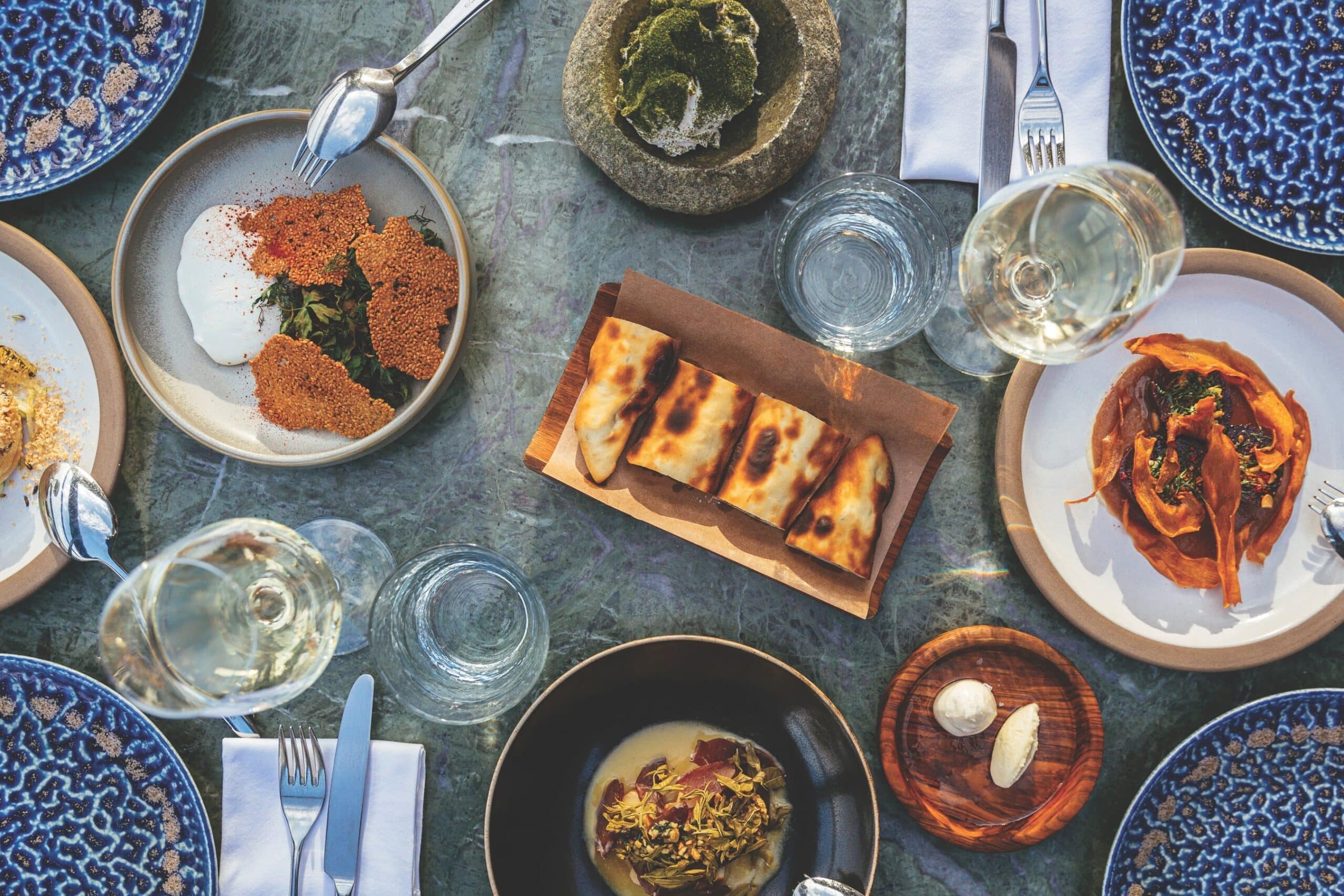 The Galataport is home to many new restaurants, including Muutto Anatolian Tapas Bar, which offers a marvelous take on the tradition of meze, or Turkish tapas. Just sit back and enjoy as the small dishes with big tastes keep coming to the table! One of my favorite food discoveries is the deliciousness of pide, an elliptical-shaped Turkish flatbread topped with vegetables and herbs.
A Center of Trade
Once the end of the Silk Road, the route for precious goods flowing from China and India to the Western world, Istanbul is still an epicenter of trading in busy marketplaces. Enter the winding aisles of the overwhelming Grand Bazaar under an arch dated 1461, and you walk into one of the world's oldest and largest covered markets. There are over four thousand merchants selling carpets and kilims, gold jewelry, engraved metal tea sets, lamps and lanterns, colorful ceramics, and leather crafts, just as shopkeepers did centuries ago. But today, you'll also find a cache of counterfeit designer fashions and many cashmere pashmina scarf shops. While retail temptations abound, remember to admire the vaulted mosaic ceilings, and make sure to mark a meeting spot in case you wander too far from friends.
Shoppers tip: For the best pashminas, ask the seller or look for tags that say 100 percent pashmina or a percent blend of cashmere and silk. Don't like the price? Feel free to bargain or move to the next shop!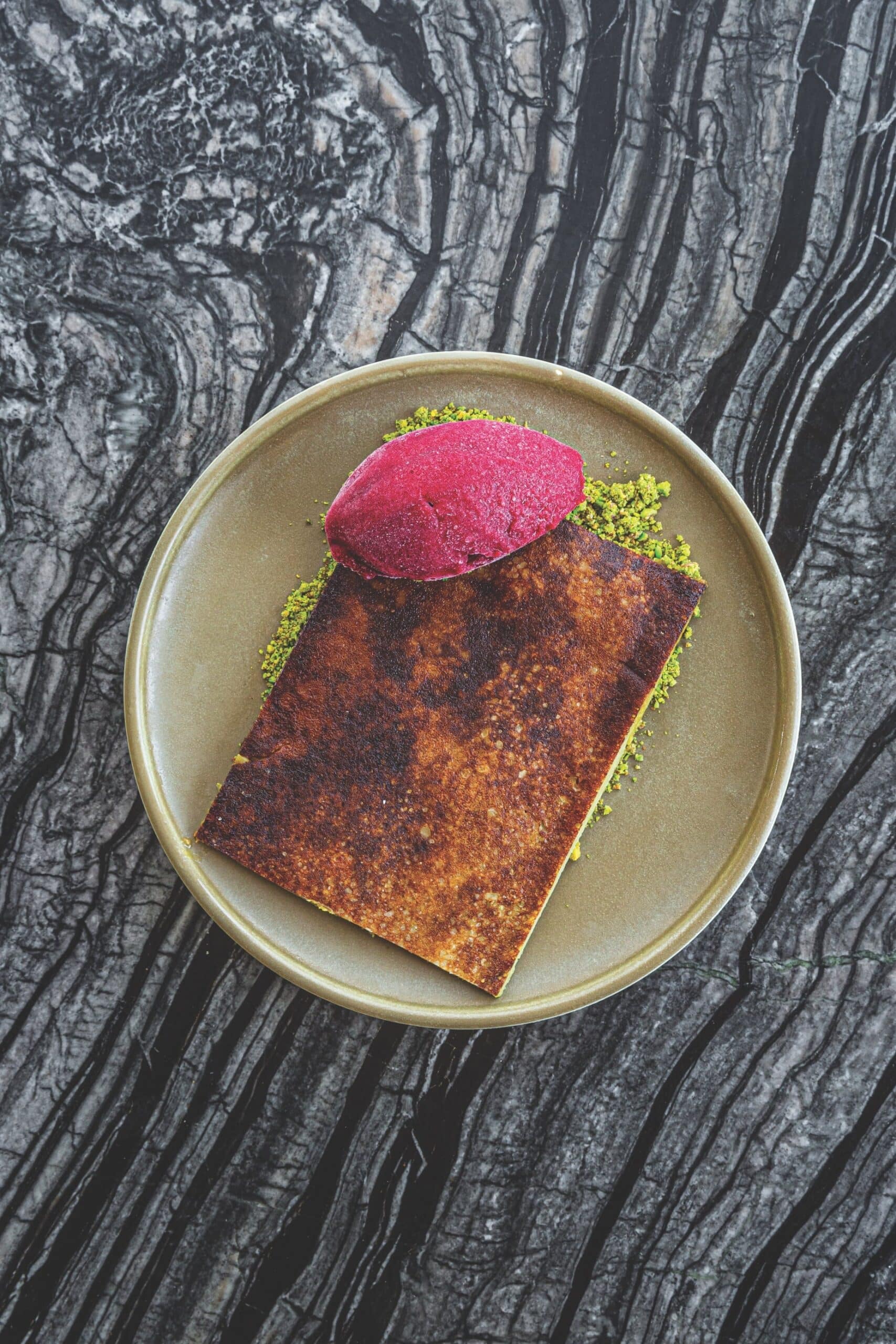 On to the food court! The "new" Spice Bazaar, built in 1660, is an aromatic carnival of coffee, teas, dried fruits, nuts, pomegranates, Turkish delight sweets, and a kaleidoscope of colorful spices and herb blends.
Shoppers tip: Vendors will vacuum pack your spice purchases, keeping them fresh and safely sealed to place in your luggage.
I hope others will take the opportunity to visit the city and experience Türkiye's colorful and diverse culinary heritage waiting to be discovered!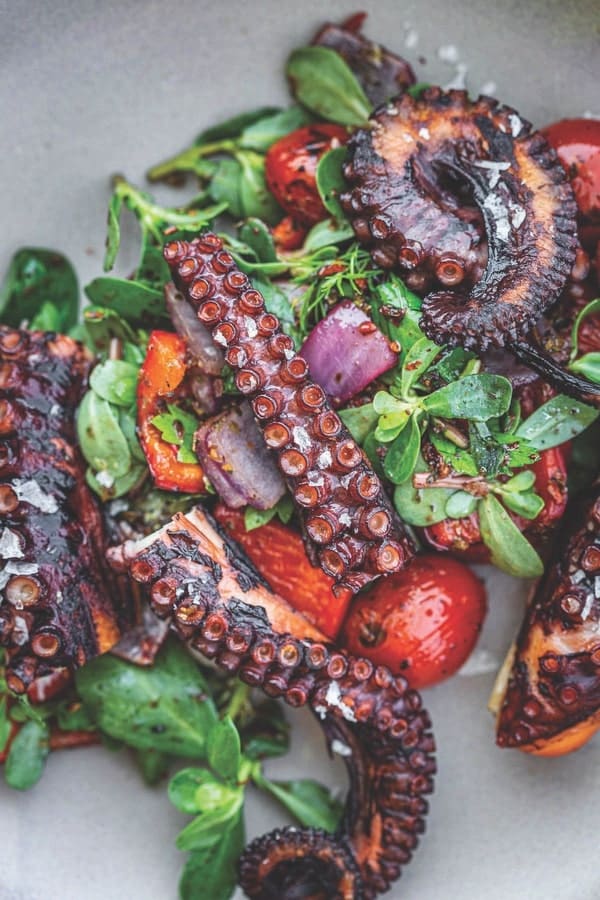 The merchants are friendly and eager to share samples and a conversation. I loved tasting sips of Turkish tea perfumed with dried roses and sniffing the varying qualities of saffron. It's a great way to get to know the Turkish people and to hear how grateful they are for visitors today.
Türkiye is a major world tourist destination, and many people here are dependent on these revenues after being affected by pandemic shutdowns—and now they fear news of the earthquake will affect tourism numbers.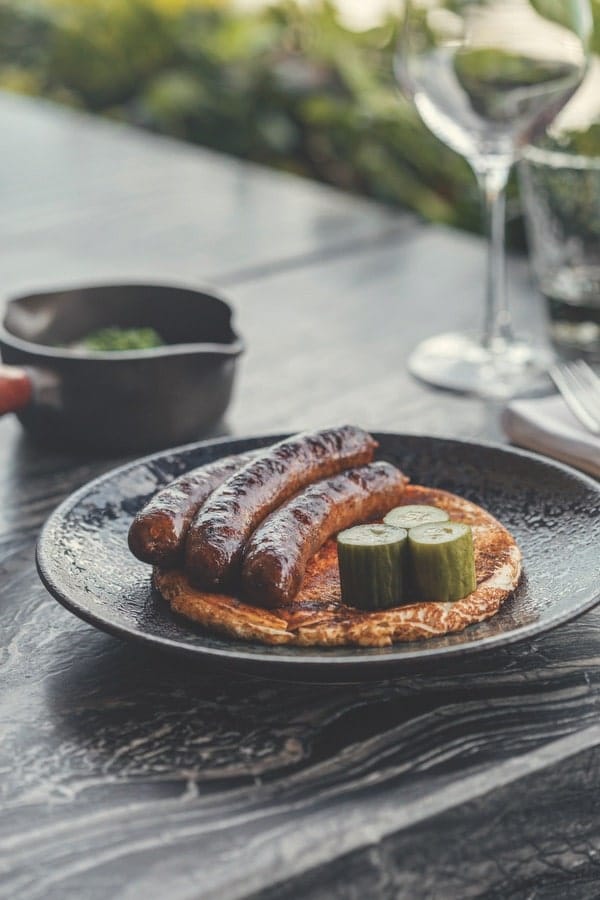 "Istanbul is far from the areas hit by the earthquake and will not present a problem to anyone wanting to visit its beautiful shores," says Mona Sunshine, Honorary Consul General of Türkiye in the state of Georgia. "I hope others will take the opportunity to visit the city and experience Türkiye's colorful and diverse culinary heritage waiting to be discovered!"
A Taste of Turkish Cuisine
If you're a breakfast lover, then Türkiye is the country for you! It's not just a meal; it's a very social experience designed to be shared and savored. Plates of sweet and savory bites fill the entire table, accompanied by bread and tea poured into tulip-shaped glasses. Eggs and sausages are served surrounded by the fresh bounty of the land, including cheeses, olives, peppers, tomatoes, cucumbers, fresh herbs, fruit jams, oranges, and Turkish pastries. Simit, a round bagel-like bread topped with sesame seeds, is torn and dipped into whatever condiment you desire, from honey and clotted cream to spicy red pepper paste. Breakfast ends with a Turkish coffee to aid digestion. After this morning meal, you'll be ready to walk the entire Silk Road! Turkish hotels pride themselves on their breakfast buffet offerings. At The Marmara Pera hotel, I enjoyed selections from the above menu (not all of them!) every morning.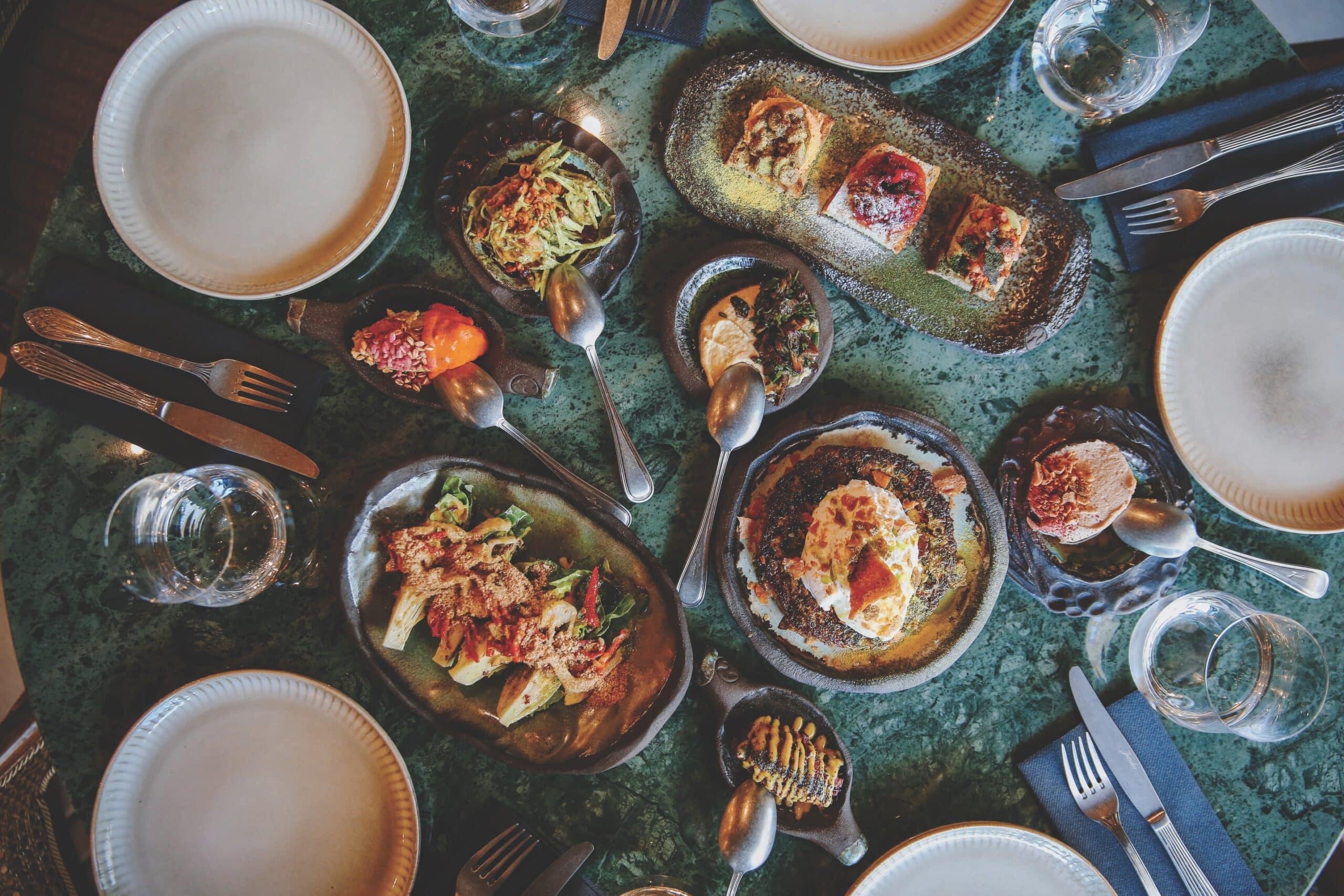 Walking tours of local food shops are popular just about everywhere today, and Istanbul is one of the best places to sample while you saunter. Our group visited neighborhood shops, family-run for decades, specializing in candies, pickles, dried fruit, and jams. Then we had a lesson in firing skewers of seasoned lamb or beef over hot coals at Dürümzade in Beyoğlu. A durum is a carefully folded wrap of flatbread filled with grilled meats. Photos of the late Anthony Bourdain's visit here proudly adorned the wall outside.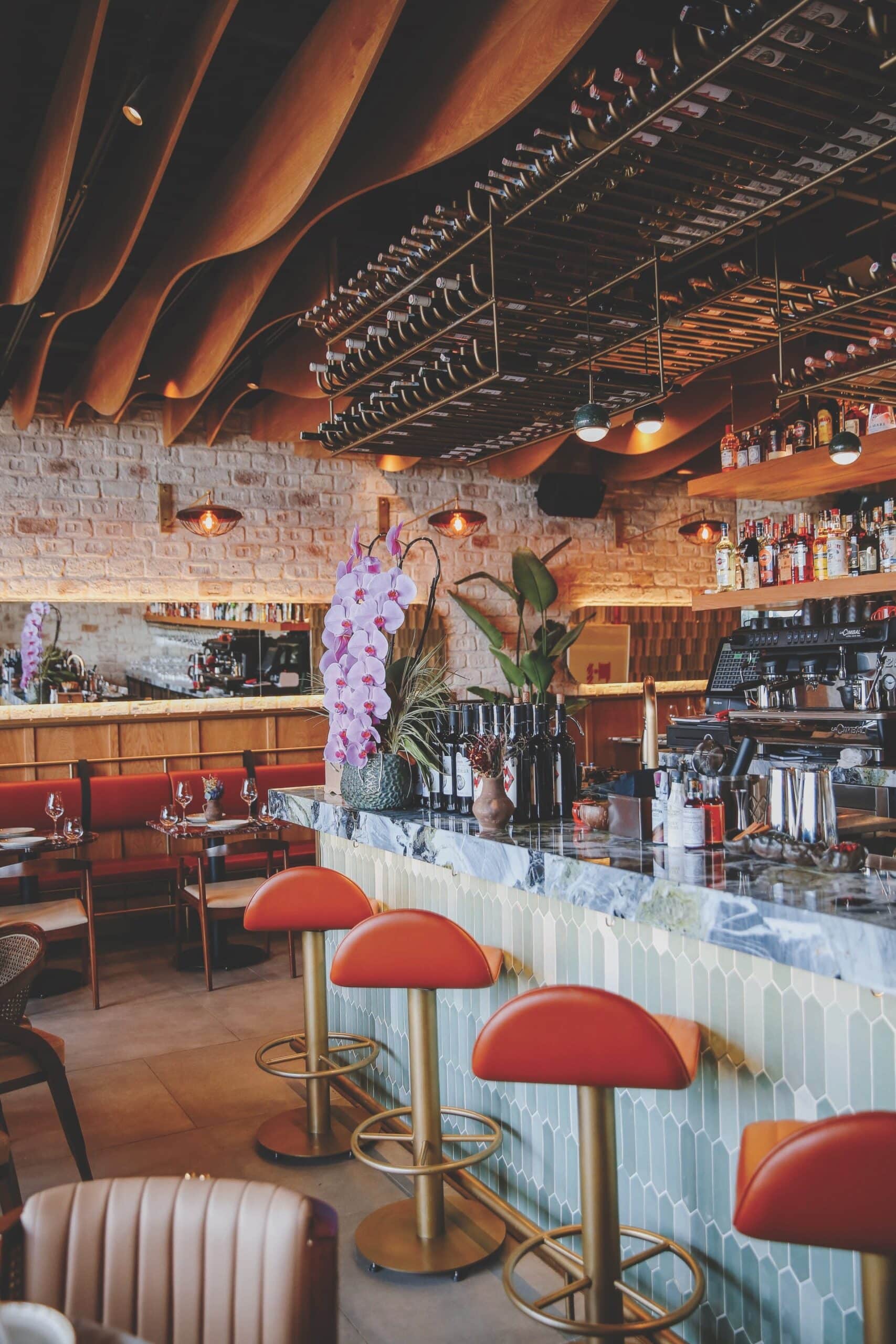 Türkiye's cuisine has been praised for centuries, but it wasn't until recently that it was included in the famed Michelin Guide, the worldwide organization that awards stars for culinary excellence. One of the restaurants making the prestigious guide is Mürver on the terrace level of the Novotel Hotel in the Karaköy district overlooking the Bosporus. Mürver head chef Mevlüt Özkaya was named Michelin Young Chef in 2023, the first year of the Michelin Awards in Türkiye. His passion for live fire cooking includes an entire fire wall where he employs over a dozen techniques of roasting, grilling, charring, smoking, and searing. At the marble-topped chef's table, Özkaya prepares and presents dishes paired with an extensive collection of the finest Turkish wines. Enjoy spicy beef sausages with house-made pickles, succulent octopus cooked in ash, roasted artichokes with artichoke foam, slow-roasted lamb with spicy apricot compote, and a crème brûlée-style burnt pistachio dessert with cherry ice cream. This is an elegant and contemporary tour of traditional Turkish cuisine.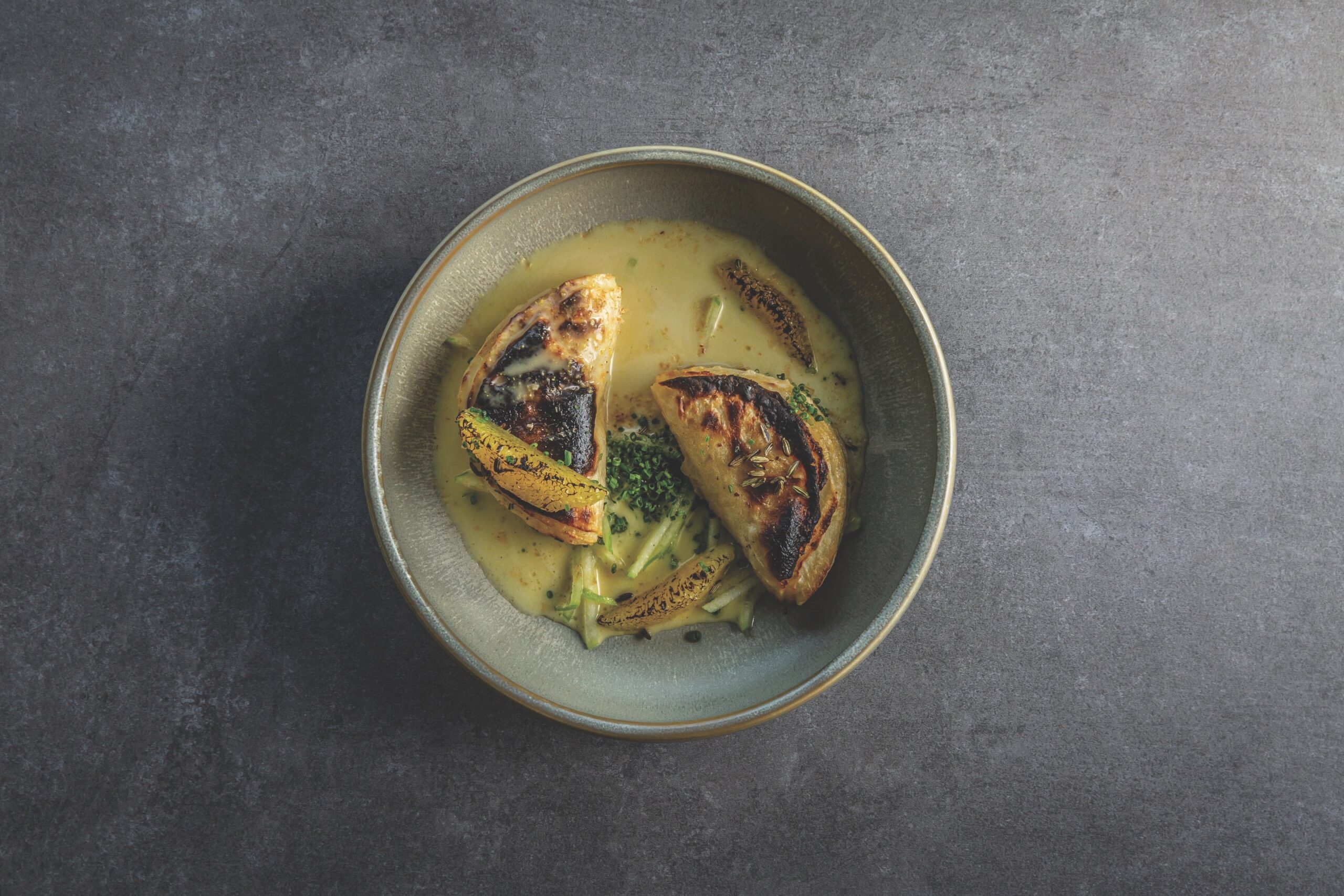 Turkish Health and Wellness
Türkiye is also well-known for the spa rituals of the hammam in Turkish baths dating back to ancient Rome. There are many historic and modern bath facilities, and most luxury hotels feature hammam spa treatments. Soak away your travel aches, pains, and the dust of the road, and then emerge refreshed and clean, ready for the next adventure.
Travelers should know that while Türkiye grapples with the aftermath of earthquake devastation in the country's southeastern region, the Turkish people warmly welcome visitors to experience the timeless beauty of Istanbul and beyond.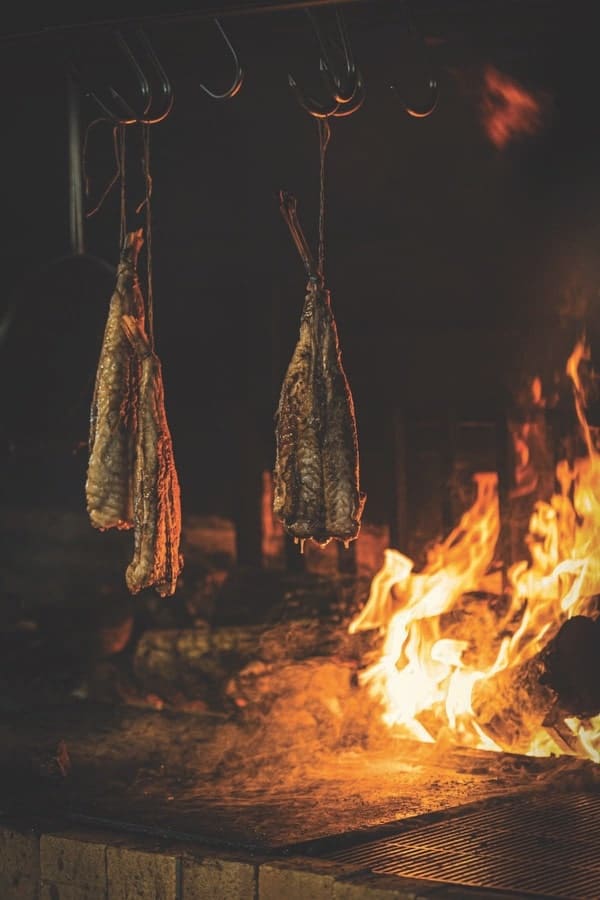 Turkish cuisine is among the healthiest in the world, as part of the celebrated Mediterranean diet. "You'll find that it's remarkably similar to Greece and Italy with many plant foods such as fresh produce, whole grains, nuts, and olives and lesser amounts of meats, dairy, and sweets," says Sara Baer-Sinnott, president of Oldways, a nonprofit group that leads global culinary tours. "The Mediterranean diet has always included the cuisines of countries around the Mediterranean, including Türkiye."
— V —
---
Visit GoTurkiye.com for more information or to plan your visit.
Travelers should know that while Türkiye grapples with the aftermath of earthquake devastation in the country's southeastern region, the Turkish people warmly welcome visitors to experience the timeless beauty of Istanbul and beyond.
ARTICLE CATEGORIES