By Melanie Cissone | 
Photography by Colleen Duffley
"Even with an unlimited budget, my heart palpitates when I find that rare, unique, affordable item for a design project," says interior designer Holly Shipman. Whether she is working with a client's belongings that she edits into a project or working on an investment property that needs some personality, making such finds and producing a feeling of emotional attachment to a space are central to Shipman's design gestalt.
Holly Floyd Shipman is an eighth-generation resident of Walton County, Florida. She grew up in DeFuniak Springs where her father owned and operated a mechanical contracting company and her mother ran the office. Remembering a Mayberry R.F.D.-style upbringing and hometown, Shipman says, "At Fisher's Pharmacy, which used to have a mezzanine, I could hear my every step on the creaky floorboards." H & M Hot Dogs stand, now in its seventieth year of operation, was where sisters Maggie Smith and Merle Carter—"Maggie and Merle," as Shipman calls them—cooked and served hot dogs and hamburgers for Shipman and her friends at the seven-seat counter.
As a girl, Shipman also enjoyed spending time at the family's Eastern Lake beach cottage. Foretelling what lay ahead, she drew pictures of houses on index cards while riding in the family car around DeFuniak Springs or the beach towns of South Walton with her parents. She says, "I wanted to be an architect."
Armed with a degree in marketing from Florida State University, Shipman began her career at The St. Joe Company's SouthWood community in Tallahassee. Charged with liaising between the lead South Carolina interior designer hired by St. Joe and the Tallahassee design professionals, subcontractors, and installers at SouthWood's sales center, the college grad was exposed fortuitously to a career path that wasn't quite architecture—but definitely one that was meant for her. When a local coordinator resigned her position, Shipman was thrilled to step in to do the shopping for the objects and other items that would put the finishing touches on SouthWood's interiors. "Who wouldn't want to go shopping for accessories?" she says.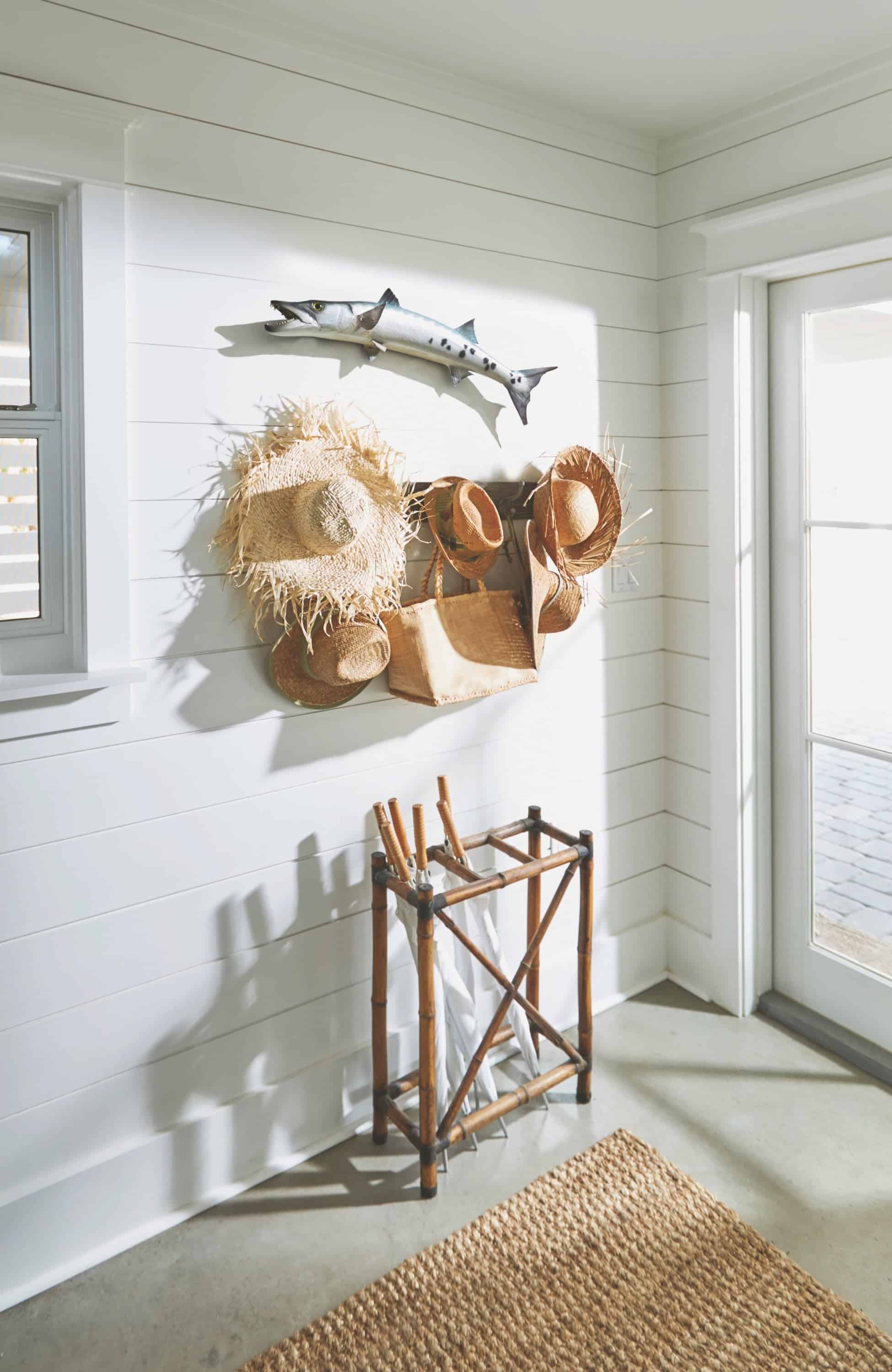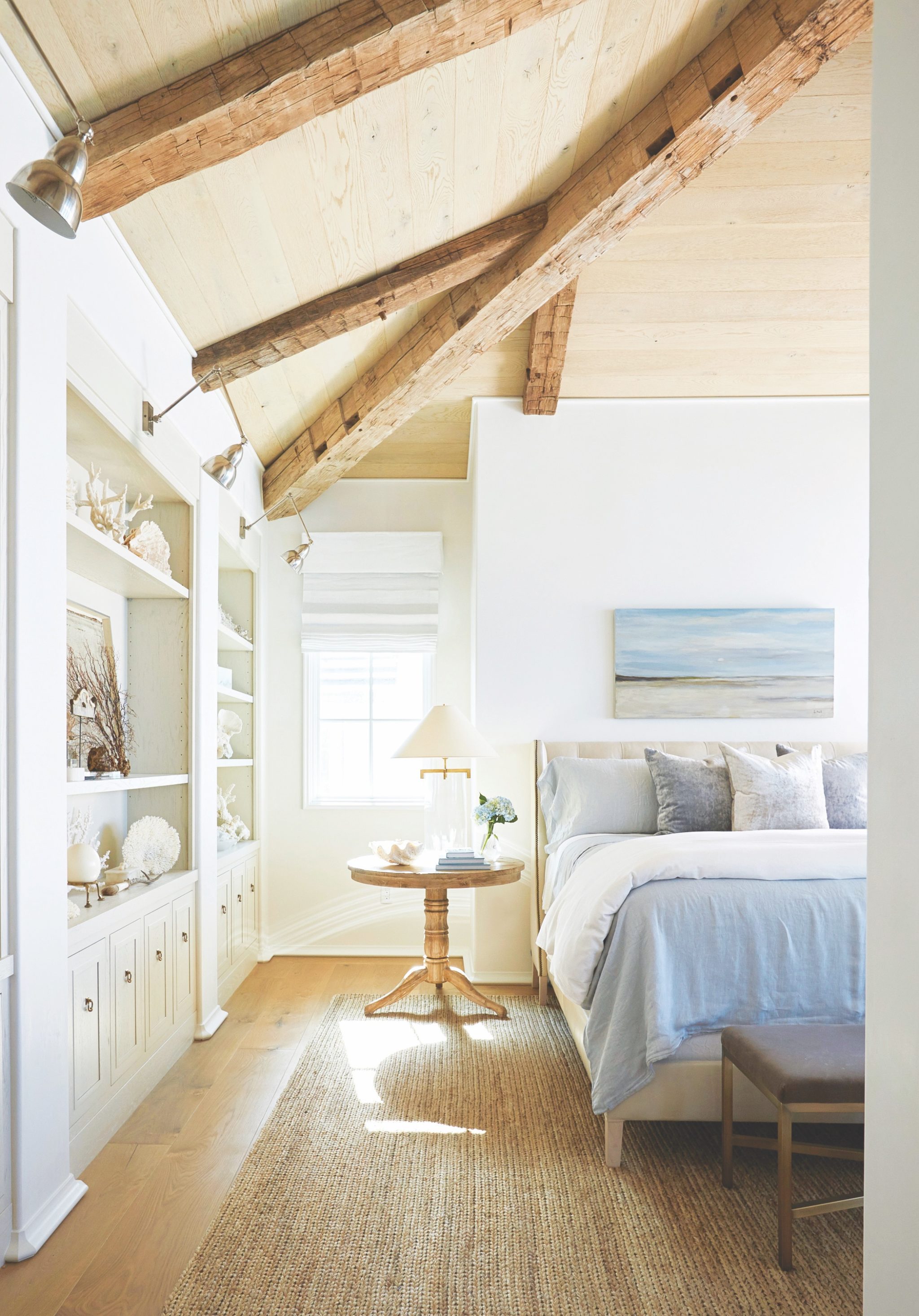 Shipman likes to stay under the radar. After moving to South Walton from Tallahassee thirteen years ago, she began designing interiors for turn-key investment property flips. She says, "I was working with people who had no emotional connection to the properties we were improving." It's a different experience for a designer to make investment real estate marketable so that it feels like home and sells for a profit, compared to working closely with a client who takes design guidance and trusts that the family's personal imprint will resonate throughout the home.
The reward for her measured attention to quiet style, budget consciousness, and bringing poignant connections forward through design has been years of referral business. Shipman says, "I love to buy something of good value and put it in a million-dollar home," and confesses with a twinkle in her eye, "I really do yearn to find that one thing for each space—a treasure that has depth, soul, and worth to it." It's clear that her discoveries not only bring warmth and uniqueness to a room, a home, or a commercial space, but they also stay on budget. Even when the assignment is the interior of a luxury home, and her limit is twelve-thousand dollars, for example, Shipman sticks to it. One of the designer's favorite hunting spots is the historic town of Havana, Florida, just fourteen miles north of Tallahassee. Antique stores, art galleries, and curiosity shops dominate the retail landscape of the former shade tobacco village.
Shipman says, "I love to buy something of good value and put it in a million-dollar home," and confesses with a twinkle in her eye, "I really do yearn to find that

one thing

for each space—a treasure that has depth, soul, and worth to it."
Shipman credits her sister, artist Sherry Sandquist, with exciting her interest in interior design. "I learned a lot from Sherry, who liked interior design and was always on the lookout for objects, art, and unique items," she says. Shipman always includes one of Sandquist's works in her designs. The dreamy abstract seascapes, in the context of Shipman's interiors, connect each space to the Gulf of Mexico's turquoise waters and sunny blue skies. Shipman also sometimes enlists her brother, Greg Floyd, to create pencil sketches of birds and other animals native to the Florida Panhandle; the paintings and drawings add original art and a laid-back touch to Shipman's projects.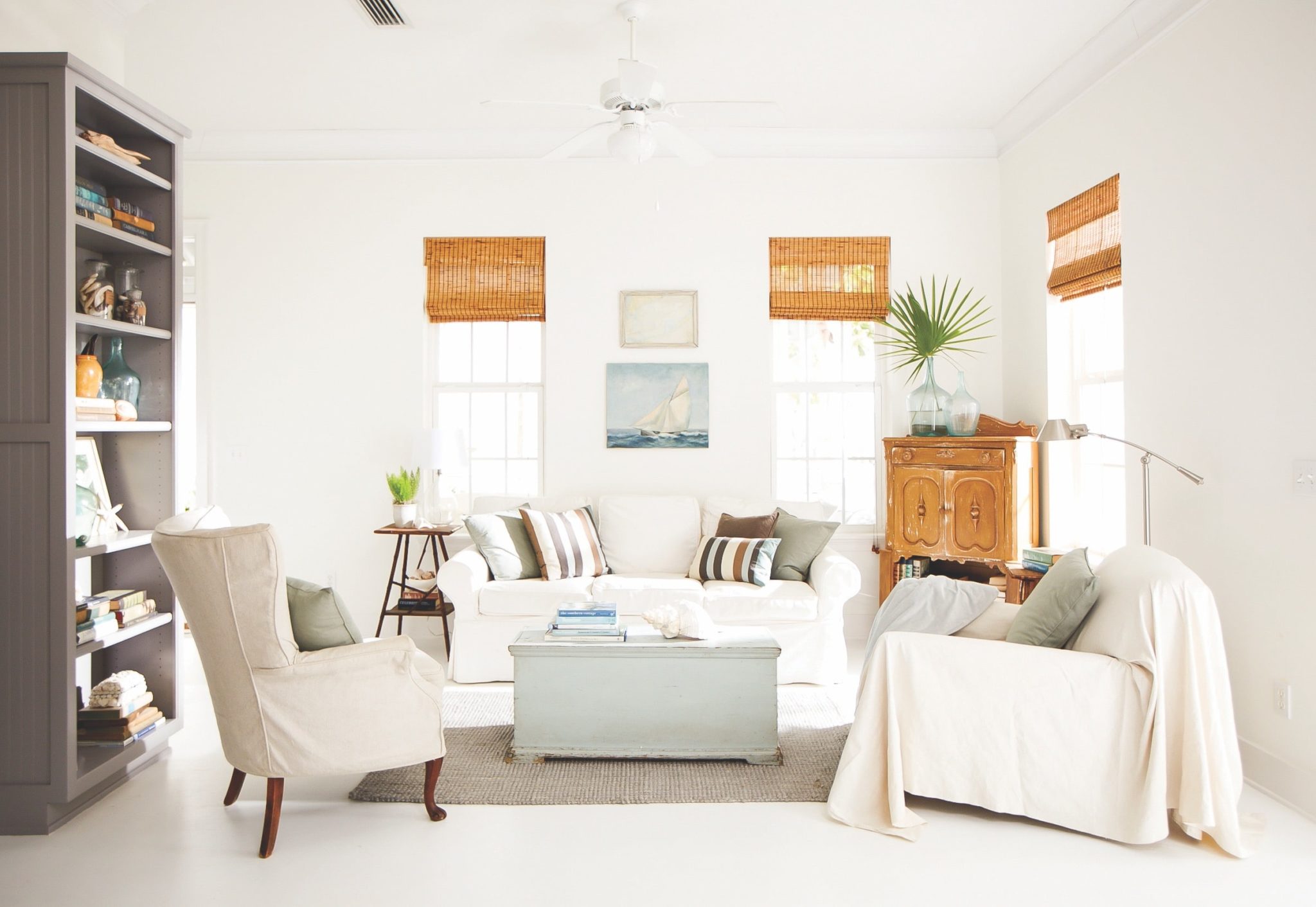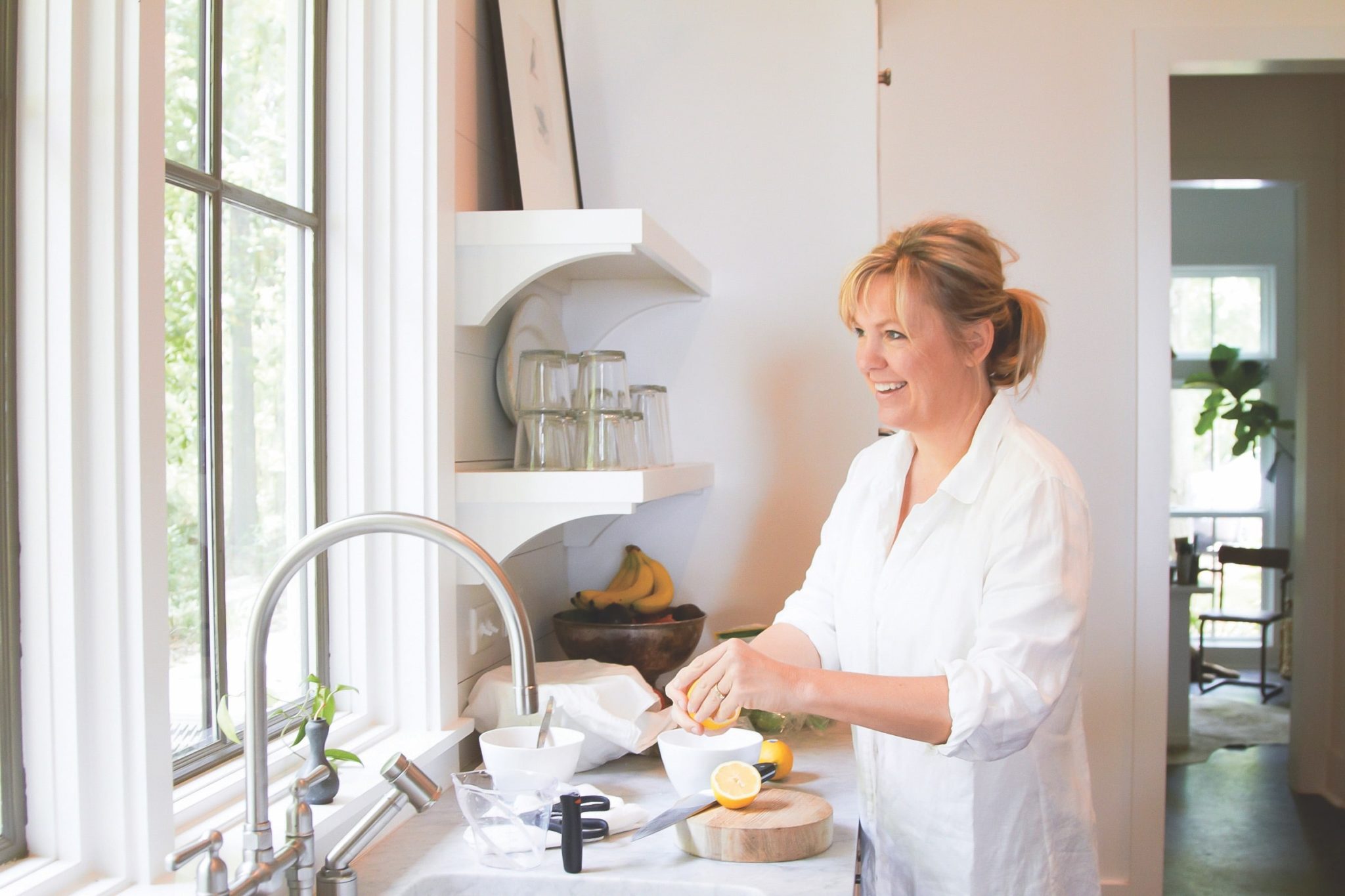 In recent years, Shipman not only reconnected with The St. Joe Company but has also been working with some of the area's best builders. Her credits include The Pearl hotel's Havana Beach Bar & Grill in Rosemary Beach, Shark's Tooth Golf Club on Lake Powell, WaterSound Beach Club, the Gathering Spot at WaterColor Inn, Grayton Beach's popular Borago restaurant, and a number of custom homes along Scenic Highway 30-A. Among the residences are one in The Retreat community and another "intensely designed" house underway along the scenic beachside corridor.
"Tactile" is the strongest of Shipman's self-descriptive traits. She integrates the distinctive hand of Belgian linen on slipcovered upholstery pieces and weds neutral tones to saturated dark gray, taupe, and brown hues for a warm contrast. A grateful Shipman says, "I'm super blessed to have clients who give me enough free rein to do something cool and special that also reflects their personality."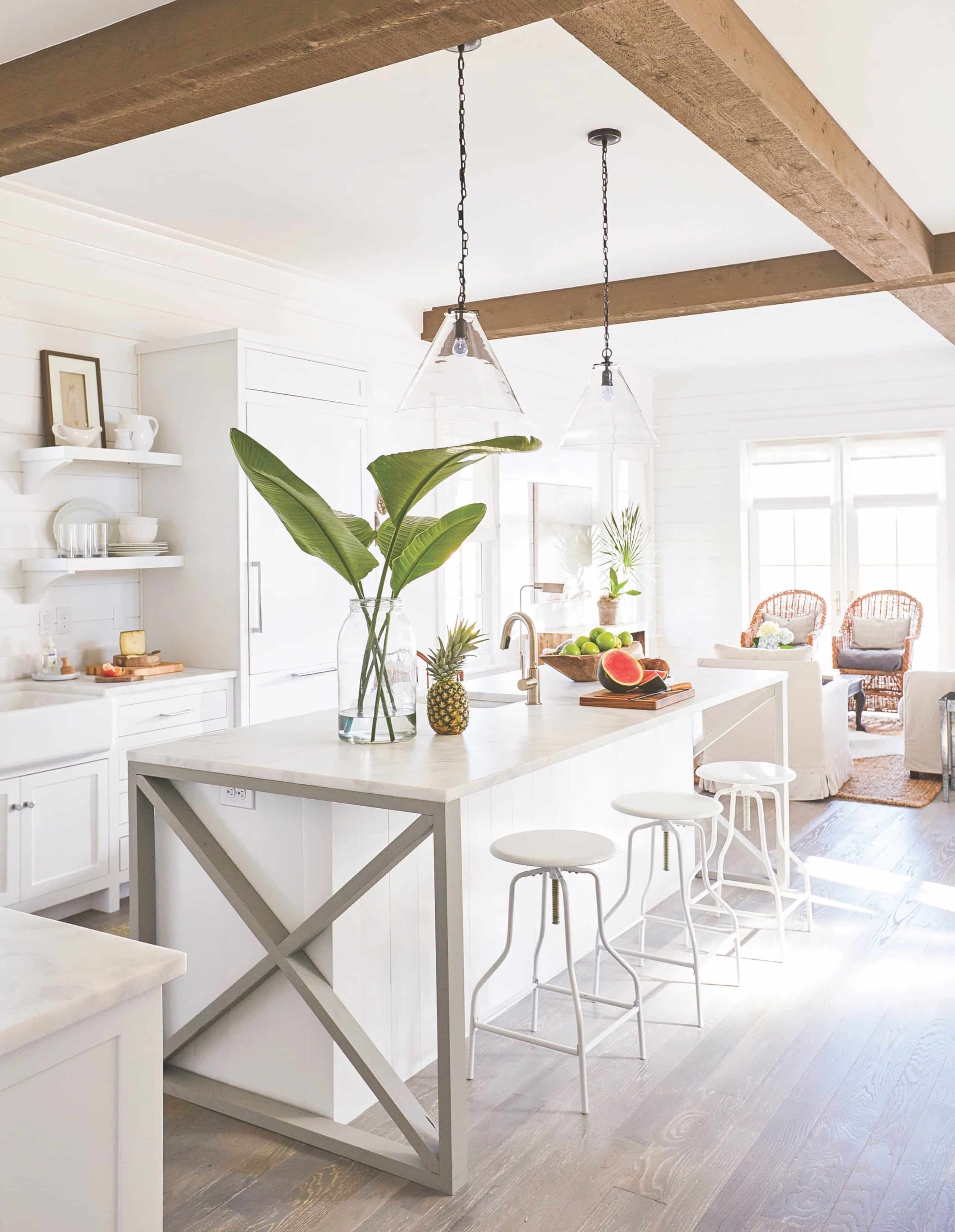 Along with her husband of twenty-three years, Gary Shipman (also an FSU alum and partner at the South Walton law firm of Dunlap & Shipman), she owns a ninety-acre farm "back home" in DeFuniak Springs, where they keep a horse. With only a barn on the property and a long-term aspiration to build a farmhouse, the horse is, Shipman says, a "pasture pet." The couple's two four-legged children—Tucker the Labrador Retriever and Cricket the Lab mix—have the run of the farm, too.
The Shipmans enjoy traveling and recently spent time at Glenmore Rivers Sporting Estate in Ireland's County Donegal with another couple of friends. The two women went exploring while the men went fishing. Regardless of where she is, Shipman exploits her leisurely travel experiences and actively seeks museums, shops, galleries, food, and other cultural activities for inspiration and ideas for her designs. And who knows? Informed by the eight-hundred-year-old Ashford Castle at the tail-end of the Ireland trip, perhaps the designer will incorporate a subtle but playful coastal rendition of something that stirred her on the Emerald Isle into her next project.
— V —
---
New York City transplant to the Emerald Coast Melanie Cissone has been a freelance writer for twenty years. A patron of the arts, she is inspired by beautiful architecture and design and loves learning about people's backgrounds, especially over a dry Italian red wine.
ARTICLE CATEGORIES