Bats and contemporary art play muse at New York Fashion Week
By Amanda Crowley and Camille Santrach
It's a tough job, but someone has to do it—endure glamorous, star-studded New York Fashion Week, that is. But for you, our devoted readers, we were willing to attend three days' worth of jaw-dropping shows, rub elbows with celebrities, and uncover trends for this fall, even while last winter's snow was still falling. What we discovered (besides a to-die-for wardrobe worth having to eat Ramen noodles in order to pay for them) is that inspiration can come from anywhere and that passion is always worth pursuing.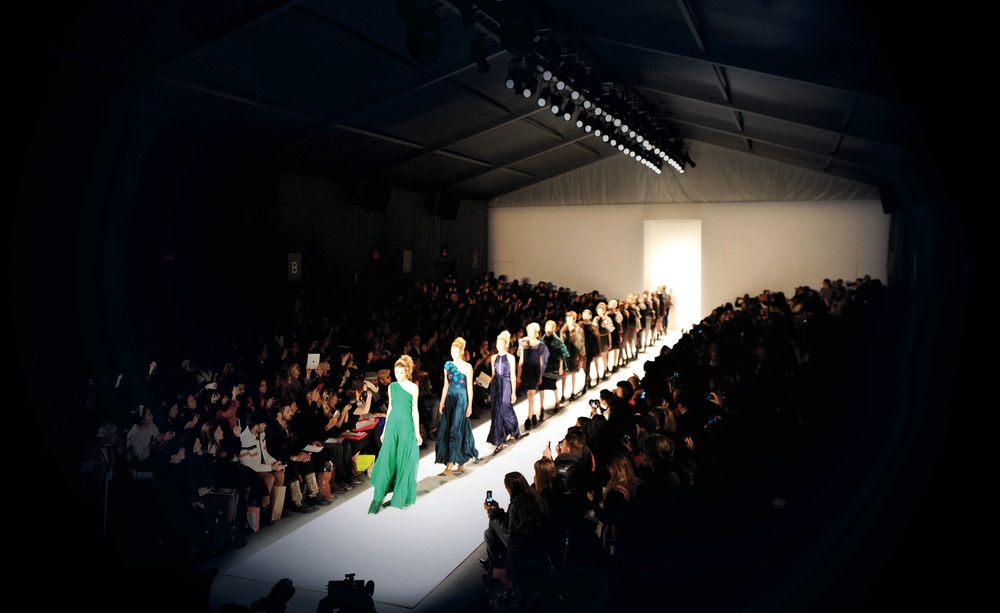 Son Jung Wan:
Cold Weather Cool
Even without the black Mercedes-Benz Fashion Week insignia, the hordes of fashion enthusiasts—women in sky-high Jeffrey Campbell Lita platforms and men in dark, cuffed jeans and Clarks Desert Boots—told us we were in the right place. Fashion Week had provided a lesson in imagination before the models even hit the runway.
The first show we attended featured the creations of Son Jung Wan—relatively new to the American market but one of the most famous Korean designers in the world. Staged on one of the smaller runways, this intimate gathering provided an up-close-and-personal look at her designs for fall 2012, beginning with fur-adorned jackets and mid-thigh-length dresses in creams, winter whites, khakis, and subtle grays—perfect hues for cold winter days. Inspired by contemporary artist Marc Quinn's Winter Garden series, Wan also presented floral-patterned dresses with a touch of fur and tops in a deep red-orange paired with loose, ankle-tapered pants, a trend that will be popping up all over this fall.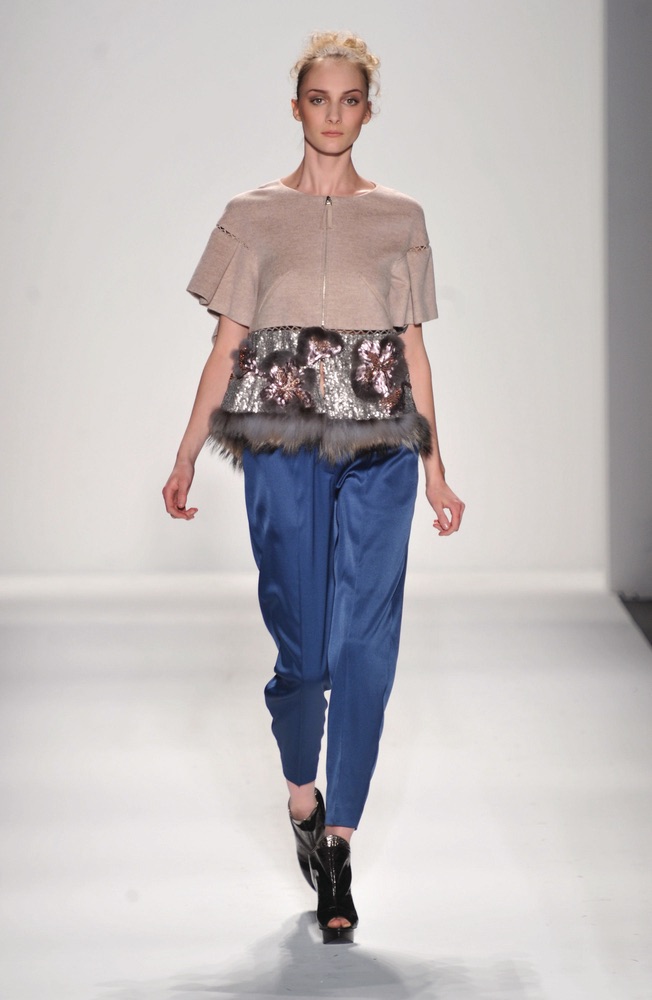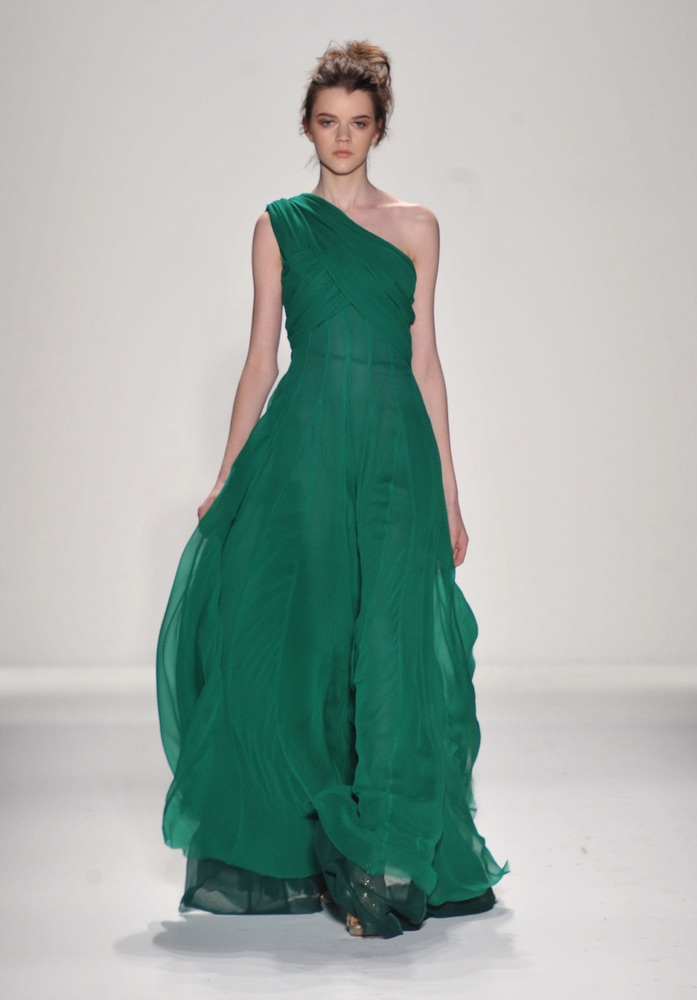 The entire line was woven together by a feeling of feminine sophistication, exemplified by sumptuous materials ranging from fur shrugs and trimmings to knit and crochet detailing. Wan's collection is ideal for women who crave a modern, sophisticated, sexy look all winter, whether they're running a meeting or mingling at a cocktail party. From the show's celebrity turnout—including Gossip Girl stars Kelly Rutherford and Matthew Settle, as well as model Carol Alt—to the well-deserved standing ovation at its end, Wan seems to have hit all the right notes.
Christian Siriano:
Retro Chic
Next up: exploring the new Fashion Week phenomenon of off-site shows. While Lincoln Center remains the epicenter of established, big-name designers, many young designers are putting their own spin on Fashion Week by scheduling off-site shows. Christian Siriano, winner of the fourth season of Project Runway, was one of them.
The Siriano show, while stunningly new, felt a little like old home week. As longtime VIE readers know, the designer—fresh off his Project Runway win at the time—was featured in our inaugural issue. Not only do we adore his haute inventions, but we can't help rooting for Siriano, whose dreams were taking off at the same time as our own.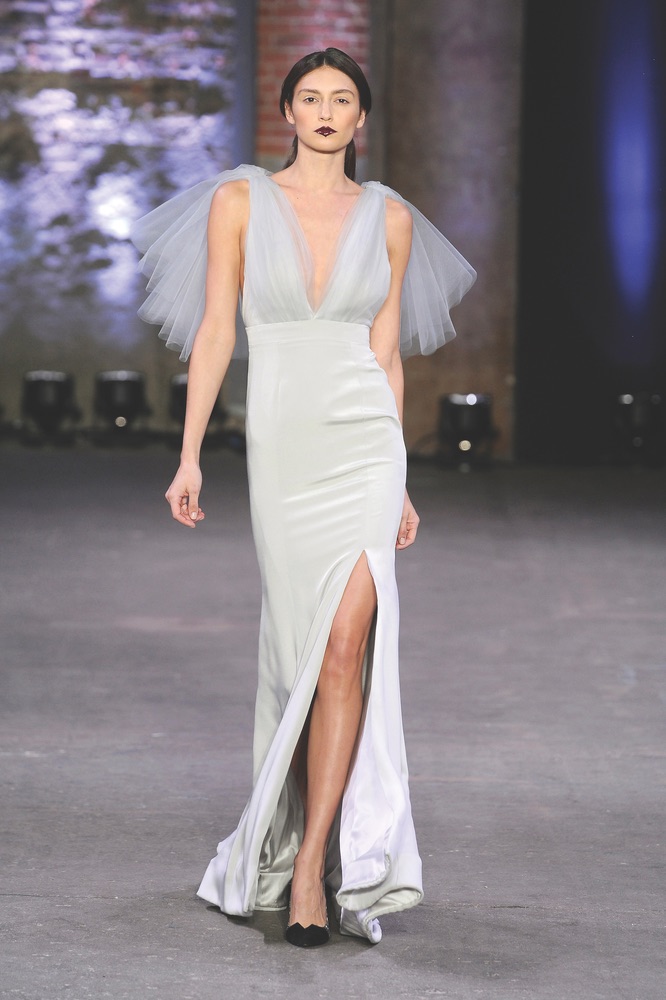 The functional architectural surroundings of Eyebeam Studios played host for Siriano's show. The refurbished NYC warehouse was the perfect backdrop to the huge crush of fashionistas, journalists, photographers, and Siriano fans waiting impatiently to catch their first glimpse of his fall collection. As it turned out, the warehouse's interior was as extraordinary as the exterior was unremarkable. Risers lined the brick walls, and dark-red lights shone down from the low ceiling, playing up the cave-like atmosphere while failing to obscure the front row attendees: Siriano's muse, actress Mena Suvari; actresses Nina Dobrev, Gabourey Sidibe, and Isabelle Fuhrman; and stylist Brad Goreski.
Siriano's inspiration was the 1933 film The Vampire Bat, which became apparent when the lights dimmed and a narration about bats—along with electrifying music—filled the room. About the movie's titular creatures, Siriano said, "Bats intrigue me with their creepy, dark, and dramatic presence … I find beauty in the wings of the bat, which can be seen in the details of the clothing—leather appliqués; ethereal, flowing silk crepe dresses; and tops and capes taking flight."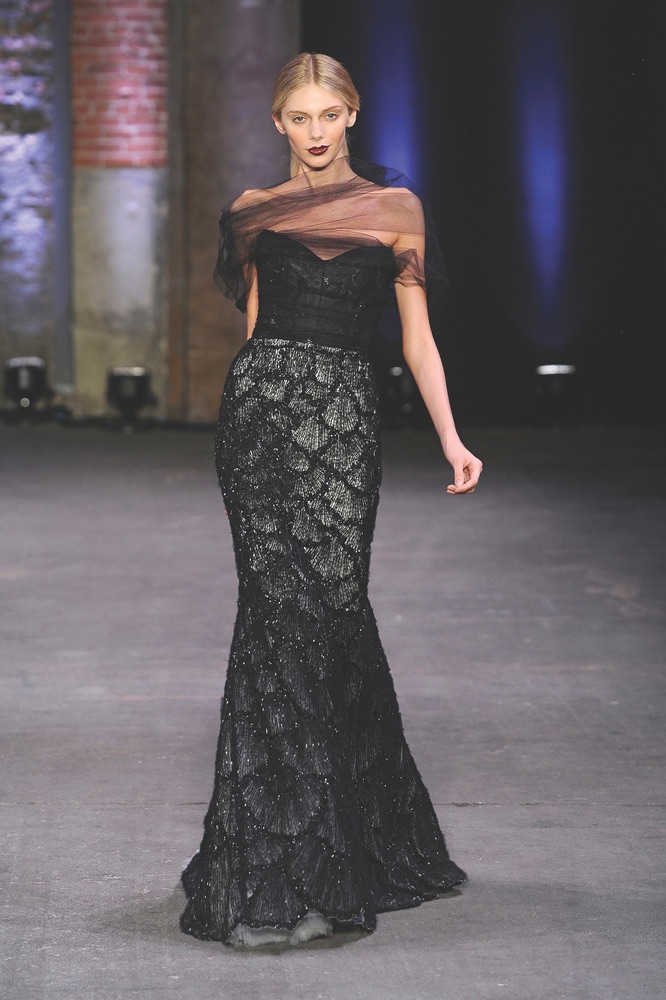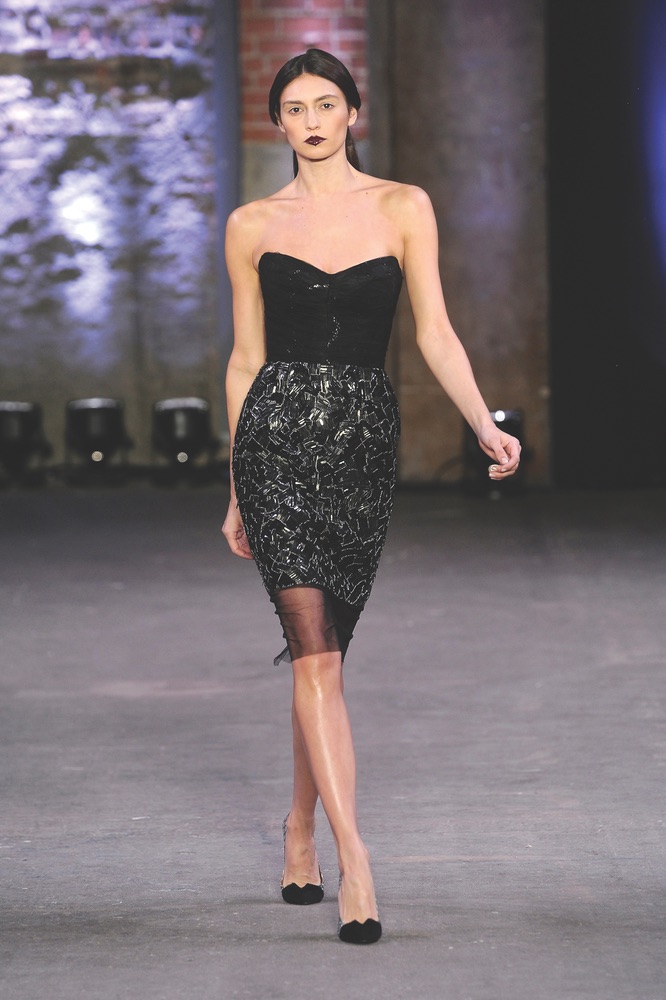 It seems no detail of the film, or of the bat, was overlooked. Siriano also drew inspiration from the film's lead actress, Fay Wray, who wore blouses tucked into long black and white evening skirts. Meanwhile, the film's grainy appearance motivated the patterns, textures, and color palettes.
Many of Siriano's graceful designs, encompassing both day and evening looks, could be worn straight off the runway. The "secretary chic" line included knit turtlenecks, wool palazzo pants, chiffon scarves, and faux croc A-line skirts. Naturally, models glided down the catwalk in signature Christian Siriano for Payless Gold Collection shoes in a variety of designs. One of our favorite looks from the collection was a faux pony moto jacket paired with a static print circle dress—a classic-edgy combination that transitions well from day to evening.
Returning to his bat inspiration to close the show, Siriano created a long crepe gown with shirred tulle at the shoulders, which captured the grace and beauty of the creature in flight.
Tibi:
Preppy Meets Sixties Sophisticate
Though the Siriano show left us with a healthy respect for the off-site experience, it was time to head back to Lincoln Center for the Tibi show. Creative director Amy Smilovic's collection, which she described as 1990s meets 1960s, featured menswear-inspired, minimalistic designs and clean silhouettes. We spotted Tibi fan and fashionista Olivia Palermo sitting in the front row wearing a Tibi nautical-striped peplum jacket. Also in the front row were fashion journalists Hanneli Mustaparta and Louise Roe surveying the comfy-chic look from the pages of Smilovic's fall playbook—models sporting oversized outerwear, menswear-style blouses, and boxy double-breasted jackets.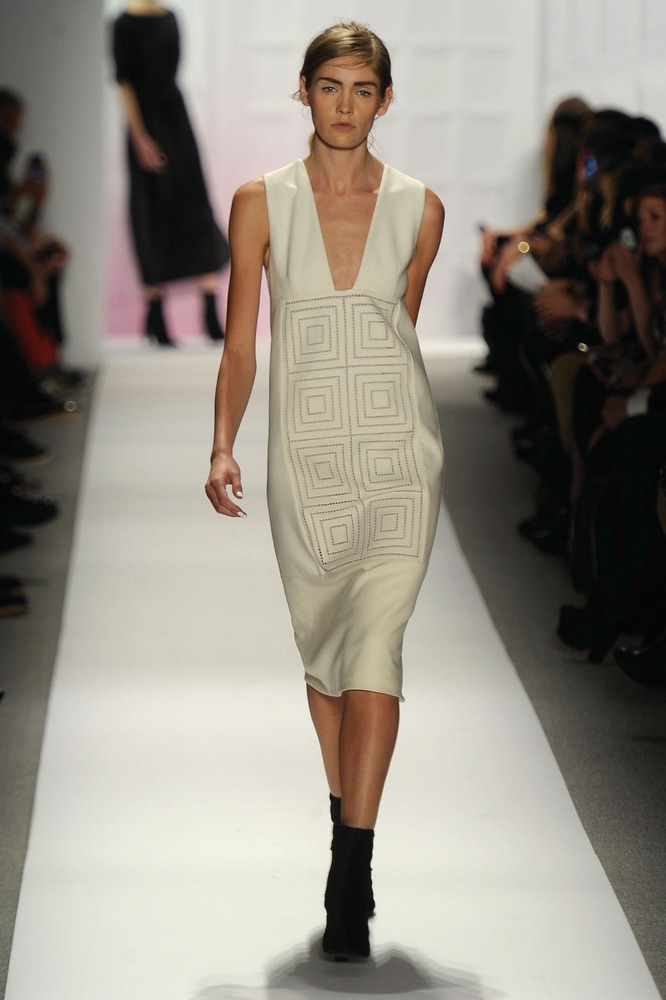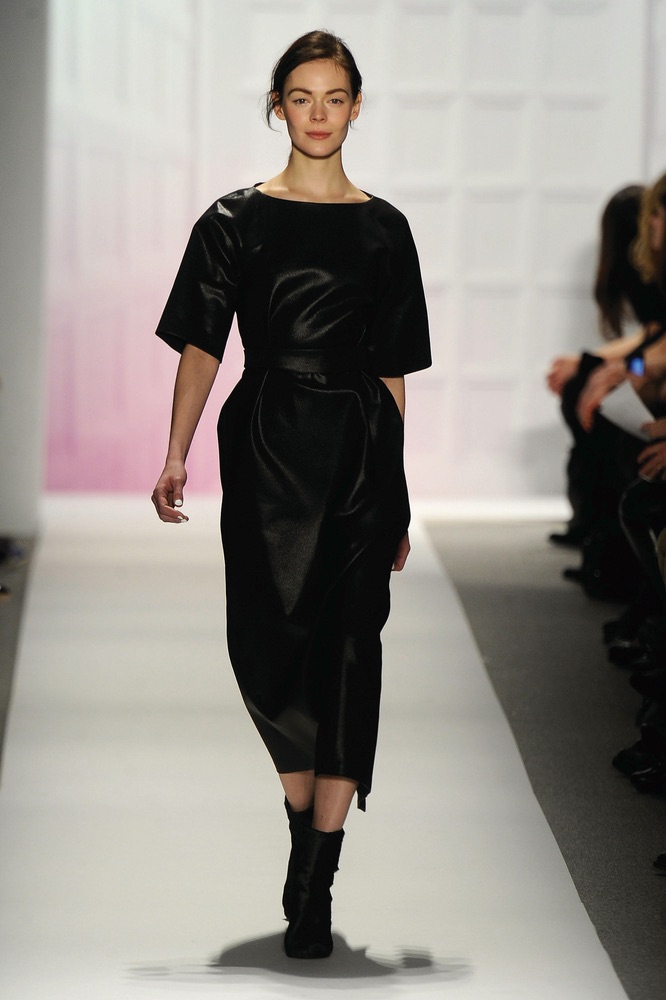 The Tibi line also included A-line dresses, flowing chiffon tops and skirts, and sleeveless peplum blouses. Geometric shapes and patterns took on a color palette that included winter whites, light grays, inky blacks, burgundies, greens, and cobalt hues. The overall effect was both straitlaced and flirty, sophisticated yet modern. Everyone from professional women to college prepsters appear to be the target audience for this collection, which, in truth, is perfect for any woman who refuses to sacrifice form for function.
Custo Barcelona:
Bold, Playful Patterns
Our final peek into the future of fashion was the Custo Barcelona show—a flood of dramatic designs that electrified the dimly lit tent at Lincoln Center. Spanish designer Custo Dalmau's desire to "pay homage to visionaries and the pioneers of creativity" soon became evident, as his collection challenged the conventional use of textures, colors, and patterns. Dalmau's signature embellishments dominated his designs but never overreached their purpose. Biker shorts with zipper details were paired with patterned sweaters in red and black, creating a balanced punk-rock look. Dalmau put a twist on classic black houndstooth dresses and pants by opting for tan and maroon backgrounds, rather than traditional white. Oversized tops and fur vests complemented lace and fringe miniskirts, which created a rugged yet feminine look for the bold fashionista.
The Custo Barcelona men's collection presented fitted, patterned pants paired with knit tops and tailored suit coats, showcasing an effortless, layered look for fall 2012. Dalmau certainly took risks, but his runway gamble paid off with a unique collection of contemporary styles, demonstrating that classic pieces can be daring if infused with the right amount of flair.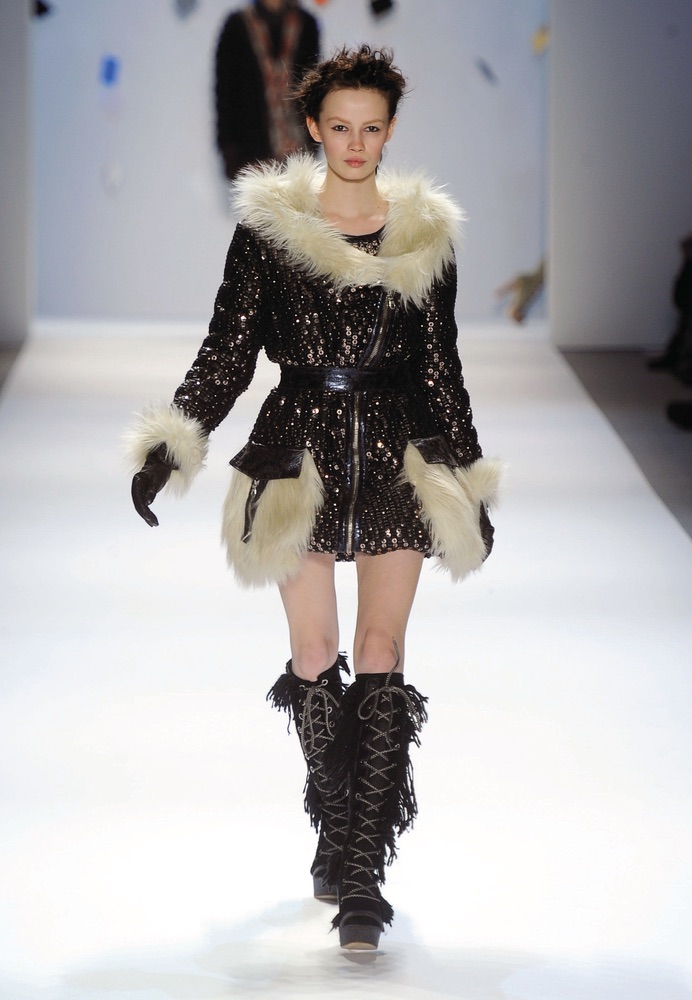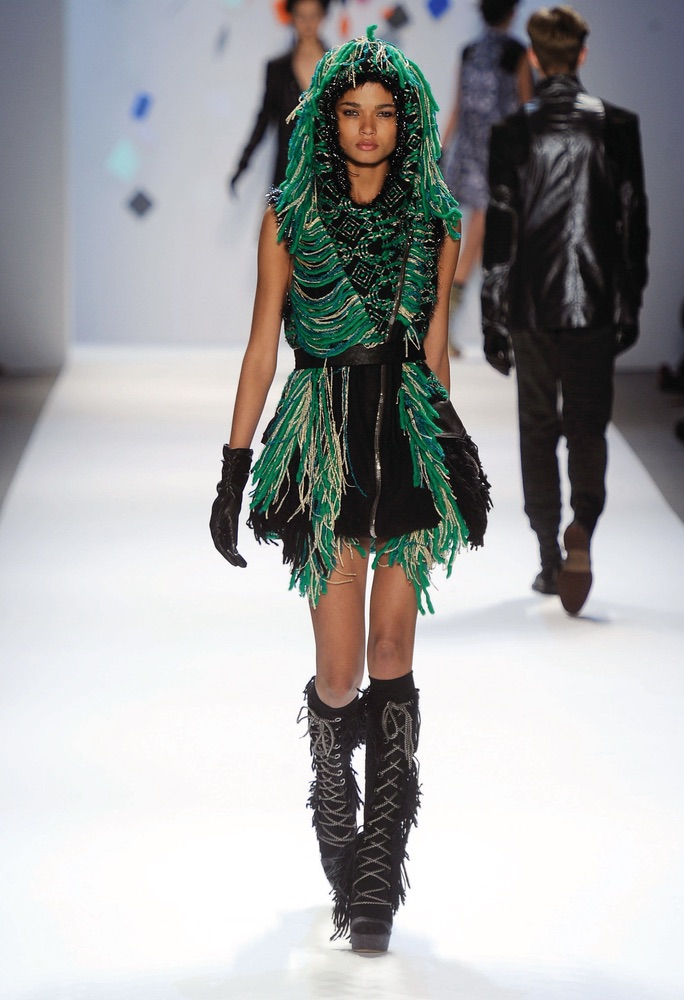 As the last models left the runway, our whirlwind trip officially came to a close. The experience was not only an introduction to the clothes that will hit stores this fall, but also a reaffirmation that fashion is truly art. We gained a whole new appreciation for the creative process that compels designers to continually raise the bar, and we also realized these innovative men and women should be examples to everyone with a dream—fashion related or not.
Who knew that a trip to Fashion Week would be filled with so many "aha" moments—like the realization that passion + inspiration = life-changing ideas? And whether it's a bat, an old movie, or a painting, inspiration comes from unexpected places. So, take it where you can find it, and do your best to be a source of unexpected inspiration to your fellow dreamers.
— V —
ARTICLE CATEGORIES