By jordan Staggs |
Photography By Romona Robbins
When it comes to tattoos, those who don't have any always ask the same question of those who do: did it hurt? "Usually after about the first five minutes of tattooing, the body starts to dump endorphins and the area being worked on tends to numb itself to some degree," answers tattoo artist Eddie Davis. "But make no mistake—tattoos hurt." But getting a work of art permanently etched into one's skin isn't about the pain; it's about the experience and the personal meaning. It's about telling a story, even if you keep it to yourself.
Born in Japan just before his father left for Vietnam, Eddie grew up in a military family and lived in the Philippines and various parts of Europe and Asia while growing up. Eventually, his family settled on the Gulf Coast in Fort Walton Beach, Florida. As a young man, Eddie thought he would follow in his father's path; his father, knowing his son's true passion lay elsewhere, had other dreams for him. "My father, by all measures of what he did, was a successful military man," Eddie says. "I told him I thought that following in his footsteps would be my destiny. He dissuaded me from it. His advice was this: 'Find something you love to do, and figure out how to get paid for it.'"
Though he didn't join the military, Eddie found a way to follow his passion while still holding onto his father's legacy—as an artist. "I can credit my father with lighting the artistic fire in my belly," Eddie says. "He was an art student when he felt it was his duty to enlist during the Vietnam conflict. Although his military career became his way of life, he never let go of his love for art.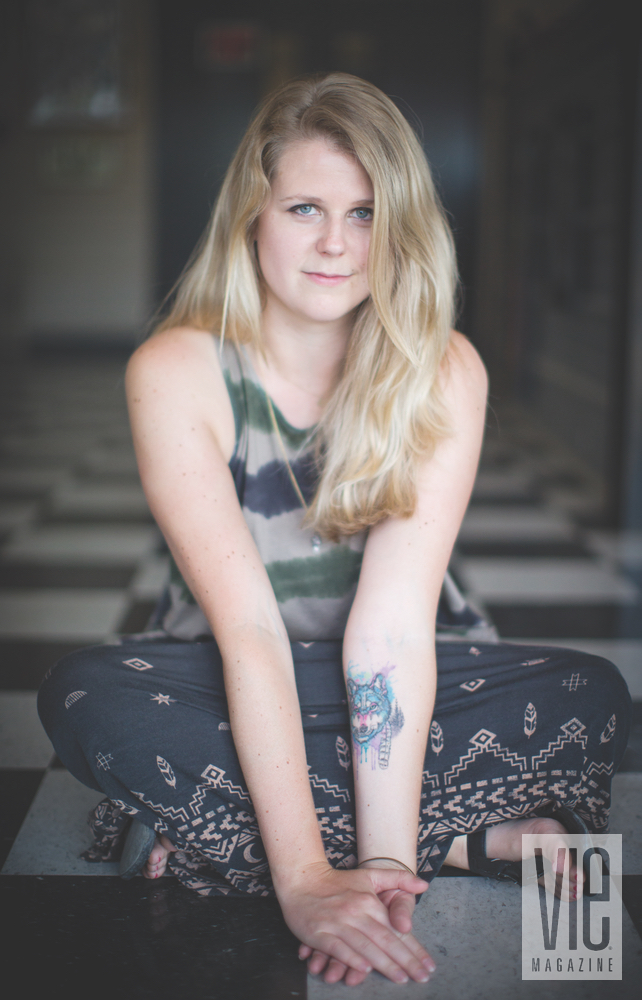 When his father was home, Eddie spent a lot of time drawing and painting with him; their house never ran short on art supplies or inspiration, whether from art or music (Eddie's mother was a concert pianist, and he also plays guitar). Some of that inspiration came from his dad's collection of books and comics. "Some of my favorite early influences came from Creepy and Eerie magazines and Conan the Barbarian," Eddie explains. "And even though they are considered comics, they were full of fantastic art from guys like Berni Wrightson, Frank Frazetta, and Boris Vallejo, just to name a few." Admittedly, these influences brought out Eddie's love for darker subject matter in his artwork, and much of his personal work has included horror themes such as skulls and monstrous creatures.
In the late 1980s, Eddie began working as an artist and an illustrator, starting out doing airbrushed T-shirts for tourists in Fort Walton Beach. Though it wasn't exactly a glamorous job, it could be fun at times and afforded him time to learn and hone his craft as an airbrush artist. As his skills grew, so did the recognition he got for his work, and people began to commission him for large-scale projects such as murals and custom detailing on cars, bikes, surfboards, and more.
Every one of us is different, and we all have a unique story. Our tattoos should reflect that.
No stranger to traveling or living abroad, Eddie spent about three years on and off in Limburg, a province in the southern Netherlands, working as an artist and designer at Ateliers Geurts. Many European carnivals sent their attractions there to be decorated. "We worked on projects ranging from roller coasters in Switzerland to decorating parts of Discoveryland at Euro Disney in Paris," Eddie recalls. "The money was great, and the exposure to European vintage art and techniques was amazing. I was floored to be able to work with artisans from England, France, Poland, Russia, and Greece, learn new techniques, and hang out with an eclectic and tight-knit group of artists. We're still friends to this day."
In addition to being sought out for his work and gaining worldwide recognition for his custom automotive paintings on cars and motorcycles, Eddie was sought out as a teacher for up-and-coming airbrush artists. "I became a contributing artist for a few different sponsors at SEMA (Specialty Equipment Market Association), and I was fortunate enough to be an instructor for the Airbrush Action Getaway Workshop programs," he says. "I taught three times a year in Orlando and Las Vegas, with an average student load of about fifteen artists per class." His teaching travels have also taken him to Northern Ireland, and he returns to Mexico City a couple times per year to teach workshops.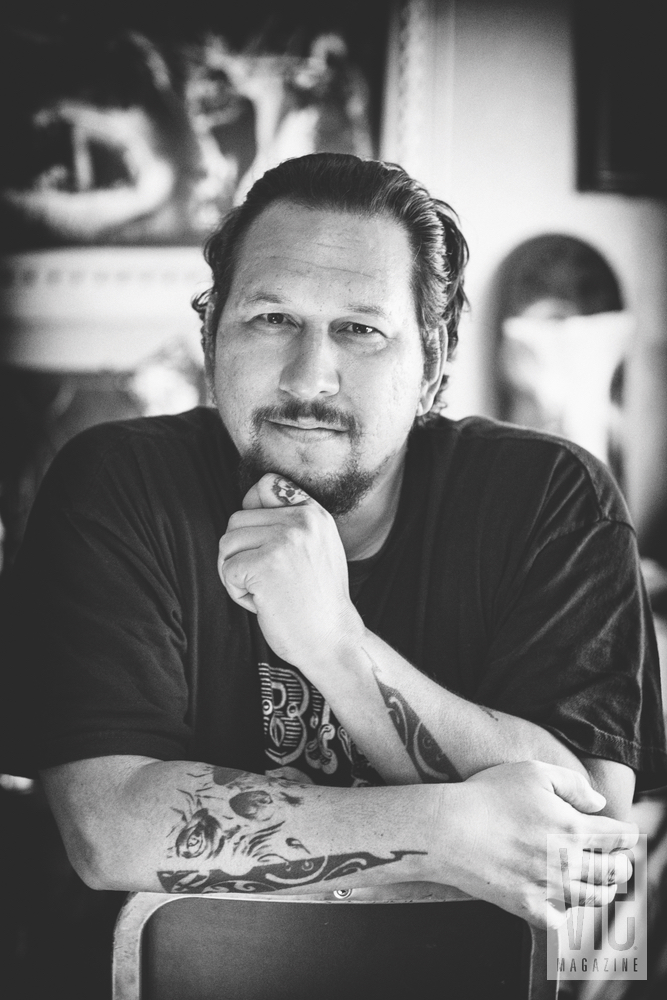 But in 2012, after building a successful career in airbrushing and design, Eddie switched gears, acting upon his desire to learn something new. "Most everything I've painted has a finite lifespan or is, ultimately, expendable," he explains. "I got to a point in my career where I had a real problem with the fact that I was putting my heart and soul into pieces that were basically disposable." That desire to create something long lasting drew Eddie to the art of tattooing. He began to practice tattooing on friends and fake skin and soon found himself working in a tourist tattoo parlor in downtown Fort Walton Beach. Starting out in a high-traffic shop allowed Eddie to log many hours of working on different clients, refining his "bedside manner," and figuring out the styles of tattoos he liked creating the most. "I didn't need to learn art, just how to transition to the tenets of tattooing. There is a whole history and frame of mind I had to learn before I began tattooing in earnest. Even though I devoted myself to and completed an apprenticeship, I still had to learn a lot on my own. And that is what I dig the most—I get to grow as an artist."
In just a few short years, Eddie has put in the requisite hours and refined his tattoo techniques enough to become considered one of the best tattoo artists in the area, now working from a studio at Big Rooster Co. Cycles and Tattoos in Fort Walton Beach. "I was brought into Big Rooster by one of the biggest influences in my tattoo career, Nick Minervine," Eddie says. He now tattoos by appointment only and usually only sees one client per day, allowing more time for personal consultation and to make sure his clients' tattoos are exactly what they want. "In addition to Nick and myself, the other tattoo artists are Kieth Roice and Andrew Barnette. We've all worked in high-pressure, cutthroat shops, and we jealously guard the mellow and laid-back environment we've cultivated here." Big Rooster also offers Harley-Davidson customization and maintenance by resident Harley guru Josh Stafford and expert mechanic Zach Scott. "The tattoo and motorcycle vibe here goes from mild to wild and all points in between, and we love what we do," Eddie adds.
Eddie's client base includes locals and visitors, most of whom have been recommended to him by his droves of happy customers. "Most people find a good artist that they trust and stick with that person," he says. "The Japanese Tebori masters don't treat a tattoo as a simple transaction. The idea is that once you tattoo someone, you are bound by the living art for the rest of your lives. I pride myself on that relationship with my tattoo clients, and I strive to give them singular and hugely meaningful tattoos based on who they are as people. Even if the idea a prospective client wants is simple, I love to design things that are uniquely theirs. The idea of picking a tattoo from a catalog is horrid. Every one of us is different, and we all have a unique story. Our tattoos should reflect that."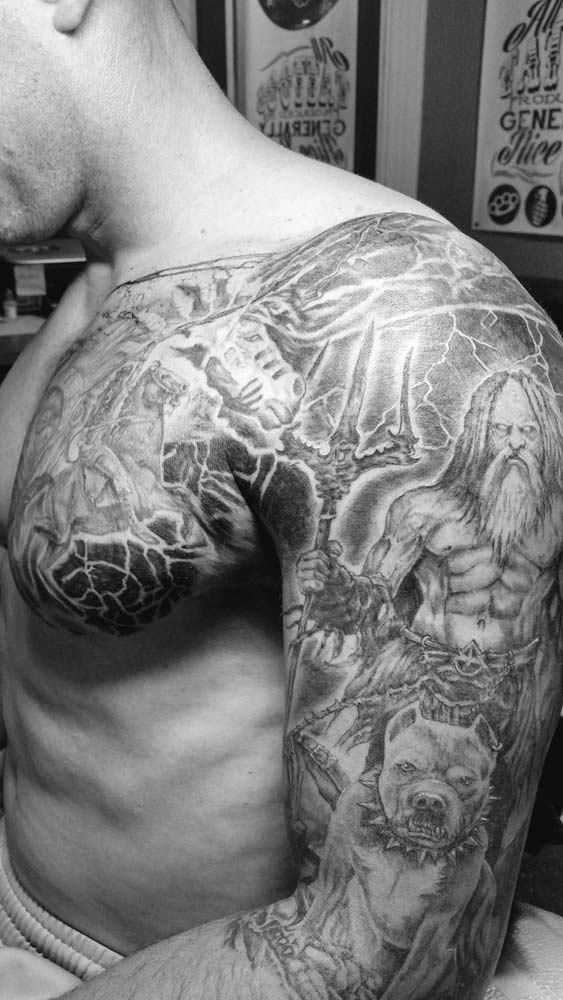 That reflection of inner self is important to any tattoo, Eddie says, from the smallest design to a whole sleeve or back piece. "There are plenty of reasons I love being a tattoo artist, but I think the main one is that I know that, for both genders, having a great tattoo affects the client's self-image," he continues. "And any chance I get to help someone with that, I do."
Isabelle Lara of Santa Rosa Beach, Florida, visited Big Rooster in May for her first tattoo, the coordinates of her late grandparents' home—coincidentally located in Mexico City, where Eddie has taught many times. "From the moment I got in touch with Eddie, he was nothing but accommodating and honest with me," she says. "He was very professional but also incredibly kind and patient when explaining the process. Knowing that this was my first tattoo, Eddie explained everything that he was doing and why. My favorite part of my tattoo would have to be what it means to me. Both grandparents passed away in the last couple of years, and their house is the last physical 'thing' I have to hold onto them and those memories. I have so many wonderful memories at that house and want to carry them around with me all the time."
Eddie says he loves helping clients memorialize lost loved ones or past experiences with their tattoos. "I've noticed that a client getting a memorial tattoo gets to externalize the emotional pain during the tattoo and discuss it," he says, "and as the tattoo heals, so does the client. I like the symbolic and literal way my art is helping people. It's the things like this that let me know I am on the right path with my art—when I can see that my talent makes a difference in people's lives." A poignant example of this healing process came about recently when Eddie created a memorial tattoo for a woman who had lost her son and incorporated the son's ashes into the ink he used. "Although that may seem a bit creepy to some, it's literally a way to bring a mother and child back together. The process was arduous and exacting; I spoke with quite a few medical professionals in order to do the tattoo in a safe and ethical manner."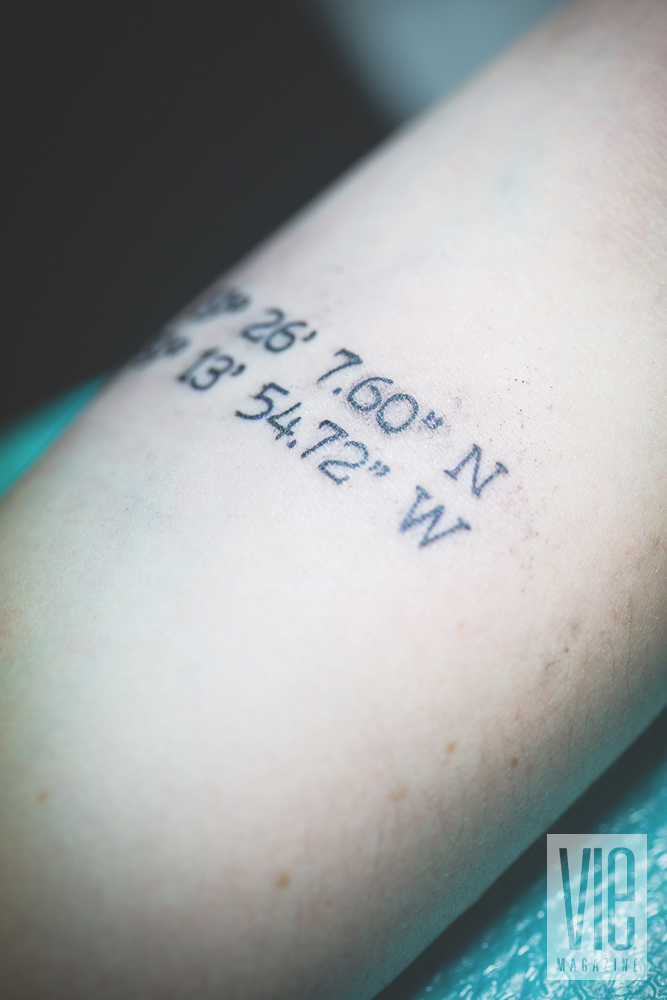 There's no question Eddie has talent, if his loyal clients have anything to say about it. And for the eternal artist, having them return or recommend their friends is one of the best compliments he can receive. He also has fun doing different styles of artwork on different people, such as watercolor- or woodcut-inspired designs and grey-and-black or color realism designs. "I have only one client that I do American traditional-style tattoos on," Eddie says. "He's a military guy who used to tattoo in Venice Beach, California. He draws his own designs but will only let me tattoo them. It's a huge honor."
Continuing to learn and evolve in his work every day still drives him, and Eddie is excited to see what future projects may hold. "I look forward to doing more dotwork (pointillism) tattoos, and also I have some really cool sleeve projects coming up this year," he says. "It's very difficult to pinpoint one thing I love about what I do. Mostly, though, I really look forward to mentoring my son in his tattoo career." As Eddie claims, his son, Arantis, "is a better artist at seventeen than I was at twenty-five." The pair has collaborated on projects such as a mural at Dog House Surf Shop in Fort Walton Beach, and Arantis has already gotten firsthand experience working part-time at Big Rooster. "Of course, the deal is he has to go to school and get a degree, but I can't think of anything better than working with my son and creating a family tradition." With a daughter who is a painter and a wife who does custom automotive pinstriping and photography, there's no doubt the Davis family artistic legacy is alive and well.
Tattooing, no matter the stigma attached, remains an ancient art form that has gone through phases of the highest respect and the lowest disrespect throughout the years. In recent decades, it seems tattoos have become more appreciated by "mainstream" society as a form of art and self-expression, no different from the clothes a person wears, except that you can't take them off. "When I was growing up, only soldiers, convicts, or bikers had ink," Eddie admits. "These days, it's much more accepted in many cultures to wear tattoos. We all have different experiences and different backgrounds, and anything that helps provide a way to express your individuality is great."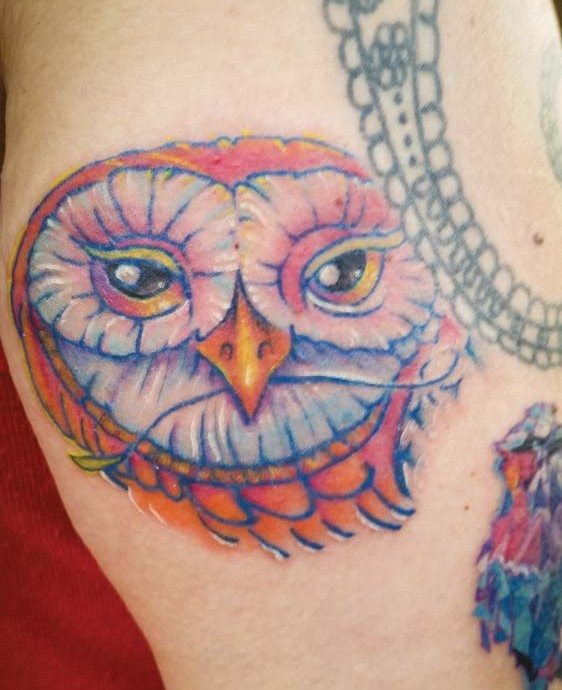 Eddie believes each of his tattooing experiences is unique and creates a special connection between himself and his clients that he values more than the money he makes for his art. "We are all only on this planet for a short time," he explains. "I believe that while we are here we should all strive to leave as large an impression as we possibly can. Make a positive mark and leave people better than you found them. All of our things and money still don't equal our experiences, so collect experiences. If that means getting a tattoo, then get a tattoo. Find an artist you like and make it happen. Tattoos are snapshots for where you are at any given point in your life. When the end is near, have something really cool to remember the ride."
— V —
---
See more of Eddie's work at Facebook.com/EddieDavisArt or on Instagram (@eddiedavisink). He is available for commission at Big Rooster Co. Cycles and Tattoos; contact him directly at (850) 305-4001.
ARTICLE CATEGORIES