By Jordan Staggs | Photography by Rinn Garlanger
In the heat of a Southern summer, few things are more satisfying than relaxing by the water—be it a lake, a creek, a river, or the Gulf of Mexico—while enjoying a cold beverage and listening to music or conversing with good friends. The South is a land of simple pleasures: breezy nights spent looking at the stars, long drives down country roads with the windows down, cookouts on Saturday nights. Since before the Civil War, the South has been known as the best place to find quality whiskey in America, even if that trade was perhaps not made legitimate until a certain distiller legally opened its shop in Lynchburg, Tennessee, in 1875. You know the one.
Tennessee whiskey. Kentucky bourbon. Northwest Florida rum? The presence of a high-quality craft distillery in the backwoods of Crestview may come as a surprise to many in the Florida Panhandle. Nonetheless, Timber Creek Distillery is located right in their own backyard, a short drive north of Interstate 10 along the banks of Juniper Creek. Getting there can be a challenge that is best accomplished with four-wheel drive, but the trip is well worth it for any adventurous liquor connoisseur who is interested in visiting the distillery's picturesque main house and one-of-a-kind manufacturing plant.
"It just tastes good," is the sentiment adamantly conveyed by Timber Creek's master distiller, Aaron Barnes. The company, formed in May 2014, began its journey into creating fine spirits and craft cocktails when Barnes—a Paxton, Florida, native now living in Destin—and his neighbor, Camden Ford, bonded over a mutual interest in home beer brewing. Ford, who worked in high-tech engineering in Silicon Valley for about sixteen years before moving into his family's vacation home in Destin, was looking to settle down away from a job that required him to spend most of his time on the road. He enlisted Barnes as his chief taste tester, but the two soon became passionate about a product with a little more kick than beer. They dreamed of starting a quality distillery in Florida. Barnes, a real estate broker, began looking for possible locations for the venture, and as it turned out, the barn behind his parents' 26,000-square-foot home in Crestview was just the right fit. After receiving the blessing of Barnes's parents, he and Ford started planning—"over drinks of hooch and whiskey, of course," Ford says.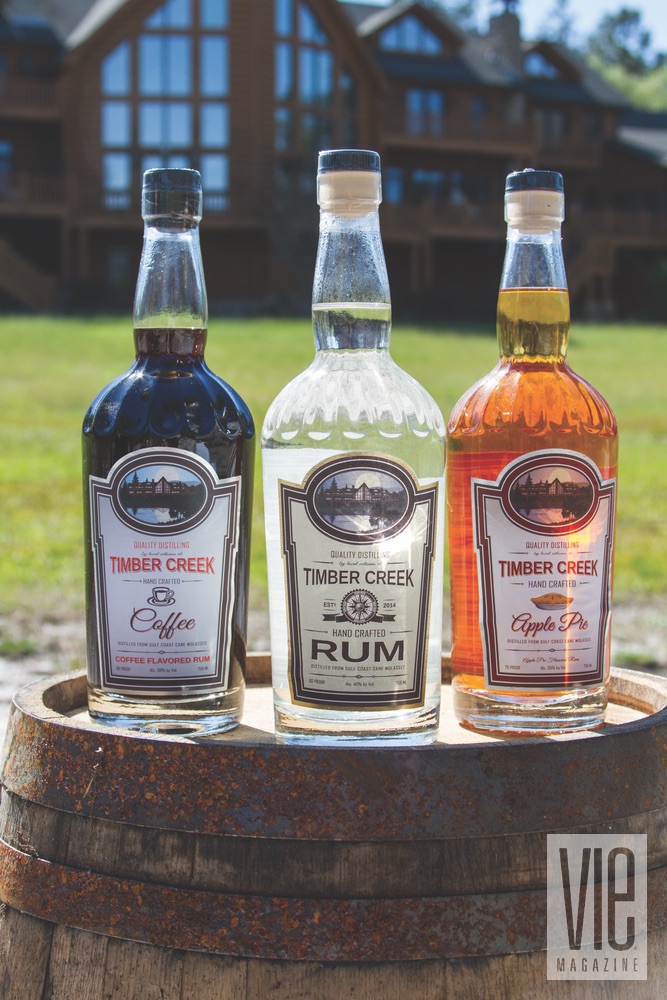 Fast-forward one year to May 2015: Timber Creek Distillery officially moved into the barn along with a recirculating immersion mash system (RIMS), which Barnes had spent months perfecting, and all the other components for a full production plant. Ford says the RIMS is "basically a way to cook barley malt for making beer—or in our case, cook corn, rye, and malt for making whiskey." By midsummer 2015, Timber Creek's first batches of Florida bourbon were in production, and a few flavored rums were well on their way.
"My mom doesn't drink bourbon," says Barnes, explaining his goal of creating a whiskey that people of all palates could enjoy. "I had my supersecret first barrel stash—a wheat bourbon—I wanted to make something smooth and easy to drink. Nobody wants to drink something and think, 'I gotta acquire a taste for that.'"
Timber Creek Distillery now produces two bourbons—some of the first to be made in Florida—four rums, and a wheat vodka. The rums are particularly special, as Barnes and Ford worked to create smooth, flavored rums (not liqueurs) in varieties such as coffee and apple pie; these rums are great for mixing, cooking, or simply enjoying on their own. "If you like good, strong coffee, our coffee-flavored rum makes an excellent iced coffee mixed with just a little vanilla almond milk on the rocks," Barnes says. "We used four hundred pounds of coffee and a cold-water extraction technique to get the best flavor."
In addition to sourcing fantastic corn, wheat, and rye directly from Northwest Florida growers, Ford was able to source local fruit, such as blueberries, strawberries, peaches, plums, and muscadines, to use when creating new flavors. Of equal importance is the water used in the distilling process: "Many beer brewers will tell you that using high-quality spring water is what makes their beers so special," he explains. "We are very lucky in that aspect, as well. Our local water company, Auburn Water, pulls water from the Floridan aquifer system. This water has filtered down through hundreds of feet of soil and limestone to give us really fantastic local water." With local grains, great water, and a variety of flavors—all aged in quality barrels sourced from a family business in Missouri—the ingredients are all in place to produce some fine spirits.
However, there's more to this business than just having great ingredients, as both Barnes and Ford will attest. Their production system is massive, including an eight-hundred-gallon mash tun for cooking the grains, a lauter tun of equal size for separating the grains from the wash, two thirteen-hundred-gallon fermenters, and a six-hundred-fifty-gallon still. "This gives us enough capacity to make about a thousand cases of spirits per month in full production," Ford says. Timber Creek hopes to continue expanding its production and to reach three times that capacity within the next five years, even as it continues to use, as Ford says, a very "gentle" approach with grains that is similar to that used by beer brewers.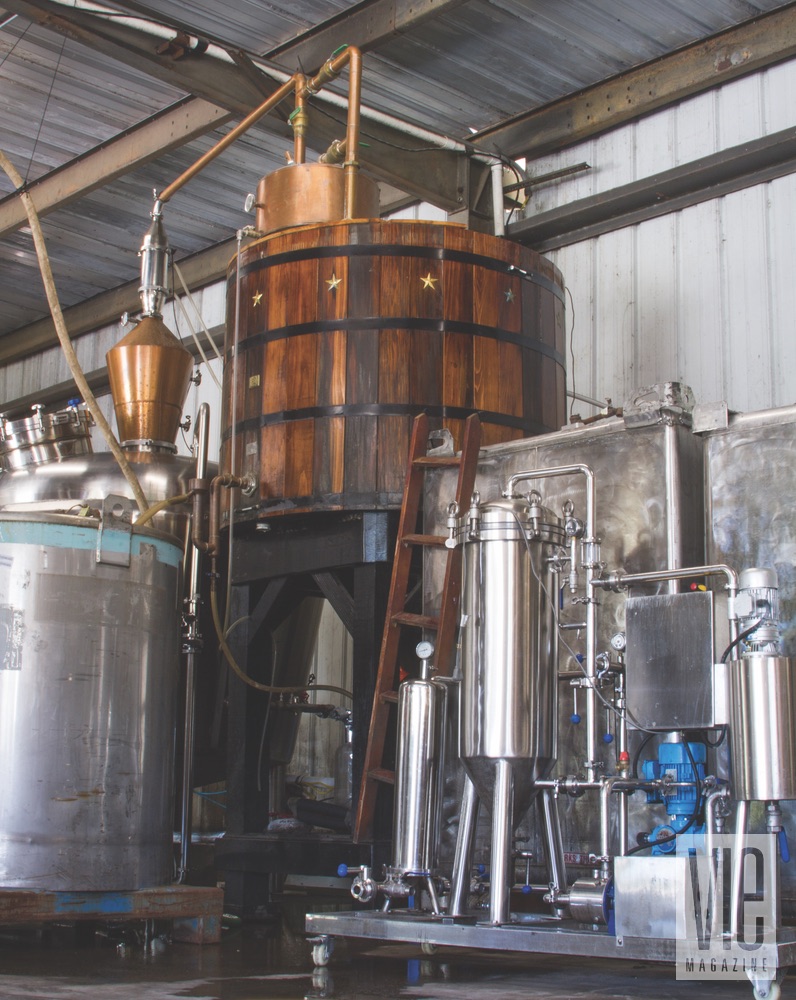 "Most bourbon distilleries, including the really big guys, mostly use hammer mills to pound their grains into flour. They then cook the flour and water together to make a slurry or porridge," Ford says. "This is very efficient for extracting every last drop of sugar from the grains but sometimes can also leave some bad flavors mixed in. For example, barley and wheat have very woody husks. Wood can leave tannins in the whiskey; too many tannins and the whiskey isn't very good." By cracking grains with a roller mill and separating the husks from the liquid in the lauter tun, Barnes can control how long the grains stay in the liquid—and therefore how much tannin and other flavors get into the mash before the two are separated. It doesn't hurt that this approach also makes the still much easier to clean. Once the grains have been used and separated from the liquid, the excess is delivered to a local pig farmer, so nothing goes to waste. "This gentle treatment has allowed us to extract pure flavors from our grains and make some fantastic whiskey," Ford concludes.
Once the liquids have distilled, they are aged in barrels for about nine months. For the first batch, Timber Creek decided to use various types of wood barrels to see how each grain interacted with the wood, barreling the corn, wheat, rye, and barley whiskeys separately. "Later, we could blend that into exactly the whiskey we wanted," Ford explains. "We were able to create three different whiskeys just by blending different amounts of the different barrels. This gives us a lot of flexibility in creating new flavor profiles. For visitors to the distillery, we will even blend a custom whiskey." This type of flexibility to create new flavor profiles and custom tastes sets Timber Creek apart from other distilleries, especially the big ones. Just as the craft beer movement has grown in Florida in the past five years, this craftsman's approach to creating specialty spirits using the best local ingredients offers the chance for people to try something new and truly unique to the area.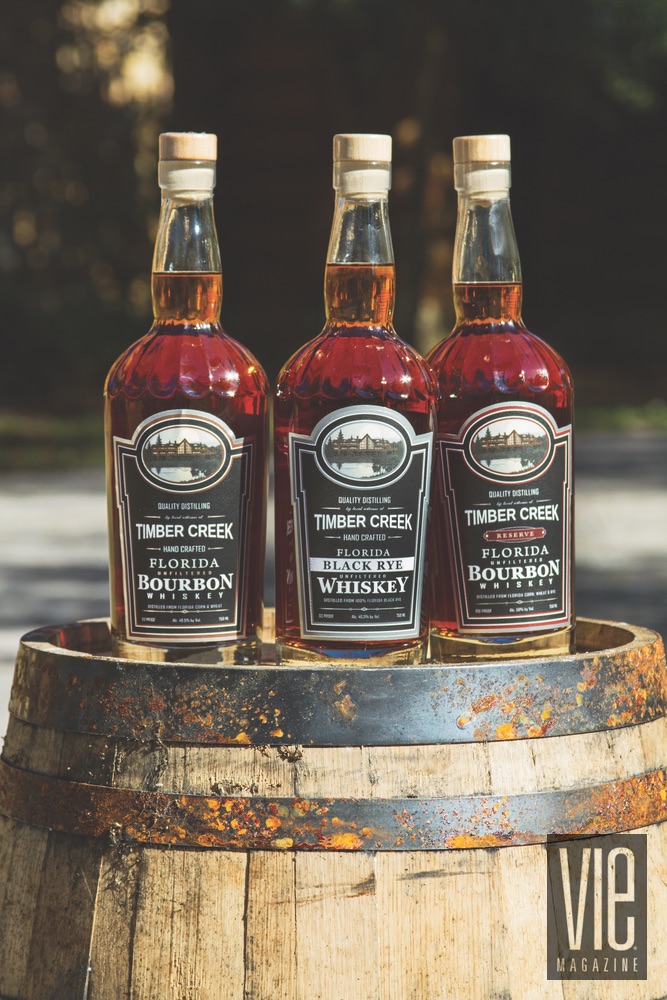 "When people come down here to the beach, they're in vacation mode," Barnes says. "They start drinking early and often continue through the day." Timber Creek's products lend themselves to that mind-set, with premium flavors that are easy to enjoy, go down smooth, and are great for creating cocktails—whether it's a hard apple cider, a beach-perfect rum runner or daiquiri, or an iced coffee with a kick.
As Barnes puts it, Timber Creek's philosophy is "Put good stuff in, get good stuff out." From the first taste, it's clear that this philosophy is working.
— V —
Timber Creek whiskeys, rums, and vodka are available at ABC Fine Wine and Spirits, Paradise Liquors, Sunset Liquors, Publix, Walmart, and Sam's Club locations across the Panhandle, with plans to grow distribution for 2016. To learn more, visit www.TimberCreekDistillery.com.
ARTICLE CATEGORIES