Pop Art That Pops
By Jordan Staggs | Photography courtesy of Betsy Enzensberger
"It all began as an experiment, as most arts do."
This statement will click immediately for viewers of Betsy Enzensberger's gloriously high-fashion sculptures of ice cream, ice pops, french fries, and other delicious shapes. The Palm Springs-based artist's roots lie in New York, where she grew up adjacent to some of the world's best art, cultural events, museums, performances, and restaurants. From a young age, her love of the arts opened her eyes and mind to new possibilities for what her life could entail.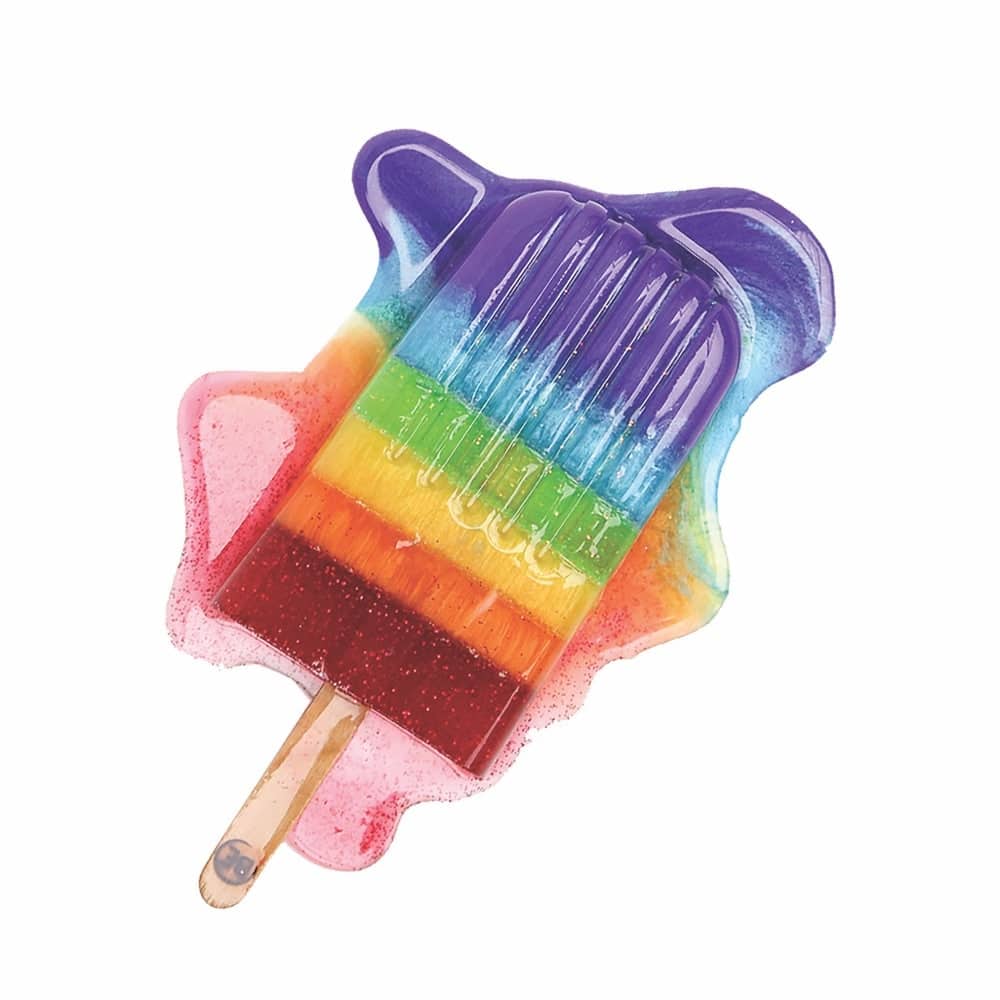 "I have always been someone who wants to get her hands dirty," Enzensberger shares. "I have always loved to create. In fact, I can't even remember a day that I wasn't making something with my hands. I still take notes in notebooks versus digitally. It's that tactile sensation that I crave, which is why I ended up being a sculptor."
The artist lifestyle seemed like destiny for the young woman, who graduated from the fine arts program at Tulane University and gained a coveted apprenticeship with sculptor Eric Johnson in Los Angeles. Still, it took some time before she fully committed to sculptural works herself.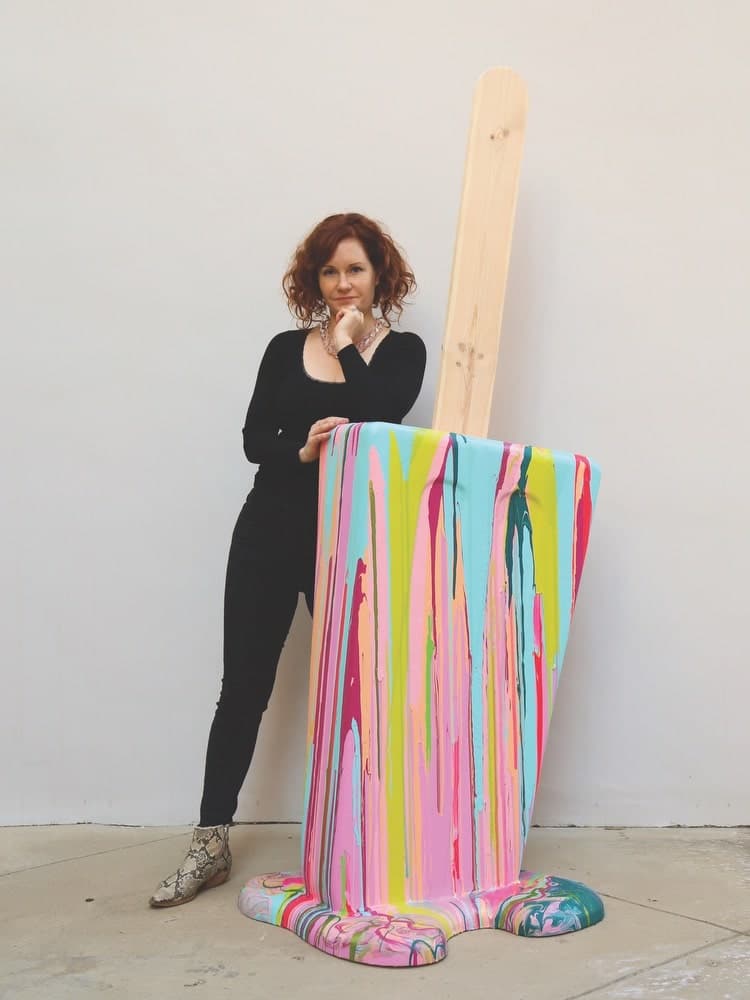 "I started pouring resin over my paintings just so that I could get that thick, glossy, saturated look," Enzensberger explains. She was painting on wood panels when she first started to create more layered, 3D pieces. It was unintentional and even a little uncomfortable, she admits. "I'd take a step back and say, 'How did this end up being sculptural?' It was confusing to me because I was always more comfortable with 2D wall-hanging art. So, every time my art got too sculptural, I'd try to reduce it back to a 2D space."
Simply put, Enzensberger didn't choose the 3D life; the 3D life chose her. "Right before I began creating melting ice cream sculptures, I was making melting paintings," she recalls. "These pieces would flow from the wall panel down the wall and onto the floor. That delicious flow of resin intruded into my floor space, but I embraced it. I let it happen. At some point, I just stopped resisting the urge to make sculpture, and it naturally evolved into what it is today."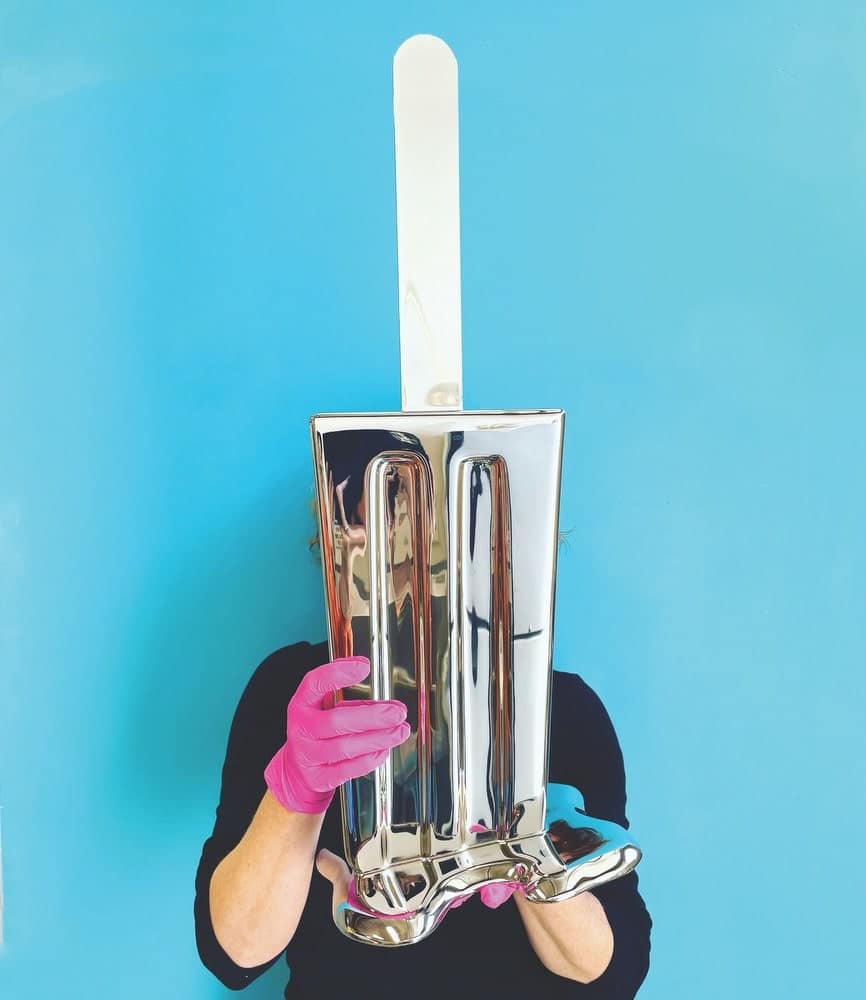 What began as an experiment, she says, has become a passion that obviously resonates with a global audience craving art that is whimsical, nostalgic, and undeniably fun.
She moved to Palm Springs, California, where she lives now with her husband, and has opened a small studio for creating her Original Melting Pops that have become popular across social media, magazines, and celebrity homes worldwide. What began as an experiment, she says, has become a passion that obviously resonates with a global audience craving art that is whimsical, nostalgic, and undeniably fun.
It might seem counterintuitive that such quirky, colorful sculptures depicting melting treats, sparkling cupcakes with Christian Louboutin stilettos stuck through them, or rainbow hamburgers would be created by an artist wearing a serious, Darth Vader-esque respirator, but here we are. Enzensberger suits up for safety when she creates due to the highly toxic chemicals and dust coming off the resin as she heats, molds, and adorns it with sprinkles and glitter. "I need to put on several layers of protective gear just to work with resin," she says. "My studio has a ventilation system that is very loud, and I keep the space quite warm, so the resin is at its optimal curing temperature. Let's just say this is not a comfortable work environment." But it's these challenging working conditions that interest her and keep the inspiration flowing, she admits. "Honestly, it's the smell of the resin. There are only a few seconds where I can actually smell it before I put on my respirator, but a small, short whiff of chemicals fires me up," she laughs. "Visiting museums or going to gallery shows has never really inspired me. Instead, I play with inks and dyes in various types of resin until something looks good."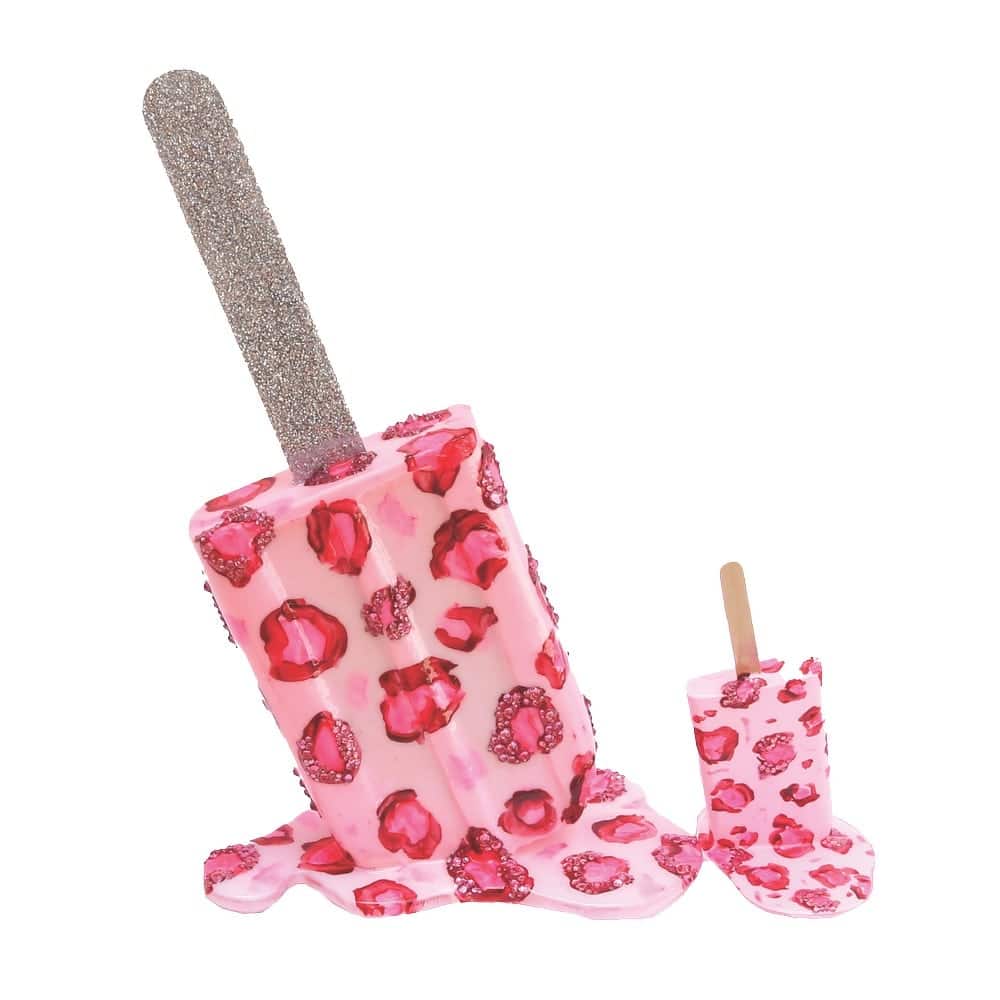 Before she can pour the resin into its final shape, Enzensberger must first create the mold—these thick rubber vessels of all shapes and sizes hold the mystery of drying resin for hours or days before she can cut and rip them open to find the treasure underneath. Next, she uses power sanding tools to smooth and polish the raw sculptures to a brilliant shine, then bedazzles, paints, and otherwise decorates them with fabulousness. Compared to the peaceful process of traditional painting, she says, "Sculpting is strenuous. Some of my sculptures are painted with a brush, and I do look forward to painting like that. It always makes me feel really calm after I'm finished."
Each Betsy Enzensberger Original Melting Pop or other work gets a final flourish when she breaks out the power rotary tool to carve her initials into the polished resin sculpture. When a new piece is sold or shipped to its new home, the artist says she feels like a "proud mama" sending her kids off to college to start their new lives. "I don't have children, but my sculptures feel like my babies," she says. "I spend so much time working on each and every piece that I grow oddly attached to them."
Some pieces, like the beautifully embellished Swarovski crystal ones, are collaborative labors with other creators. "It's so rewarding to find another talented and professional artist to work with," Enzensberger says. "I've been working with the Queen of Crystal, Lauren Lyle (@queen_of_crystal on Instagram), for several years. Her crystal work is flawless, and she is a true professional. She adds a uniqueness to my work that makes it stand out from all the rest. Each piece we make together is extremely special."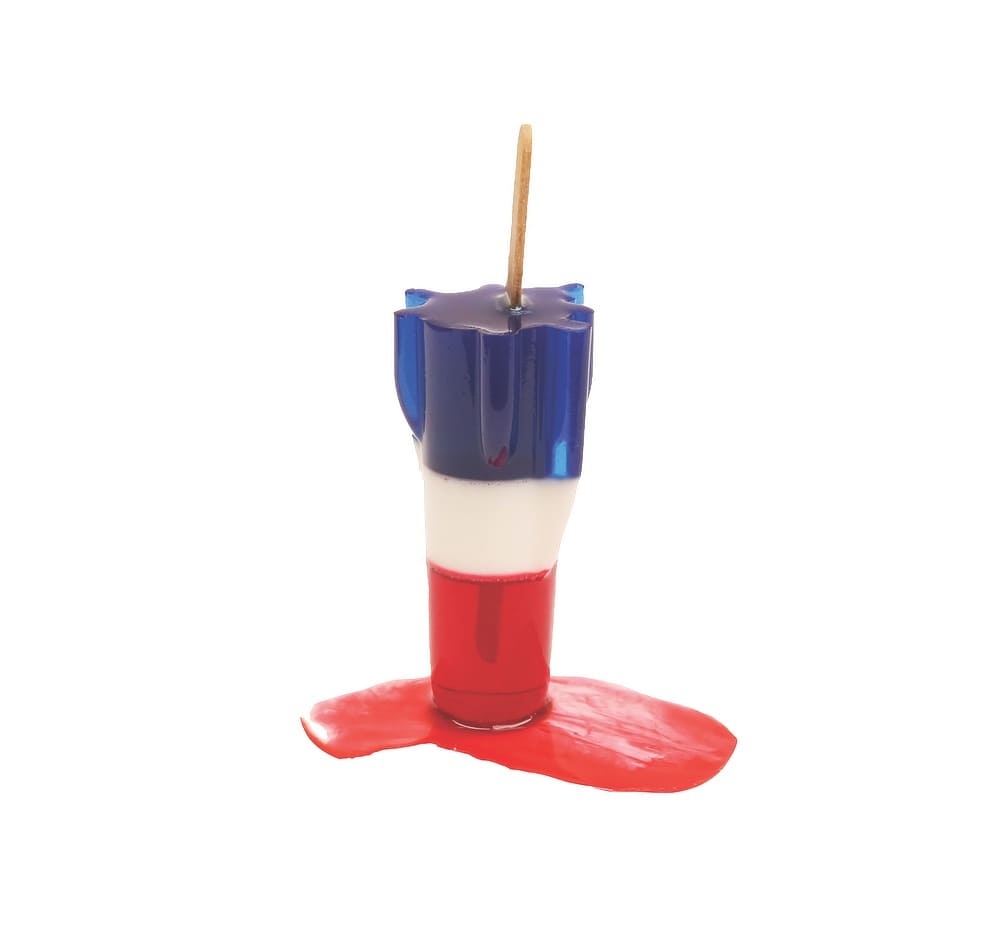 Social media has undoubtedly played a significant role in getting Enzensberger's art in front of the masses, and she says it is a vital tool for artists today. "It's a great way to be seen without actually going anywhere—you just put it all out there," she says. "When I post, I try to be my most authentic self, and I hope people can see that."
This sentiment perfectly segues into her advice for any budding artist or creator: "Be bold. Be fearless. Take risks."
When she's not creating or sharing her work, you might find Enzensberger obsessing over other creatives on Instagram, such as over-the-top interior designer David Rios. "I can lose myself for hours looking through his Instagram page—go see for yourself!" She also enjoys the relaxed lifestyle and beautiful scenery in Palm Springs. Interestingly, although her studio is located there, she isn't very involved in the art scene in the resort town and prefers to ship her work to galleries in other locations. "I know some local artists who love the artistic community here, but for me, it feels good to keep my home and work separate," she explains.
Be bold. Be fearless. Take risks.
Heading into art fair season (typically running from September to February), Enzensberger is excited for new audiences around the globe to see her work. "You'll be able to see my sculptures at shows in London, Hamburg, Singapore, New York, Los Angeles, Palm Beach, and Miami. That's a lot of cities!"
We can't wait to see where these sweet creations will go next.
— V —
---
Visit BetsyEnzensberger.com or follow her on Instagram @betsyenzensberger to see more or shop available pieces.
ARTICLE CATEGORIES