Securing Children's Futures through Food
By Sallie W. Boyles
The start of kindergarten is a momentous occasion that can be as much of a growth experience for parents as it is for their little ones. The Nelsons never anticipated what they'd learn and subsequently accomplish as a family and a community upon enrolling their eldest of three children in a Santa Rosa Beach, Florida, public school.
Nine years ago, Tiffanie Nelson was filling out kindergarten enrollment paperwork when she encountered some surprising questions. Were issues like hunger and homelessness concerns for her family? Clearly, they were not, and she wondered why her neighborhood's elementary school would inquire about students' basic life needs. "I have never met anyone who thought hunger in children existed in their community," Nelson says. Neither did she. Nevertheless, she recalls, "I went home and started Googling for information about children and hunger, and I came across the term food insecurity."
The USDA defines the condition as "a lack of consistent access to enough food for an active, healthy life."
"First," Nelson relays, "I thought how horrible it must feel to be a parent in that situation, and what the stress and anxiety would feel like from not being able to provide for a child. Second, I imagined a child, sitting in a chair, trying to focus on homework but being riddled with hunger." Wasting no time, she called the school's principal. Their conversation was eye-opening. Yes, students in their elementary depended on the school's breakfasts and lunches for meals, and that wasn't enough.
"I wasn't in a position to start a charity," says Nelson, "but I was driven to start an effort." She requested help from her pastor, and with a three-hundred-dollar donation from their church, they provided food for six children that week. "We quickly found we could serve an unmet need."
In 2010, Nelson established Food For Thought Outreach, a privately funded 501(c)(3) charitable organization which works to "bridge the gap between school meals during the weekend and holiday breaks." Through a coordinated effort, requiring two-hundred-fifty volunteer hours per week, Food For Thought delivers health-conscious foods (for breakfast, snacks, and the main meal) weekly to three thousand children who receive either free or subsidized meals at thirty-two schools within Florida's Walton and Okaloosa counties.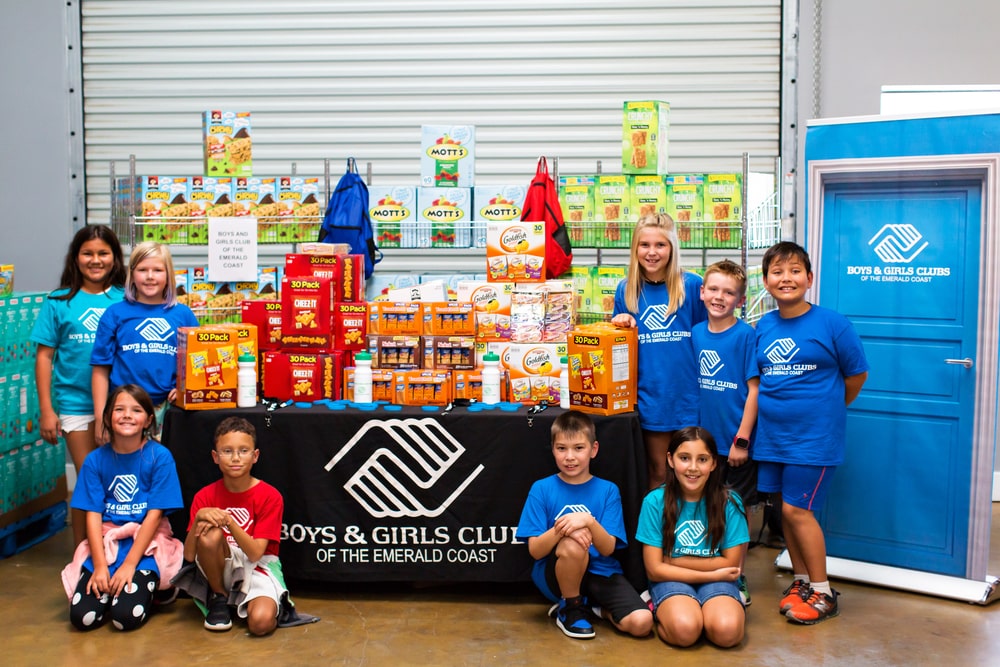 "We use six thousand pieces of produce each week," Nelson reveals. The sheer volume—their first food order of the 2018–2019 school year arrived at Food For Thought's headquarters in Santa Rosa Beach on seventeen pallets—necessitates using food brokers to source the best deals. A variety of events entice individuals, businesses, and various organizations to contribute requested items, but Nelson says, "We cannot depend on donated food to run our program." Spending a half-million dollars on food annually, Food For Thought requires monetary assistance, including grants, from multiple sources.
In her role as executive director, Nelson draws from her former high-level management career in retail to lead the operation. A committed board of directors, well-trained volunteers, and an engaged community are also imperative in meeting the challenges. Nelson clarifies that they "receive no state funding, and we are not a chapter of another organization." Food For Thought's independent status is important. "We are allowed to address our programming based on how the schools need us to do that," she explains. The schools, in turn, willingly cooperate.
"We are most known for our backpack program," says Nelson. Food For Thought fills backpacks with goods such as apples and bread and gets as close to placing the food in students' hands as possible: delivering to their classrooms. Taking food to the source has always been the objective.
With programs like the Supplemental Nutrition Assistance Program (SNAP), also known as Food Stamps, people often wonder why Food For Thought is necessary. "We aren't a parent program," Nelson answers. "We are a child-focused organization. If a parent at home isn't making the best decisions, the child shouldn't suffer. Every student, every child, deserves to eat three times a day."
In some cases, children don't live with their parents. Many are in foster care, homeless, or living with friends. Others, too young to reach a grocery store or assemble a meal, are home alone while parents work. "Five-year-old children have no capacity or impact on how they live," Nelson contends. "Our goal is to empower them so they can get the most out of their education, stay in school, graduate, and become productive citizens."
Food For Thought fills backpacks with goods such as apples and bread and gets as close to placing the food in students' hands as possible: delivering to their classrooms.
Currently spending five dollars per child per week, Nelson says, "Our commitment is to provide ten food items that are as healthy as they can be within our budget. The food must also be easy to open and prepare." Children with food allergies receive adjusted selections.
Assigning a number to every child in the program to identify all backpacks by numbers instead of names protects students' privacy. Even the volunteers who transport the backpacks by vans to the schools and distribute them to the classrooms reference a mapping system with numbers. Without any fanfare, a child knows which one to grab and, days later, to drop off the empty bag at the school's return station. Likewise, the backpacks are nondescript to avoid drawing attention.
"Accepting a backpack is harder for kids in middle and high school because of peer pressure," Nelson acknowledges. But hunger motivates them. "We see up to a sixty-percent increase in school attendance during our service days because the kids make sure they get to school for the food."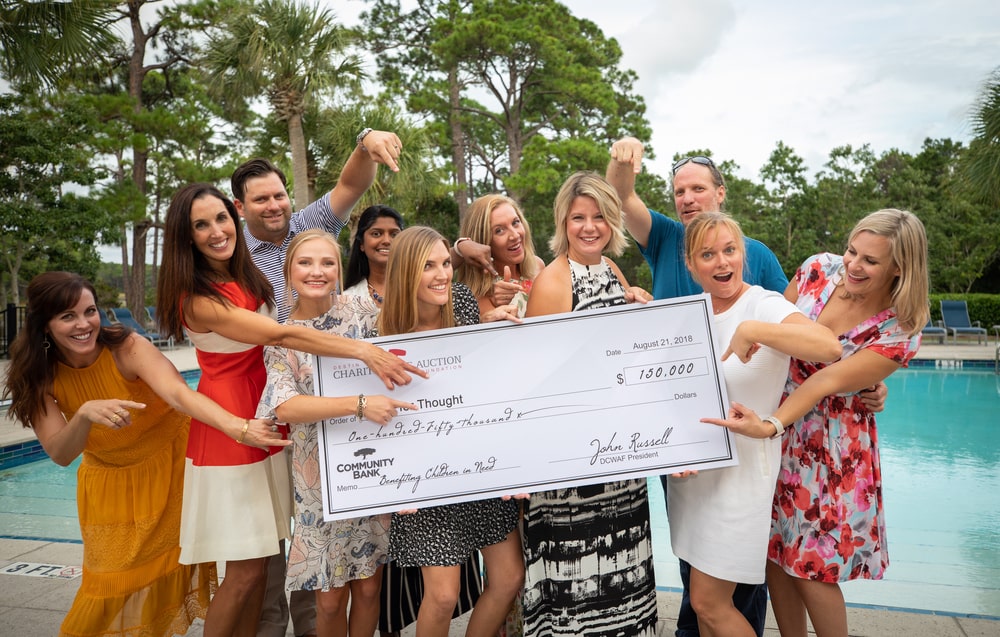 In 2017, thanks to a generous grant from the Emeril Lagasse Foundation, Food For Thought initiated a program of teaching nutrition, food preparation, and related life skills to high school students who are enrolled in Food For Thought. In addition to the physical facility, Emeril's Full Circle Kitchen (located at Food For Thought's headquarters) recruits restaurant partners and local chefs as instructors. An extension of that program, the Full Circle Garden, gives students the experiences of planning, planting, and maintaining a garden and later harvesting and using what they've grown in their culinary classes.
Indeed, Food For Thought is sowing seeds to impact generations, all because a mom paused to consider a poignant question on a standard school form and then thoughtfully responded.
"We have truly created our own little community of volunteers," says Nelson, sharing the credit. "Food For Thought is part of the fabric of our family and a lot of others. Once people hear about what we do, they realize there are students in their own kids' classrooms who are taking our help and that the need is close." Consequently, although the charity can put money to work more efficiently than food donations, Nelson understands the value of having people take that first backpack home to fill. "You need to understand what it feels like to pack a backpack and return it," she says. The sensation of handling something that represents so much to a hungry child is hard to ignore.
— V —
---
Since children are not in school to receive meals during the holidays, volunteers and contributions are critical during this season. Food For Thought Outreach wholeheartedly welcomes those who are interested in learning more about giving their time or money at any level to visit the website at FFTFL.org.
Sallie W. Boyles works as a freelance journalist, ghostwriter, copywriter, and editor through Write Lady Inc., her Atlanta-based company. With an MBA in marketing, she marvels at the power of words, particularly in business and politics, but loves nothing more than relaying extraordinary personal stories that are believable only because they are true.
ARTICLE CATEGORIES