For many busy Americans, the idea of eating a fresh and healthy meal every day of the week can seem laughable at best and exhausting at worst. In a world where the convenience of fast food or takeout is often more appealing than preparing food at home, New York City-based brand Daily Harvest is coming to the rescue!
In the words of its founder, Rachel Drori, "Daily Harvest exists to make clean, plant-based foods more accessible to everyone, no matter where they live or how busy their day might be." Drori found that in balancing her work and home lives, she had little time or desire to cook nutrient-rich foods that she really wanted to eat. Her brand was born from that need, and Daily Harvest now offers weekly and monthly box subscriptions with a variety of products including smoothies, power bowls, soups, and even lattes. All meals arrive right at your door, conveniently packaged and frozen for optimal freshness and easy prep.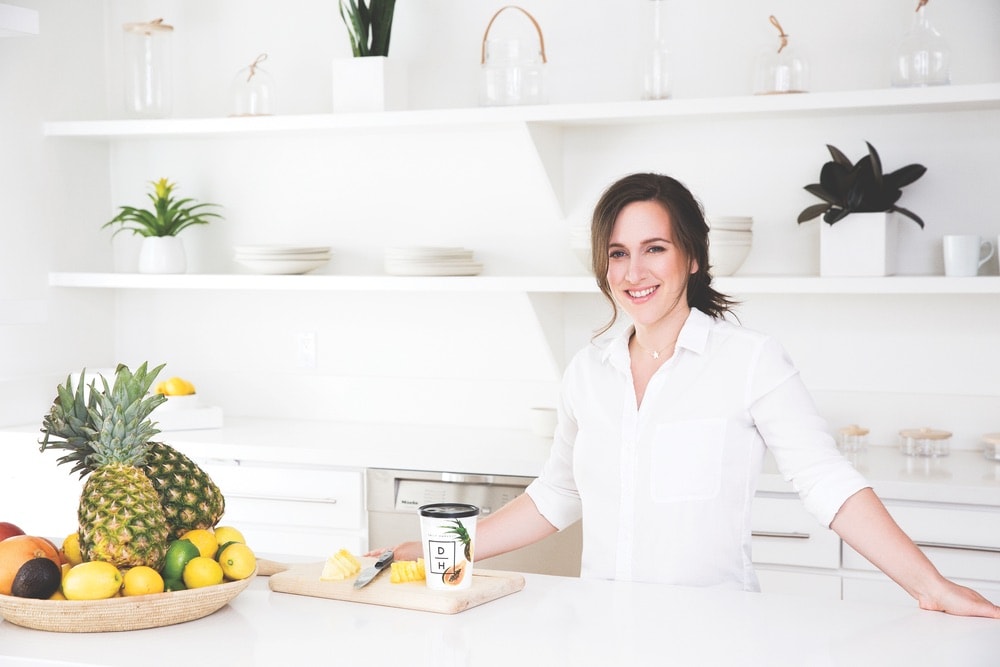 VIE got together with Drori to learn more about Daily Harvest and its mission to make healthy, delicious meals accessible to everyone.
VIE: What areas are currently receiving Daily Harvest shipments?
Rachel Drori: We currently ship to 95 percent of the continental US and are working hard to cover more ground. One of our primary goals is to make clean, organic eating accessible to as many people as possible, regardless of how far the nearest farmer's market is or how skimpy local supermarket shelves may be. Expanding our delivery zone is essential to making that goal a reality.
VIE: How does Daily Harvest delivery work?
RD: We offer weekly or monthly deliveries with six, nine, twelve, or twenty-four Daily Harvest cups inside and the ability to skip a week at any time with no penalty or hidden charge. Customers have the option to choose cups individually or select a curated box, like our best-sellers or a limited-edition curation from brands that we love, such as Well+Good and The Zoe Report.
VIE: Which products seem to be the favorites of your consumers?
RD: The Cold Brew + Almond and Mint + Cacao smoothies are two customer favorites. Getting a healthy breakfast and your morning coffee in one cup feels like the ultimate breakfast hack, and it's totally delicious. Our Cauliflower Rice + Pesto Harvest Bowl is also pretty popular. It's great on its own as a snack, but it can also be topped with a fried egg, grilled chicken, or seared fish for a hearty, healthy lunch or dinner.
Our recipes are crafted to accommodate a broad array of tastes, whether you've got a sweet tooth or prefer savory, spiced dishes. Some are created to spotlight a particular ingredient, while others, like our Carrot + Chia smoothie, are healthy riffs on craveable, less-healthy comfort foods. Regardless of flavor, though, they're all plant-based, gluten-free, and ready to eat in five minutes max.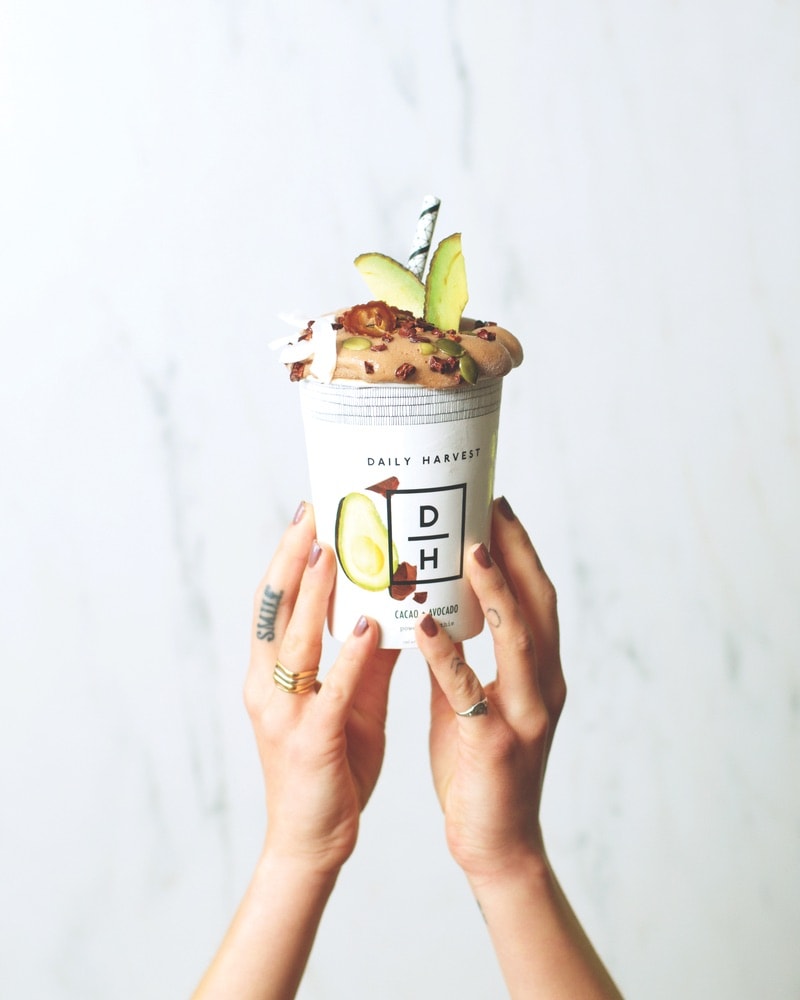 VIE: Which product is your personal favorite and why?
RD: I'm obsessed with our new collection of lattes. They're full of botanicals and functional ingredients—they're warming, mood-boosting heaven. Plus, I used to make a golden milk latte every morning, which took a ton of time (and turned my countertop yellow from freshly grated turmeric), so it's been a game changer for me personally.
VIE: Why do you think this type of at-home service is necessary or helpful for lifestyles today?
RD: Most convenience foods are not healthy, and most healthy foods are not convenient. People want healthier food options without having to disrupt or compromise their daily routines or jump through a dozen hoops to prep and cook meals. Daily Harvest offers a solution by working with frozen foods, which provide superior nutrition and don't spoil in the way that fresh produce does.
And by delivering straight to customers' homes, we're able to provide nutrient-rich, organic produce to those who may not live near a greenmarket or a supermarket that stocks high-quality fruits and vegetables.
All Daily Harvest recipes take just one step and no more than five minutes to prepare. They're all designed to give customers back the time they'd otherwise spend cooking, allowing them to do more of what they want to be doing and focus on what's important to them.
VIE: What other companies have you worked with to create new products or services?
RD: Collaborating with other wellness-focused brands allows us to show how Daily Harvest can be applied to different lifestyles or tastes, whether it's a curated box for nonstop lifestyles with The Zoe Report or comfort food-y recipes with Well+Good. We recently partnered with New York-based vegan restaurant by CHLOE for a limited-edition smoothie in celebration of Valentine's Day; the Dragon Fruit + Lychee smoothie was available in by CHLOE stores and Daily Harvest boxes. It was the first time we had done anything like that, and I don't think it'll be the last.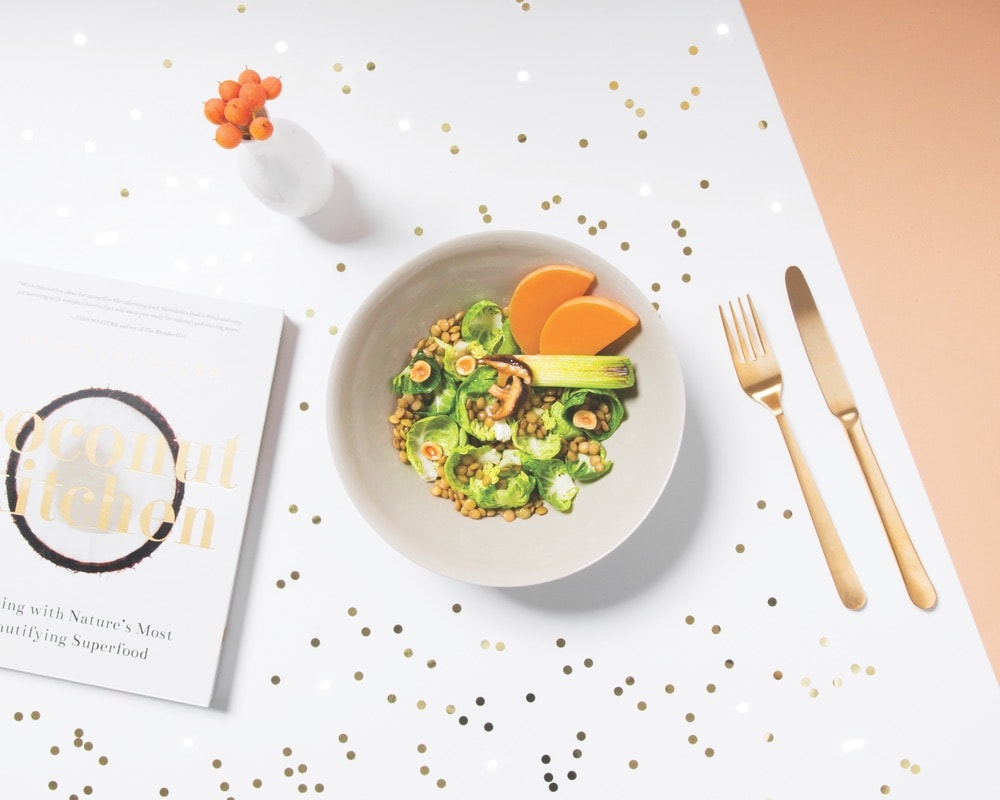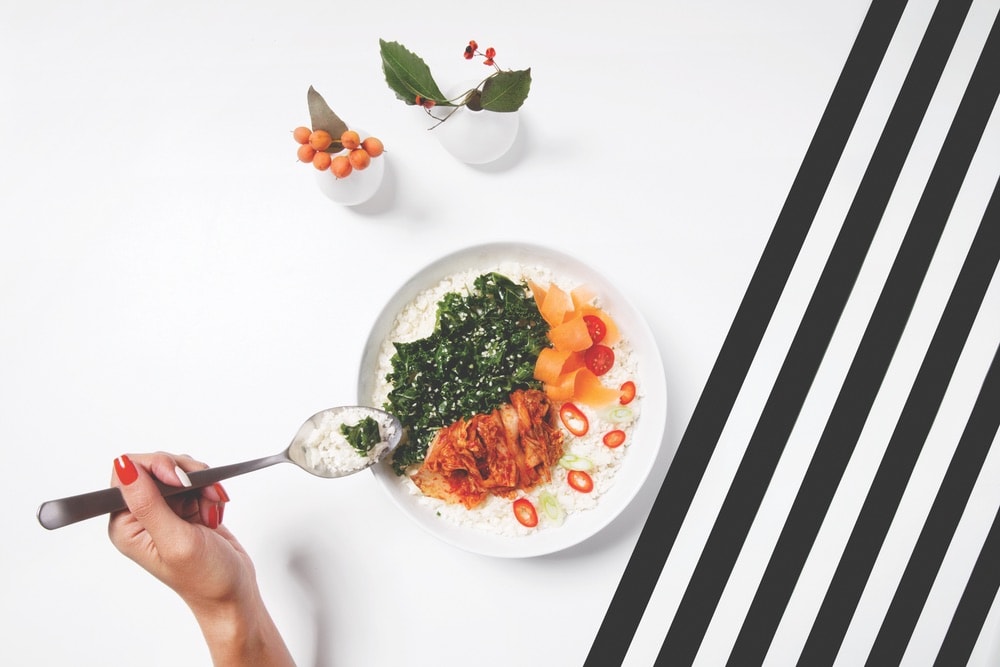 VIE: Anything else coming up for 2018 that you'd like to share?
RD: Right now, we're focused on ramping up research and development, fine-tuning existing recipes, and creating new ones. Guaranteeing a flawless experience as we scale up is also a top priority for us. And without revealing too much, I can say that we've got our eye on cities across the US and are working to bring the Daily Harvest brand to life.
VIE: Any more advice for customers on the go?
RD: Don't fear your freezer! Frozen produce is more nutrient rich and less prone to spoilage than "fresh" ingredients from the supermarket, which are picked before they're ripe and spend weeks in transit. TV dinners gave frozen foods a bad rap, and we're on a mission to remedy that.
— V —
---
ARTICLE CATEGORIES