A Golden Combination
By Kay Phelan |
Photography by Steven Freeman
Meet Mike and Valerie Thompson. Now married for thirty-seven years, they were high school sweethearts in their hometown of College Station, Texas. The energetic couple has two grown daughters and three grandchildren. While their primary residence is in Sandestin in Northwest Florida, they also own a home on six and a half acres in the Russian River Valley in Healdsburg, California. There they have recently founded Thompson 31Fifty Wines, a new vineyard and winery.
The Wine Connection
Mike attended college at Texas A&M University, where he got his bachelor's degree in business and marketing and went on to earn an MBA in finance. Mike launched a career with energy service companies before shifting into electronics manufacturing. He later became vice president of sales and marketing at his company, with major customers such as Apple, IBM, Dell, and Hewlett-Packard, to name a few. Valerie, meanwhile, focused on raising their two daughters while obtaining a BBA in business management.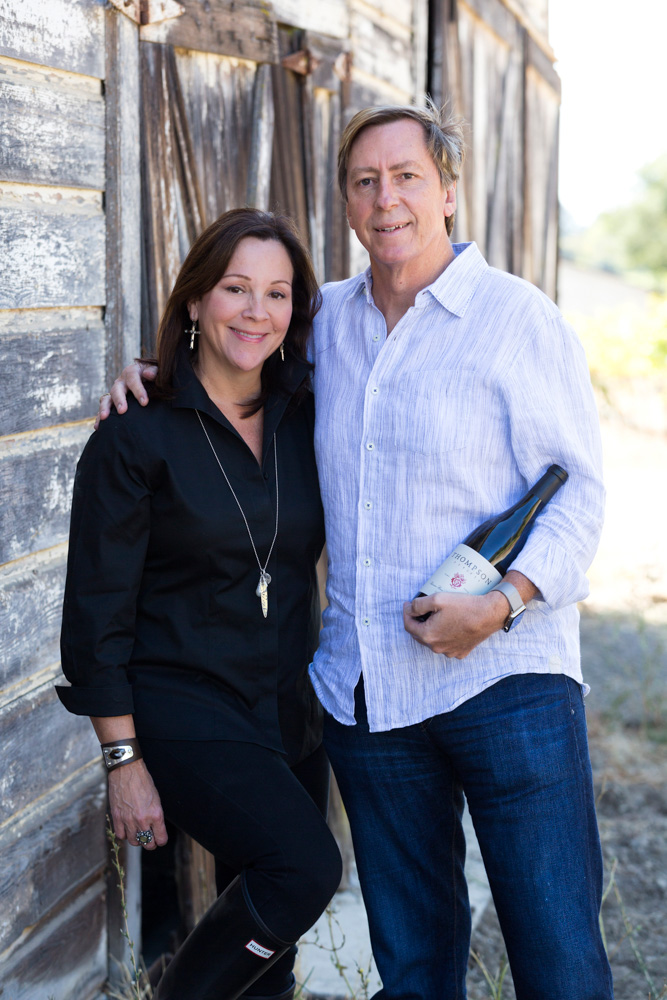 As a vice president, Mike hosted dinners for his many clients in upscale restaurants around the country. "A sommelier would bring me the wine list, but I knew nothing about wine," he says. "So Valerie and I took a trip to Napa Valley in 1997 and were smitten with the lifestyle, the food, and especially the wines. We also went to Europe to learn more about wine and have kept on learning ever since."
Thompson retired in 2002 from the corporate world and founded I. Technical Services (ITS) in Alpharetta, Georgia, in 2003. ITS is an electronics manufacturing company building tech equipment for high-profile clients. Its mission is to be American based, employ Americans, and make a contribution to US society.
Around the same time, the Thompsons built and moved into their Sandestin, Florida, home, complete with their first wine cellar, which has now grown to hold five thousand bottles.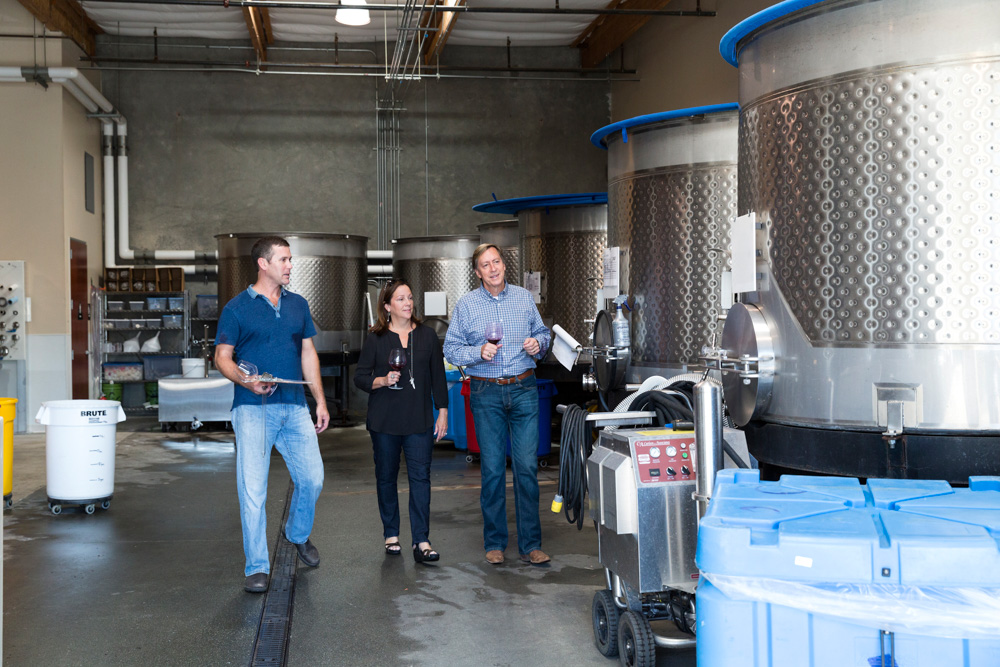 Chi Chi Miguel Throwdown for Charities
Another important chapter in the Thompsons' lives that moved them toward creating Thompson 31Fifty was their philanthropic endeavors through the Chi Chi Miguel Throwdown.
Nine years ago, after the Thompsons discovered their love of vino, Valerie began hosting a backyard barbecue for friends at their Florida home. The Chi Chi Miguel Throwdown was born. By year four, they had turned the growing event into an annual spring fund-raiser to benefit area charities. Vintners, celebrities, sponsors, and chefs from all over the country still travel to the Emerald Coast in Northwest Florida to form teams and barbecue against celebrity chef Emeril Lagasse, all vying for the coveted Chi Chi Miguel Throwdown perpetual trophy. Over the years, millions of dollars have been raised at the live auction, where patrons can bid on exclusive items; one such item in 2012 was an evening with Academy Award–winning actor Morgan Freeman, which went for $80,000.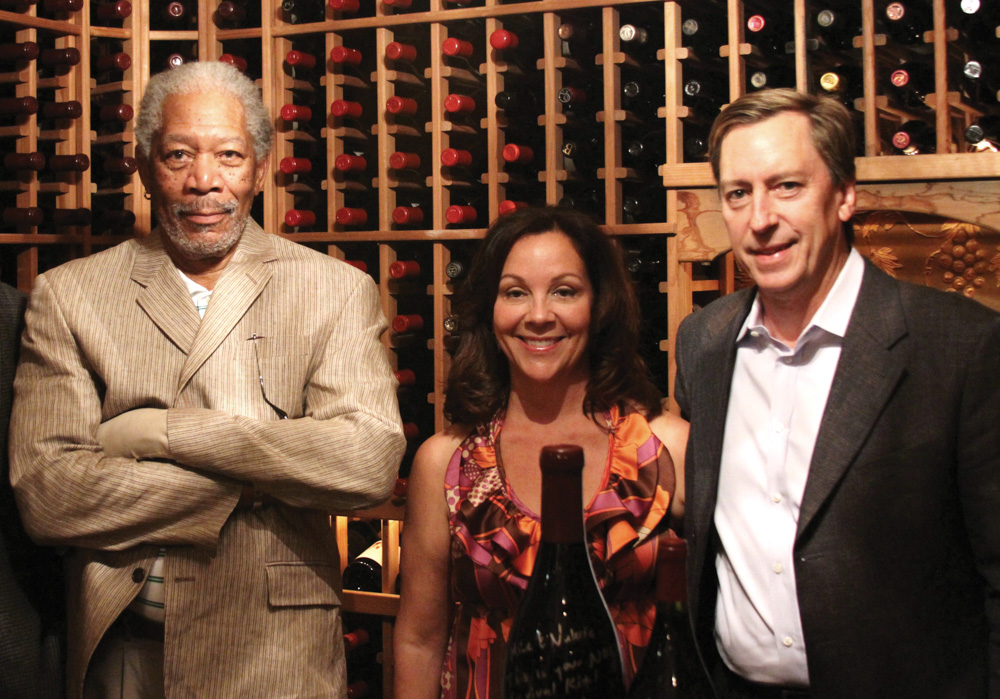 The event has literally grown right out of the Thompsons' backyard and into an important two-day fund-raising event, with a golf tournament and Sip n Shop trunk shows the day before the Throwdown; well over three hundred people attend each year. This past spring, the Ninth Annual Chi Chi Miguel Throwdown raised $1.1 million for the Emerald Coast Children's Advocacy Center, Alaqua Animal Refuge, Children's Volunteer Health Network, Ohana Institute, Food For Thought Outreach, Camille's Art for Autism, the Tree House Episcopal Montessori School, the Ingram Lee Foundation, and Emeril Lagasse Foundation. In the last five years, the Chi Chi Miguel Throwdown has raised over $6 million.
"This year the stars lined up with beautiful weather and a perfect group of people—from friends to vintners to celebrities," says Valerie. "In addition to two Napa winery teams, we also had teams from South Florida, Houston, Southern California, and New Orleans, making for six competing barbecue teams. Highlights of the barbecue competition include the creative team names, such as Smokey and the Bandits, and the character costumes—not to mention our guests partaking in fabulous barbecue dishes! This year Emeril Lagasse's team, Emeril's Diner, won, taking the perpetual trophy away from two-year defending champs, Larry and the Darryls. We like to put the fun in fund-raising for nonprofits. But I think we are most proud of the fact that 100 percent of the proceeds go directly to benefit these charities."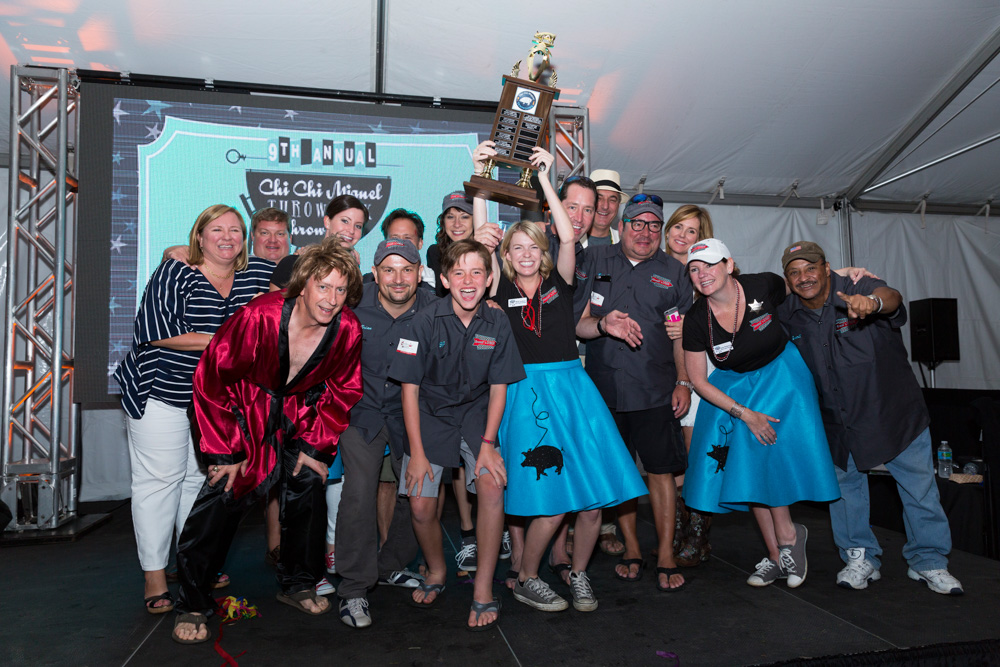 The biggest happening of the weekend—and the largest money raiser—is the much-anticipated live auction at the Throwdown, with an amazing array of lots such as dinner with Emeril Lagasse, magnums of wine, exotic vacation trips, art, vineyard tours, an Indianapolis 500 race package, and many more. The highest bid this year was $60,000 for a Robert Kamen movie experience. Robert Kamen is the Hollywood screenwriter of such movies as The Karate Kid, the Taken trilogy, and A Walk in the Clouds; he is also the owner of Kamen Estate Wines. Robert will be using the winner's name as a main character in his next screenplay. This special experience also included a tour of Kamen Estates and a special dinner with Robert. Next year's annual Chi Chi Miguel Throwdown will take place April 15 and 16, and the Thompsons believe it will be the best event ever.
Mike's other philanthropic endeavors include sitting on the boards of the Emerald Coast Children's Advocacy Center, Emeril Lagasse Foundation, the American Diabetes Association of Houston, and the MBA Advisory Board at Texas A&M. All in all, over the past ten years, the Thompsons have helped raise over $50 million for many different causes, with a focus on children's health, education, and welfare.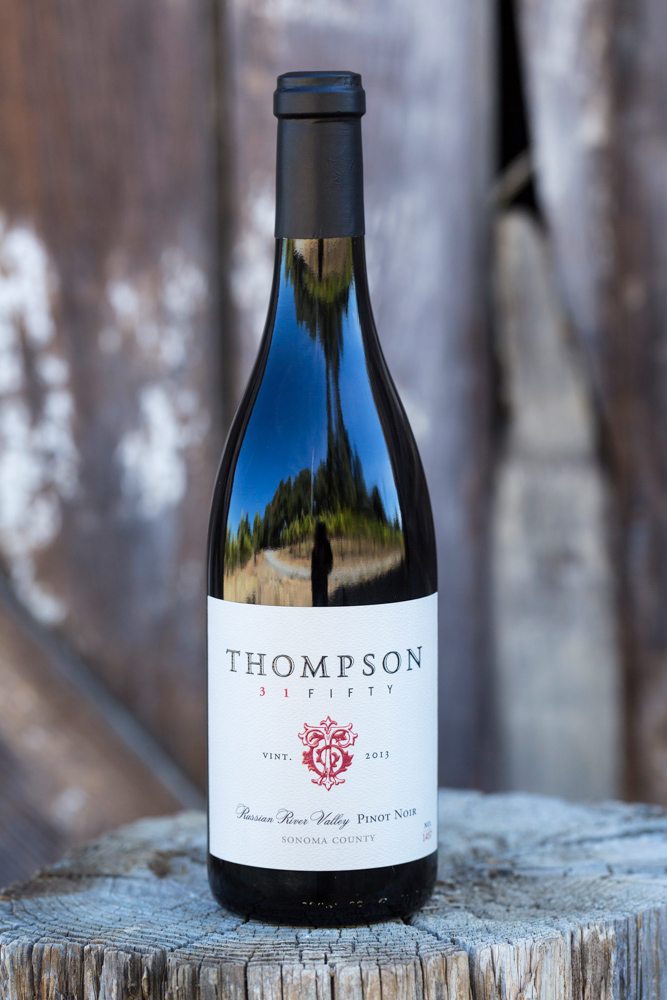 Thompson 31Fifty
The Thompsons purchased their six-and-a-half-acre vineyard property in the Russian River Valley (RRV) appellation on Westside Road, known as the Rodeo Drive of the RRV in Healdsburg, California. Well-known wineries such as Rochioli Vineyards, Williams Selyem, Arista, Gary Farrell, and Thomas George are located along this prestigious stretch.
Thompson 31Fifty Winery was born with the planting of over four acres of vineyards in August 2014. The vines will take three to four years to mature under the eye of famous vineyard manager and grower Ulises Valdez. An immigrant from Mexico and now a US citizen, Valdez started from nothing and is known for his hard work, passion, and family values. He now owns the Valdez Family Winery, which has been featured in Wine Spectator magazine. The other integral part of the Thompson 31Fifty team is winemaker Patrick Sullivan, whose career has included stints at Spring Mountain, Rudd, Lewis Cellars, Paul Hobbs, and Peter Michael. His experience covers a broad spectrum of wine regions and varietals, prominently Burgundy, making him an ideal partner.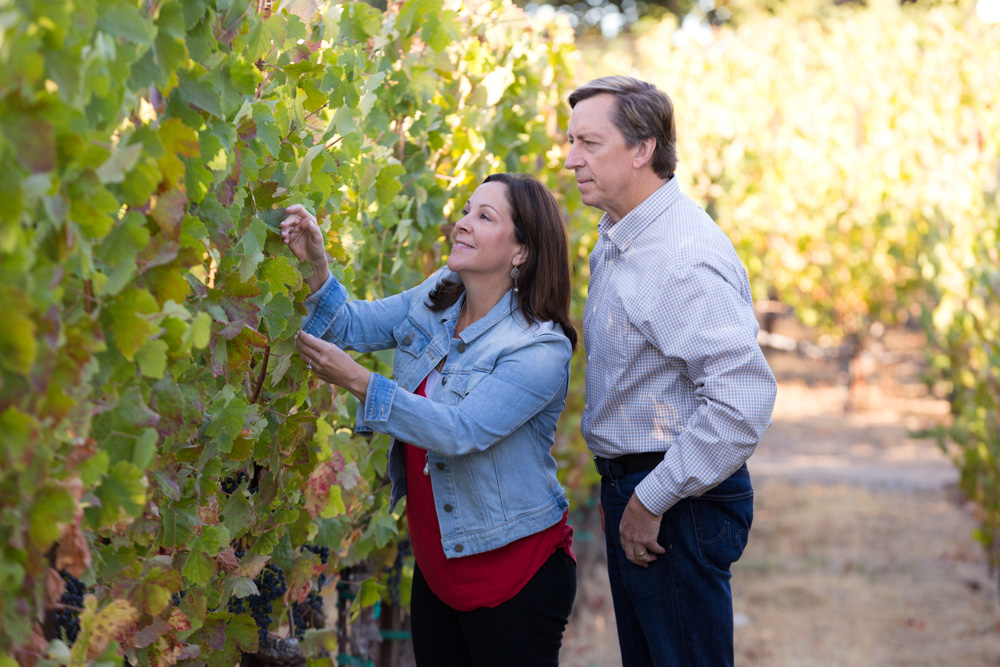 Although it will be a few years before the grapes on property are ready to harvest, the Thompson 31Fifty label is already established. "In the meantime, we are buying and crushing grapes from Russian River Valley at our winery to make our luscious wines," says Mike. "Pinot Noir is our favorite wine varietal and we believe the best is grown in the Russian River Valley. We want our wines to be full bodied but not overpowering. They will be smooth and elegant in the Burgundian style." The Thompson 31Fifty 2013 Russian River Valley Pinot Noir is in bottle, will be released this fall, and can be purchased at www.thompson31fifty.com. This wine is elegant, rich, and beautifully balanced, with hints of blackberry and cherry, and has silky tannins. It is refined on the palate with a long finish. The Thompson 31Fifty 2014 Russian River Valley Pinot Noir is in barrel now, and the winery crushed its 2015 Pinot Noir in August. "We also plan to add a Chardonnay to our 2015 portfolio."
Thompson 31Fifty is a boutique winery with limited production; only 125 cases were bottled in 2013, and production doubled to 250 cases in 2014. The Thompsons believe that by having the best terroir, varietals, and team, their wine will reflect their passion for excellence.
It has been quite a story so far, and the Thompsons will avidly continue their journey through life with their passion and dedication not only for fine wines, but also for making a difference in the lives of many.
— V —
ARTICLE CATEGORIES