By Sandra Woodward
On any given Saturday in the fall, two of the South's favorite subjects—food and football—come together in an elaborate spectacle of Southern hospitality. From NCAA Division One institutions to smaller schools, students, alumni, and fans of all forms pack up their portable grills and converge on campuses across the South to watch their teams compete on the football field and to participate in the sports fan's second-favorite pastime: tailgating.
Tailgating may not have originated in the South—supposedly Princeton and Rutgers claim that honor with their 1869 first-ever football matchup. But Southerners wasted no time in imparting signature style and grace to something as mundane as eating out of the trunk of a car (or from a horse-drawn wagon in the early days).
As difficult as it may be for today's college students to fathom, at one time tailgating was an act of necessity, not entertainment. Before interstate highways and their ubiquitous fast-food outlets, an infinite variety of readily available food at a reasonable price could not always be assured. Travelers had to plan for the unexpected, and a trip of even half a day might well involve packing at least one meal. But what began as a practical solution to the problem of preventing starvation has evolved into a popular-culture phenomenon, with even the home team's local fans schlepping food across town just to be a part of the experience.
As these pages illustrate, the fans define what makes a proper tailgate: one may be formal, with elegant tableware and gourmet-quality food and wine, while another may be strictly burgers, brats, and beer. In the long run, it matters little whether the tailgate menu features hot dogs and beans or pâté and champagne. Tailgating is not really about the food, although that may be a secret best kept from the cook. It's just another excuse for conviviality, for connecting with friends old and new in the college-campus setting that promises—and delivers, if only for a day—the energy and excitement of perpetual youth.
Bon appétit!
— V —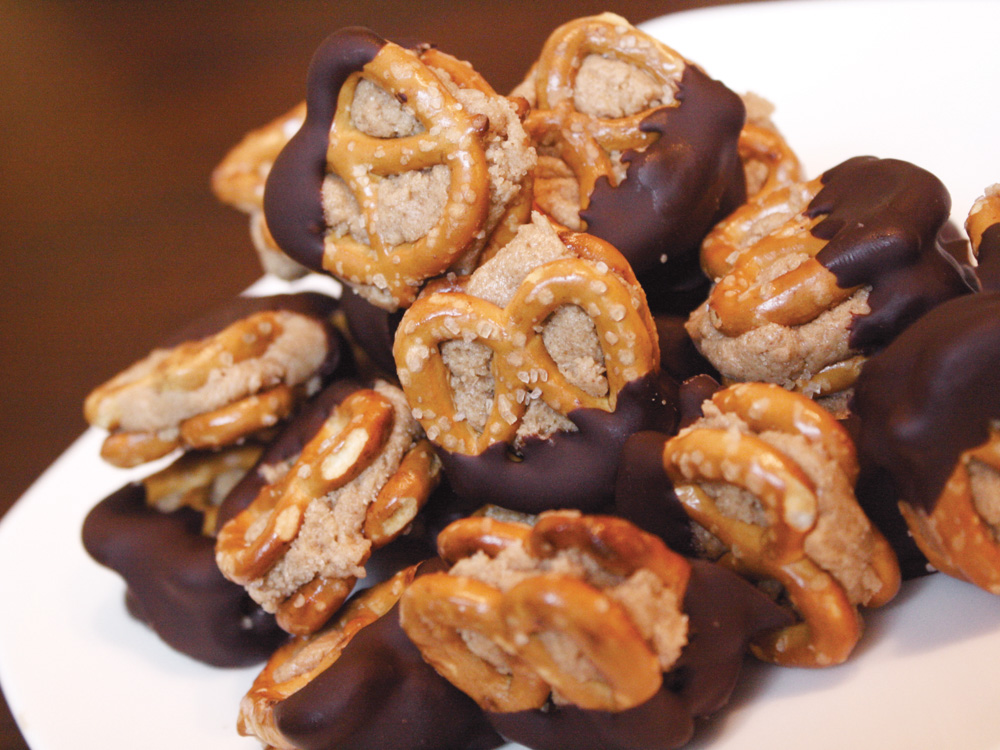 Chocolate Peanut Butter Pretzel Sandwiches
By Molly Carter of
Duchess of Fork
Ingredients 100 tiny twist pretzels 1 cup creamy peanut butter 3/4 cup brown sugar 3/4 cup powdered sugar 1 box semisweet baking chocolate
Directions Mix peanut butter, brown sugar, and powdered sugar with an electric mixer until ingredients are well combined. Sandwich a heaping teaspoon of peanut butter filling between two pretzels. Store sandwiches in the fridge for an hour or two. Melt semisweet chocolate according to package directions. Dip sandwiches into melted chocolate, covering only half of the sandwich. Place sandwiches on wax paper and store in fridge until chocolate hardens and you're ready to eat.
Makes 50 sandwiches.
Brunswick Stew
By Ann Dubose
Ingredients 6 cups chopped cooked chicken (white and dark meat from 2 whole rotisserie chickens) 2 cups chicken broth 3 pounds ground chuck 1 pound ground pork 1 large onion, chopped 1 50.5-ounce bottle of ketchup 3 28-ounce cans (about 10 cups) Hunt's diced tomatoes 4 cups fresh yellow or white corn kernels (about 12 ears) 2 cans creamed corn Juice of 1 large lemon 2 teaspoons cayenne pepper Salt (optional)
Directions Use a heavy pot to cook beef, pork, and onion in chicken broth. Do not brown the meat first; cook it in the broth slowly, with the lid on, for 1 hour. Add ketchup and tomatoes, and cook for another hour. Add chicken, corn, cayenne pepper, and lemon juice (for a wonderful flavor), and cook slowly without the lid for another hour. Add salt to taste. Total cooking time: 3 hours.
Serves up to 40.

Bacon Double Cheese Burger Dip
By Kevin Lynch of
Closet Cooking
Ingredients 1/2 pound ground beef 6 strips bacon, cut into 1-inch pieces 1 small onion, diced 1 clove garlic, chopped 4 ounces cream cheese, room temperature 1/2 cup sour cream 1/4 cup mayonnaise 1/2 cup mozzarella, shredded 1/2 cup cheddar cheese, shredded 1 tablespoon Worcestershire sauce 2 tablespoons ketchup
Directions Cook the ground beef in a pan over medium heat, set it aside, and drain the grease from the pan. Cook the bacon in the pan until crispy, about 6–10 minutes, set aside, and drain all but a tablespoon of the grease. Add the onion and sauté until tender, about 5–7 minutes. Add the garlic and sauté until fragrant, about a minute. Mix the ground beef, bacon, onions and garlic, cream cheese, sour cream, mayonnaise, mozzarella, cheddar, Worcestershire sauce, and ketchup and pour it into a baking dish. Bake in an oven preheated to 350 degrees Fahrenheit until the top starts turning a light golden brown and the sides are bubbling, about 20–30 minutes.
Makes over 4 servings.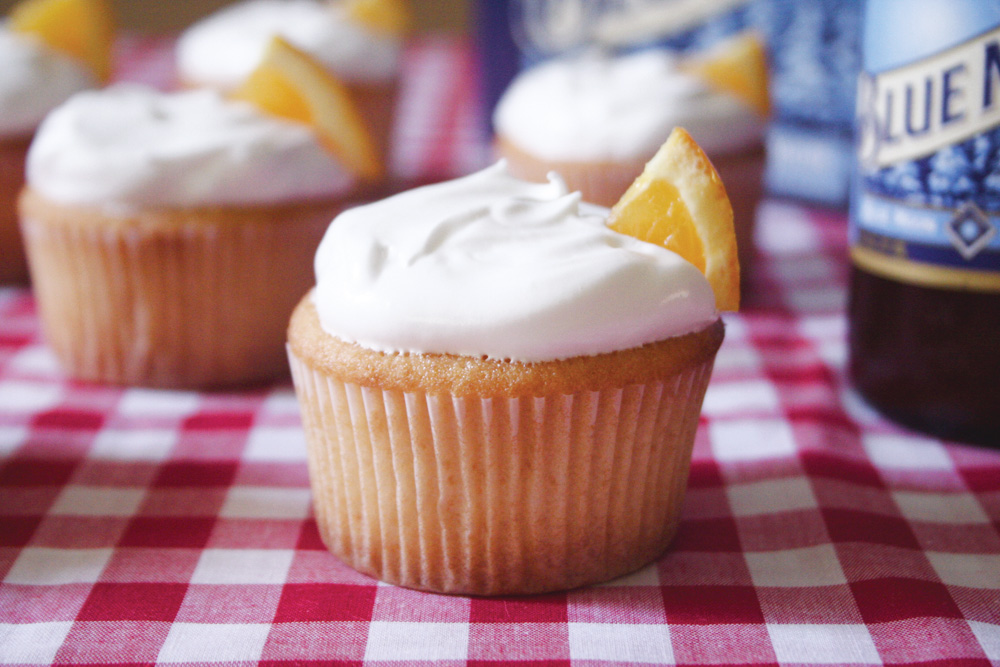 Blue Moon Cupcakes
By Devon Lott of
Miss Make
Ingredients 3/4 cup unsalted butter, softened 1 3/4 cups sugar 2 1/2 cups flour 2 1/2 teaspoons baking powder 1/2 teaspoon salt 3 eggs, room temperature 1 teaspoon vanilla 2 drops red food coloring 10 drops yellow food coloring 1/2 teaspoon orange zest 1 cup Blue Moon beer 1/4 cup milk Frothy White Frosting [recipe follows] Small orange slices, for garnish
Directions Line 24 cupcake trays with liners. [Use white liners if you can; they become translucent during baking and really sell the mini Blue Moon image]. In a medium bowl, mix together flour, baking powder, and salt. In a large bowl, beat butter on medium speed for 30 seconds. Add sugar a little bit at a time, beating well. Once it's all added, beat for 2 more minutes. Add eggs one at a time, beating after each. Add vanilla, food coloring, and orange zest and beat. Mix beer and milk in a measuring cup. Alternatively add beer/milk mixture and flour mixture to butter mixture in the large bowl, beating after each. End on the flour mixture. Fill cupcake liners two-thirds full. Bake for 18 minutes at 375 degrees Fahrenheit until cupcakes are golden and a toothpick inserted in center comes out clean. Once cool, frost each cupcake with a generous amount of frosting. Just before serving, garnish each with a small orange slice.
Frothy White Frosting
2 egg whites, room temperature 1 teaspoon vanilla extract 1 tablespoon orange juice 1 cup sugar 1/4 teaspoon cream of tartar 1/3 cup water
Directions In a saucepan, mix sugar, water, and cream of tartar. Cook on medium heat until sugar is dissolved and mixture is bubbly. In a large bowl, beat egg whites, vanilla, and orange juice until soft peaks form. Slowly add hot sugar mixture, beating continuously. Beat for 7 minutes until stiff peaks form.
Makes 24 cupcakes.
USC Garnet and Black Cupcakes
1 (8 ounce) package cream cheese, softened 1 egg 1/3 cup granulated sugar 1/8 teaspoon salt 1 cup miniature semisweet chocolate chips Red Velvet Cake 1 1/2 cups all-purpose flour 1 cup granulated sugar 1/4 cup unsweetened cocoa powder 1 teaspoon baking soda 1/2 teaspoon salt 1 cup water, minus 2 tablespoons 1/3 cup vegetable oil 2 tablespoons red food coloring 1 tablespoon cider vinegar 1 teaspoon vanilla extract
Preheat oven to 350 degrees Fahrenheit. Line 12 standard size muffin tins with paper or foil muffin cups or spray lightly with cooking spray. (Muffin cups are recommended if tailgating.) For bite-size cupcakes, use miniature muffin tins and line with miniature muffin cups.
In a medium bowl, beat the cream cheese, egg, 1/3 cup sugar and 1/8 teaspoon salt until light and fluffy. Stir in the chocolate chips and set aside.
In a large bowl, mix together the flour, 1 cup sugar, cocoa, baking soda and 1/2 teaspoon salt. Make a well in the center and add the water, oil, food coloring, vinegar, and vanilla. Stir together until well blended. Fill muffin tins 1/3 full with the batter and top with a spoonful of the cream cheese mixture (a tablespoonful for full-size cupcakes, or a teaspoonful for bite-size).
Bake in preheated oven for 25 to 30 minutes.
Yields 1 dozen standard-size cupcakes or 3 dozen bite-size. Hut! Hut! Don't forget that all of these and other delicious tailgating recipes can be found on our website at viezine.com/vie/2012/08/tailgaterecipes. Go team!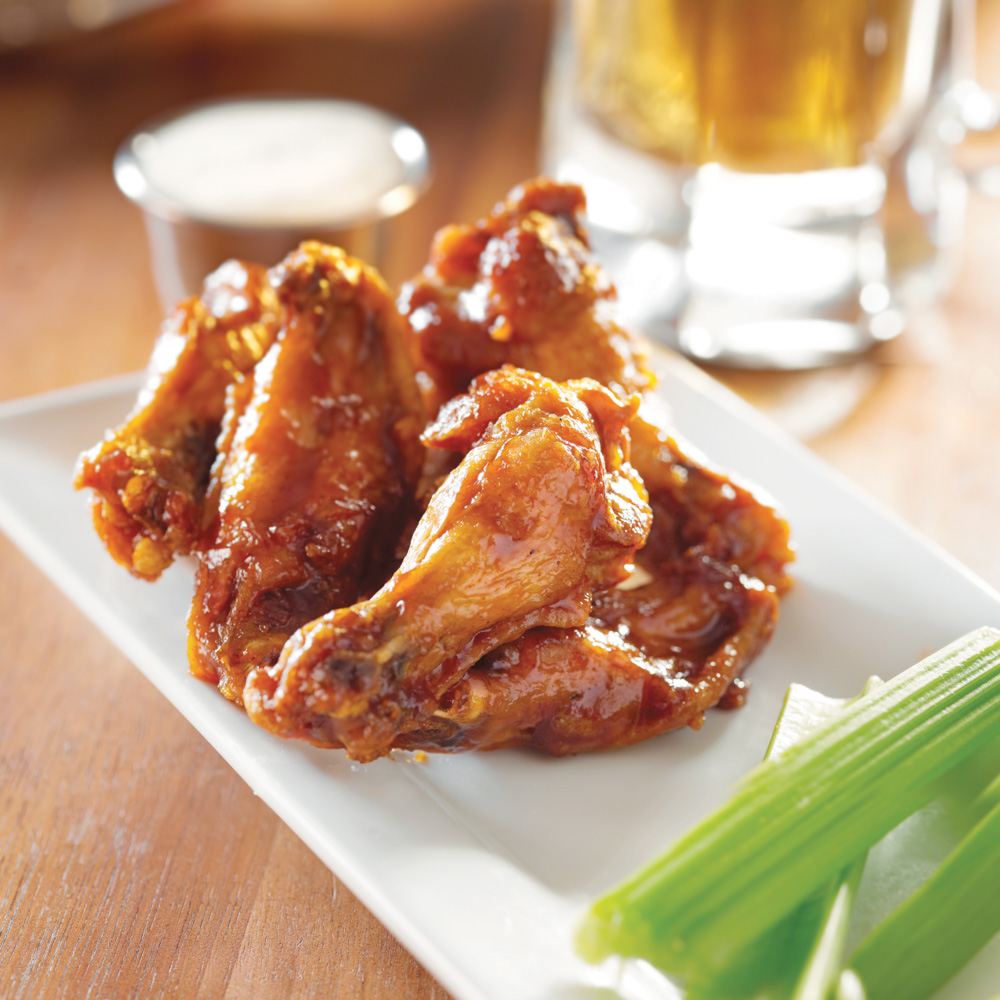 Carolina Game Day Chicken Wings
Serve with celery sticks and Clemson Blue Cheese Dip, and the Clemson Purple and Orange Coleslaw.  
Note: Some cooks prefer to prepare these in advance at home, but they can be cooked on the tailgate grill according to safe procedures for grilling poultry. Keep chicken refrigerated until ready to cook.
Preheat oven to 400 degrees Fahrenheit. 4–5 pounds chicken drumettes
Rub: 1/2 cup chili powder 1/4 cup all-purpose flour 1/4 teaspoon celery salt 1/4 teaspoon onion powder 1/4 teaspoon garlic powder 1/4 teaspoon dry mustard 1/4 teaspoon cayenne pepper (optional)
Directions Rinse drumettes, leaving skin intact. Pat completely dry with paper towels and set aside. Refrigerate if not cooking immediately.
In a large bowl, combine all rub ingredients and mix well. Pour mixture into a sealable plastic food storage or freezer bag. Add drumettes, a few at a time, to the bag and toss to coat thoroughly. Remove from bag, place in a large baking dish and bake at 400 degrees Fahrenheit for 30–35 minutes or until well browned.
Clemson Purple and Orange Coleslaw
1 head red cabbage, coarsely chopped (4 cups) 1 pound carrots, shredded (2 cups) 1 medium sweet onion, chopped 1/2 teaspoon celery seed 1/2 cup sunflower seed kernels 1/2 cup golden raisins (optional) 1/4 cup red wine vinegar 1/4 cup extra-virgin olive oil 1 teaspoon sugar 1/4 teaspoon salt
Combine first five (or six, if using golden raisins) ingredients in a large bowl. Whisk together vinegar, olive oil, sugar, and salt. Add to other ingredients and toss gently. This is prettiest if not made too far in advance; the red cabbage may color the other vegetables once the dressing is added. If traveling, you may wish to prepare the dressing in a container to be added just before serving. 
Serves 8.
Clemson Blue Cheese Dip
1 cup mayonnaise 1 cup plain yogurt (Greek style preferred) 1 garlic clove, minced or grated fine with a microplane grater 1/4 teaspoon Worcestershire sauce 4 ounces Clemson Blue Cheese, crumbled
Combine all ingredients except blue cheese and mix well. Gently fold in blue cheese. Cover and refrigerate until ready to serve. For salad dressing, substitute buttermilk for the yogurt, or add buttermilk to any leftover dip to desired dressing consistency.
Note: Clemson University began making blue cheese in 1941, and the popular artisanal cheese is still made on campus. If Clemson Blue Cheese is not available, use any other good quality blue cheese.
Yield: 2 Cups
Heavenly Cheese Grits
From the Atlanta Junior League cookbook
True Grits
(Thanks, AJL!)
Ingredients 4 cups boiling water 1 cup quick-cooking grits 1 1/2 teaspoons salt 6 tablespoons butter or margarine 1 1/2  teaspoons Worcestershire sauce 1 1/2  teaspoons hot pepper sauce 1 1/4 cups shredded sharp Cheddar cheese 1 tablespoon sherry 1 egg, beaten
Directions Combine the boiling water, grits, and salt in a saucepan. Cook, covered, over low heat for 5 minutes or until water is absorbed. Stir in the butter, Worcestershire and hot pepper sauces, 1 cup of cheese, and sherry. Fold in the egg until blended. Spoon into a greased 2 1/2-quart baking dish; sprinkle with remaining cheese. Bake at 300 degrees for 1 hour or until bubbly.
Note: May prepare 1 day in advance and refrigerate. Bring to room temperature and bake.

Bloody Mary Gazpacho
By Susan Benton of
30A Eats
Ingredients 1 quart low-sodium, no-MSG tomato juice 5 whole Roma tomatoes, stemmed, seeded, and diced 2 large celery stalks, finely diced 1 hothouse cucumber, seeds removed, finely diced 1 whole zucchini, diced 1/4 cup extra-virgin olive oil 1/4 cup white wine vinegar 1 red bell pepper, stemmed, seeded, and finely diced 1/2 medium red onion, finely diced 1 jalapeño pepper, stemmed, seeded, and minced 2 large garlic cloves, minced Juice of 1 lemon Juice of 1 lime 2 tablespoons Worcestershire sauce, or to taste 2 teaspoons kosher salt 6 dashes of Tabasco sauce, or to taste 1 teaspoon ground cumin 1 teaspoon freshly ground black pepper 1/2 cup cilantro, chopped (hold aside for serving) Optional garnishes Favorite vodka Fresh lime wedges 2 ripe avocados (peeled, pitted, and cubed)
Directions In the bowl of a food processor or in a blender, combine the minced garlic and jalapeño with half the red onion, half the bell pepper, half the cucumber, half the tomato, half the zucchini, half the celery, half the tomato juice, olive oil, white wine vinegar, Tabasco, and a dash of salt. Pulse until all ingredients are blended well; mixture will have a nice speckled, colorful texture. Pour into a large bowl and combine all the other ingredients except the optional garnishes. Stir together, adding salt and pepper to taste. Cover and refrigerate for at least 2 hours, as it needs to be served cold. Remove soup from fridge, and stir in cilantro. Check seasonings to taste one last time. If serving as a soup, ladle into bowls and drizzle with a little olive oil, garnishing with avocado. To serve with vodka, mix 1 cup gazpacho with 1 ounce vodka. Pour into a glass or plastic cup and serve cold with a fresh lime wedge as a garnish.
Serves 8.
ARTICLE CATEGORIES