By Anne W. Schultz | Photography by Rob Blakers
My husband, Bill, and I fly some twenty-five hours—packed tight as sardines in a tin—on four connecting flights to a small island clear across the globe and way down under, all because of a rumor. Word's out that Tasmania, the southern island of Australia, is one of the planet's last unspoiled places, and it's reputed to have the world's purest air and cleanest water. We are on a quest to find what we've lost back home. Too many times we have watched reckless development bury a beautiful pristine landscape under an avalanche of vacation homes and sprawling acres of shopping malls and restaurants, along with pharmacy and fast-food chains on every corner, until almost nothing remains of the authentic soulful qualities that attracted people in the first place.
Chances are good that this won't happen here, as 40 percent of Tasmania is protected, including large areas of wilderness in UNESCO World Heritage sites, while the rest is preserved in nineteen national parks and more than eight hundred reserves. Also, Tasmanians love their adorable wallabies, wombats, duck-billed platypuses, and other quirky species. They revere their ancient colossal trees so much that they build platforms in their crowns and stage sit-ins to fiercely defend them from the chainsaws of timber and wood chip industries.
It appears God gathered up some of the world's most stupendous natural features and artfully arranged them in a small space so that awe-inspiring panoramas could be glimpsed around every bend in the road. Cool temperate rain forests cover the landscape in lush greens and soaring trees (some of the world's tallest), mountains rise up in serrated peaks while waterfalls cascade down their sides, and sea cliffs tower above "some of the world's top ten beaches," according to Outside magazine. The crystalline water is so aquamarine that it could be the Caribbean. The sand is the same dazzling white as the beaches of Northwest Florida where we live, except these are backed by thickly vegetated dunes instead of houses, and practically empty instead of blanketed in rows of umbrellas, beach chairs, and tourists. It's easy to explore by car or on boat tours around islands and peninsulas.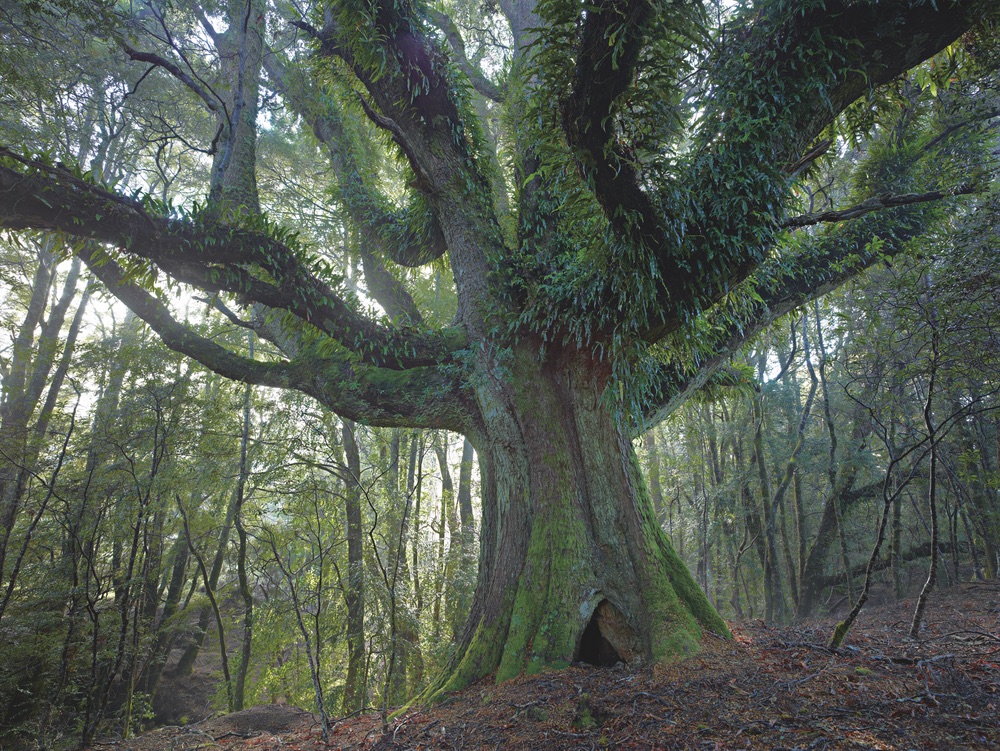 We arrive at the Launceston airport in joyful anticipation of once again experiencing a healthy flourishing environment that still radiates the glory of God and provides refuge from a turbulent world. Right away, we discover the wild Cataract Gorge running through the center of this small hilly town, not far from Stillwater, one of Australia's finest restaurants quaintly housed in Ritchie's Mill. All this clean air and pure water nourish some of the earth's freshest produce and seafood, attracting chefs from all over Australia to open award-winning restaurants. We are spared the conformity of hotel chains; throughout Tasmania there are slews of independently owned B and Bs, cottages, boutique hotels, and classy rental houses perched above the sea.
Such houses include Alice's Cottages and Spa Hideaways, a collection of restored nineteenth-century workers' cottages with modern comforts, where we spend the night before heading out for Cradle Mountain. "Tasmania is about the size of Denmark," says our host Rob Widdowson, who with wife Louise restored the cottages and then opened them as a B and B after retiring from dairy farming. "But the difference is Denmark has five million people, and we have only around five hundred and twelve thousand."
Enjoy the serenity of this comforting landscape where mosses and lichen carpet the forest floor and tree trunks in velvety softness.
That means during our February visit we have empty highways and national parks almost to ourselves—except for the World Heritage–listed Cradle Mountain-Lake Saint Clair National Park located on the mountainous west coast. People flock from all over the world to see the iconic serrated peaks of Cradle Mountain reflected in the glassy surface of Lake Saint Clair. Join these international travelers on a stroll down the popular Dove Lake circuit through alpine terrain beneath the spires of Cradle Mountain. The trail passes through Tasmania's temperate rain forest dominated by ancient myrtle beech trees that date back over sixty million years. Enjoy the serenity of this comforting landscape where mosses and lichen carpet the forest floor and tree trunks in velvety softness.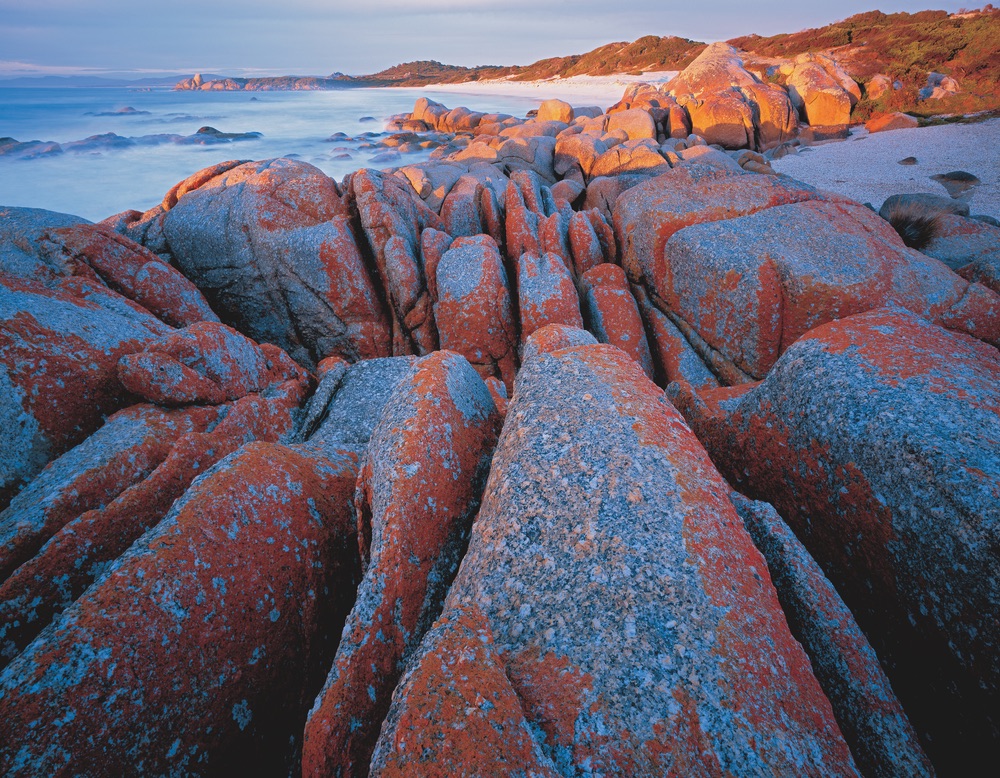 Grab a 60 Great Short Walks brochure at the main visitor center and then duck into the Interpretive Center to learn about what you'll be seeing on the hikes. It's not only because you're in the Southern Hemisphere that flora and fauna are so unique. Some plants such as fagus and pandani are survivors of species that grew millions of years ago on the ancient supercontinent Gondwana when Australia, Africa, South America, New Zealand, and Antarctica formed one gigantic land mass. The rare flora and fauna are part of the criteria giving the region its UNESCO World Heritage status.
Out of ten World Heritage criteria, Tasmania meets a whopping seven of them; given all one thousand World Heritage destinations, only China's Mount Tai meets as many criteria. Take advantage of all Tasmania's beauty when you stay at the cozy, well-appointed Highlander Cottages, where marsupial pademelons graze outside your cabin door. Spend several days hiking Cradle Mountain trails before heading toward the spectacular east coast beaches. Stop at the North Styx Forest Reserve on the way from Cradle Mountain to Mount Field National Park, about an hour's drive northwest of Hobart, the state capital. In 1916, Mount Field and parts of the Freycinet Peninsula were designated Tasmania's first national parks.
"You can't miss the Styx Reserve. It is part of the World Heritage area," says the chef and owner of Possum Shed, a gourmet outpost next door to our riverside cottage in Westerway, a short drive from Mount Field. "These are some of the tallest trees in the world," she exclaims. "They bring tears to your eyes."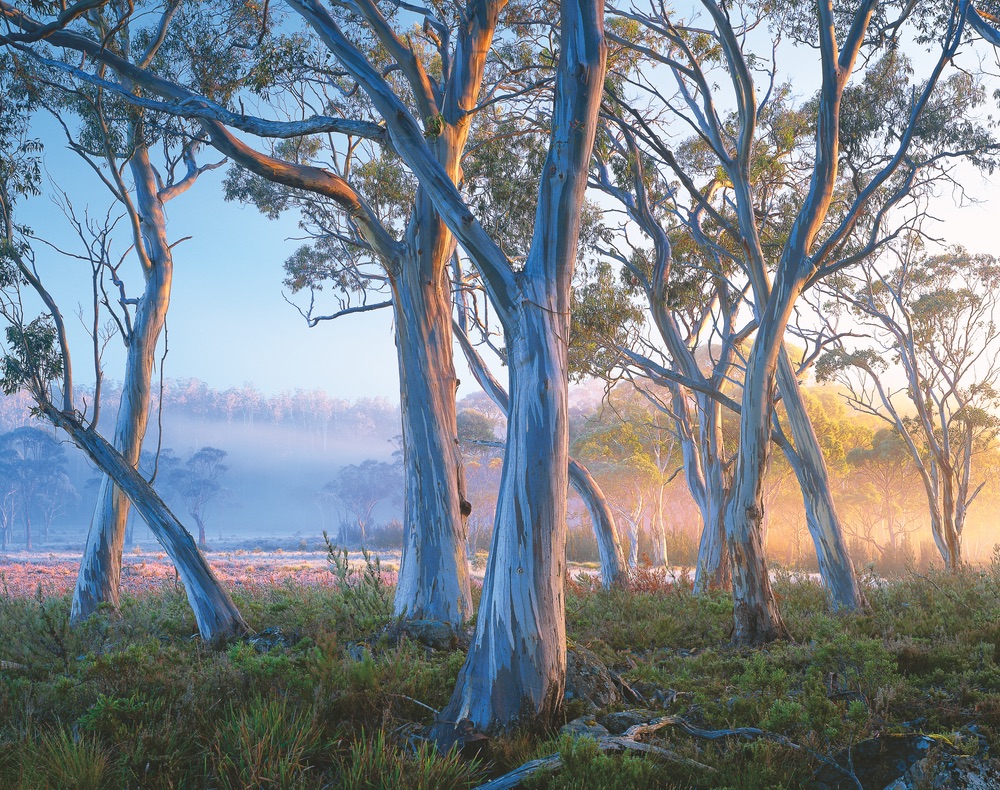 She's right. It's clear a supernatural power is at work in the North Styx Forest Reserve. It's a sanctuary of centuries-old eucalyptus trees, the tallest flowering plants in the world. All we can do is stare in awe at these giants with their feet planted in the earth and their heads lost in the clouds. It's hard not to think of God in this hushed old-growth forest, where sunlight slants through tree branches that reach to the sky as if in reverent praise. It is written that Jesus needed to slip off to the mountaintop for prayer, and after seeing this place, there's no doubt why spiritual seekers, patriarchs, and prophets throughout history have done the same.
All we can do is stare in awe at these giants with their feet planted in the earth and their heads lost in the clouds. It's hard not to think of God in this hushed old-growth forest, where sunlight slants through tree branches that reach to the sky as if in reverent praise.
The Styx Valley brochure refers to the giant trees as the "lungs of the land" for the work they do sponging up carbon dioxide from the air and storing it in branches, trunks, roots, and soil. Preserving a forest is one solution for global warming, as individual trees here store around a hundred tons of carbon each. "Native forests cover around 50 percent of Tasmania and are some of the most carbon-dense of all forests in the world," the brochure informs.
The next stop is Mount Field National Park, known for its mountain scenery, lakes, rain forest, and Russell Falls, a dramatic waterfall. "For a good introduction to the park, drive up through several ecosystems to Lake Dobson for an alpine hike on Pandani Grove Nature Walk," says a park ranger. Massive glaciers sculpted the highlands and valleys of the park to expose rocks from every geological period in Tasmania.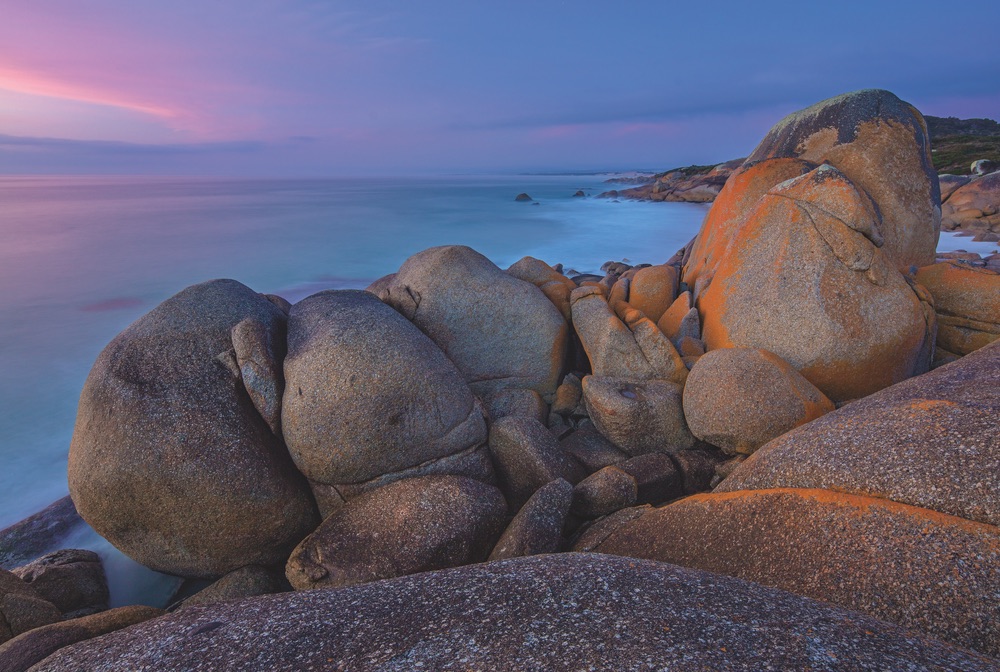 Tasman Peninsula
Stand along the rim of some of the highest, most spectacular cliffs in Australia located on the Tasman Peninsula. Look down and across at arches, blowholes, and other bizarre shapes of dolerite, an ancient rock type that is extremely rare on the mainland. The rock began as molten rock that cooled beneath the earth's surface and cracked into vertical columns and pinnacles. These daunting cliffs provide a natural fortification at Port Arthur, originally a British settlement primarily made up of convicts who had been deported from England to Australia and then committed further crimes in the colony.
"My great-grandmother was only thirteen years old when she was sent here for stealing a horse," says a local gentleman we met on a beach walk. "Many Australians like me are descended from these convicts, who later settled here and raised families, which in our case produced a long line of preachers and good folks!"
"I recommend going to the Coal Mines Historic Site for a quiet reflection on what these convicts endured instead of fighting the crowds at Port Arthur," suggests Jill, our host at Harpers on the Beach, a charming B and B with adjoining cottages overlooking a deserted cove of white-sand beach. Jill not only whips up gourmet meals for guests, but also spices up their travels with insider tips. She recommends the Waterfall Bay hike for great views of cliffs plummeting into the sea and hikes at Tasman National Park, such as Remarkable Cave, where a stairway leads visitors down into the mouth of a cavern.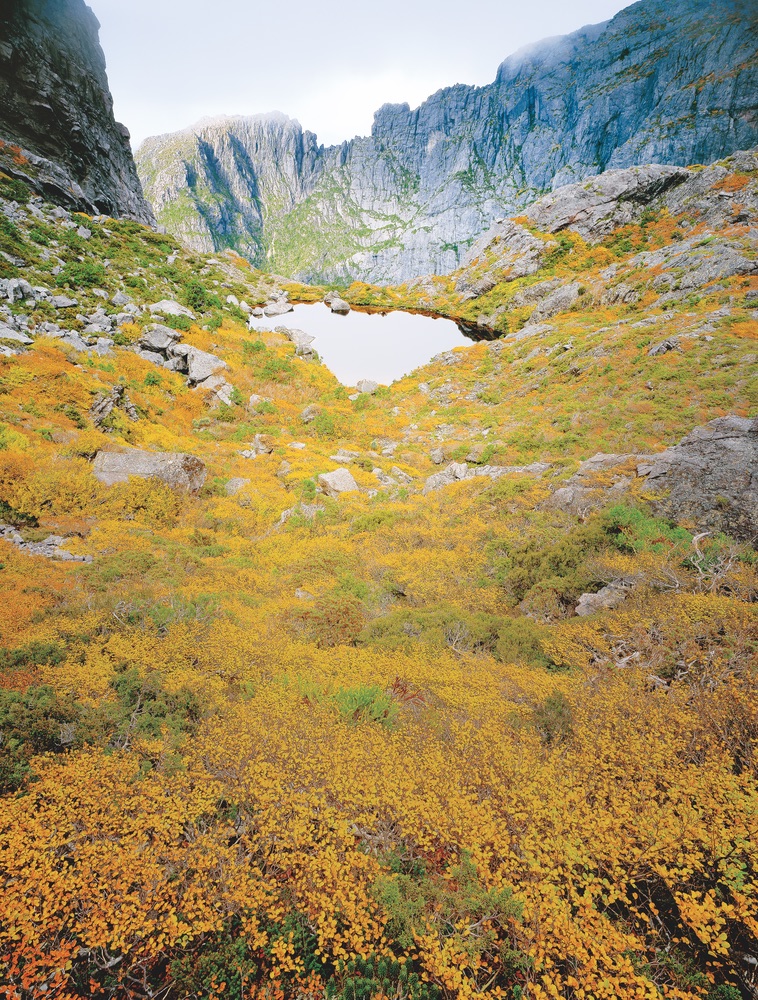 Bruny Island
Take a ferry southeast of Hobart to Bruny Island. Aborigines lived on this windswept, sparsely populated island for thousands of years before Abel Tasman sailed by in 1642, followed by other famous navigators like James Cook and William Bligh in the 1700s. Today, nature lovers hike South Bruny National Park and Adventure Bay, while foodies follow the Made on Bruny Island gourmet trail. Slurp down oysters at Get Shucked oyster farm and bar. Nibble on artisan cheeses and wood-fired breads at Bruny Island Cheese Company, and splurge on seasonal berry concoctions at Bruny Island Berry Farm. A good choice for lunch is Bruny Island Premium Wines Bar and Grill, where you can't beat fresh seafood chowders and lamb sourced from a neighboring farm. A local fudge company, Bruny Island Providore, takes homemade fudge to a whole new level.
Watch gale-force winds churn up whitecaps across the Southern Ocean through rain-spattered walls of a rectangular glass house on the aptly named Cloudy Bay overlooking the rocky headlands of South Bruny National Park. After the storm ends, walk to the park lighthouse and on to the Labillardiere Peninsula, where you might spot an echidna rustling through thick grasses. Native to Tasmania, these small mammals have porcupine-like quills and long, narrow snouts.
Grim reminders of the whaling industry are seen along the Grass Point hike at Adventure Bay, where thousands bloodied the waters below in the late nineteenth century. While at Adventure Bay, take a wilderness boat tour with Rob Pennicott's award-winning Bruny Island Cruises and see migrating whales and dolphins below, along with white-bellied eagles and albatross soaring above.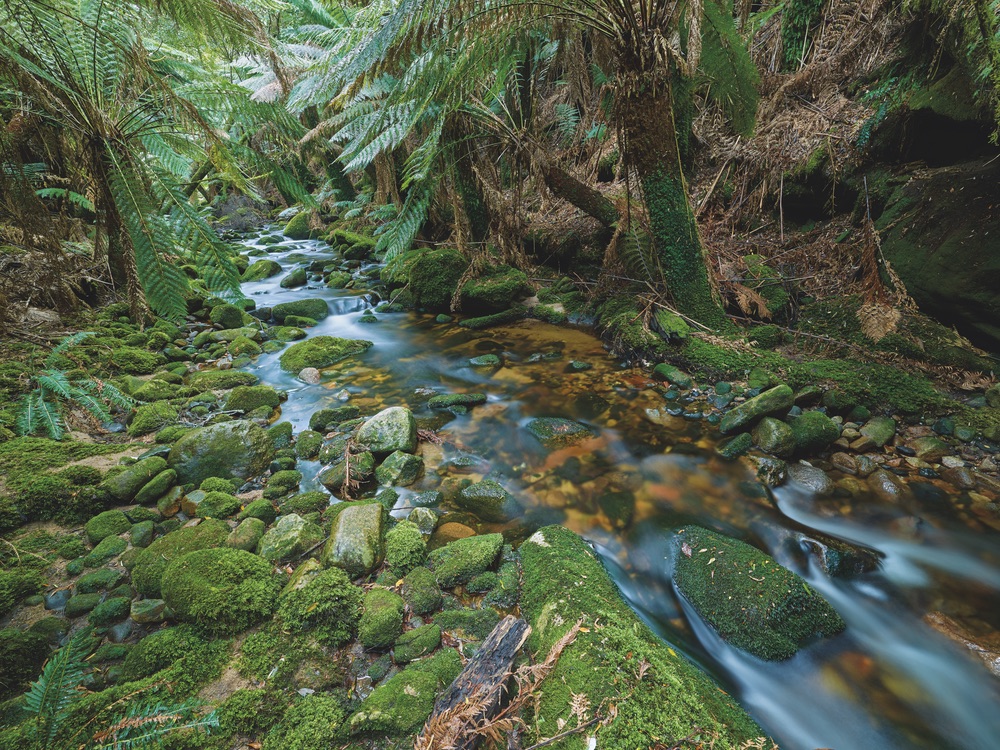 Freycinet Peninsula
"Here we are at the famous Wineglass Bay, named one of the world's ten best beaches," the caption announces over the loudspeaker. Choose a boat tour over an arduous, steep, four-mile hike to visit this perfect crescent of pure white sand and crystalline waters. Watch the scenery roll by in the comfort of a large catamaran with Wineglass Bay Cruises while munching on a lunch of smoked salmon and capers, Camembert cheese, and crispy wafers, topped off by a chocolate-cherry brownie, all served in a Japanese bento box.
The captain maintains a running commentary while the boat passes rocky islands and staggering granite cliffs: "The French arrived here in the 1800s, almost a hundred and fifty years after Abel Tasman, and named the peninsula. They explored the interior, studying its flora and fauna, some of which they acquired for Napoleon Bonaparte's zoo! Worried that France might beat them to it, the British ignored the large population of Aborigines, called it 'uninhabited,' and claimed it for England."
On the way back, the boat passes a large colony of Australian fur seals that were almost decimated by the British along with the whales. A large school of common dolphins leaps beside the boat, clipping along at the same speed. Arrive back at Coles Bay thrilled by what cannot be seen by land. For a higher perspective on the region, take the Cape Tourville Walk to a lighthouse for astonishing views of Wineglass Bay and Friendly Beaches Reserve.
Freycinet National Park offers beautiful deserted beaches that rival Wineglass and are easily accessible by car. Friendly Beaches Reserve is one that offers great walking for miles on hard-packed white sand broken only by granite outcroppings. Across the road from the beach entrance is Moulting Lagoon Game Reserve, where ten thousand black swans reside along with ducks and other migrating species.
Coles Bay village is ideally situated near Freycinet National Park and provides excellent restaurants and conveniences. An elegant rental home called At the Bay perches above Coles Bay near the departure site for cruises and looks at the peaks of the Hazards mountain range.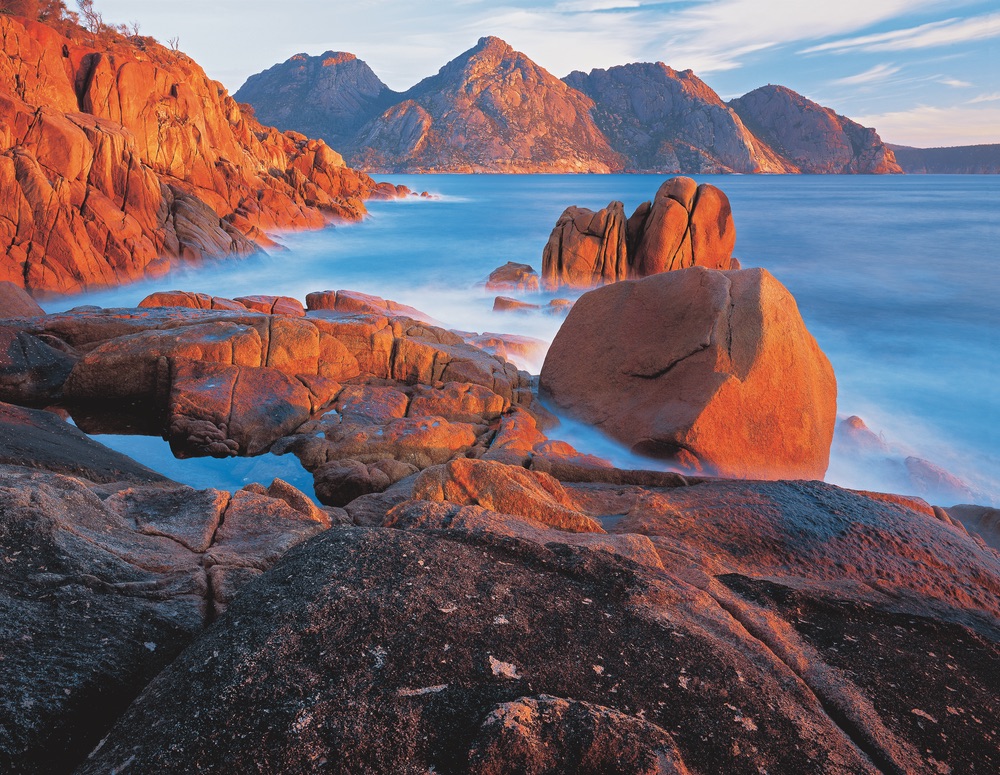 Bay of Fires
You might guess this bay was named for the fiery-orange lichen-encrusted boulders tumbling along the coastline that stretches from Binalong Bay to Mount William National Park. However, historical records indicate that Captain Tobias Furneaux named the bay in 1773 for the fires he saw when Aboriginal people burned off vegetation for regeneration of the forest. Miles of beaches and seaside trails make Binalong Bay the perfect retreat for total relaxation.
Access a trail at Grants Point that straddles lagoon and beach and ends at a secluded beach sheltered by rocky headlands. Head to Humbug Point Nature Recreation Area around sunset and climb a rocky trail high above the beach through a forest of gum trees where you look down upon isolated coves framed by huge boulders.
For a refreshing day trip, head to Pyengana, a lush valley of dairy farms surrounded by thickly forested mountains graced with Tasmania's highest waterfall. Stroll along an easy path through an ancient rain forest of sassafras, myrtle beech, and ten-foot tree ferns until you reach Saint Columba Falls, which rushes down nearly three hundred feet of rock facing. The air tingles with the clean scent of eucalyptus sweetened by white myrtle flowers. Enjoy lunch at the Pyengana Dairy Company's Holy Cow Café, known for exceptional homemade ice cream enhanced with Tasmanian ingredients, such as pepperberries and leatherwood honey.
"No worries" is a common Tasmanian refrain. Ask anyone who has traveled to Tasmania, and they exclaim without hesitation, "I'd live there in a minute." Without shopping malls, sprawling suburbs, skyscraper cities, or congested freeways, the people live a slower-paced, simplified lifestyle comparable to America in the 1950s. Tasmanians know they have a good thing going and aim to keep it that way. This bold, rugged landscape emboldens me to continue searching for these unexploited wild places where nature is God's antidote for the strains and stresses of living.
Nothing else seems to rejuvenate the spirit, nourish the soul, and kindle the lust for adventure and exploration like wild places—even if experiencing this means flying some twenty-five hours to a far-flung place down under!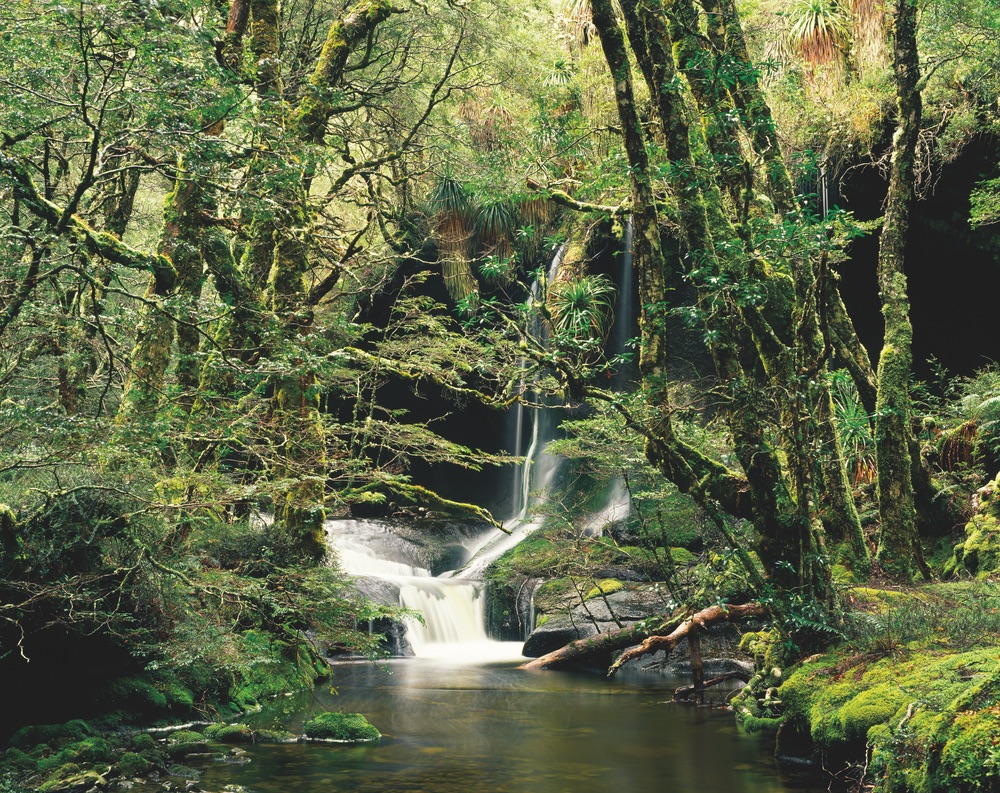 — V —
---
Plan Your Trip
Launceston
Alice's Cottages & Spa Hideaways
www.alicescottages.com.au
info@alicescottages.com.au
Stillwater Restaurant
www.stillwater.net.au
info@stillwater.net.au
Cradle Mountain National Park
Cradle Mountain Highlanders Cottages
www.cradlehighlander.com.au
info@cradlehighlander.com.au
Tasman Peninsula
Harpers on the Beach in Nubeena
www.harpersonthebeach.com.au
info@harpersonthebeach.com
Bruny Island
Cloudy Bay Beach House
www.brunyislandcoastalretreats.com.au
brunyislandcoastalretreats@gmail.com
Freycinet Peninsula
At the Bay
www.atthebay.com.au
info@atthebay.com.au
Wineglass Bay Cruises
www.wineglassbaycruises.com
info@wineglassbaycruises.com
Pennicott Wilderness Journeys
www.tasmancruises.com.au
info@tasmancruises.com.au
ARTICLE CATEGORIES