A Musical Soiree with Cheyenne Jackson
By Chad Thurman | Photography by Gerald Burwell
A tall and unassuming man strode in through the dimly lit vestibule of the restaurant. He moved with purpose through to the bustling dining room floor, where the sold-out crowd in attendance was finishing dessert, and made his way to the piano that was set stage right. He sat on the bench, adjusted his jacket, perfected his posture, stretched his fingers, and began to play a ghostly rhythm. From the piano came melancholy chordal harmonies that, even without words, spoke volumes to those who were about to hear the plangent baritone that suddenly, and without corporeal being, began to resonate within the room. Those present looked around the restaurant for the source of the voice.
Birds flying high, you know how I feel. Sun in the sky, you know how I feel.
Then there were the sounds of excitement and applause as the audience spotted actor and singer Cheyenne Jackson, wireless microphone in hand, moving toward the stage. Exuding charm and confidence, he sang as he sauntered, following the path his pianist had taken to the instrument.
Breeze driftin' on by, you know how I feel. It's a new dawn, it's a new day, it's a new life for me. And I'm feeling good…I'm feeling good…
Jackson and his musical director, Ben Toth, began the Sinfonia Gulf Coast–presented night of cabaret music with the song "Feeling Good," made popular by Nina Simone in 1965. Jackson quickly let the audience know of his immense vocal range and the power of his projection; those fortunate enough to be in attendance were mesmerized by the sound with the first verse.
After the opening number, the audience warmed up to Jackson as he told anecdotes about his expectations of performing in the Deep South on the "Redneck Riviera" and how it was not what he had anticipated. He spoke of a nice Southern lady that he and Toth had met at a convenience store earlier in the day. He offered a respectful impersonation of her that was followed by heartfelt and jovial laughter with the audience, setting the mood for the rest of the performance.
Jackson certainly knows how to charm.
When the duo began to perform "Something's Coming" in homage to the character of Tony in West Side Story, Jackson transformed into the stage actor he is. All the while, his vocal control continued to impress, as did his ability to showcase vocal chops finely tuned over many years of performing leading roles in some of Broadway's most popular productions. For the next hour and a half, Jackson and Toth would continue to woo the crowd with the theme of the evening: the Great American Songbook.
The Great American Songbook is a name given to the most revered and influential popular songs produced in the United States during the early to middle part of the twentieth century. The songs in this body of work are considered by many to have been influential in the shaping of American culture for more than a century. Composers and songwriters such as Duke Ellington, Irving Berlin, George Gershwin, Hoagy Carmichael, and Cole Porter crafted melody, rhythm, and harmony in ways that were theretofore unknown in music theory and history. The lyrics of these songs speak to the essential, spiritual nature of being human through the use of themes and circumstances beyond the constraints and confines of time—namely the vicissitudinous nature of love.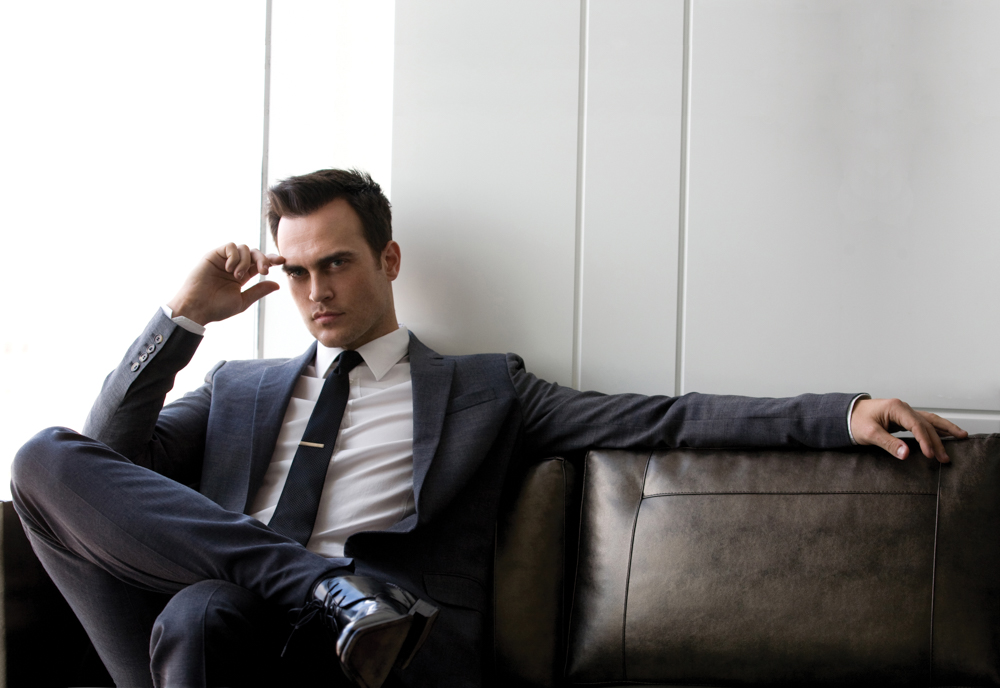 An Evening with Cheyenne Jackson: Music of the Mad Men Era was presented by Sinfonia Gulf Coast and hosted by Seagar's Prime Steaks and Seafood at the Sandestin Hilton. Sinfonia music director and conductor Demetrius Fuller says, "Sinfonia is the region's only fully professional symphony orchestra that consistently presents the highest quality concerts and guest artists in the industry. The organization is engrained in the community and provides significant music education initiatives throughout Okaloosa and Walton Counties, as well as a continued partnership with Sacred Heart Hospital of the Emerald Coast's Arts in Medicine program. To date, Sinfonia has impacted nearly fifty thousand school children and eight hundred families in both counties."
The impact was felt this night, too, as Jackson and Toth continued to perform songs from the Great American Songbook and inspired by the hit AMC television series Mad Men, and the audience responded. From the Latin hit "Besame Mucho," which Jackson called " a very romantic tune, one of the most romantic tunes I know," to the jazz standards "Old Devil Moon,"  "I Get Along Without You Very Well," "Don't Get Around Much Anymore," and "Luck Be a Lady," the singing actor kept the crowd engaged and smiling. When the duo launched into a lively version of "A Little Less Conversation"—a number which Jackson showcased during his first leading role on Broadway in the 2005 Elvis-inspired musical All Shook Up—complete with the gyrations Jackson had perfected during his award-winning Broadway debut, the audience had to take a few moments to settle down. The two also performed original compositions such as Jackson's "Red Wine Is Good for My Heart" and "Mr. Lonely Boy," and Toth's "Mad Girl's Love Song," which Jackson explained to the audience as "a melody set to words by the poet Sylvia Plath."
Sinfonia's guest artists also put a spotlight on the future of the Great American Songbook by performing the contemporary popular song "Falling Slowly." During this performance, Jackson and Toth gave an emotionally satisfying rendition of the 2008 Oscar-winning song through perfected vocal harmonies and substantive delivery. It's been remarked that "writing about the sound of music is like dancing about architecture," but Jackson and Toth's harmonic sonorities can only be described as two leaves in autumn—one crimson, the other auburn—dancing with the wind while floating along a clear river with a white-sand bottom.
The show's set ended with the soulful, blues-infused "A Change Is Gonna Come," and a standing ovation and requests for an encore ensued. As a final number, Jackson and Toth presented "The Rainbow Connection," made popular by Kermit the Frog in the 1979 musical comedy The Muppet Movie.
Someday we'll find it, the rainbow connection, the lovers, the dreamers, and me…
Before saying goodnight, Jackson remarked to the still-applauding crowd of the event, "This was really amazing; this was really special."
Demetrius Fuller says, "Sinfonia will continue to present stellar events for the patrons of Northwest Florida, as well as continue to raise the bar on the level of guest artists and programming that our audiences have been accustomed to. The 2015–2016 season marks Sinfonia's tenth anniversary, so there are already some very exciting items both confirmed and in the works."
---
Cheyenne Jackson, actor and singer, answers questions about Music of the Mad Men Era
VIE: Of all of the composers represented in tonight's Great American Songbook, name your favorite and tell us why.
CJ: Leonard Bernstein's "Something's Coming" because I got to sing Tony (from West Side Story) with the San Francisco Symphony just last spring with Michael Tilson Thomas conducting. It was the first time it's been fully produced and fully recorded live in forty years. So the critics are going nuts for it, and it was obviously the last time I'm ever going to play Tony. I just had such a love affair with it at one time. I first played Tony when I was nineteen or twenty, and then I played him again when I was thirty-eight.
VIE: Which song on tonight's set list is the most fun for you to perform?
CJ: "A Little Less Conversation" because my first big break in New York was when I played Elvis on Broadway, so I've always liked to pay homage to that show, but also a lot of the other songs are just slower, and jazzier, and so that's kind of one to just really go crazy. It's just fun to sing.
VIE: Which song in your performance tonight do you feel showcases your four-and-a-half-octave vocal range?
CJ: Yeah, it's kind of become my thing which is great; my last song "A Change Is Gonna Come," the Sam Cooke song.
VIE: Do you play any instruments, or are you learning to perform with an instrument in addition to your voice? Did you receive formal musical training?
CJ: I didn't go to school; I'm from a teeny little town in Northern Idaho—about 1,200 people. Outhouse, no running water. I just learned to sing at home, and then over the years I learned by doing, by listening, and by singing with great people. It forces you to step it up. I also take really good care of my voice; it's really important to me, and I warm up. I have great people that I've coached with. I didn't have training necessarily—on-the-job training, actually.
I play piano, though I haven't played and sung in these shows yet because my music director, Ben Toth, is so proficient and amazing. Sometimes we'll do this show twice in one day and it's really taxing not only vocally but also for him—he's like a one-man band. He has to soak his hands in between shows; he has to ice them.
I just did a film last year that comes out in December with Kevin Pollak and Christopher Lloyd; it's called The One I Wrote for You, and I played a singer-songwriter. I had to learn guitar for that. I 'm not great; I can play maybe six or seven chords but that is most of the songs. The role I play, he's a singer-songwriter; it's more country, so it's basically G, C, and D chords. For this next year, my goal is to get good enough to where I can pull it out and not sound terrible. I have a Gibson acoustic guitar. Although when I played Elvis on Broadway, Priscilla gave me one of his guitars from the estate.
VIE: Do you compose music or write songs?
CJ: In the show tonight, I'll sing two that I wrote: "Red Wine Is Good for My Heart" and "Mr. Lonely Boy." I have done two albums; one is all of my stuff that came out last year, and my second one will be out next summer. I write with Sony/ATV Music Publishing. I started out mostly like everybody, most songwriters. I went through a horrible divorce, and I got sober. I mean it was a rough and wonderful—but rough—three years, and when finally songwriting was mostly just for me, I thought, "Why don't I do something with this?" So I showed the songs to a couple of my friends. One of them, Sia, is a huge songwriter who has songs on the radio—I showed her some stuff and she thought it was really good and said we should write together, and so she kind of gave me the strength, the confidence to show my stuff, and then I met some people from Sony. It's been an ongoing, really wonderful outlet.
I love collaborating. I have a couple of guys who are just the perfect yang to my yin because if I get stuck on a bridge, maybe they're really good at that, or somebody's a really great lyricist, and I'm not feeling very wordy that day. My weaknesses are his strengths and vice versa. There's also a girl I write with who's such a great songwriter. Charlotte Sometimes, she was on The Voice, I think in Season 2. Mostly poetry just spits out of her mouth and I'm like, hang on!
VIE: Can you tell us about your future as a performer/songwriter/musician/artist? What stylistic direction do you most want to explore further?
CJ: This show has become my wheelhouse. My very first choir teacher said, "Cheyenne, you were born in the wrong era!" because I didn't sound like the guys on the radio, and I just had a different style. I loved Billie Holiday, Lena Horn, Ella Fitzgerald, Sarah Vaughan, Nina Simone, and Nat King Cole.
My song "Red Wine Is Good for My Heart" is straight-up jazz, but I think because I've done a lot of Broadway and I have that in the back of my mind as far as theatricality, a lot of things are in minor keys.
I'd like to write a musical. Ben Toth, my music director/supervisor, does a lot of composing and he's written a couple of musicals. It's been fun to watch his process, and I don't see any reason why I can't do that.
This next album is half-written, and it's more up. At first, I was in the thick of the darkness I was in, and now it's more celebratory and fun and light. I have five movies coming out by the end of next year with some really great folks, so it's been a busy year.
VIE: A last question regarding one of your popular television roles. What was it like working on the set of Glee?
 CJ: Glee was chaotic because it was the second year, and it had just exploded in the first year. So it was the most popular show, and such a pop-culture zeitgeist, and being in the throes of that was very chaotic—exciting—but chaotic. I think a lot of the kids on there were just coming to terms with their fame, so they didn't quite know what to do with all of the attention. I got started late; I moved to New York when I was twenty-seven. So I started working professionally when I was twenty-seven instead of seventeen like most of these kids. Even so, I had worked a lot and it wasn't my first time at the rodeo, but it was great, it was a learning experience.
Ryan Murphy (writer for Glee) has been wonderful to me. He's cast me in a few things; he saw me in Xanadu and offered me Dustin on Glee—it was great. I got to seduce Gwyneth Paltrow. Come on, there are worse things! It was a lot of fun.
— V —
---
Learn more about the events of the upcoming Sinfonia Gulf Coast season, such as the world premiere violin concerto by American composer Nico Muhly, by visiting www.sinfoniagulfcoast.org.
ARTICLE CATEGORIES