Justin Gaffrey at Pursell Farms
By Christy Milliken | Photography courtesy of Pursell Farms
The breathtaking beauty of Pursell Farms encompasses your spirit and seems to whisper "Welcome home." The landscape is aesthetically pleasing with an organic rustic charm, and you will be greeted by a herd of longhorns as you drive down FarmLinks Boulevard (I have since nicknamed it the "bull-e-vard"). The longhorns were an addition to the farm's landscape after the design of the iconic bull logo, created by owner and golf course visionary David Pursell during the development stages of FarmLinks Golf Club in 2002. You will forever be reminded of the strong foundation on which the farm was built as you read the words engraved in the marble sign by the entrance: "Great are the works of the Lord. He has made his wonders to be remembered" (Psalm 111:2, 4). Sylacauga, Alabama, and the surrounding areas are rich in marble mining—the region is sometimes called the Marble Valley and Pursell Farms sits in its heart.
The farm has a rich history of development, invention, and creativity, each of which come to mind when I think of growth. The Pursell family has been deeply rooted in the heart of Sylacauga for over a century. Beginning in the fertilizer industry, each generation exhibited family leadership and vision, which became both a legacy and a foundation for the next. Currently under the leadership of David Pursell, the 3,500-acre farm is not only a working ranch but also the world's only research and demonstration golf course, created to showcase the industry's leading technology and product performance. The ball doesn't stop there, however; the entire Pursell Family is known for their authentic Southern hospitality and their mission of service to the community. Because of that service, the farm was recently recognized as part of the Southern Living Hotel Collection and has evolved into a premier regional family-farm resort available for corporate retreats, hunting retreats, weddings, and weekend getaways. The next generation of leadership is already serving faithfully as new creative visions come to the surface for the farm's future growth.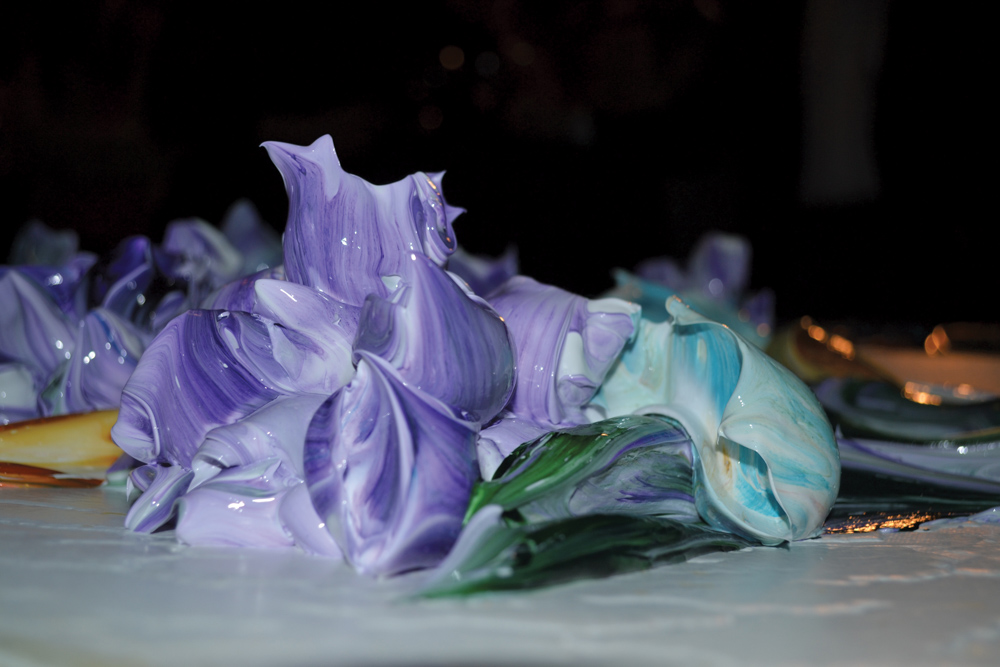 The birth of the idea for an art event and staff weekend retreat featuring Justin Gaffrey developed through my personal connections with the Pursell family and their being intrigued with Justin's work. Living on the farm for three years, I became embedded in the culture of this beautiful and talented family—the farm has become a home away from home for me. The entire family exudes creativity. David majored in commercial art at Auburn University, and his sketches of classic golfers are exhibited in exclusive golf clubs throughout the United States and Canada. His wife, Ellen, also attended Auburn University and is a native of Tallahassee. Ellen is gifted in interior design, and her talents adorn the guest cottages and historic Hamilton Home on the farm. David and Ellen's six children—Peggy, Vaughan, Chrissy, Ramsey, and the twins, Martin and Parker—are all enriched by the arts. Peggy has a background in the literary arts; Vaughan is a wife and mother who inherited her dad's talent in visual arts and design, resulting in her starting her own line of work; Chrissy is a master of music and just returned from working in Germany; and Ramsey majored in human development and family studies and is currently planning her wedding to be held at the farm in May. The four girls, also known as the Pursell Girls, have created two music CDs together. Martin and Parker are pursuing marketing and business relations. It is not what they have achieved, but what they believe, that has made the Pursells a success as a family and in business.
After serving as Justin Gaffrey's studio and gallery director for the last two years, I found it beneficial for all this talent surrounding me to come together for a very intimate, inspiring, and restful weekend. In a prior visit to the farm, the discussions of an art event began with marketing director Tim Spanjer, a New York native and the son-in-law of David and Ellen. We set a date and, after a few months of planning, the event began. This was the first event of the season for both the Farm and for Justin Gaffrey Studio and Gallery. Within forty-eight hours of the announcement, the weekend was booked to full capacity.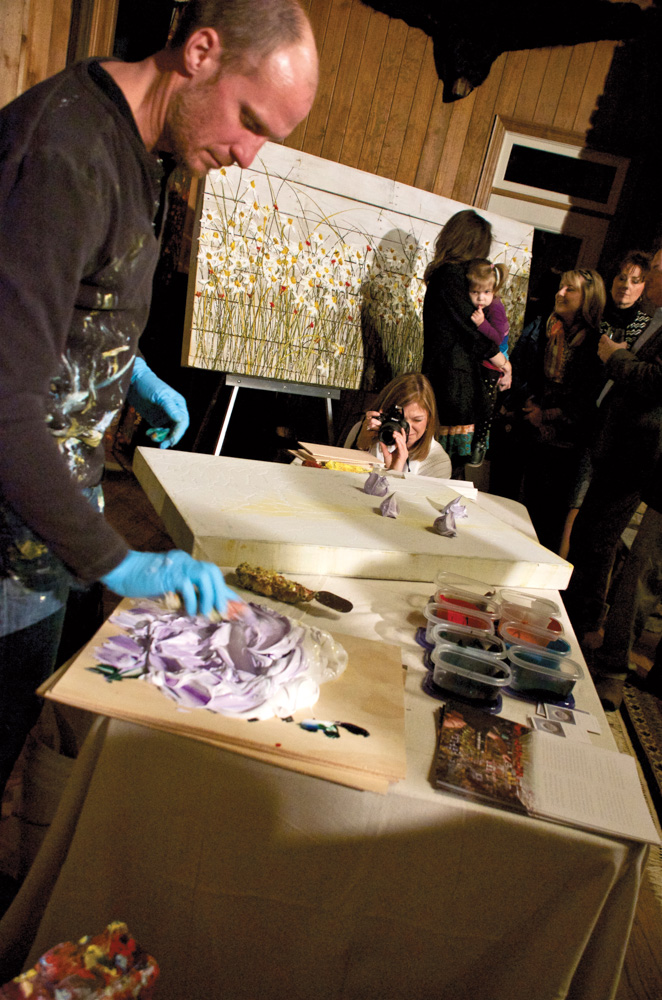 The weekend began with an evening that captured both the culinary palate and the paint palette. Guests enjoyed an array of gourmet culinary stations—planned by the farm's executive chef, Andrea Griffith—set up throughout Parker Lodge. Some of the featured offerings included chef-carved slow-roasted prime rib; lobster mac 'n' cheese with Gruyère, tarragon, and tomato; and truffle mac 'n' cheese with shaved truffles, wild mushrooms, and fresh herbs. Organic produce from the farm's garden delivered a fresh experience with a heavy helping of Southern hospitality. The farm also produces its own honey, with its first honeybee stations developed and managed by Tim Spanjer. Well-thought-out wine pairings and a delectable assortment of chocolate creations were also some of the guest favorites. It is no wonder that Chef Griffith had earned eleven medals accredited by the American Culinary Federation before her arrival at Pursell Farms in 2013. Just a week before the art event, she gave birth to her first child, so she was unable to attend the Justin Gaffrey event herself, but her presence was still felt throughout the night through the amazing menu she had planned and the service carried out by her team.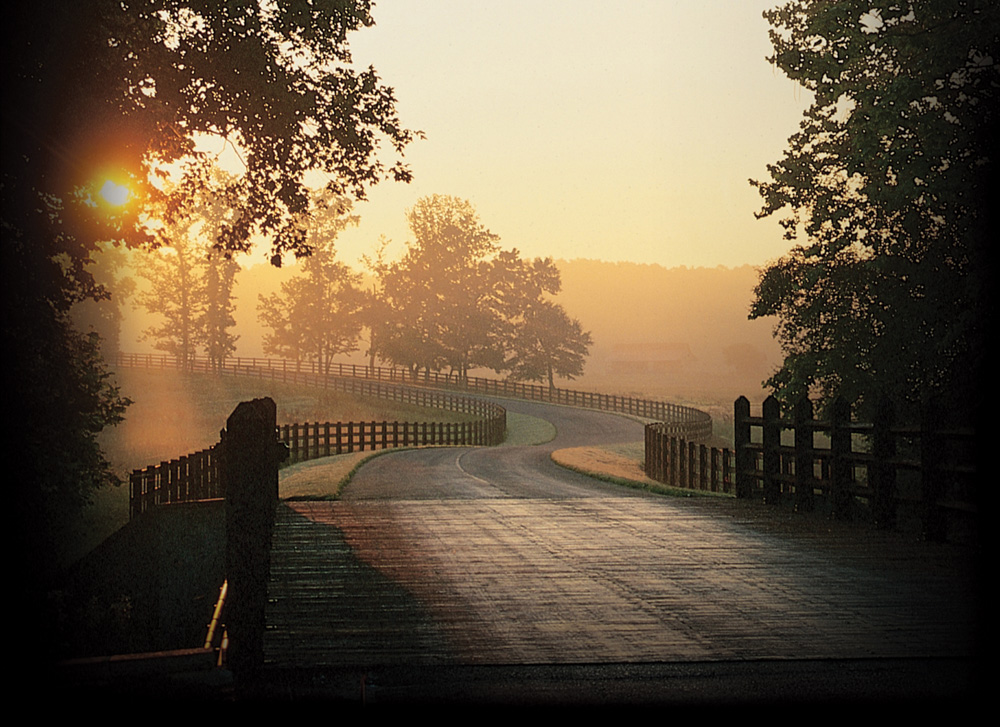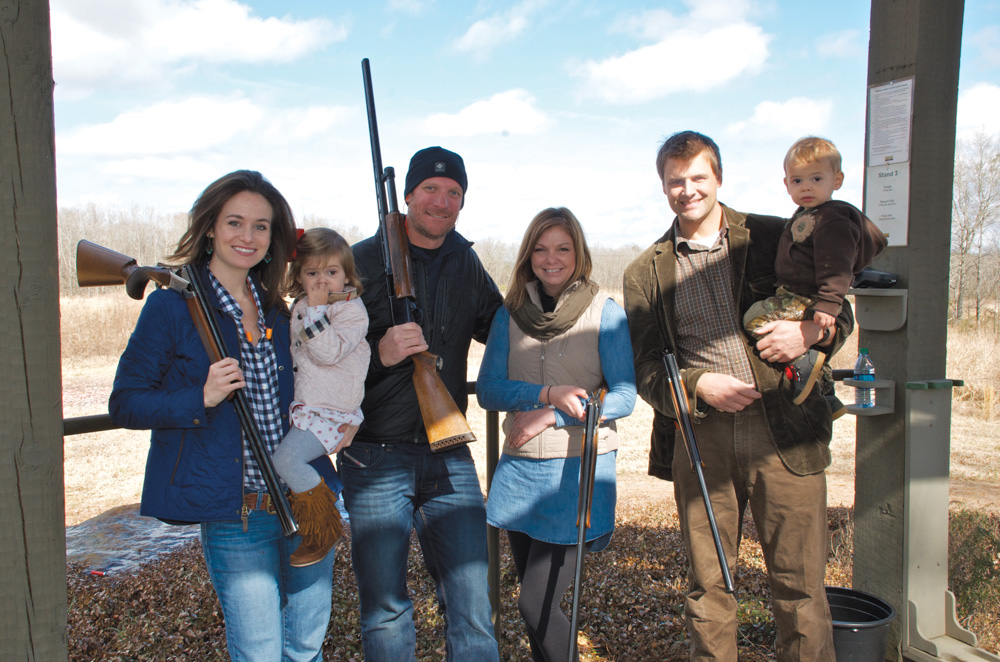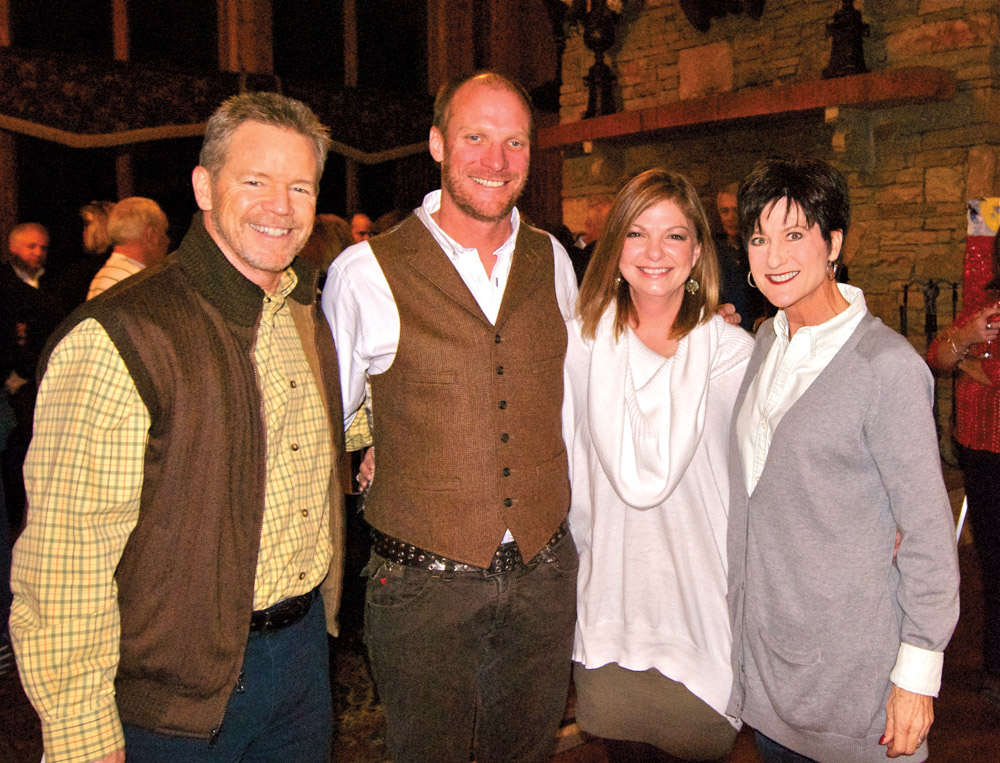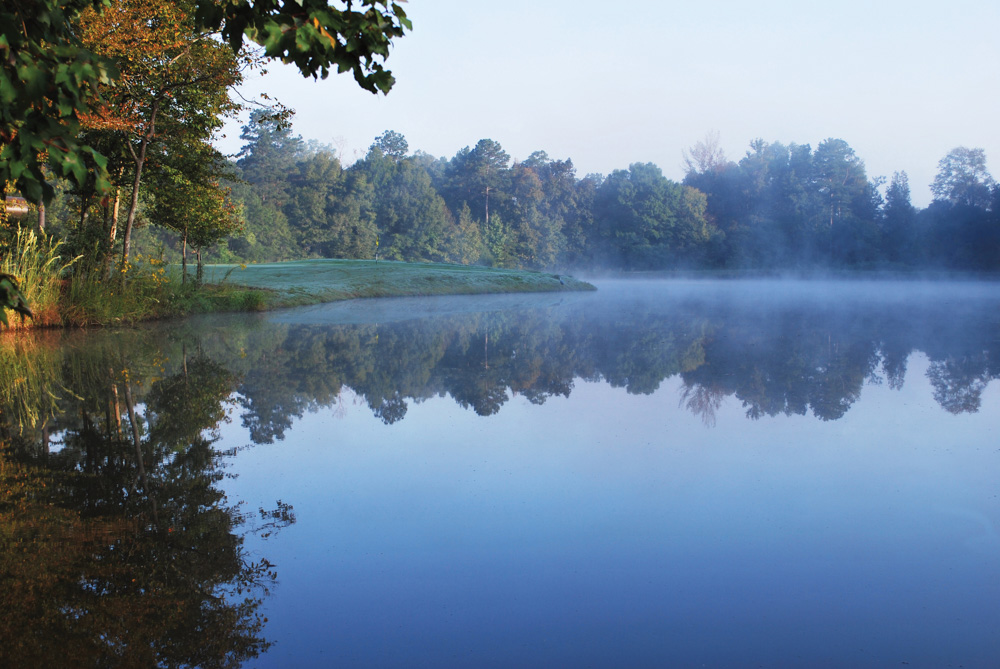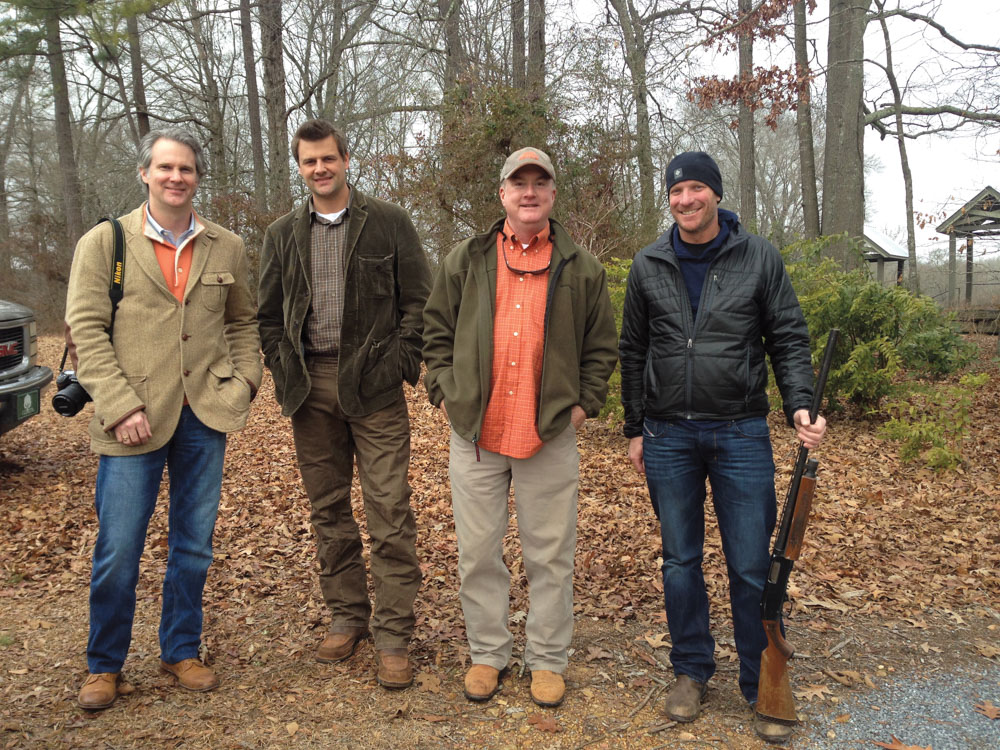 Since we were also joined by Gerald and Lisa Burwell, VIE's editor-in-chief and publisher, respectively, it seemed appropriate that Justin should paint hydrangeas during the event. The flower is symbolic to Lisa and her mother and was the flower that Justin painted for the cover of VIE's Home and Garden Issue 2012. The hydrangea seems to show up repeatedly in floral arrangements at the events we attend as a gallery, so it has become significant in our journey as well.
As the evening progressed, the crowd surrounded Justin as he started to paint. He became engaged with questions about his technique and work as he mixed a big mound of bluish-purple paint onto his palette and with the palette knife began to dollop paint to form three-dimensional hydrangea blooms on the canvas. The completed hydrangea bouquet was purchased by one of Justin's loyal collectors from Sylacauga.
Although Justin painted in his traditional palette-knife style that night, he is continuing to evolve and work in a more sculptured style as he eliminates the boundaries of what has been done with paint before. Using a ton (2,000 pounds) of heavy-bodied acrylic paint every six weeks, there is nothing minimal about his latest works. The most recent exhibit pieces include delicate works of poetry (written by Justin) etched onto them. The expression of work is evolving with the spirit of the artist, who recently said, "I don't just want to paint something beautiful; I want to create something that means something beautiful." He will still create some of his most known and beloved palette-knife works, including water scenes, landscapes, and flowers, but he will also continue to invent new ways to use paint. It is exciting to be a part of this growth, so to begin this year with a family that knows a little something about growth was such a gift for me.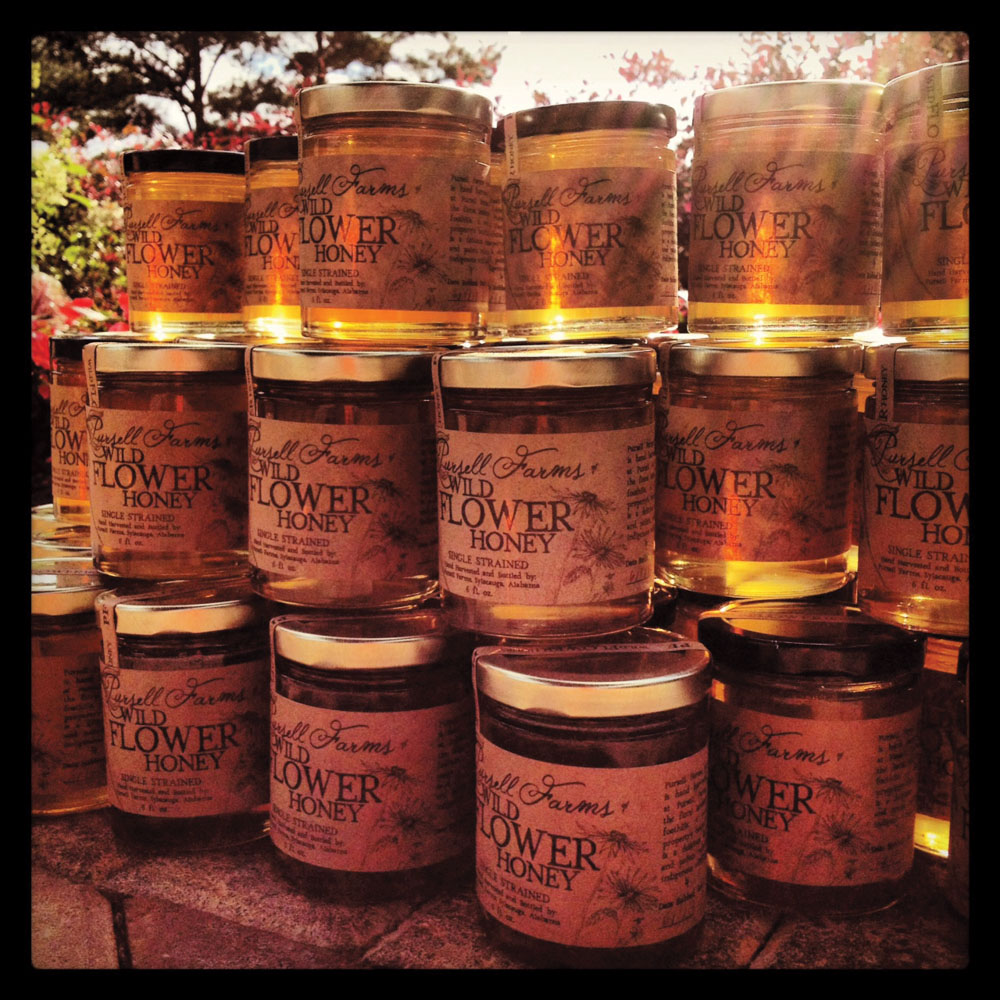 The weekend continued with a little history about Pursell family friend Jim Nabors, a native of Sylacauga best known for his role as Gomer Pyle on The Andy Griffith Show and Gomer Pyle, U.S.M.C. Justin stayed in the Jim Nabors room in the relaxed atmosphere of Parker Lodge and awoke Saturday morning to enjoy a little skeet shooting with farm manager Greg Bolton, Tim Spanjer and his wife, Vaughan Pursell-Spanjer, Gerald Burwell, and me. Only after the shoot did we find out that Gerald was a competitive marksman in high school—this explained a lot about how he dusted the rest of us while shooting clays! The shoot was followed by lunch at the golf course clubhouse with the other guests.
As the afternoon progressed, we had a little time to explore and then rest before ending the evening with an intimate dinner gathering with the Pursell Family. The flowers of choice for the dinner party were plump blue and white hydrangeas, provided by Leaf and Petal of Birmingham, Alabama, owned by Taylor and Lydia Pursell.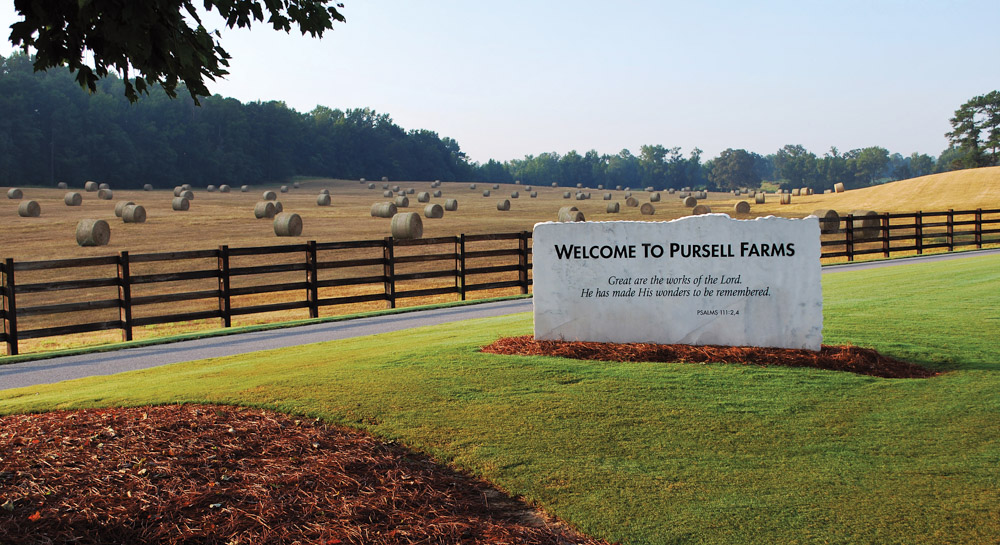 The weekend at the farm can be described as one of new beginnings and new inspiration. Justin Gaffrey Studio and Gallery joined forces with Cornerstone Marketing and Advertising, Inc. (publisher of VIE) this year to launch new projects and ideas. Together we have some phenomenal things planned, including an art show in Clifden, Ireland, scheduled for August, and I cannot wait. I believe that where rules are broken, boundaries are pushed and fear becomes elusive, filling the void with a faith that cultivates evolving growth.
— V —
---
To book your visit to Pursell Farms, visit pursellfarms.com. For purchasing inquiries or more information about artist Justin Gaffrey, visit justingaffrey.com.
ARTICLE CATEGORIES