By Sallie W. Boyles | Photography by Dawn Chapman Whitty
Before the wedding, the bride, the groom, their parents, and any others involved in planning the event spend days, weeks, and months preparing countless, shifting details surrounding the occasion. Afterward, all eyes turn to one final feature of the special day: the pictures.
Most of us have at least one friend or relative today who is an amateur photographer, armed and ready to snap countless pictures of the big event, yet professionals remain in high demand for those special wedding photographs. Almost all couples desire romantic images, though each will have a different interpretation of what that means. Choosing the right photographer, therefore, entails a careful look at a professional's artistry, personality, and overall point of view.
In the early days of wedding photography, when brides and grooms typically sat for one formal portrait on or around the day of nuptials, a photographer's skills in framing the image, adjusting the lighting, and developing the film probably mattered more than his or her artistic style. The individual's perspective on weddings became more significant with camera innovations such as flashbulbs and roll film, which allowed the enterprising photographer to shoot the event on location and then later attempt to sell as many prints as possible. The wedding album caught on after World War II (when marriages reached an all-time peak) and forever changed the portrait photography industry.
I wouldn't feel that I'd seized some of the greatest moments in life if I weren't shooting weddings.
Some might struggle to articulate why photographs from previous eras seem so romantic; perhaps the vintage black-and-white and sepia hues filter the colorful distractions, allowing one to see the beautiful truth. Nevertheless, the first-generation wedding albums still contained mostly a cookie-cutter array of poses. Other than the faces, flowers, and attire, little else was unique from one bound collection of photos to another. Around the 1970s, however, photographers began to inject greater creativity, shooting ceremonies and celebrations from their own perspectives. Presenting an entirely new set of tools for self-expression, digital technology has since transformed wedding photography into a distinctive art form, enticing artists like Dawn Chapman Whitty to enter the field.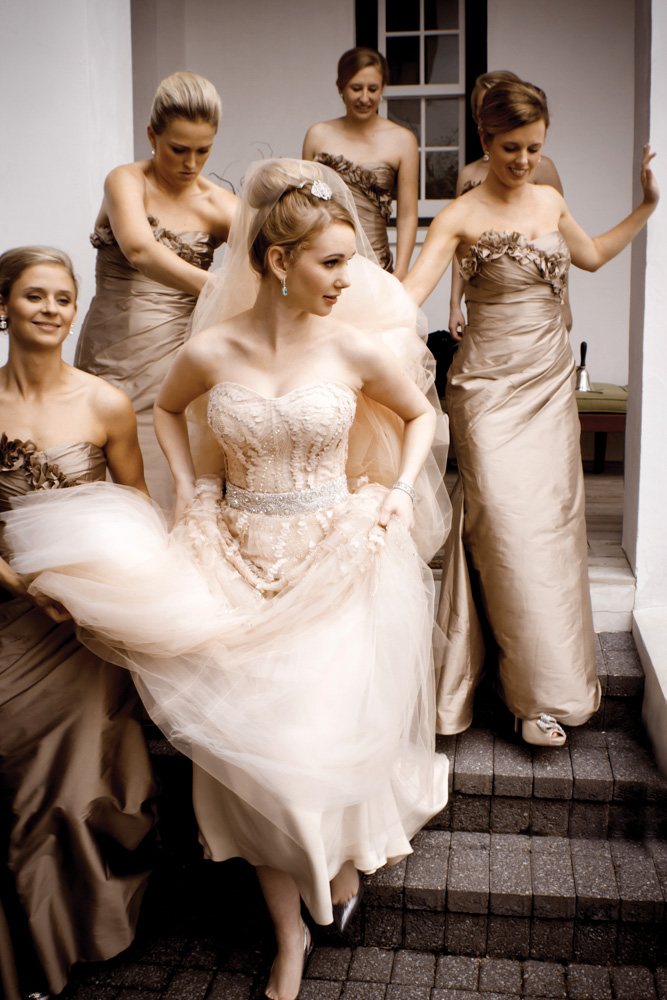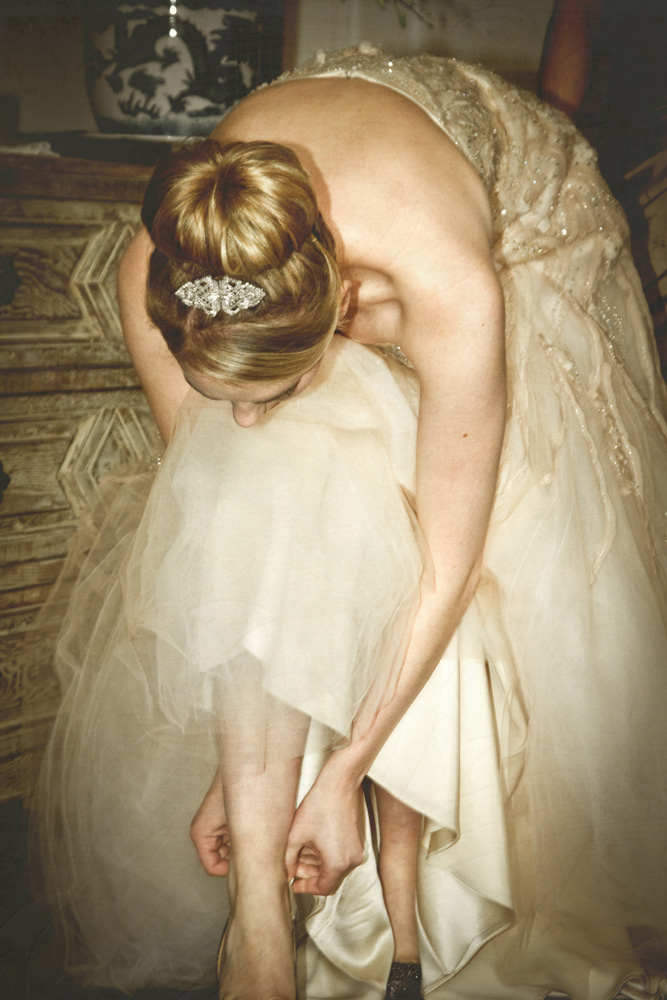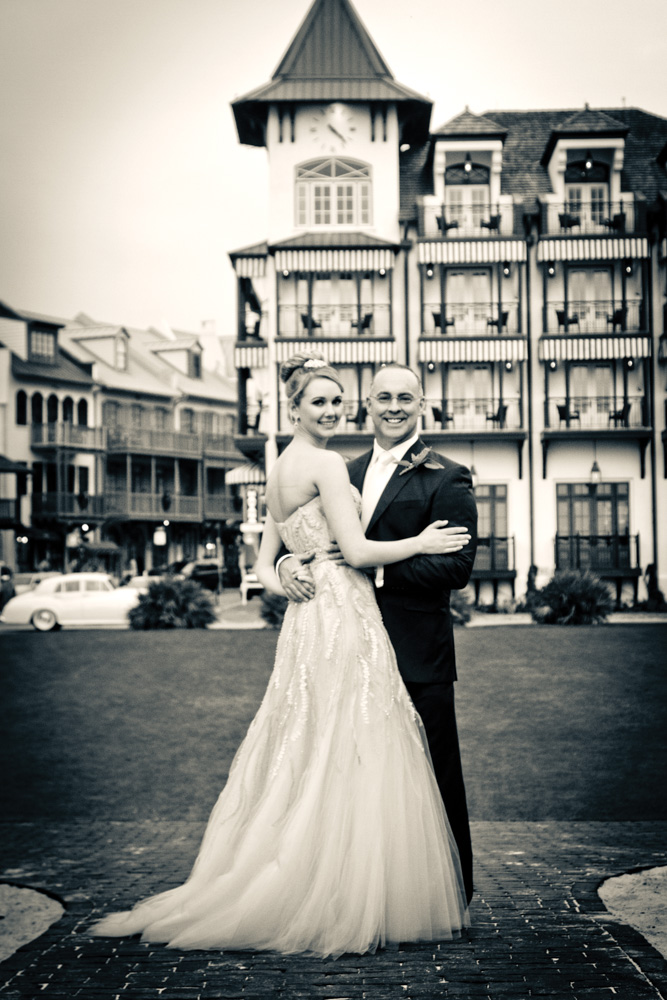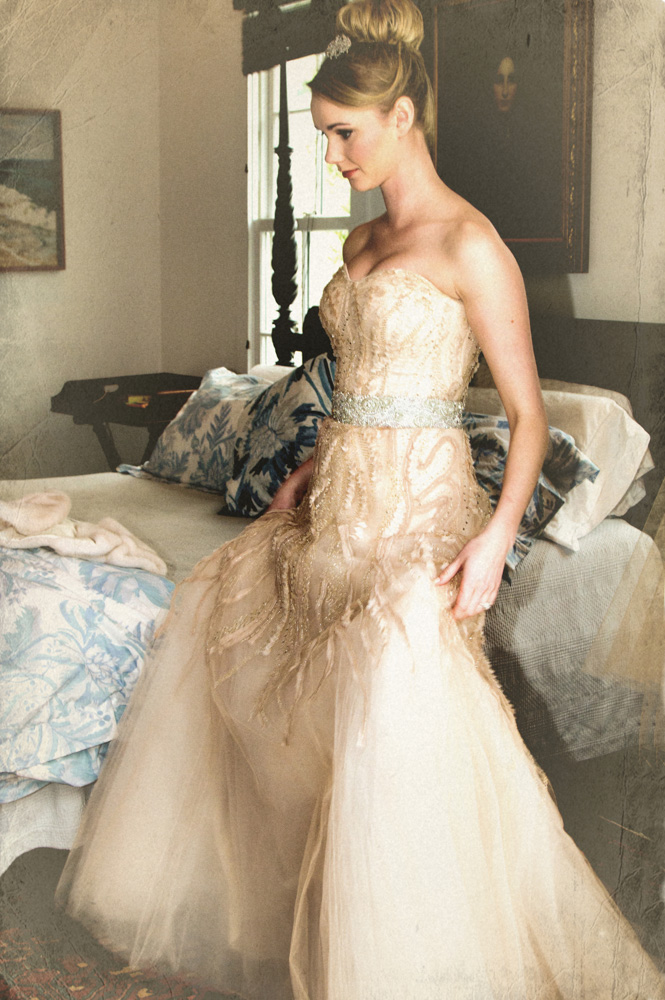 Based in the coastal communities of Grayton and Seaside Beaches in Northwest Florida, Dawn grew up in Nashville, where she attended Belmont University before transferring to Florida State University. Describing her work as a combination of editorial and fine art mixed with design, she entered photography with an interest in documenting people and spent two years photographing the faces of Apalachicola, Florida. She launched her career twenty-five years ago, working with old-school portrait artists in Nashville and then with a society photographer in Naples, Florida.
"I thought I wanted to do more commercial work, particularly album covers," says Dawn, "but a guy who had been doing photography for record albums since the Seventies advised that weddings, families, and children were the way to make a living. I've come to see this work as an important part of my journey. After photographing people for so long, I wouldn't feel that I'd seized some of the greatest moments in life if I weren't shooting weddings; something would be missing in my growth as an artist and recorder of life."
While mastering the tools of photography, Dawn has always allowed her education and instincts as an artist to guide her. "I was taught as an art student to think outside the box," she says. In comparison, her photography courses emphasized technical correctness, which did not satisfy Dawn. "When I first worked with film, you'd find me in the darkroom adding bleach or sepia tone to the negatives to make my images different," she shares. "Today, we call it graphics, but the computer is a digital darkroom."
I was taught as an art student to think outside the box.
Describing her style as a contemporary interpretation of old-fashioned romance, she shares that in addition to personal experiences, including extensive travel, her work has resulted from "an accumulation of studying different artists, painters, and photographers." The first photographer to influence Dawn was Jock Sturges, who is known for his compelling and natural portrayals of families. "He was the main reason I entered photography school," she says, describing being drawn to the way he captured the essence of people.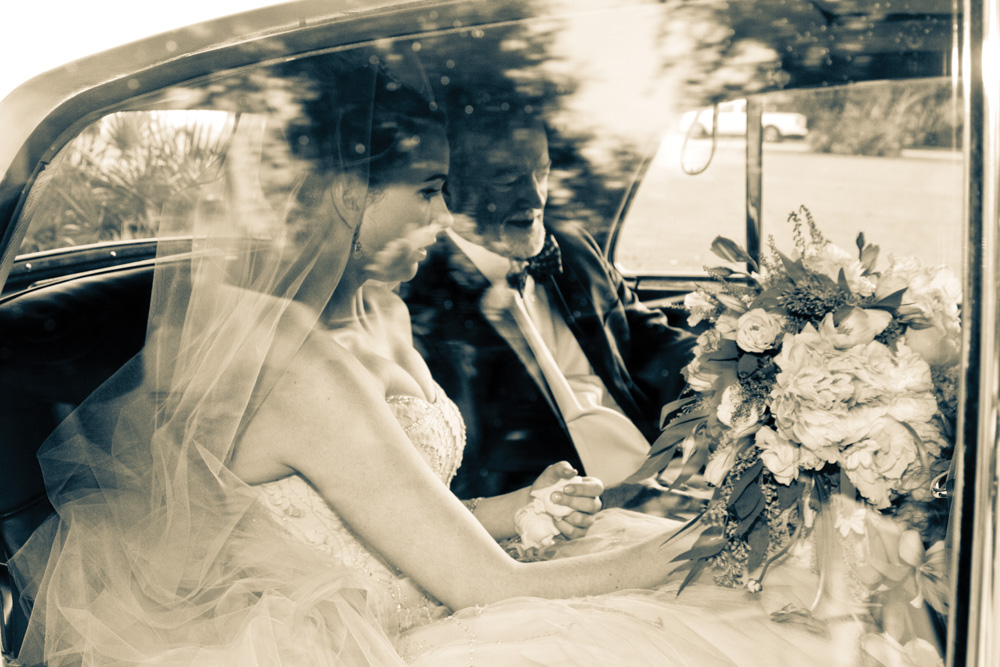 Another of her inspirations is Sally Mann, especially for her photographs of children. "She has a connection with the kids," explains Dawn, "so she brings out their deeper emotions." For similar reasons, she names Bruce Weber, a highly acclaimed fashion photographer known for taking risks. "He has a playful approach to fashion, which is not about staring at the camera, posing. His work is about movement, which transfers so well to weddings."
When imagining their wedding pictures, some couples envision an array of shots that are fit for a spread in a fashion magazine. Others anticipate a highly personal reflection of the day's happenings. If a professional's work seems to convey what a couple has in mind, Dawn advises a meeting to make sure the primary subjects—the bride and groom—will click with the person behind the camera. If time permits, an engagement photo session can serve as an illuminating trial run.
"I had a couple sitting for an engagement session in Nashville," says Dawn, "and the guy obviously hated to be photographed." She has encountered quite a few grooms who not only feel the same about taking pictures, but would also skip several other formalities in order to enjoy the day, if they could.
To eliminate any discomfort and turn the photography component into an enjoyable highlight, Dawn makes a point of taking fun, casual pictures while getting to know the bride, the groom, and the wedding party beforehand, even if that first opportunity is on the big day. "My attitude is 'Let's make this a cool thing,'" she says. (By the way, the groom-to-be in Nashville ended up feeling so at ease during the engagement photo session that he and his fiancée hired Dawn to photograph their wedding weekend in the Virgin Islands.)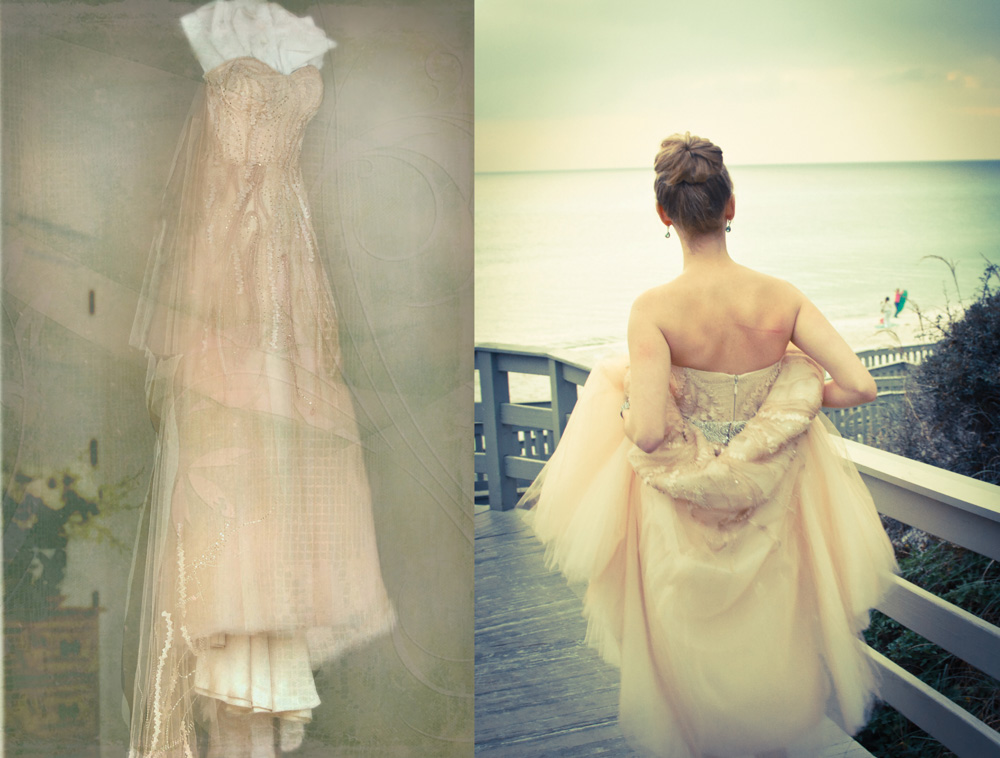 Ultimately, a photographer's ability to fulfill a client's expectations requires multiple considerations. "I'm visual," Dawn relays, "so I ask the bride to bring in shots she loves from websites, Pinterest, magazines… Though some ideas may not be my cup of tea, I get a feel for what she loves and then put my twist on it. What brides most need to realize is that much of the magic happens well after the wedding. I put a great deal of time, imagination, and originality into my editing process to bring the recollection of the day into an idyllic memory. My heart and soul go into their pictures."
While cognizant of her clients' requests, Dawn does not arrive at a photo session with a rigid agenda. "I don't visualize shots beforehand, and I don't try to control people," she explains. Instead, she enters a flow of shooting, allowing the process to happen as situations unfold.
Above all, the wedding is about the bride and the groom, so Dawn particularly looks for opportunities to catch them alone. "I love capturing those intimate, quiet moments, not posed, of the couple being in love," she says. One special image she recalls is of a bride and groom standing together at the end of a long hallway. "They were just talking, holding hands, not aware that I was there." Pondering similar snapshots in her mind, Dawn adds, "Couples need to take time to be together during their wedding."
I love capturing those intimate, quiet moments, not posed, of the couple being in love.
Dawn's philosophy of going with the flow and focusing on the purpose of the day can be a calming agent when emotions run high and extraneous conditions—such as bad weather for a wedding planned on the beach—enter the picture. "On one rainy occasion, I had to sit an emotional bride down in a room and say to her, 'It's all about you being together with your husband and loved ones.'" Likewise, she says, "I love the brides who just take it in stride and say, 'Let's march through the water!'"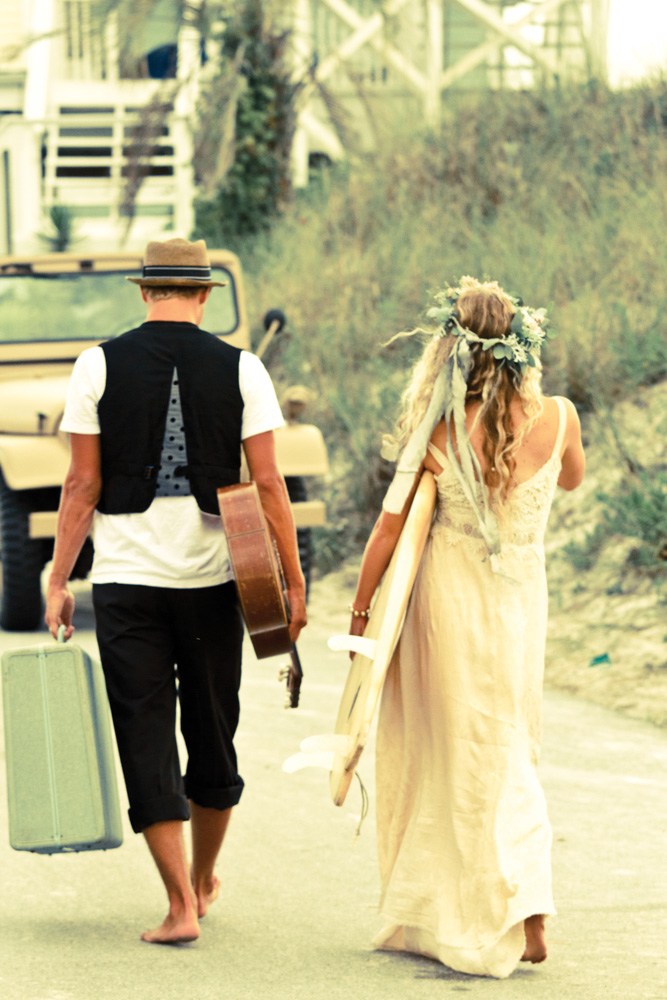 As a matter of fact, if couples want to plunge into the Gulf wearing full wedding attire, Dawn has her camera ready. Regularly, she and her husband, Mike Whitty—Dawn's backup when he's not performing professionally as a musician—take newlyweds out on a boat with a bottle of champagne for carefree, spontaneous shots. An avid surfer who felt naturally compelled to swim in her gown was Dawn's first mermaid bride. Inspired by artists like John William Waterhouse, Paul Gauguin, and Edgar Degas, Dawn is passionate about her burgeoning Women in Water series.
Whether or not her clients want to "trash the dress," Dawn highly recommends investing in a meaningful post-wedding photo session. In fact, she'll tell a couple on a budget to put friends in charge of snapping candid pictures for parties like the traditional rehearsal dinner.
Even with a professional photographer present, Dawn does not discourage the couple's entourage from taking selfies or any variety of wedding pictures. "One of my favorite shots from my wedding is an iPhone photo," she shares. "There's no reason not to take pictures; the more images, the better."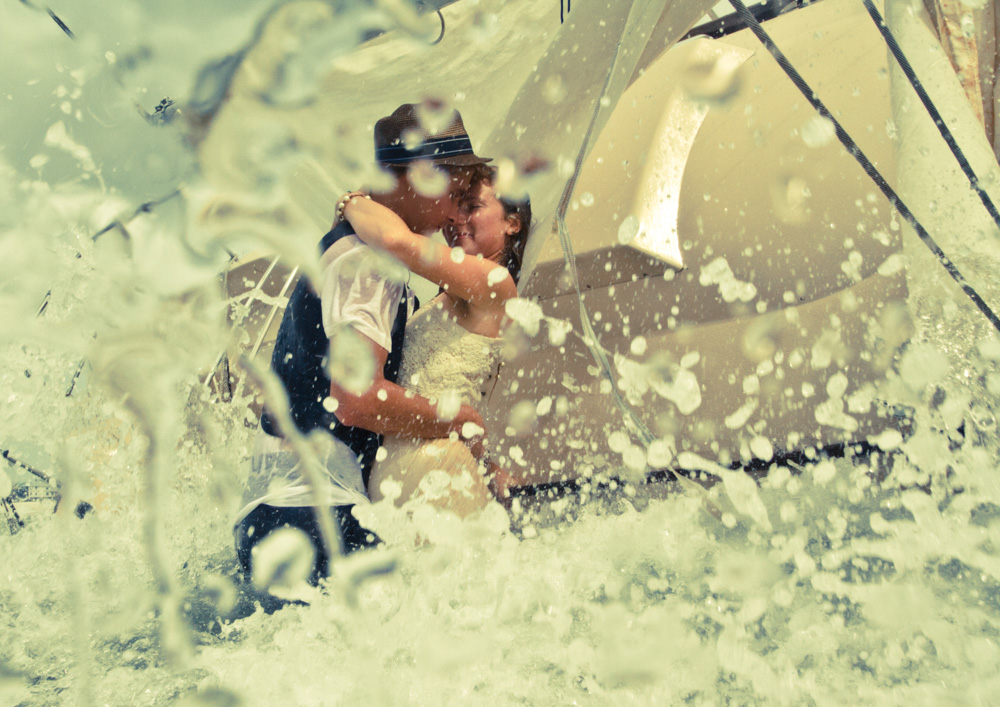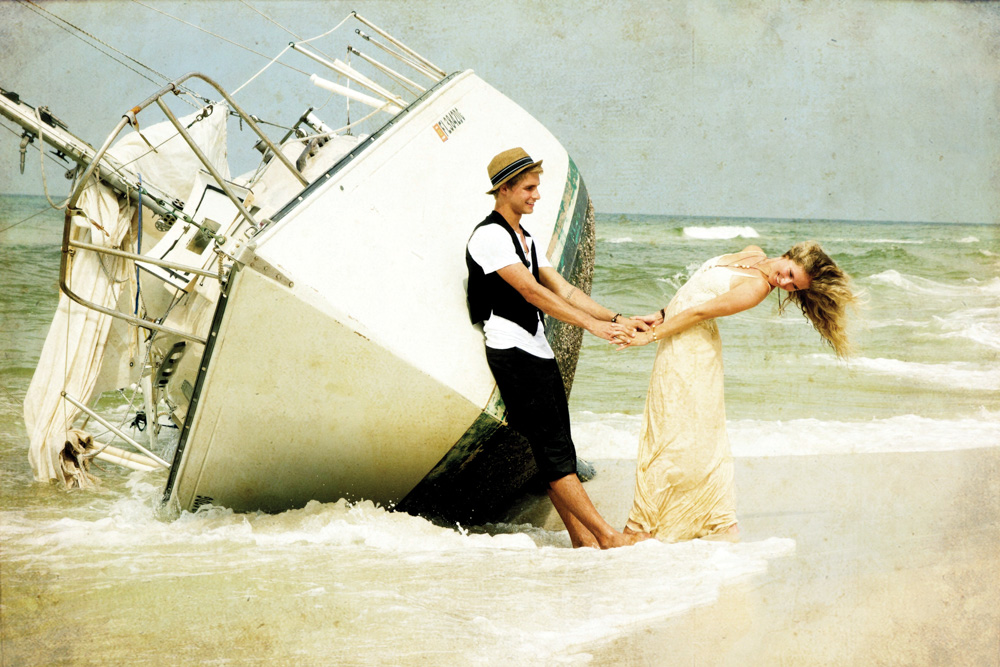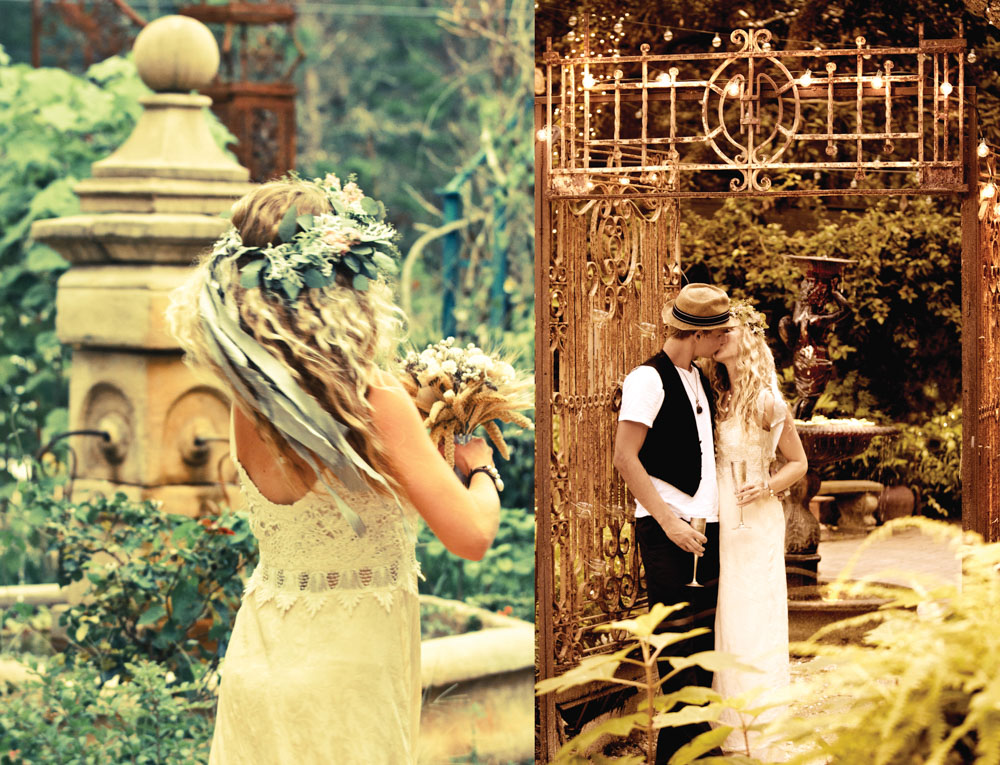 Aside from those lucky shots, couples depending heavily upon the photographer to document one of the most romantic times of their lives do not want to end up with an album of forced grins and strained looks because they were uncomfortable posing. "If you're not a fashion model who's always in front of the camera, you'll need someone who'll make you feel at ease," Dawn says. "Choosing the right photographer for you is not so much about the professional's prestigious résumé as it is about liking the person's work and feeling that you would comfortably relate to one another."
Dawn invites those in the Seaside, Florida, area to stop by La Vie Est Belle gallery in Central Square, where they can view an extensive display of her work in person. Often, she is only a bike ride away for an impromptu meeting!
— V —
---
To learn more, visit DawnChapmanWhitty.com.
ARTICLE CATEGORIES