The More the Merrier
By Tori Phelps | 
Photos by Millie Holloman Photography
Everything is bigger in Texas. And when Houston natives Evan Harrell and David Holland decided to tie the knot near the Harrell family's vacation home in Seaside, Florida, they brought that bigger-is-better mind-set to the festivities. Welcoming nearly four hundred guests to one of the largest weddings ever hosted in Seaside, the days-long celebration managed to retain an unmistakable intimacy, thanks to the integration of important family traditions and heirlooms.
The road to what became the Nauti Wedding: Anchors Aweigh on 30-A on April 21, 2018, started in Houston. Mutual friends arranged a date between Evan, a graduate of the University of Texas, and David, a Texas A&M alum. Within a month of meeting, Evan suggested a trip to the family vacation home, In Surf We Trust, to share the town of Seaside with David. As she'd hoped, he fell under the town's spell immediately. And when he decided to propose on Christmas Eve, continuing a tradition started by Evan's dad when he proposed to her mom, David knew it had to take place in Seaside.
Having sneaked into town the night before—and asking her father's permission months ago—David surprised Evan in front of the Seaside Chapel while Evan and her family took an "impromptu" stroll. Freezing for just a moment at seeing him so unexpectedly, Evan was soon running full speed into his arms.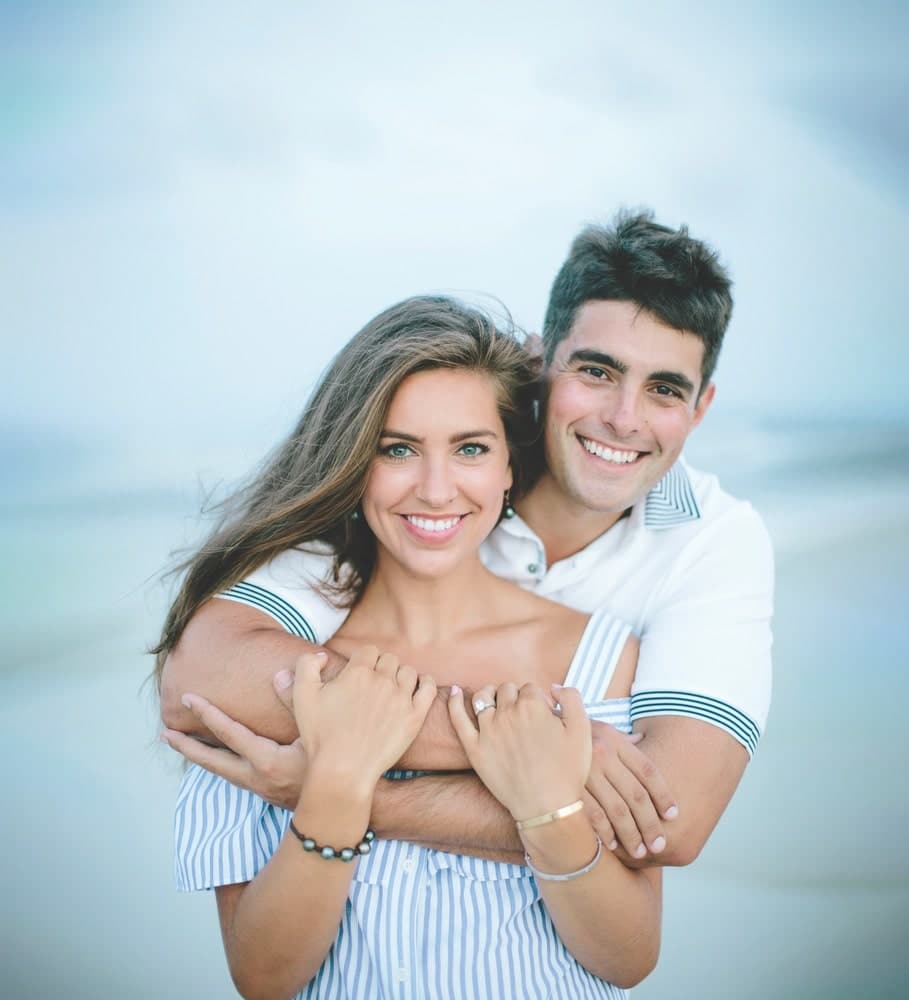 No discussion was needed about where the two would marry. Seaside had adopted David as easily as it had adopted the Harrell family years before, with signs posted in store windows, on daily specials boards, and even at local airports congratulating the couple on their upcoming nuptials. With help from the bride's mother, Willie, and North Carolina–based wedding planning firm Salt Harbor Designs, the remarkable details started coming into focus.
With attendees gathering from as far away as Scotland, the couple wanted to express their gratitude to friends and family members by making the trip a memorable one. To start, Seaside mainstay Modica Market assembled welcome baskets for each guest, with items like Casamigos tequila, shot glasses, and even dog treats for four-legged pals. The Market also poured Smooth Sailin' mimosas all weekend, the signature cup making it easy to spot wedding guests around town. Soon, locals were asking if they, too, could get a Smooth Sailin'.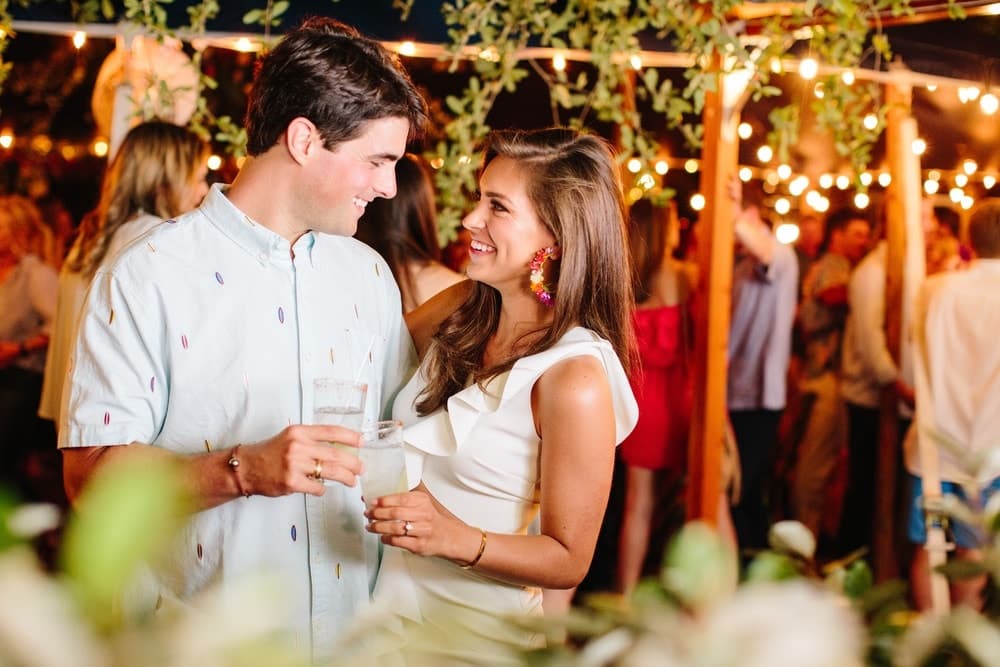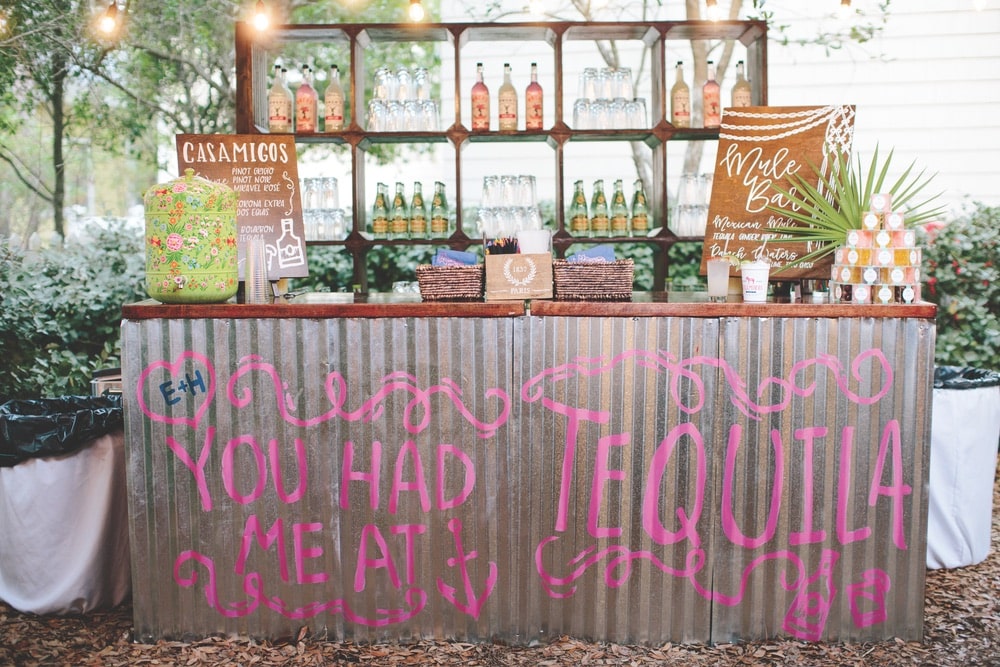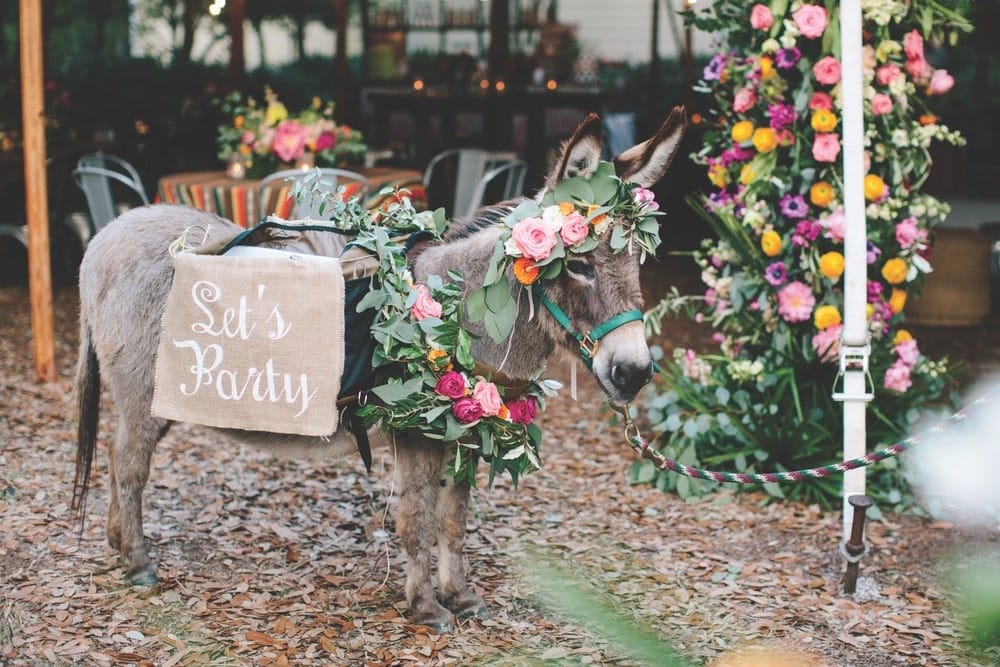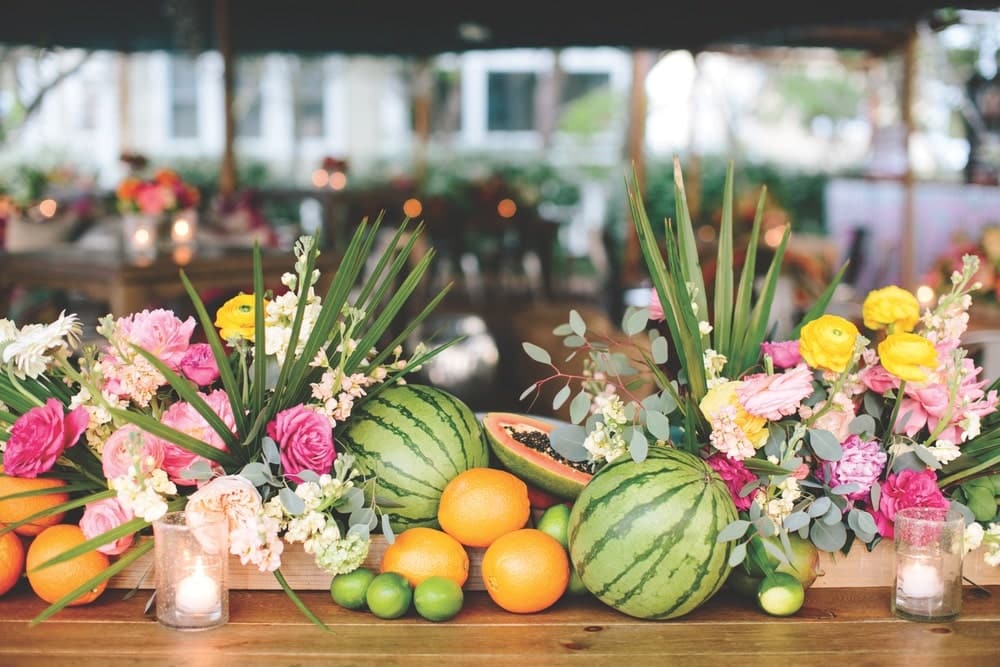 Wedding events officially kicked off two days before the ceremony, with a Welcome to Our Casamigos tacos and tequila party on Thursday night. Under a tent directly behind the Harrell family home, guests were greeted by a beer-packing burro wearing a custom floral crown. They were then invited to indulge in signature tequila cocktails from the You Had Me at Tequila mule bar, build-your-own tacos, and churros with caramel dipping sauce. A steel drum player provided background music amid scene-setting touches like a market cart piled high with Mexican street corn and miniature lime piñatas filled with Mexican candies.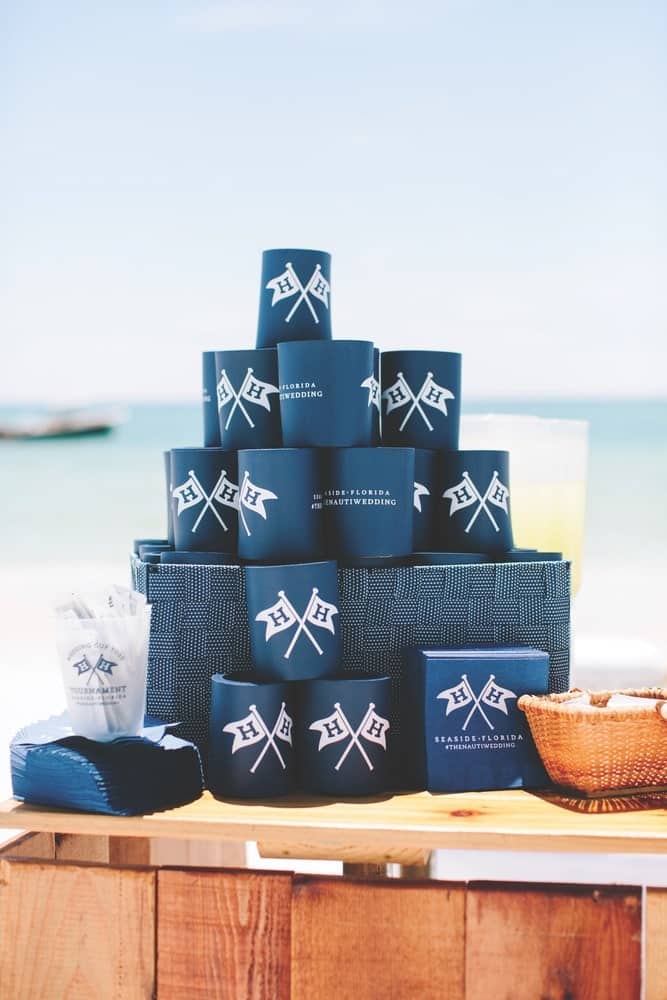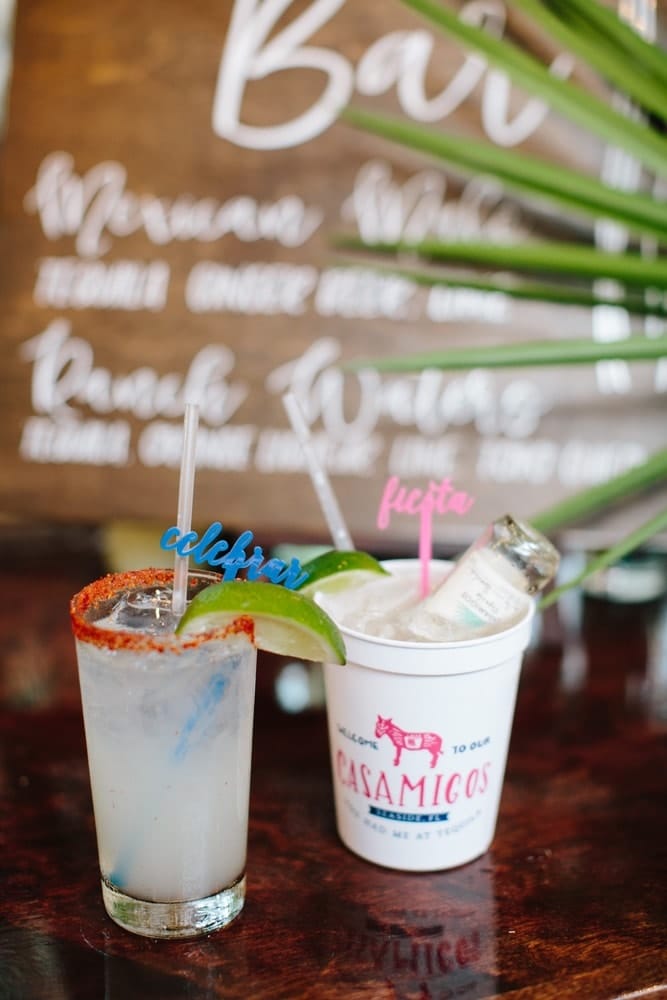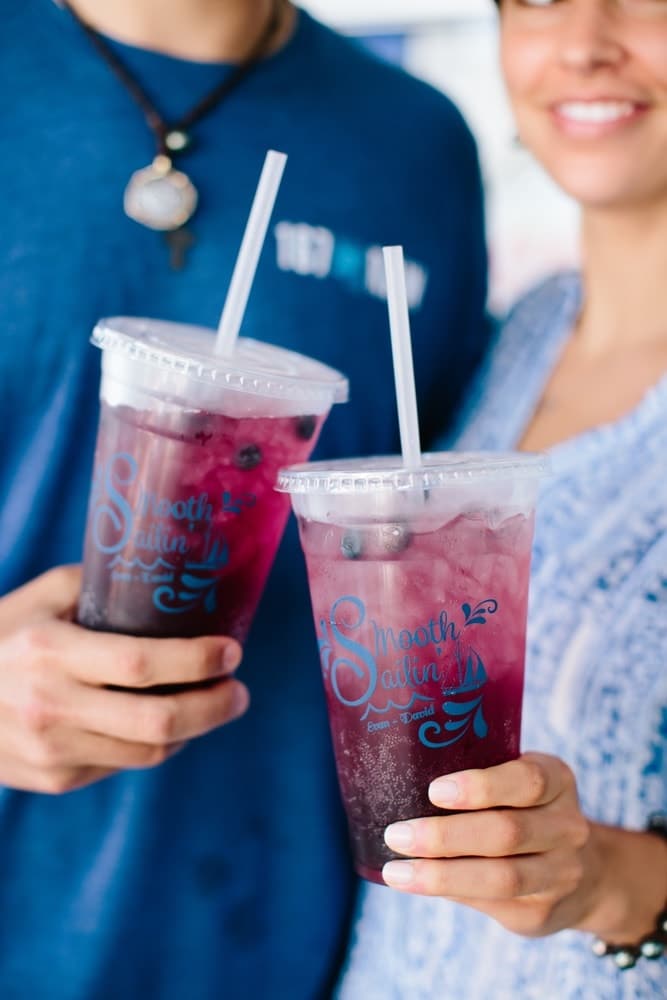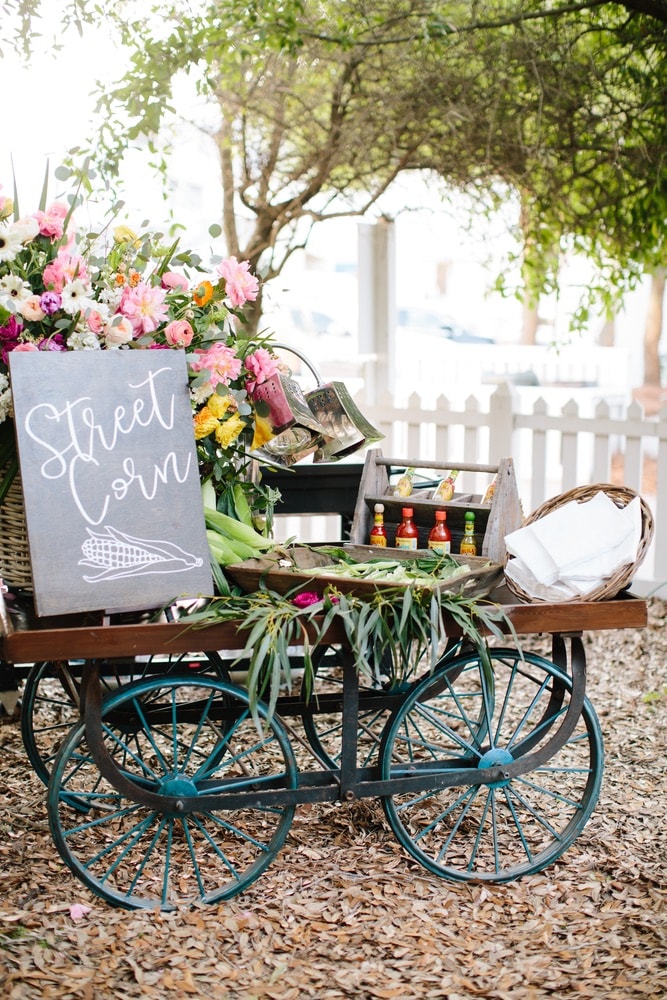 The following day, guests met up on the beach for another Harrell family tradition: a cup toss tournament. What had started years ago as a way to clean up the beach at the end of a fun-filled day had morphed into a competition between Evan's dad and his friends, the Cabana Boys. The wedding edition of cup toss found bridesmaids and groomsmen competing for a grand prize (maid of honor Page Matthews nabbed the goodie basket), while a leader board kept track of scores and three hundred-plus family and friends cheered on the contestants.
Fully recuperated from their sand-and-sun afternoon, 120 guests arrived at Bud & Alley's Waterfront Restaurant for a rehearsal dinner showcasing a coastal-inspired menu. Among the highlights were heartfelt toasts against a gorgeous beachfront sunset and Holland family friend Gregory Cokinos leading the wedding party in a serenade to the happy couple with Nat King Cole's "L-O-V-E." The night ended with an All Hands On Deck cocktail party on the restaurant's rooftop.
They were then invited to indulge in signature tequila cocktails from the You Had Me at Tequila mule bar, build-your-own tacos, and churros with caramel dipping sauce.
Not surprisingly, the thoughtful duo's wedding day comprised a collection of moments and experiences rather than just one main event. The bridal brunch, catered by Raw & Juicy, featured parfaits, a toast bar, and other healthy favorites, along with prosecco served in coconuts. Raw & Juicy also supplied his-and-her snack boxes to fuel the bride and groom at midday.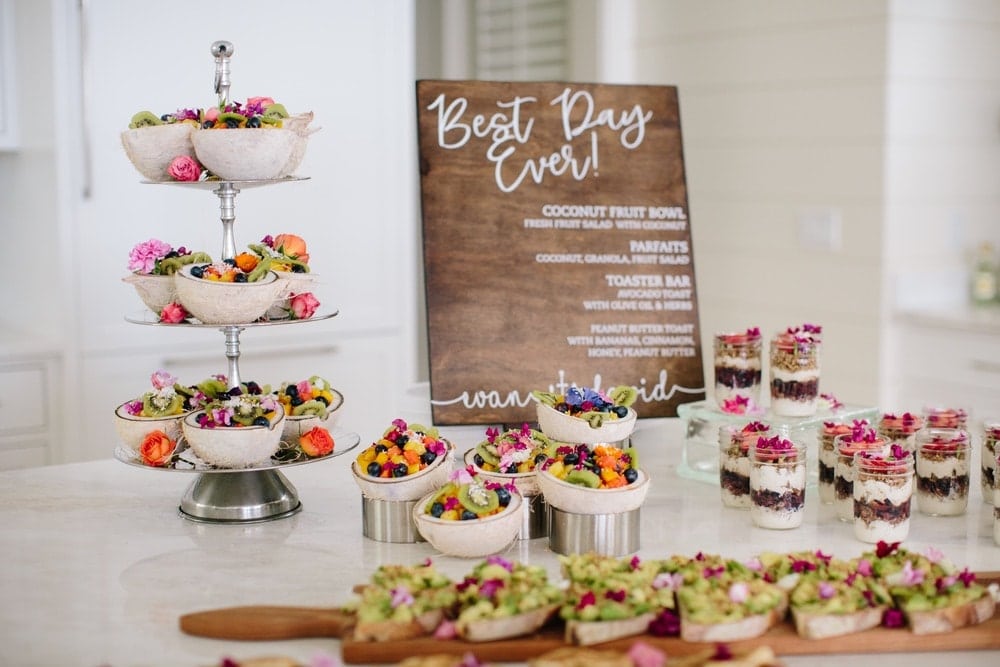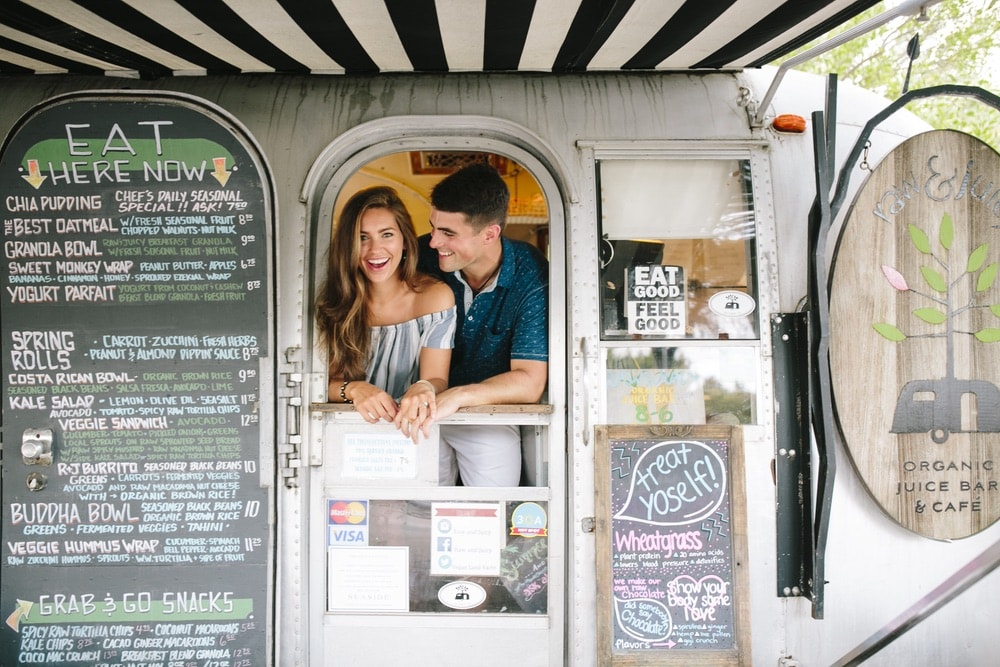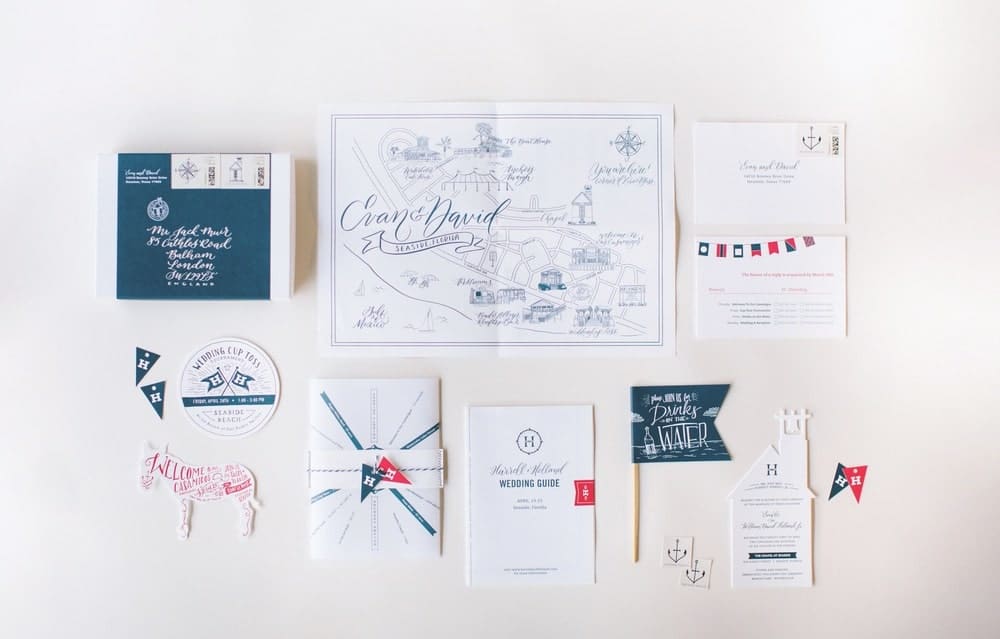 As the ceremony drew closer, Evan and David slipped into the chapel for a private moment, wherein they exchanged gifts—and happy tears—to mark the long-awaited occasion. Evan presented her groom with a prayer book that included 365 prayers she had written for him. David gave Evan a pair of pearl earrings from La Vie Est Belle destined to become a family heirloom.
When the Chapel at Seaside and its adjacent courtyard were filled with all 367 guests (plus twelve favorite locals wearing custom "Wedding Crasher" T-shirts), the fourteen bridesmaids, wearing all white, and fourteen groomsmen decked out in navy, entered the chapel to Jack Johnson's "Banana Pancakes." In keeping with #TheNautiWedding theme, groomsmen wore a twist of nautical rope on their lapels in lieu of floral boutonnieres.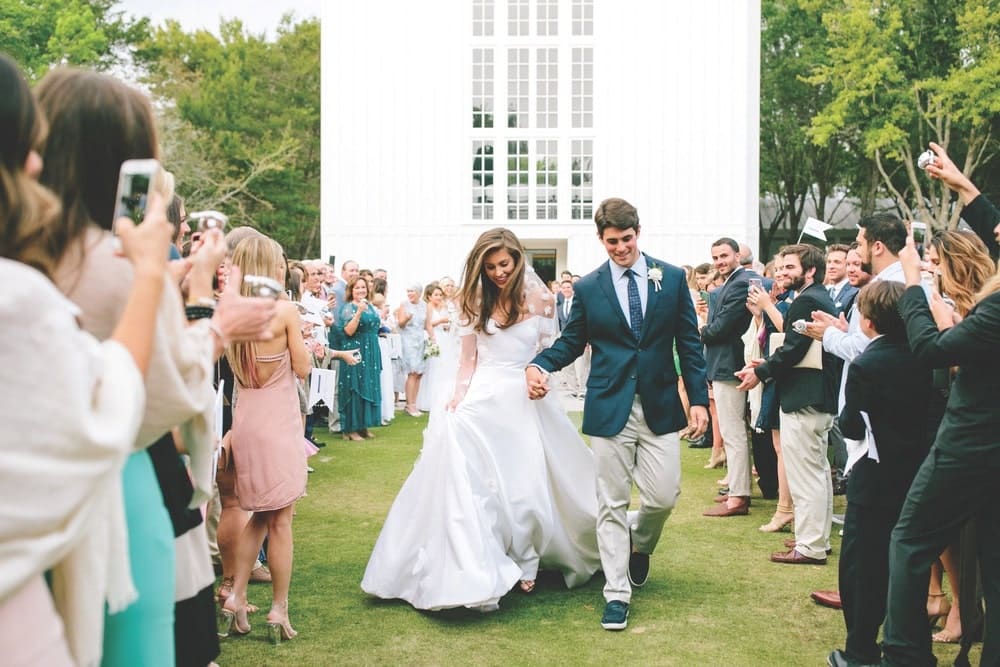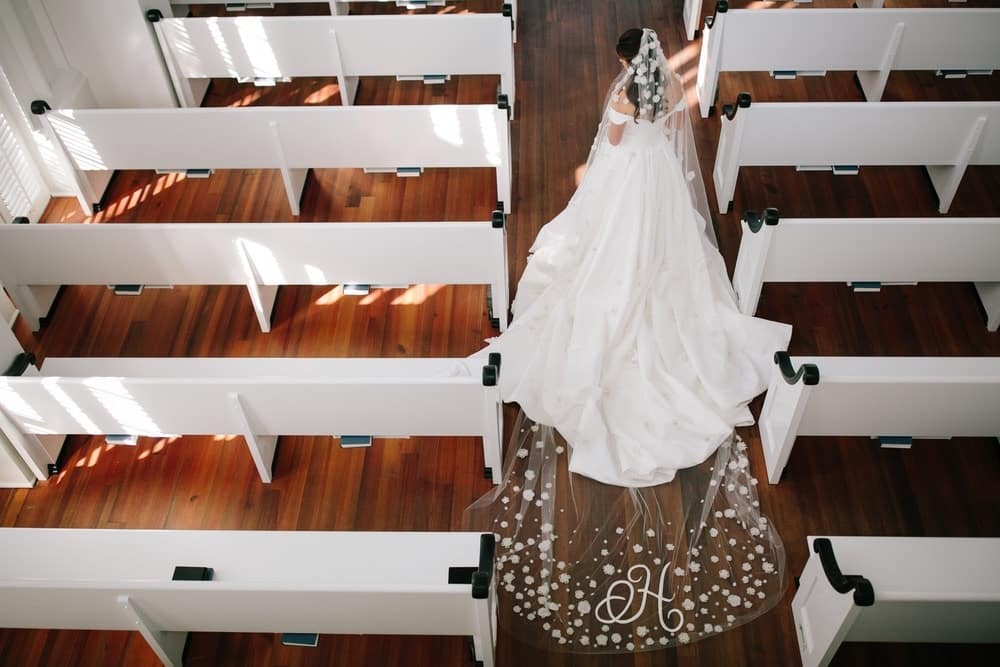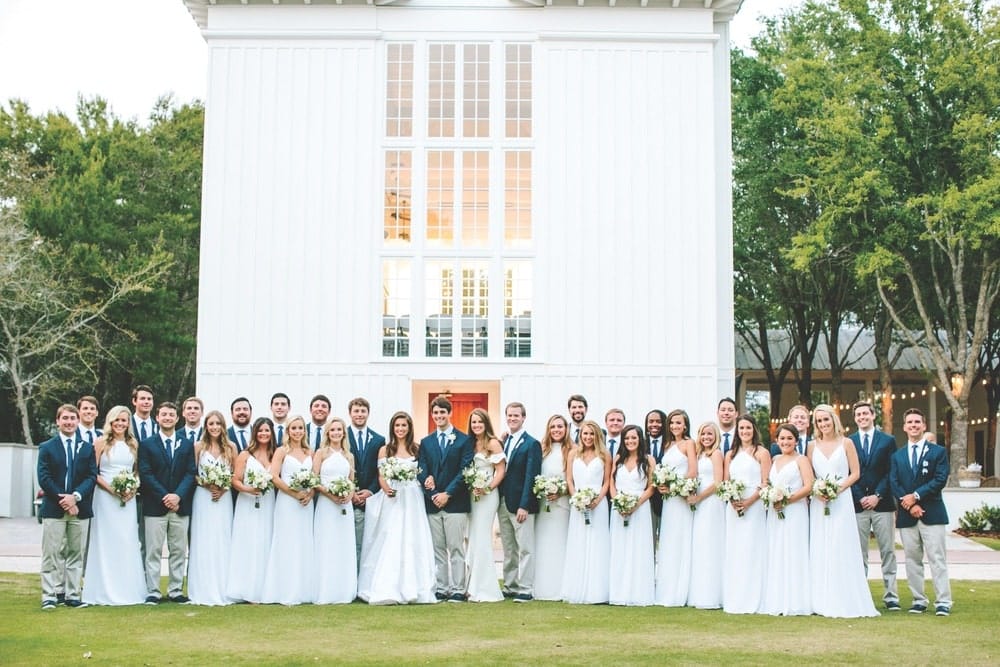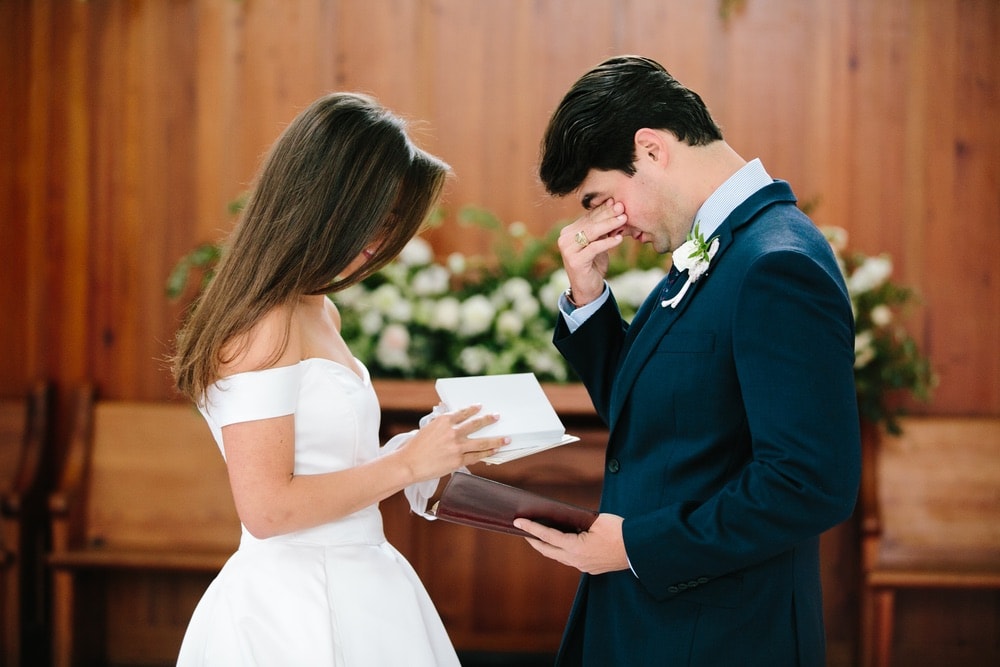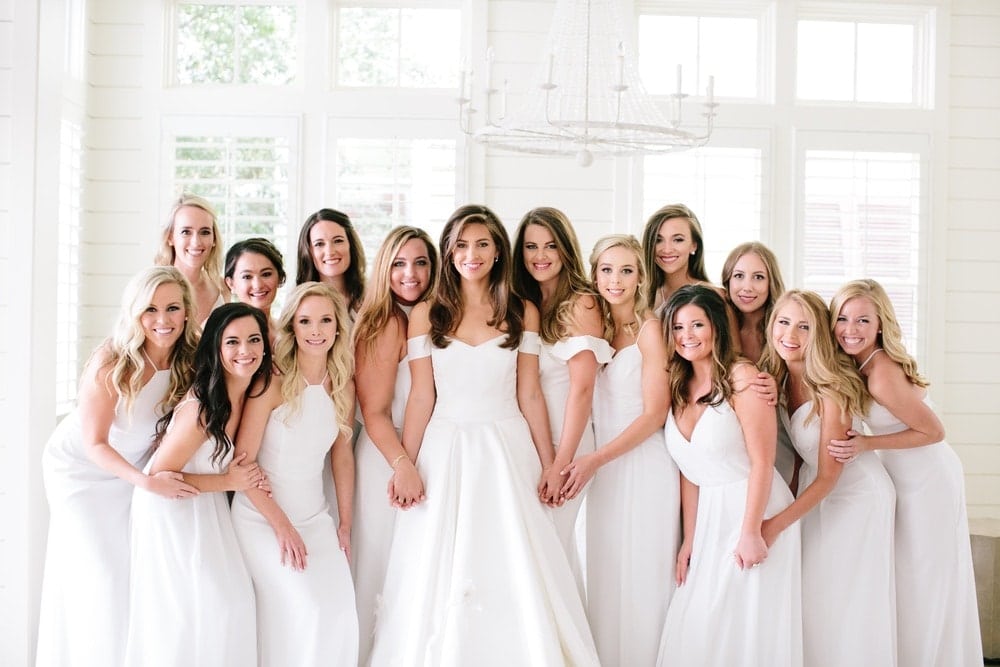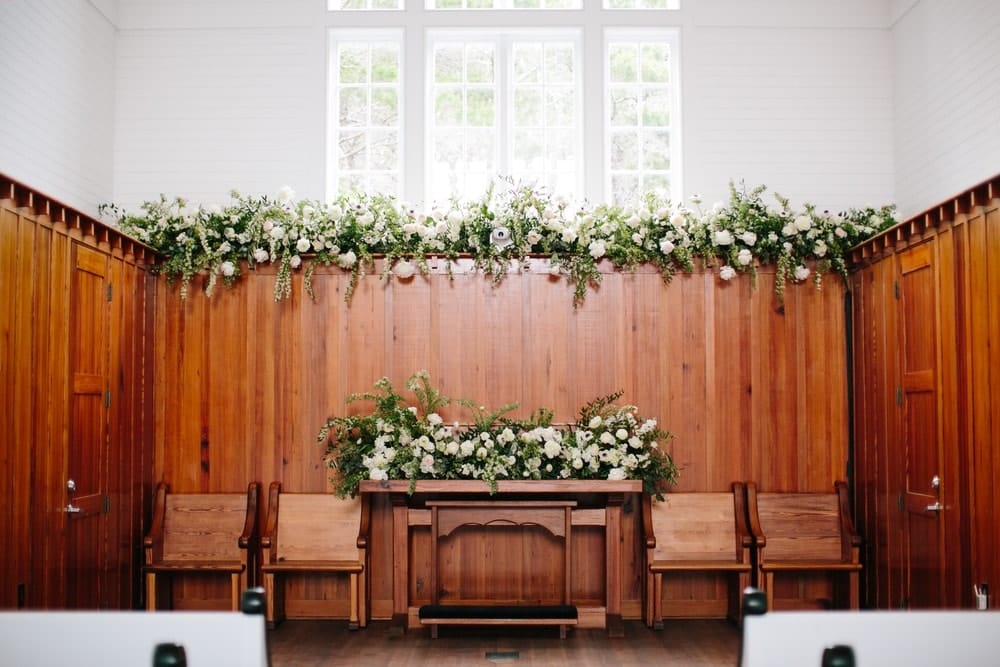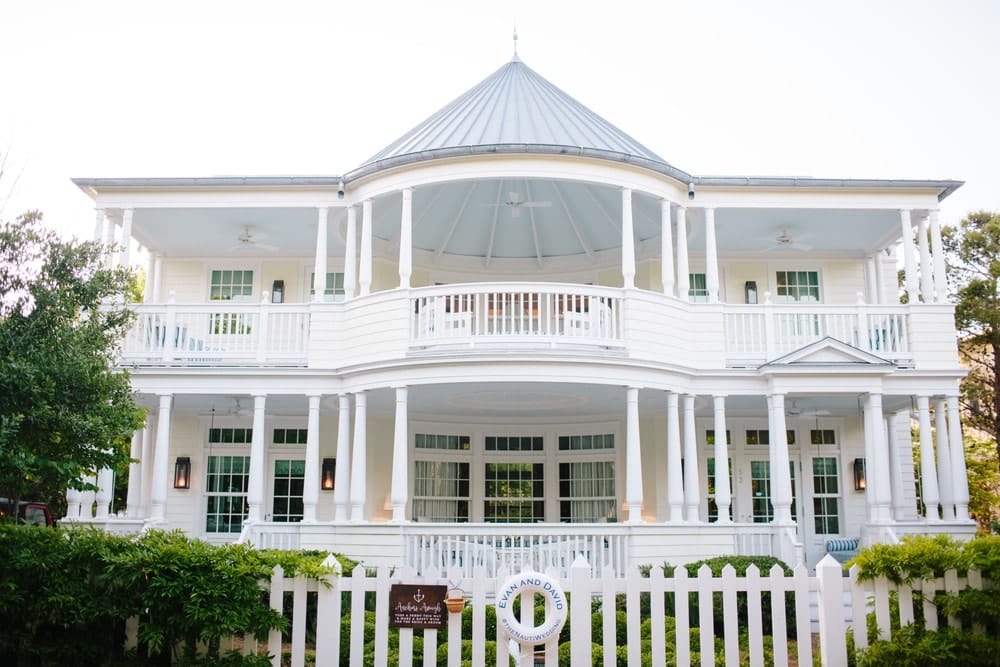 The most anticipated moment of the day arrived when Evan walked down the aisle to Chris Alvarado's acoustic version of "Here Comes the Bride" wearing a one-of-a-kind custom couture bridal gown by Nardos Design. Crafted from duchess silk satin, the off-the-shoulder ball gown ended in a dramatic train and was topped by a cathedral-length veil monogrammed at the bottom edge with an H, Evan's nickname for David.
Meaningful elements were woven into every aspect of the ceremony. The bride's uncle was chosen to officiate, and Evan's gown and veil were embellished with flowers from her mother's wedding dress. The ring bearer, David's nephew, wore a nautical romper that once belonged to Evan's brother and carried Evan's great-grandmother's wedding band on a ship-shaped pillow.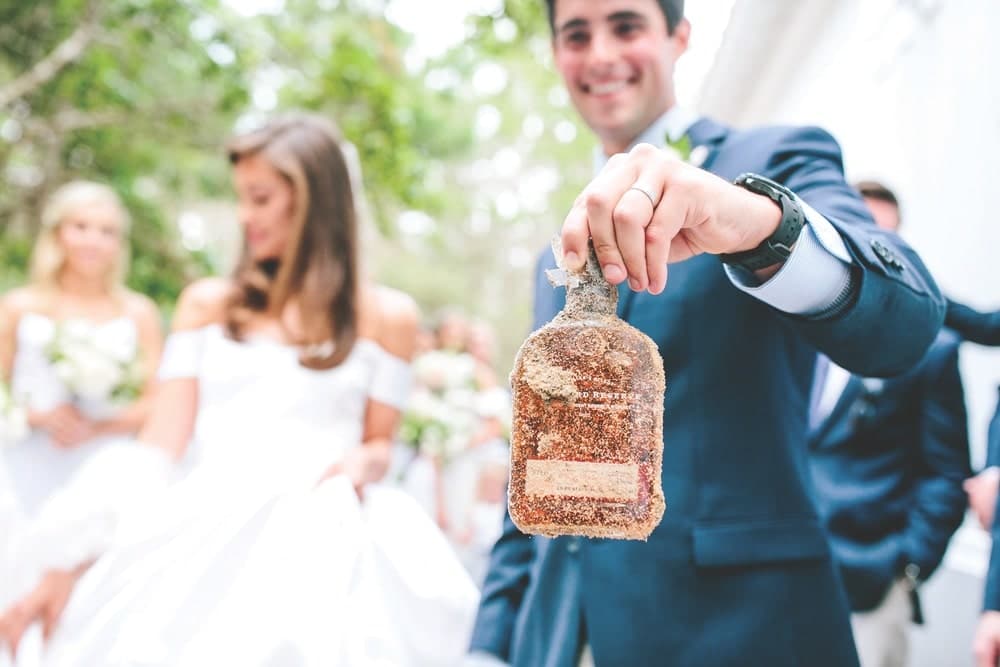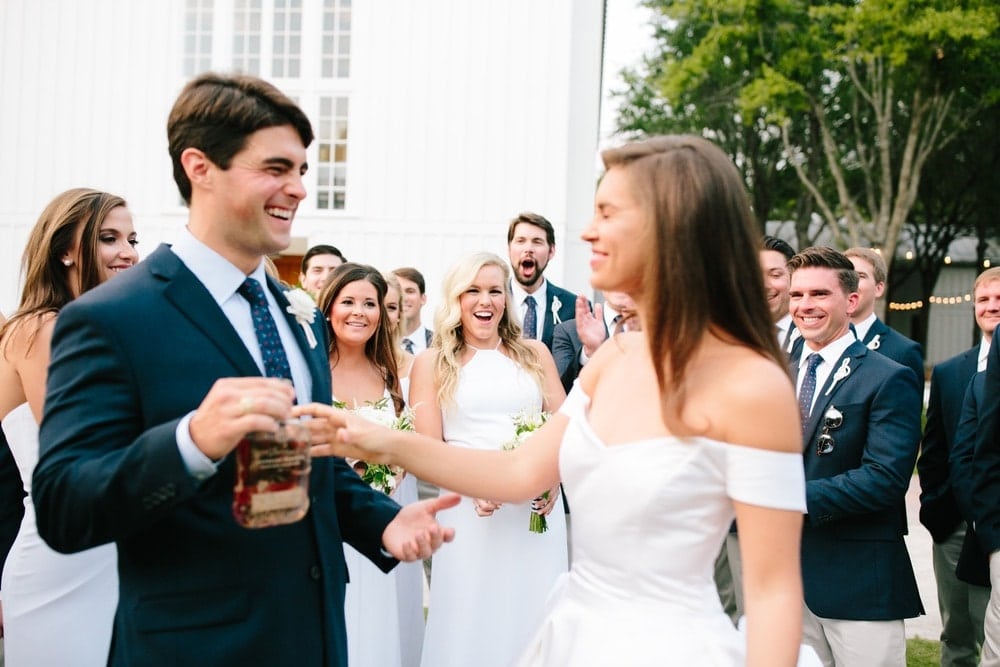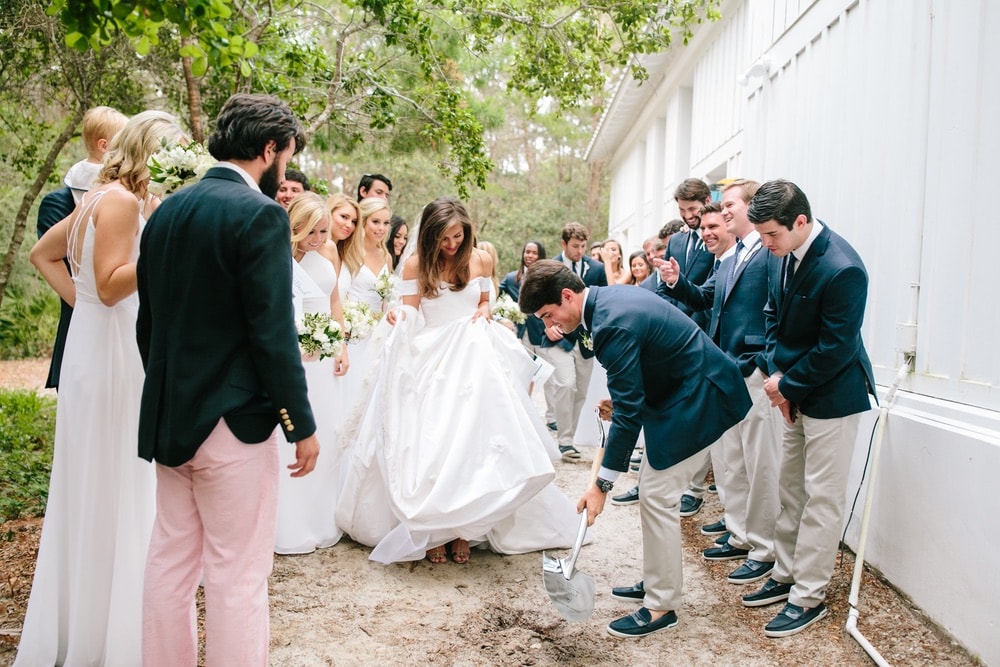 Once the couple was pronounced husband and wife, the wedding party gathered behind the chapel for the Southern tradition of unburying the bourbon. A full bottle of bourbon had been buried upside down exactly one month before the ceremony to ensure good weather on the day of the wedding—which, indeed, paid off with picture-perfect conditions. Evan and David had received an engraved ceremonial shovel at the rehearsal dinner, which they used to dig up the Woodford Reserve bottle they then shared with the wedding party.
Strolling WaterColor resort staff offered wine crates filled with strawberry-spinach salads and one of the couple's preferred treats, sweet potato fries, alongside miniature ketchup bottles.
Meanwhile, guests were transported by trolley and motor coaches provided by Sunshine Shuttle to WaterColor Marina Park for cocktails and dinner. During the short ride, a video showed the couple celebrating to Leon Bridges's "Smooth Sailin'," which also served as the couple's first dance song. Guests arrived to find the reception tent marked by two bikes overflowing with flowers, a nod to the area's famed biking community. Inside, custom-crested pillows adorned chaise lounges, and canvas sailboats swayed from the tent's ceiling as Chris Alvarado's trio played the couple's favorite tunes. Libations included local beers, signature Seaside Mules and Texas Mules at the central bar, and the groom's favorite top-shelf margaritas at the Captain's Margarita Bar.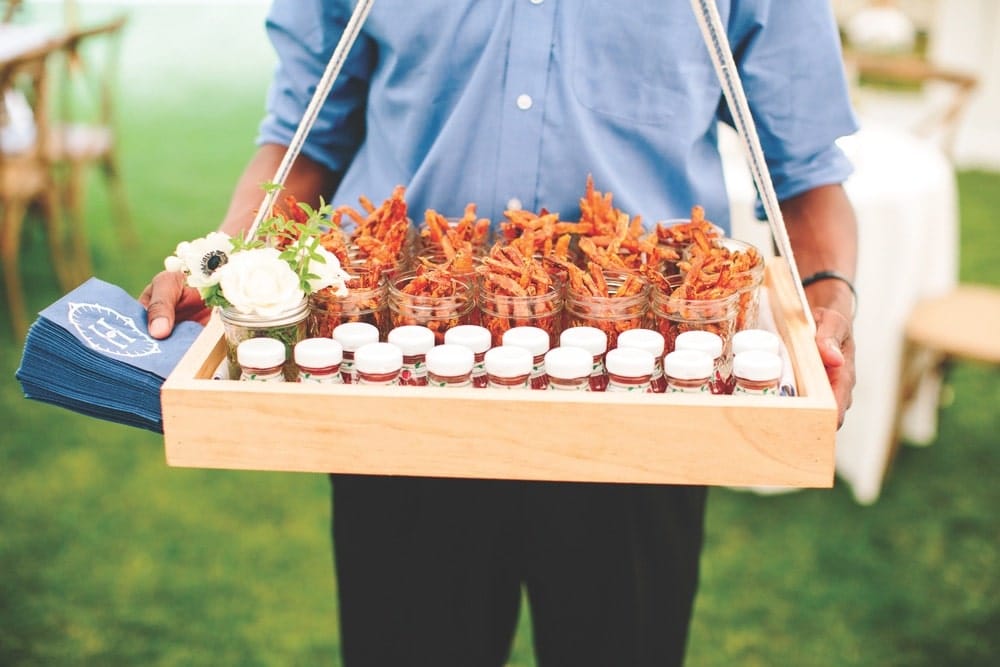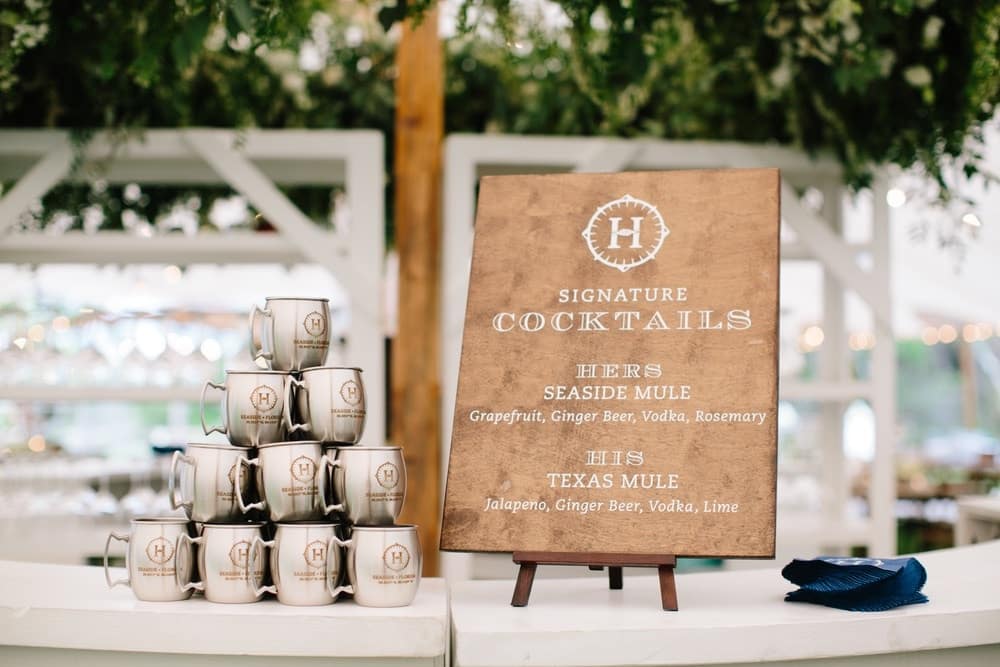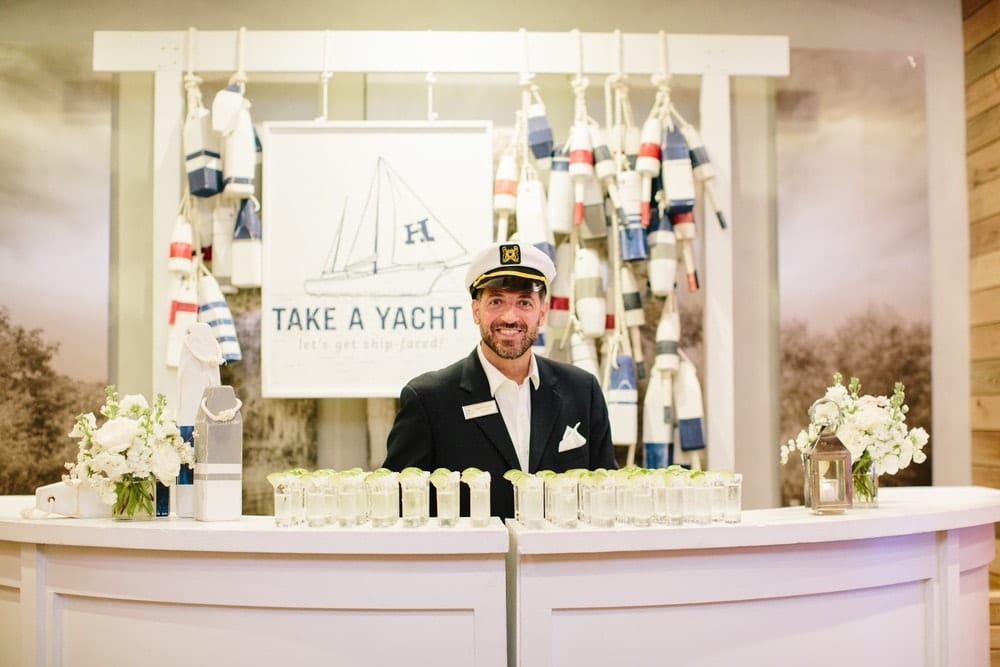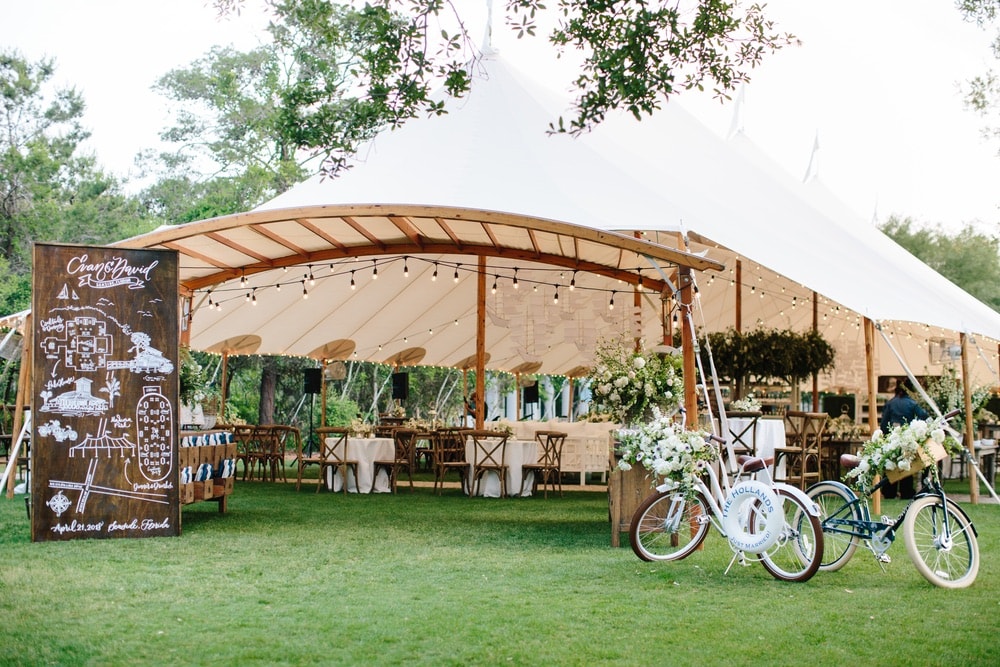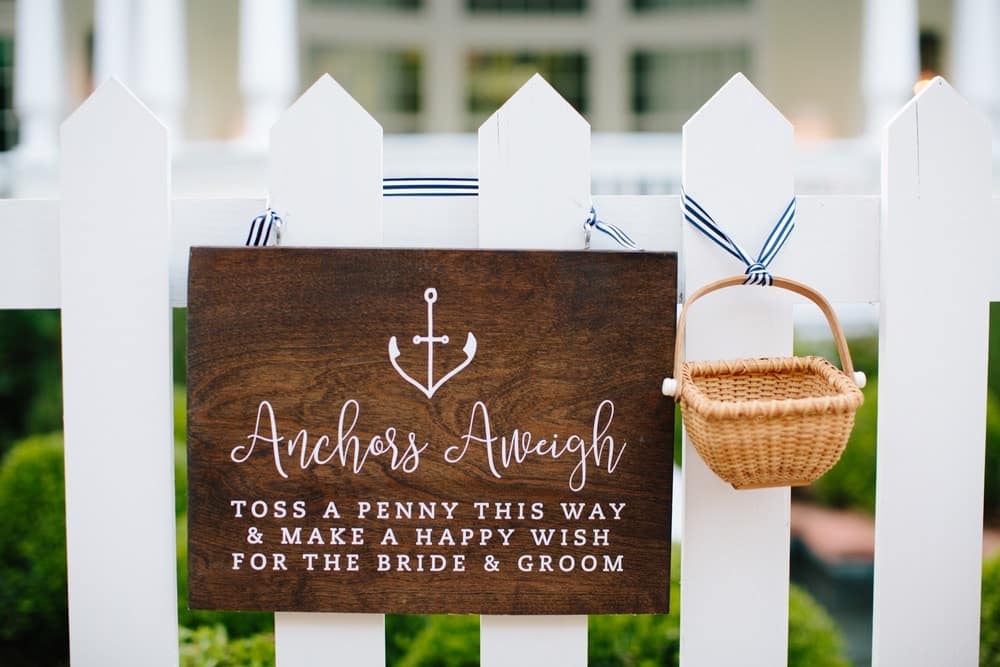 Strolling WaterColor resort staff offered wine crates filled with strawberry-spinach salads and one of the couple's preferred treats, sweet potato fries, alongside miniature ketchup bottles. Local veggies, filets with chimichurri sauce, mini pork sliders, and many other options rounded out the fare.
As the sun was setting, the festivities ratcheted up another notch. The bride changed into a shorter version of her wedding gown—again adorned with flowers from her mother's wedding dress—and guests moved to the WaterColor LakeHouse, which was festooned with buoys, ropes, and sails. The Yacht Bar and a second station featuring "I Do Brew" kept attendees from going thirsty, while honey-butter chicken biscuits, hash browns, and more sweet potato fries topped off appetites. No Limits, a Utah band, kept the party vibe going between events such as the cake cutting and the bride and groom's first dance. After a blast of confetti cannons came a midnight snack of miniature waffles and individual bottles of syrup, as well as doughnuts and coffee.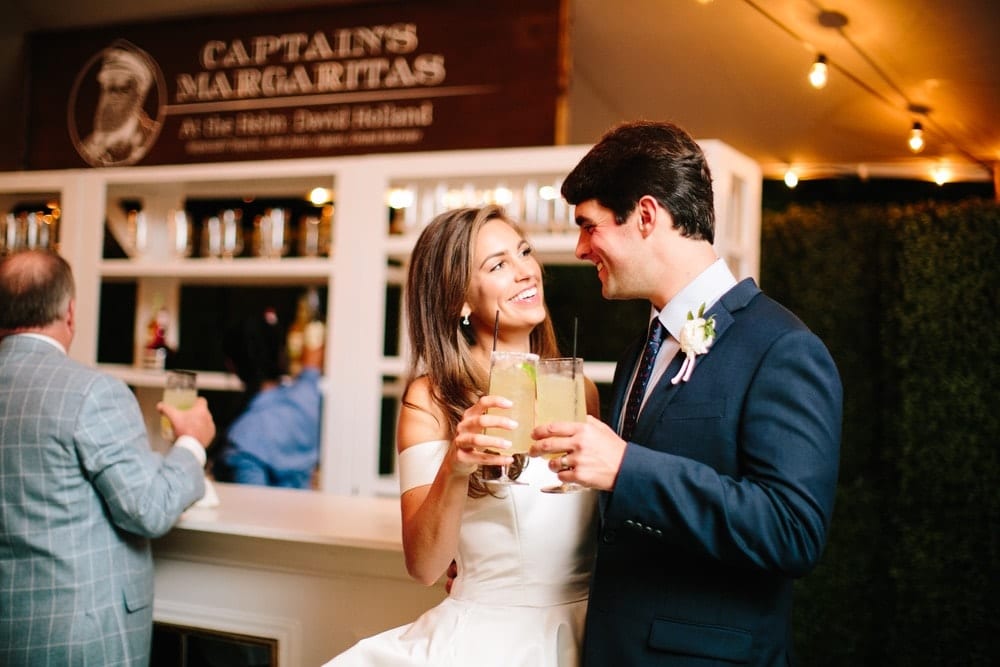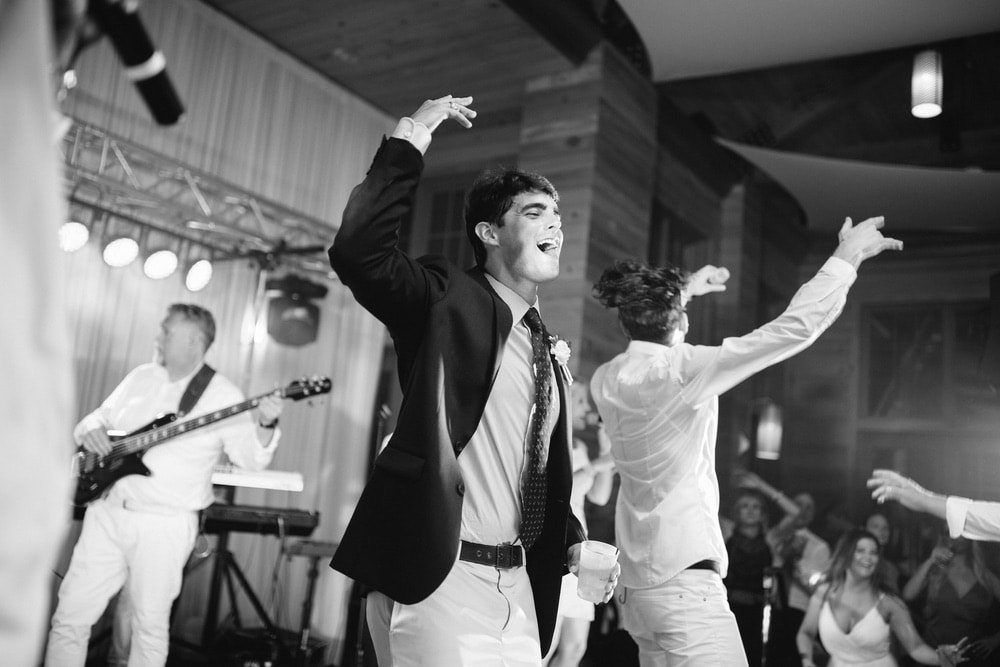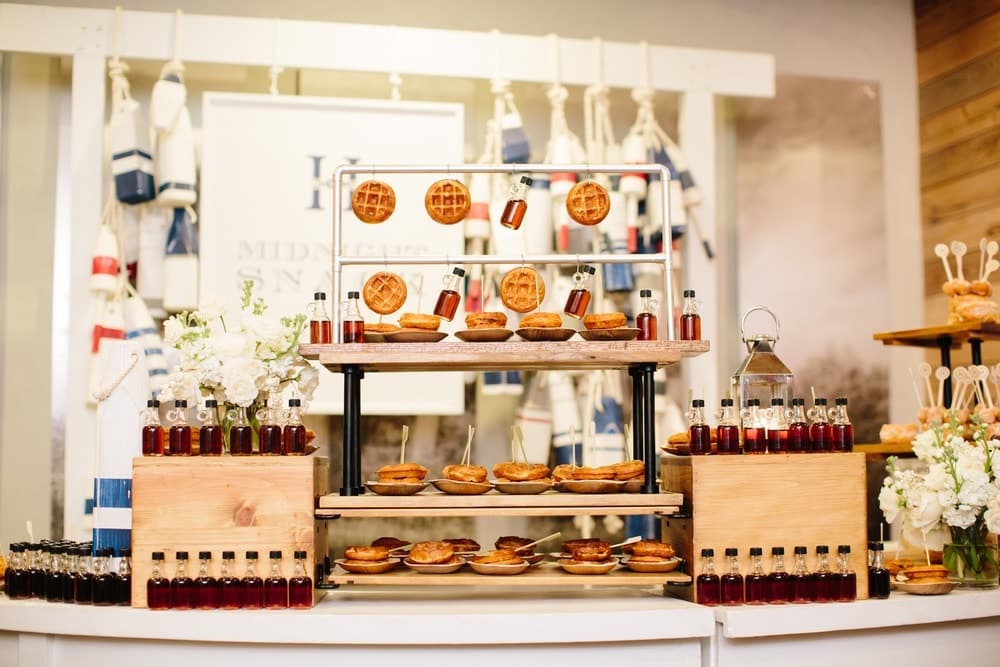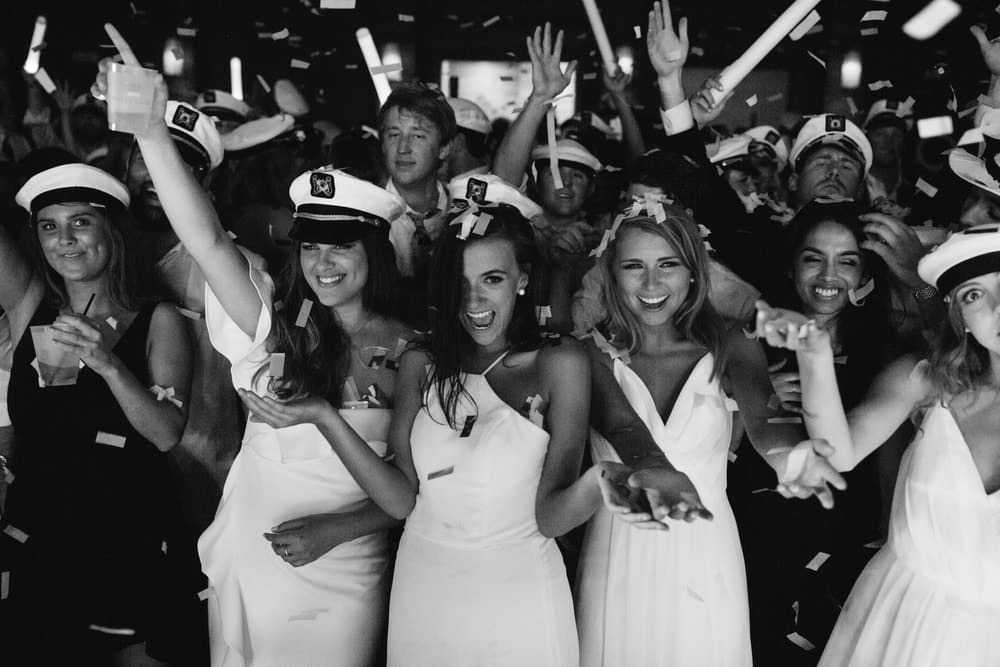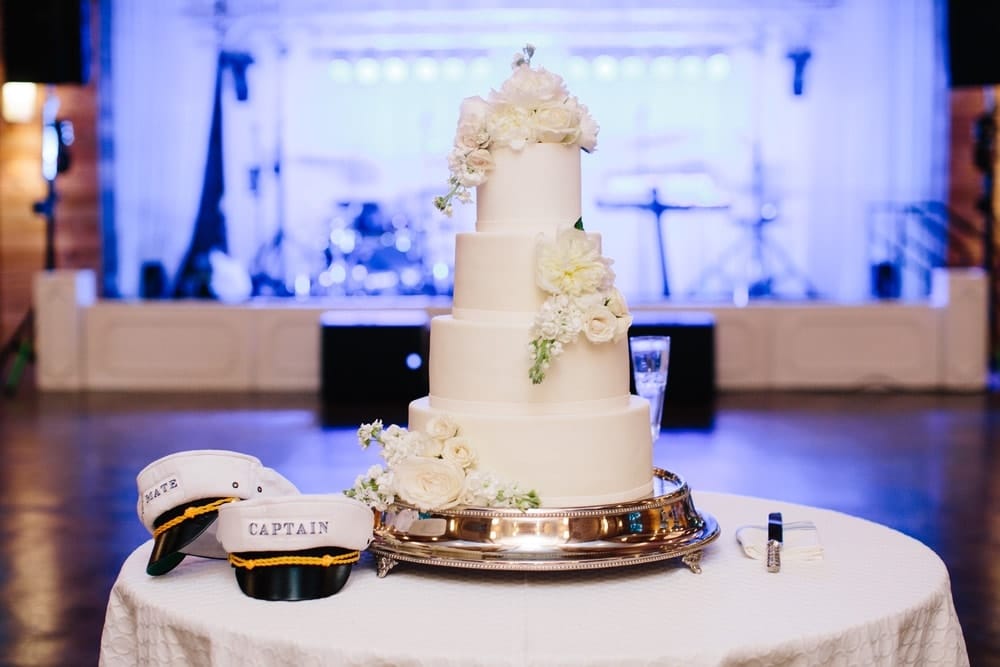 A cacophony of hundreds of light-up musical instruments accompanied the couple as they set off to begin their life together in their beachfront honeymoon cottage while guests who wanted to continue the fun were invited to an after-party at the Harrell home. There, the morning was ushered in with gourmet peanut butter and jelly sandwiches from Modica Market, Corey Jernigan–crafted cocktails, and songs by DJ 30A.
The new Mr. and Mrs. Holland stayed at the cottage for a couple of days, mingling with guests who couldn't bear to leave the area just yet. Afterward, the Hollands jetted off to Las Ventanas al Paraíso in Cabo San Lucas for their honeymoon. First on their to-do list? A tequila tasting reminiscent of the event that kicked off their wedding weekend.
In the end, there was no place better suited than Seaside for Evan and David's dream wedding. Evan, who learned to ride a bike on the Seaside lawn and still spends as such time in the area as possible, found a soul mate who is just as passionate about the place. And now it serves as a permanent part of their story. Evan's favorite Bible verse, from Ecclesiastes 4:12, reads "A cord of three strands is not easily broken." For the Hollands, those three strands include Evan, David, and Seaside.
---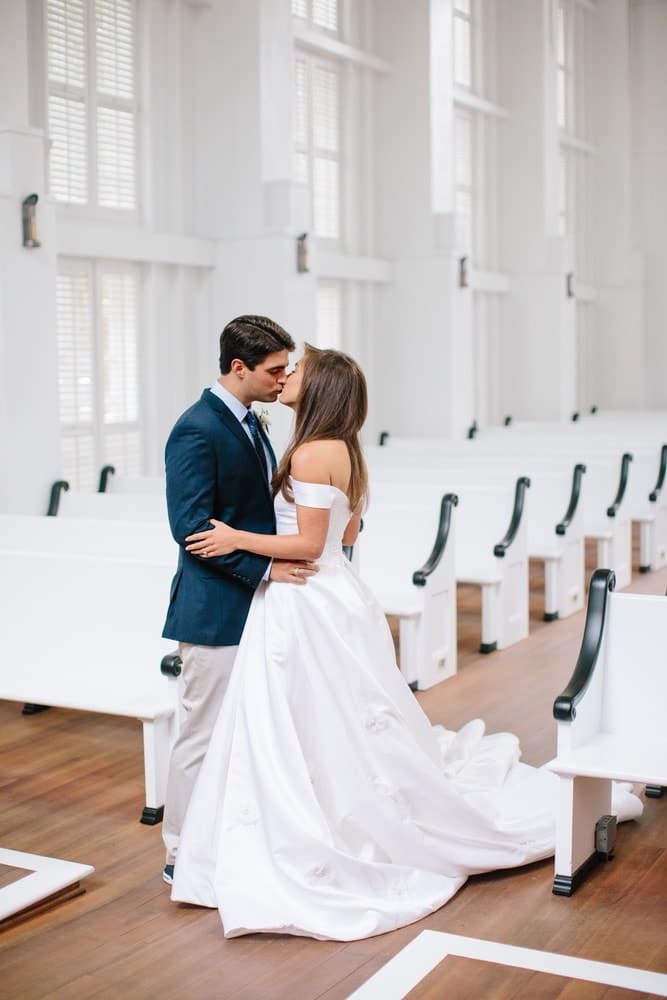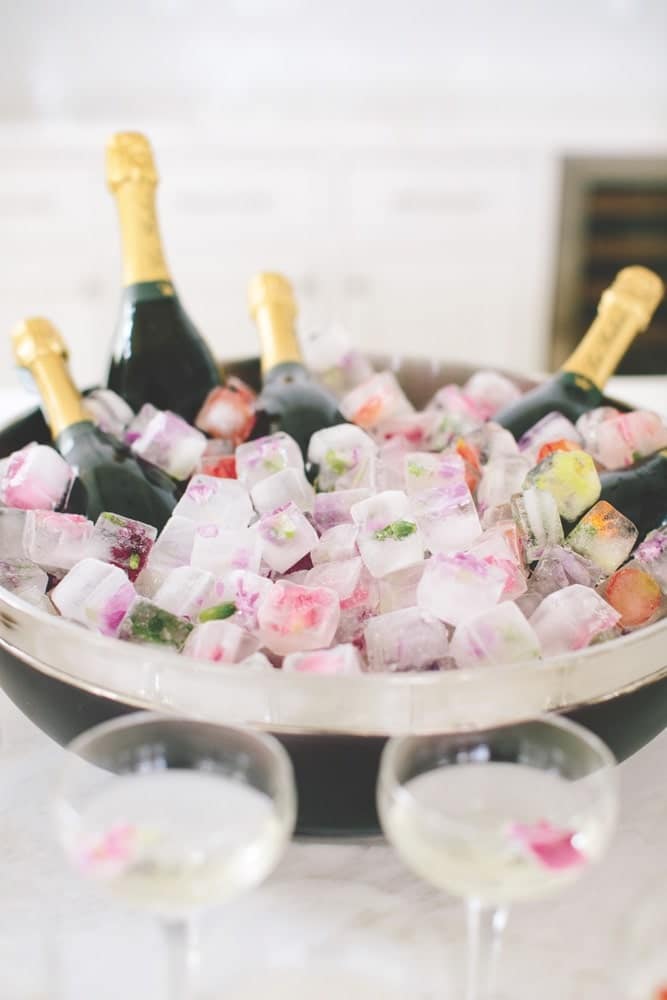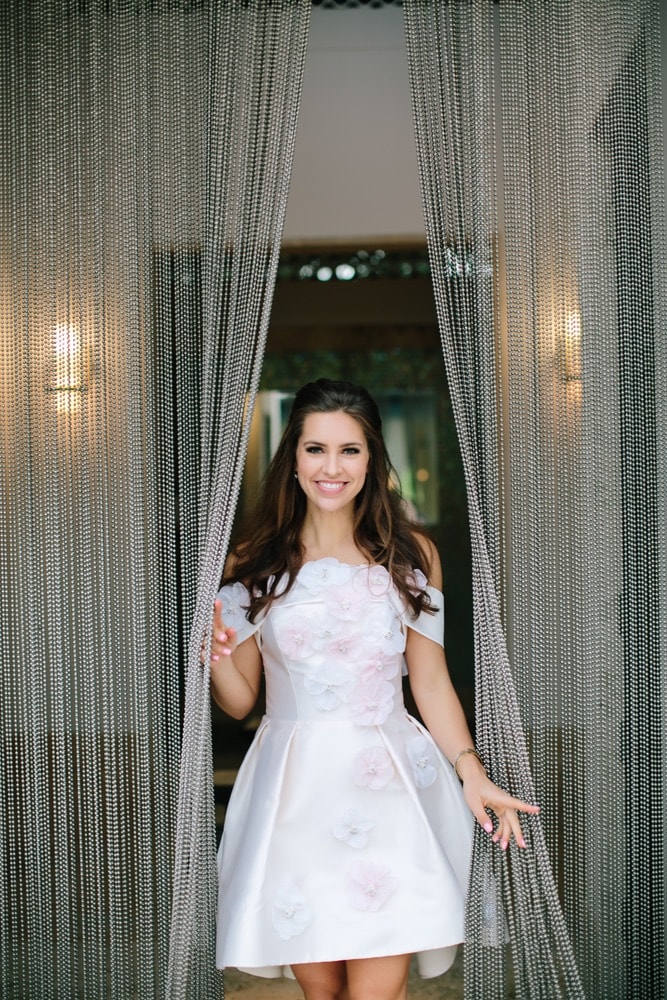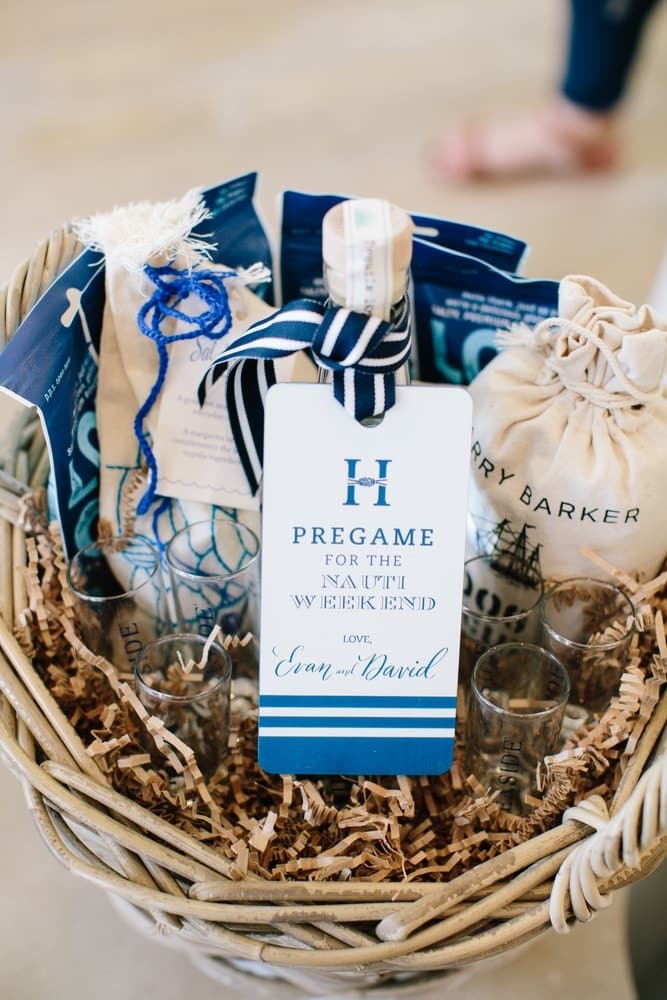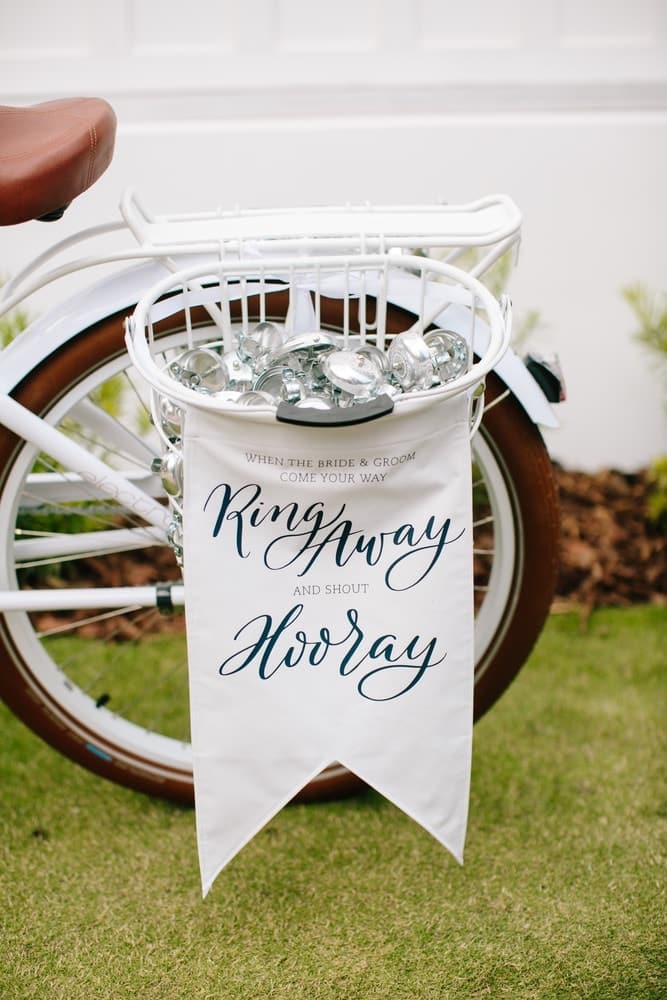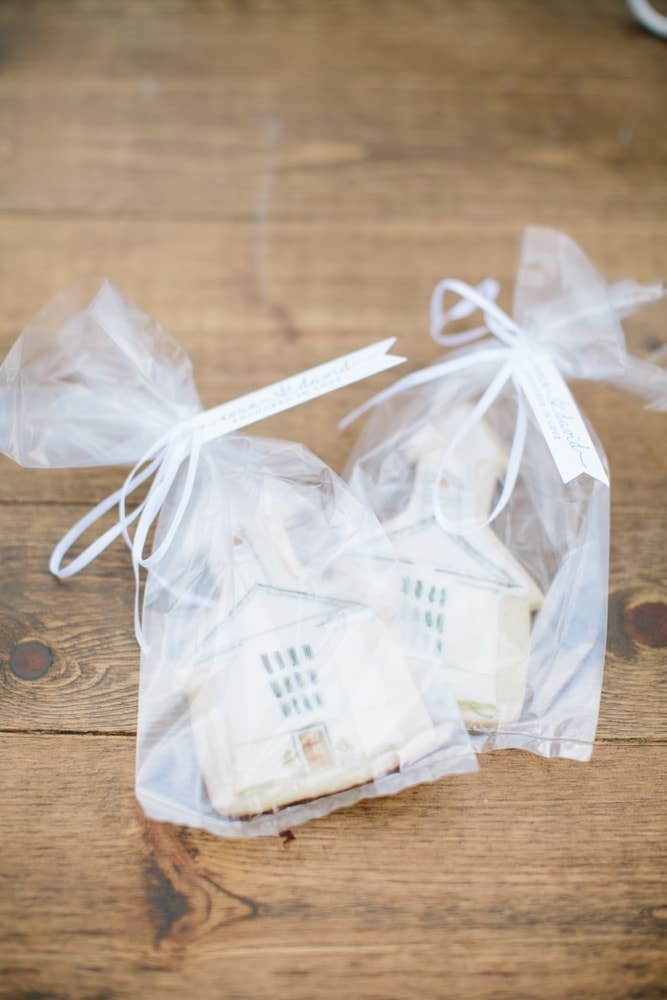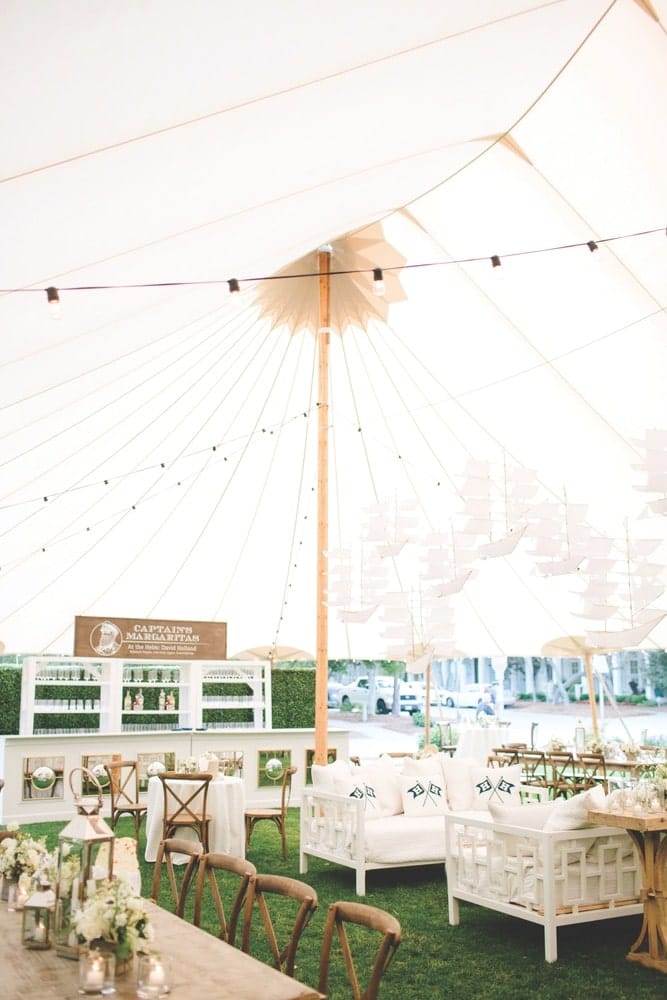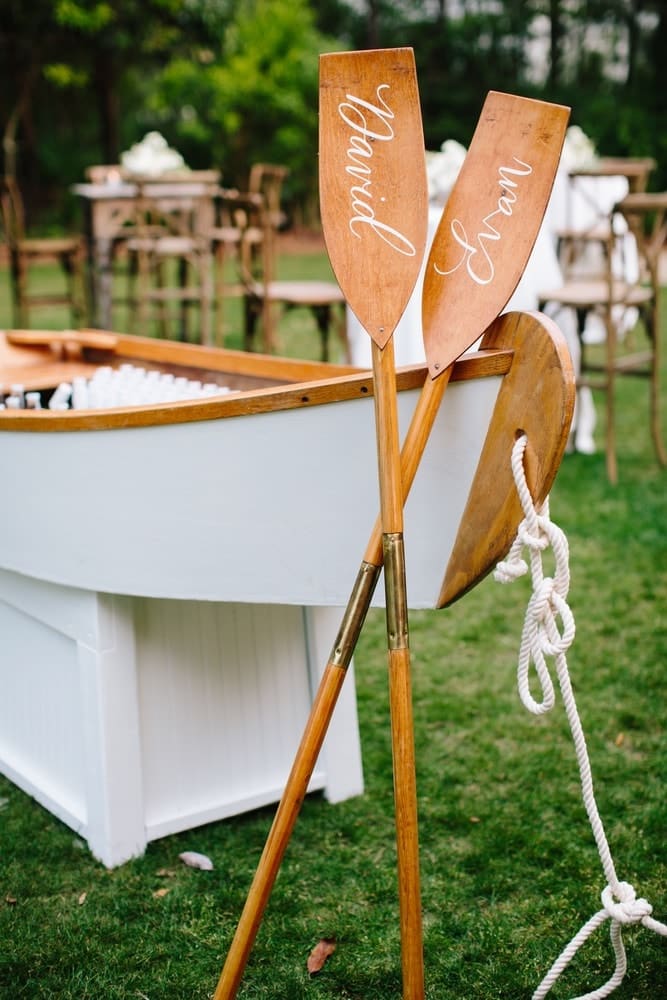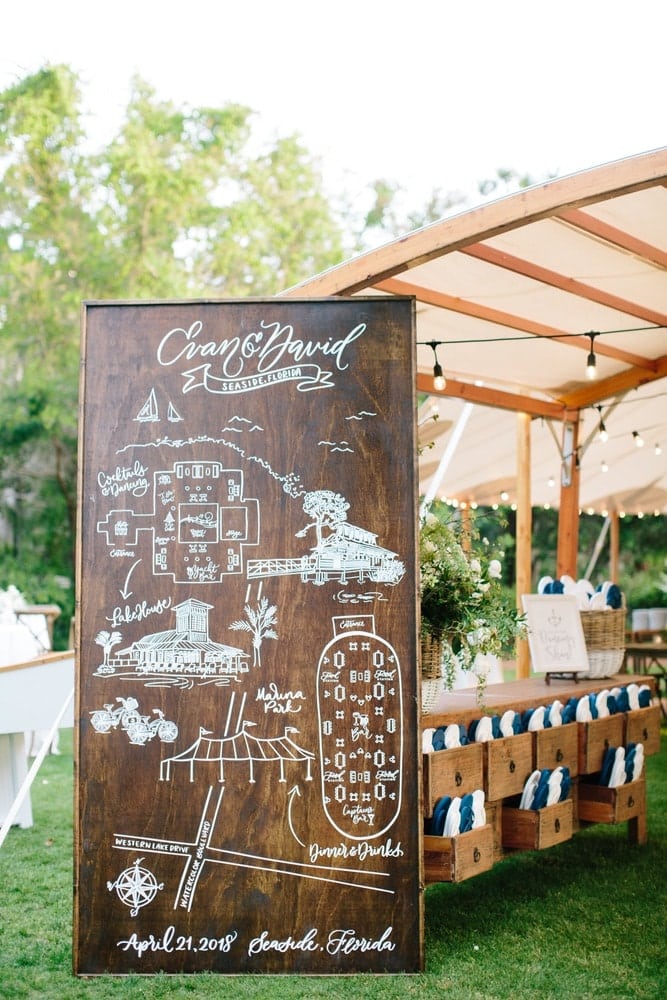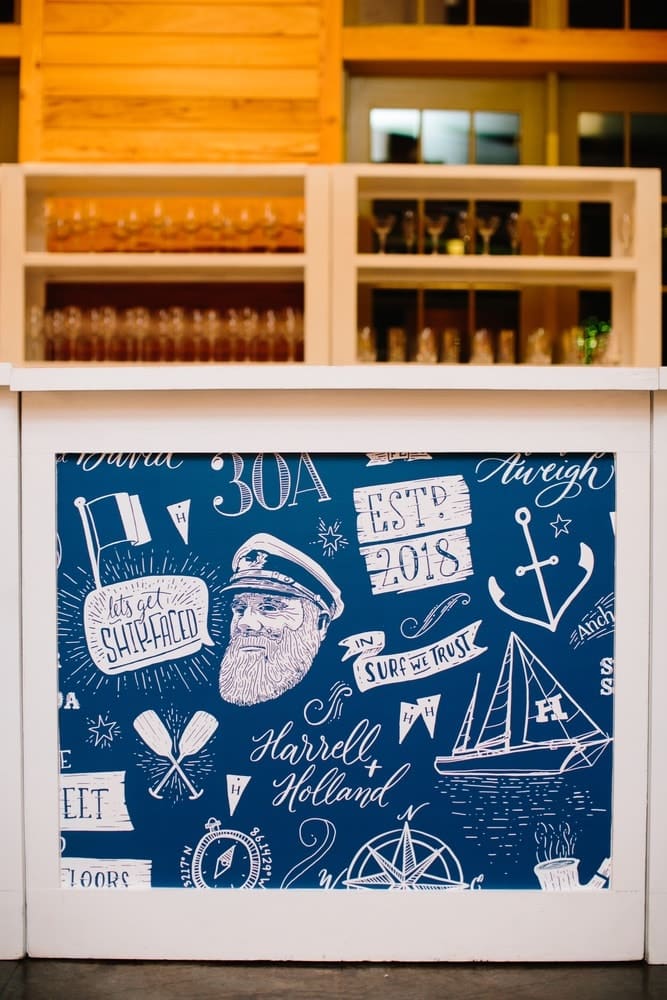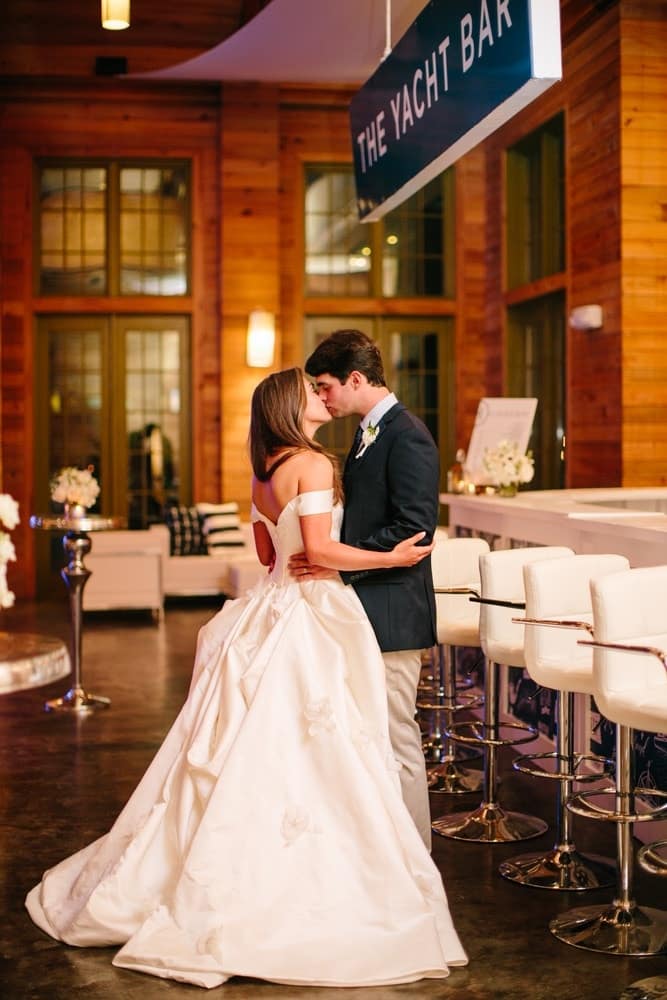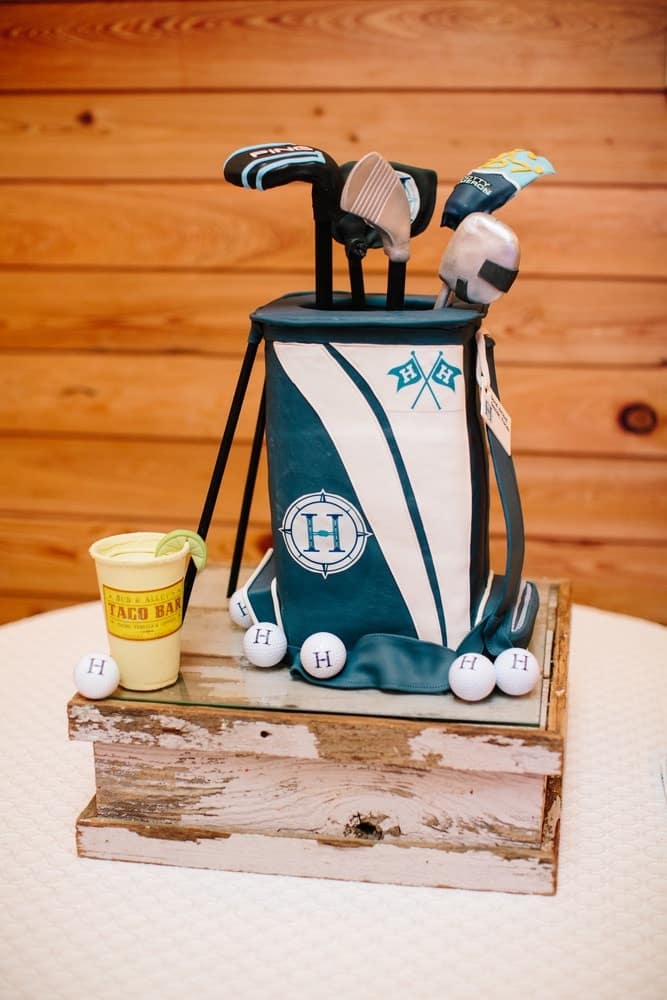 Special Thanks
Event planner: Jennifer Rose, Salt Harbor Designs
Event planner: Joseph Lanzy, WaterColor Weddings
Photographer: Millie Holloman Photography
Videographer: Alan LeBlanc
Transportation: Donovan Lindo, Sunshine Shuttle
Furnishings: Collection Event Furnishings, Atlanta; SOHO Events and Rentals, Alabama; Beachview Event Rentals & Design; EventWorks, South Carolina
Bride's makeup: Natalie Malchev, Los Angeles
Bride's hair: Elia Graves, Houston
Bridal party hair: Rolland's Beauty Bar, Seaside
Bridal party makeup: 30A Makeup Artist and Makeup by KBP
Sperry Tents Miami
Photo booth: Epic Photo Co.
Emerald Coast Wine and Spirits
Modica Market
Welcome to Our Casamigos Reception
Location: In Surf We Trust, Seaside, Florida
Flowers: Myrtie Blue
Caterer: Townsend Catering
Artisan throws and pillows: Sarah Sharp, Houston
Beer burro: Red Oak Farms
Beer burro valet: Donovan Lindo, Sunshine Shuttle
Sperry Tents Miami
Steel drums: Rudy Applewhite
Emerald Coast Wine & Spirits
Casamigos Tequila
Owen's Craft Mixers
Wedding Cup Toss Tournament
Grayton Beach Catering
Custom tables: Grayt Life
Wedding swag (ball caps and koozies): Salt Harbor Design
Rehearsal Dinner
Location: Bud & Alley's Waterfront Restaurant & Bar
Flowers: Myrtie Blue
Cookies: Chanticleer Eatery
Wedding Day Breakfast and His and Her Snacks
Raw & Juicy
Ceremony
Location: The Chapel at Seaside and chapel courtyard
Wedding gown and veil: Nardos Design, Dallas, Texas
The Wedding Steamer, Monica Nagel
Hand-painted cookies: Elisabeth and Butter
Big Daddy's Bike Shop
Flowers: Myrtie Blue
Minister: Keith Harrell
Music: Chris Alvarado
Tent Reception
Sperry Tents Miami
Beachview Event Rentals & Design
Furnishings: Collection Event Furnishings, Atlanta
LakeHouse Reception
Sails: Swag Decor
Band: No Limits, Greenlight Booking
Flowers: Myrtie Blue
Catering: WaterColor Weddings
— V —
ARTICLE CATEGORIES