Food Trucks Are on a Roll
By Colleen Sachs | 
Photography by Romona Robbins
Food trucks have been around in one form or another for centuries. Today, they are the delivery method for street food, lunches at worksites, and ice cream. These self-contained mobile restaurants produce food to be eaten on the spot or taken away, and they come in all shapes and sizes. Some are little more than carts. Others are actual trucks that can be moved from one location to another, depending upon business and local regulations. Still others are stationary, tricked-out travel trailers connected to utility services.
As a child, I became a fan of the hot dog cart. We lived in Germany and would go into the nearby city on Saturdays, where lovely antiques and handcrafted goods were offered. But the biggest draws for me were a beautiful candy store that made the candy look like little jewels and the cart selling bratwurst. Fat sausages were served on mustard-smeared hard rolls that soaked up all the juicy goodness. That stand sold only one thing, and it was done to perfection.
Fast-forward forty years to Vancouver, British Colombia. I found the grown-up, modern-day answer to the hot dog stand of my dreams—Japadog. Its fleet of food trucks serves hot dogs influenced by Japanese cuisine. Terimayo, its signature dog, is topped with teriyaki, mayonnaise, and shredded seaweed. That hot dog is a world away from the classic German dog of my childhood and represents the fast-growing and ever-evolving food truck business.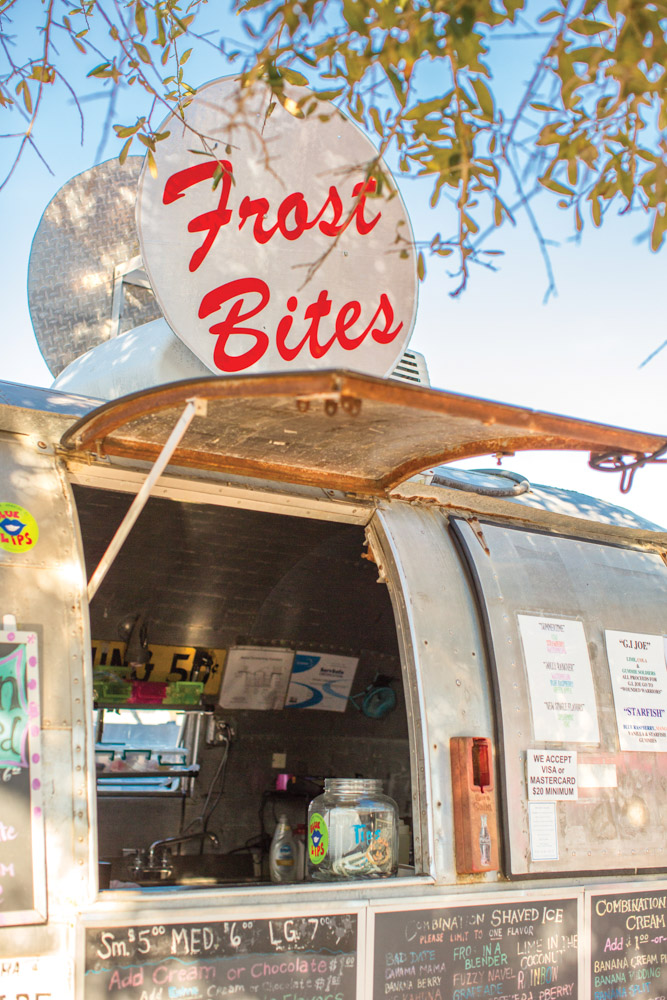 The proliferation of food trucks is evidenced by their prevalence on television. The Cooking Channel's Eat St. features the offerings of several food trucks in each episode. In most cases, the messier and more over the top the food, the better. The popularity of food trucks has even been the springboard for competition shows. The Great Food Truck Race and Food Truck Face Off on the Food Network have people competing for their own customized food trucks. And where movies mimic life, the 2014 film Chef is the story of a chef who, frustrated by the restrictions of working in traditional fine dining, finds redemption and happiness in a food truck.
While food trucks can be found throughout Northwest Florida, the best-known food trucks from Pensacola to Apalachicola are two groups of silver Airstream trailers. One, known as Airstream Row, is at the center of Seaside directly on Scenic Highway 30-A. The other, Al Fresco, is at the corner of Palafox and Main Streets in downtown Pensacola.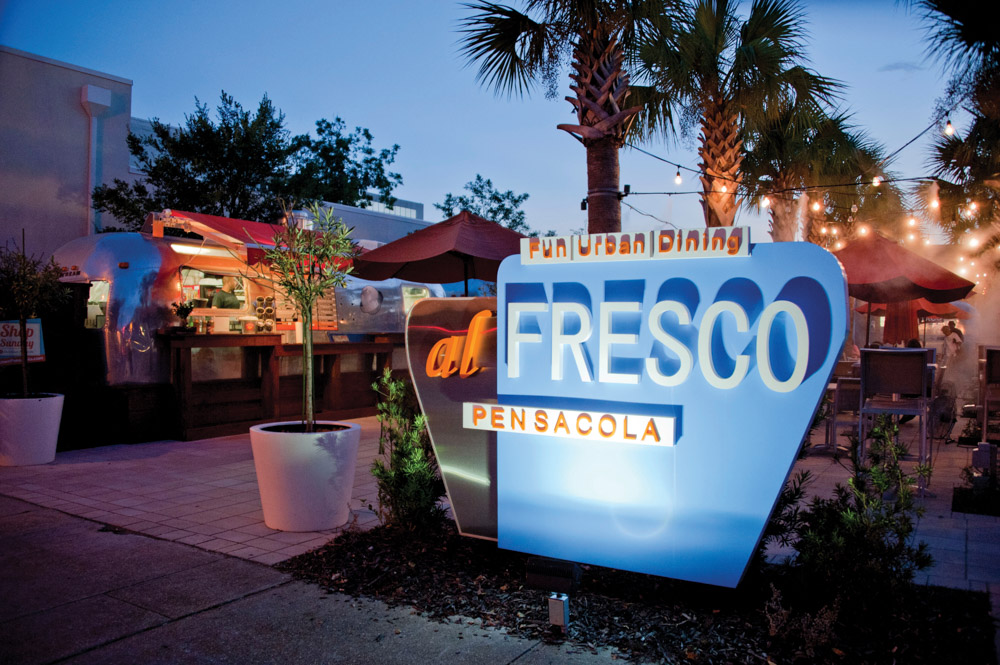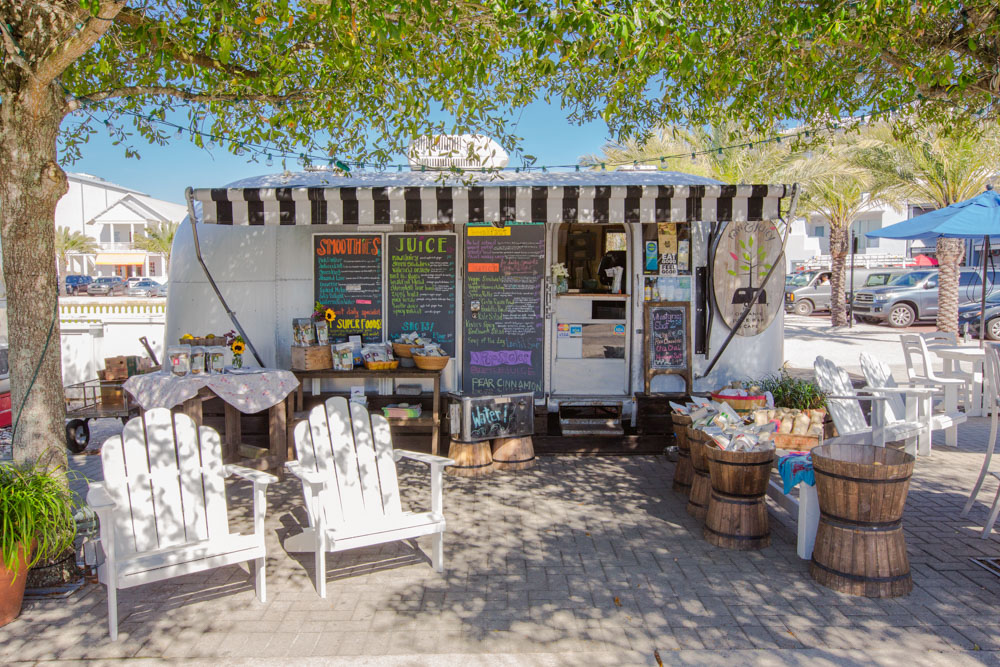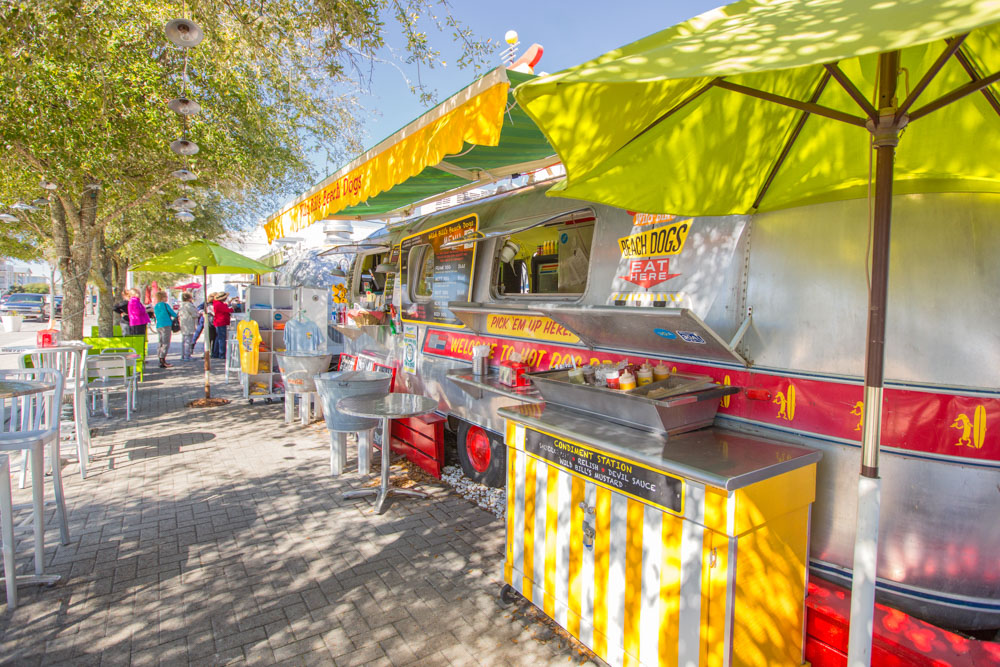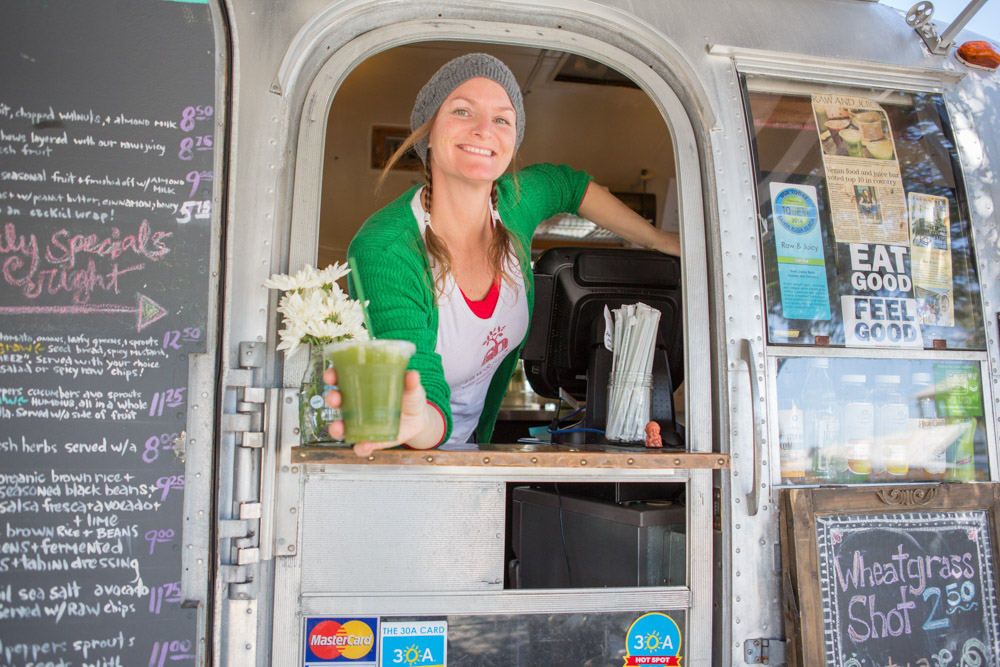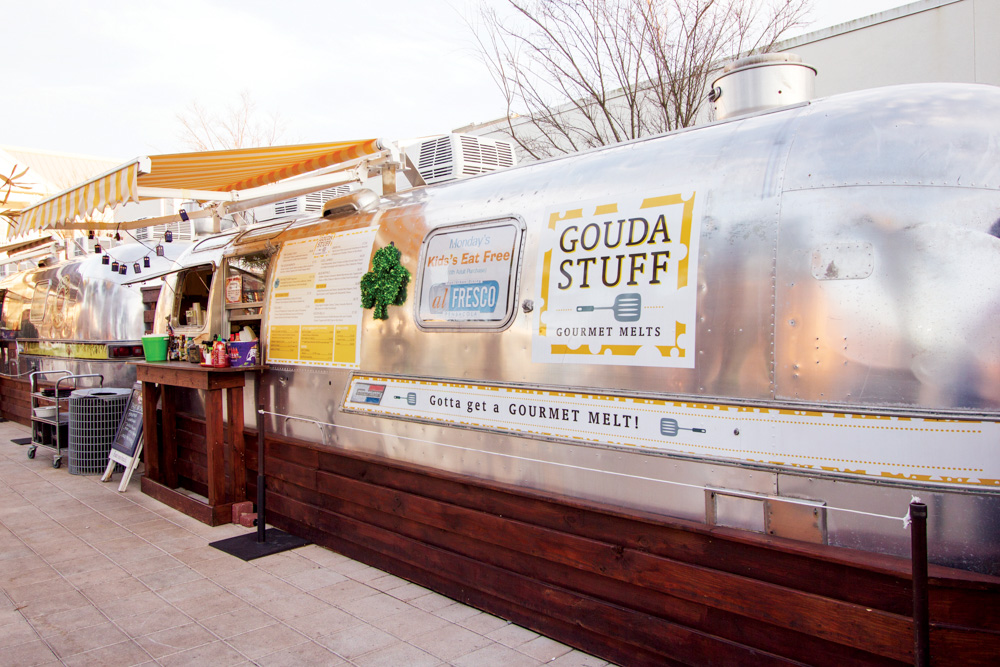 The reasons for the popularity of food trucks are many. They are attributable to the proprietors as well as the consumers and even government regulation. In fact, regulation is often the deciding factor as to whether food trucks will be popular in a certain city. Austin, Texas, is known for having regulations that are friendly to movable food trucks, and the city has an abundance of them. In the Florida Panhandle, food truck regulations are just being developed in some areas. Pensacola wrote its regulations in conjunction with the opening of Al Fresco.
Truck owners rely on Twitter, Instagram, and Facebook to let people know where they can be found and what they are serving that day.
Michael Carro, the landlord of Al Fresco, partnered closely with the city to make sure the regulations worked for everyone. He explains that the Airstream trailers must be tied down and connected to an underground infrastructure, and propane tanks are not permitted. They must also have an adjacent restaurant and in this case, it's Shux Oyster Bar.
Carro points out that the stationary trailers have benefits over movable trucks. "Traditional trucks have to dump tanks and refill propane constantly," he says. "Here, they don't."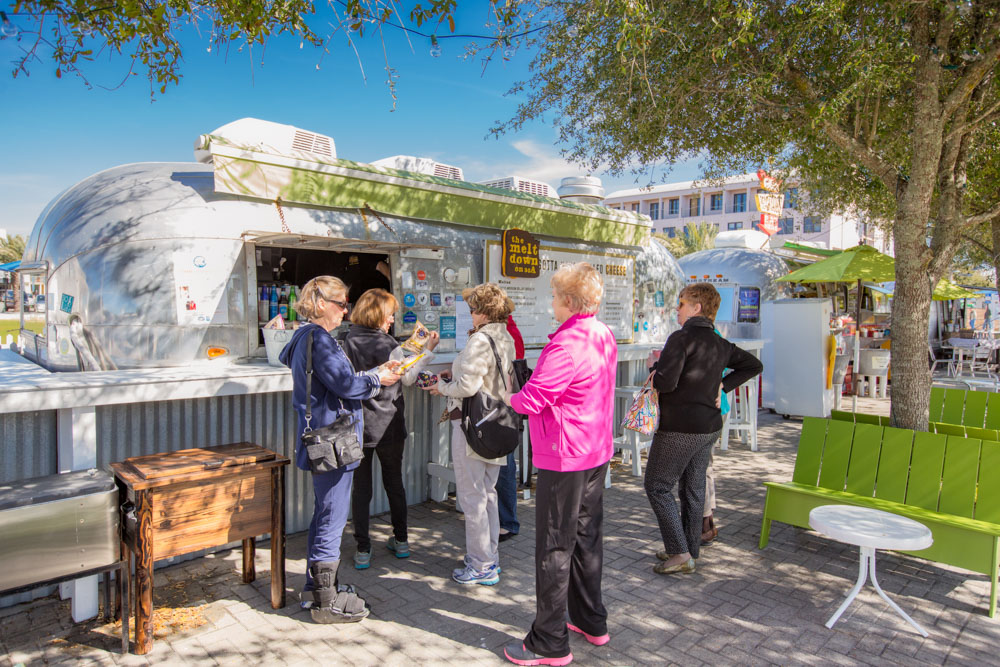 A key factor in the exponential growth of food trucks is social media. Truck owners rely on Twitter, Instagram, and Facebook to let people know where they can be found and what they are serving that day. Consumers rely on phone apps such as Yelp and Urbanspoon to help decide which truck gets their business.
From the standpoint of the truck owner, one of the most attractive aspects of opening a food truck is the cost of entry. Carro says it is possible to "get into the food truck world for a fraction of the cost of a brick-and-mortar restaurant." He estimates the cost at between $10,000 and $80,000, as opposed to the millions it can cost to build a traditional restaurant. He says the cost of operation is less, too; utilities and payroll are greatly reduced. The owners of Japadog had very little when they moved from Japan to Canada. They started small with one location and built their business, adding one truck at a time.
Chefs also like the control they have with operating a food truck. Carro says that owners can change their menus on the fly. They can be more entrepreneurial, nimble, and flexible. "You can change your whole concept in about two days if your concept doesn't work out," he explains. In some cases, chefs at restaurants also use food trucks to make their food accessible to more people and to try out new products. Many truck owners also cater special events.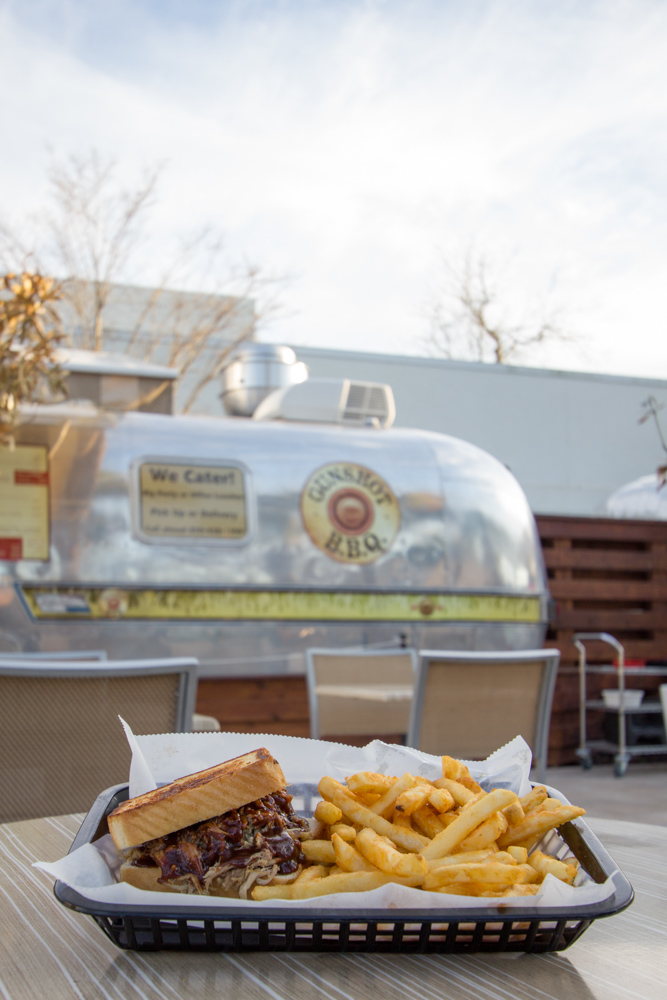 Food trucks have been a way to grow a brand for some owners. Popular New York ice cream truck Big Gay Ice Cream found the truck to be a springboard to brick-and-mortar locations (in their case, in Los Angeles at the Upstairs Bar at the Ace Hotel and in Philadelphia). Japadog has set up shop in trucks in Los Angeles and at the Santa Monica Pier.
L.A. Updike, owner of Gouda Stuff at Al Fresco, has been in the restaurant business for over twenty years. She prefers the truck to a larger location, saying, "It's outside; I work with great people and have a great landlord and great customers."
That sentiment is echoed by owner Marcus Denes of Al Fresco's Gunshot BBQ. He used to sell barbecue in a Gulf Breeze gas station but prefers the truck. "The location is great, and I get to see more people," he says.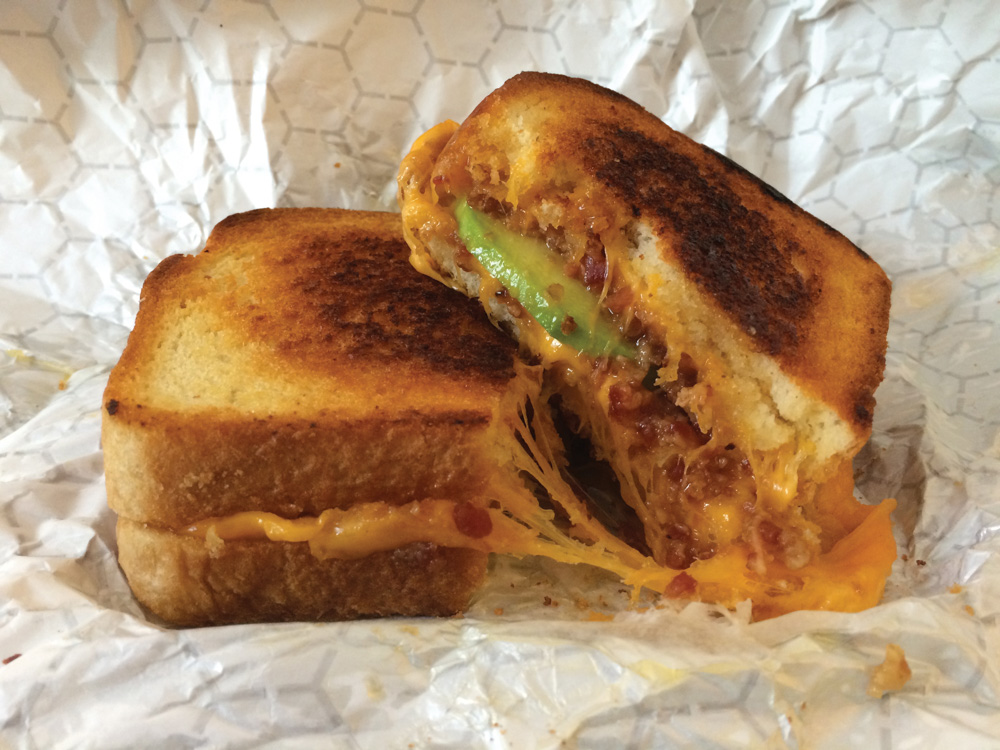 Of course, the most important thing about the food trucks is the food. That is what drives people to them. Linda Sullivan of Destin says that she makes a special trip to Seaside just to eat at the Meltdown on 30A "because it's unique." The Meltdown on 30A, owned by Jim Shirley of the Bay and Great Southern Café, serves creative grilled cheese sandwiches, such as the Muenster Mushroom Melt (mushroom duxelles, caramelized onions, and Muenster and smoked provolone cheeses) and the Strawberry Goat Forever (goat cheese, strawberry preserves, and prosciutto). Grilled cheese is also a hit at Gouda Stuff, where the Hazy Goat was voted Best of the Coast. It features Humboldt Fog cheese, tomato jam, and a balsamic reduction.
For high-quality Asian street food, you can't beat Sóng at Seaside. Vietnamese pulled pork sandwiches, spring rolls, and noodles are always packed with fresh flavor. The same goes for Z Taco at Al Fresco, where the ceviche is always bright and fresh. Gunshot BBQ is known for serving excellent smoked meats.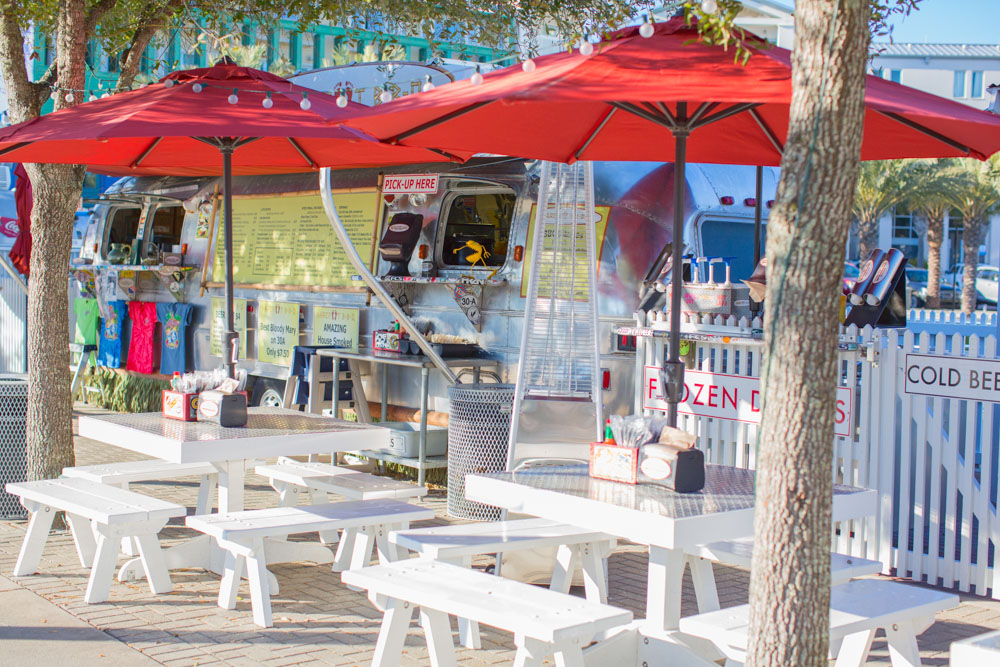 That brings up another attraction of food trucks for consumers: since they are often found in groups, it is a natural dining option for a group of people. There is no need to enter into a big debate over what to eat because there is something for everyone. At Al Fresco you can opt for Asian or Mexican fare, sample barbecue or grilled cheese selections, or choose from the oyster bar's menu. Seaside options include Asian, grilled cheese, barbecue, and holistic foods and juices from Raw and Juicy. And, of course, there is Wild Bill's Beach Dogs, serving high-quality hot dogs. It is a food truck after my own heart.
— V —
---
Al Fresco food trucks: Gunshot BBQ, Fusion World, Gouda Stuff, Z Taco, and Shux Oyster Bar
Seaside food trucks: Sóng, Frost Bites, Barefoot BBQ, the Meltdown on 30A, Wild Bill's Beach Dogs, and Raw & Juicy
ARTICLE CATEGORIES