By Gerald Burwell
Telling stories about the people and places of the Northwest Florida region has been an invigorating privilege for the past three years; the people are interesting, warm, intelligent, and generous, and the places are beautiful, charming, and unique. What a great job to have! As editor, I've learned so much more about the depth of this area that I have loved since birth, and I consider it an honor to be able to share so many remarkable stories with you.
The people—Northwest Florida's artists, entrepreneurs, entertainers, educators, leaders, philanthropists, and professionals—and their perspectives are our focus. Many of our readers tell us how much more enlightened they are after reading about subject matter with which they were already familiar. They also say that they so look forward to the latest issue that they read it from cover to cover as soon they can get their hands on it. I consider this the highest form of praise that a publication can receive. Whether the topic is art or business, natural resources or fashion, local history or global initiatives, the end result is a very personal perspective.
When we launched VIE in the spring of 2008, our goal was to create a magazine that would embody a local perspective with a global attitude; on that note, I am pleased to announce that, since our inaugural issue, we have been working hard to expand our reach. VIE is now accessible to a much wider audience and our area's exposure has been greatly enhanced by way of national distribution in the airports of Baltimore/Washington International, Houston Hobby, Memphis International, Nashville International, Orlando International, and Hartsfield-Jackson Atlanta International and in large national chain outlets such as Barnes & Noble, Books-A-Million, Borders, Rite Aid, and more than one 150 bookstores throughout the country—and we are still growing.
That's why, after three years of publishing VIE, seeing our name in lights in New York City's Times Square was a memorable moment, to say the least. Two lines from Frank Sinatra's renowned song "New York, New York" echo our sentiments pretty accurately: "If I can make it there, I'll make it anywhere." These words resound with us, and we hope that the residents and advertisers of Northwest Florida continue to be proud of VIE as a forum in which to tell the stories of COLA 2 COLA.
Cheers!
—Gerald Burwell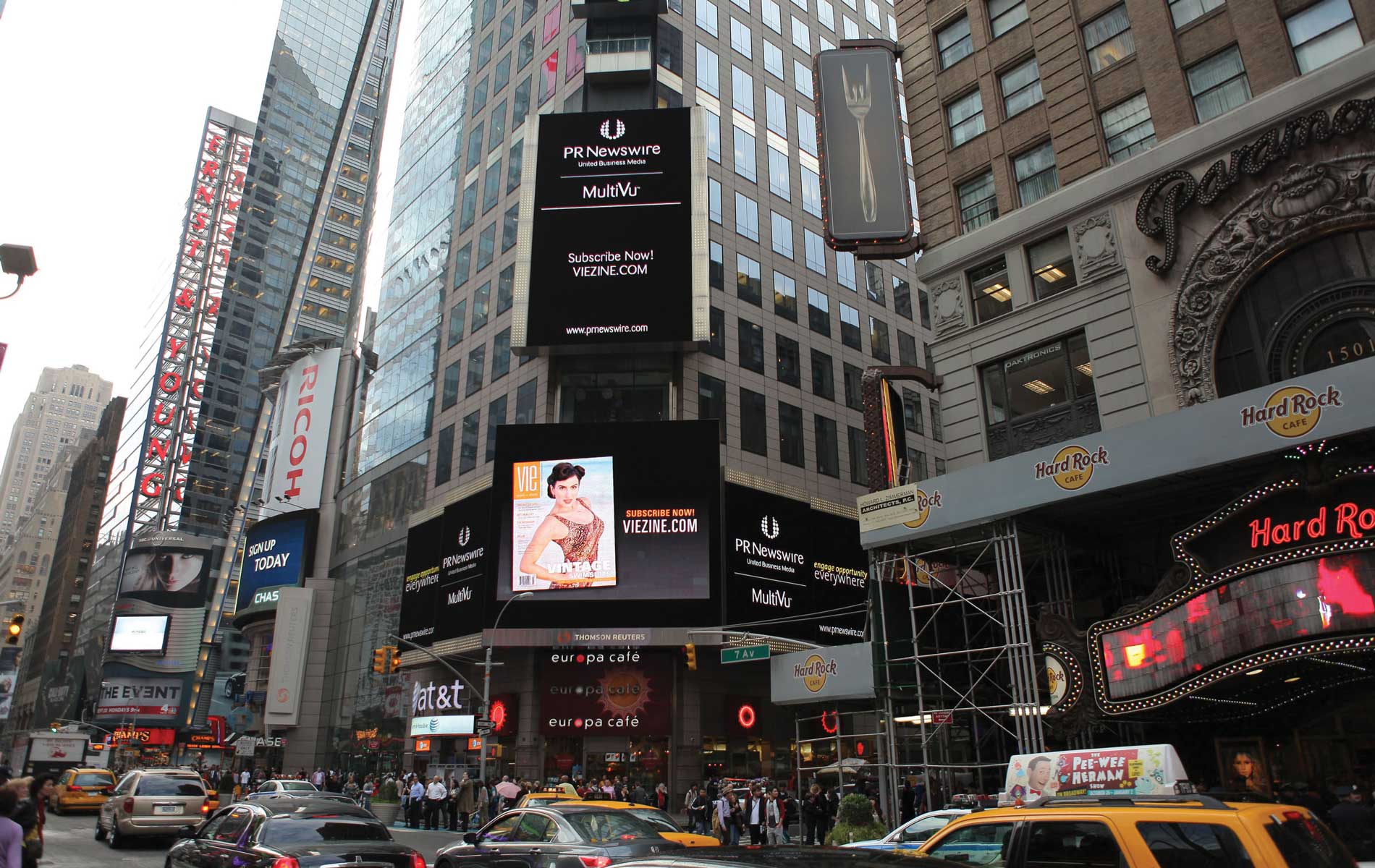 On October 27, 2010, VIE's name was displayed in lights on this 7,400-square-foot digital board soaring twenty-three stories into the sky in Times Square! As a result, 1.5 million New Yorkers were exposed to the people and places of Northwest Florida—GO VIE!
— V —
ARTICLE CATEGORIES