By Tracy Louthain | Photography by Jessie Shepard
There's no better place than the Beaches of South Walton to support one of the year's most innovative grassroots campaigns: "Eating Local," an approach to dining that challenges consumers to eat only locally grown and harvested foods. Here along Northwest Florida's Gulf Coast, the selection of locally grown foods is bountiful. And area chefs are taking full advantage of the region's farmers and fishermen, offering menus that change on a daily basis depending on what's fresh—and what can be sourced within a 100-mile radius.
Of course, eating local is not a new concept but more of one that is being rediscovered as communities look for new ways to become more sustainable. Fortunately for those living along the coast, the choices are made easier. With the breadth of fresh seafood and diversity of fresh locally grown ingredients, residents and visitors to the region do not have to sacrifice quality, flavor, or choices in making meal selections.
Chefs throughout the region are telling stories of how they've embraced the "eating local" trend and celebrating the impact on their restaurants, patrons, local economy, and environment. "Eating Local" has been a hallmark of the cuisine found along the Beaches of South Walton for years. Beginning in the 80s, Chef Johnny Earles began using the local land and the sea as the sources of his ingredients for his first restaurant, Grayton Beach's legendary Paradise Café. "Back then, I was sourcing local fishermen and making the drive to Destin or to Bay County," said Chef Earles. "It was a different time. You didn't have farmers growing organics. In fact, it was about taking the time to get on the road to cultivate the relationships with the local fishermen and farmers. I'd give local farmers a list of things I needed, from micro greens to specialty produce to heirloom tomatoes, and it became a partnership. It is that relationship between growers and chefs that is so important."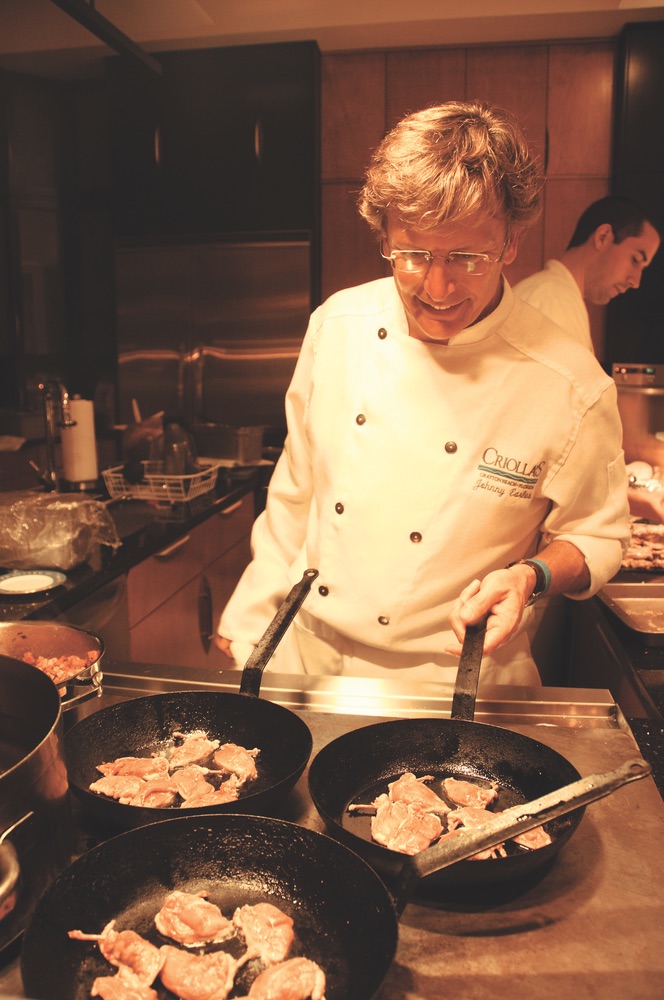 Chef Earles has established a reputation for being creative. With the creation of his Grayton Beach restaurant, Criolla's and his fusion of New Orleans, Caribbean Creole, and equatorial cuisines, he is always searching for creative combinations with a local twist. "I've always enjoyed experimenting," says Earles. "I would look for local ingredients to try. I've gone to the beach and harvested coquina to make broth. I've walked through the woods picking wild rosemary. Fresh ingredients are abundant here."
Today, Chef Earles has brought aboard Shayne Vaughan as his Chef de Cuisine at Criolla's. And like Earles, Vaughan's philosophy is to create a menu focusing on sustainability, buying local, and reducing their carbon footprint. "I want to be as green as we can be," said Chef Vaughan. "There are so many benefits to focusing local. I like to form relationships with local farmers and purveyors. Buying local supports the local economy and cuts down on fuel costs. This protects the environment while keeping costs down for businesses, which can then be passed on to the guests."
Area chefs agree that a great meal begins with quality ingredients. Menus are creative but not over-sauced to let the true flavor of the food come through. Each chef has his/her favorite supplier, though all agree that there is an abundance of quality farms in the region producing fresh, organic produce. For seafood, each chef has their own personal relationships, but all tell similar stories of waking up each morning and calling their local seafood purveyor to discuss what is coming in fresh that day to plan their menus.
At Fish Out Of Water at WaterColor, Chef Philip Krajeck also follows the eating local trend but acknowledges that it can be challenging. "Changes in weather, such as heavy rain and extreme temperatures, can really impact the product we're getting," says Krajeck. "We also focus on the seasonality of ingredients, showcasing what grows here and at what time of year. Our season is different. It comes earlier than most other regions."
Krajeck is quick to recognize the importance of making connections with people who have strong ties to the area. His relationship with Whitaker Farm has taught him a great deal about the growing process, and he's learned a lot about the local season. "I know I'm going to get great strawberries from Whitakers, but it's only for two weeks," says Krajeck. "I get my persimmons from a farm in Bonifay, and I know that they will be ripe in early November. When I arrive on the farm, the farmer gives me a box and clippers. He's taught me how to pick the fruit and choose what's ripe."
But "eating local" is not always an easy task. "If it rains 10 inches in two days, crops can be washed away," continues Krajeck. "You have to adapt and be flexible. I may have planned an arugula salad for the menu, but weather may mandate that we use mixed greens instead. A commitment to using local purveyors really forces you to be creative and think on your feet."   
The local community is behind the concept as well. Area residents formed an eat-local group called "Locavores" as a way to connect with others who are concerned for the environment and provide a place for conversation on topic issues. The group gathers monthly, and everyone brings a dish in which the main ingredient is grown locally.
"The point is to raise awareness about the natural food among us in the environment and available at local markets," said Chandra Hartman, a supporter of eating local and a founding member of South Walton Environmental and Low-impact Living (SWELL). "Also, it is a way to reconnect with others. Eating locally grown food is one of the most beneficial things we can do to restore local economies, build communities, and reduce our environmental impact."
The benefits of eating local are boundless. The direct and indirect impact to the local economy, the environmental benefits, and the quality of product alone seem enough to make the switch. And for those who live and visit Beaches of South Walton, this mindset is becoming a way life.
— V — 
ARTICLE CATEGORIES