The Place That Has It All
By Sallie W. Boyles | 
Photography courtesy of Aruba Tourism Authority
The details of a dream vacation are subjective, but the tide is shifting from taking vacations centered on indulgence and leisure to instead getting away to replenish one's physical and mental reserves. Validating the trend, the Global Wellness Institute—a nonprofit organization that promotes worldwide wellness through education—reports that wellness and fitness tourism is the world's most rapidly growing travel category.
Coined "One Happy Island," Aruba must have something in the water or air because augmenting all of its tangible treasures, the people exude a giving spirit that is attentive to the well-being of their guests. Responsible for 70 percent of the island's income, the country's hospitality industry pondered the question of what constitutes a guest's dream wellness vacation—and responded with some great answers.
The multicultural character of the island—thanks to its history of occupancy by natives, the Spanish, the British, and the Dutch—cultivates a warm, accepting people who love talking about their origins. Residents have emigrated there from more than ninety countries, but they demonstrate pride in Aruba's rich history and traditions. Preserving the past is important to them, so the country has two official languages: Dutch and Papiamento—a Creole vernacular spoken in Aruba, Bonaire, and Curaçao. Preparing students for jobs in tourism and higher education abroad (usually in the Netherlands), local schools require fluency in Dutch, Papiamento, English, and Spanish.
Contemplating the island's past, locals have different opinions over who named Aruba. According to one popular notion, Alonso de Ojeda christened the island Oro Huba, meaning "there was gold." The Spanish, however, never struck gold; the Dutch did, but not until 1824. If not from the Spanish, perhaps the name originates from the Carib Indian words ora oubao, meaning "shell island," or oruba, for "well placed."
Indeed, Aruba, the most southwestern Caribbean island, is ideally situated. Resting on South America's continental shelf just fifteen miles from Venezuela, the island falls tranquilly outside the hurricane belt. Aruba also receives only eighteen inches of rain annually, so pleasant, desert-like conditions—not the usual wet-blanket stickiness felt in other tropical locales—prevail across the seventy-square-mile island. Showers tend to materialize and evaporate quickly, while trade winds blowing from the northeast grant cooling breezes that keep temperatures around 82 degrees.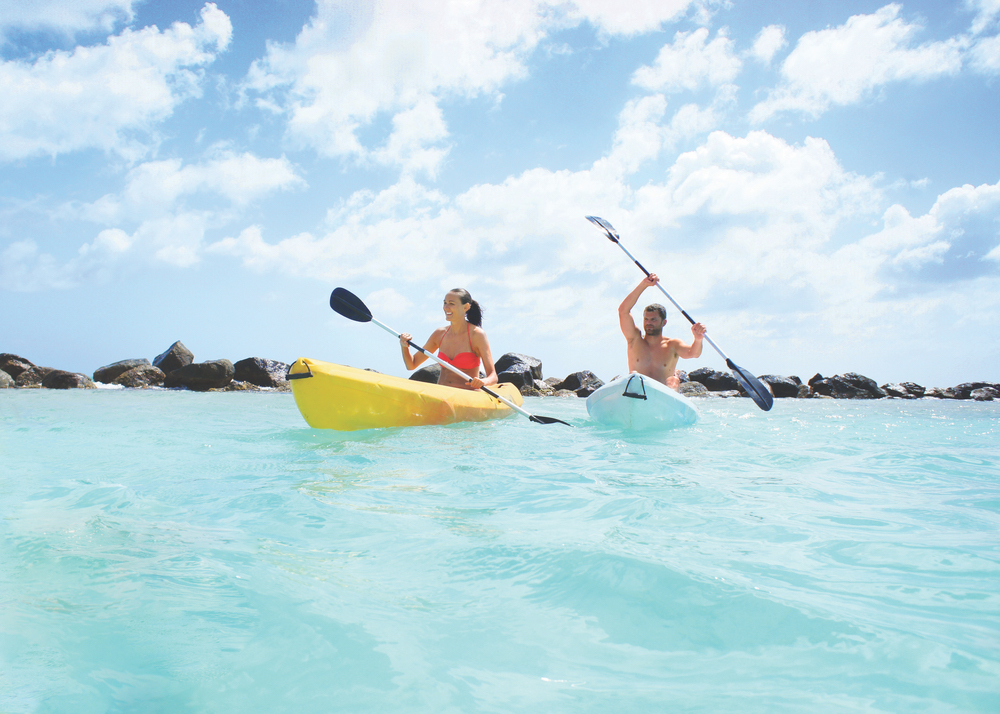 Most of Aruba is flat and sandy, with beaches ranging in shades from bleached-coral white to hardened-lava black. For dimension and drama, Mother Nature added mystical igneous boulders, hidden caves, rocky shores, and three small mountains. She also bred life. A bird's-eye view reveals an overlay of cacti, desert flowers, brush, aloe, palm trees, and the iconic southwesterly leaning divi-divi tree. The diverse topography fosters unique animal populations: unusual birds, like the shoco, an Aruban burrowing owl; the cascabel, the rarest of rattlesnakes; native lizards, including iguanas; seven different species of bats; and wild goats and donkeys.
Valuing its many resources, the government protected 18 percent of the island from development by establishing the Arikok National Park in the 1980s. One of the most exhilarating and enlightening ways to tour Arikok National Park and other land attractions is via a guided UTV (utility task vehicle) or ATV (all-terrain vehicle) tour. Horseback riding, biking, and hiking are also popular modes of travel for active sightseers.
The Casibari Rock Formations provide a hiking path up to some of the best vantage points of the island.
The Ayo Rock Formations, monolithic boulders that surfaced from primeval volcanic activity, are a must-see. The island's ancient tribes used them not only to listen for incoming thunderstorms, but also for religious rites. Preserved carved paintings convey their stories. Equally fascinating, the Casibari Rock Formations provide a hiking path up to some of the best vantage points of the island; on clear days, you can even see Venezuela on the horizon.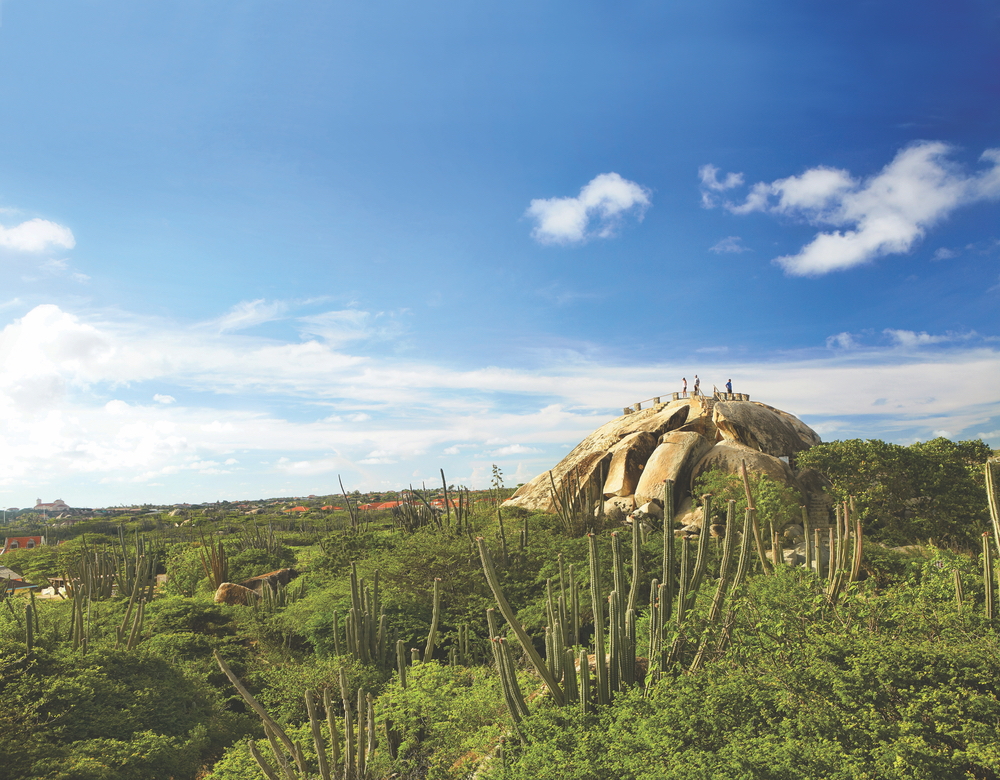 A stairway eases entry to the Guadirikiri Cave, where ceiling openings shed light inside and facilitate sightings of its inhabitants—small, harmless bats! People who prefer birds to bats should make time for the Bubali Bird Sanctuary, right in front of the Old Dutch Windmill. The refuge and breeding ground for at least eighty species of migratory birds has an observation tower for spotting coots, cormorants, ducks, egrets, gulls, and skimmers.
Wild and beautiful Andicuri Beach, a competition site for body-boarders, hides in a sandy cove amid jagged bluffs. Nearby, the collapsed remains of an Aruban wonder—the island's revered Natural Bridge—appear braced to battle the elements against ultimate destruction. Three other smaller arches, former caves that wind and water have eroded, still stand intact. One is near Wariruri Beach, a popular cove for local surfers and fishermen. The latter use the surrounding limestone cliffs as piers.
Aruba is only six miles across at its widest, so enticing glimpses of the Caribbean are always within a short distance. Thankfully, companies like De Palm Tours and Pelican Adventures, offering every watercraft and sport under the sun, oblige visitors who wish to ride the waves and dive in. Numerous wrecks, vibrant sea life, and clear waters reward divers and snorkelers. For the ultimate splurge, couples and small groups (up to twenty) should consider a day or evening cruise aboard the Monfort III, a luxury sailboat added to the Pelican Adventures fleet in the spring of 2016. Between snorkeling and sunning, or cocktailing and socializing, guests feast on the catch of the day and other fresh delights prepared aboard.
Certainly, personal goals and perspectives about achieving wellness on holiday influence what individuals see and do on Aruba; if they're pursuing serenity over fitness, Eagle Beach is one of the world's top ten beaches according to Travel + Leisure and TripAdvisor. The spacious playground (or resting spot) of soft white sand stays cool to the touch and doesn't fly with the wind. Peaceful turquoise waters invite swimming, snorkeling, sailing, and other endeavors. Also known for its small boutique resorts, Eagle Beach appeals to those searching for solace and laid-back socializing.
A place that one must visit to appreciate fully, Manchebo Beach Resort and Spa was originally developed by KLM pilots and owned by Ike Cohen, a highly regarded Aruban entrepreneur and philanthropist. Before he passed away at 96, Cohen put Bill Crona, a trusted business partner, in charge. (Crona is from Tallahassee, Florida, where the two met.) Noting the expansive beach and ample space between the shady palapas (thatched-roof structures) under which guests relax, Crona says, "Manchebo was one of the early hotels, and they basically had the pick of the island when choosing this spot."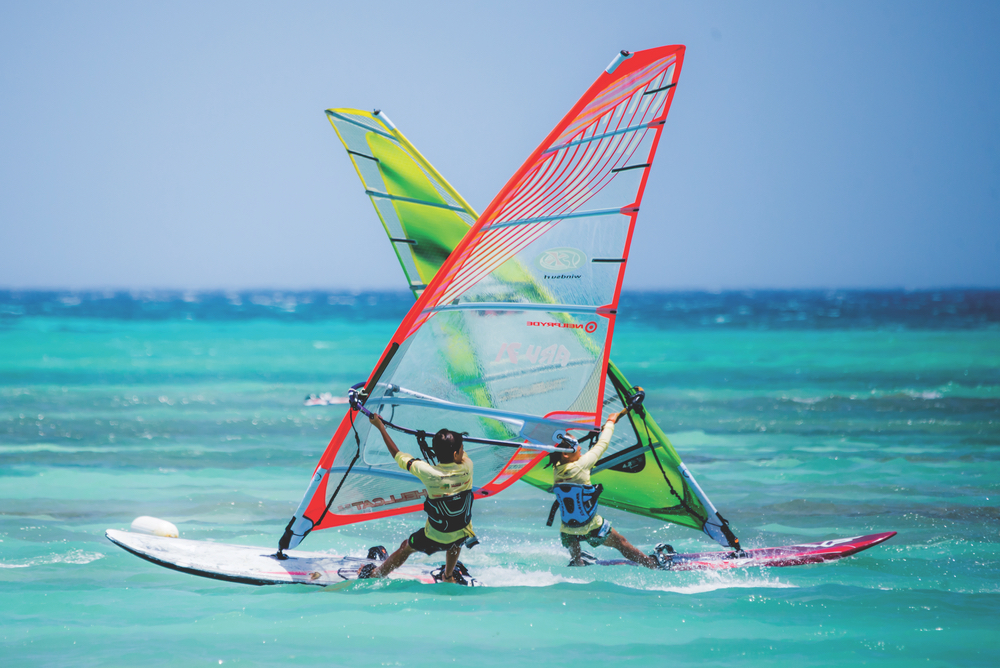 Over the years, instead of building more guest rooms, the resort's managers have invested in renovations and enhancements that broaden and improve services. Maintaining the original two-level structures with seventy-two rooms preserves the property's intimate Caribbean vibe. In fact, after first introductions, staff members have a way of remembering guests' names. "They'll also remember you when you return," Crona promises. Manchebo hosts a high proportion of regulars from the United States, Europe, and South America. "Some have been coming to Manchebo for thirty years," he says. "This is their home."
"We are a place to return for many," says general manger Edgar Roelofs. Like countless others, he found his way to Aruba from Holland (in his case, twenty-five years ago) and decided to stay. "I came for a five-month internship in hospitality and fell in love with the island." A surge in new hotel construction back then allowed him to find permanent employment, and he joined Manchebo in 2003. "In 2004, I opened the spa with Ike," he recalls, referring to Spa del Sol, which features Balinese architecture and private rooms that open to the sea.
Spas with Caribbean-themed treatments abound in Aruba and aloe vera is a prized ingredient, particularly during Aloe Awareness Month in June. The succulent's clear gel contains remarkable healing and skin-softening agents, and users appreciate that it's farmed without pesticides. (Bugs don't like aloe!) Having ignited an industry that put Aruba on the map, the plant appears on the country's coat of arms. Aruba Aloe, the company that has descended from the original maker, sells a complete line of aloe-based products to retailers and consumers in twenty-eight countries and online.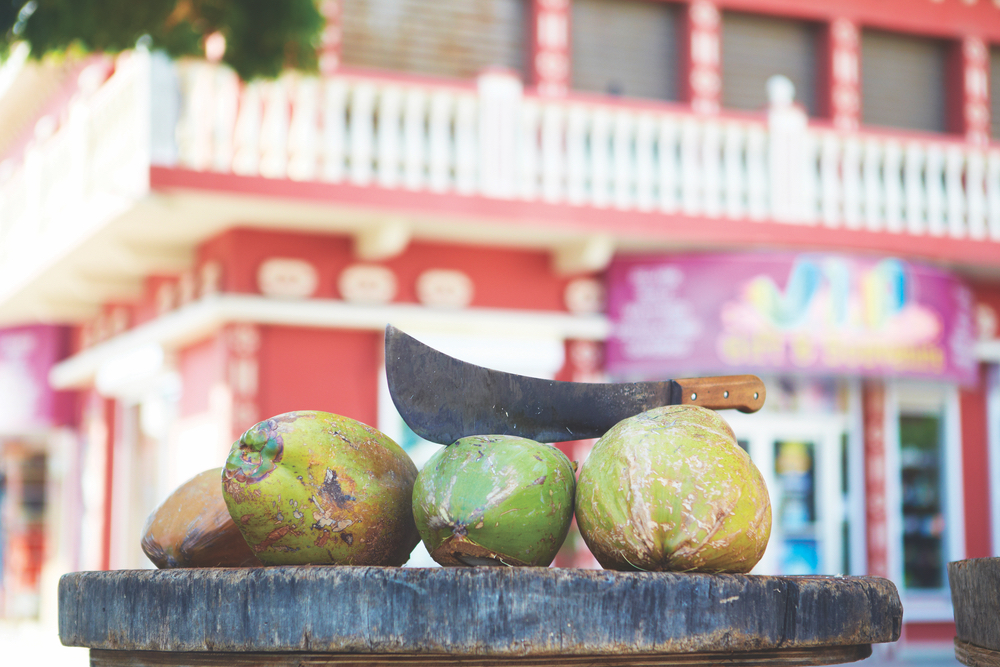 Along with scrutinizing what they use on their bodies, wellness travelers also monitor what goes inside; thus, they list nutrition and dietary preferences among their must-haves. In response, Aruban restaurateurs and hoteliers design thoughtful menus that frequently incorporate vegan, gluten-free, dairy-free, organic, and other exceptions. Although the island imports a majority of its produce, fresh fruits and vegetables are plentiful in restaurants and stores like Super Food, the local supermarket. For an energizing, nutritious meal or pick-me-up, Nuts Nuts, a health food boutique with several locations in Aruba, also sells a variety of nuts, snacks, smoothies, teas, and more.
Along with scrutinizing what they use on their bodies, wellness travelers also monitor what goes inside.
Bucuti and Tara Beach Resort, right next to Manchebo on Eagle Beach, retains a full-time nutritionist and dietician to guide and accommodate guests. "We do not believe wellness is a cookie-cutter concept," says owner Ewald Biemans, who opened the spa-like, 104-room, adults-only resort in 1987. A native of Austria, Biemans was living in South America and working in the luxury hotel segment when he first visited Aruba on vacation. "I came here on weekends, and on one trip I met a guy in the hotel industry. I loved it here and stayed."
Earning worldwide acclaim and travelers' highest ratings, Bucuti and Tara has a reputation for anticipating desires and conceiving how best to fulfill them—that could be why 60 percent of its guests are repeat visitors. No matter a person's dining preferences, for instance, flavor and ambience prevail. Encased in glass for clear views of the pool deck and beach, the relaxed yet sophisticated Elements Restaurant prepares an array of organic and natural, fresh selections. Also on the property, the exclusive Carte Blanche restaurant, owned by Chef Dennis van Daatselaar, is what Biemans calls "a place for foodies" who embrace experimentation.
Overall, Aruba is a splendid place for culinary exploration. European, Latin, Caribbean, and African influences are among the many viewpoints that spawn inventive menus with seafood, meat, vegetarian, and vegan specialties.
For tasty concoctions that are so beautifully plated they could be served in an upscale eatery, visit the West Deck, an alfresco seaside porch open for lunch and dinner with tantalizing small plates of fried funchi (polenta) with Dutch cheese, island coconut shrimp with homemade mango chutney, Caribbean jerk chicken wings, and more.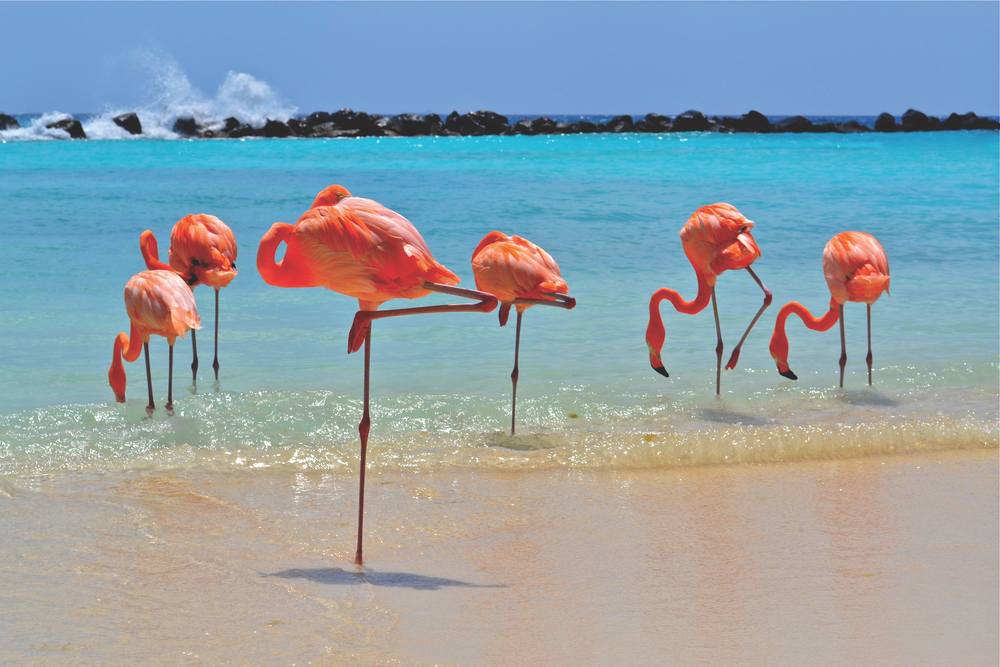 Fresh tropical drinks flow across the island, along with the locally brewed Balashi Beer. The flavor resembles a European pilsner, but it's the only beer made with desalinated Caribbean water. Those who count calories and monitor alcohol intake need not worry; the smaller bottles contain eight ounces rather than twelve, and Balashi also makes a light version called Chill.
Locals often mention Yemanja Woodfired Grill as their favorite for a dinner out. Inventing her own European and Caribbean signature dishes, Chef Joyce Hüsken, who grew up and trained in the Netherlands, uses a wood-fired grill to retain the distinct, fresh flavors of her ingredients. Her highlighted recommendations include a Caribbean barbecued mahi-mahi fillet with plantain chutney and an open-faced Mediterranean veggie burger on a sprouted sesame bun, layered with hummus and spinach.
On occasion, even wellness vacationers need to break some dietary rules, and when in Aruba, pastechi is a worthwhile splurge. Similar to an empanada, the stuffed and fried pastry placates even the most persistent fast-food craving. Choosing the ham, cheese, beef, tuna, or chicken filling can be stressful—so the sensible decision is to try a few!
I feel that yesterday, today, and tomorrow are closely intertwined.
More conscientiously addressing the issue of stress, Manchebo led the way in offering yoga in Aruba's resorts. "I was noticing that the yoga companies owned some of the hotels in Costa Rica," recalls Crona, who has a home there. Anticipating the benefit to guests, he says, "We converted the pavilion on the beach into a yoga deck and began bringing in teachers from Costa Rica." Yoga and Pilates are now island staples, and resorts like Manchebo host regular classes. They further assist guests in arranging one-on-one and group sessions for all levels. Conducive to meditation, the scenery and trade winds draw many to practice on the beach.
Yoga is not the only addiction. Beach tennis, golf, paddleboarding, waterskiing, and kitesurfing also keep active guests and locals fit and happy.
Of all physical activities, dancing is second nature on Aruba, especially when night falls and live music plays. (For those who want to pick up some salsa or merengue, local teachers offer lessons.) Moomba Beach Bar and Restaurant, only a ten-minute drive from Manchebo or Bucuti and Tara, lures movers and shakers to the sands of Palm Beach. Two large palapas amplify the Latin music and carefree mood, and it's easy to spend hours there without realizing it. Even so, barhopping is also a blast, and for a safe yet wildly fun evening, many board the colorful Kukoo Kunuku party bus, which makes multiple stops and returns patrons to their hotels.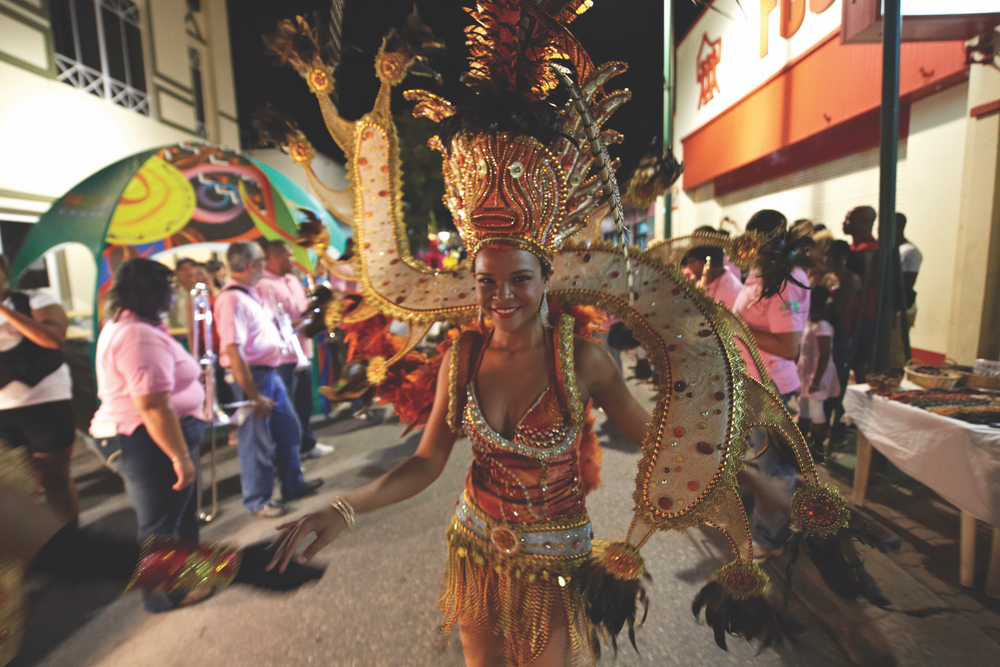 Renowned locally and abroad as a dancer and choreographer, Alydia Wever, who grew up in the Aruban Dance Theater (owned and directed by her mother) and studied at the Boston Conservatory and Alvin Ailey American Dance Theater, prizes opportunities to share the folkloric dances she performs with her group. Keeping the island's history alive through dance, she says, "I feel that yesterday, today, and tomorrow are closely intertwined." Wever further perceives a strong connection between the rhythm of the island and dance. "The island is in movement," she expresses.
Correspondingly, an eclectic artistic movement has emerged on Aruba and celebrations of art and culture fill the island. Arguably the most electrifying display of public art, eight shocking-blue horse sculptures in downtown Oranjestad pay tribute to Paardenbaai, or the Bay of Horses, where the animals arrived on the island during the seventeenth century.
The people of One Happy Island clearly urge their guests to make wonderful memories, but not necessarily attempt to do it all in one trip. If the idea is to go home feeling renewed and happy, they would rather share their love of Aruba with visiting friends who return again and again.
— V —
---
For more information or to plan your vacation, the Aruba Tourism Authority's website at www.Aruba.com is a great place to begin.
ARTICLE CATEGORIES