By Tori Phelps |
Photography courtesy of Geoff Chick and Associates
Architecture is more than a vocation for Geoff Chick. It's an obsession. He loves thinking about it, designing it, and working with clients to get their dream homes exactly right. But talking about it? Not so much. As he explains, "I prefer my work to speak for itself. There are a lot of people who can talk a good game about architecture, but you know a great project when you see it."
Geoff is in no danger of being labeled "all talk." The owner of Geoff Chick and Associates is the real deal, the talent behind hundreds of superbly designed Gulf Coast homes built in the last decade and a half. And while he would rather use pictures than words to describe those projects, he's game for a rare chat to fill in the story behind his work.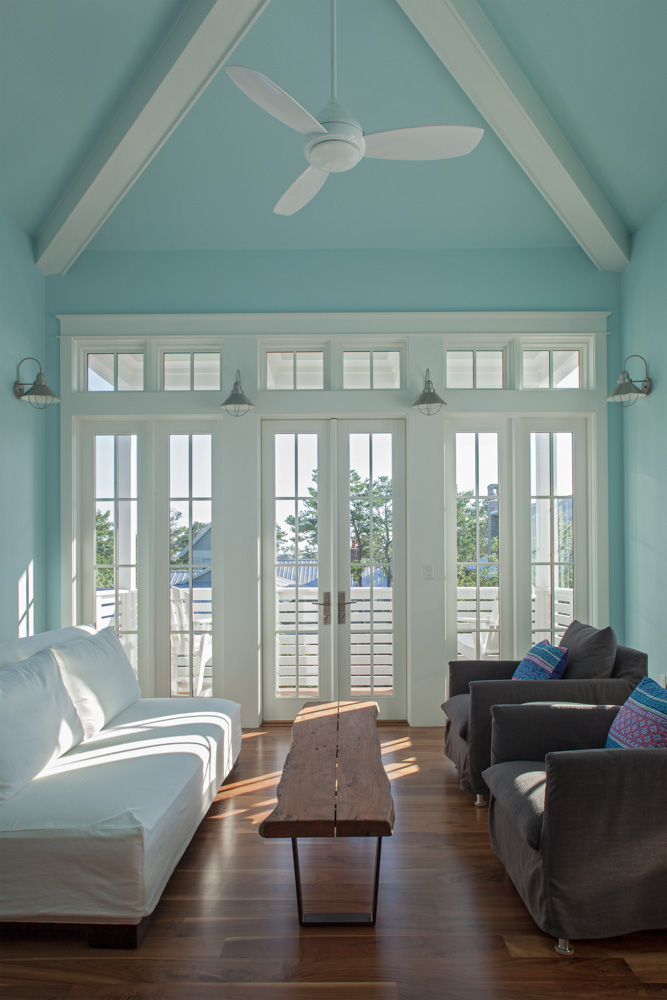 Laying the Foundation
A Boston kid who developed an early interest in fine arts, Geoff got hooked on architecture during a high school class dedicated to the subject. As he worked on watercolor renderings of buildings, he realized architecture perfectly married his love of creativity and technical skill. With his sights firmly set on architecture as a career, the next stop was Cornell University, one of the top-ranked architecture schools in the country.
During his senior year in college, Geoff took a trip to Destin with friends and fell in love with the area. Never one to stand still, he had a job offer from a builder before the vacation was over. The position wasn't a "take what he could get" placeholder, but rather a deliberate move. The truth, he confesses, is that there's only so much you can learn in the classroom. "Until you have the practical knowledge of observing the construction process from the ground up, it's a struggle to transition from the academic architectural environment to the real world," he says. "In school, you don't have any budget constraints or structural issues that make certain things impractical."
Twenty years ago, much of the scenic corridor along Highway 30-A was largely undeveloped—a blank canvas that Geoff couldn't wait to paint with his creative ideas. Unfortunately, contractor-driven home building provided few opportunities to indulge that ingenuity. Everything from ceiling heights to the size of windows and doors were standardized so it would be easier—and less expensive—to complete construction. He found it increasingly difficult to contain himself to the prescribed formulas and, with great appreciation for what he calls an "invaluable" experience, decided to strike out on his own.
The timing couldn't have been better. WaterColor, Rosemary Beach, and other local communities were starting to spring up, and these developments dictated that homes be designed by an architect. With rubber-stamp houses strictly forbidden, Geoff's skills were suddenly very much in demand.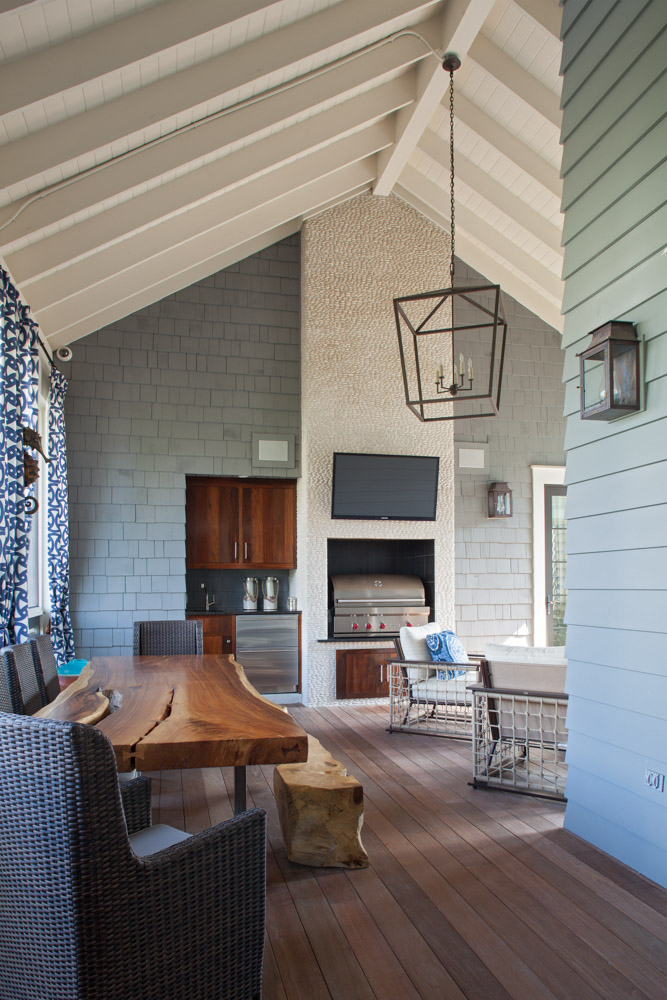 Clients immediately gravitated to his design approach, a style that balances natural materials and modern sensibilities, creating structures that transcend popular fashion, are built to last, and merit preservation. They're also adapted to the way American families live today, which is a complete shift from the elements he—and the rest of us—grew up with. Gone are the low ceilings and floor plans with lots of cut-up rooms. Clients want soaring ceilings, tons of natural light, and open floor plans where the kitchen, dining, and living areas are connected. "Our architecture tries to emulate a feeling of traditional architecture in that the outside has classic lines and features like gable roofs and exposed rafter tails, but the floor plans are wide open," he says. "It really pushes the limits of what you can do structurally to minimize those compartmentalized plans."
Some of his original homes are nearly fifteen years old, but designwise they are still very relevant. Geoff points to a house in WaterColor he designed ten years ago—part of his Houzz.com portfolio—that continues to elicit raves from clients who want to borrow everything from building materials to paint colors.
Clients immediately gravitated to his design approach, a style that balances natural materials and modern sensibilities, creating structures that transcend popular fashion, are built to last, and merit preservation.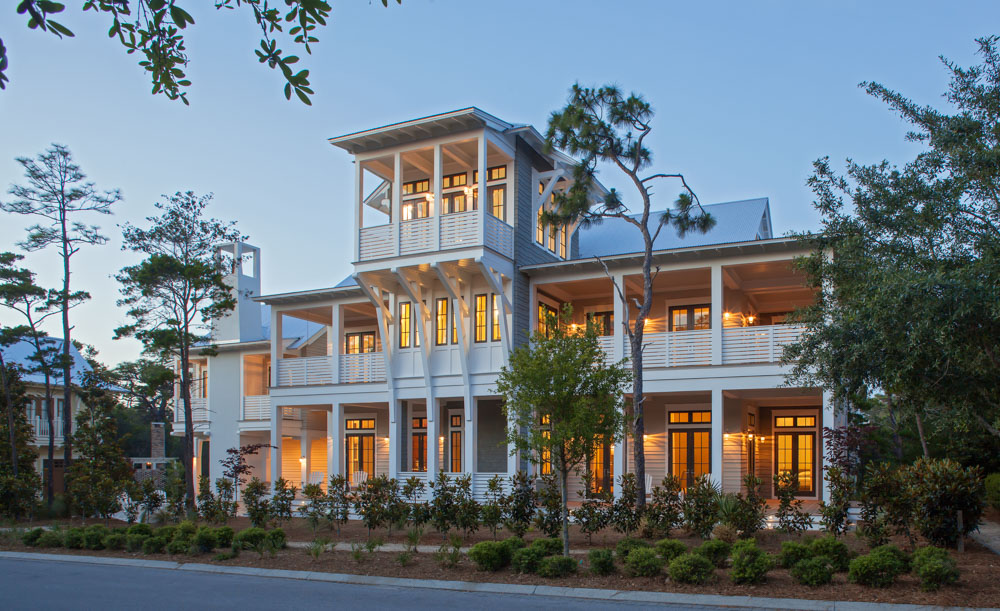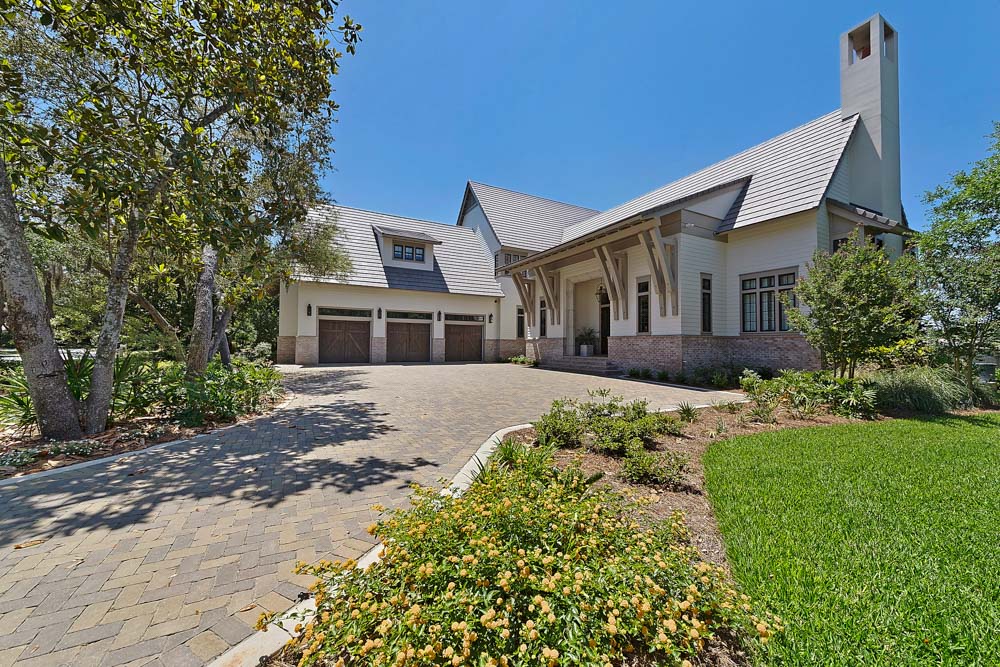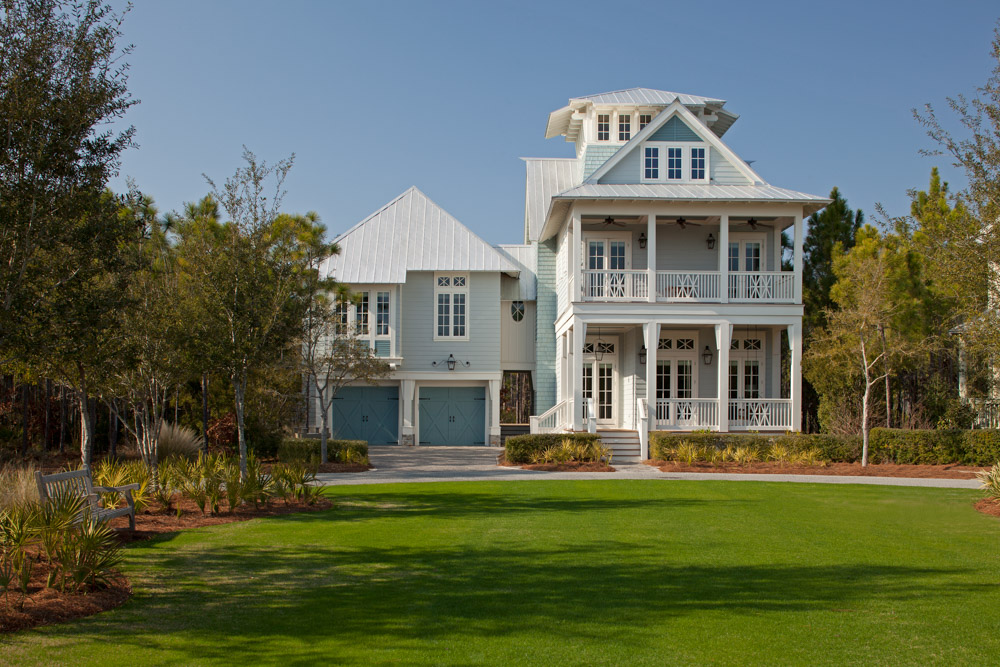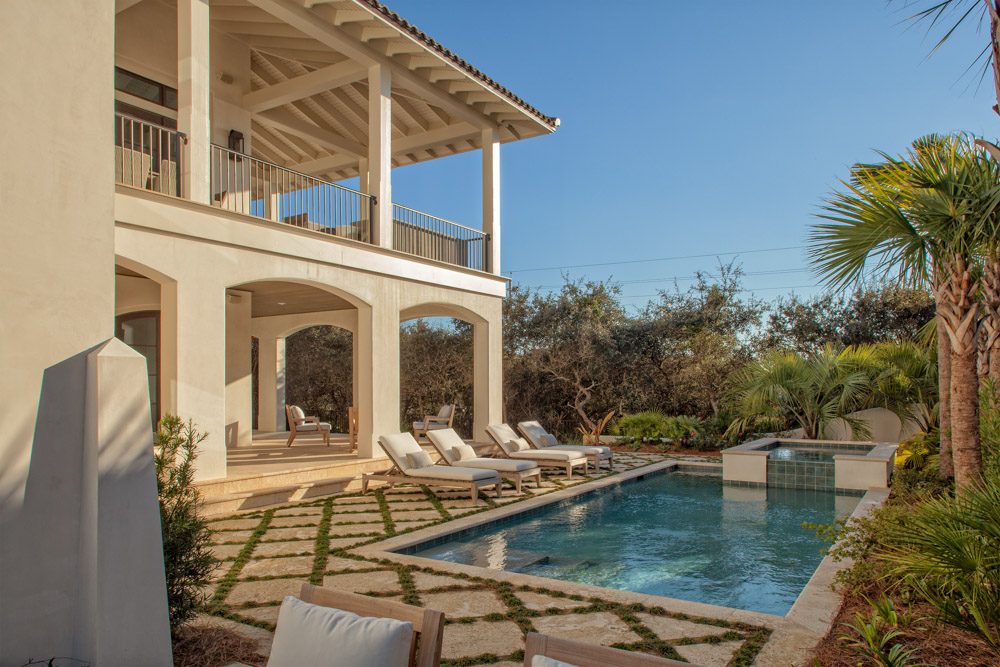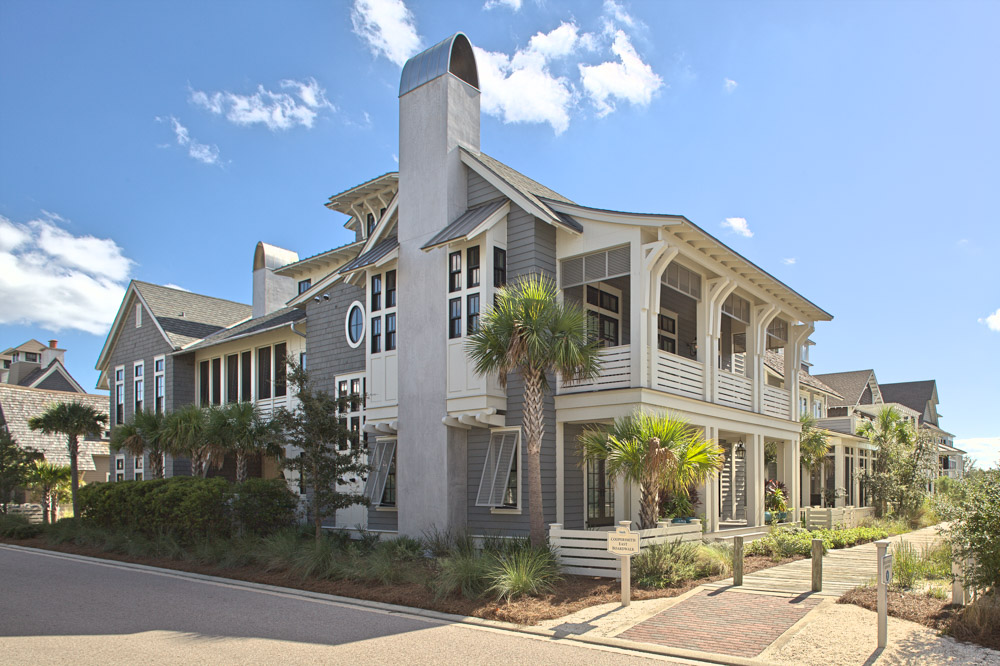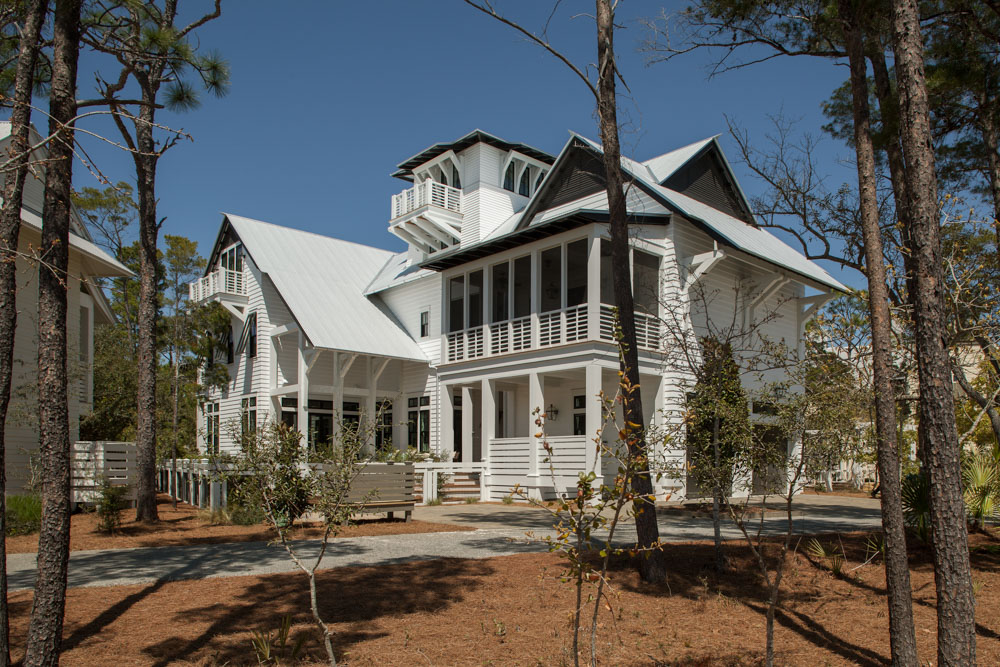 His entire portfolio consists of standout designs, some of which have caught the attention of celebrities. Geoff has designed homes for notable names like country music star Luke Bryan, San Diego Chargers quarterback Philip Rivers, and Oakland Raiders coach Jack Del Rio. He enjoyed the opportunity to get to know them, but overall, he insists the projects weren't any different than what he does every day. Celebrities, it seems, are just like the rest of us when it comes to wanting an exceptional home to share with their families.
Despite being able to name-drop celeb clients—though he tends to do the opposite, downplaying his connection to famous faces—Geoff insists his most rewarding projects have been the ones he's created for his own family. What makes the process (and the results) different is that when he designs for himself, he has help from his wife, Shawn. The couple has collaborated on three homes so far, taking risks Geoff typically isn't afforded with most projects, no matter how adventurous the client. These experiments, though, often make their way into future clients' homes once they see the beauty and practicality of his finished products.
A good example of an experiment-gone-right is the exposed concrete floors Geoff and his wife added to their last home's living areas. What started out as regular old gray concrete was polished and waxed until it resembled slabs of bluestone. The result was a shockingly inexpensive, eye-catching floor that held up remarkably well—even with their kids roller-skating in the living room. "Most people cover up their concrete slabs, but they're beautiful," he insists, adding that concrete also stays cool in Florida's sweltering summers.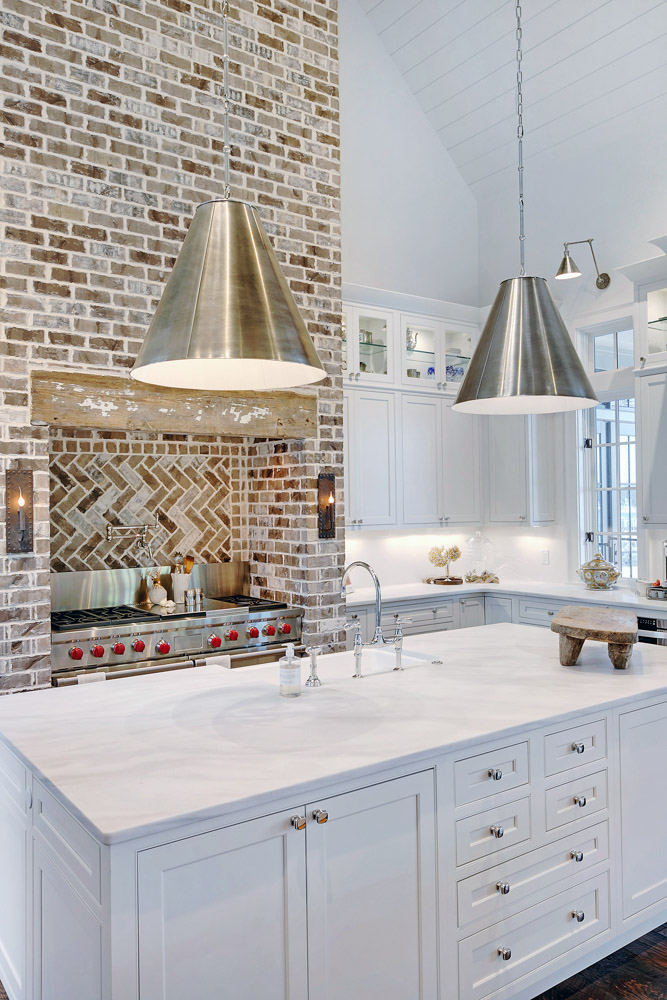 An Ally in the Field
While Chick and Associates' clients don't have access to Shawn, who stays busy running her children's clothing store, they do have access to Geoff. In fact, he's personally involved in the design of every home, as are staffers Zack Quinn and Iva Gonscakova, who he says provide invaluable contributions to the business. But even with such talented colleagues, Geoff intentionally keeps the firm's workload relatively small to ensure clients receive an extraordinary level of service.
So inclusive is the service that it continues even after the design is complete. Geoff doesn't simply hand clients off to a contractor and wish them luck. He sees projects all the way through, staying involved in the building process to ensure homes are built correctly and running interference when necessary. Geoff is better at that aspect of the job than most architects, thanks to his years spent working for a contractor. Because he knows the construction process from the inside out, he's able to be a real ally for his clients, especially when builders insist they can't do something or that a cost will be exorbitant. Geoff has the expertise to cry foul and get construction back on track and within budget.
His building experience has also taught him to maximize the efficiency of materials, meaning less waste is tossed into the trash. And while many architects don't necessarily take waste into consideration, construction crews notice the difference between a Geoff Chick house and other houses. "A lot of builders, after they do one of our houses, say, 'We didn't spend as much on that house as we thought we were going to,'" he relates. "And I tell them it's because I thought about issues of material efficiency during the design process." In fact, some of those same builders become clients after working from his plans—a huge compliment, Geoff says.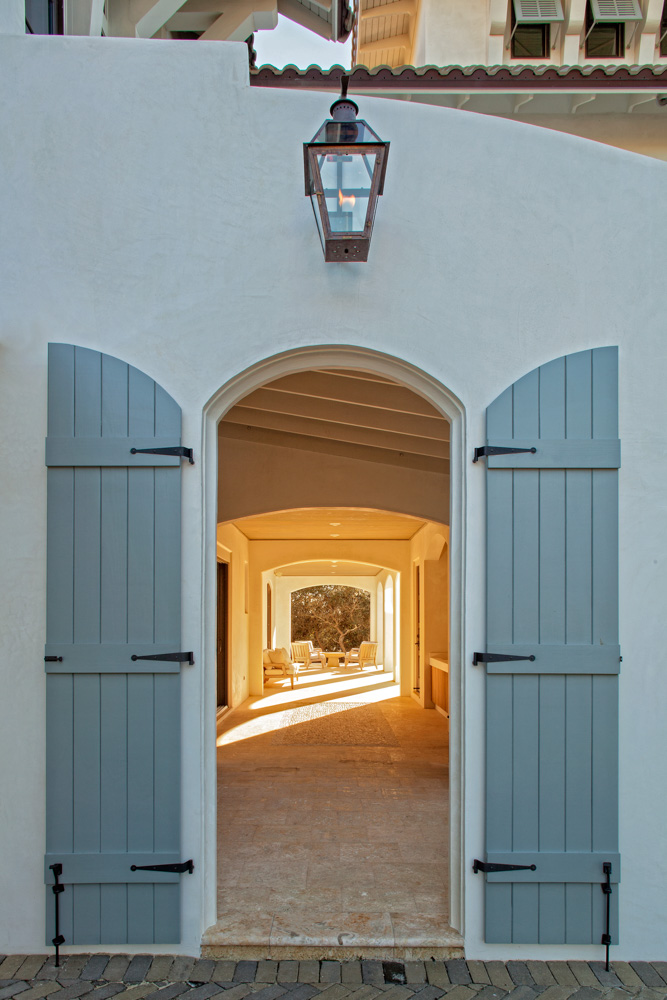 Geoff doesn't simply hand clients off to a contractor and wish them luck. He sees projects all the way through, staying involved in the building process to ensure homes are built correctly and running interference when necessary.
Having the respect of contractors and providing clients uncommon building insights are just two reasons Chick and Associates is thriving. Another is the firm's straightforward approach to budgets. After building several hundred houses, they're experts in what things cost on the Emerald Coast, allowing them to better steer clients on materials, construction methods, and contractors. Costs have skyrocketed over the last year and a half as builders have attempted to keep up with demand, and Geoff would rather clients have sticker shock at the beginning of the process—and try to work around it—than at the end. "There's nothing worse than the bait and switch," he bemoans. "We design to your budget from the beginning because it's hard on clients, after drawing their dream house, to cut things out when the builder tells them it's not in the budget. It really sours the process."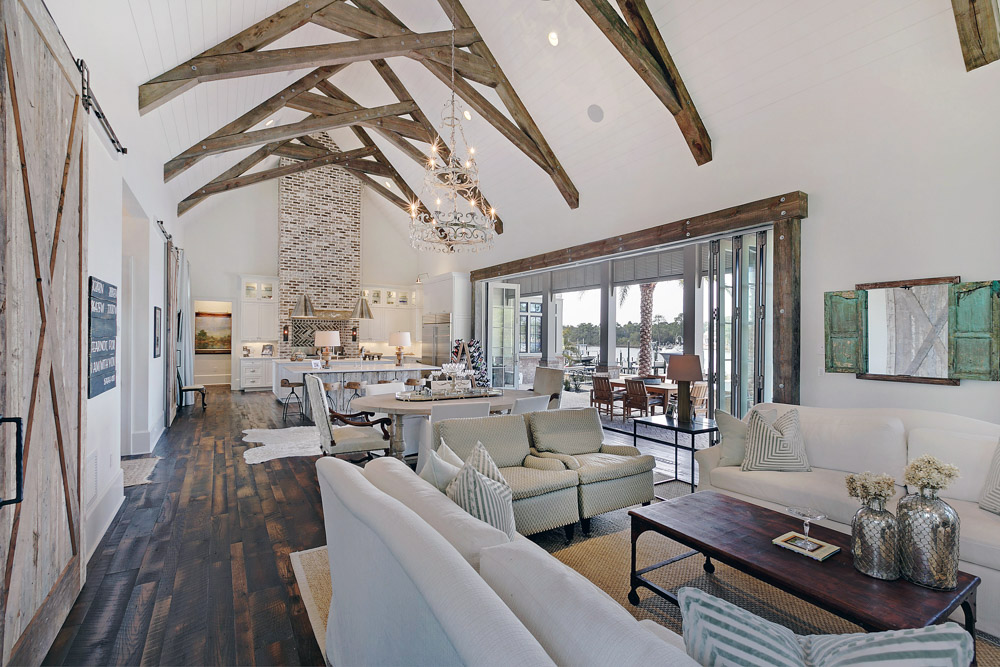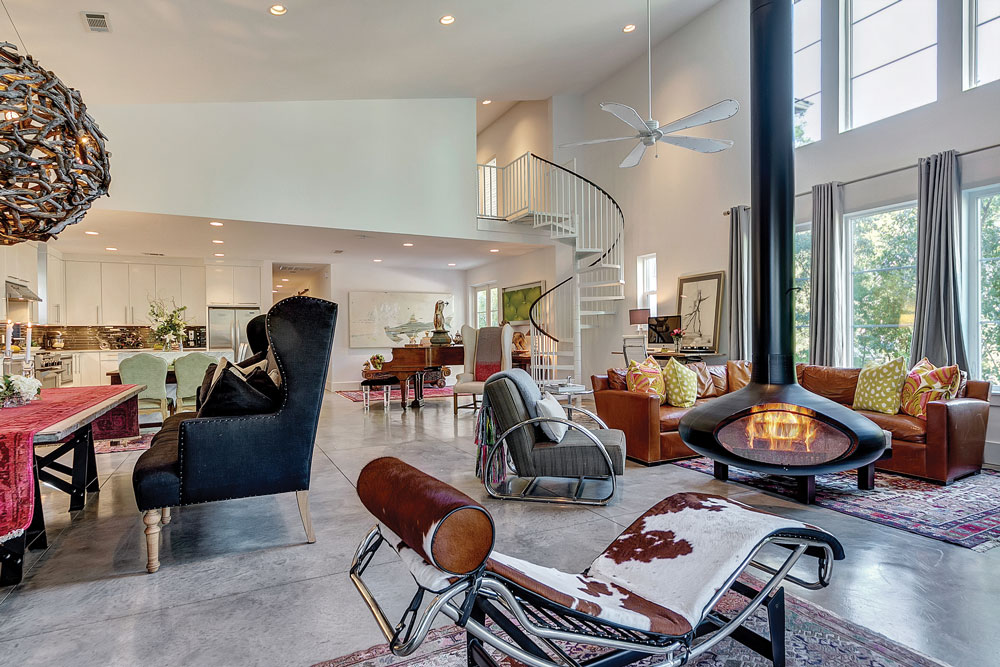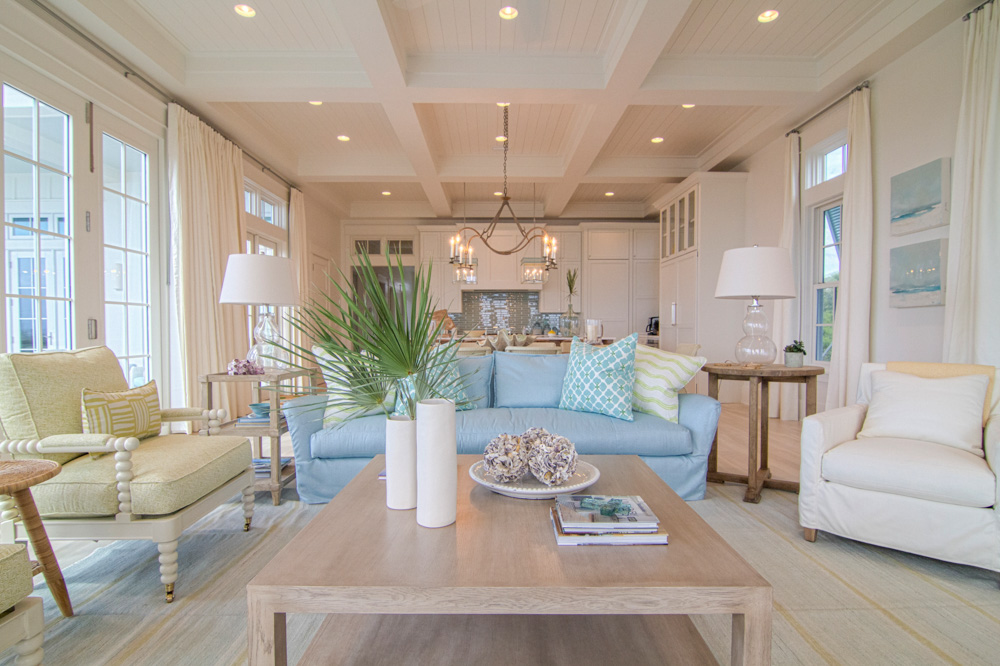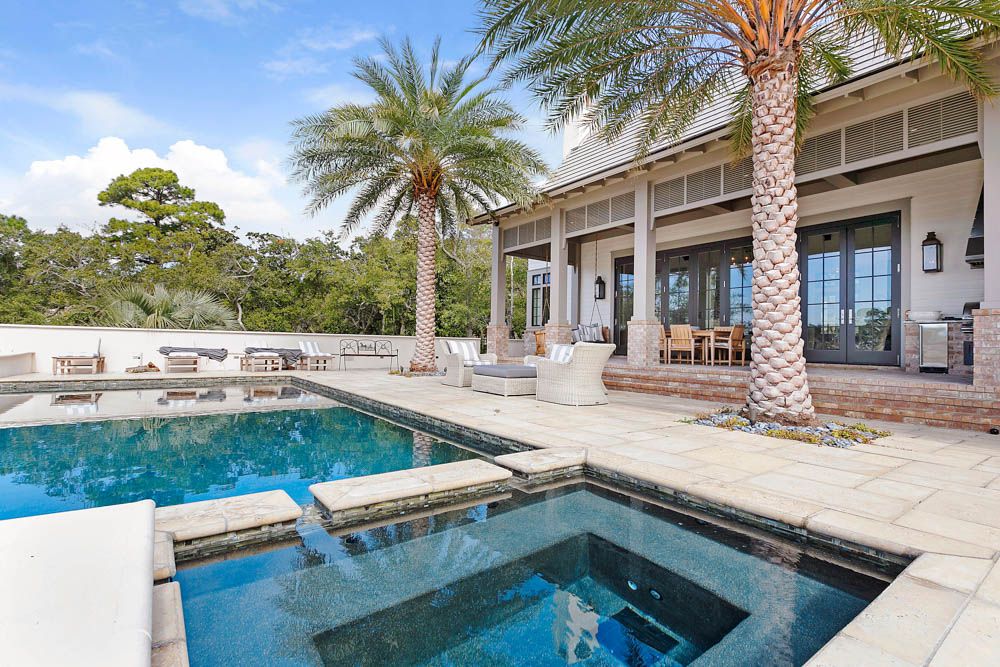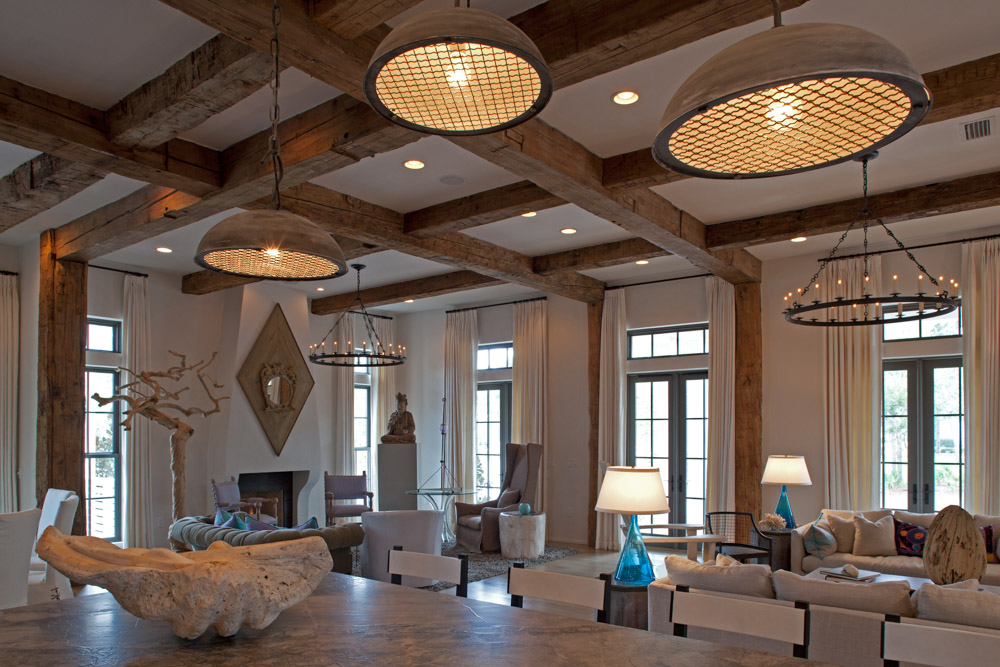 The industry is experiencing such a spike that Geoff advises people to consult an architect before buying a site. He's seen too many people purchase land and then realize they can't afford to develop it. In a fast-changing construction market, realtors often aren't up to date on costs, so an assurance that clients can build a home for, say, two hundred dollars a square foot may not translate to a house their clients will actually want to live in.
Geoff has mastered the art of guiding client expectations in order to prevent disappointment. The upshot is a long list of very satisfied customers who provide Chick and Associates with all the free advertising the company can handle. And thanks to the Internet, new clients are often familiar with the firm's work. In the days before Facebook and sites like Houzz.com, Geoff spent a lot more time in the discussion phase with clients. But now, these online portfolios allow people to decide on an aesthetic before the first meeting. "They fall in love with a style or a particular house we've done and can move right to 'we like this but want to change that,'" he explains.
Most of the homes Geoff designs for clients feature traditional—as opposed to modern—architecture. It turns out that, while a lot of people move to the area looking for a change, they don't want to change everything they're used to. Clients want the sloped roofs and double-hung windows that give traditional homes some personality rather than the übersleek lines of modern architecture. And while Geoff would love to design more modern architecture, he understands traditional elements communicate a sense of "home" in a way modern features rarely do. "Modern architecture is more sterile and usually doesn't make people feel the same way emotionally that a traditional home does," he says.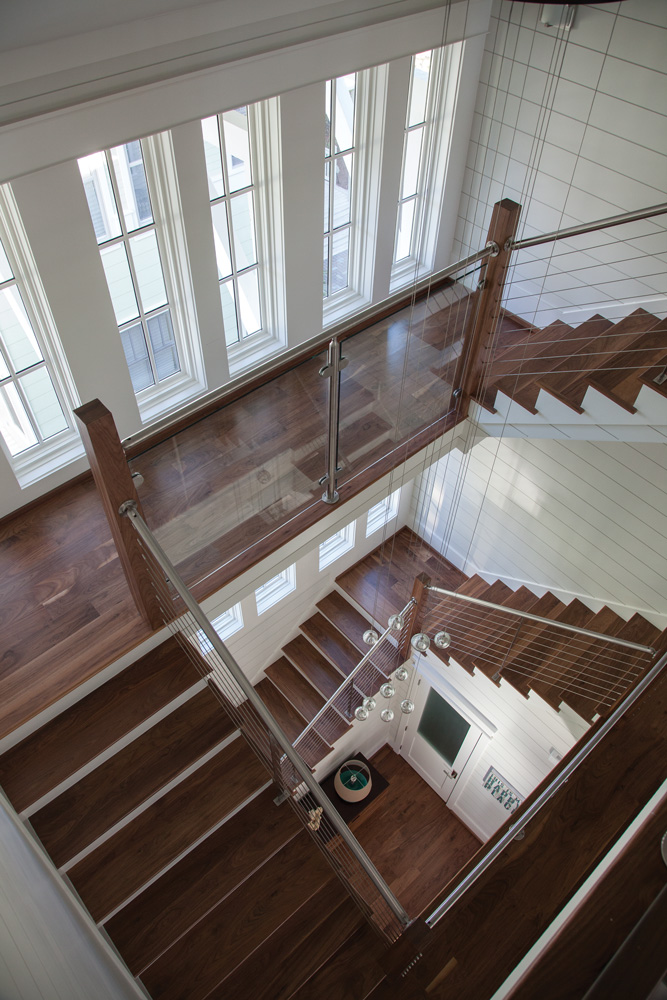 Steering clients toward or away from design elements isn't something Geoff generally does. The only exception: if the architecture isn't a good fit for a home's neighborhood. Things like an all-white exterior and well-appointed courtyard—"the Alys Beach effect"—are incredibly popular all over the area. The style is gorgeous, he agrees, as long as it doesn't look like a fish out of water. Geoff believes a house should respect the fabric of the surrounding neighborhood and "not try so hard to be unique that it alienates the neighbors," he says.
Once I was exposed to architecture as an art form, it just took over everything.
It's a pretty safe bet that nothing Geoff designs will alienate the neighbors or anyone else. His attention to detail, cross industry expertise, and creative repertoire are reflected in houses that stand out in the best possible way: as examples of a master craftsman at work. He chalks it up to purpose rather than prowess. "When you're passionate about something, you tend to chase it and, often, become successful at it," he muses. "Once I was exposed to architecture as an art form, it just took over everything."
— V —
---
ARTICLE CATEGORIES