Beating the Summer Heat in Style
By Jordan Staggs | Photography courtesy of Cox Pools
"Swimming pools are like eye candy for your backyard," says Richard L. Cox Jr., owner of Cox Pools in Destin and Panama City Beach, Florida.
The company, founded by the late Richard Cox Sr. in 1958, is truly a family affair and its expert team has become a leading crafter of swimming pools and spas in the Southeast. Cox Pools specializes in the construction and renovation of all types of pool, spa, and fountain projects, and was selected as one of the top fifty pool builders in the country by Pool & Spa News in 2013
"Cox Pools always strives to build the best pools with the best equipment and specialized crews in the Southeast," Cox says. "As a family-owned and operated company, we take a lot of pride in every pool we design and construct. Being named in the top fifty is something we are honored and proud to receive. It is a direct reflection of our hardworking staff and crews."
"We get to design beautiful projects where everyone is able to be involved in the process, and the final product is always spectacular to view," Cox says, noting that the three main things his team focuses on in the building process are the overall design of the pool; the function of the hydraulics and other systems; and the aesthetics, such as the tiling, the water color, and the surrounding deck areas. These are essential for creating an exceptional pool, and Cox and his team continually deliver on their promise of excellence year after year. "If I wouldn't want it at my house, I certainly wouldn't deliver it to a client."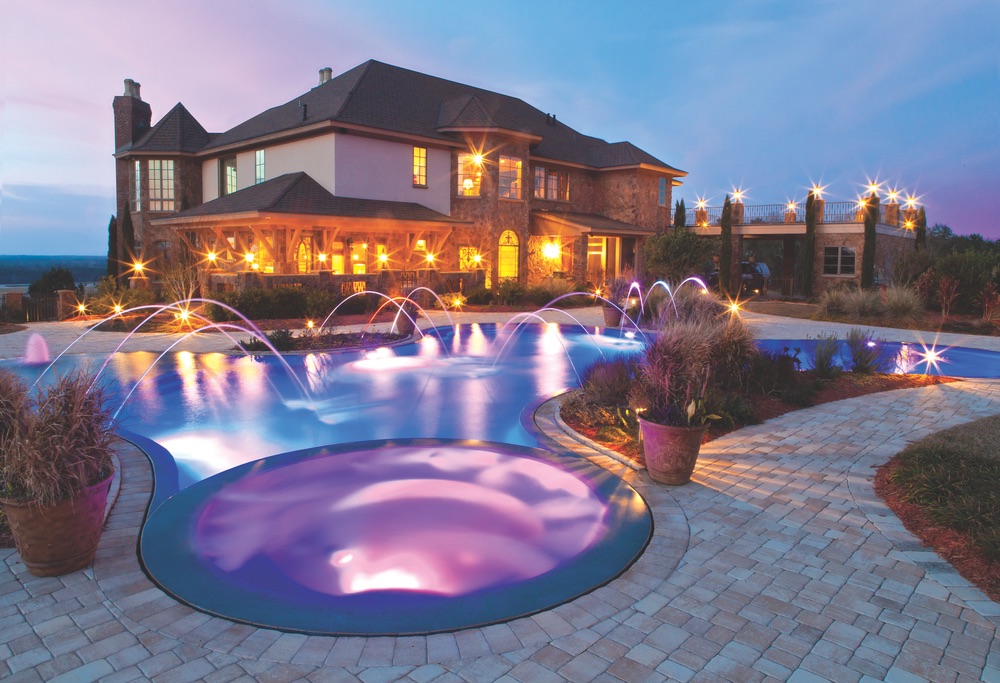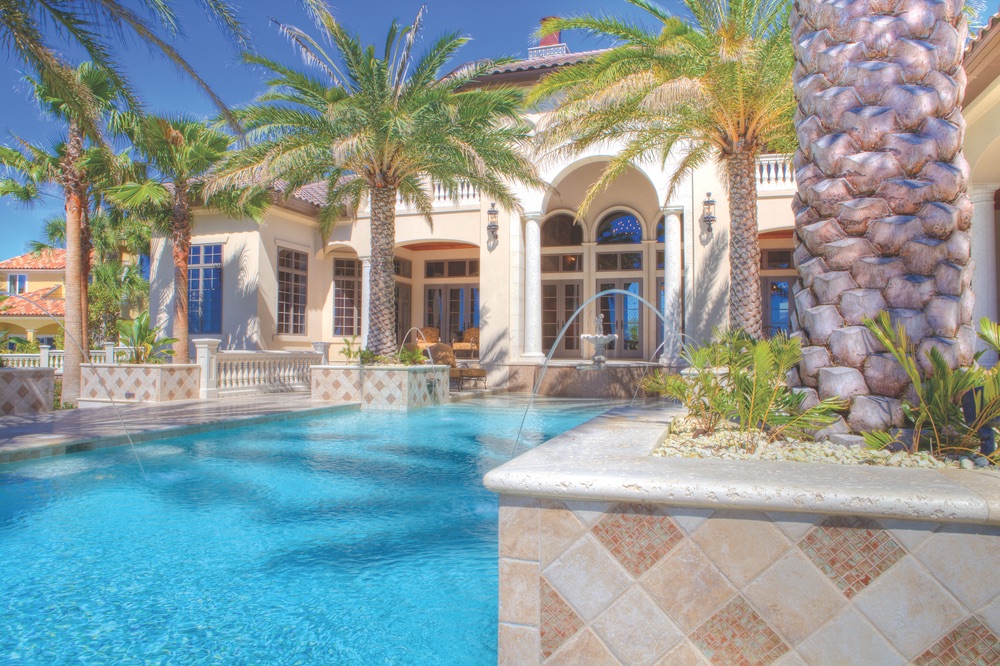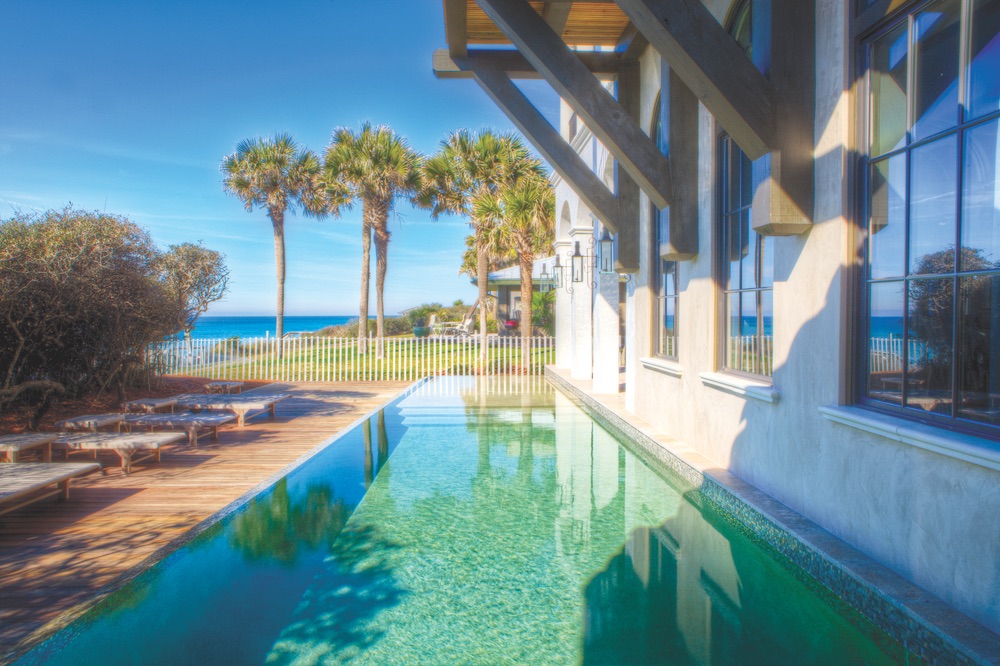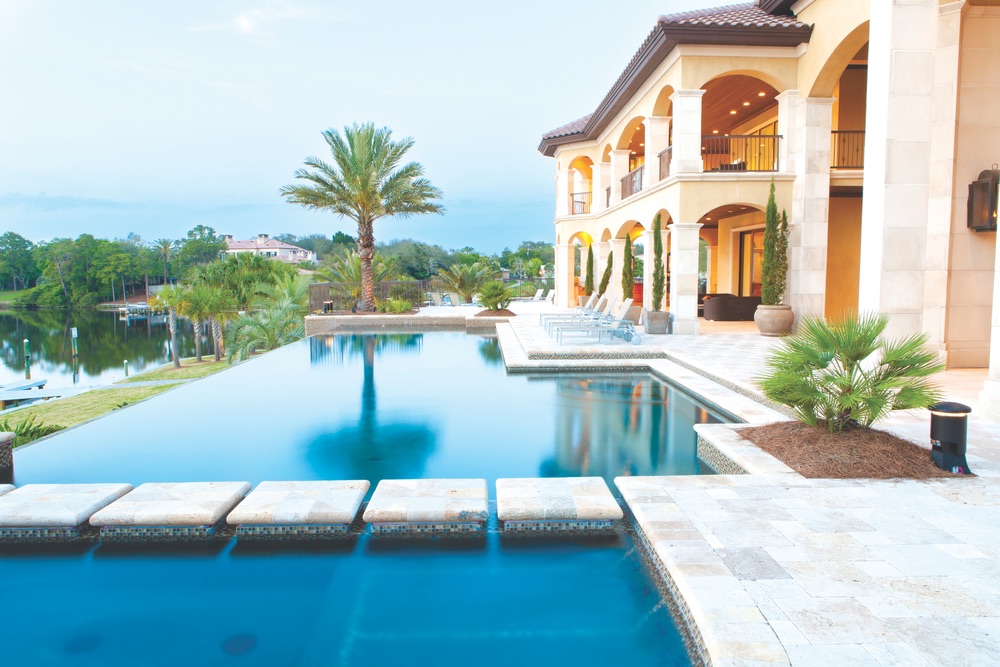 Cox and his team were the master crafters behind the stunning, mosaic-tiled outdoor pool at the Maison de VIE idea home built last year in WaterColor, Florida. The gorgeous backyard watering hole features a fountain, colored lights, and a sun shelf perfect for lounging.
My favorite part of any pool is just getting wet when it's hot out. And, of course, the sun island, like the one at Maison de VIE. You can put your chair up there, have your favorite drink while your feet are in the water, and have a conversation without getting too hot.
With the summer heating up the region, it may be time to think about creating a backyard oasis—at least in time for next year. These projects by Cox Pools are just the inspiration to get you started!
This beautiful seventy-foot negative-edge pool overlooks the bay with a four-foot rock waterfall finish. The pool has a large connected built-in spa and a separate sun shelf with a sunken spa spilling over an eleven-foot rock waterfall, also with a negative or "infinity" edge. The pool is complemented by fiber-optic perimeter lighting and is finished with black pearl plaster, custom mosaic tiles, and a travertine deck.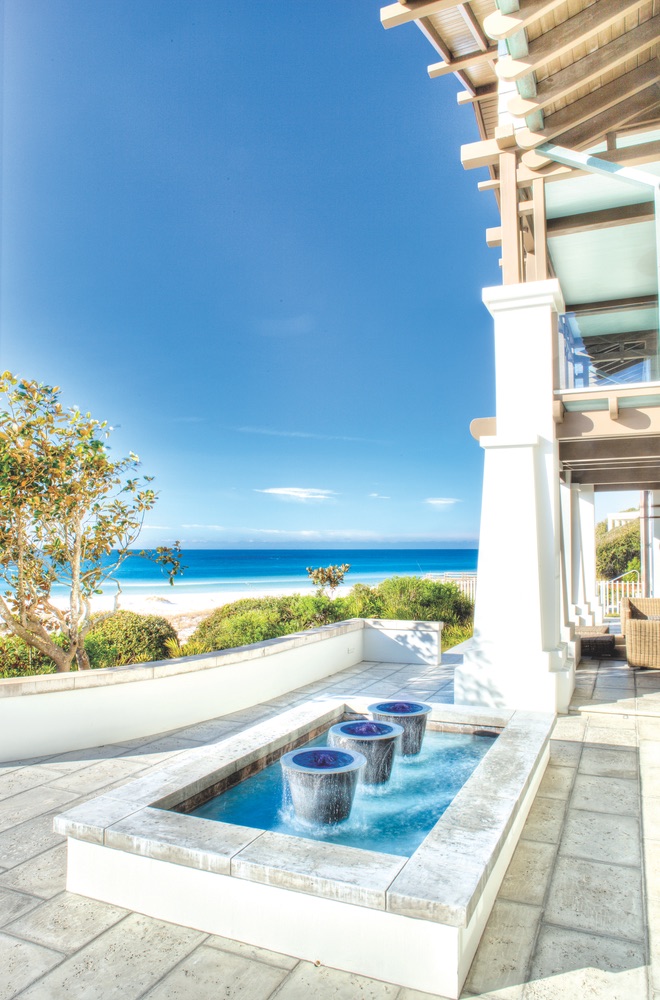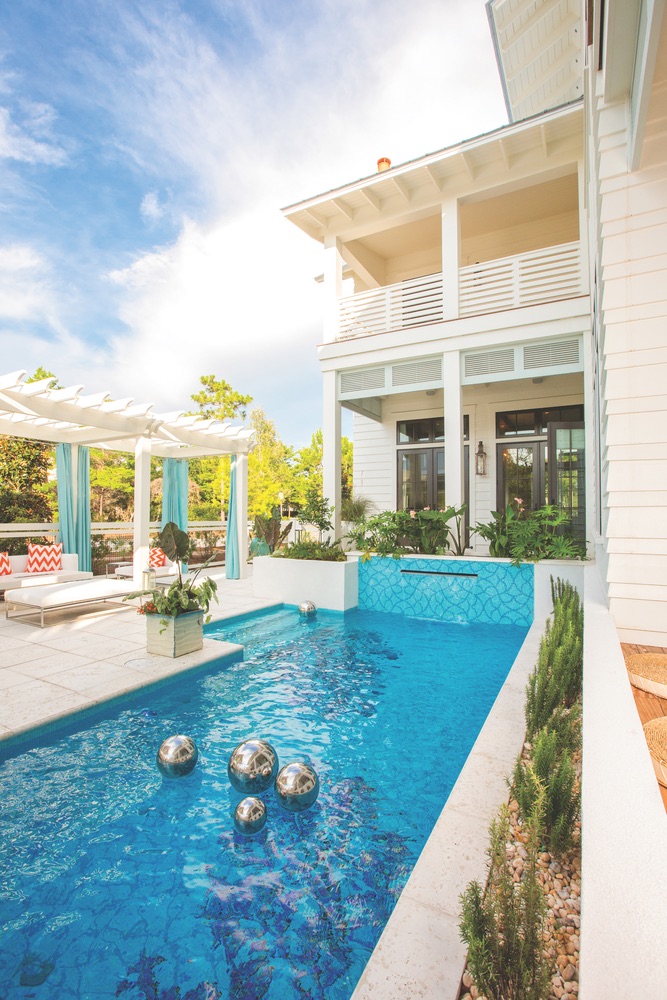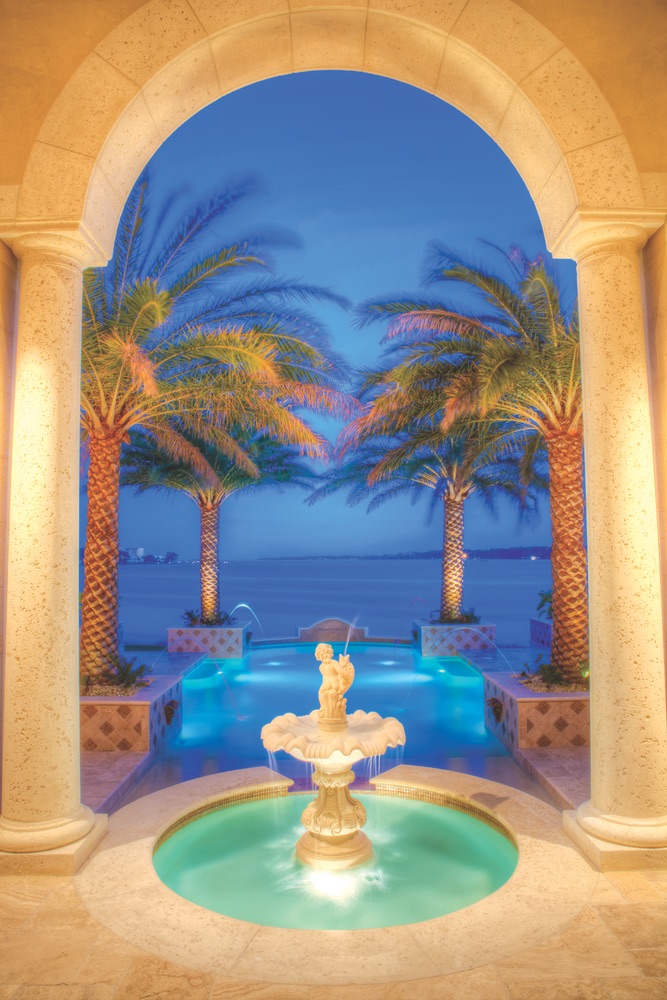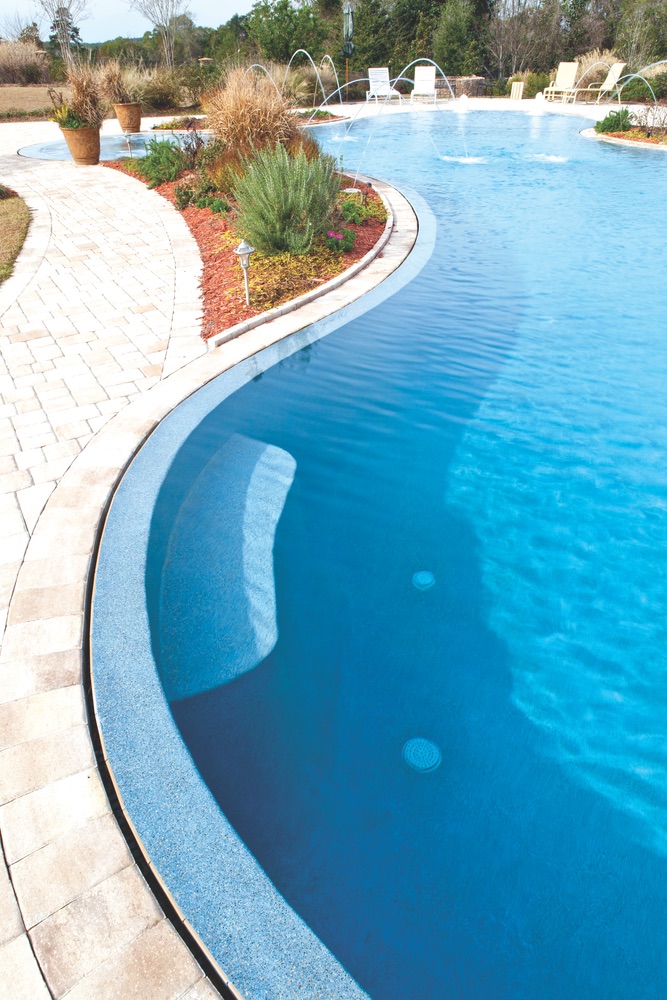 Complementing a spectacular house on Grand Lagoon, this pool is customized with LED-lit laminar jets, wall-mounted sconces on the planter walls, and an elevated fountain bowl spillover. A large sun shelf and a deep-end bench are perfect for lounging. The distinct air of luxury for this oasis comes from the finishes—white-pearl plaster with a blend of travertine and custom mosaic tiles surrounded by a travertine deck.
This negative-edge pool on the beach has a swim-under bridge to get to the swim-up bar. The pool is finished in a beach-colored plaster with Mesa Pearl custom mosaic tiles and a travertine deck and is complemented with a large sun shelf and an all-tile spa.
Considered one of the top projects constructed by Cox Pools, this pool features an elevated-rim overflow spa with a glass spillway that cascades down an eight-foot glass water wall. The pool is a 360-degree rim overflow complete with a swim lane, an eight-foot-deep well, a large sun shelf with bubblers, and a swim-up bar. The lighting package is second to none: four LED-lit laminars, an LED-lit glass water wall, and glass beads in the plaster that reflect all colors. The finishes include WetEdge glossy black plaster on the pool and kaleidoscope plaster on the spa. The Italian tile was a custom order and the rice-white deck really makes the pool "pop!"
— V —
ARTICLE CATEGORIES