Story and photography by Romona Robbins
When summer hits, so does the travel itch, and this past June I got the most beautiful chance to scratch it. I consider myself well traveled, but I hadn't been on a real "girls' trip" in almost six years (since just before my daughter was born). Curaçao was the perfect place to make up for lost time.
Before I go further, I need to go over pronunciation: if you only know curaçao as that blue liqueur, then you're probably not saying it right (I wasn't). It's always been "ker-AH-cow" to me, but it's pronounced "CURE-a-sow." So raise your glass and take a shot with me (blue curaçao, of course!) if you've learned something new before this adventure even begins. Ahhh… Now, let's go to the Caribbean and learn some more!
Flying in for my first time, one thing became glaringly obvious: Curaçao is tiny. At just over 170 square miles, this is a desert island you can tour from end to end in only a few hours. It's also a cruise ship destination, so I was concerned that I left my Destin, Florida, home just to get snared in a different kind of tourist trap—one that would only mimic an authentic Dutch Caribbean culture. Luckily, I was worried for no reason.
Sitting just forty-four miles off the coast of Venezuela, Curaçao is literally as colorful as it is rich in culture and history. The multicolored colonial architecture of Willemstad (the island's capital and only city) creates a picture-perfect setting, especially when viewed from the Queen Emma Bridge. A closer look brings stunningly detailed murals into focus. Combine these things with an array of delicious offerings at restaurants to satisfy any palate (Hofi Cas Cora served authentic farm-to-table fare), friendly locals, and a bustling nightlife. What's not to love about this little island? My first impressions were overwhelmingly positive, but I had traveled there to delve a little deeper.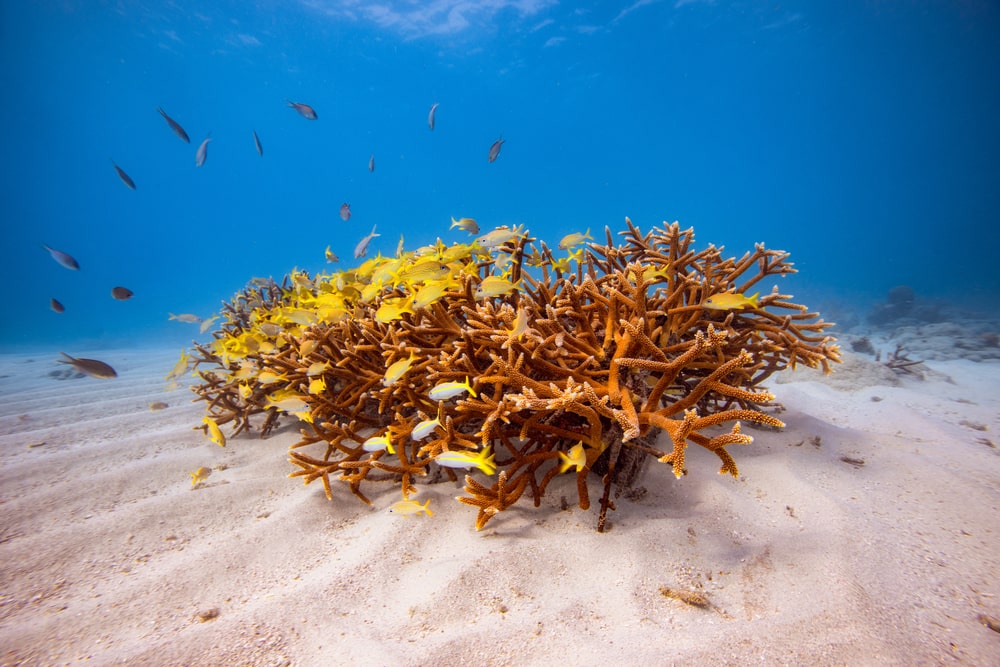 The water surrounding Curaçao is as blue as the liqueur. And with around sixty-five tropical dive sites teeming with diverse marine life, this is a world-class destination for scuba divers and snorkelers—like the girls and me. The main attraction for us was the coral forests, which are said to be as colorful as the capital city. Early on our first morning, we eagerly departed from the Hilton Curaçao near downtown to get our feet wet for the first time.
After teaming up with the knowledgeable and fun crew from Go West Diving, we motored out to the west side of the island to dive Santa Cruz and Paradise. These dive sites live up to their names and are home to everything from tiny invertebrates and pelagic fish to eels and hawksbill turtles (my favorite!). With eighty feet of visibility, spotting the marine life was easy. When it comes to the coral, however, it's never that simple. Scattered throughout this intricately beautiful and healthy display, I occasionally noticed areas of the reef that were damaged or even dead. Unfortunately, this is a common sight in most popular dive destinations and it's almost always a direct result of human activity. For me, it was a reminder to dive with the utmost care, leave everything as I found it, and take nothing but pictures.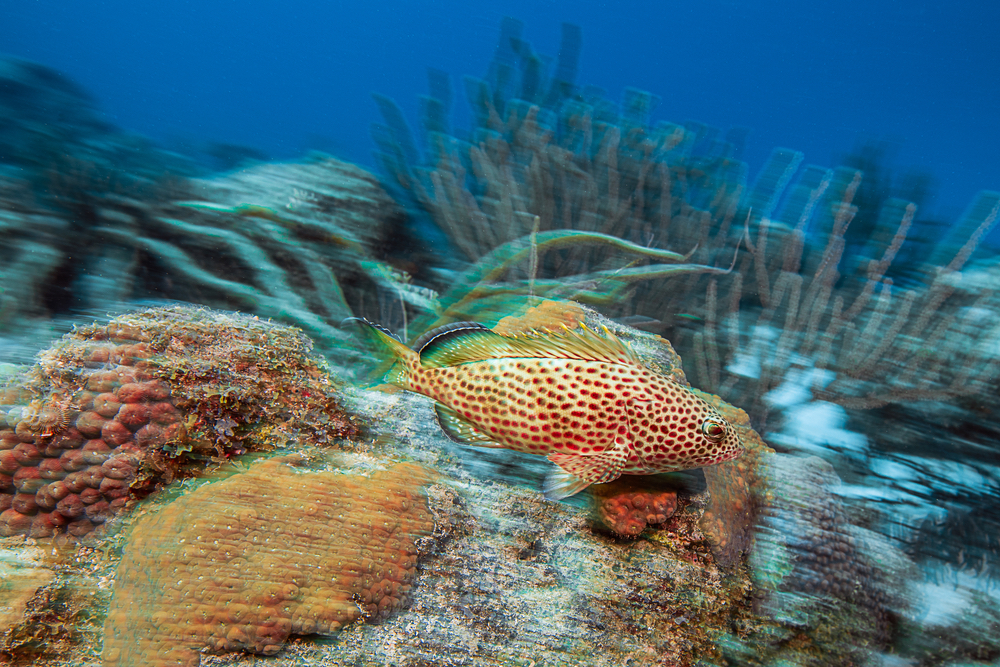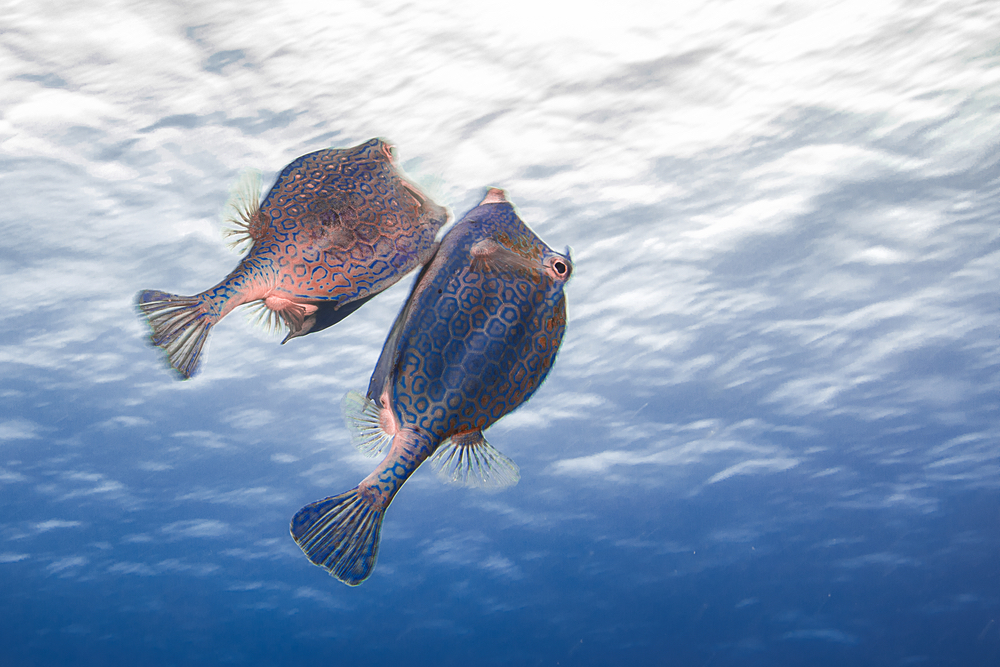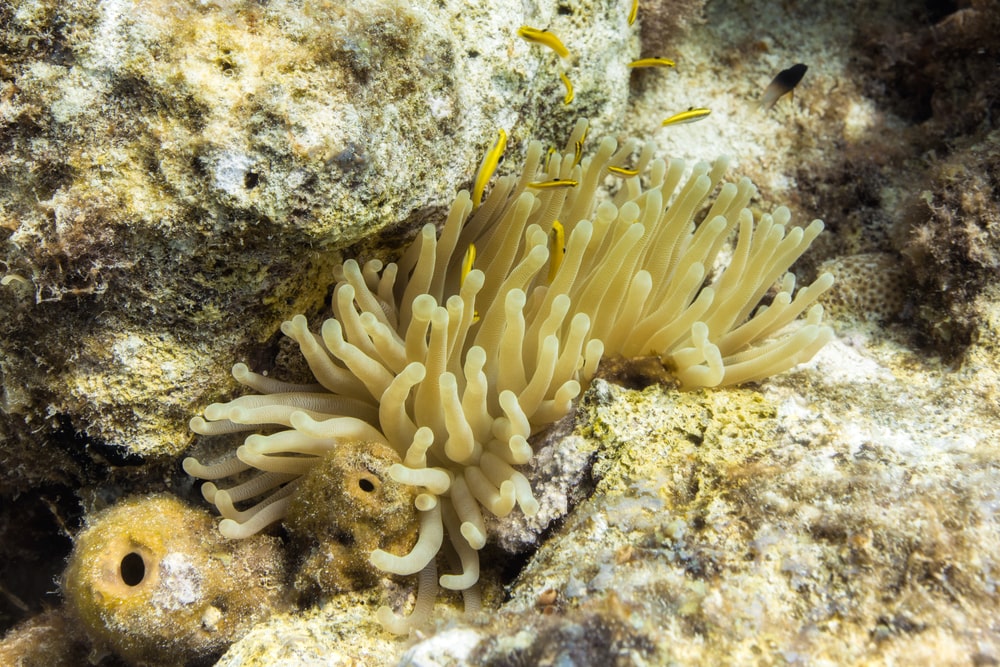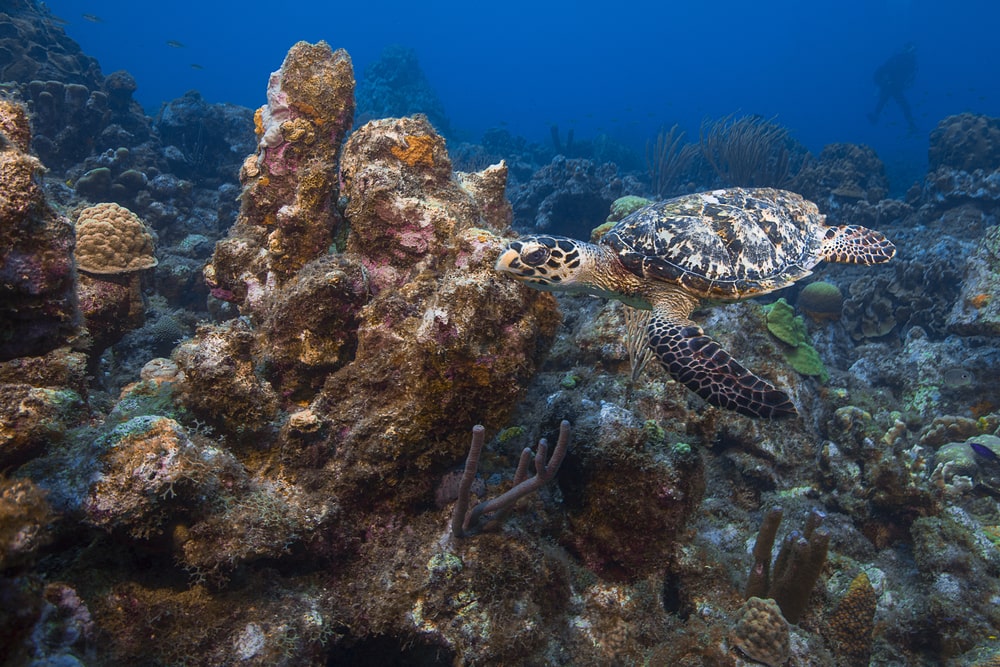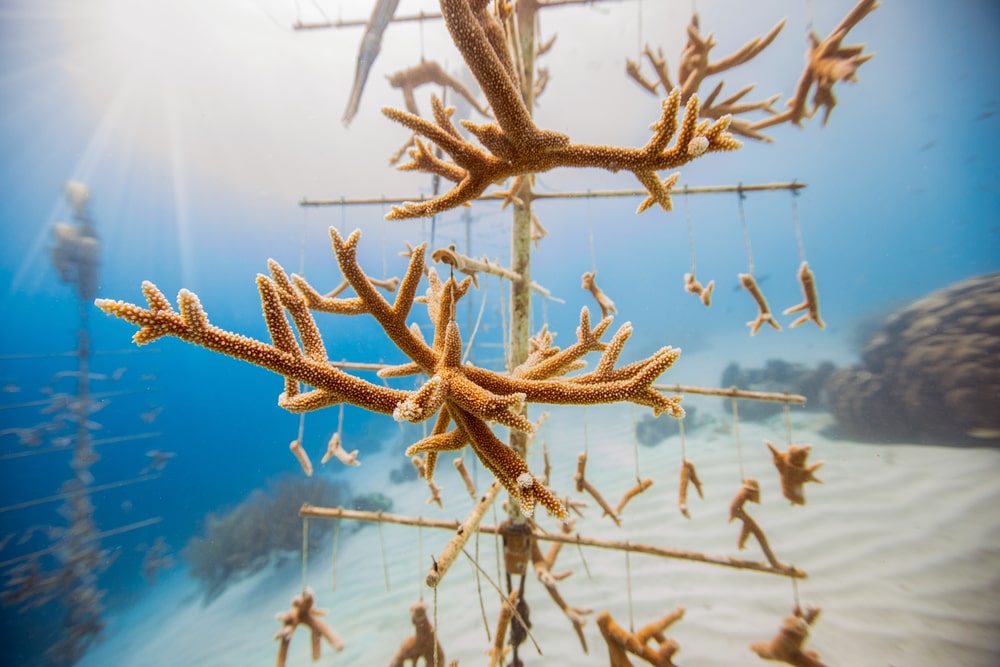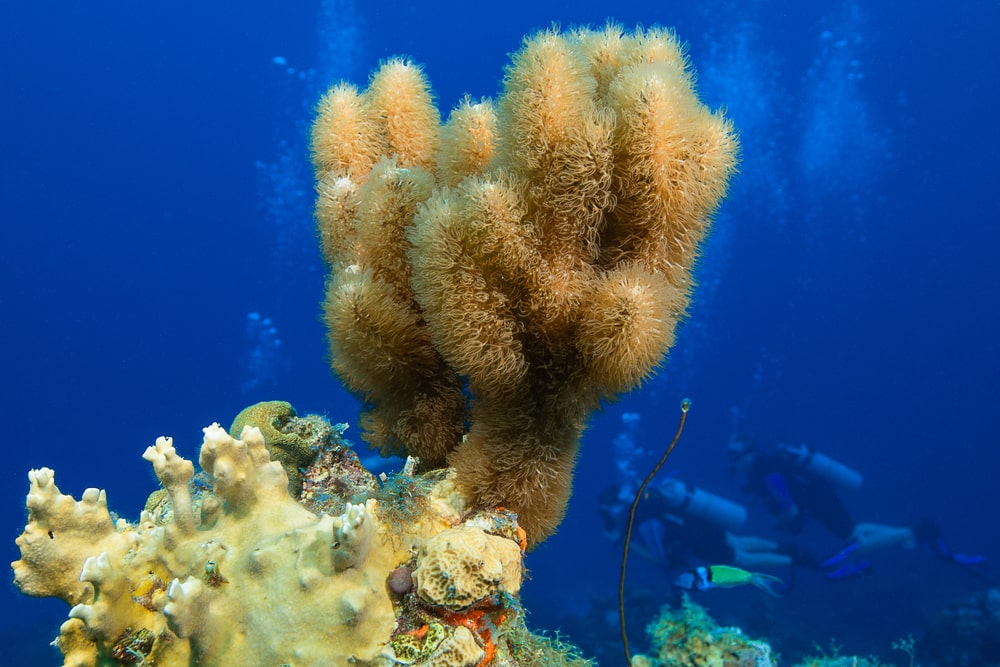 The next day, we dove the south side of the island with a crew from Caribbean Sea Sports. Double Reef is a unique dive site with two terraced reefs separated by sand. The lower reef is peppered with hard and soft corals that gently sway in the current as the seafloor slopes down into the unknown depths. Again the marine life was on full display: honeycomb cowfish, angelfish, tangs, urchins, puffers, anemones, parrotfish, and, of course, a few invasive lionfish, to name a few species. But this reef was notably healthier and more diverse than what we had seen the day before. It felt like another world. And it got us all talking on the boat during our surface interval:
What causes coral to die? How do you show people your paradise without suffering from the inevitable effects of human activity? What can we do, not just as responsible divers but as responsible humans, to help preserve such a place?
These were the perfect questions to lead us into our final and most meaningful dive in Curaçao.
Linking up with the staff at Ocean Encounters (located at LionsDive Beach Resort), we had the unique opportunity to dive a coral tree nursery. But before we could kick out on the shore dive to Stella Maris tree nursery, our dive instructor, Pol, and his intern, Shane, from Coral Restoration Foundation Curaçao took us into a small classroom for a little underwater education. They taught us about the life cycle of coral, its significant role in the ocean's ecosystem, and the processes of restoring, protecting, and preserving the staghorn and elkhorn corals that are the foundation of the island's shallow reef system and are thought of as the reef-building coral species. The foundation's goal is to rehabilitate these coral populations by taking broken fragments from wild healthy ones and hanging them on PVC pipes that resemble tall trees. The "trees" are placed in shallow waters that offer plenty of nutrients and oxygen flow for the coral. Once the coral grows to a healthy mature size (this can take up to eight months), the team will transplant them by attaching them to a rock's surface via gluing, tying, or nailing them to the substrate where they can grow successfully in their new home. This method of coral rehabilitation is also known as coral gardening.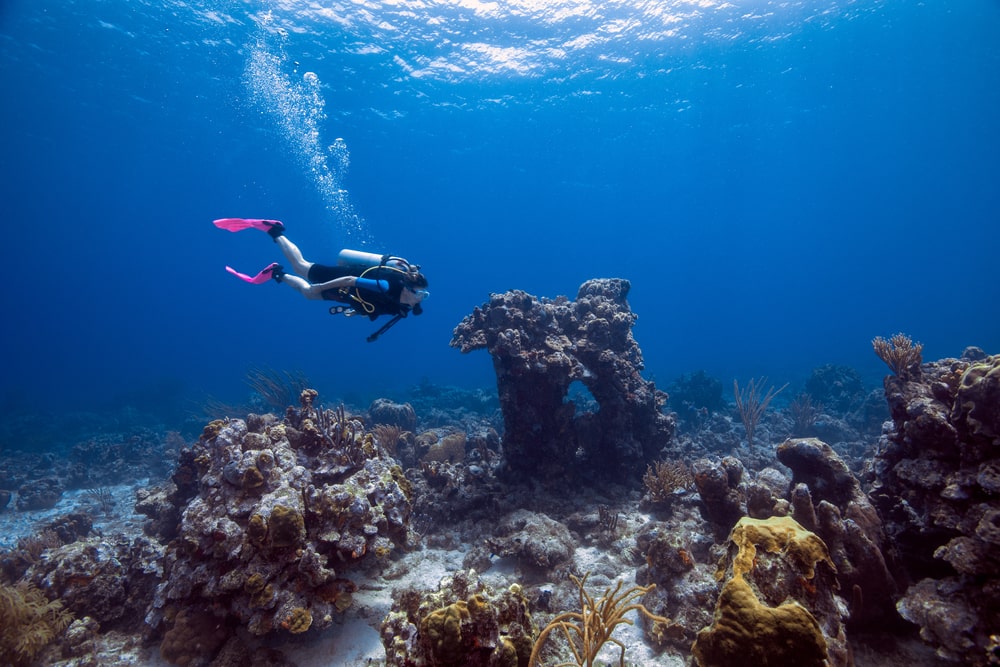 Here's the reality: the chemistry of our oceans is changing, and coral forests are in peril due to bleaching from warmer temperatures, pollution, irresponsible tourism, coastal development, and destructive fishing practices.
Simple practices such as recycling, picking up trash from the beach or the ground, cutting out the use of drinking straws and other single-use plastics, using sunblock without oxybenzone and octinoxate (or better yet, wearing a sun shirt), and simply not touching anything are easy ways to keep nature healthy and beautiful.
This is a heavy burden that I carry with me whenever I leave any popular dive site and inevitably see how beautiful the place once was. This time, I left Ocean Encounters feeling hopeful, especially after participating in a little coral gardening myself. I got to experience something special that will only become more beautiful with time, and even with human intervention. But that doesn't mean my work is done. Simple practices such as recycling, picking up trash from the beach or the ground, cutting out the use of drinking straws and other single-use plastics, using sunblock without oxybenzone and octinoxate such as Goddess Garden (or better yet, wearing a sun shirt), and simply not touching anything are easy ways to keep nature healthy and beautiful. And when it comes to Curaçao, my only hope is that you can see it just as beautiful as it was when I did—maybe even more so.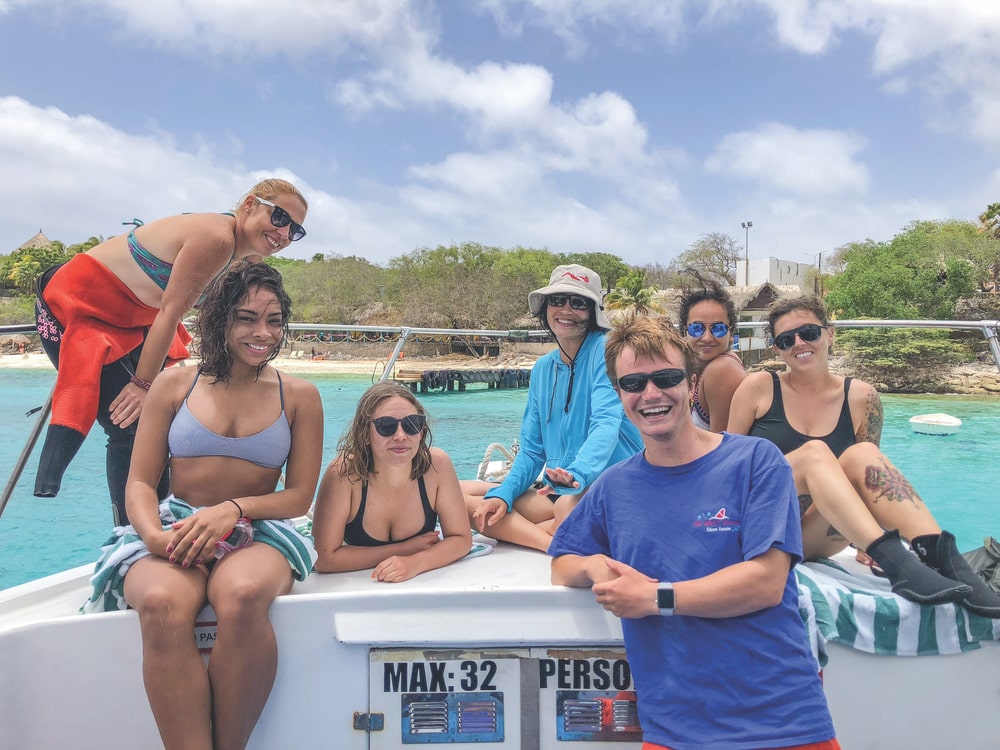 — V —
---
Plan your trip today at Curacao.com! If you would like to learn more about Coral Restoration Foundation Curaçao or even adopt a coral, check out the website at CoralRestorationCuracao.org.
Romona Robbins is a Northwest Florida photographer and dive master who specializes in travel and underwater photography. Over the past decade, she has worked on many network, commercial, and independent projects in over thirty-five countries for clients such as National Geographic, Travel Channel, Lonely Planet, and, of course, VIE.
ARTICLE CATEGORIES