By Sallie Lewis Longoria
On a late June afternoon, I walked across the Place Vendôme and into the legendary Hôtel Ritz Paris. Summer light streamed through the windows in ribbons of gold. Pacing along plush carpets, I wound through a maze of marble and mirrors until I found the fabled Bar Hemingway.
When I arrived, the door drapes were closed, as if, behind the scenes, a stage was being set for an evening performance. Slipping through them, I set foot in another world.
While Hemingway enthusiasts have long traveled here from countries near and far, there is another reason Bar Hemingway is celebrated the world over. Behind the venue's mystique is its head barman, Colin Field, an Englishman who is not just the world's greatest bartender, as cited by Forbes, but also a jovial host, a visionary, a craftsman, and a conversationalist.
Colin Peter Field was born in May of 1961 in the Warwickshire town of Rugby. When he was fourteen, a trip to Paris sparked his interest in bartending. By eighteen, Field had converted his bedroom into a bar and was inviting girlfriends over for gin and tonics. "I was always much happier in female company," he says.
After studying English literature and history at Tresham College in England, Field attended Ferrandi Paris, the French School of Culinary Arts and Hospitality Management. Today, the few who are privileged to work at Bar Hemingway are required to complete three years of hotel school, underscoring the Ritz's responsibility and commitment to providing gold-standard service.
In 1983, at just twenty-two years of age, Field earned the silver medal for best bartender in France at the Scott Cup and the silver medal for best bartender in the world at the Martini Grand Prix World Cocktail Competition. Over the years, he worked in many different bars, hotels, and restaurants, but he never stopped trying for a position at the Ritz. It wasn't until 1994—fifteen years after he sent his first letter to the hotel—that Field was hired as the head bartender and given the opportunity to reimagine and reopen the legendary Bar Hemingway.
The bar's history dates to 1921. Throughout the decades, the name changed—Le Petit Bar, Bar Bertin, and finally Bar Hemingway. Countless artists found inspiration there, from Cole Porter to Marcel Proust and F. Scott Fitzgerald, but it was Ernest Hemingway for whom the bar was ultimately named. (Hemingway famously "liberated" the German-occupied Ritz hotel by ordering fifty-one martinis at the war's end.) Despite this legacy, the venue closed in 1982 and didn't open again until twelve years later with the arrival of Colin Field. In 1997, Bar Hemingway expanded to include the neighboring concierge quarters, located just to the left of the entrance. Even with the addition, the bar today feels small, private, and somehow sacred.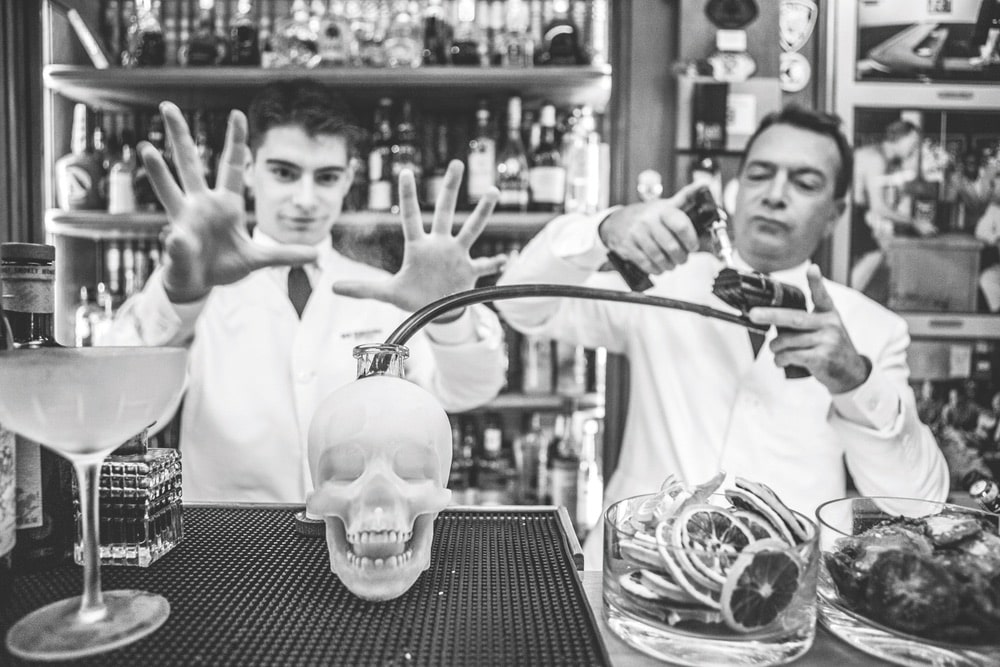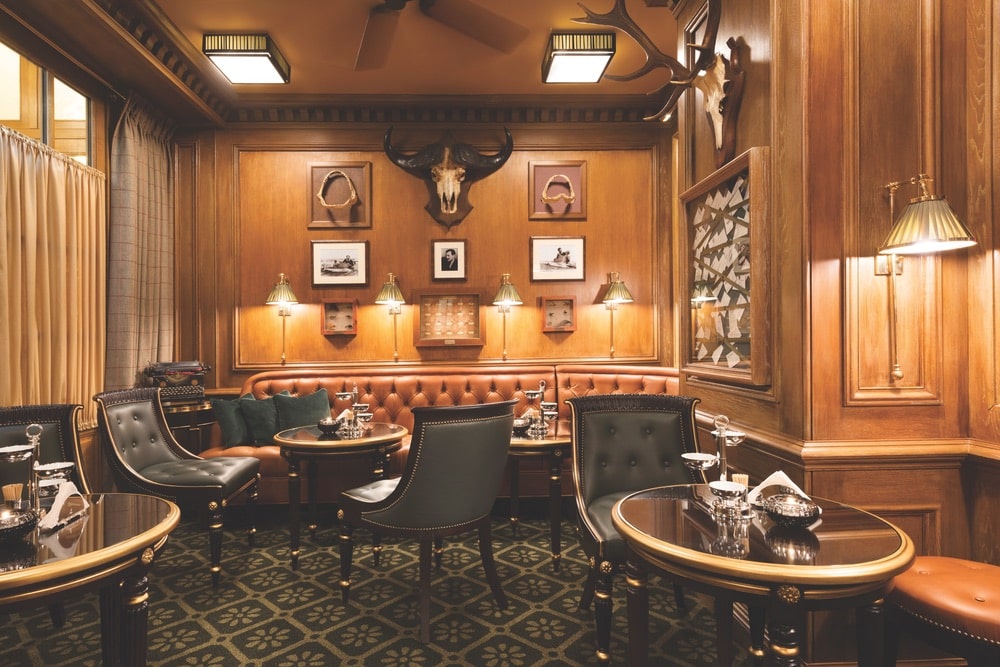 First-time visitors are often surprised by the bar's minute scale. With just nine tables and a thirty-five-person capacity, it's a pocket-sized treasure within the reverie of the Ritz. While the rest of the hotel went through a grandiose four-year, four-hundred-million-dollar renovation beginning in 2012, Bar Hemingway remained virtually untouched. It is still handsomely paneled with fine oak wood and decorated with tufted caramel leather and pine-green carpets. As one of the most famous bars in the world, and with no reservations accepted, finding a seat can be challenging, but it's this exclusivity that beckons the sophisticated.
Inside, assorted artifacts recall the venue's namesake. Aside from the handwritten letters, newspaper clippings, and photographs of the late author, there are trout flies, stag horns, shark jaws, and a Cape buffalo mount. Surprisingly and unbeknownst to many, these items belong not to Hemingway, but to Field, who carefully curated the bar with items from his personal collections. Much like the author, Field shares an appreciation for sporting and the outdoors. Over the bar hangs Field's sixteen-bore Browning, a gun similar to one Hemingway used. The gaping shark jaws mounted on wooden plaques were a gift from a Ritz concierge named Jerry who fished the waters of the Caribbean for years. Other of Field's collected items on display include fishing rods that belonged to Charles Ritz, the son of hotelier César Ritz, and a horsewhip that was used by Jos Verbeeck, the Belgian jockey. Countless other treasures gifted to or collected by Field adorn the space, finely weaving his identity into Bar Hemingway's hallowed fabric.
Most special of all is the mahogany propeller that belonged to Field's father, a South African–born RAF navigator and rear gunner during World War II. The propeller, which hung in Field's childhood home, came from a 1916 biplane that was made in France and later flown in England. "It is a sort of souvenir to the two plane crashes Hemingway had in the 1950s," Field says. "Also, obviously, it is in memory of my father."
While everything at Bar Hemingway has history, some traditions unfurled more recently than others. Pinned with pride in vertical display cases are the badges of police and fire departments from around the world. After the September 11, 2001, attacks, a team of New York firefighters asked the staff at Bar Hemingway to display their badges. Since then, the bar continues to receive badges from servicemen and women traveling to Paris from around the globe.
One of Field's many strengths is his ability to read people and create bespoke concoctions just for them.
Selecting a cocktail can be a daunting task. The Hemingway Star, the bar's newspaper-sized menu, is printed front and back with Field's many classics, such as the world-famous Clean Dirty Martini and the Serendipity. The latter is made with Calvados from Normandy, juice from bittersweet apples, fresh mint, and Champagne. Off menu, the options continue as Field dreams up new cocktails on a nightly basis.
"People are my total influence," he says. "It's not about the cocktail—it's about the person." One of Field's many strengths is his ability to read people and create bespoke concoctions just for them.
As we sat at our low table one afternoon, I listened, spellbound, as Field described my character reincarnated in cocktail form, an enticing vodka-infused lemon meringue tonic with yuzu juice, egg whites, and fine Siberian vodka. Indeed, this personalized service is what makes the bar—and the man behind it—stand apart.
Every detail at Bar Hemingway plays an important role in elevating a simple cocktail to something extraordinary. As a chef incorporates seasonal produce into a dish, so too does Field, as he introduces different garnishes for his drinks. There might be rhubarb in May, apricots in July, figs and horse chestnuts in October and November, or orange peels in early spring. Additionally, ladies at Bar Hemingway receive fresh flowers with their beverages; each flower is carefully selected by season and adorns the glass like jewelry.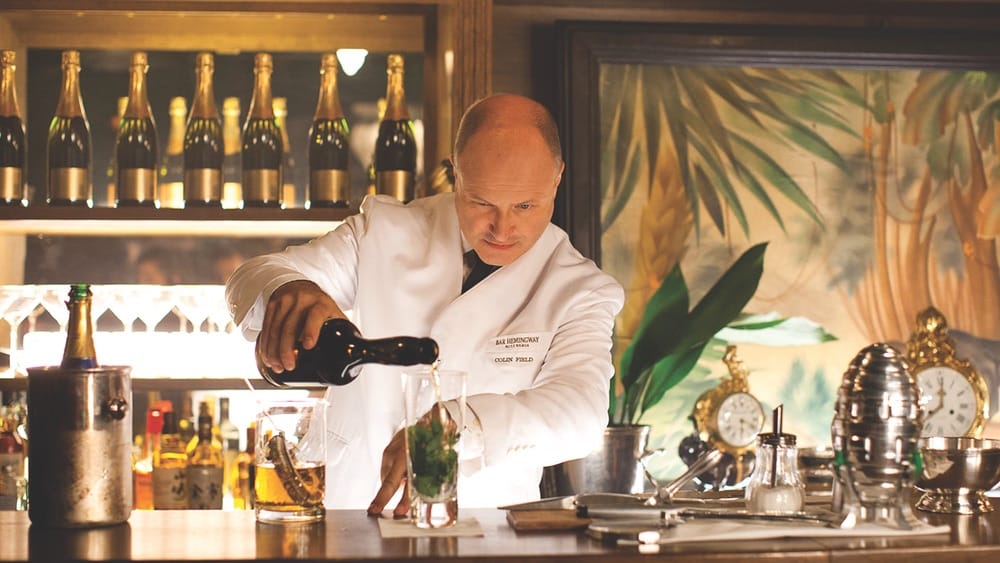 Cocktails aside, Bar Hemingway draws patrons with its old-world charm and taste of the past. It is a place that inspires elegance, indulgence, and shared conversation. "I want you to go out of the bar and say, 'I just had a good time'—that's really what we're doing," Field says.
Over the course of Field's storied career, an evolution ensued. Twenty years ago, he approached his work with the cocktail in focus; today, he wants to give his guests a more layered, sensory experience. "The cocktail is oh-so important, but it's not my raison d'être," he explains. "What I'm trying to offer is a psychological experience." For Field, storytelling is part of the allure, as is the ability to experience each drink through sight, smell, taste, and sensitivity of spirit.
He's also dedicated to changing the public's perception of his profession. In 2009, he successfully created the bartenders category in the Meilleurs Ouvriers de France and a degree program for bartenders at the Sorbonne University, a feat he calls his greatest achievement to date.
"It took a long time of talking and presenting my case for them to slowly understand that mine is a profession," he says. "If we want bartenders to be respected, then there has to be a real Ministry of Education–level diploma." Today, France remains the only country with this kind of accreditation. "Nowhere else do they have that level of not only competence but control," he shares.
While Paris will always have plenty to offer, this is a place to return to, a space to be savored and celebrated—with cocktail in hand.
In 2010, Field was responsible for adding the barman category in the Meilleurs Apprentis de France. "I think it's important for anybody who makes things that members of the public will ingurgitate to be qualified," he says. "We don't seem to really care these days; there has to be an evolution." By implementing these curricula, he has changed the dialogue and uncorked a new appreciation for the craft, though the conversation is ongoing. "Unfortunately, it's still a lighthouse covered by clouds." Despite this, Field continues raising the bar and working with the next generation through education and training.
As six o'clock looms, Field reflects on the early days of his career at Bar Hemingway. Twenty-four years ago, there were just four tables. Today, the venue is an institution with a worldwide reputation for excellence. Recently, the small sign that once hung by the entrance sold for 76,000 euros. While the sale was a testament to the bar's cultural significance, it's also telling of Field's indelible imprint on its growing legacy. "It's all a question of having confidence in yourself," he imparts.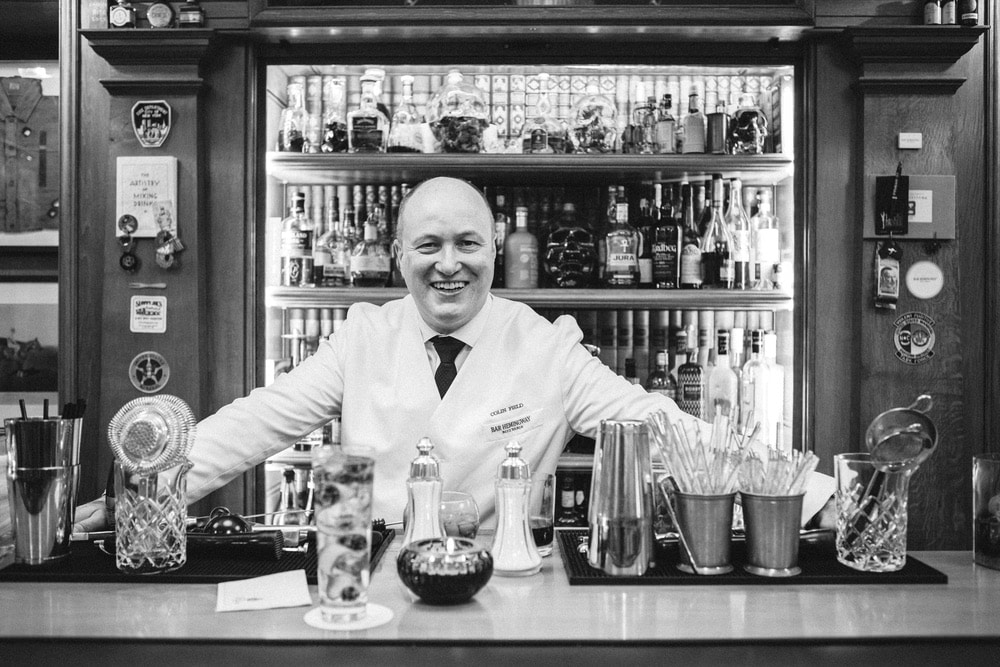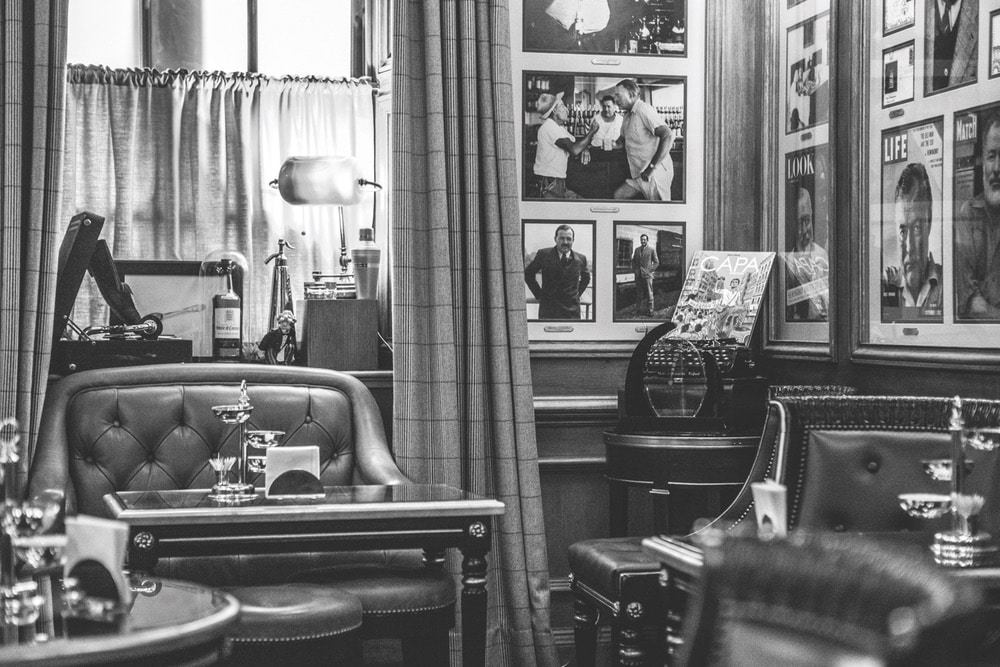 A few days after my visit with Field, I returned to Bar Hemingway with my family in tow. Behind the bar, Field was dressed in his signature white collarless jacket. In front of him, silver shakers stood like soldiers next to formations of fine stemware and tools, including stirrers, peelers, zesters, ice tongs, knives, and long, thin tweezers.
Soon after I ordered my favorite cocktail—the cucumber martini—the refreshing potion arrived at the table with a fragrant rose hanging from the coupe's lip. For the next hour, I watched as the bar opened and breathed, revealing its character like a fine wine. The longer I lingered, the more it showed itself, and the more I felt at home. While Paris will always have plenty to offer, this is a place to return to, a space to be savored and celebrated—with cocktail in hand.
— V —
---
Sallie Lewis Longoria is a Texas-based freelance writer. She has a master's degree in writing from Johns Hopkins University and is currently at work on her first novel.
ARTICLE CATEGORIES