By Sarah Freeman
"It's bewitched people for thousands of years," guide Jonathan Self tells me as we drink in the glorious Gothic skyline that's earned Oxford its "City of Dreaming Spires" nickname.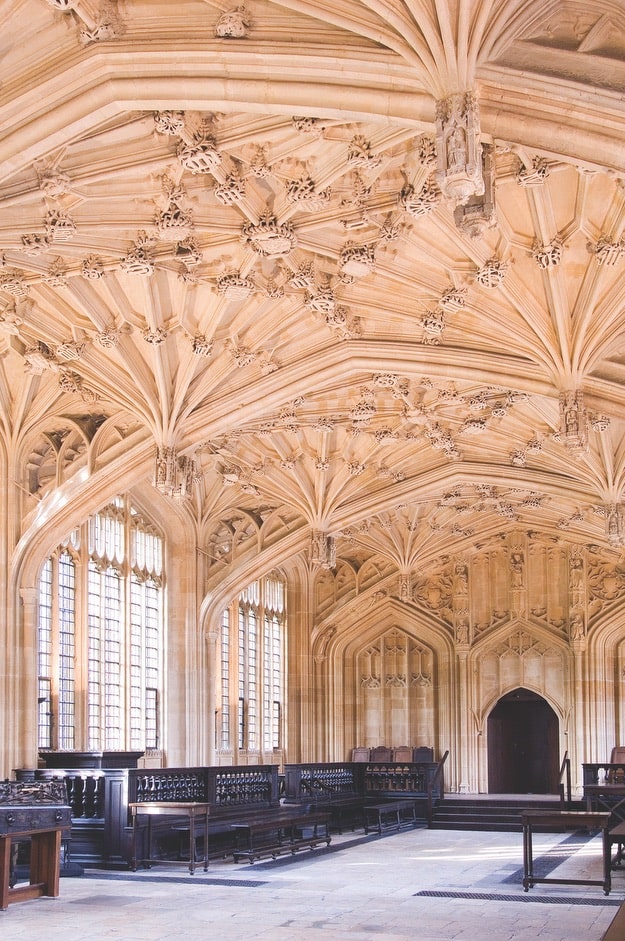 Mercifully spared World War II bombing, the historic city in southern England is best known as being home to the world's second-oldest university, where wordsmiths like Dr. Seuss and T. S. Eliot honed their craft.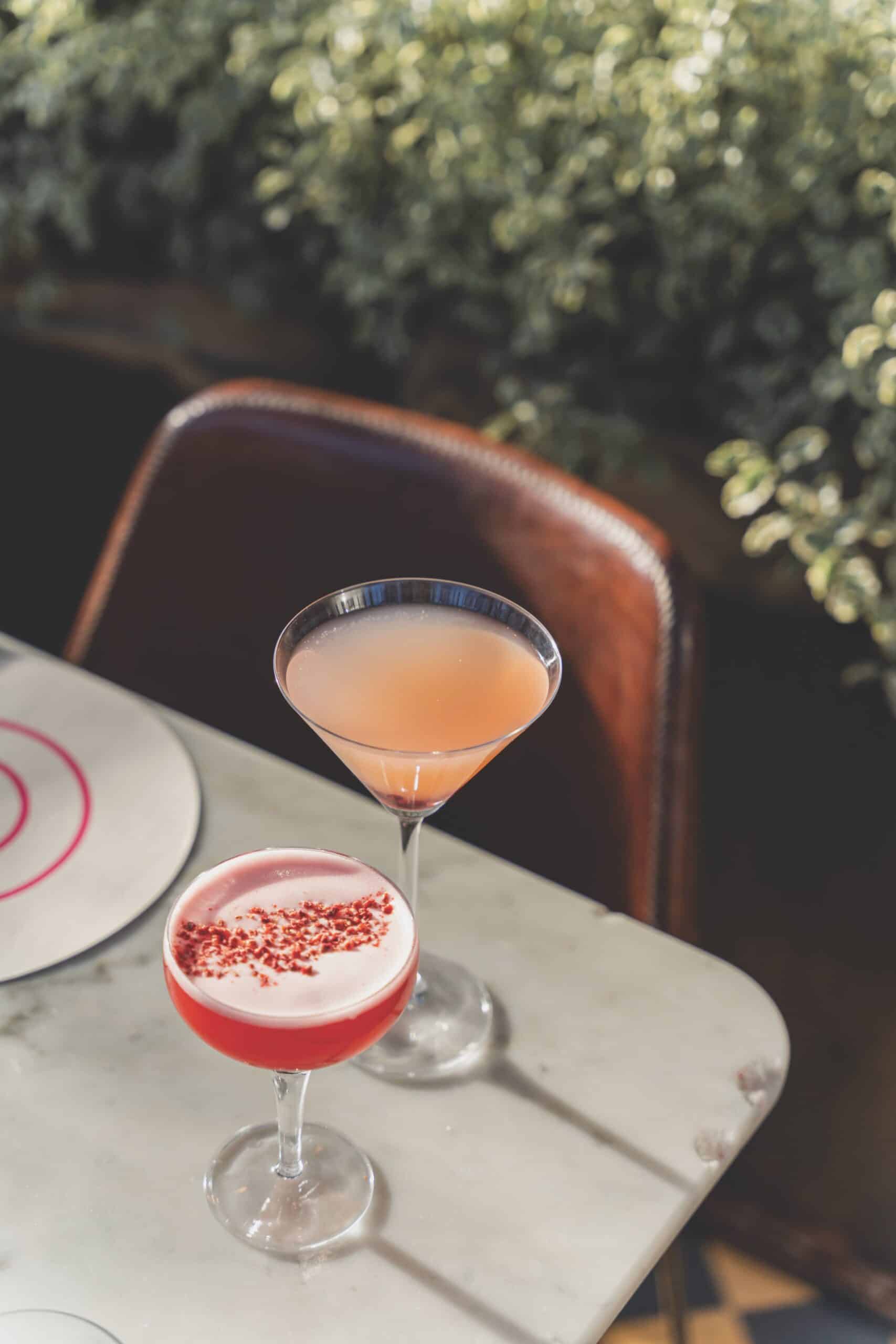 "They were the best of friends and the best of critics," Self says of J. R. R. Tolkien and fellow twentieth-century fantasy novelist C. S. Lewis, who found real-life inspiration for their mythical worlds in Oxford's landmark buildings and medieval streets. One such cobbled thoroughfare is Bath Place Alley, which we squeeze down during a two-hour excursion by Oxford Official Walking Tours, retracing the steps of some of literature's finest minds. A highlight is coming nose-to-nose with the maned lion (embellished on a wooden door, thankfully!) believed to have been the inspiration for Aslan in Lewis's classic The Chronicles of Narnia series.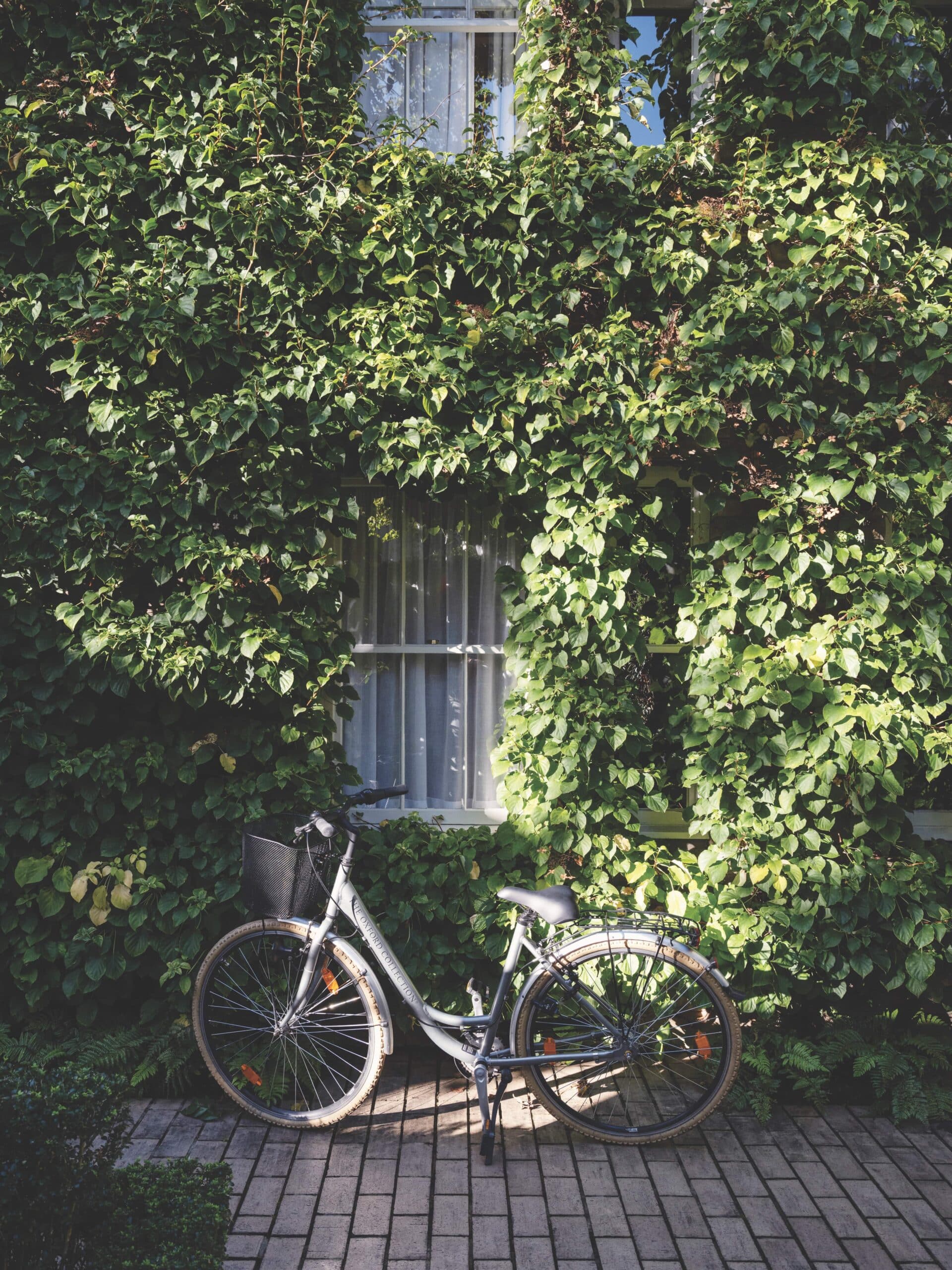 After discovering more storytelling magic in the three-mile-long subterranean shelves of Blackwell's bookshop on Broad Street, we come up for air again at New College Lane. A look-alike of Venice's "Bridge of Sighs," its photogenic skyway sits in the shadow of Oxford's domed Radcliffe Camera, which is tethered to my next storied stop via an underground tunnel.

The scent of beeswax and leather lingers in every corner of fifteenth-century Duke Humfrey's Library, the oldest reading room in Oxford's world-famous Bodleian complex. "We've turned down prime ministers' requests to take books out on loan!" tour guide Robin Lawrence tells our group in a hushed tone. Unique in being a non-lending library, students study in silence here, much the same as luminaries like Anglo-Irish playwright Oscar Wilde did before them. "Only three of the original two hundred and eighty books that Duke Humfrey, younger brother to King Henry V, bequeathed to the library line its shelves today," Lawrence continues. Among the other priceless items that survived the English Reformation—during which the Crown ordered the University to remove all traces of Catholicism—was a collection of ancient maps.
Unique in being a non-lending library, students study in silence here, much the same as luminaries like Anglo-Irish playwright Oscar Wilde did before them.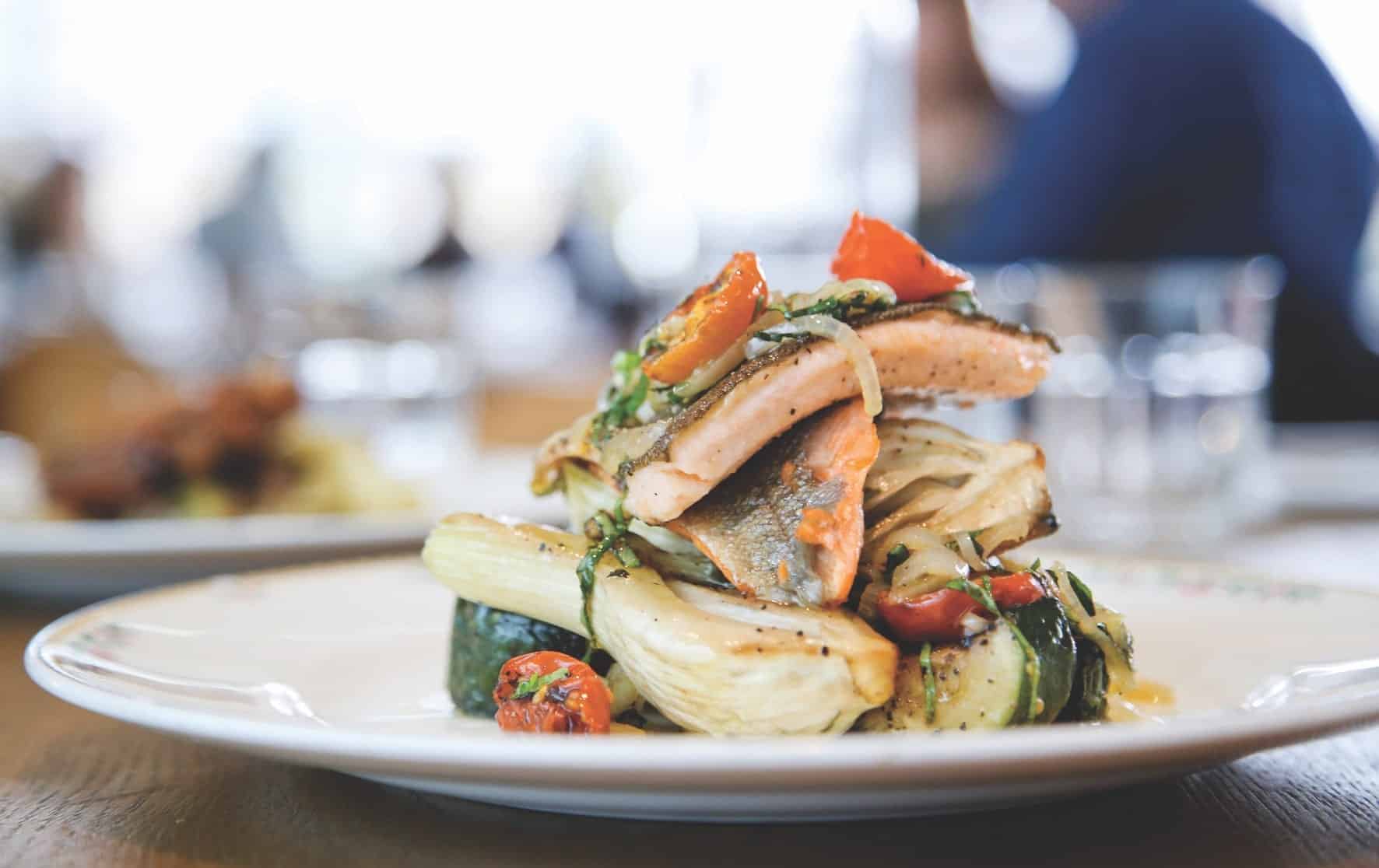 Several printed copies line the wonderfully wonky walls of The Old Parsonage, where witty Wilde briefly lodged as a student. With its 1600s stone manor house frontage lending it the look of a country retreat, it's easy to forget you're in earshot of Oxford's city center. The thirty-five-room hotel's heavy oak door leads guests into a low-slung lobby-cum-restaurant where I dine on fifty-five-day matured ribeye later that evening. I'm surrounded on all sides by local writers and artists, their twentieth-century portraits belonging to the luxury hotel's art collector owner, Jeremy Mogford. Every bit the bookish bolthole, the snug skylit library (curated by the former CEO of Blackwell's Books no less!) is where I curl up before retreating to my Scandi-furnished suite, where thoughtful touches abound. Think homemade shortbread at turndown, award-winning short stories for bedtime reading, and freshly cut flowers. Talking of blooms, scarcely five hundred meters down the road, you can lunch in a late-Victorian florist's Grade II listed glasshouse at Gees, which serves up Mediterranean plates par excellence amongst the foliage.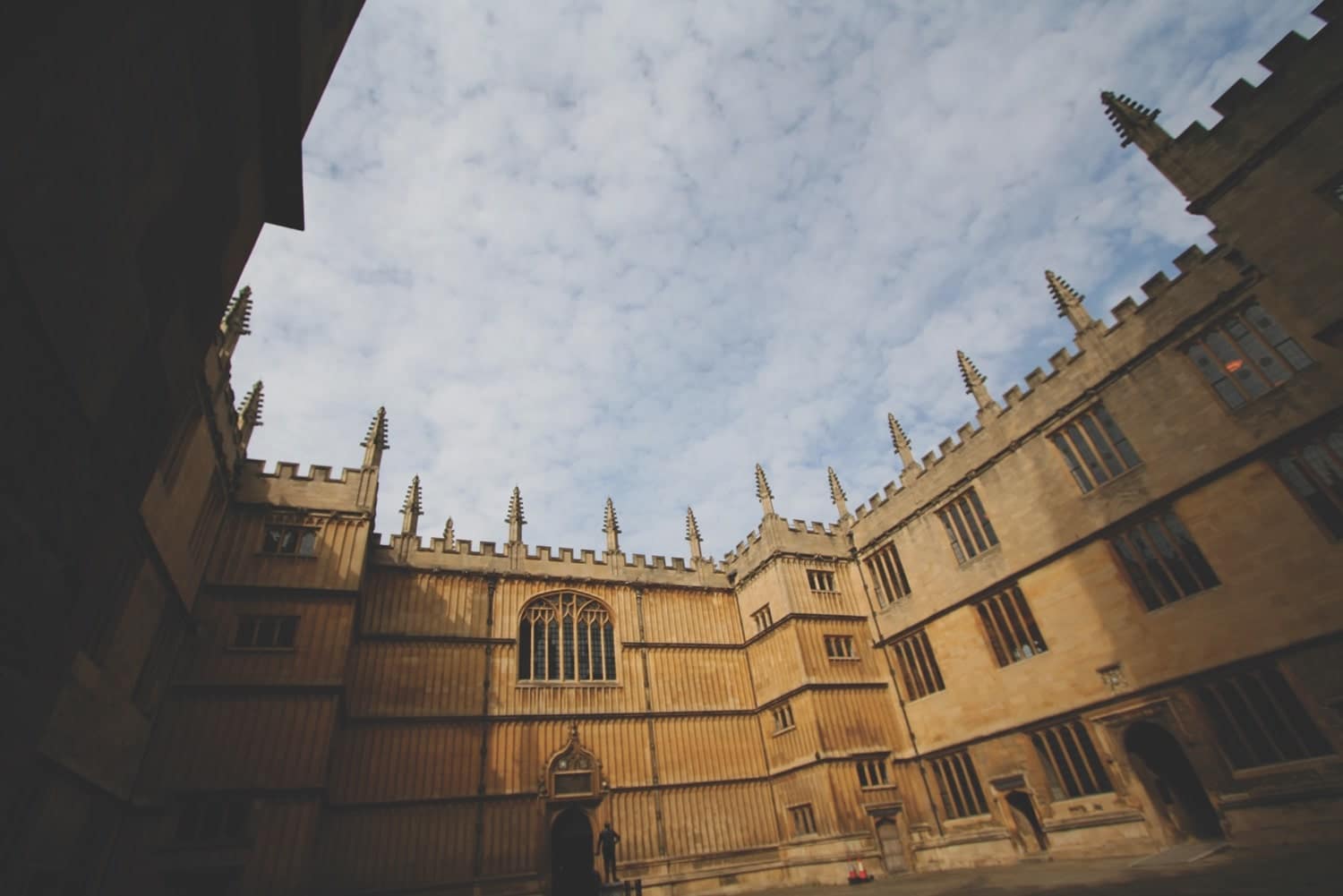 The following morning, I take my pick from the hotel's fleet of free-to-use wicker-basketed bicycles. Much like its cerebral sister city of Cambridge, Oxford is primed for two-wheeled sightseeing. I pedal past the history-steeped Eagle and Child pub on St Giles' boulevard, where Tolkien and Lewis pored over their drafts, before turning into Turl Street to visit the city's Covered Market. Home to sixty specialist shops selling everything from handmade soaps to clotted cream fudge, it's also the favorite haunt of Lyra, the free-spirited heroine in Oxford graduate Philip Pullman's famous fantasy trilogy His Dark Materials.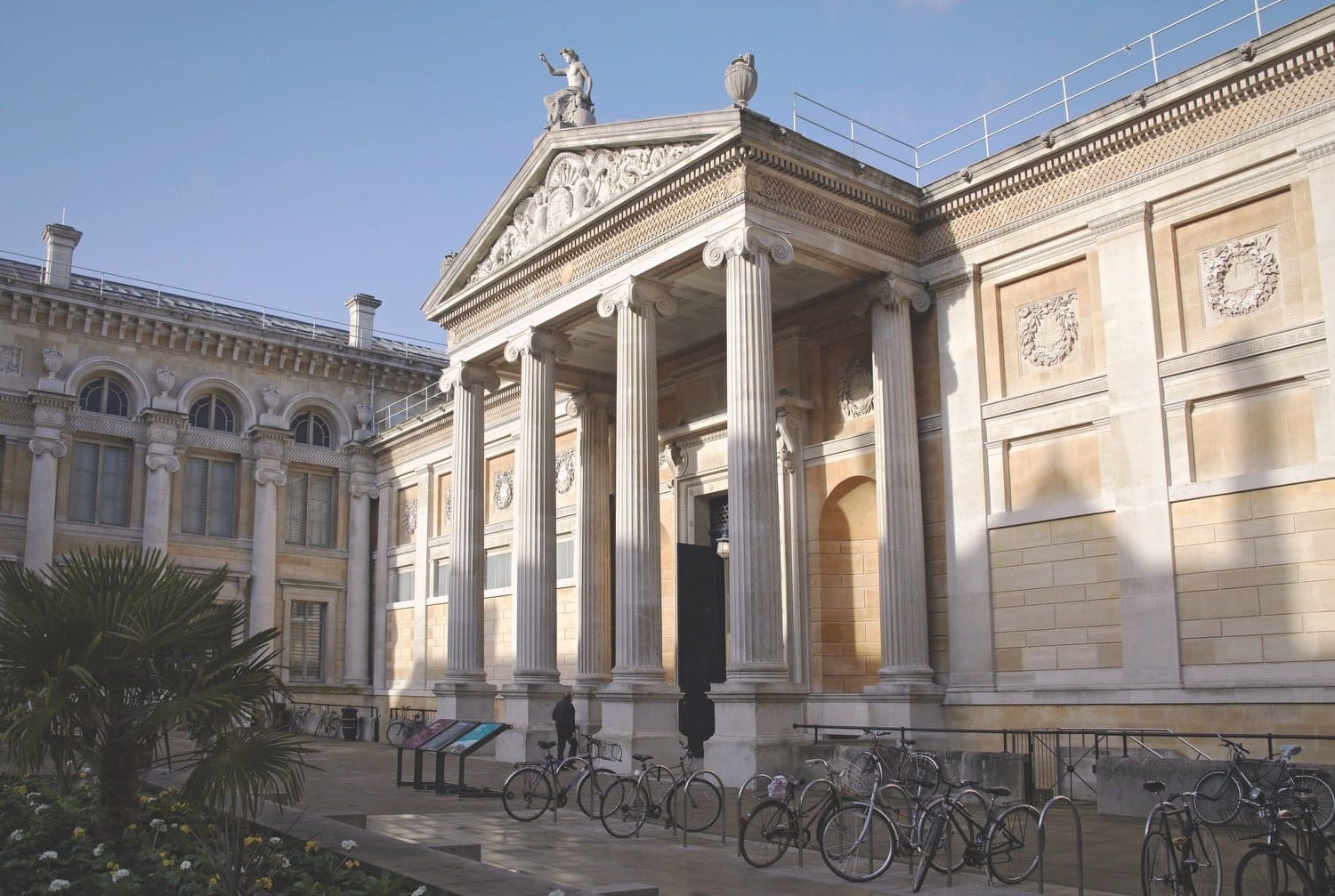 I trade its Victorian cloistered walkways for Magdalen College's wisteria-draped fifteenth-century ones, festooned with stone gargoyles, from which C. S. Lewis allegedly fashioned his frozen Narnian animals. After converting to Christianity, the author tutored here and worshiped in Magdalen's medieval chapel. Far from being stuffy, Oxford University's stately colleges, scattered across the city and greened with manicured quadrangles, are destinations unto themselves. One of thirty-four open to the public, Magdalen (pronounced Maw-dlen) invites visitors to step straight from Oxford's half-mile-long High Street into its college park grounds, where deer nonchalantly graze as they have for three hundred years.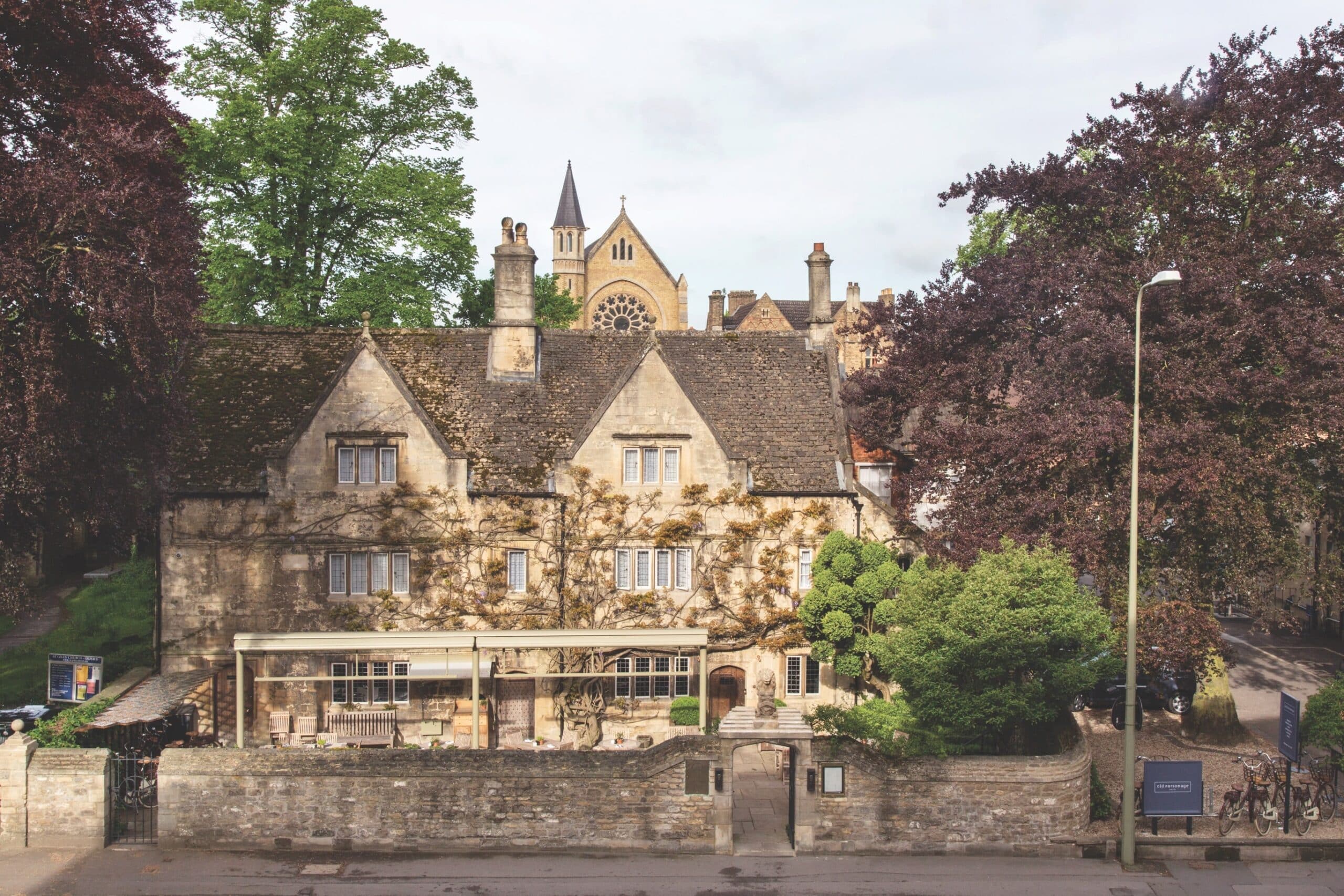 Yet another source of writerly inspiration is The Ashmolean, Britain's first public museum. Its inscribed posy ring collection (showcased on the second floor's Arts of the Renaissance Gallery) is said to have inspired the famous gold band in Tolkien's 150-million-copy-selling Lord of the Rings trilogy. Crowning its three floors of era-spanning works is a sun-trap rooftop restaurant where I tuck into a rose harissa chicken and English-grown quinoa while admiring another city stalwart—The Randolph Hotel.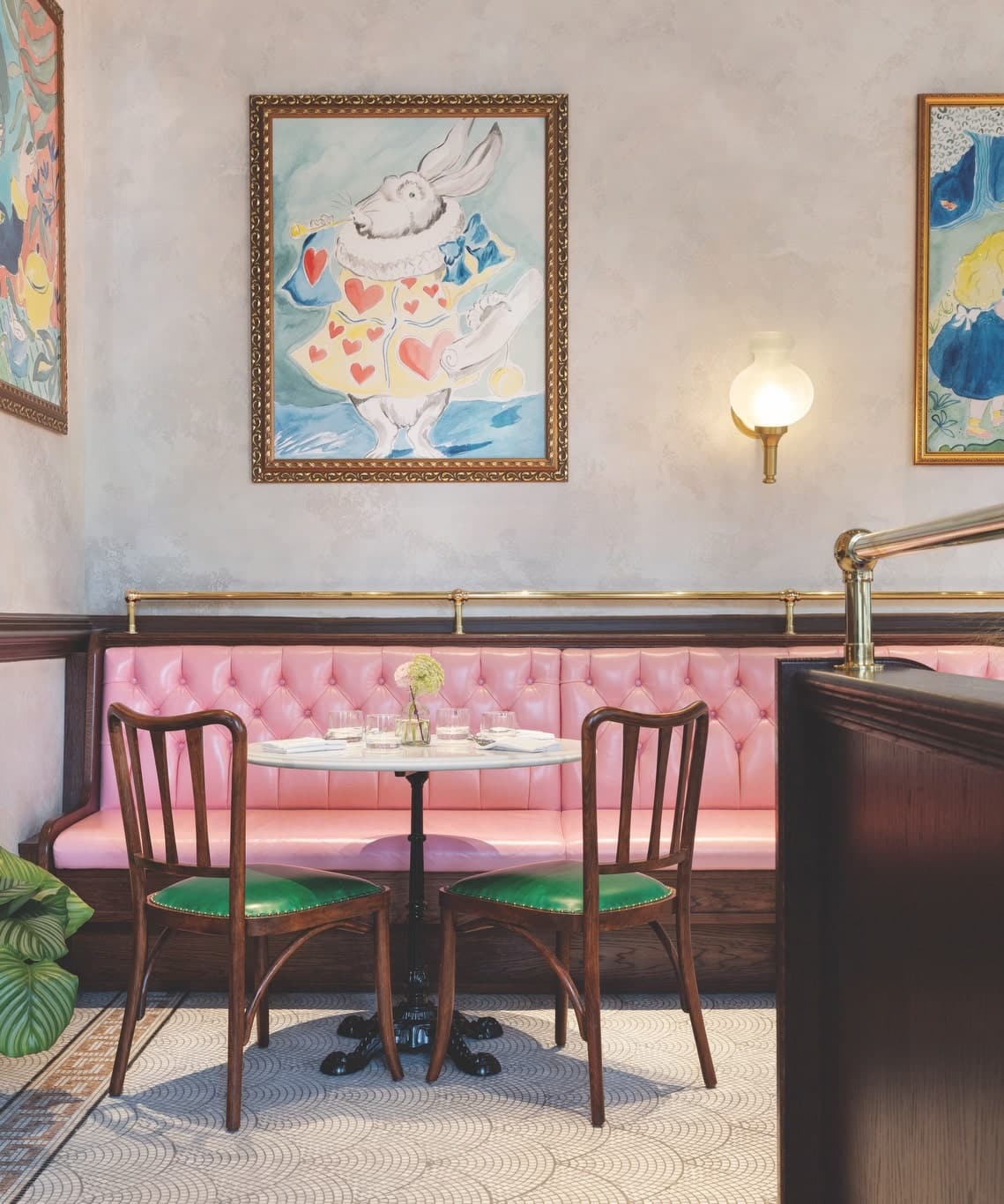 Wheeling my suitcase through the same vaulted lobby bar where crime writer Colin Dexter penned his Inspector Morse storylines has me reaching for my own Moleskine notebook! Nods to Oxford University and its famous alumni are everywhere, from the student ID-themed key cards to the college crest-adorned flags that hang over the atrium's stained-glass-illuminated, cantilevered staircase. It's one of a host of heritage features lovingly restored by the Chicago-based Graduate Hotels group when they relaunched the neo-Gothic grand dame in 2021. Splicing English maximalist interiors with on-trend granny chic, its 151 rooms have been prettified in paisley patterned wallpaper and cable knit throws, with wooden writing desks and Alice in Wonderland-styled rabbit lamps recalling the city's long-standing literary love affair.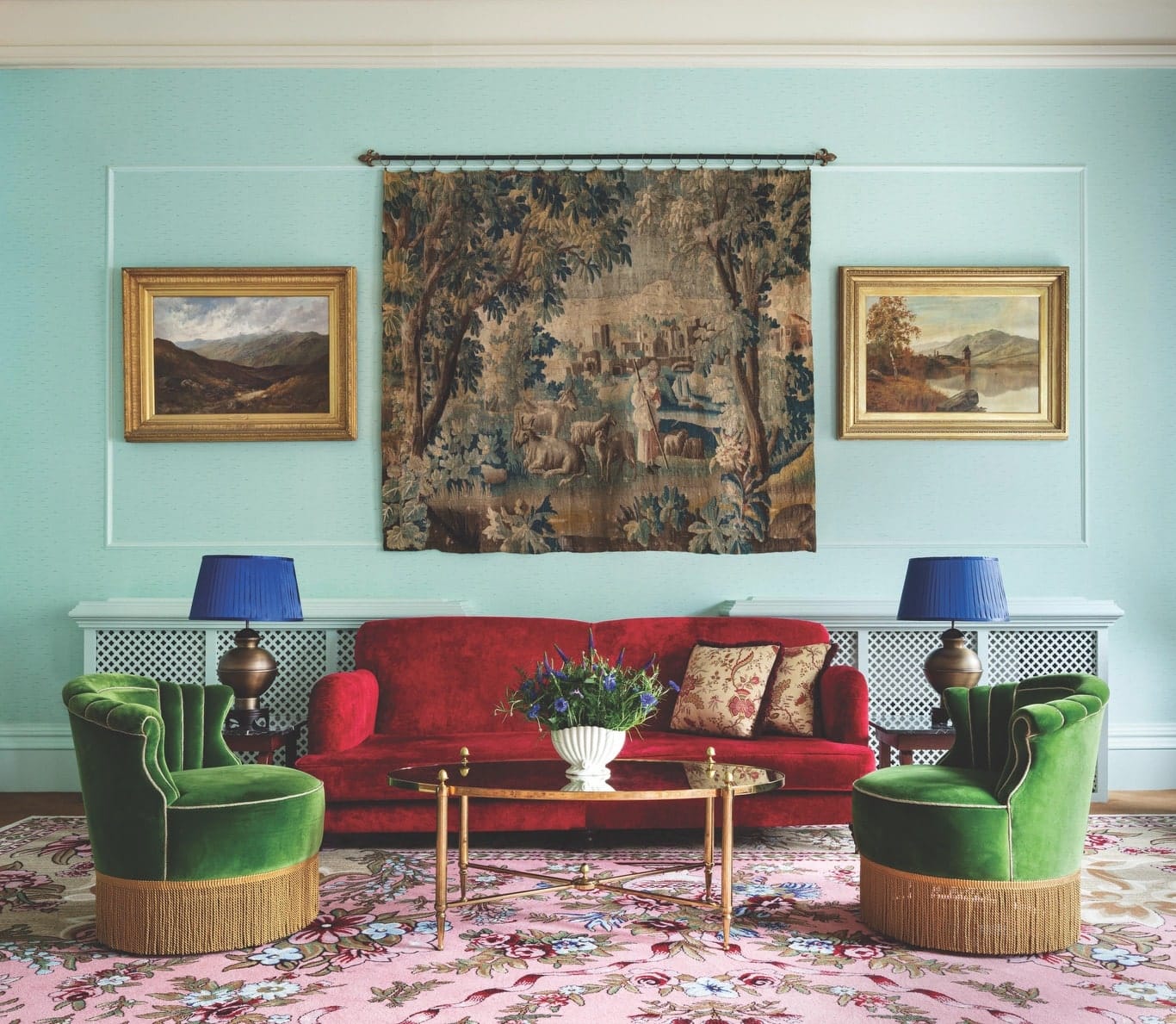 The hotel's all-day brasserie, The Alice, is an ode to Lewis Carroll's celebrated novel first published in 1865. Outfitted with Barbie-pink banquettes and paintings of Alice (the book's seven-year-old protagonist) and her eccentric friends, the interiors are as playful as its seasonally led, French-accented British fare.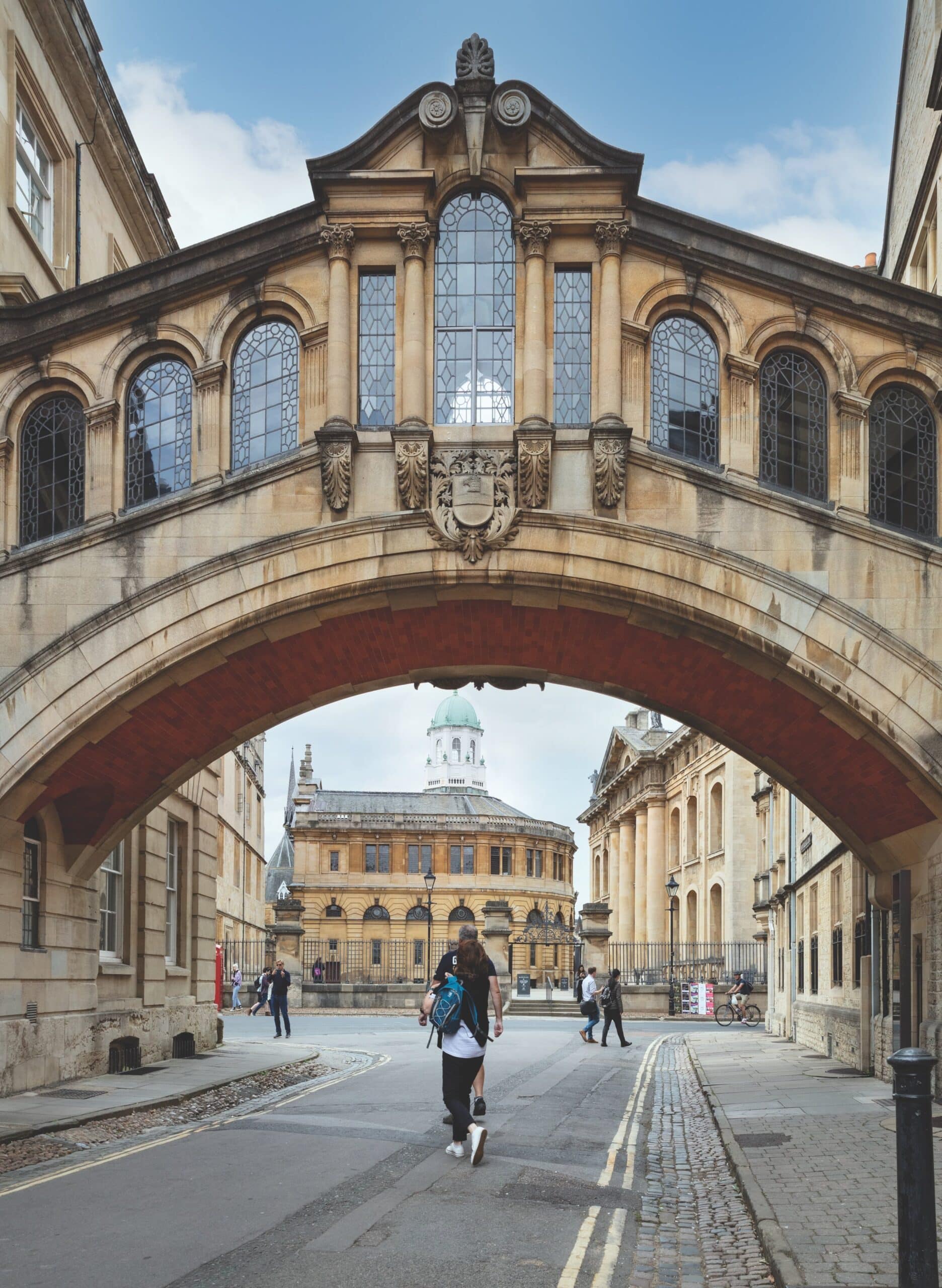 Better known by his pen name Lewis Carroll, Charles Dodgson was both student and professor at Christ Church. The grandest of Oxford's colleges, it's hewn from the city's famous Headington stone that glows golden in the early morning sun. "Charles Dodgson lived his entire adult life here," bowler-hatted custodian Robert reveals as our group shuffles inside its five-hundred-year-old Great Hall. While (almost) all eyes are glued to the hammer-beam ceiling crafted by Henry VIII's chief carpenter, I find myself fixated on the fireplace's brass firedogs, said to have inspired Alice's famously growing neck in the "Pool of Tears."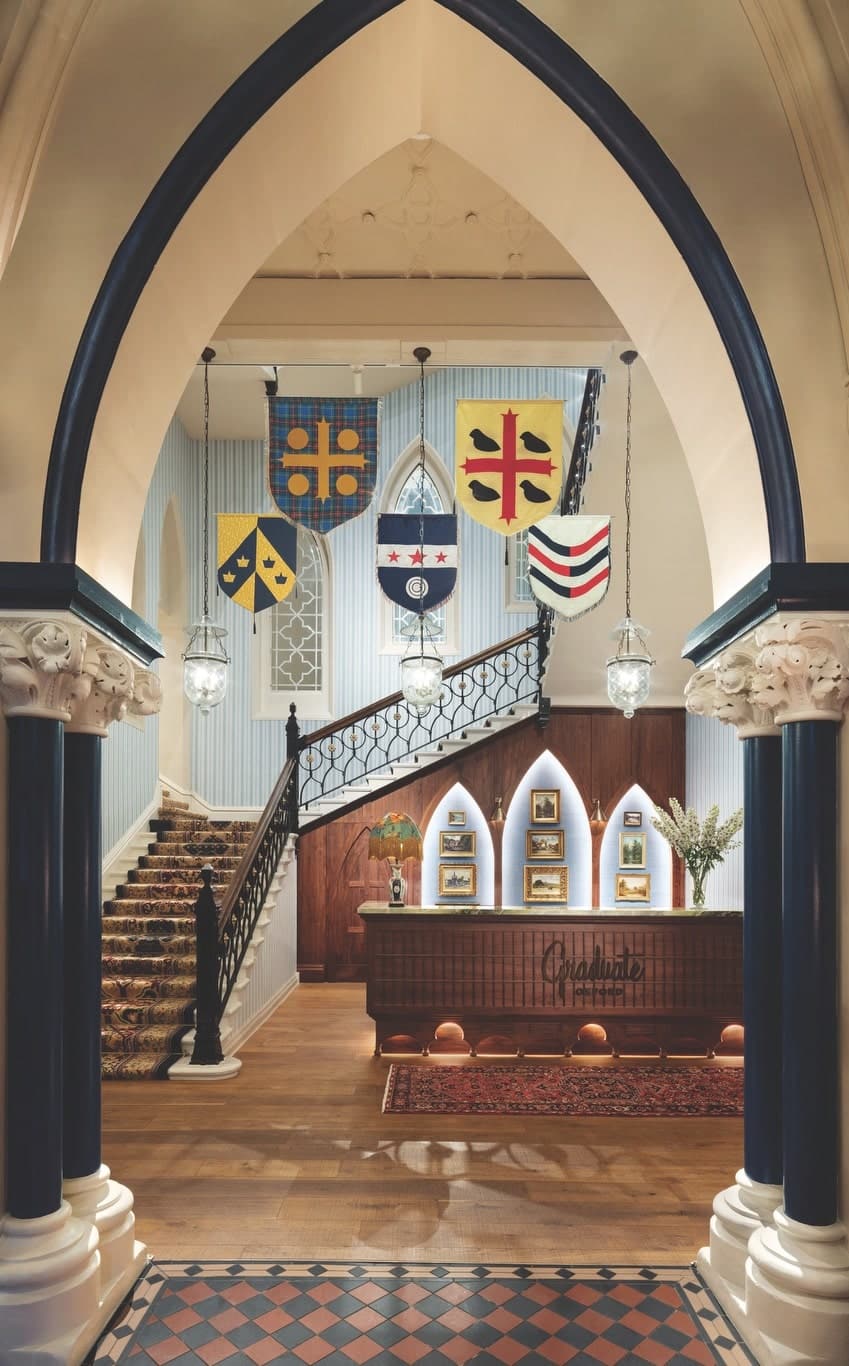 Christ Church is where Carroll befriended Alice Liddell, daughter of the college's ecclesiastical dean and muse for his famous five-book series' fictional main character. The two were regular visitors to the city's central Botanic Garden (Britain's oldest), where a life-sized sculpture of the Cheshire Cat from Alice's Adventures in Wonderland grins down at me from the bough of a gnarled tree.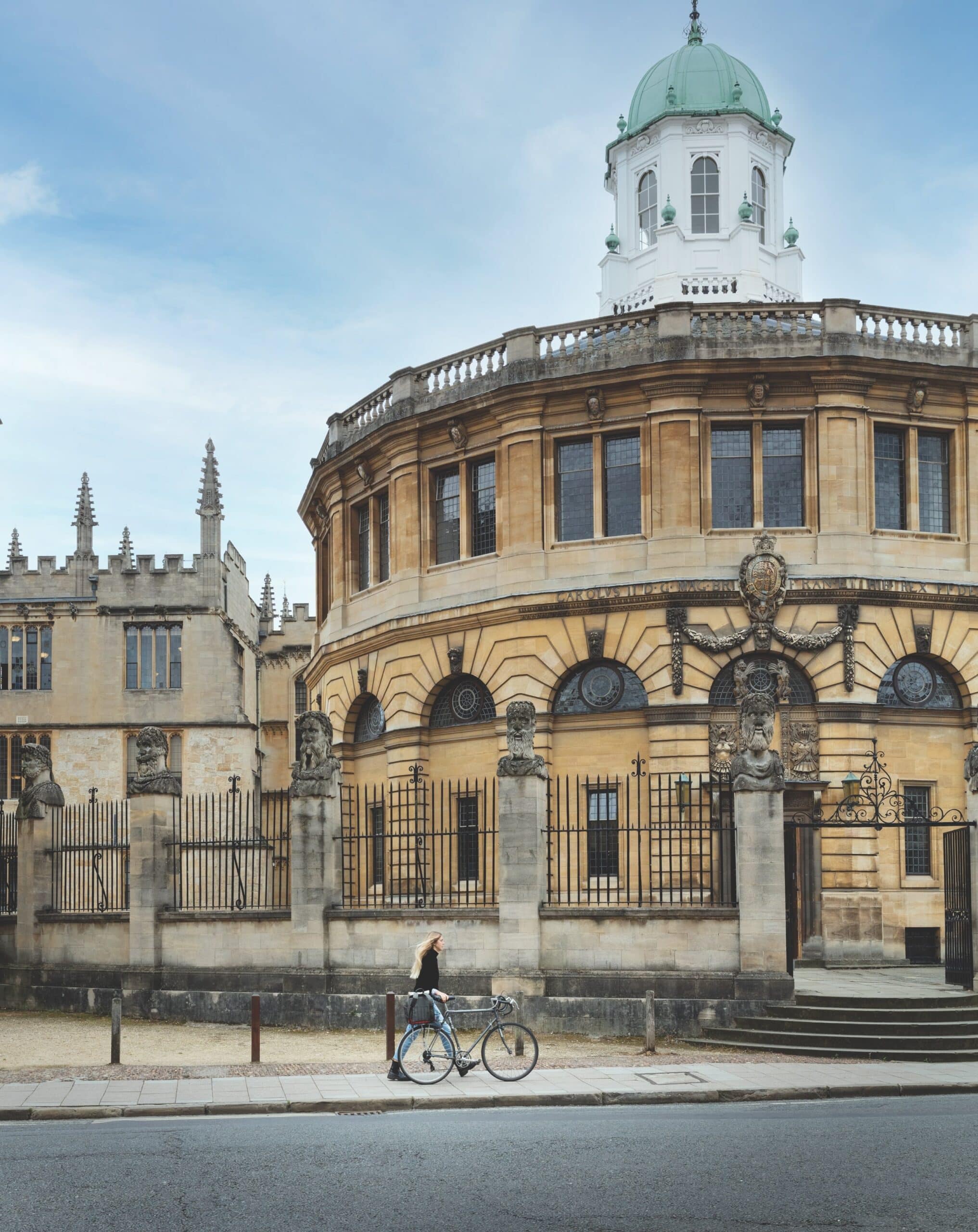 The garden is located a whisper from Magdalen Bridge, where punts (Oxford's answer to Venetian gondolas) depart daily along the bucolic River Cherwell. A 150-year-old Oxfordian pastime, punting remains as popular as ever. In the absence of a gondolier, I take a brief lesson in how to propel the boat with a sixteen-foot metal pole before plying the Cherwell's weeping-willow-kissed waters. My hair ruffled in the gentle breeze, I snake one mile downstream through Christ Church's idyllic wildflower meadows, resolving that I, too, have fallen under the city's spell. Somewhat paradoxically, my Oxford story ends where the Cherwell empties into the Thames and the scene-setting stretch of river in Alice's Adventures in Wonderland begins.
— V —
---
There are excellent public transport connections between London and Oxford, with coach journeys taking 1 hour 30 minutes and trains averaging 1 hour 15 minutes (each way). For further travel information on what to do and where to stay, shop, and eat in Oxford, visit ExperienceOxfordshire.org. 
ARTICLE CATEGORIES