Cruisin' Central Coast Wine Country
By Anthea Gerrie
It was the cult movie Sideways—boys on a stag week in the glorious vineyards of the Santa Rita Hills and Santa Ynez Valley—that first shone the spotlight on fantastic California wine being made as far south as Santa Barbara. You could visit the wineries then, and you can see even more of them now, by appointment, at the start of a delightfully sybaritic week driving north from Los Angeles to San Francisco.
But as it progresses, this trip is about feasting the eyes even more than tantalizing the taste buds. The hit TV series Big Little Lies showcased the scenic shoreline of Monterey County along the thundering Pacific as its heroines crisscrossed the iconic Bixby Bridge. It's a key landmark on California State Route 1, considered America's most beautiful coastal highway. Great wine is made here, too, in the hinterlands where the rolling green valley meets the cooling ocean mist to produce the state's most exquisite chardonnay and pinot noir. Add in the intervening wine country of Santa Maria, San Luis Obispo, and Paso Robles, then join the dots on the map. Now you have a road trip made in heaven along a route that—like the award-winning vintages whose labels reflect its geography—has come to be known as the Central Coast.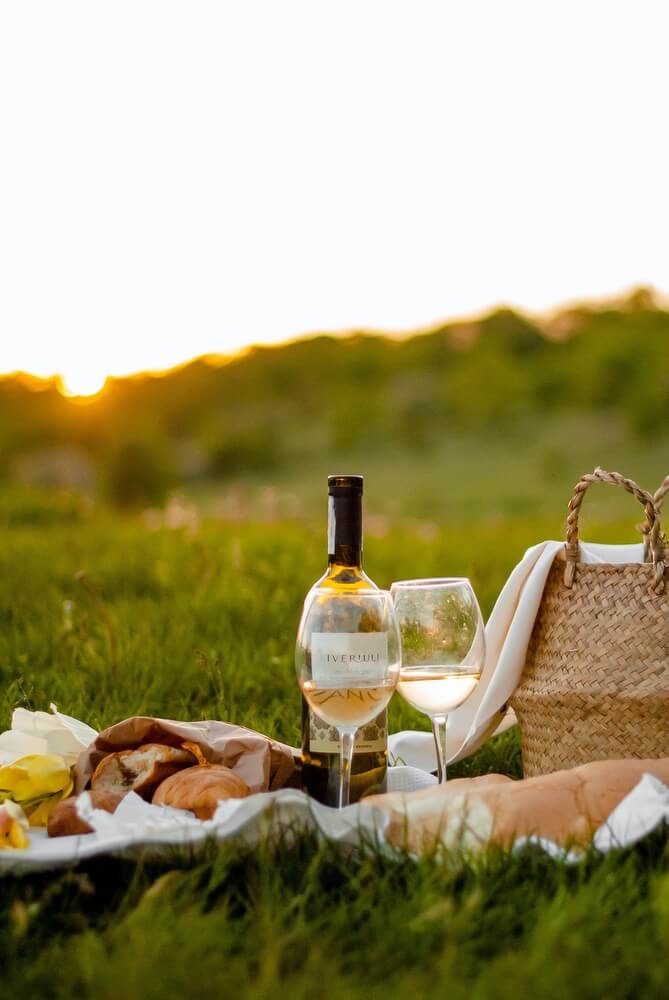 A great place to start a culinary tour is Los Olivos, the tiny but cute country town less than an hour north of Santa Barbara where the Sideways friends and lovers feasted and flirted. The great date-night dinner they enjoyed looks like the stuff only found in movies, but the Los Olivos Wine Merchant & Cafe is a real restaurant serving delicious food from its organic farm, washed down with bottles from its Bernat vineyards. Owners Shawnda and Sam Marmorstein are among the few California growers of the Sangiovese and Nebbiolo grapes so prized in Italy, and they keenly showcase Central Coast wineries. This is the place to eat beautiful local salads—but don't miss the exquisite appetizer featuring a mélange of seven varieties of green, black, and purple Mediterranean olives generous enough to feed four, with an order of homemade focaccia.
This trip is about feasting the eyes even more than tantalizing the taste buds.
Another reason to visit Los Olivos is the tasting room of the Bien Nacido and Solomon Hills Estates. It's worth the trip just to sip Solomon Hills chardonnay, a personal favorite from this winery group, whose chardonnay grapes also go into its outstanding rival, the much-acclaimed Au Bon Climat.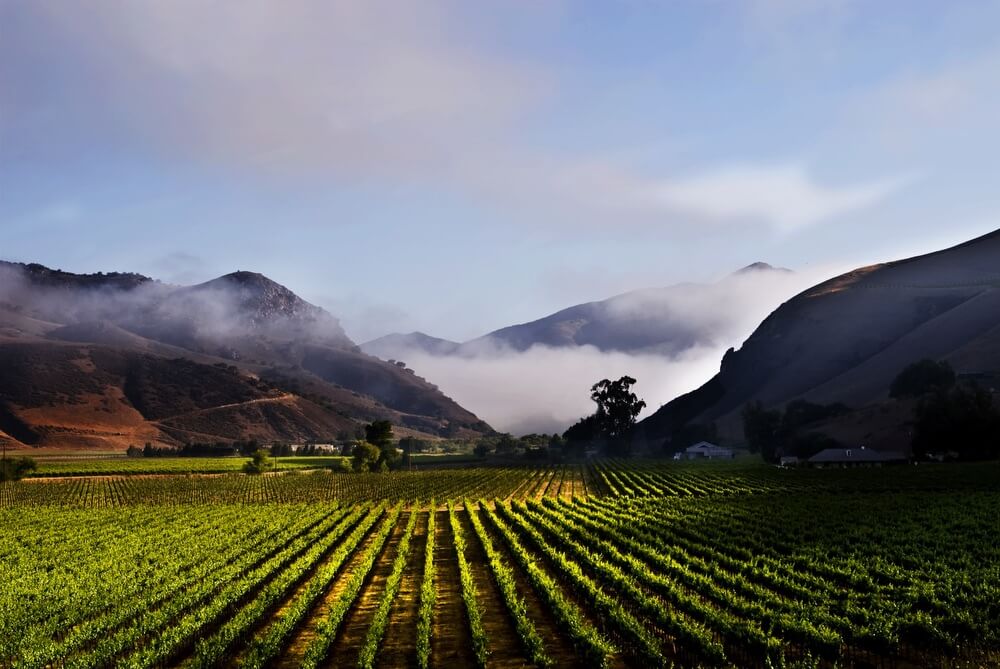 Before thinking of following your lunch with a tasting and moving on, note the café at Los Olivos is not the only restaurant in Sideways worth a stop on a real-life road trip. At The Hitching Post II, a longtime hangout of the film's writer, the area's great local pinot noirs are debated in the movie. Indeed, this pinot-focused eatery does field a fabulous tasting flight of the best, including its flagship Highliner and the divine Fiddlestix from Lompoc. But what the cameras don't see is the amazing food—superb steaks grilled over an open oakwood fire alongside huge artichokes and melting heads of garlic, with a bitter chocolate tart for dessert that perfectly complements the pinot. This roadhouse is as rustic and raucous as Los Olivos is refined, but it's lots of fun, especially for a group.
The adjacent towns of Buellton and Solvang, founded by Danish settlers, make an obvious base for both The Hitching Post II and Los Olivos, and you can get authentic Danish pastries in one of their bakeries for breakfast. But a much more special sleepover choice is the Santa Ynez Inn, in the eponymous peaceful hamlet just a few minutes drive from both dining destinations. The interiors have a Victorian feel, and outside, a lovely garden is perfect for sipping local wine during the daily pouring hour. Plus, guests get tasting passports offering complimentary tastings at more than twenty local wineries.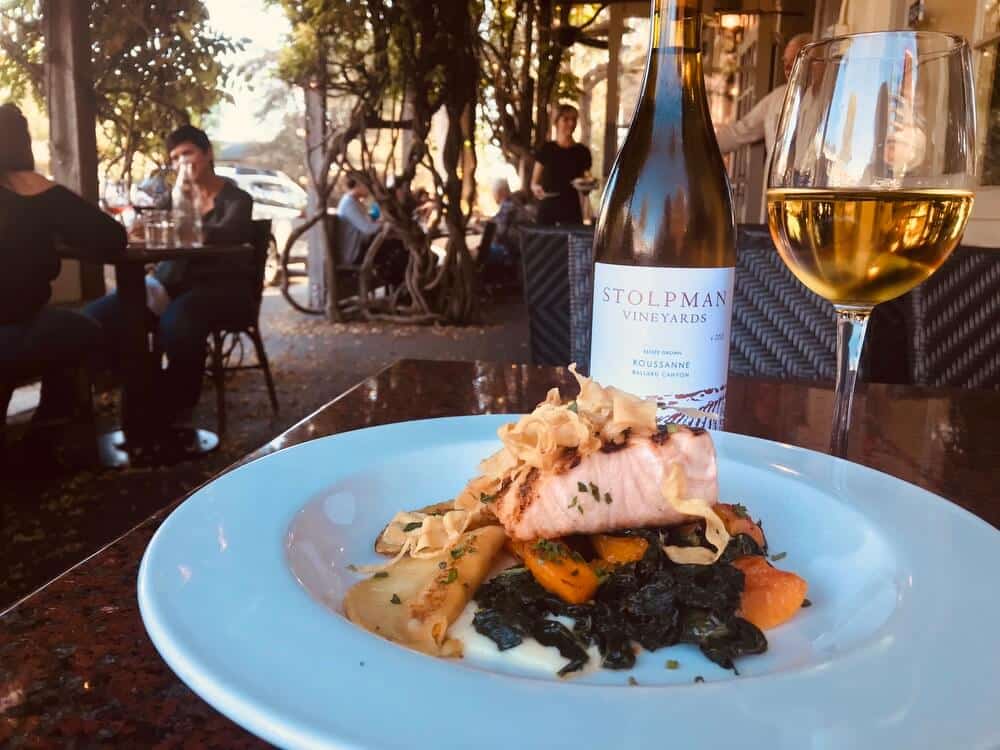 For many, the logical next stop north is San Luis Obispo, where US Highway 101 meets State Route 1. It's such a quick segue from valley to coast that for years, turning off here stopped me from discovering California's best-kept secret that no wine aficionado should miss. While San Luis Obispo County does produce fine chardonnay and pinot noir in the Edna and Arroyo Grande valleys, Paso Robles, a little further up the 101 and connecting with Route 1 via a safe and scenic canyon highway, is the home of highly successful experimentation with Syrah and other grapes native to Franc's Rhône Valley—and it's a great place to stay.
For such a small, sleepy town, Paso Robles has more than its fair share of fine restaurants—including one boasting a Michelin star—and two delightful boutique hotels. We stayed at the charming Stables Inn, a chic motel that Travel & Leisure voted one of the world's best new places to stay. At Les Petites Canailles (translation: young rascals), we feasted with locals in a deceptively casual, wood-floored room on authentic French bistro favorites like steak tartare and tarte flambée, prepared by Julien, who moved back from France to California, where his folks make wine—so expect a great selection of the region's finest bottles. Not to be missed is the Paris-Paso pistachio-scented dessert based on old-world patisserie favorite Paris-Brest.
The joy of wine tasting in Paso Robles is that wineries are so concentrated there's no shortage of drivers available to facilitate tasting tours around a handful of the best. Given time to visit only one, I would opt for Tablas Creek, cofounded by the great Rhône estate of Beaucastel. The term Rhone Rangers has been given to the talented Californians doing great things with grapes of that French region, notably Syrah and the fragrant, floral Viognier. Tablas is a long, gorgeous stretch up Adelaida Road to just after the turnoff that connects with State Route 46, the canyon road leading to the coast, and its tasting flights are served in a beautiful garden. Or bring back a bottle to the fairy-lit courtyard of the Stables Inn and enjoy it before dinner in Adirondack chairs set around a fire-pit beneath a giant oak tree.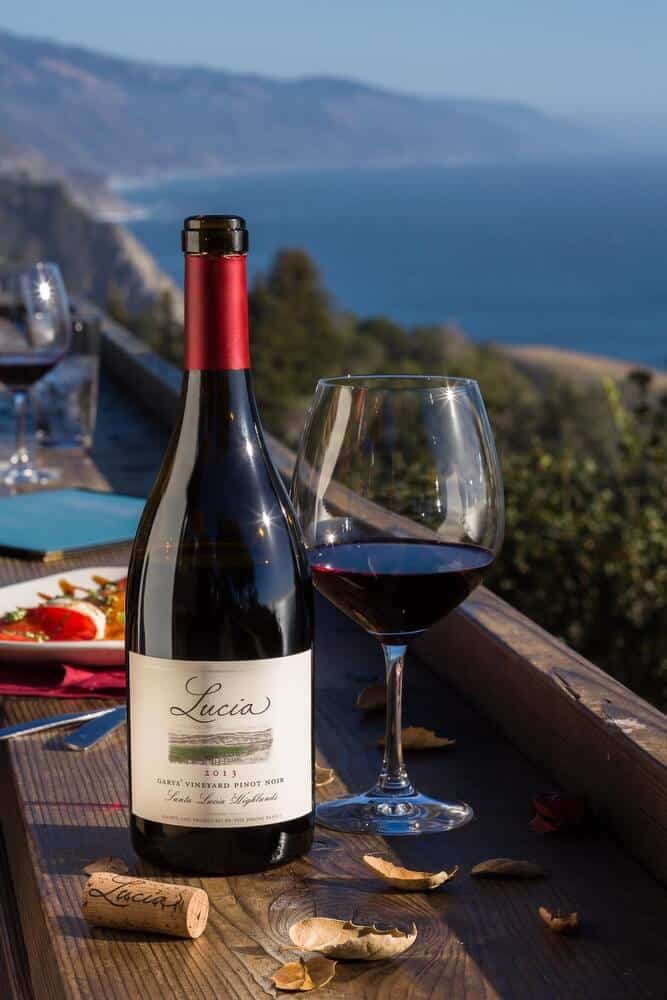 If it's hard to believe the best is yet to come, that claim will be proven the following day on arrival at Nepenthe. It might be the most life-affirming and joyous restaurant in the loveliest location imaginable—atop a cliff in legendary Big Sur, a two-hour drive from Paso Robles. Founded in 1947, Nepenthe is still a family affair. The latest generations have formed a close relationship with the Lucia and Pisoni vineyards just over the ridge in the Santa Lucia Highlands, which also receive visitors by appointment. "I love heading to Big Sur for a hike through the redwoods and then up the hillside for gorgeous views of the California coastline," says Mark Pisoni, who calls Nepenthe "one of my favorite spots in the world." The restaurant has responded by designating Lucia its house wine.
Nepenthe is a place to go for a very long lunch—it's hard to beat the combination of their signature ambrosia burger with a glass of pinot noir on a deck for which it's worth waiting on seats. Watch the blue jays ducking and diving among the pines—and maybe stay for a roast chicken dinner cozied up around the indoor fireplace. You never want to leave this place of dreams, and it's just a shame it doesn't have guest rooms. Lodging options nearby include legendary Big Sur resorts Ventana and Post Ranch Inn, while Deetjen's Big Sur Inn, a relic of the area's hippie days, offers rooms at less eye-watering prices and a touch of authentic 1960s funk.
Whether you stay overnight or continue, you must make a final stop on the magnificent Monterey Peninsula just forty-five minutes north of Big Sur. Designated drivers should get going in time to see the iconic Bixby Bridge—beneath which otters frolic—by daylight before making the crossing. Monterey is a working town with a world-class aquarium on Cannery Row, awash in plenty of John Steinbeck-era atmosphere. Restaurants with decks overlooking the bay abound, but for more refined cuisine, diners head three miles south to the impossibly pretty seaside town of Carmel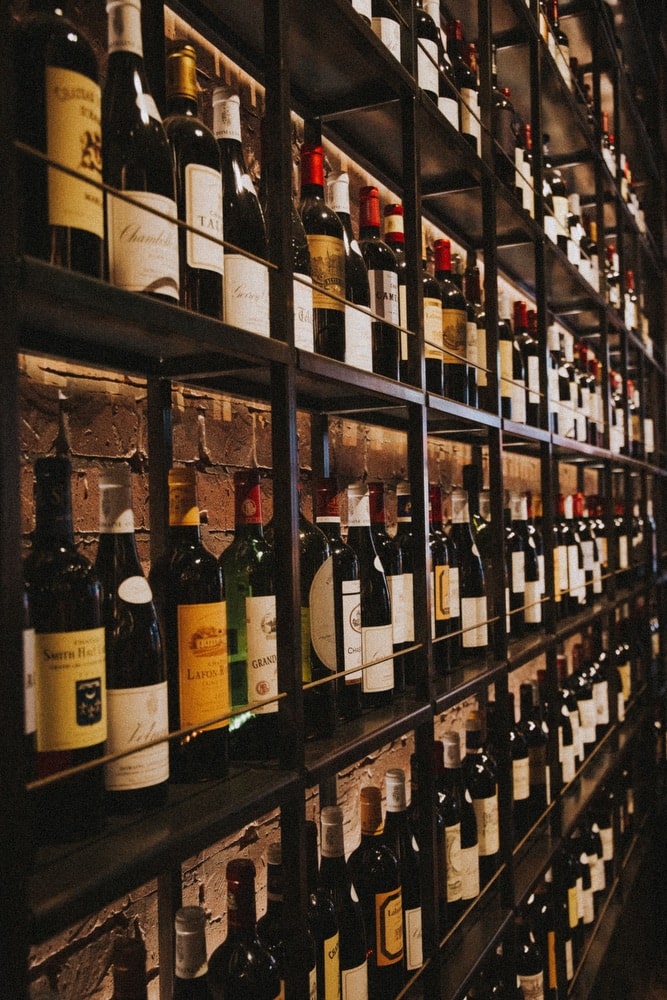 Long established as a resort town, Carmel-by-the-Sea's oldest hotel, where we stayed, was built in 1899. Pine Inn might seem a tad old-fashioned, but we enjoyed the formal Victorian lounge, the luxury of a walk-in closet, and the glimpse of the ocean most lodgings in town don't offer. There's no better way to start a Carmel morning than wandering down to the broad silver-sand beach overlooked by cypresses, then heading back up Ocean Avenue to grab coffee and cannoli from a local bakery to fuel some covetable window-shopping.
A ritzy place to stay with some very fine wines is Bernardus Lodge & Spa in Carmel Valley, where many of the resort's tasting rooms, including Bernardus's own, are based. We enjoyed elegant dining on the terrace of their Lucia Restaurant, along with a tasting of the first cabernet sauvignon and traditional Bordeaux blends we had experienced on the Central Coast—the award-winning Marinus from Bernardus is a showstopper.
While you can reach San Francisco International Airport in only two hours from the Monterey Peninsula and San Jose Airport in even less, consider a final tasting stop in Santa Cruz. The surfing capital is now known as much for its wines as the waves. Craft breweries and a long run of boardwalk-fringed beaches have made Santa Cruz a favorite among spring breakers. This is another place to sample good cab sav, chardonnay, and the rare malvasia white rarely seen outside eastern Europe—taste all these varietals at Birichino's sidewalk tables.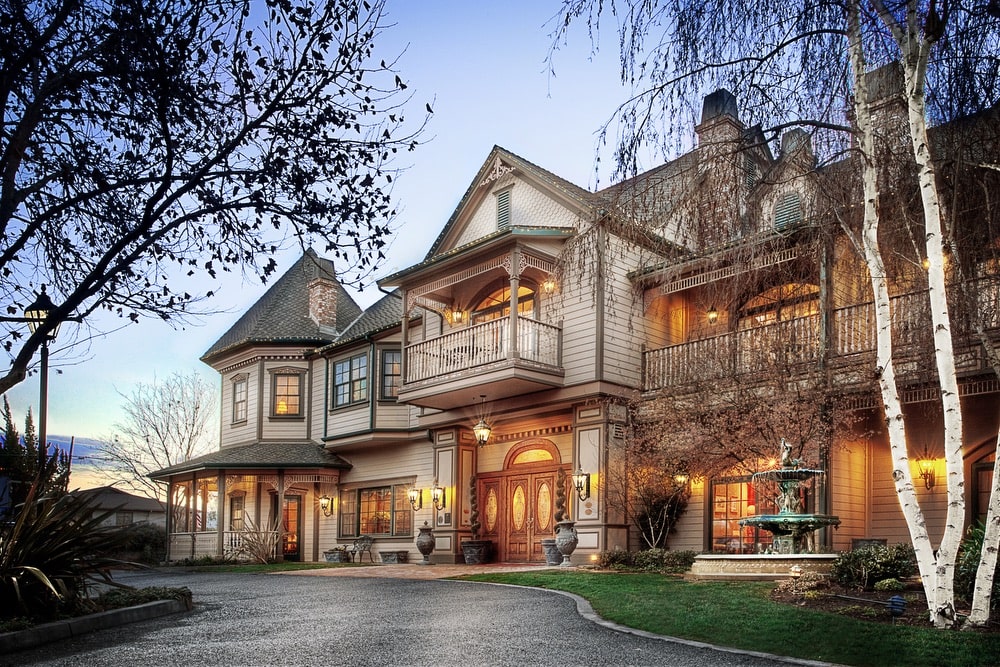 Santa Cruz is the northernmost of the six counties that make up Central Coast wine country (thanks to the talent of viticulturists, the region now spans virtually the whole West Coast territory between Los Angeles and San Francisco). It's a journey truck drivers make in a single day by freeway, but for anyone who loves beautiful scenery, fine wine, and romantic restaurants, this California coast odyssey really demands a week to celebrate all the highlights of the culinary road trip of a lifetime.
— V —
---
Find more information and start planning your road trip at VisitCalifornia.com/experience/central-coast-wine-experience-country, SeeMonterey.com, and SolvangUSA.com/wine-country/sideways.
ARTICLE CATEGORIES