By Sallie W. Boyles | 
Photography by Adrienne Battistella
Shortly before Olesya Ianovitch was born, her mother, living in what was then a remote part of the Soviet Union, took a trip to the small mining town of Maikain, now part of Kazakhstan. "She wanted to give birth to me in a place that was special," the artist explains. Apparently, the ground there glistened with little flecks of gold. Considering Olesya's affinity for sparkles and abundance, exemplified in her artwork and amplified through her personality, destiny was surely at play!
An optimist with a tune of laughter in her voice, Olesya looks back on her childhood and contrasts the "beautiful world" she interpreted in her mind with certain realities of Soviet life. "There wasn't much color or many flowers in the shops," she recalls. "The stores were minimalistic. Maybe I started to create abundant images because I was visually lacking something growing up." Quite naturally, then, as someone who gets "really excited about color and simple things" and wants "to spread joy and happiness everywhere," Olesya fell in love with painting.
She first asked for brushes when she was only three years old. Unfamiliar with the nuances of different media, Olesya's mother fortuitously purchased oils. "She didn't know," says Olesya, "but the rawness and texture of oil—its realness—makes it the best." Oil remains her preference, and painting still captivates her like a charm. As a child who often bounced from one thing to the next, Olesya says, "I was painting for hours and hours."
Those periods of getting lost in her paintings endure, and they happen organically. "When I paint," Olesya divulges, "I want to be open and convey the energy that I carry. Colors express a state of mind, so the days I feel affected by something—maybe stress over a business decision—I will not pick up a brush. I keep each session so pure and dedicated that if the paint is not going on the right way, if it's not flowing, I let it go and wait and do something else. Time does magic. It always does, and it always works."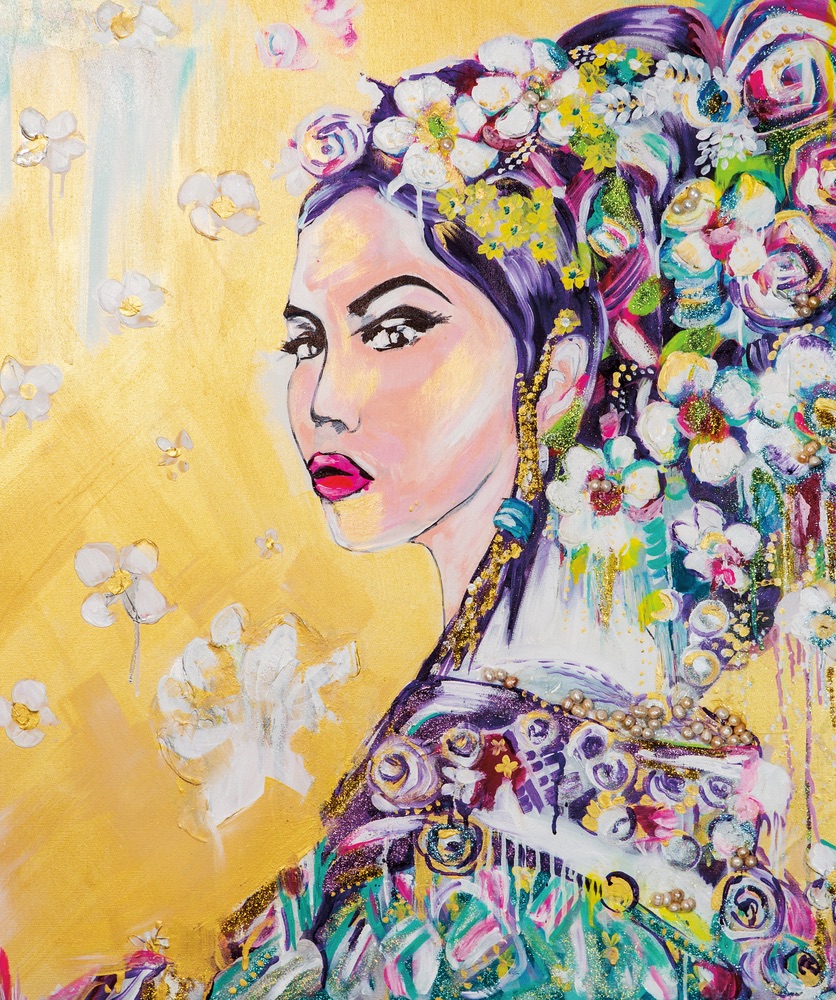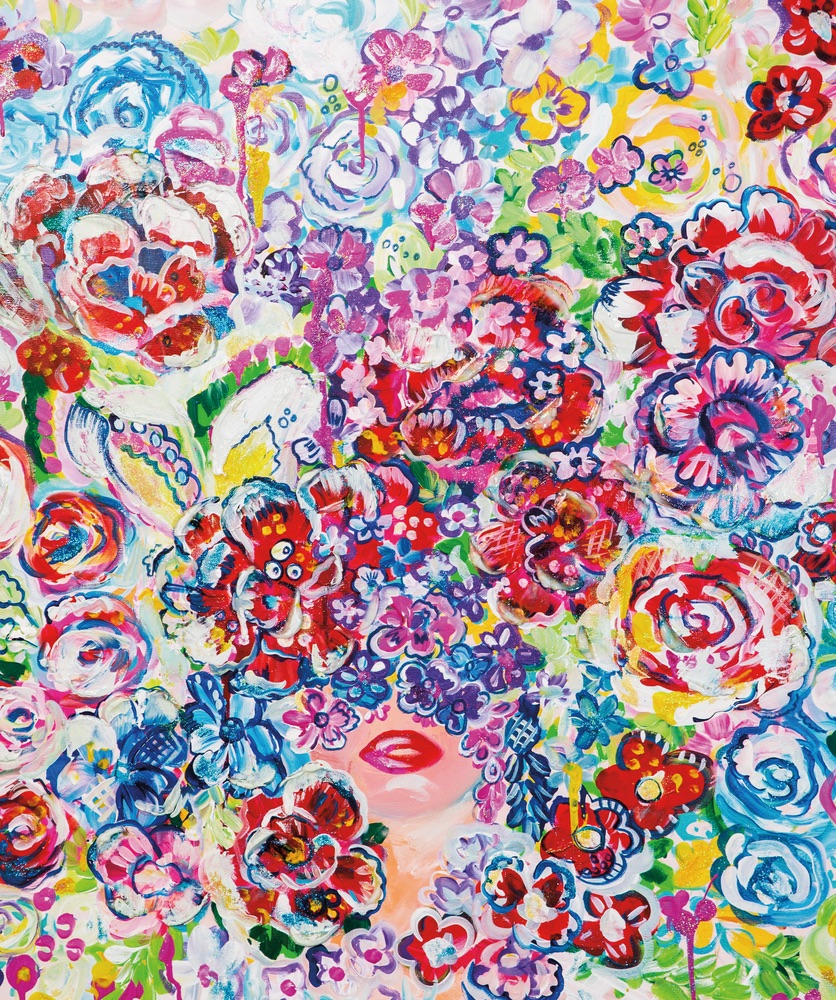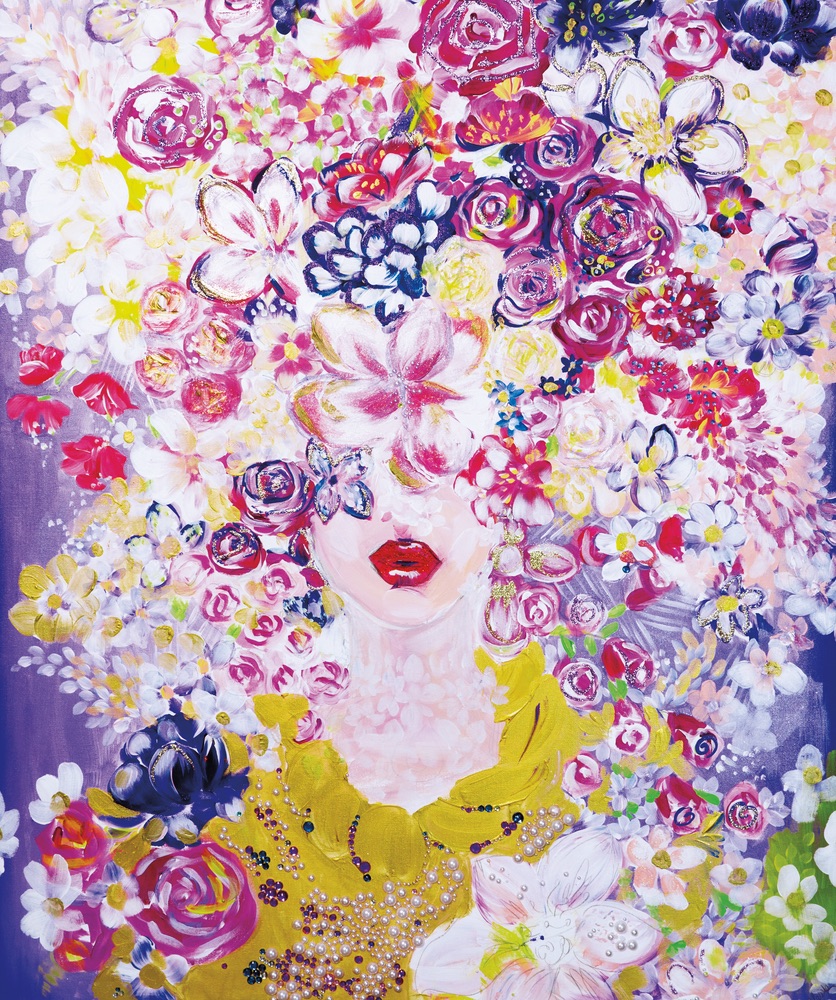 In addition to granting her time to create, Olesya's parents instilled self-reliance in their daughter. "I've always been intuitive," she says, "and from an early age, they gave me the freedom to think for myself." They further ignited her zeal for travel. (Naming Japan, Italy, France, Russia, and Spain among the countries she loves to visit again and again, Olesya claims she'll travel until her "dying day.") After traveling extensively with her family for their work in Russia, she left home at fourteen to live in the United States. "My father had moved here alone and invited me to join him," she says.
Despite missing her mother and others back home, Olesya fell in love with the U.S. Already fluent in English from summer schools in Europe, including the United Kingdom, she attended a Waldorf school (a program that, in part, cultivates artistic expression) in New York. After high school, she entered Stony Brook University to study fine arts with a focus on graphic design and painting. Olesya also played Division I tennis.
During her last year of college, she got busy working as a graphic designer for HBO in New York. For over fifteen years, Olesya made a name for herself in the creative industry, building an extensive résumé—e.g., catalog layouts, ad campaigns, product design, and retail space styling—with Under Armour, Abercrombie & Fitch, Hearst Magazines, and others. More importantly, her insights prepared her to succeed professionally as an artist, and a move to New Orleans three years ago eliminated any reasons not to try.
"I share a little romance on the back of each painting so that the owner knows what went through my mind. It's my personal, private letter—my way of opening up and giving the meaning of the color and brushstrokes."
Olesya's Floral Crown Portrait collection encompasses some of her most elaborate works. "The collection doesn't identify a person fully," she points out, "but the lips and eyes are prominent. I have a fascination with the features." Obviously!
Kissed with eighteen-carat gold leaf (remember, the artist was born in Maikain), magnificent flowers, luscious lips, and captivating eyes dominate many of her paintings, the ideas for which she often conceives when traveling. With a penchant for collage, Olesya often conveys the essence of a place in a mesmerizing blend of unexpected elements. Whatever the inspiration, her handwritten story about the piece accompanies every canvas. "I share a little romance on the back of each painting so that the owner knows what went through my mind," Olesya offers. "It's my personal, private letter—my way of opening up and giving the meaning of the color and brushstrokes."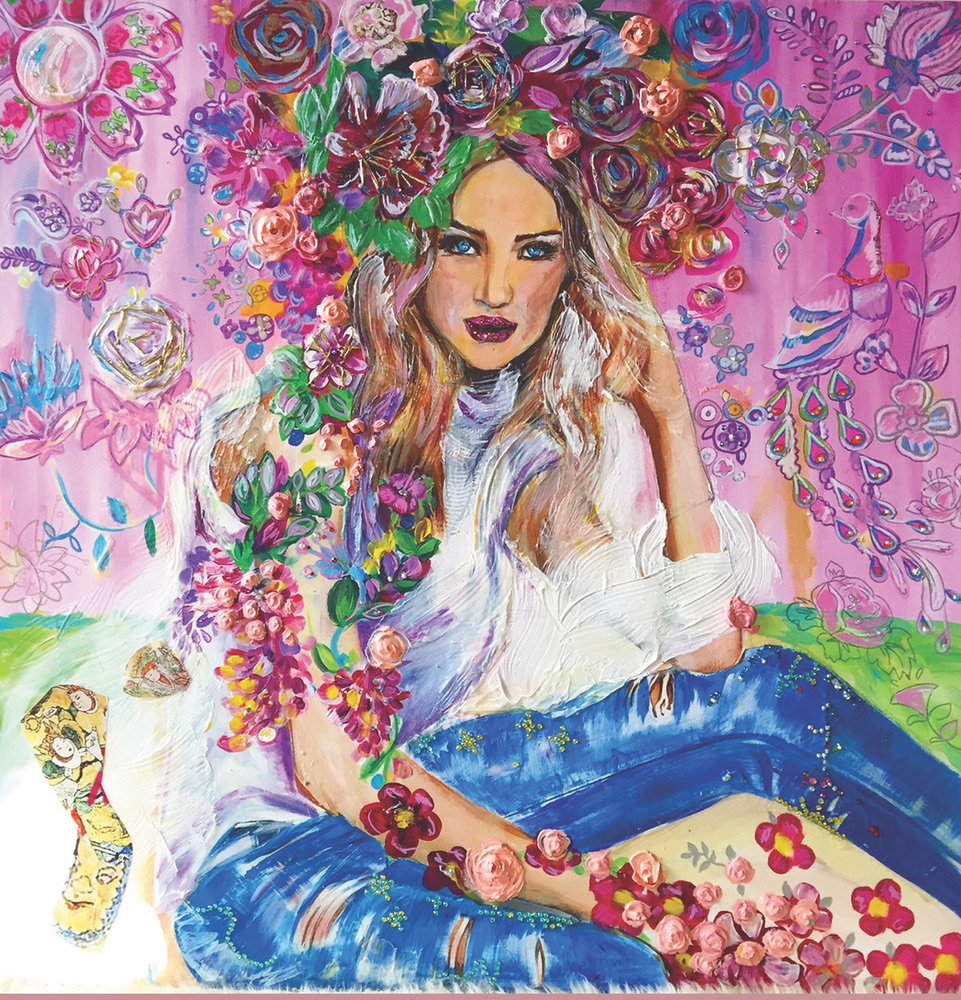 In addition to gold, Olesya uses Swarovski crystals, pearls, and hand embroidery to embellish her paintings. The embroidery (her own) is a skill she acquired from her grandmother who sewed gorgeous tapestries. Olesya's dimensional paint drip is yet another signature element. No matter the application, Olesya takes pains to perfect the dripping effect. As to the shine in her paintings, she says, "I've mastered the resin-gloss technique that I apply to the canvas." Other treatments—gold and crystals, for instance—allow the medium to "shift." It's a process of "marrying shapes and forms with materials."
Drawn to three-dimensional art, Olesya says, "For centuries, we've painted in squares and boxes; I want to challenge the canvas and our minds."
So far, taking a characteristically playful approach, she has collaborated with metal sculptor Garrett Haab to design candy sculptures for an original show she entitled Candy Shop. The candy sculptures pair perfectly with her paintings of lips and flowers, but real candy—and not just any candy—makes everything sweeter.
In conceiving the idea for Candy Shop, Olesya, an ardent fan of Russian-born tennis star Maria Sharapova, thought of another great tie-in: the athlete's Sugarpova candy line. Fittingly, psychedelic lips identify the brand. "I thought, 'Why not make some giant lip sculptures out of candy?'" says Olesya, who successfully pitched the idea of using Sugarpova candy to Sharapova's marketing team. "Next thing, they're asking me how much candy I needed, so I very conservatively did some math. They tripled my estimate, so I got boxes and boxes of candy from Maria!" At the Candy Shop show, Sugarpova passed patrons' lips as they savored the visual exhibition.
Seemingly a sweet deal for all parties, Candy Shop shows have popped up in different cities, and Olesya hints at future partnerships with Sugarpova.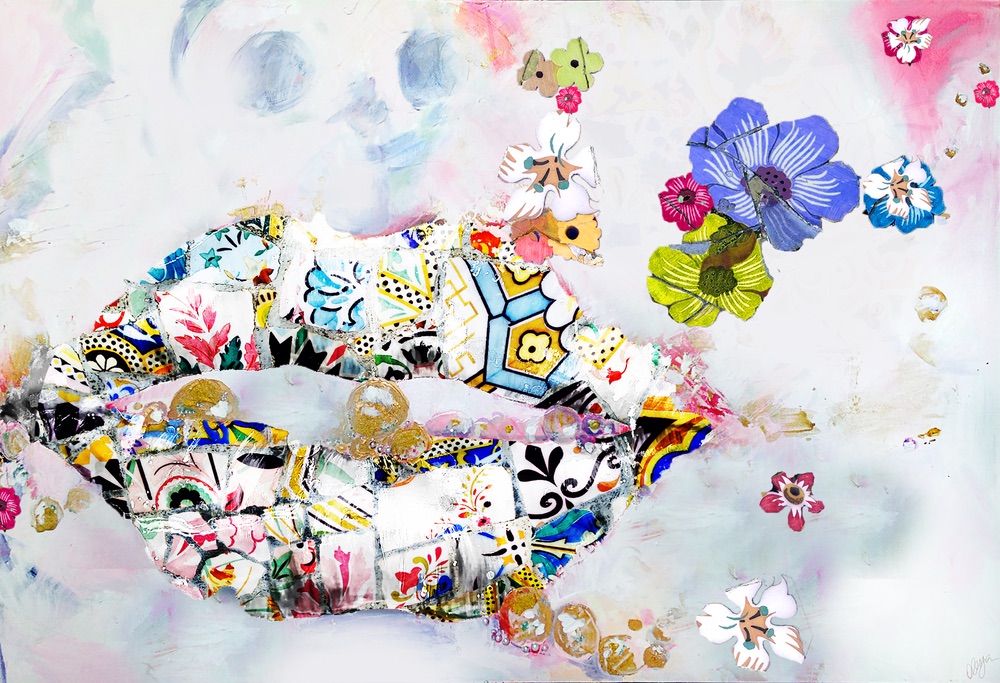 Well into a phase of rapid growth, Olesya embraces new opportunities. She's planning to become a household name with home goods, fabrics, wallpaper, and apparel. "I'm thinking of little summer jackets with floral linings," she muses. Meanwhile, Olesya still escapes to work on personally inspired pieces and collections, and to satisfy her commissions, but she can't do everything.
"For so long, I've been working and building myself up," she says, "with a focus on getting things done, no matter what it took. Now, I realize I need extra help." Happily, she reports, "My mom came on board as my gallery manager. When I put on a show, she helps with installation and can see my vision before I say anything." Olesya is also adding full-time staff and interns, whom she hopes to nurture. "I want to teach others the tricks of the trade—the art, but also marketing and PR, the business side. I can pass that on and build a great team."
"For so long, I've been working and building myself up, with a focus on getting things done, no matter what it took. Now, I realize I need extra help."
To maintain control, Olesya has kept much of her work close to home, with pieces predominately displayed in galleries around New Orleans and on her website. Even so, admirers near and far seek her out for commissions.
The Kaname group of Kanazawa, Japan, commissioned Olesya to paint on three oversize golden geisha fans as part of their new hotel group launch. They based the project around tosenkyo, an ancient geisha game. Olesya spent two weeks in Kanazawa and painted the custom-built fans, each over six and a half feet wide, with various symbols of Japanese culture, such as geishas in traditional floral kimonos, cherry blossoms, a Noh theatre mask, a legendary samurai, and more. Olesya also included her signature lips and, of course, gold leaf in the colorful designs. By no coincidence, the production of gold leaf began in Kanazawa (the city's name means "marsh of gold") in the sixteenth century. "I was born in a city of gold," says Olesya, "so years later, the Japanese built a bridge to their city of gold for me to tell their story."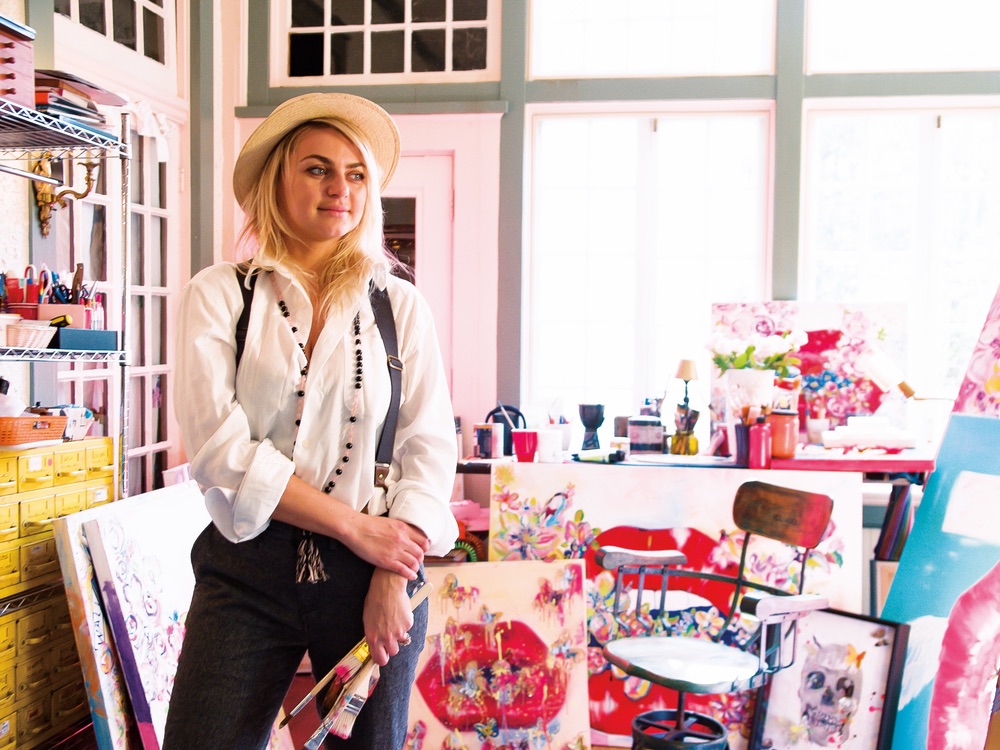 As the rest of her story unfolds, Olesya feels indebted to those who have supported her from day one; therefore, she honors collectors by making prints of only selected paintings and then limits the number of copies to two. Other items emblazoned with her art, such as notebooks and pillows, are also duplicated in controlled quantities. "When I say, 'limited edition,'" Olesya asserts, "I print x amount and sell out. Next time, I'll change everything; the selection will be fresh. I get tired of looking at the same thing."
Her favorite paintings hanging in her home are the exceptions. "I call it my permanent collection," Olesya says, adding, "I would never part with them." Unlike some artists who look back on their creations with critical eyes, saying they would redo certain things, Olesya usually loves what she sees. "You should be able to appreciate your work," she insists.
Olesya's perspective meshes with her overall attitude. "I embrace the world and see the good things," she says. Pointing to flowers that blossom from "ridiculously awesome brushstrokes," Olesya explains, "I make the little things bigger. My goal is simple: making people smile with my art. It's a great energy to possess and spread."
— V —
---
To view more of Olesya's work or to contact her about commissions or other matters, readers should visit her website, ArtbyDreamOlesya.com. She is also represented at BRAND New Orleans Gallery located at 646 Tchoupitoulas Street.
ARTICLE CATEGORIES