A Passion for All Things Pretty
By Jamie Gummere | 
Photos by Paul Johnson Photography
"Since I was eight years old, I've imagined a place where girls and women could have fun and feel beautiful."
That's my answer when friends ask me why I opened Blush Beauty Lounge. I love to be surrounded by things that make me feel beautiful and peaceful. Sheer linens blowing in the breeze and hues of soft pastels feel pretty to me. I close my eyes and I'm sitting in a tropical cabana with the warm breeze blowing. That's Blush.
When I first imagined Blush Beauty Lounge, I wanted it to have a spa/salon feel without being a traditional spa. I wanted people to come in and feel relaxed, to chat, to sip a glass of champagne or a cup of coffee, and to feel a sense of understated extravagance. Blush is approachable. We already know you. You are one of us. You're greeted with a smile and a hug. Here, you are a girlfriend!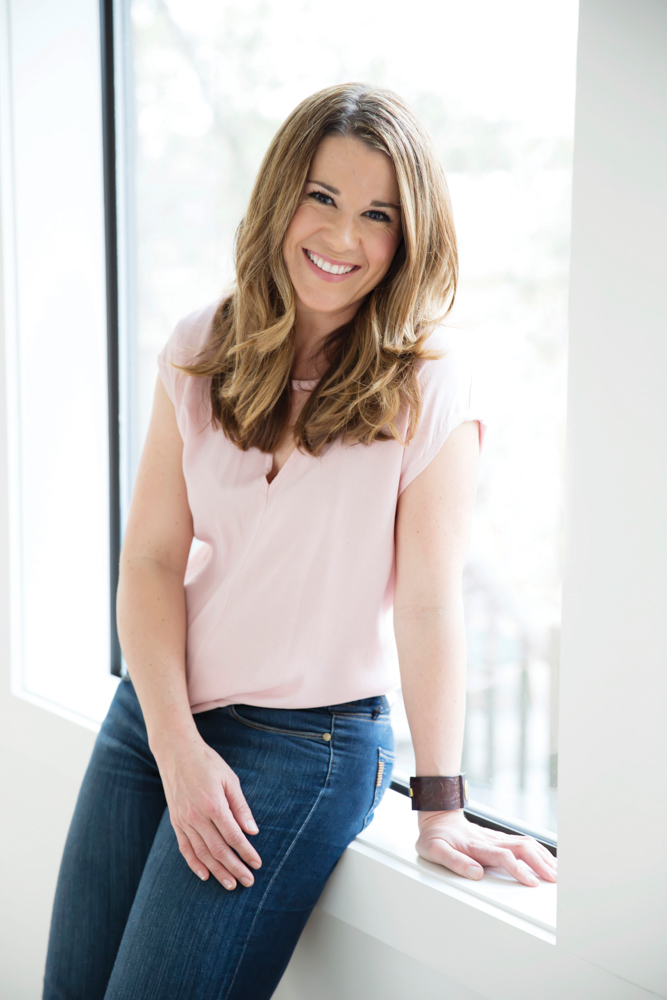 Beauty has always been a part of my life. As a girl, I formed a natural obsession with creating beauty products. I used to make hair conditioners and face masks with whatever I could find in my parents' kitchen. There was no Internet back then. My mother would get Reader's Digest, Redbook, and other women's magazines in the mail and I would scour them, searching for recipes on how to do an avocado and oatmeal mask. I remember one episode involving egg yolks and mayonnaise that I whipped up for my hair. The kitchen was a mess, but I felt my hair never looked better! My passion really irritated my parents. I'm pretty sure I left the bathroom smelling like egg yolk.
In high school, I was very athletic. I played sports but was always excited to change out of my basketball uniform and put on some sparkly lip gloss. For my first homecomings and proms, I thought I was "supposed to" get my makeup done at the local department store cosmetics counter. I never liked that makeup. I looked old; the makeup was dark and it wasn't fun. I thought, "I would be better off doing my own, so why don't I?" I became the makeup artist for all my friends as well.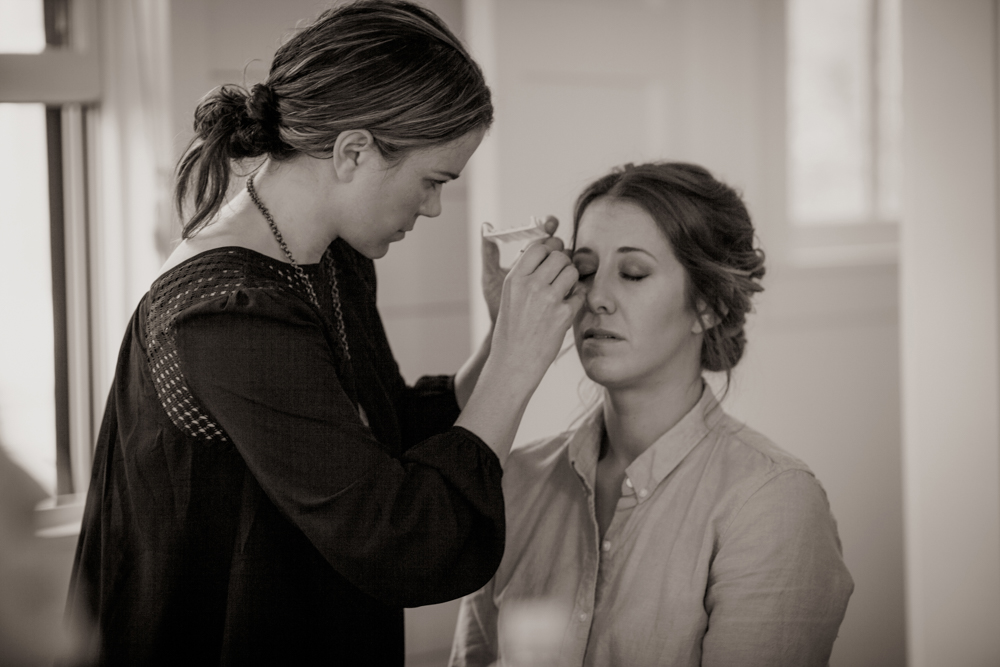 I was also obsessed with nail polish. At one point, I had a collection of sixty nail polishes that I set up as a nail bar. I was just so drawn to all the colors. Looking back, it was a big waste of my allowance, as there was no way one girl could use all those colors! I didn't realize at the time how telling that would be for my future as a makeup artist.
The power of touch is very healing and it's also a release. My clients feel relaxed with me, and I feel connected to them; we have a level of friendship that opens the door for complete honesty when it comes to the care of their bodies.
My family moved to the beach when I was fourteen years old, and I settled along the beaches of Highway 30-A in my thirties. It's been a great journey. In my early twenties, when my friends were getting married, I would do their makeup. I also attempted to teach them to do their own. I realized I could teach makeup application, but I couldn't figure out how to teach color; I think it's something that just comes naturally to certain people. You have to understand color like an artist. About that time, I started working for Bobbi Brown Cosmetics and traveled as a featured regional artist working with their new product launches, all the while developing a wedding makeup business along the Emerald Coast of Florida. I soon started booking all my Saturdays with weddings—it kind of sneaked up on me!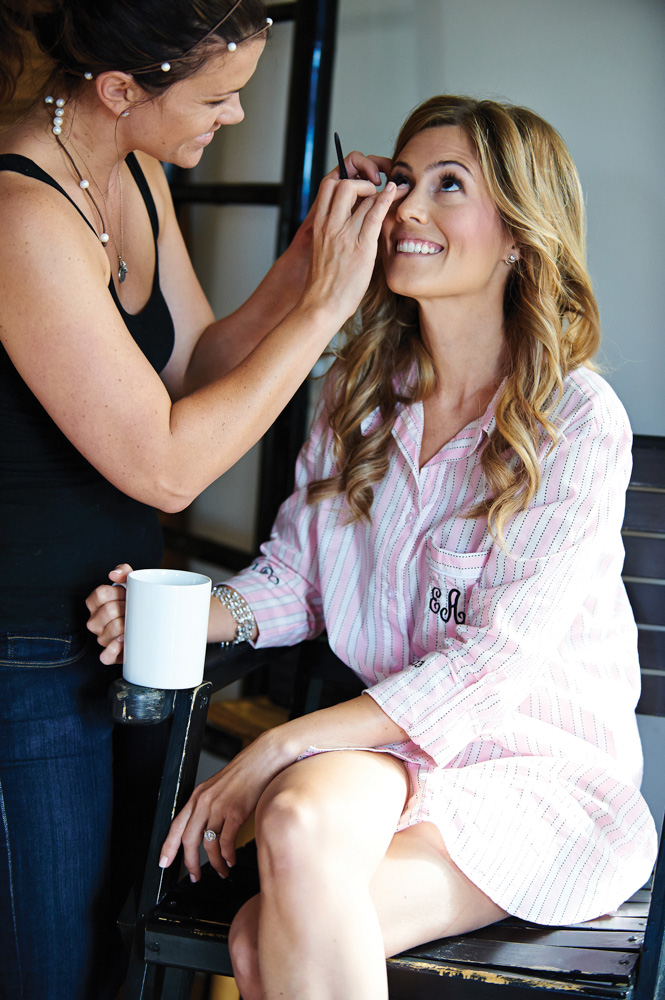 After working several years for Bobbi Brown, I wanted to stay closer to home so I could focus on raising my daughter. I rented a space out of a spa in Destin, Florida, but I was living on 30-A; the commute wasn't fitting in with my life. I started thinking, "How am I going to bring my worlds together?" That's when I started scouting spaces on 30-A and saw a sign that said "Space for Lease" in Seagrove Beach. It was a very intimate space—small and perfect. I said, "This is it; I can make it work. It's just me and I can count on me. I can do it!" It was a big step, but now I feel that I offer a complete package: my skin care background and my passion to make my clients feel pretty. Feeling pretty helps a girl exude confidence, and confidence is powerful!
My clients joke all the time that they also get a therapy session when they visit Blush. Someone once told me, "Be very careful about being friends with clients," but that closeness actually really works for me. The power of touch is very healing and it's also a release. My clients feel relaxed with me, and I feel connected to them; we have a level of friendship that opens the door for complete honesty when it comes to the care of their bodies.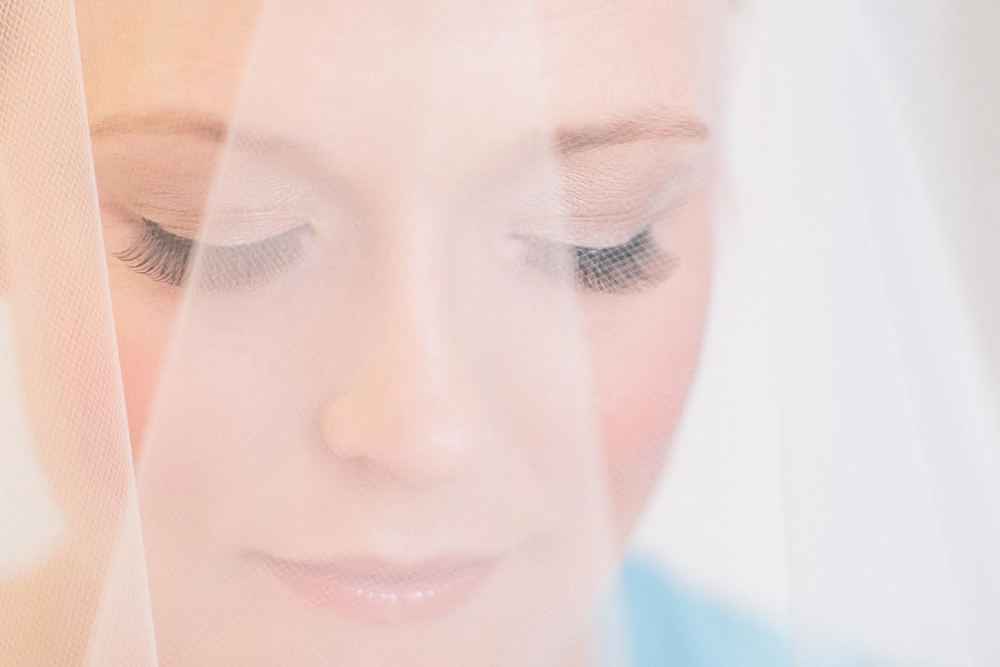 Every day, the future of Blush is expanding. Sometimes I have a hard time knowing which project to work on next. I'm excited to expand my business and accommodate more clients, as well as to develop my own product line. My hope is that the passion I have for fitness and nutrition will also be incorporated into my business. Organs, inside and out, all fit together; skin care and health care go hand in hand. When I work with clients, their skin tells me the story of their lifestyle. Don't be fooled—your skin tells all!
From full-body skin care to organic sunless tanning and makeup application, Blush Beauty Lounge offers women a wide range of services and products, all specially selected based on my own discoveries. I've been blessed to meet many amazing women in this community; they're my inspiration for the future of Blush. I guess it's all coming together.
— V —
---
Blush Beauty Lounge, 5410 E. County Highway 30-A, Seagrove Beach, FL jamie@blushbeautylounge.com
ARTICLE CATEGORIES